Eating and shopping your way around Melbourne's best restaurants and boutiques can be thirsty work. Luckily, our glorious city is also blessed with a bevvie of brilliant bars in which to wet your whistle. From raging rooftops to intimate wine bars, gin joints and whisky dens, here are some of Melbourne's best bars that you NEED to visit. How many have you been to, Listers?
Who needs a spa, or hot water (because your plumbing still sucks), when there's a wealth of golden alcoholic liquid (beer) in Melbourne? Not you, my determinedly not-alcoholic-at-all friend. Here are the 50 bars you need to try in Melbourne this year, just in case you feel like venturing further than your local favourite.
#1 Pizza Pizza Pizza I CBD
The super secret (not) back bar of the cleverly named Pizza Pizza Pizza serves classic cocktails in cosy booths. As you may have gathered, you can also order pizza so why go anywhere else?
#2 Hellenic Hotel I Williamstown
Pair your rich Greek dishes with Hellenic Hotel's range of Ouzo, wine and sweet cocktails.
#3 Whisky & Alement I CBD
Drinking whiskey from Whiskey & Alement counts as a hobby in winter, right guys?
#4 Gin Palace I CBD
For all your gin-ful needs - there's Gin Palace.
#5 Arbory Bar and Eatery I CBD
Because it wouldn't be right to exclude Arbory.
#6 3 Ravens Brewery & Bar I Thornbury
With the entire 3 Ravens range on tap plus grub-friendly bar snacks, 3 Ravens Brewery & Bar is ideal for any Melbourne beer lover.
#7 Embla I CBD
Hop onto cloud wine at Embla.
#8 Hihou I CBD
For light, balanced cocktails and plum wine that won't have you regretting any pour decisions tomorrow – head to Hihou.
#9 Boilermaker House I CBD
Lock yourself away from Melbourne winds at the cosy, timber-lined bar Boilermaker House. If it's your first time, order from a selection of their perfect made Boilermakers (obviously) and treat yourself to a generous charcuterie board.
#10 Lulie St Tavern I Abbotsford
Sometimes, all you need is no-fuss beer. For that, Lulie St Tavern has got your back.
#11 Hampton Wine Co I Hampton
If you're looking for a well priced, handpicked wine menu, make the journey south to Hampton Wine Co.
#12 Glamp Cocktail Bar I CBD
One of Glamp's coffee-infused cocktails and savoury cigars will have you set for the rest of the week!
#13 Hello José I West Melbourne
Because Mexicans do it better, grab something from the tequila bar and a few tacos for a warm night at Hello José.
#14 Bar Liberty I Fitzroy
In case winter is causing an internal grape depression, Bar Liberty has all the wine to keep your glass full and your heart happy.
#15 True North I Coburg
An impeccable day-to-night venue, True North boasts an affordable, soul-warming dinner menu and a carefully selected selection of drinks.
#16 Rupert On Rupert I Collingwood
With enough variety for everyone including a full dinner menu, Rupert has a very special place in our whiskey sour-loving hearts.
#17 Union Electric I CBD
Yum cha from next door and fresh cocktails like the Kum Den Botanica with apple juice, lime, cucumber, elderflower and West Winds gin means there won't be any complaints at Union Electric.
#18 Polēpolē I CBD
Cocktail jugs, African beers and oh-so-sticky ribs make Polēpolē one of our favourites.
#19 Marion I Fitzroy
The literal embodiment of wine heaven.
#20 Carwyn Cellars I Thornbury
The renovated backroom at Carwyn Cellars is leaps and bounds ahead of your rusty storeroom, with craft beers, wine by the glass and a generous selection of whisky available.
#22 The Milton, I Elwood
We're probably a little too obsessed with The Milton's polenta chips paired with their signature citrus Silvereye cocktail.
#22 Clever Polly's I West Melbourne
If winter has been rude to your waistline, try one of Clever Polly's natural wines which is likely to be free of addictives and preservatives.
#23 Welcome to Thornbury I Northcote
Because even in winter, you can't beat a food truck park and beer.
#24 Saint.Urban I Richmond
The wine list is gloriously extensive at Saint.Urban, covering a range of local and international bottles. Bottoms up.
#25 Heartbreaker I CBD
Specialising in cocktails, it'll break your heart to choose just one at Heartbreaker. Better order a few! Now slinging New York-style pizzas. How's that for a combo?
#26 The Beaufort I Carlton
Featuring modern cocktails like the Burnt Butter Treacle with dark spiced rum and Armagnac washed in burnt butter with apple and mandarin. Get to The Beaufort.
#27 Bar Americano I CBD
Cocktails + espresso = Friday night complete at Bar Americano.
#28 Leonard's House of Love I South Yarra
Keeping it classic with homely timber and a roaring fire, cosy up with a cheeseburger and cold one at Leonard's House of Love. We've found our true love.
#29 Back Alley Sally's I Footscray
With cocktails changing weekly, house wines and pizza available from Slice Girls West downstairs, you can't ask for more at Back Alley Sally's.
#30 Jungle Boy I Windsor
If bright, bold cocktails served in vibrant glasses is your jam, Jungle Boy should be your playground. Helps when your bar is hidden behind a sandwich shop fridge door too...
#31 Hard Rubbish I Preston
Half café, half bar - the best of both worlds. Expect no-fuss pints of beer and homely dishes like crispy jaffles at Hard Rubbish.
#32 The Ugly Duckling I Richmond
Boasting a generous drinks menu and boutique bar food, The Ugly Duckling is hardly ugly.
#33 Kirk's Wine Bar I CBD
For classic cheese and wine, Kirk's Wine Bar is a strong contender for the best first date spot in Melbourne.
#34 Imperial Hotel I CBD
It might not be rooftop bar weather, but the Imperial Hotel's chorizo and mozzarella croquettes with their French Martini's are for every season.
#35 POW Kitchen at Prince Bandroom I St Kilda
It's all about group-friendly sharing and caring at POW Kitchen. Expect an emporium of choices by any standard, including slushies, cocktail jugs and slings.
#36 127 Brunswick I Fitzroy
From Upside Rooftop Bar to Japanese delight Ichi Ni Nana, 127 Brunswick has something for every picky member of your party.
#37 Prohibition Food and Wine I Camberwell
Creative cocktails and a generous local wine menu makes Prohibition Food and Wine the ideal cosy winter bar.
#38 Pablo Honey I St Kilda
Our favourite Spanish tapas bar offers cocktails like the spicy margarita (which is exactly what it sounds like) and cheese-y chorizo and cheese fundidios.
#39 Glamorama I Fitzroy
Booze your heart away (semi-literally) with Glamorama's generous drinks menu of cocktails, wine, beer and spirits.
#40 Smalls Bar I South Melbourne
With one of the best wine menus in Melbourne, Smalls Bar boasts the subtle elegance your twenty-year-old self was probably missing.
#41 Mjr Tom I Collingwood
Mjr Tom's Pomegranate infused pink gin with peach liqueur, fresh lime and soda is an easy favourite.
#42 Moon Dog Craft Brewery I Abbotsford
Beer and pizza. Pizza and beer. All the pizza and beer.
#43 Rufus I Prahran
Lavishly decorated with thick curtains and chandeliers, this sophisticated, Churchill-themed cocktail bar is the place to get a little bit fancy.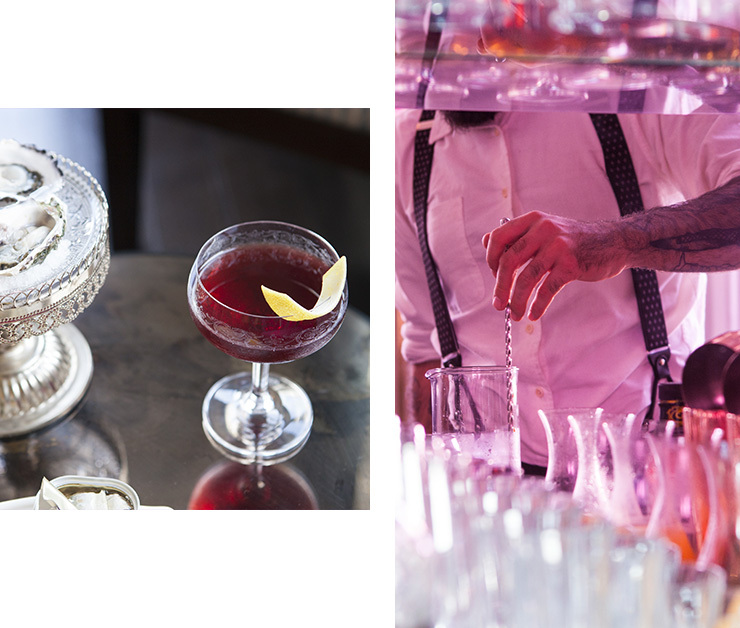 #44 Little Drop of Poison I Eltham
Trust us, Little Drop of Poison is worth the drive (or train ride if no one wants to sacrifice their night) out.
#45 The Alps I Prahran
You'll feel like you're on top of the world at The Alps, with cosy dilapidated walls, warm amber lights and walls lined with wine.
#46 505 Cellar I Toorak
For wine beginners, 505 Cellar's food menu is designed for pairing. Don't go past the sweet potato arancini with a light white.
#47 Freddie Wimpoles I St Kilda
If you like beer (and who the heck doesn't), Freddie Wimpoles is practically the king. Also, they have a wall made up of beer cans.
#48 Feast of Merit Rooftop I Richmond
Home to mason jars of steaming mulled wine and addictively delicious flatbread with dip, it's worth braving the cold for the Feast of Merit Rooftop.
#49 Rooftop Bar | CBD
If you like your brewskie with a viewskie, make like a mountain goat, climb the never-ending Curtin House stairs, and head to one of our favourite rooftop bars in Melbourne. Rooftop Bar, the one and only.
#50 Cookie | CBD
For a truly Melbourne bar experience, head to Cookie and work your way through the MAMMOTH beer selection.
#51 Panama Dining Room | Fitzroy
Head to this popular Fitzroy bar for amazing espresso martinis, a game of pool, and canoodling by the gorgeous arched windows.
#52 Captain Baxter | St Kilda
For excellent people watching, water views and cocktails, Captain Baxter in St Kilda is one of Melbourne's best bars all year round, but takes the cake in summer.
#53 Siglo | CBD
The classiest rooftop bar in Melbourne, Siglo is the place to take a first date that you want to turn into a second.
#54 Madame Brussels | CBD
With astroturf, umbrellas and a garden party vibe, Madame Brussels is the Melbourne bar for fans of big jugs. Of cocktails, that is. Pimms on the rooftop—is there a more Melbourne experience than that?
#55 Naked In The Sky
One to woo the out-of-towners, Naked is one of Melbourne's best bars for its delicious eats, epic vodka selection and sweeping panorama of the city and Brunswick Street.
#56 1806 | CBD
With a cocktail menu arranged chronologically to reflect each era's tipple of choice, 1806 on Exhibition Street in one of Melbourne's best bars for the suave drinks connoisseur.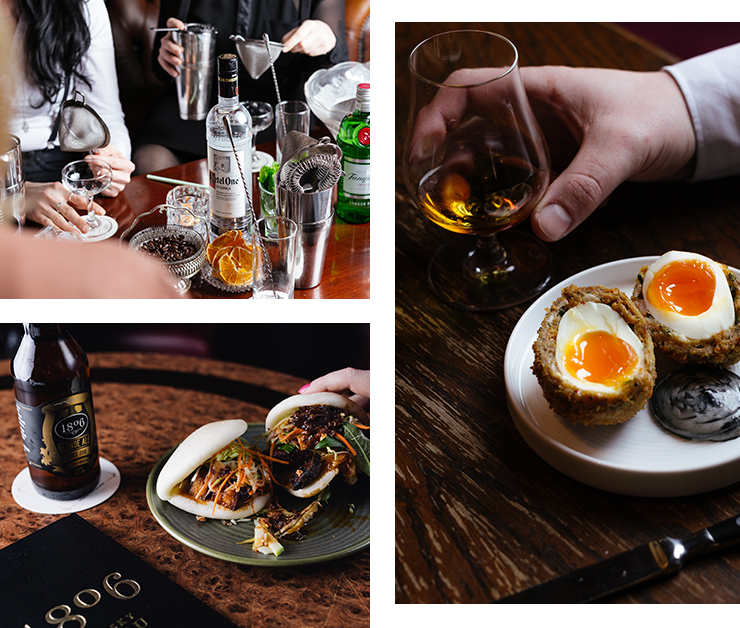 #57 Whisky Den | CBD
A new hole-in-the-wall, Tokyo-themed whisky bar on Russell St, around the corner from The Forum. The whisky range is, naturally, ridiculous, and the guys behind the bar make a crazy good Old Fashioned. Enjoy on the mezzanine after a good dinner on Flinders lane.
#58 The Noble Experiment | Collingwood
The Noble Experiment in Collingwood makes their way onto our list of best bars in Melbourne thanks to their impressive selection of bottle and barrel aged cocktails—a top spot to impress that special someone.
#59 Harley House | CBD
Tucked away in an intimate downstairs space decorated with Vincent Fantauzzo artwork, Harley House is a Peruvian-inspired Melbourne bar responsible for one of the best Pisco Sours in Melbourne.
# 60 Eau De Vie
One of the most renowned cocktail bars in Melbourne, we are oh-so-enamoured of Eau De Vie. Pure class, in a glass. You have to go a cocktail in this place: take our advice and try the rubber duck in a champagne bubble bath. Yep, really.
#61 The Everleigh
Take a step back in time at one of the classiest bars in Melbourne. There is nothing the mixologists don't know at this Gertrude Street gem, which is lucky as you could spend hours perusing the drinks list. Settle into a booth with your boo or an intimate group, and prepare to be transported to a time when gentlemen walked the earth, and bartenders knew how to make a damn good cocktail.
#62 Berlin Bar | CBD
This quirky, hidden Melbourne bar has wittily been divided into two sections: the opulent West and gritty East. Political history and absolutely delicious cocktails. Bring it on.
#63 Rice Queen | Fitzroy
Asian fusion eats, cocktail jug treats and a pumpin' karaoke room—how on earth could Rice Queen not be one of Melbourne's best bars?!
#64 Black Pearl
No list of the best bars in Melbourne could leave off this Fitzroy institution. Come for the killer cocktails, stay for the conversation in dark corners.
#65 FeeFee's Bar | Collingwood
A rock n' roll drinking hole down the grungy end of Johnston St. For FeeFee's owner, hospo-pro-turned-DJ Fiona Meiklejohn, this place is all about "music, booze and a rocking good time." Sounds bang on for 'LoJo'.
#66 Le Bon Ton | Collingwood
Heavily influenced by the deep American South, Le Bon Ton in Collingwood is the place to go for devilishly good American BBQ plus some of the best whiskey-based cocktails you're likely to try!
#67 The Kodiak Club | Fitzroy
Kodiak Club is a bourbon lover's dream—after all, it is Melbourne's only dedicated bourbon bar—plus their sticky ribs are to die for! Brave souls can sign up for a spicy wing challenge (watch out, there's a mandatory 'afterburn' period. No milk allowed).
#68 White Oaks Saloon | Prahran
Bringing a taste of Tennessee to the streets of Prahran, White Oaks Saloon have a spot on our list of best bars in Melbourne thanks to their excellent range of cocktails, wine, spirits and American craft brews.
#69 The Croft Institute | CBD
They say just getting to The Croft Institute is half the fun—after all, this super kooky Melbourne bar is tucked away at the end of an alley in Chinatown, in a space that was formerly a doctor's surgery. Their cocktails are pretty delish too!
#70 Borsch Vodka & Tears | Prahran
A Chapel Street institution, this shabby chic Polish-influenced spot is one of Melbourne's best bars for vodka and absinthe enthusiasts.
#71 Absinthesalon | Fitzroy
Another Melbourne absinthe bar, but where Borsch has gone shabby, Absinthesalon went classy. No sucking green liquid out of a belly button here, this is a bona fide Parisian-style absinthe parlour. There's even a three drink maximum to keep things in check.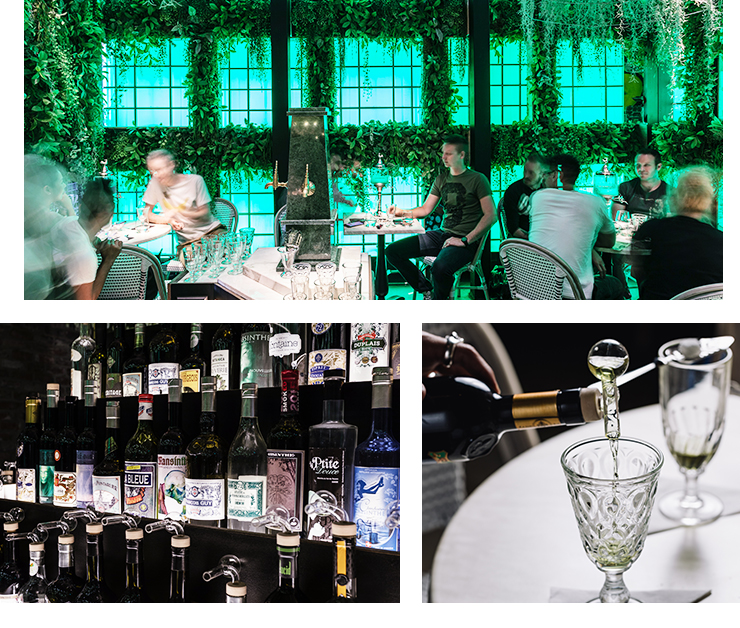 #72 Dr Morse | Abbotsford
With epic Sunday sessions and one of the best Melbourne beer gardens, of course, we're putting Dr Morse in the mix. Still one of our favourite bars north of the river.
#73 Markov | Carlton
Don't be fooled by the exterior! With a comprehensive menu that covers cocktails, beers, wine and bar food, Carlton's Markov is a great all-rounder and deserves a look in in our list of Melbourne's best bars. Don't miss out on the beautiful courtyard at the rear of the venue—the perfect spot for enjoying an after-work margarita in the sun.
#74 Demitri's Feast | Richmond
Once a Greek-themed brunch house, Demitri's Feast pivoted in 2017 and reopened as the city's only dedicated ouzeria and meze bar. Try the lamb cutlets. They go pretty well with an atomic-strength glass of retsina.
#75 Atticus Finch | Carlton
A charmingly petite cocktail bar in East Brunswick, Atticus Finch has a solid grounding in ol' favourites as well as a playful approach to new creations. Our favourite is the Catcher in the Rye—rye bourbon, maraschino liqueur, French vermouth and orange citrus bitters—the perfect mix of sweetness and botanicals.
#76 Amelia Shaw | Brunswick
Combining a cocktail bar with a parlour lounge, Amelia Shaw is one of the best Melbourne bars, Northside, tucked away above street level on Brunswick's Sydney Road. Its Prohibition-era décor and ornamental oddities (a circular pool table?) perfectly complement the drinks menu, which covers everything from 1920s classics to modern-day staples. If you're a Gatsby fan, an interiors enthusiast or simply love a good gin fizz, Amelia's for you.
#77 Kent St | Collingwood
Try as hard as you want, no new venue is ever gonna equal Kent St for laid back Collingwood ambience. Low candlelight, comfy chairs and reasonably priced spirits. This is always gonna be our favourite Smith St hang.
#78 Gerald's Bar | Carlton North
Owned by a proprietor of the same name, Gerald's is somewhat of a North Carlton drinking institution. Although specialising in wine (one of its staff once compared a French sparkling they poured us to 'drinking a brioche'), the venue offers a solid standard cocktail menu as well as one of the best duck parfaits on the city's north side. They've even got a chess set behind the bar if you ask nicely.
#79 Thomas Olive | Fitzroy
Thomas Olive is one of the best hidden bars in Melbourne. The Fitzroy cocktail bar can be found above esteemed restaurant, Saint Crispin, and has the feel of a refined speakeasy. An abbreviated food menu and a well-stocked spirit shelf make it one of our favourites Melbourne bars for dates and decadent pre-dinner drinks.
#80 The Wolf's Lair | Carlton
Consisting of a single ground-level room and a rooftop terrace, The Wolf's Lair is the smaller counterpart to Lygon Street dining establishment Jimmy Watson's. The rooftop is the ideal venue for enjoying jugs of summer cocktails and fresh pizza on a long, hot evening with a group of friends.
#81 Howler | Brunswick
Combining cocktails, food, music and art, Howler is a hulk of a space that's hidden just off Brunswick's Sydney Road strip. The venue's generous opening hours (12pm – 1am, seven days a week) make it a favourite with locals at all stages of their night out—great for catching live bands, checking out up-and-coming DJs or simply people-watching with a stiff drink in hand. One of the best bars in Melbourne? You betcha!
#82 St Luja | St Kilda
A classy AF whisky and cocktail bar that's bringing Fitzroy St back into vogue. Owners Luke Jovanovski & James Murphy have put together a cocktail list with some serious drama, thanks in no small part to head bartender Jesse Cummins (Fall From Grace). If you haven't been, add it to the list. Top-notch monthly degustations too.
#83 Fargo & Co | Richmond
If hype is any indication of quality, Fargo & Co is going to have quality coming out its ears. For months we've heard the rumblings: a gorgeous bank-themed cocktail bar, set inside the heritage Swan Street State Bank no less.
Well, the wait is over, children. Fargo & Co is officially open for business.
#84 Romeo Lane | CBD
If you're into hidden, off the beaten track bars (we know you are), then Romeo Lane might just be for you. Cocktails range from prohibition-era style arrangements to traditional European style cocktails that you know and love.
#85 The Palm Royal | Richmond
You might think a bar that's fully decked out with palm trees, flamingos and stuffed parrots is going to be all kinds of tacky, but once you step inside, you'll realise this little piece of Cuban paradise is anything but. It's like someone built a bar using nothing but Tropicana.
#86 The Village Belle | St Kilda
The new-look Belle is an absolute beast. Giant two-story open-air beer garden, an upstairs cocktail lounge, plus a sports-fuelled front bar with Carlton Draught on tap. It's like the best of old and new St Kilda, all wrapped into one.
#87 Bar Jime | CBD
Shannon Bennet's new sexy bar, Bar Jime, lives to the left of the Ike Jime restaurant proper. This place screams 'classy date night'. Settle yourself in and enjoy a variety of cocktails, a dynamic wine list and local and international beer that will make your heart sing. Follow up with a seafood feast nextdoor.
Hero Image Credit: St LuJa | Griffin Simm