Melbourne has a very special set-up when it comes to bars. We have such a big mixture of venues from your large-scale favourites to laneways riddled with hidden cocktail haunts, whisky bars, and wine stores. No matter what your drop of choice; you're likely to find it and then some in Melbourne.
To make sure you head to where the bartender knows how to mix a martini, check out our selection of the best bars in Melbourne for 2022:
HER
CBD
This five-storey labyrinth in the CBD may be new but it's already staking its claim as one of the best bars in Melbourne. From the collective team behind Abory Bar and Arbory Float, HER features its very own, Parisian-style cocktail bar, a dedicated listening bar, a Thai BBQ diner and a Euro-inspired garden rooftop bar. All housed in a 120-yo heritage building there's something at HER for everyone, with each level offering its very own unique atmosphere and drinks menu of cocktails, wines, and beers. You can visit countless times before fully experiencing everything the venue has to offer.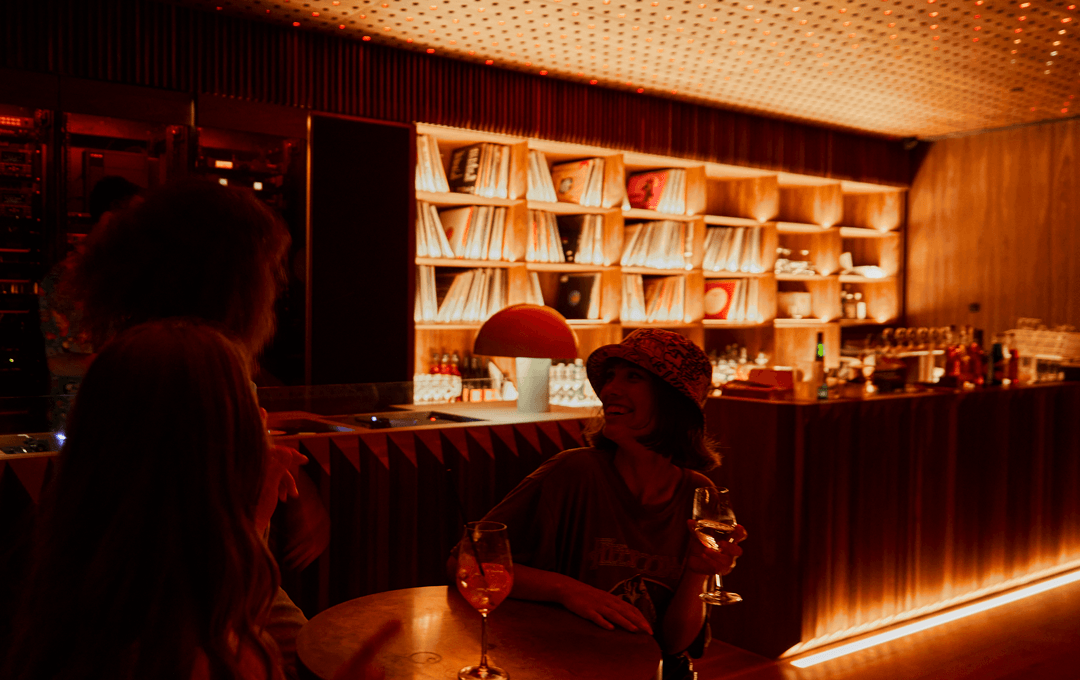 Pearl Diver Cocktails & Oysters
CBD
Pearl Diver Cocktails & Oysters does exactly what it says on the tin and so much more. First up is the oysters—sourced seasonally from across the country—which are served three ways: natural, dressed and cooked. You can't go wrong whichever route you take, though you'd be remiss not to order up on the natural dressed with Pearl Diver's signature martini. The cocktail list is equally considered and designed to pair with what you're slurping down; the light and bright Coconut + Yuzu goes down exceptionally well, but again, there are no wrong choices here.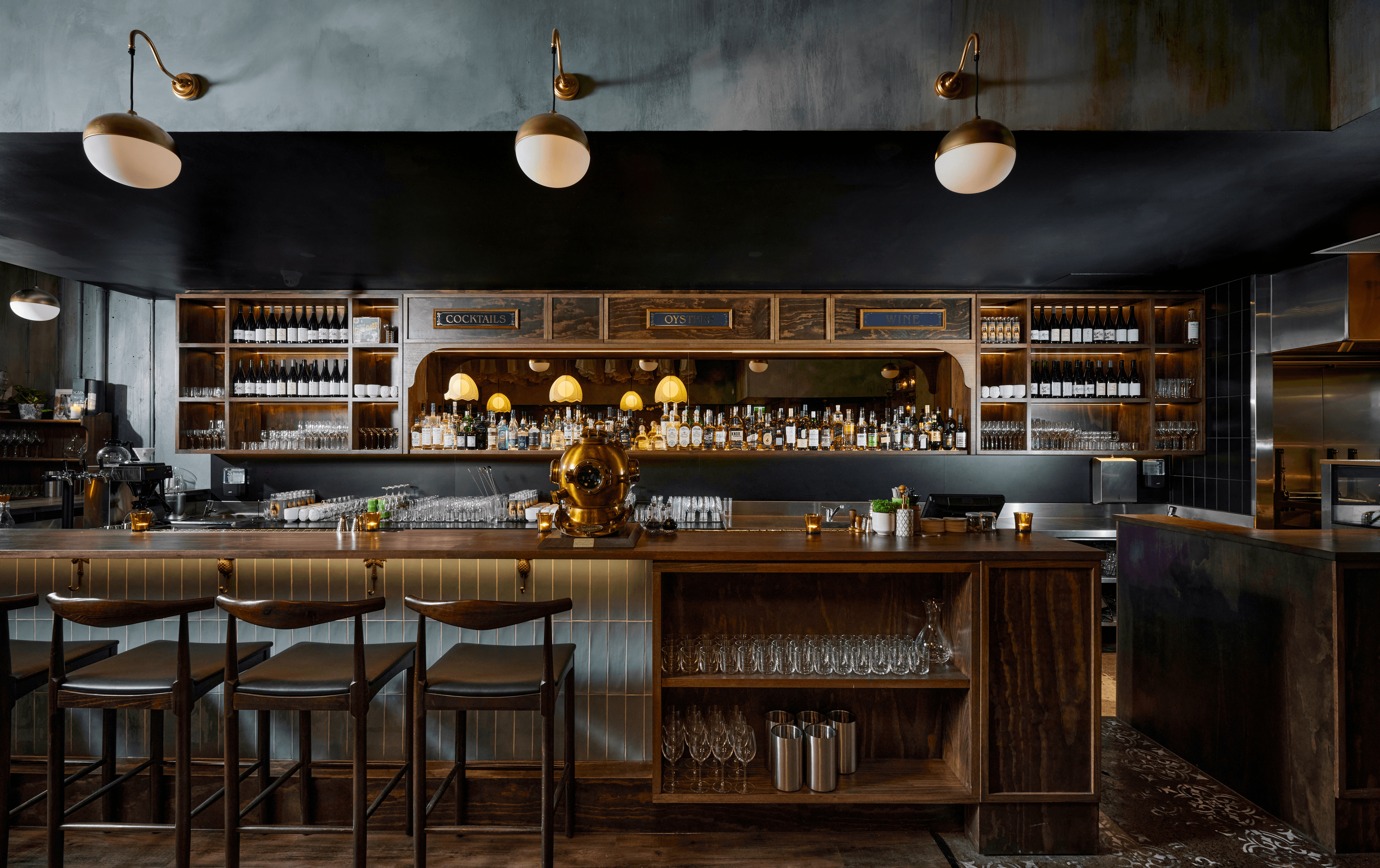 Paradise Alley
COLLINGWOOD
There's just something very quintessentially Collingwood about Paradise Alley. Smack bang on Easey Street, the bar is tucked down an unassuming laneway. Always packed to the brim, Paradise's charm comes from its clandestine-style outdoor alley seating that wraps into the bustling and vibe-filled inside, with DJ's spinning records, and staff hustling behind the bar. The former industrial space plays into the charm of Paradise, with exposed beams looming throughout. Here you'll find quality craft beers, small-batch gins, and wines of all varietals.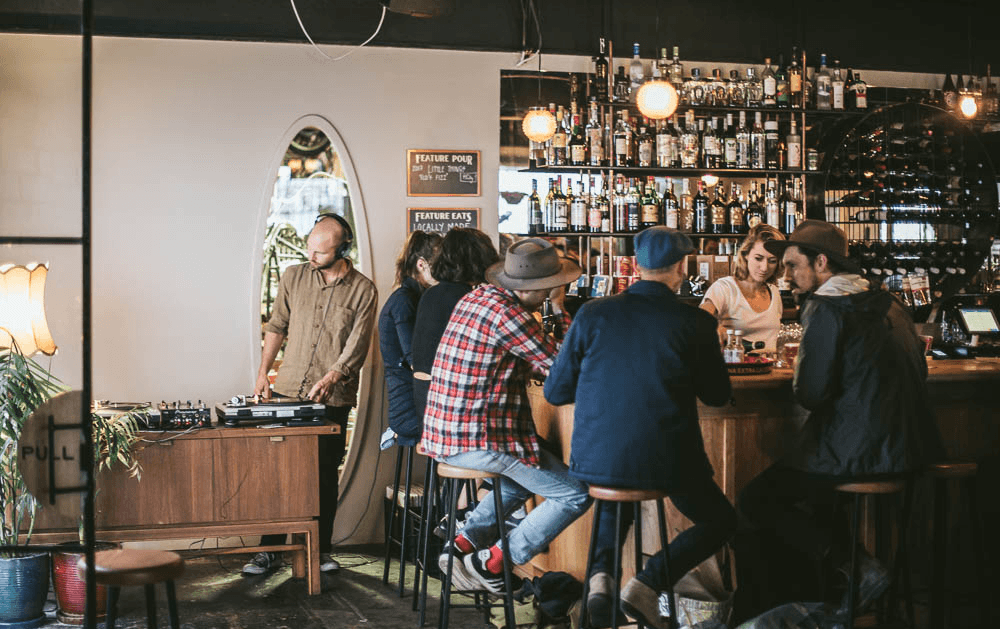 Kirk's Wine Bar
CBD
A staple of the CBD's bar community, Kirk's Wine Bar on Hardware Lane is often the answer for that lively yet laid back yet spot for a drink while waiting for a dinner reservation, after work knock-off or a nightcap. Led by Ian Curly of French Saloon, the quaint Euro-style bar sits on the corner of the busy city laneway is and is typically brimming with crowds who favour the expertly curated drinks and wine list which the floor staff have dialled into a tee, ready to recommend anything from a glass of Chardonnay to Gamay. With plenty of vibe and a Parisian-style fit-out, there's no doubting why Kirk's makes the cut as one of the best bars in Melbourne.
Rooftop Bar
CBD
A flagship amongst the best bars in Melbourne, Rooftop has long stood as the destination for a quick drink, or a long afternoon session that rolls into the night. Atop of the iconic Curtain House, Rooftop has had a spiffy renovation from its original clandestine fit-out and is now adorned with plenty of wooden nooks and crannies to plant yourself in. The bar line-up is filled with familiar favourites with local and imported beers, seltzers, and wines to keep you busy. Bartenders are more than happy to throw out a recommendation for one of their house cocktails, like the 'Afternoon Delight' with Poor Tom's Imbroglio, apricot liquor, pineapple and lime juice, and chilli and lime bitters. Paired with the CBD sunshine it's a match made in heaven.
Byrdi
CBD
Simple. Refined. Elegant. In just three words you know all you need to know about Byrdi. The CBD bar has a unique approach to its menu, integrating local and native ingredients. Drinks-wise, you'll find experimental cocktails and highballs with dynamic blends including the fermented, fortified, and smoked Yarra Valley Pear, with Strangelove pear soda. As well as the drinks, Byrdi also has a spanking food menu which has helped cement it as one of the best bars in Melbourne. The food menu features several tasty dishes that pair perfectly with whatever is in your glass. Check out the prawn toast with pepper berry mayo or the stracciatella with Baker Bleu sourdough.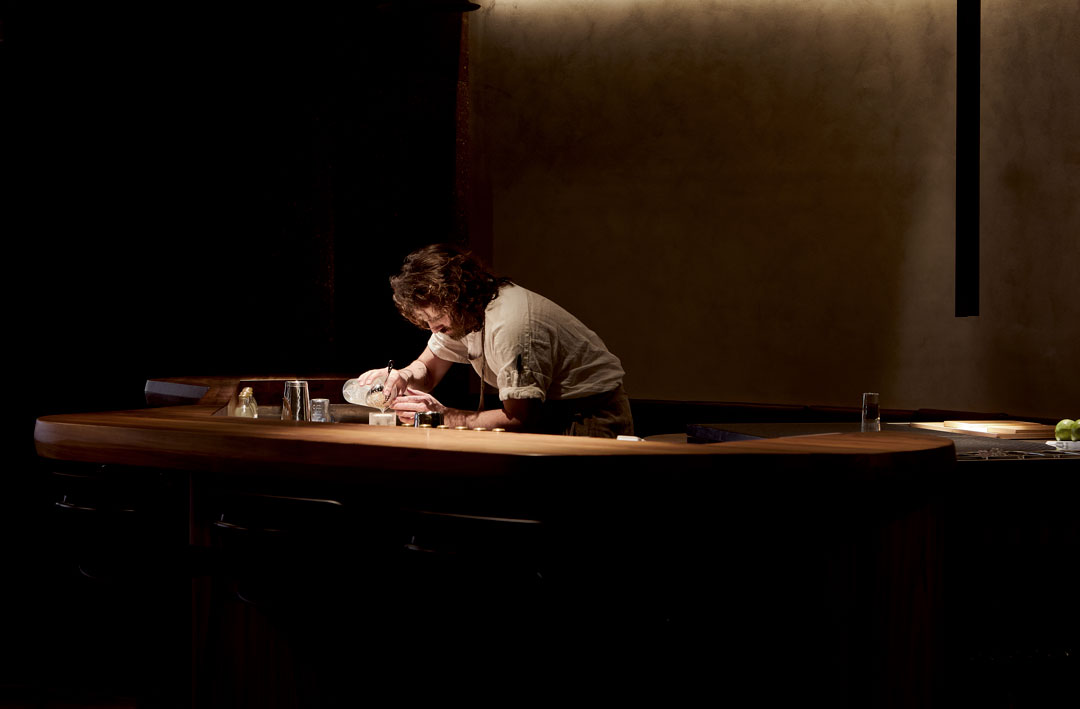 Cherry Bar
CBD
The embodiment of Melbourne's Rock N Roll culture, Cherry Bar may have shifted from its very aptly titled ACDC Lane to Little Collins Street, but there's still plenty of soul at this live music hub. Follow the neon-lit cherry into one of Melbourne's nightlife Institutions, where blood, sweat and beer is all par-de-course. The small centre stage welcomes an array of different acts from local talent to touring sensations. Licensed to serve alcohol for 24-hours, you'll likely discover all beautiful walks of life in Cherry Bar and share in the atmosphere of one of Melbourne's best bars. On the drinks front, you'll find just about everything from solid beers, to a bloody good rum and coke.
City Wine Shop
CBD
City Wine Shop is the unofficial clock-off destination for city-based workers. Heading to the Spring Street bar on a Friday, sitting curbside across from Parliament house, a glass of red in hand really adds that finishing touch to the week. With a serious Euro-chic atmosphere, City Wine Shop is a part of the Siglo, The European, and The Supper Club collective. Part bar/part wine shop, there's an extensive range of local and imported wines, which are available to drink in-store or to stash at home for later. What makes City Wine Shop one of the best bars in Melbourne is that you can now select dishes from the next door, European. Order up a Chianti, some shucked oysters, and go to town.
The Everleigh
FITZROY
Melbourne's unofficial home of olde-worlde drinking charm. No list of Melbourne's best bars would be complete without the city's Grand Dame: The Everleigh. This place started back in 2011 when Melbourne's cocktail scene was really starting to percolate, perched high above Gertrude Street, and watched over by owners Michael and Zara Madrusan. Ten years later, having won Australian Bartender Cocktail Bar of the Year (2018) and Best Victorian Bar of the Year (2019), after two renovations and forays into bottling, books and even hand-cut ice, it's still arguably the city's finest cocktail bar.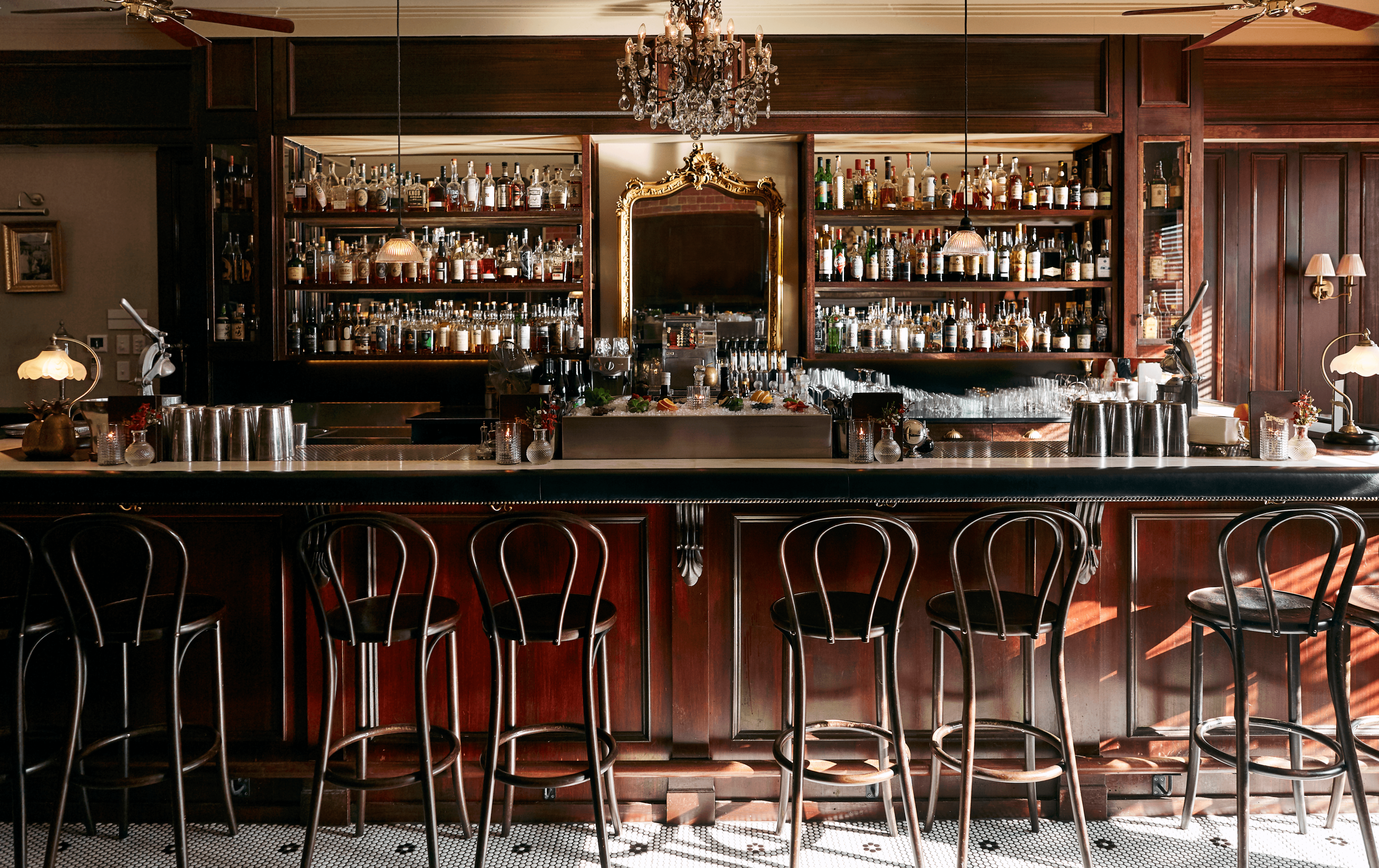 Heartbreaker
CBD
It's one of the fundamental laws of physics: any good night in Melbourne has to end up at Heartbreaker around 1am. The place has its own gravity. Heartbreaker is actually run by Michael and Zara Madrusan (the Everleigh crew), but you wouldn't know it from the vibe. Where The Everleigh is suave and understated, Heartbreaker is ballsy. On the surface, Heartbreaker is your classic rock n' roll dive bar. But look a bit closer: the drinks are all top shelf, the giant American pints are pure craft—usually Stomping Ground Lager or Bullshit IPA—and there's Connie's NYC-style pizzas, liberally self-dusted with parmesan and chilli flakes. Finish the night by dunking your head into a bowl of pork ramen at 24-hour Shunjinko across the street.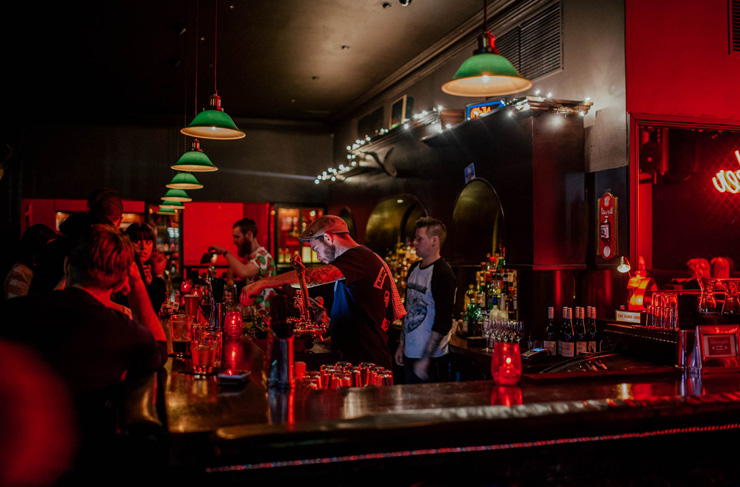 Black Pearl
FITZROY
This place arguably kick-started Melbourne's entire modern-day drinking culture. It literally won the world's Best International Cocktail Bar in 2017, and it's churned out more famous bartenders than any other institution in Australia, all nurtured under the eye of owner, Tash Conte. There's no point giving you drink recommendations because the Pearl changes seasonally. Bartenders here are encouraged to experiment. One night you'll find a frozen cosmopolitan, the next it'll be bourbon and bananas. Just sit up at that gorgeous old bar and drink whatever they put in front of you.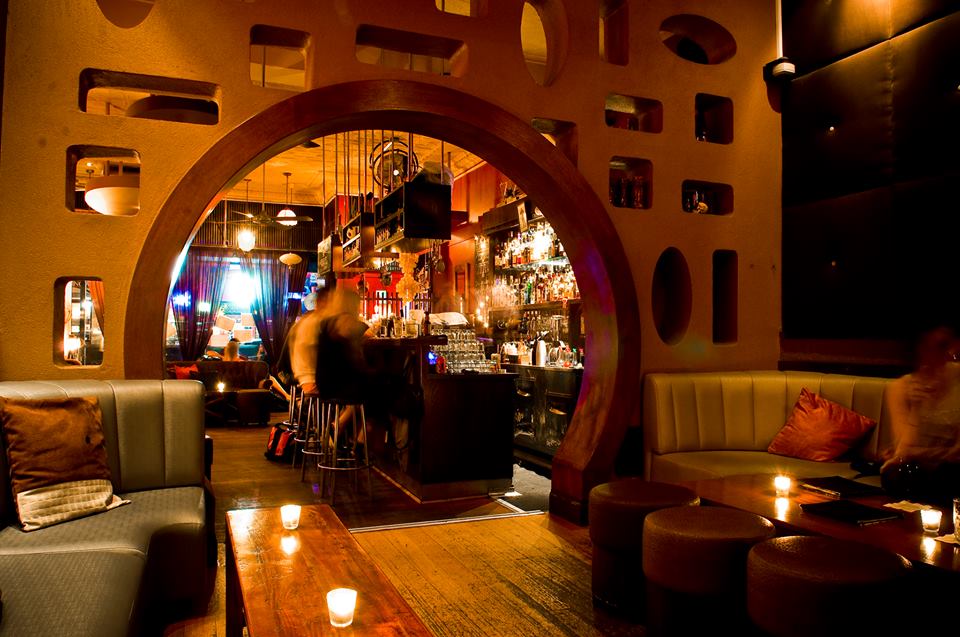 Section 8
CBD
Section 8 doesn't pretend to be anything fancy. The Ferdydurke guys literally found some laneway dead space, chucked in several pallets, cut out a hole in a shipping container and started slinging drinks. What makes this place special is that it's one of the few open-air bars in the CBD (the others being rooftop staples like Goldilocks, and Rooftop Bar.) There aren't many better drinking spots when the weather's nice, and the beer's flowing. You can just lean into the night. The drinks list isn't huge. You've got some basic cocktails behind the bar, but most people come for the craft beer. Now considered a staple of the city's drinking scene, day or night, Section 8 is one of the best bars Melbourne has to offer.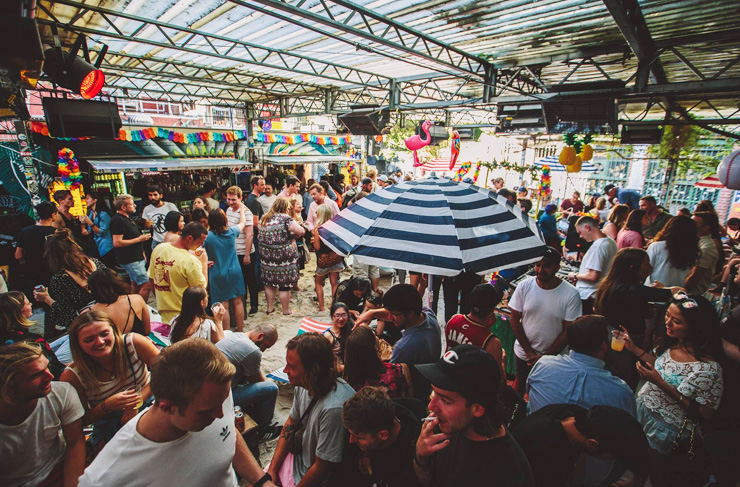 Bar Americano
CBD
​​If you want to know which way the winds of change are blowing, consider Matt Bax your weathercock. He's the mind behind Der Raum, Bar Economico, Bar Exuberante and meta-gallery-cum-drinking-den, Grau Projekt, and of course, Bar Americano—the jewel in the crown and one of the best bars in Melbourne. Americano is arguably Matt's greatest contribution to Melbourne's drinking culture. It's an uber-exclusive, standing-room-only, Italian-style cocktail bar, tucked into Presgrave Place, where the drinks are classic and space is very limited. You come here for a good time, not a long time: drink your impeccable Aperitivo, chat to the suave barmen, then get out. It's been a surprisingly resilient business model. Sure the cocktail list now changes weekly, and there's a bottled range if you want a takeaway Negroni, but Americano's spirit (and Matt's vision) hasn't been watered down. Not a single drop.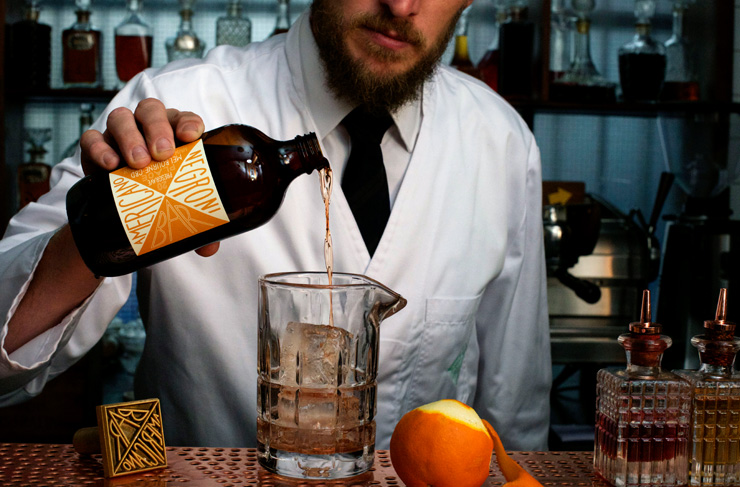 Dom's Social Club
CBD
Run by some of Melbourne's premier hospitalitarians, including Tom Peansell of Nico's, Dexter and the soon to be The Keys. The CBD-based Dom's Social Club was an instant success. With three levels with three very distinct styles, you can spend an entire night at Dom's and have a change of scenery all in the one spot. The first level of the CBD cocktail destination is the diner, with serious early 20th-century charm, tiled floors, and dark stained wooden tables. Here you can sink back a cocktail alongside quality woodfired pizzas. The second floor is the public bar, adorned with yesteryear memorabilia and a pool table it's a laid-back space. Finally, the rooftop, where summer negronis and starlit Melbourne skylines go down a treat. A huge contender for Melbourne's best bar.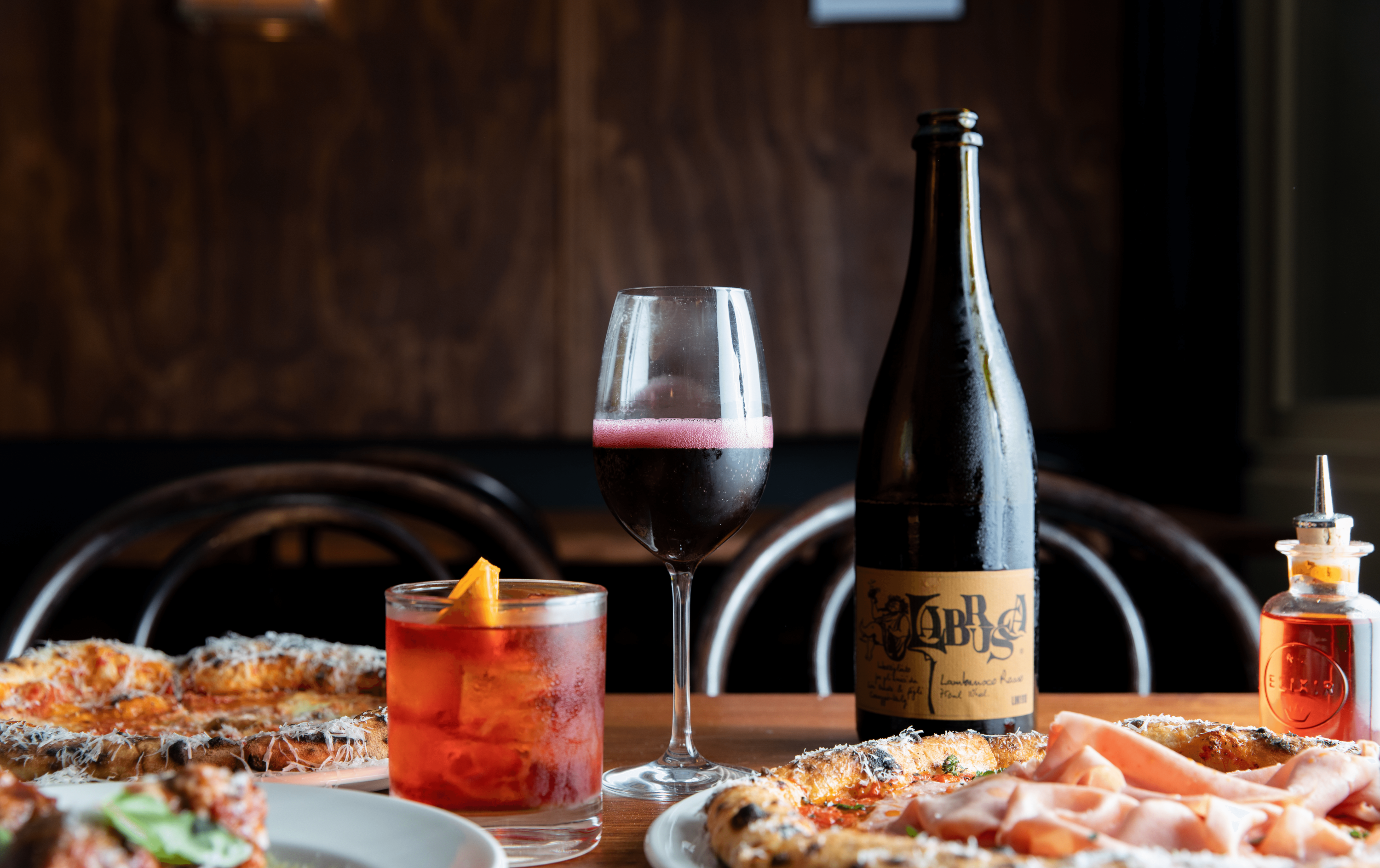 Dickstein's Corner Bar
CBD
Dickstein's is so underrated, so hidden in plain sight, so ridiculously humble and ordinary and fantastic, that it doesn't even feature on the average 'Melbourne's Best Bar' list. You won't find it accidentally. No finger-on-the-pulse trendsetter is going to recommend it to you. It's the sort of bar that doesn't give a shit about fashion or fashionable people: just quaffable wine, cheap pizzas and a friendly, candlelit ambience.
Bar Margaux
CBD
Paris meets New York in this subterranean bar on Lonsdale Street. Think classic French cuisine, then add some art deco tiles and mirrors, leather couches, a timber bar and super sophisticated cocktails, and you get Bar Margaux. Anything on the menu is sure to be a winner, but if you're a bit on the indecisive side, then the bartenders are there to help you decide—they'll even make you a custom off-menu drink to suit your cravings.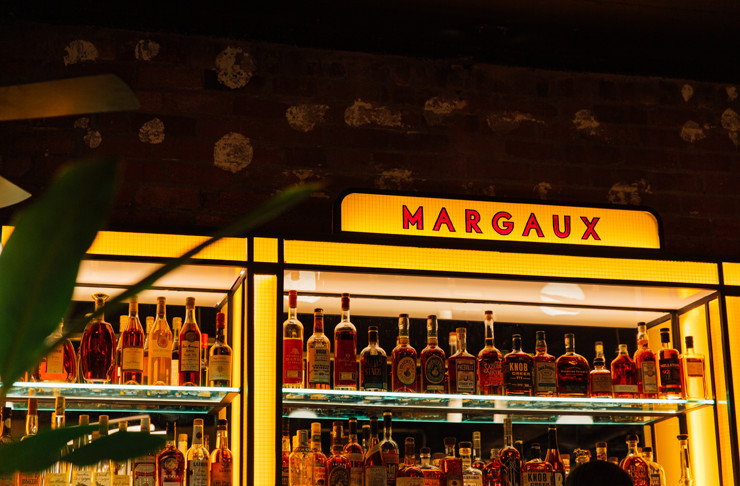 Prudence
NORTH MELBOURNE
Prudence used to be a North Melbourne record store, and if you tilt your head to one side, you can sort of tell. The place has this warmth about it. An old-school, eclectic, vintage-store kind of feel. When it opened back in 2000, it was just the downstairs long hall, with those chunky timber beams running over the ceiling and kitsch taxidermy grinning down from the walls. In 2015 they added an upstairs section, complete with Victorian chandeliers and private drinking booths. Prudence doesn't get a lot of traffic from outsiders, but that's probably how North Melbourne likes it.
Siglo
CBD
'Decadence' is the first word that sachets to mind when you think of Siglo. For puffing cigars and drinking ridiculously expensive wine, this is the CBD's crème-de-la-crème. Siglo isn't your everyday drinking hole. It's a place to level up your evening, celebrate special occasions: a big promotion, your first house, an anniversary nightcap. In a city that chases trends, Siglo sticks with quality instead. The terrace views over Spring Street and Parliament House don't hurt, and nor do the attentive staff, who can literally answer any alcoholic curveball you throw at them. Come here late, after midnight, light a cigar and enjoy one of city's best spectacles.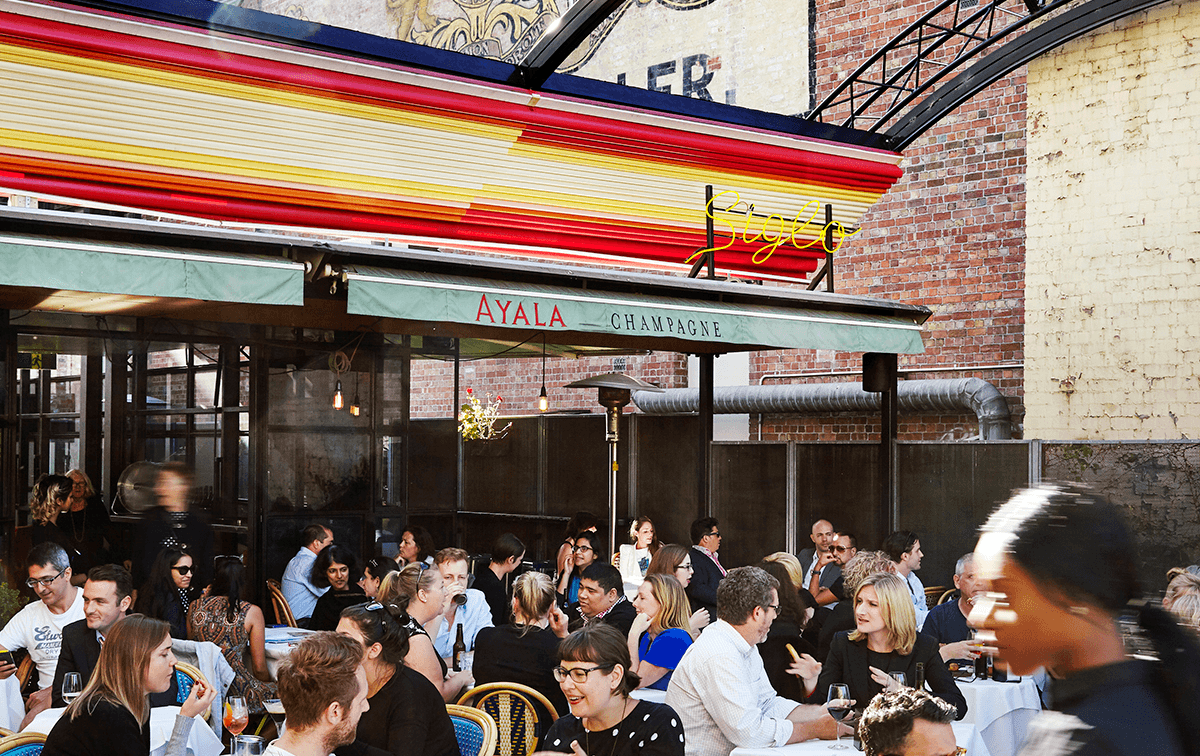 The Elysian
FITZROY
Picking a whisky bar for this list was tough. Do you go by malt range, encyclopaedic staff knowledge, or the ratio of rich mahogany to cliched leather wing backs? In the end, The Elysian edged out all other contenders. Ever since Yao Wong and Kelvin Low opened this place in 2016, everyone else has been playing catch-up. Wong and Low have managed to source some truly rare bottles from indie makers like Whisky Agency, Sansibar, Acorn and Signatory. Stuff you literally can't find anywhere else in the city: 5-year Akashi white oak, the 18-year-old Hakushu single malt, a 35-year-old Kinsbury. The list goes on and on. They also do highballs, soulful Tokyo jazz, and playful concoctions like Milo, espresso and condensed milk, spiked with Glenlivet Founder's Reserve Single Malt. It's mad genius stuff and easily one of the best bars Melbourne has.
Goldilocks
CBD
Goldilocks is a hidden fairytale bar tucked away above the Denyer Building on Swanston Street. They're not too big, they're not too small, they're just right in our opinion. With a focus on sustainability and recycling, the bar is committed to bringing local Victorian craft beers and wines to you, alongside their signature fairytale-themed cocktails and bar snacks which are mostly vegan and vegetarian. No big bad wolves allowed, strictly wholesome vibes only. With a rooftop bar adorned in fairy lights, there's a real fantasy atmosphere, coupled with a few 'Run Goldie Run' cocktails (gin, blood orange and passionfruit) and you'll fall right into the fable.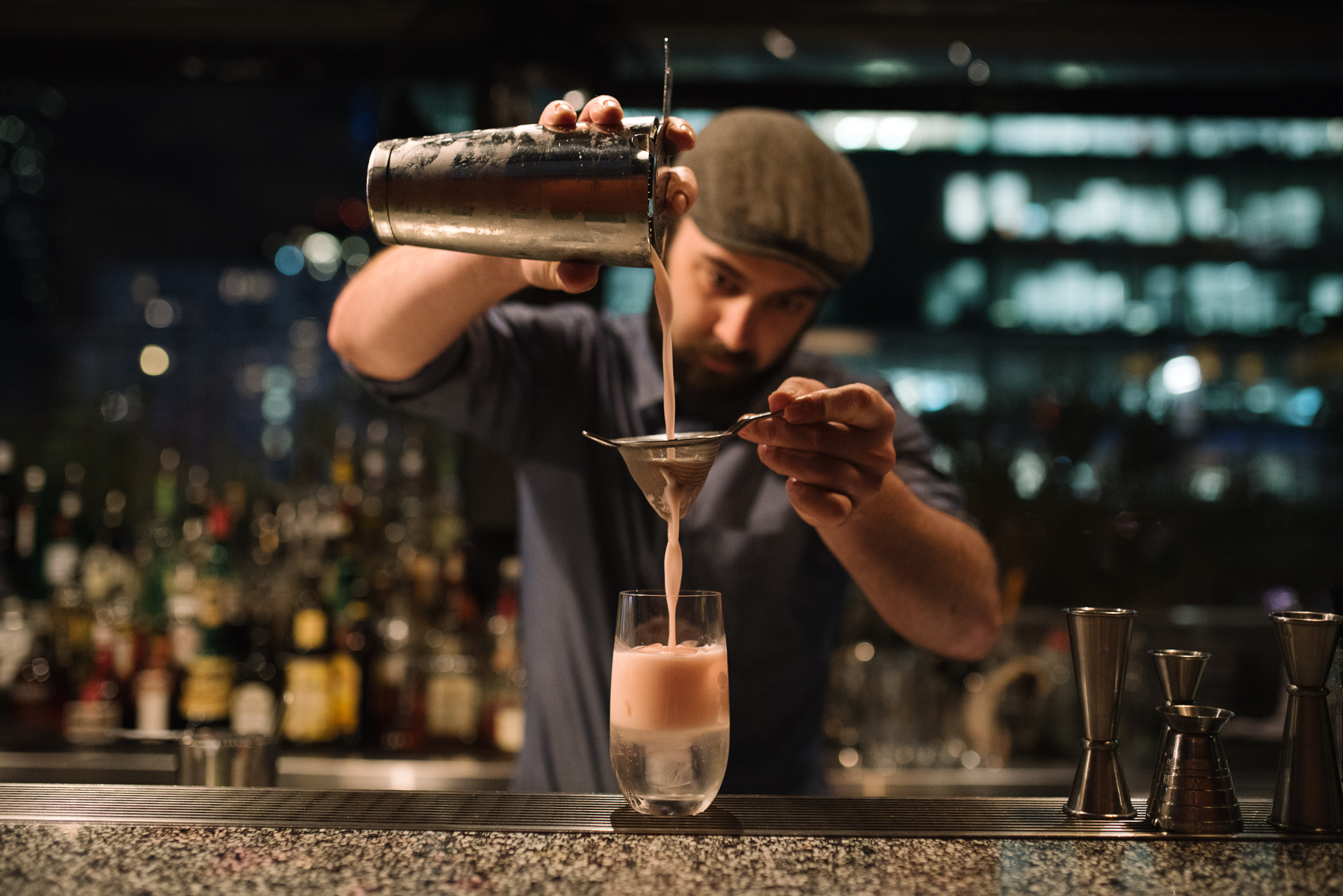 Gerald's Bar
CARLTON NORTH
You could make the argument that, while Fitzroy and Collingwood have cocktails locked down, Carlton North does wine bars better than anyone. Case in point: Gerald's. The wine has been steadily flowing here since 2007, and there's more than 200 bottles to choose from: generally a mix between old faithfuls and punk-rocking contact wines. But it's not really Gerald's selection that keeps locals coming back again and again. It's the fact that this bar never changes: Michael Caine is always there on the wall, smiling down. The staff remember your name and your favourite drop.
Eau De Vie
CBD
One of Melbourne's former best kept secrets, Eau De Vie has handfuls of swank. The semi prohibition-style bar with its difficult to find and strong speakeasy aesthetic has cemented it as one of Melbourne's best bars. The trick with Eau de Vie is getting there early and carving out your space: maybe a comfy chair in the whisky lounge, or some prize stools up near the bar. Alongside a hefty selection of classic cocktails, there's also a sizeable food menu with duck rillettes, charcuterie boards and more, helping you keep your wits about you. Eau de Vie might not be a secret anymore, but its secret sauce remains intact.
Lay Low
SEDDON
Lay Low is a suburban speakeasy, with mood lighting and good-looking couples and a polished terrazzo floor. The cocktail list was built by Oscar Eastman from Eau De Vie, and they don't get much better than that. The 'Seddon Sling' is our favourite here, a spicy muddle of Vietnamese mint and ginger beer. Food comes courtesy of The Brotherhood Yiros and Grill, just next door, which means this is the only hidden bar in Melbourne where you can get world-class cocktails with a side of souvlaki. If that's not a dynamite combo, we don't know what is.
Gimlet
CBD
Poised with enough early 20th-century charm to transport right back in time to a New York or Paris of yesteryear, Gimlet is a cocktail destination like no other. The Andrew McConnel diner is famed as an eatery but also serves as one of the best bars in Melbourne. Adorned in checkered tiles, dark-stained wood, booth seating and a wrap-around bar. On the cocktail front, you can expect a refined selection with several inventive options like the white negroni, with Tanqueray gin and Suze (French bitter Aperitif).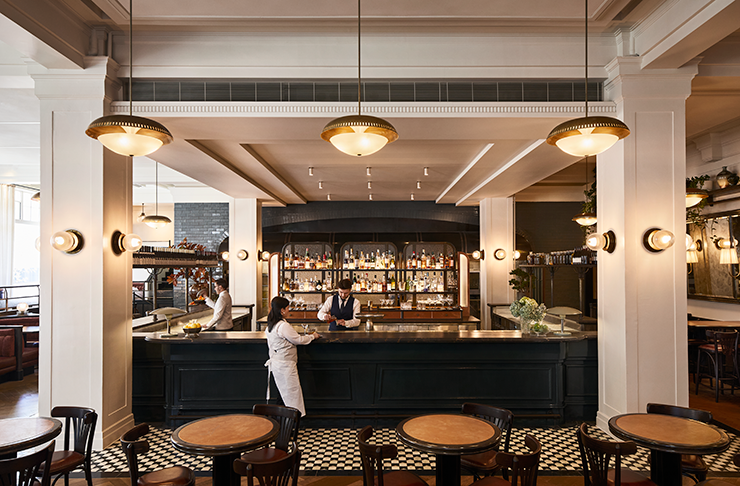 Above Board
COLLINGWOOD
When Above Board opened at the end of 2016, there was a feeling that, maybe, the best bar in Melbourne's bar was here. Hayden Lambert's Above Board arguably accomplished the impossible: it took Melbourne by surprise. The first trick was finding the damn thing. You had to go down the stairs at Beermash and follow the discreet signage or find the unmarked door on Chopper Lane (just off Perry Street). And when you finally get to Above Board, you're met with a long timber island bar in a moody basement with 20 signature cocktails on offer. That's it. No real gimmicks or architectural flourishes, just good times.
The Shady Lady
FITZROY
Most bars in Melbourne are comparable to other bars in Melbourne. They fit into neat little categories. The Shady Lady is in a class all to itself, marked 'Tropical Thrift Store'. It's the brainchild of co-owners MandyJo Reinier, Rosie and Georgina Maughan, and when it opened in early 2018, it took shabby-chic into strange new places. The Shady Lady is the opposite of every too-cool, minimalist, Scandi cocktail bar ever built. It's also one of the few places in town that specialise in picklebacks: a shot of whisky chased with eye-watering pickle brine. They're surprisingly addictive, especially when sitting out in the ramshackle beer garden, soaking up the atmosphere and chinwagging into the wee hours.
1806
CBD
Bar 1806 (named after the year in which 'cocktails' first appeared) sits alongside Gin Palace and Black Pearl as one of Melbourne' OG renaissance bars. It opened back in 2007, when most Victorians considered a dirty martini pretty avant-garde, and everything about it, from Tikki and John's Crazyhouse setting to the stage-cum-bar layout to the 110 whisky bottles behind the bar, everything spoke to a new generation of Melbourne drinkers. It was exciting and different and even a little decadent. The cocktail list was a decade-by-decade tour through the history of alcohol. The bartenders were allowed to experiment and push the envelope. And the mood was just right: low lighting, low music, and plenty of space for conversation. To this day, not much has changed. If you want something more private, check out The Understudy—a private drinking room with its own menu.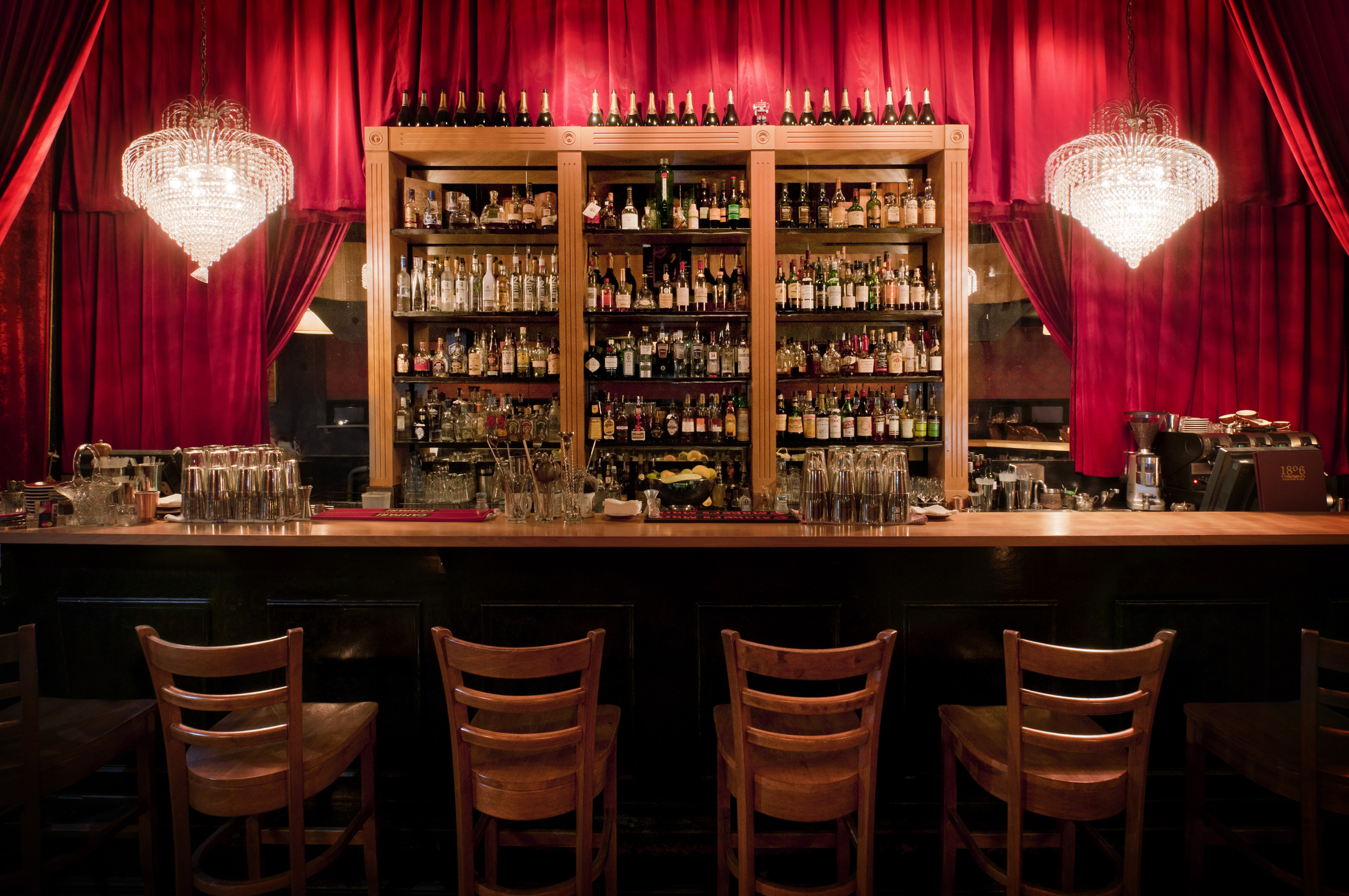 Poodle Bar & Bistro
FITZROY
One of the biggest openings of 2020, Poodle Bar & Bistro has become one of the hottest spots in Melbourne. The two-level diner on Gertrude Street is bolstered by its fanciful upstairs bar—a tidy yet intimate space with a chic art-deco design. With a dark green marble bar and painted brick walls and open fireplace, it's a perfect spot for knocking back a few. On the drinks front, the varied and extensive list of cocktails ranges from wildcards like the 'White Ferrari', with Cocchi Americano (a sweet and spiced wine), Tanqueray gin, and Lilet Blanc. To our personal favourite, the 'Pineapple Gimmiez' with gin pineapple and lime— a classic in its own right.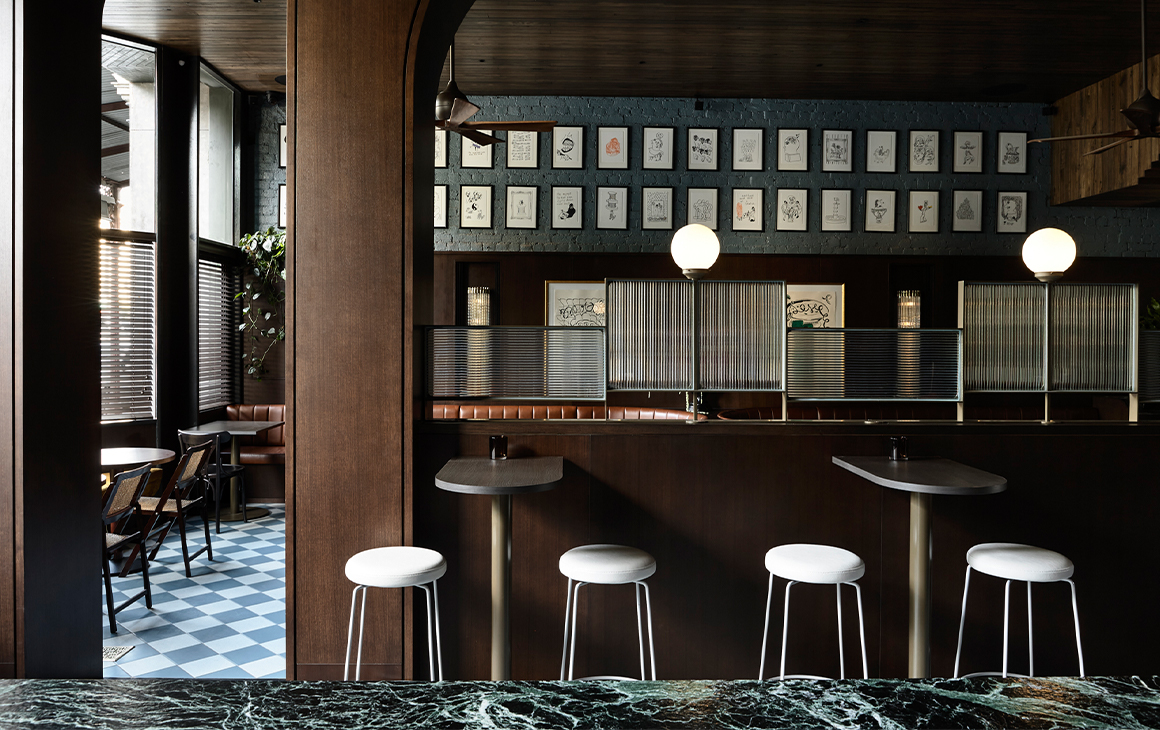 Check out Melbourne's best restaurants here.
Image credit: Poodle Bar & Bistro| Annika Kafcaloudis