Gimlet | Melbourne
CONTACT
Ph: (03) 9277 9777
Visit Website
33 Russell Street
Melbourne, VIC 3000
Show on map
---
The Details
Cuisine
Need to Know
Serving
In the mood for
Need to know
Bar Snacks
Full Food Menu
Function Space
---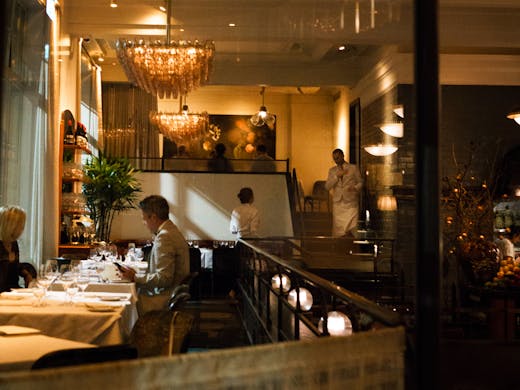 The Verdict
The crown jewel of Andrew McConnell's Trader House empire (Cumulus Inc. Cutler & Co, Supernormal), Gimlet At Cavendish house is an absolute culinary marvel.
The fine diner channels the glamour of early 20th-century European and American bistros with an opulent brasserie-type feel throughout the cocktail bar and dining room.
Opening back in 2020, Gimlet has well-established clout not only operating as one of the best restaurants in Melbourne; but also achieving global recognition— taking out the 84th spot in the 2022 World's Best Restaurants Awards.
Inside there's a multi-level dining area with booth seating and a full wrap-around bar the entire space is as much as an experience as the food; chandeliers hang from above and cathedral glass dividers provide privacy from table to table.
Aesthetics aside, it's the Gimlet menu that'll provide a forever-lasting imprint, both in its decadence, but also its brilliant simplicity. Under the guidance of head chef Colin Mainds, the menu is concise, and although rooted in European-centric cuisine still offers a refreshingly unique mix of contemporary takes on staples like oysters with seaweed butter, a full caviar selection or a plate of Pipe Rigate with a powerful zesty mix of blue swimmer crab, chilli, fennel and crème fraîche.
Inside the kitchen, a wood-fired oven imbues an irresistible smokey flavour to several of the larger plates. Now synonymous with Gimlet in Melbourne are both the 1/2 Southern Rocklobster which is roasted in a rich saffron rice and served alongside a thick rouille sauce and the T-Bone steak which is grilled over the coals and accompanied with fries and house-made condiments.
Also adding to the popularity and mystique of Gimlet is its Supper Menu, foremostly its cheeseburger which has achieved somewhat of a cult status in Melbourne; only available post 10pm on Fridays and Saturdays its become one of the most sought-after dishes in town.
Bar Manager Cam Parish has crafted a collection of drinks from the namesake Gimlet cocktail, a citrusy and powerful hit of gin, to the Cavendish House Martini which has the loose feel of a Negroni with gin, vermouth and orange bitters.
Image credit: Jo McGann
---