It's a very Melbourne thing to say stuff like 'This is the best Japanese I've had outside Tokyo'. But the truth is, Melbourne's best Japanese restaurants really are world class. Thanks largely to migrant chefs, international superstars, cult Japanese brands (IPPUDO, we're looking at you) and some home-grown talent, you can now get sushi, sake and some truly insane fusion food, right here in Melbs.
Everyone's got their favourite neighbourhood Japanese restaurant, but in our view, these are the best. Say Kon'nichiwa to the best Japanese restaurants in Melbourne.
Izakaya Den
CBD
Gyoza is iconically Japanese, and Izakaya Den does the best little bags of steamed goodness in town. The restaurant is not only aesthetically pleasing, with its chic wooden bar, perve-worthy open grill and concrete floors, but it offers a treat for your tastebuds, with an incredible range of traditional fodder: grilled octopus, agedashi tofu and salty edamame. We suggest booking ahead—this place gets pretty rammed on Friday and Saturday nights. Good one to impress out-of-towners.
Supernormal
CBD
Ceebs queuing outside Chin Chin? It's only a short stroll to Flinders Lane's other Asian masterpiece—of course, we're talking Supernormal. Andrew McConnell's crown jewel and home to the most famous lobster roll in Melbourne. The Supernormal menu is changing all the time, but it's always designed to be shared, so grab a couple of mates (or that date you're trying to impress) and get yourselves a serve of duck bao, a whole snapper with burnt butter sauce, wild watercress and shaved kombu, some beef tartare, and whatever else you can fit in. Make sure one of those something else is the Breadtop Kewpie mayo lobster roll.
Kisume
CBD
Kisume means "a pure obsession with beauty", which makes sense when you see the space. There's a hot kitchen in the basement, a sushi restaurant on the ground floor and a bar/omakase space up top (basically a private degustation arena where you'll be force-fed kingfish sashimi until you plead for mercy). The team is equally impressive: Australian chef Shaun Presland (whose Origin Story is pretty badass, considering he cooked for years in a remote Yamagata village) and Korean-born sushi genius Moon Kyung Soo. If there's something these guys don't know about sushi and sake, it ain't worth knowing.
Minamishima
Richmond
Picking Melbourne's best Japanese restaurant is like its own mini-game. There are at least half a dozen restaurants that could lay claim to the title. But here's one we're going to chuck in the ring. Minamishimia in Richmond serves the omakase of Chef Koichi Minamishima. This guy's got 25 years' experience in slicing up A-grade sashimi. You get one piece at a time, prep'd with loving care and incredible attention to detail. If you want to impress some out-of-towners, this is a pretty good place to start. We don't throw around terms like 'Melbourne's best sushi' lightly, but we're doing it here.
Purple Peanuts
CBD
What is Japan without sushi? Though the Oriental sandwich cops some flack with the rough rolls you can get in the city, Purple Peanuts is a lunchtime experience to treasure. Get a load of their famous brown rice inari, handrolls or onigiri if you're in for a quick bite. However, if you're planning on making a date out of it, try a tofu or prawn burger alongside a katsu curry and fawn over the kitsch bits and bobs (waving cats, Japanese chocolate bar walls and a giant ninja octopus) placed artfully around the store. There's a reason this place packs out with CBD workers every lunchtime.
Little Ramen Bar
CBD
You can't love ramen and NOT have been to Little Ramen Bar. Somewhat of an institution, this tiny eatery is one of the best Japanese restaurants in Melbourne for a simple noodle pit-stop. The menu makes decision-making easy (you can have ramen, edamame, kimchi, seaweed salad or gyoza, and not much else) and the $5 Sapporo Draught weekday deal makes it one of our top cheap eats. Get there early, and keep your party small: In true Japanese style, the dining space is tiny so getting a table if there's more then two or three of you can be tricky, but trust us, it's SO worth it!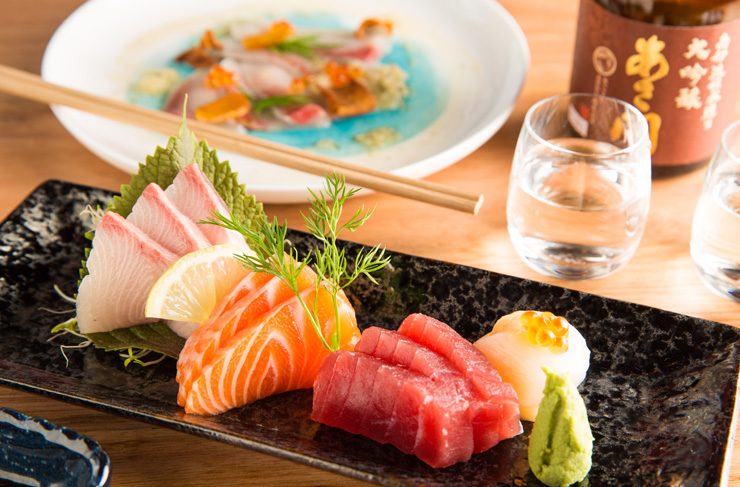 DenDeke
Preston
Melburnians over in north, don't think for a second that we've forgotten about you. You're a lucky bunch, with DenDeke right in your neighbourhood, just over in Preston. it's a rocking izakaya bar, and it's almost worth a visit just for the decor (Star Wars retro meets Japanese biker gang). The menu is all good (really, really good) but our suggestions are the karaage and the deep-fried Kushi-age eggplant skewers. Don't forget to wash it down with a range of hot and cold boutique sakes. The guys behind the bar are lovely here—just ask them what spirits match well with your food.
Ichi Ni Izakaya
St Kilda
If you dream of dining in an open sushi kitchen but can't afford the flights (even when they're on sale with Jetstar), St Kilda's Ichi Ni Izakaya might just be able to make that fantasy a reality. While it's a little fancier than most—think traditional motifs and red cloth decorating the walls—it sticks with the traditional bar-snack approach, making it one of the best Japanese restaurants in Melbourne for a solo sushi session. Grab a stool, some chopsticks, and get ready for some of the freshest sashimi and crispest beers around.
Akita
North Melbourne
If you're looking for a hidden Japanese suburban gem, Akita in North Melbourne is a no-frills venue that serves traditional dishes in a minimal space. You'll find everything from single servings of sashimi to flavourful hotpots, all of which are incredibly reasonably priced. Because when don't you want a bargain donburi and an ice-cold beer? The locals keep this one a pretty tight secret, but the word's slowly getting out there. Swing by before the hype hits.
Teppanyaki Inn
CBD
The oldest and most revered teppanyaki place in Melbourne, Teppanyaki Inn has been the one-stop-shop for getting an egg thrown 'artfully' at your patiently waiting face bowl since 1975. As the first teppanyaki restaurant to ever open in Australia, they've mastered the art of the open grill and you can expect the freshest, most mouth-pleasing nosh this side of the hemisphere. If you're in the mood for Moreton Bay Bugs and broken fried rice, bookings at Teppanyaki Inn are essential on the weekend as their reputation spreads far and wide across the country.
Don Don
CBD
Don Don will have your chicken katsu curry in your hand faster than you can order it. A lot of lunchtime diners like to get their phone out and time how many seconds it takes to whip the chargrilled chicken from the grill and dollop on a big ladle of tasty curry sauce (their PB is 12...). Don Don is a favourite of RMIT students and busy corporates alike. Get underneath Don Don's black shutters and hectic kitchen for a bento box, and proceed to park yourself on the State Library Lawn for maxed out pleasure levels.
Supernormal Canteen
St Kilda
It's a toss-up between here and Supernormal proper, but Supernormal Canteen has a more authentic Japanese yakitori bar vibe going on, and that's why it makes the list. You'll find it on Fitzroy St in St Kilda (one of a number of classy venues cleaning up this strip—it's not just for kebabs anymore). Our favourites are the char-grilled pork neck from the hibachi grill, the veggie dumplings (with a wicked shiso dressing) and of course, the final course, the giant kakigori. A shaved ice dessert to satisfy any sweet tooth.
Yuzu Café
CBD
Tucked down Church Lane, just off Collins Street, Yuzu is a tasty spot for simple Japanese grub in the CBD. The menu ranges from awesome quick lunch pick-ups (the express teriyaki chicken bento box is a must) to mouth-watering skewers, marinated sashimi, rice-paper-wrapped spicy tuna and traditional pork-based ramen. As well as serving traditional a la carte dishes, Yuzu hosts amazing chef's tasting evenings which allow you to literally eat your way around Japan, city by city, from Kagoshima in the south to Sapporo in the north—an incredible way to experience authentic Japanese food culture right here in 'Straya.
Ishizuka
CBD
If you've got a bit of a big budget and are looking for some Japanese food to spend it on, look no further than Ishizuka. This is one fancy restaurant, with food that backs it up. The menu changes seasonally—and daily. A revolving nightly set menu of 11 unbeatable dishes. And here's the kicker: it only serves 16 diners each evening. So uh, book ahead. Spots fill up like weeks in advance. Check out that decor too...
Yokocho
CBD
Looking for that sweet spot between cheap eats and formal occasion? Make your way down to Yokocho in the CBD. It's all about embracing the Japanese eating and drinking culture, while bringing Melbourne's hungry locals traditional Japanese dishes with a modern twist. You'd be foolish to skip the combination sushi, and follow it up with some tempura King Prawns. The rice wine spritzes are rocking too.
IPPUDO
CBD
You may have noticed, but Melbourne is in the midst of a bit of a ramen craze at the moment, and IPPUDO is the most recent addition to the family. And it's about time—this joint has been making Sydney-siders happy for yonks. Make up for lost time with a big bowl of the Shiromaru Motaji tonkotsu ramen. Find IPPUDO on Artemis lane in QV—just follow the crowds.
Yuki Tei
South Yarra
Hardly anyone knows about this place. A proper little suburban gem for your Dinner list. Yuki Tei is a cosy tempura bar in South Yarra, just tucked behind Toorak village. They only serve omakase (chef's choice) for dinner, and it's almost exclusively tempura. That might sound weird, but you've gotta have faith. Yuki Tei san is not your average chef, and he does things with tempura that are unknown to modern science. Swing by at lunch if you want a kickass katsu curry too.
Shujinko
CBD
Okay, it's been about 3 minutes—time for another ramen recommendation. How does 24-availability sound? Slurp up your soup at 7pm, slurp it at 4am, it's all the same at Shujinko. Even better, the food is good. Our pick? Pretty classic. Go for the Shujinko ramen—a pork broth, with grilled pork belly, spring onion, bok choy, marinated egg and bean sprouts. Try the Black Ramen if you're after an added chilli kick.
Shop Ramen
Fitzroy
You can't miss this place, with the glowing neon sign out front and a line out the door. Shop Ramen is serving up piping bowls of tonkatsu broth that could rival Tokyo's best (we've done the leg-work, so trust us on this one). Vegetarians won't miss out either. There's a veggie (cashew milk) broth on the menu, stuffed with enoki mushrooms and carrots. Meat-eaters can munch on grass-fed pork ramen with a soft boiled egg. If you need to line the stomach first, the pork belly steamed buns are a good way to start.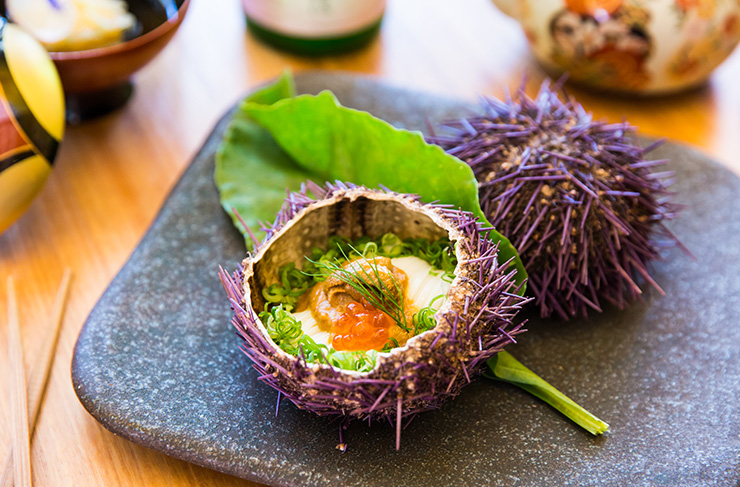 Shinoki
South Yarra
Look, you can order a la carte at Shinoki and you'll be satisfied, but it's even better to let head chef Daisuke Miyake and his team take the reigns. You can choose between 4-course and 7-course options, but either way you'll wish there was more so you'd never have to stop eating this fresh, creative food. Think grilled baby calamari with buckwheat, squid ink and wasabi oil, confit whiting with miso, and truffled pork ramen. Check 'em out on Toorak Rd in South Yarra, just near the train station. Wear loose pants.
Ichi Ni Na Na
Fitzroy
You've already seen its sibling Ichi Ni Izakaya make the cut, but why not visit the whole family? At Ichi Ni Na Na, treat yourself to wafu-seasoned wagyu beef tartare with pickled shallots, radish, shiso and croutons, just-out-of-the-ocean sashimi salads and charcoal grilled king prawns with yakitori sauce. Wash it all down with a cocktail up on the Rooftop Bar and in for a top-notch evening.
Papirica
Collingwood
Switch things up a little here, and swap ramen for some of the best Okonomiyaki you'll find in Melbourne over at Papirica. That's essentially a savoury Japanese pancake, but rather than straight batter its got potato and okra mixed in. Top it with mayonnaise and a home-made okonomiyaki sauce. They're available with pork, seafood or vegetarian, and we'll take one of each, please.
Image credit: Annika Kafcaloudis