Japanese cuisine is truly an all-rounder. Depending on the dish, it can be delicate enough for a light lunch or pack enough punch as a hearty dinner—come at me karaage chicken.
From sushi and ramen, to izakaya and sake bars, Melbourne has a full gamut of spots to get your fix. All budgets welcome, whether you're after a cheap eat or a fine dining experience, you can find it in our guide to Melbourne's best Japanese restaurants for 2021.
Minamishima
RICHMOND
Picking Melbourne's best Japanese restaurant is no walk in the park. There are at least half a dozen restaurants that could lay claim to the title. But in 2021 this one is still rightly deserving of a spot at the top. Minamishima in Richmond serves the omakase of Chef Koichi Minamishima. He's got 30 years' experience in preparing A-grade sashimi. You get one piece at a time, made lovingly with incredible attention to detail. We don't throw around terms like 'Melbourne's best sushi' lightly, but we're doing it here.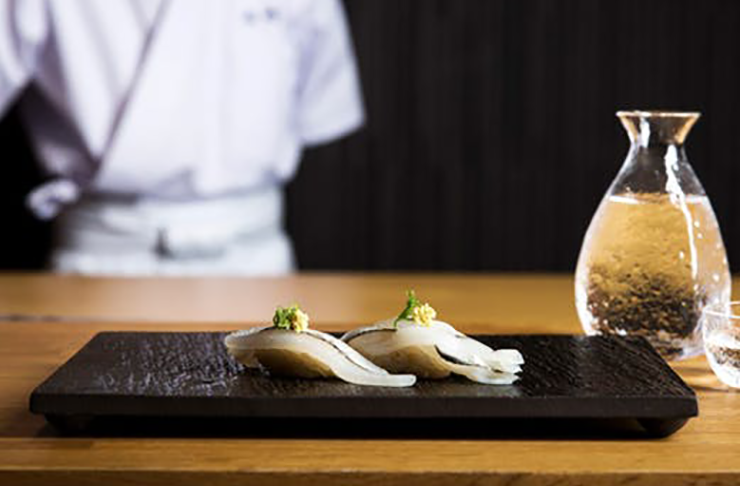 Ishizuka
CBD
If you've got a bit of a penchant for the finer things in life, look no further than Ishizuka. This is one fancy restaurant, with food that backs it up. The menu changes seasonally and daily with a revolving nightly set menu of eleven unbeatable dishes. And here's the kicker: they only serve sixteen diners each evening. So, needless to say, book ahead if you're planning to get in in 2021—spots fill up weeks in advance.
Kisumé
CBD
Kisume means 'a pure obsession with beauty', which makes sense when you see the space. There's a hot kitchen in the basement, a sushi restaurant on the ground floor and a bar/omakase space up top. The team is equally impressive: helmed by head chef Yonge Kim, if there's anything these guys don't know about sushi and sake, it ain't worth knowing.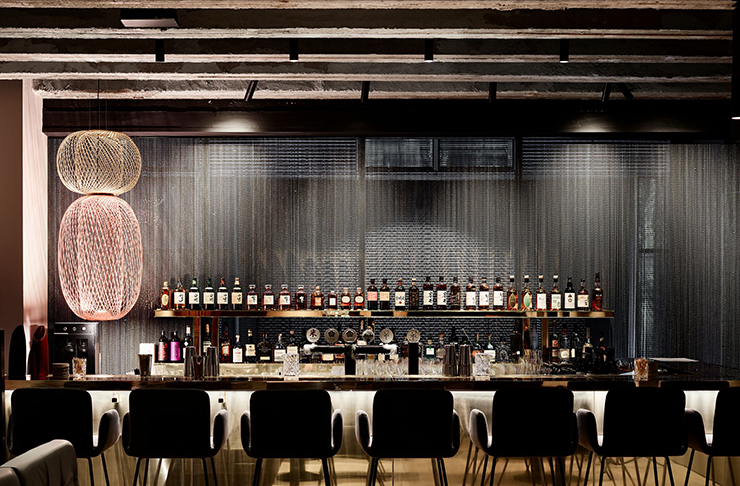 Izakaya Den
CBD
Gyoza is iconically Japanese and Izakaya Den does it best. The restaurant is not only aesthetically pleasing, with its chic wooden bar, open grill and concrete floors, but it offers a treat for your tastebuds, with an incredible range of traditional offerings like grilled octopus, agedashi tofu and salted edamame. There's also a new vegan menu for those less into the fish dishes. We suggest booking ahead—this place gets pretty rammed on Friday and Saturday nights.
Yakimono
CBD
If you like your Japanese grilled to perfection, then you're going to love this new restaurant specialising in all things fire. Opened in the back end of 2021, Yakimono is the brainchild of owner Chris Lucas, who spent three years living and working in Japan and exploring their late-night izakaya bars. Located over two floors with an outdoor terrace, this Japanese eatery is nestled in the heart of Melbourne's fashion district and certainly packs a stylish punch—food and decor alike.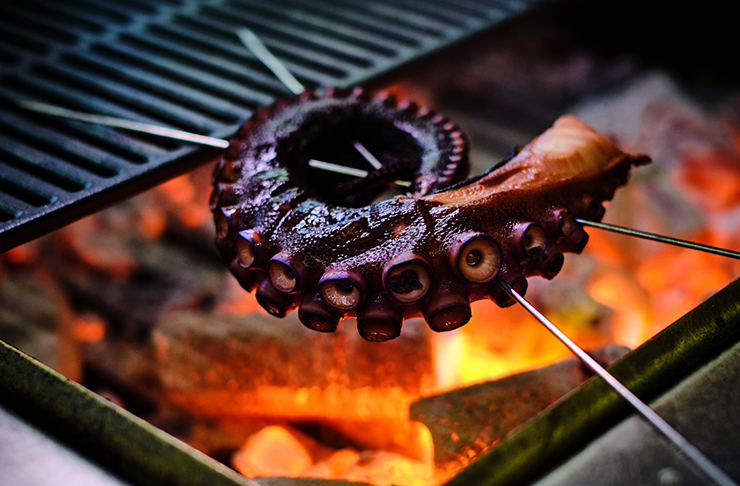 Supernormal
CBD
Supernormal is Andrew McConnell's crown jewel and home to the most famous lobster roll in Melbourne. The Supernormal menu is changing all the time, but it's always designed to be shared, so grab a couple of mates (or that date you're trying to impress) and get yourselves a serve of duck bao, a whole snapper with burnt butter sauce, wild watercress and shaved kombu, some beef tartare, and whatever else you can fit in.
Robata Japanese Grill
CBD
The San Telmo Group are stepping into Japanese territory for the first time with their new venture, Robata Japanese Grill. From the end of Melbourne's lockdown, they'll be offering two set menu options for dinner and one for lunch, featuring fresh sashimi, grilled skewer-based dishes, pork katsu, wagyu beef, pork belly and plenty more. As for drinks, we're keen to try their toasted sesame whisky highball.
Keen to visit Robata soon? Purchase a restaurant gift voucher here.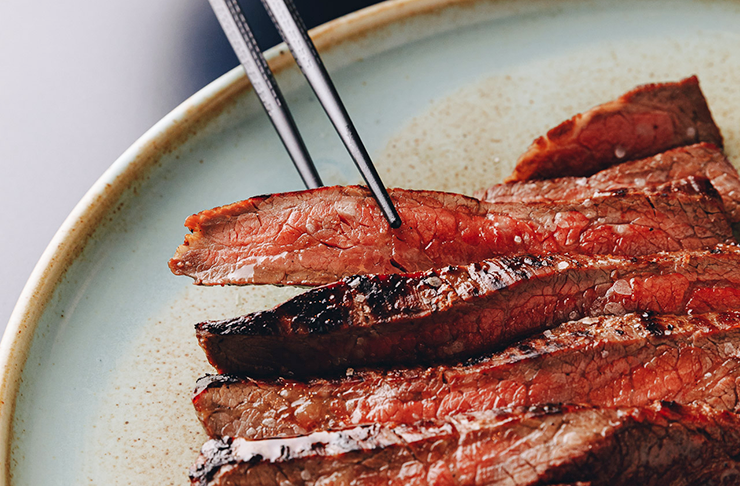 Ichi Ni Na Na
FITZROY
At Ichi Ni Na Na, treat yourself to wafu-seasoned wagyu beef tartare with pickled shallots, radish, shiso and croutons, just-out-of-the-ocean sashimi salads and charcoal-grilled king prawns with yakitori sauce. Wash it all down with a cocktail up on the Rooftop Bar. You're in for a top-notch evening at one of Melbourne's favourite Japanese restaurants on Fitzroy's bustling Brunswick Street.
Don Don
CBD
Don Don is, without a doubt, one of the best Japanese restaurants Melbourne has to offer when it comes to efficiency and value for money in 2021—you'll have your chicken katsu curry in your hand faster than you can order it. A lot of lunchtime diners like to get their phone out and time how long it takes to whip the chargrilled chicken from the grill and dollop a big ladle of tasty curry sauce on top (their PB is 12 seconds...). Don Don is a favourite with students and busy corporate-types alike. Get underneath Don Don's black shutters and hectic kitchen for a bento box, and proceed to park yourself on the State Library Lawn for an al-fresco, no-fuss meal.
Teppanyaki Inn
CBD
Since 1975, Teppanyaki Inn has been Melbourne's go-to for getting an egg thrown 'artfully' into your face—sorry—bowl. As the first teppanyaki restaurant to ever open in Australia, they've mastered the art of the open grill and you can expect the freshest, most mouth-watering nosh this side of the hemisphere. If you're in the mood for Moreton Bay Bugs and freshly cooked fried rice, book a seat at Teppanyaki Inn. Hot tip: reservations are essential on the weekend and if you snooze you lose.
Niku Ou
CBD, South Yarra
Bento, sushi and sashimi are all on the cards at Niku Ou, but you simply must opt in for their wagyu here, and there are at least a few reasons why. Several of their selections are available exclusively at Niku Ou in Australia, like the Japanese Kobe beef, which is the world's number one wagyu—if you're feeling like balling out, try their $225 gold leaf wagyu sandwich. It's worth every bite.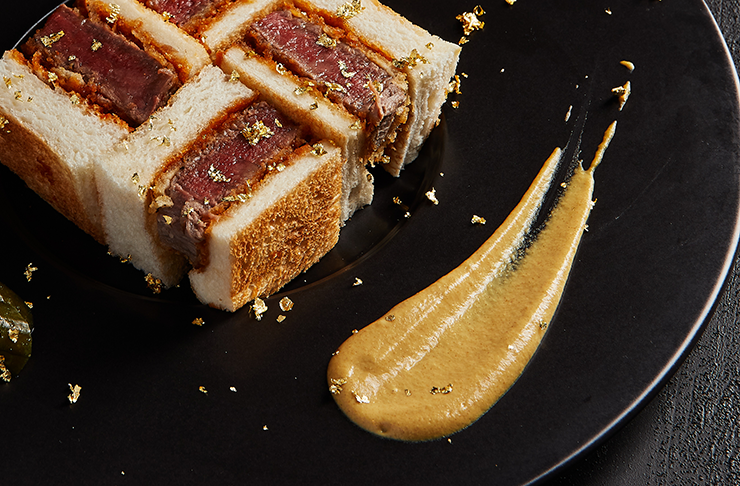 Kazuki's
CARLTON NORTH
Chef Kazuki Tsuya and his partner Saori transported Kazuki's from its former Daylseford home to Lygon Street several years ago. Kazuki's is based on the tradition of 'Omotenashi', which refers to an intuitive, kind and distinct Japanese approach to hospitality. The restaurant offers both a set tasting menu and a seasonal à la carte menu, so whether you're ravenous or curious is irrelevant—they're both sure to satisfy.
IPPUDO
CBD
IPPUDO is the epitome of ramen spots and it's one you have to add to, then subsequently check off, your list. Chicken ramen is in no short supply, but they've also got a veggie soba which is topped with sauteed tomato and fried mushrooms. Find IPPUDO on Artemis lane in QV—just follow the ramen aromas, or the crowds of people that flock to this institution of a Japanese restaurant.
Gogyo
FITZROY
As far as Japanese restaurants north of Melbourne go, Gogyo is worth a look in. Their signature charred miso ramen dish is like nothing else found here, and their spicier dishes pack some heat (try the karaka-men bowl for a real punch in the tastebuds). Gogyo is owned by IPPUDO, a Japan-based chain that have been doing ramen back in Japan for years, so you know you're in good hands when you order a bowl of the good stuff.
Shujinko
CBD
If you just can't get enough ramen in your life, then let Shujinko be your 24hr supplier. Slurp up your soup at 7pm or 4am, it doesn't make a difference at this place. Go for the classic Shujinko ramen—a pork broth with grilled pork belly, spring onion, bok choy, marinated egg and bean sprouts. Try the Black Ramen if you're after (and can handle) an added chilli kick.
DenDeke
PRESTON
Melburnians over on the northside, don't think for a second that we've forgotten about you. You're a lucky bunch, with DenDeke right in on your doorstep. It's a rock 'n' roll izakaya bar, and it's worth a visit just for the decor (think Star Wars retro meets Japanese biker gang—it works, trust us). The menu is all good (really, really good) but our suggestions are the DenDeke karaage and the soft shell crab tempura. Don't forget to wash it down with a range of refreshing sakes. The guys behind the bar are lovely here—just ask them which spirits match well with your food if you're unsure.
Ichi Ni Izakaya
ST KILDA
You've already seen sister venue Ichi Ni Na Na make the cut, but why not stop by the OG? If you dream of dining in an open sushi kitchen but can't wait for international travel, St Kilda's Ichi Ni Izakaya might be the solution. While it's a little fancier than most—think traditional motifs and red cloth decorating the walls—it sticks with the traditional bar-snack approach, making it one of the best Japanese restaurants in Melbourne for a solo sushi session. Grab a stool and some chopsticks, and get ready for some of the freshest sashimi and crispest beers around.
Marble Yakiniku
GLEN WAVERLEY
As the name suggests, Marble Yakiniku is all about steak. Step into an opulent world of traditional Japanese dining with timber-lined dining spaces reminiscent of traditional tea houses, cosy nooks for sake tastings, and a menu steeped in tender wagyu cuts. Beautifully presented in special wooden bento boxes, your food is barbecued at the tableside and served fresh onto your plate. This slice of steak paradise is tucked away in the suburbs, but it's well worth the journey.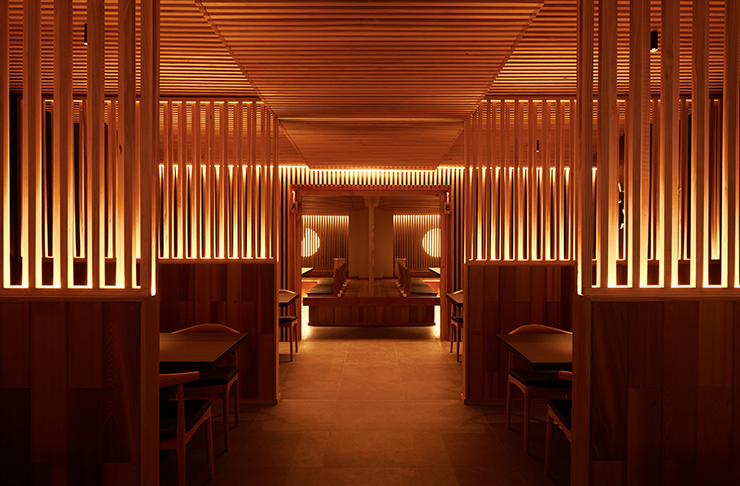 Akita
NORTH MELBOURNE
If you're looking for a hidden Japanese suburban gem, Akita in North Melbourne is a no-frills venue that serves traditional dishes in a minimal space. You'll find everything from single servings of sashimi to flavourful hot pots, all of which are easy on the budget. Because when don't you want a bargain donburi and an ice-cold beer? It's one of North Melbourne's best kept secrets but we're giving it a well-deserved shoutout.
Little Ramen Bar
CBD
As the name suggests, Little Ramen Bar is on the smaller side when it comes to Japanese restaurants (or any kind of restaurant) in Melbourne. But size absolutely does not matter. The menu makes decision-making easy (you can have ramen, edamame, kimchi, seaweed salad or gyoza, and not much else) and the $7 Sapporo Draught on tap makes it one of our top cheap eats. In true Japanese style, the dining space is tiny, so getting a table if there's more than two or three of you can be tricky, but trust us, it's so worth it. Make sure you check them out at their new Little Collins Street location.
Aoba
MALVERN
A longstanding Japanese restaurant in Melbourne's eastern suburbs, Aoba feels like you're stepping into one of the many family-run restaurants found throughout Tokyo's winding back streets. Like many traditional eateries in Japan, Aoba seats around fifteen people, which makes for a cosy fair, but Chef Shingo and the staff will make you feel right at home should you have any qualms—the food here is unbelievably fresh, and if you close your eyes for just a second, it feels like you're back in Japan for just a split second.
Shimbashi
NORTHCOTE & FITZROY
Hunting down the best cheap Japanese in Melbourne can be tough with so many options, but we think we've found one that'll hit the sweet spot. Shimbashi is known for serving up the lighter and lesser-known sibling of ramen: soba. The noodles are made from buckwheat and often served cold, and their menu has just gone entirely gluten-free with several vegetarian and vegan options, too. Eat up!
For more of the best Melbourne has to offer, head to our Best Of Guides section.
Image credit: Annika Kafcaloudis