Ramen. So simple yet so delicious, a timeless pairing of noodles and broth. Noodles cooked to the exact level of softness requested by the diner, that is. And broths varying from the light and salty kind to one made by slow-cooking pork bones for hours to create a rich, creamy, intense soup base. Toppings that usually include pork that's been braised in soy sauce, sake and sugar until it's meltingly tender, plus soft-boiled eggs marinated in a mix of ingredients that are often a closely guarded secret.
Okay, ramen's not so simple after all, but it is undeniably delicious. From creamy tonkatsu style to the lighter miso broth, we've assembled our definitive list of the best ramen in Melbourne for 2022:
Shyun Ramen Bar
CARNEGIE
Some of the best ramen Melbourne has to offer can often be found outside of the CBD. From the cheerful Japanese greeting called out by every staff member when you walk in the door, to the open kitchen facing ramen lovers in the long, narrow dining area, Shyun Ramen Bar is a slice of Japan transported to suburbia. A simple industrial fit-out (wood-panelled and exposed brick walls, oversized light bulbs) puts the focus on piping hot bowls of some of Melbourne's best ramen, soba and udon. The Karaage ramen is a marriage of Japas and ramen—bite-sized pieces of deep-fried chicken sit atop a mound of tender noodles in a shoyu or miso-based broth, and a handful of corn kernels and spring onions to add texture to the dish.
Little Ramen Bar
CBD
According to the crew at Little Ramen Bar, the traditional accompaniment to ramen is—apart from the sound of slurping—a plate full of gyoza. The juicy, porky dumplings go as well with a crisp Sapporo as they do with what could be the best ramen Melbourne has in the CBD. Take your pick from the classic ramen (with a slice of tender pork, seaweed, and a choice of broth) or the spicy tan-tan men. The latter is a hearty, rich version of ramen, with loads of noodles in a chilli-infused broth that's so full of minced pork it's more like a stew than a noodle soup—perfect for dunking gyoza into.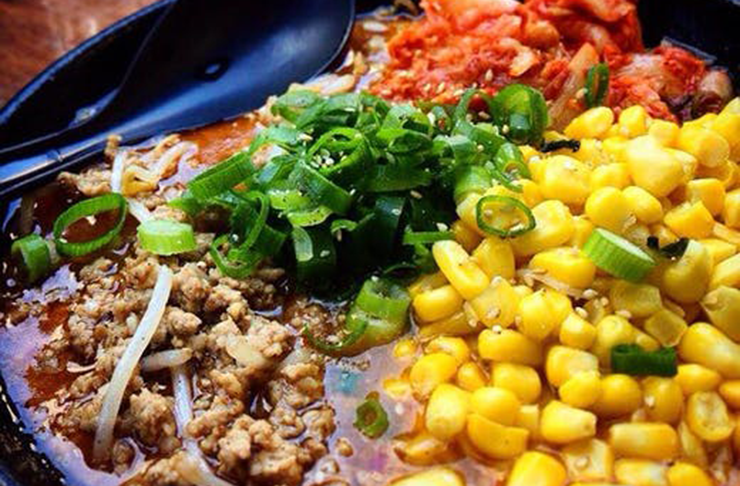 Shujinko
CBD
While we've got a cheeky midnight kebab, there's ever-growing room for more late-night dining options in Melbourne. That's where Shujinko Ramen, comes in. As the city's only 24-hour ramen bar, you can find piping hot bowls of tenderly-cooked ramen, gyoza and takoyaki being served here at all hours of the night. Their signature collagen-rich Tonkotsu Ramen is guaranteed to bring you back to life no matter what state you're in. The broth is poured over a soft halved egg, roast pork belly and wheat noodles which are made in a windowed bolthole at the back of the restaurant. For sharing dishes, don't miss the crispy croquettes, chicken Karaage and pan-fried gyoza.
Parco Ramen
MOONEE PONDS
What started as Parco Project, a secret pop up at Shujinko back in lockdown, has now manifested itself into as some of the best ramen in Melbourne. Just like you would imagine an authentic Tokyo restaurant, Parco Ramen is a small storefront on Hall Street that sits only 19 people at a time, creating lines of noodle enthusiasts that swell the entrance. Although small in stature there's a variety of menu options from the signature Tokyo signature, dark-miso vegan ramen, as well as a rich lobster and koji-based broth with Australian lobster tail alongside all the trimmings including dashi egg, spring onions, nori and sesame seeds.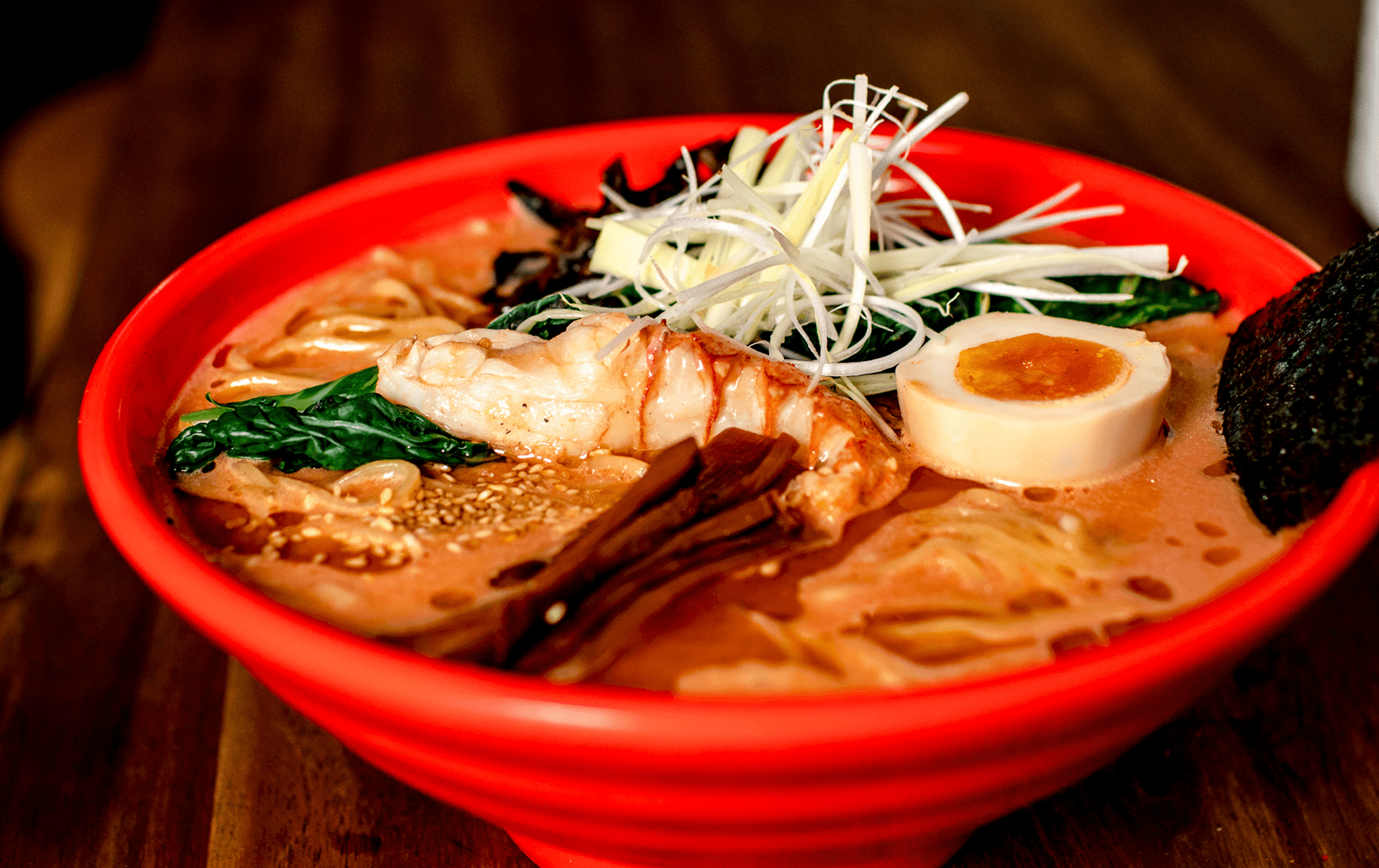 Mr Ramen San
CBD
In the belly of Mid-City Arcade, you'll find Mr Ramen San tucked away on the Little Bourke St end, usually with a line outside. One of the oldest ramen joints in Melbourne, and certainly some of the best ramen in Melbourne, this eatery is known for their 24-hour tonkatsu broth and housemade noodles. Mr Ramen San offers up different ramen variations such as the spicy chicken ramen, seafood ramen, family-style hotpot with pork broth and most impressively, an entirely vegan 'Charsu' ramen.
Tokyo Tina ​
WINDSOR
As one of the coolest (and busiest) restaurants on Chapel Street, Tokyo Tina's gotta have Japanese-inspired ramen to back it up. And they do—several, actually. There's regular chicken, *spicy* chicken and mushroom and miso, but the real prize goes to the smoked brisket, bok choy and ramen egg swimming in Tina's Black Tare sauce (dashi, sugar, mirin and soy). Get in early to get it quick, or be prepared to linger around Chapel a while.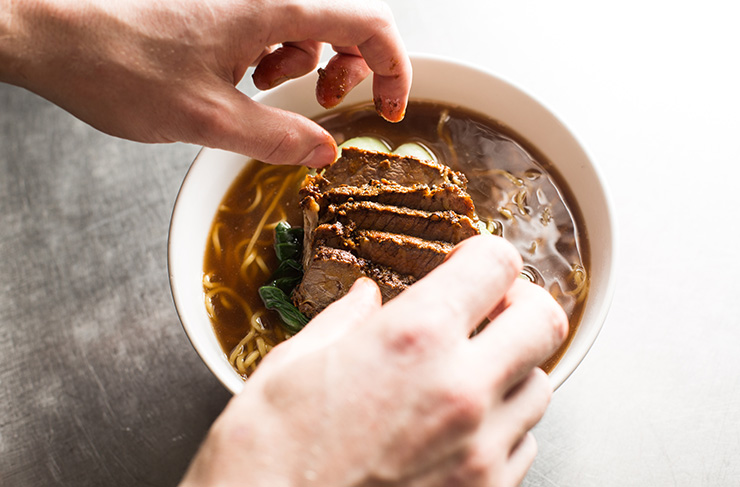 Shizuku
ABBOTSFORD
A relatively new ramen Melbourne is offering is Shizuku. It's all charcoal walls, big blonde wood light shades and terrariums at this modern outfit that specialise in ramen and craft beer. The drinks list runs from the usual Asahi right through to the less common bacon maple ale and delicious rum-infused umeshu (plum wine), and the ramen menu is just as diverse. For ramen newbies, the classic shoyu ramen—wheat noodles and pork in a slightly salty soup—is a good place to start. But for ramen diehards, we recommend the tonkotsu shio ramen, with pork belly and noodles that start out springy but become more tender and flavoursome the longer you let them swim in the pork bone broth.
Shop Ramen
FITZROY & PRESTON
The ramen Melbourne often favours in the inner-north can be found at Shop Ramen. While the chicken miso ramen is a favourite, and it's hard to go past the gooey soft-boiled egg and luscious pork in the classic ramen, it's the clever vegetarian version that's become a cult favourite. The cashew milk broth is as tasty as its porky counterpart; broccoli and zucchini add crunch and flavour, along with the handful of nuts and seeds adding textural interest. Whether it be Fitzroy or Preston, Shop Ramen is a red hot contender for the best ramen in Melbourne.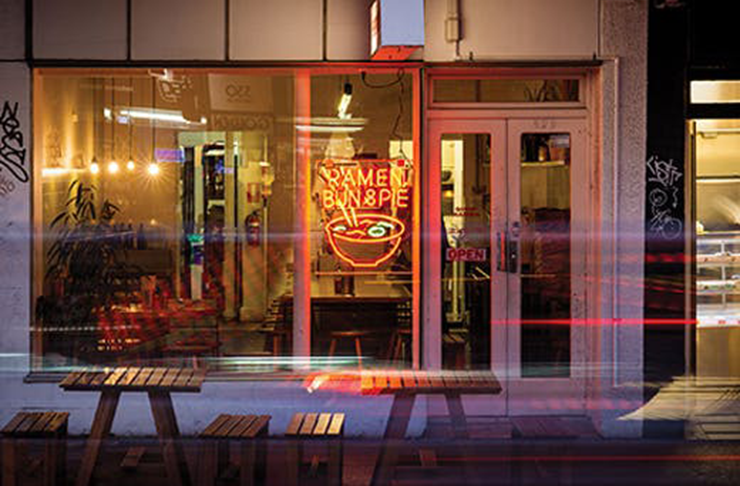 Mugen Ramen
CBD
Easily some of the most well-renowned and best ramen in Melbourne, Mugen Ramen without a doubt fits the city's stereotype. Like most of Melbourne's top brunch spots, it is hidden in an alleyway, and are known for serving some of the finest tsukemen (dipping ramen). If you're in a hurry, go straight for the ramen, but if you've got time snack your way through the Wagyu beef or the Scallop Gratin (made with white sauce and shiitake mushrooms) as you watch cult Japanese movies being projected on the big wall screen.
Hakata Gensuke
CBD, CARLTON, HAWTHORN
The Melbourne CBD, Hawthorn and Carlton Hakata Gensuke outposts seem to have been uprooted from Japan and plonked down in Melbourne, complete tick-sheet ordering system and customisable noodles. Some of the more traditional ramen Melbourne serves up, here you can choose not only your ramen's toppings and level of spiciness, but also just how al dente you'd like your noodles. It's worth coming back and experimenting until you find your perfect mixture, but if you're not sure where to start, go with something like the black tonkotsu ramen, which includes black sesame and garlic for an extra layer of intense, smoky flavour.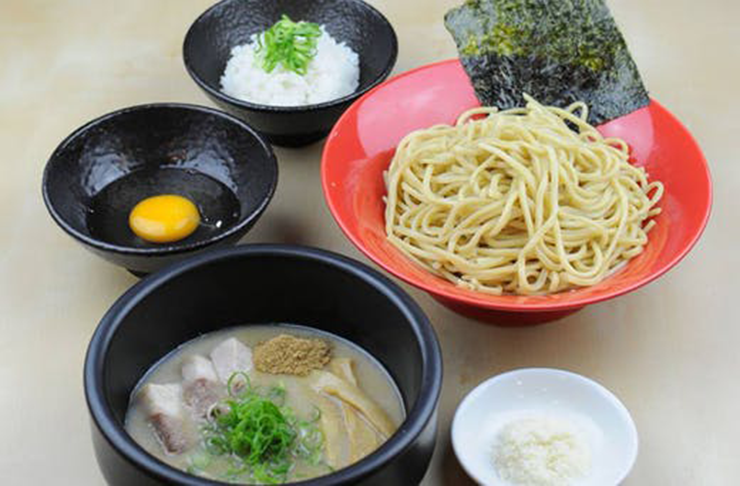 Tamura Sake & Jazz Bar
FITZROY
Fumi Tamura is bringing modern, casual Japanese dining to Fitzroy with Tamura Sake & Jazz Bar. the dishes are paired with classic highballs, shochu and sake while the fresh salmon sashimi and Japanese fried chicken (JFC) that adds to some of the most authentic and best ramen in Melbourne, all served up in a charming, authentic atmosphere.
Ippudo
CBD
The Japanese-founded franchise, Ippudo, has established what they call "Global Standard" ramen. The brand was founded in 1985 at Hakata, Japan by Shigemi Kawahara and now has over 200 locations worldwide. With awards piling high, the ramen served here is definitely worth the calories.
The signature Akamaru Shinaji Ramen with Tonkatsu broth is a must-try if you are a first-timer here. The pork broth is textured, creamy and seriously heart-warming, and comes with pork loin, bean sprouts, black fungus and thin noodles cooked to a density of your choice, plus a perfectly cooked, flavoured egg if you want it.
Gogyo
FITZROY
As far as the ramen Melbourne has to offer, Gogyo is worth a look in. Their signature charred miso ramen dish is like nothing else found here, and their spicier dishes pack some heat (try the karaka-men bowl for a real punch in the tastebuds). Gogyo is owned by IPPUDO, a large chain that have been doing ramen back in Japan for years, so you know you're in good hands when you order a bowl of the good stuff.
Yoku Ono
PRAHRAN
Along with the rest of this list, Yoku Ono is easily a contender for the best ramen in Melbourne. The menu is fresh, inventive and plays to the seasons; there are however several staple ramen dishes that you can't go past, like their take on the miso chicken ramen and signature Yoku Ono ramen—it's the ramen Melbourne goes to if you're on the south of the city.
Neko Neko
COLLINGWOOD
Amongst the classic Japanese curries, karaage, tempura and gyoza, you'll find Neko Neko's signature dish—vegan ramen. From Tokyo to Melbourne, this special ramen has travelled far. It's got a healthy homemade 20-ingredient broth and eggless noodles of authenticity you can taste because the owners and chefs are all Japanese. It may be plant-based but it's hands down one of the best ramen in Melbourne.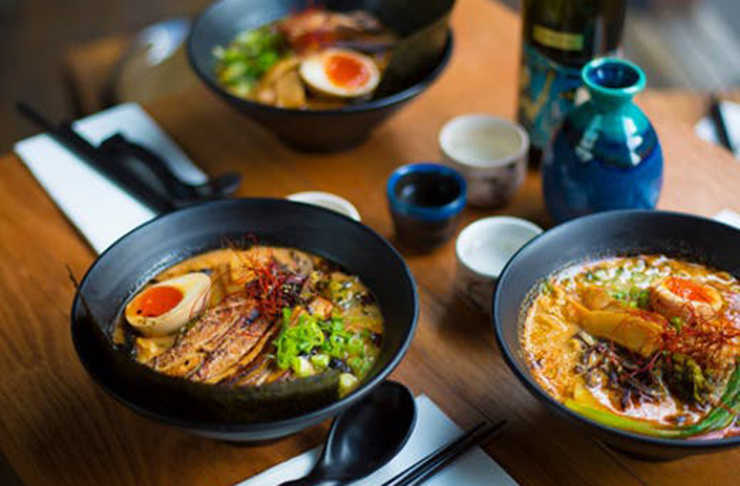 Still hungry? We've got Melbourne's best Japanese restaurants over here.
Image credit: Shop Ramen (supplied)