This city is home to some of the best cafes in the world, the standard we set is replicated all over, and it's no surprise as the quality of our coffee and brunch options are second to none.
From spots for a quick coffee and a pastry to Sunday brunch to fine dining-level menus, the best cafes Melbourne has to offer are right here.
To help you navigate through this caffeine-soaked world, we've rounded up the best cafes in Melbourne for 2023:
Terror Twilight
COLLINGWOOD
This friendly little corner resting cafe on Johnston Street has all the ingredients of a stellar cafe, their coffee is always on point, a delicious menu, and an all-star team always makes you feel right at home. The light-filled space of Terror Twilight is considered one of Melbourne's best cafes for good reason, and it's always brimming with hungry punters sitting down to brunch options with a cup of coffee in tow.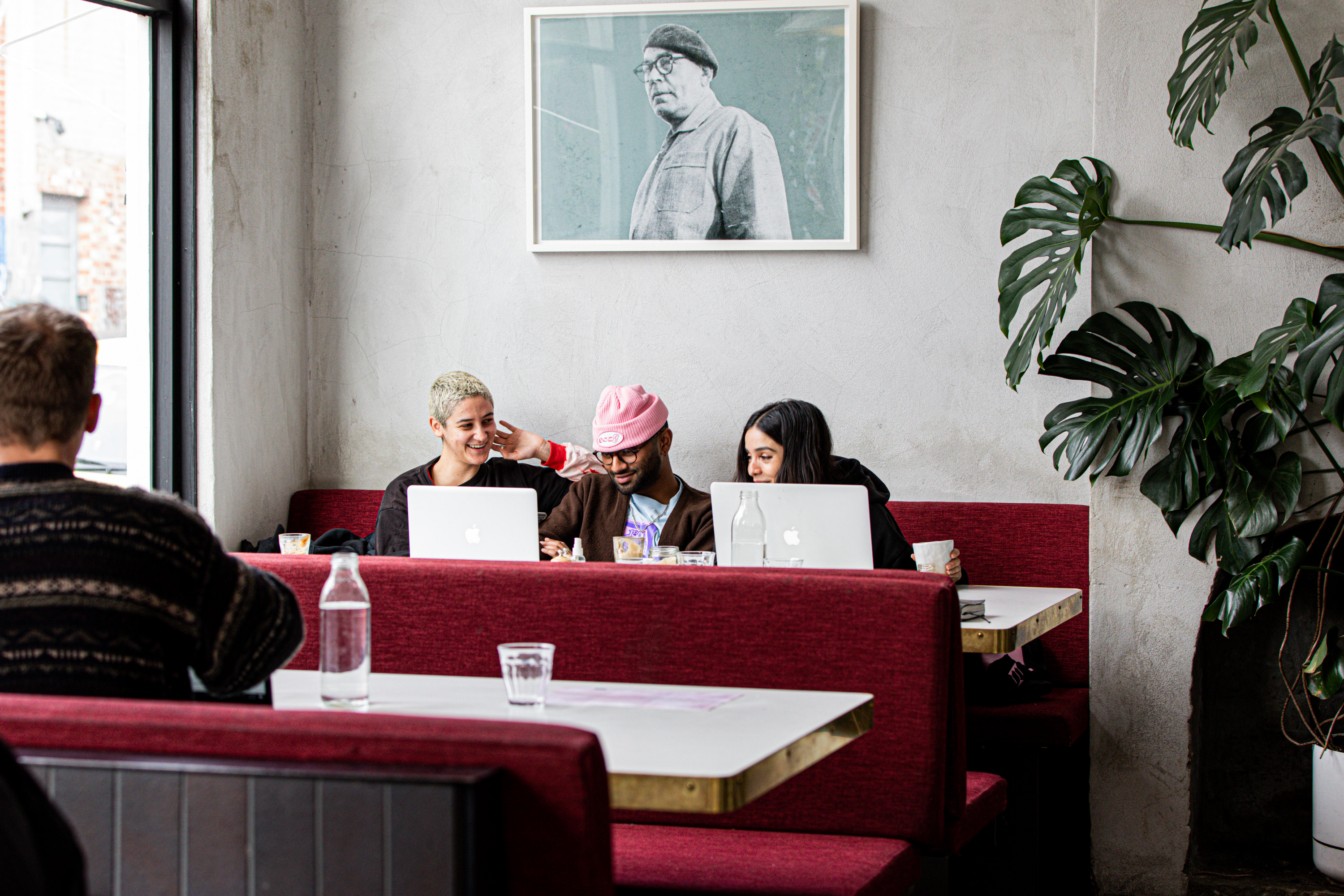 Auction Rooms
NORTH MELBOURNE
Head to Errol Street for one of Melbourne's most loved and lauded cafes, Auction Rooms. The coffee is as good as it gets, and the menu features a range of breakfast favourites from chorizo scrambled eggs to black rice pudding which they sling out to the busy weekend crowds.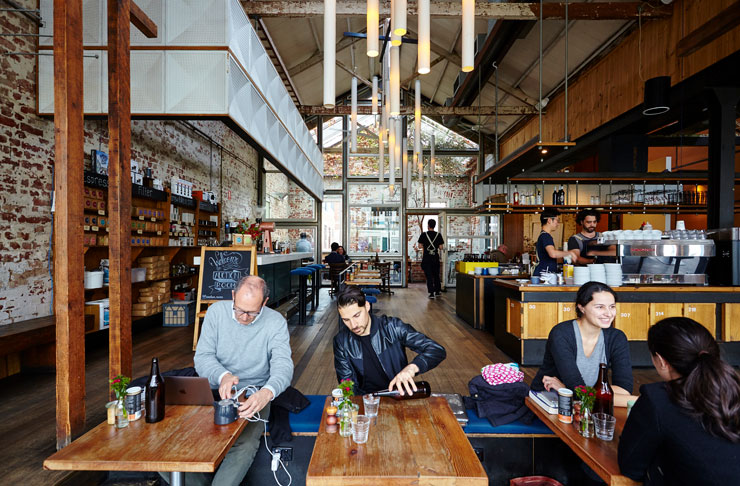 The Kettle Black
SOUTH MELBOURNE
This southside institution has been made famous by its high-visual and fanciful dishes and its distinct Victorian-style two-level terrace house. The Kettle Black's seasonal menu is always full of flare and colour, combining the relaxed aged feel of the cafe with a spruce of modern Melbourne fare.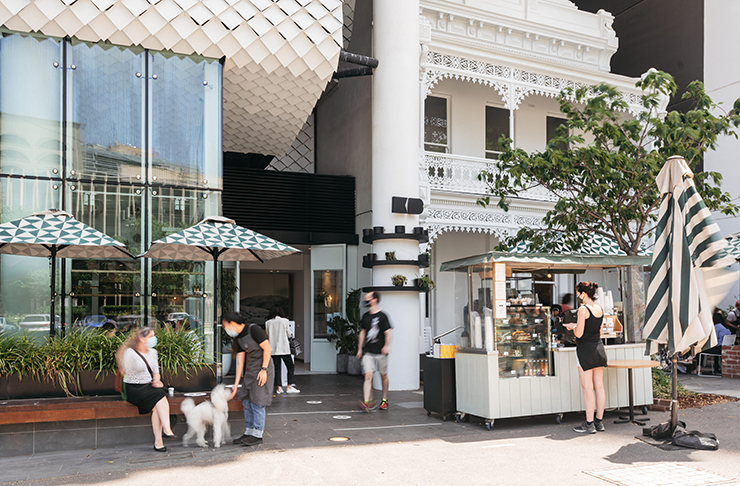 Everyday Coffee
COLLINGWOOD
Always swarming with a crowd of dedicated followers and topping almost every 'best cafes in Melbourne' list, Everyday is the daily ritual of many. Known for its coffee (roasted in-house) and its considered menu of breakfast and lunch options with bagels and sandwiches, it's a prime spot for many to park up for a couple of hours or snap up something on the go.
Niccolo
CREMORNE
It's all about the coffee here, the tidy light-filled store in Cremorne operates as the headquarters for the entire Niccolo empire. Situated on Stephenson Road, this little charmer serves up a variety of their house blends and single origins straight across from the warehouse, meaning you're getting right at the source. Part espresso bar, part retail space, you're also able to nab a bag for home alongside your morning cuppa—it might only serve coffee but it's having a red hot crack a the title of Melbourne's best cafe.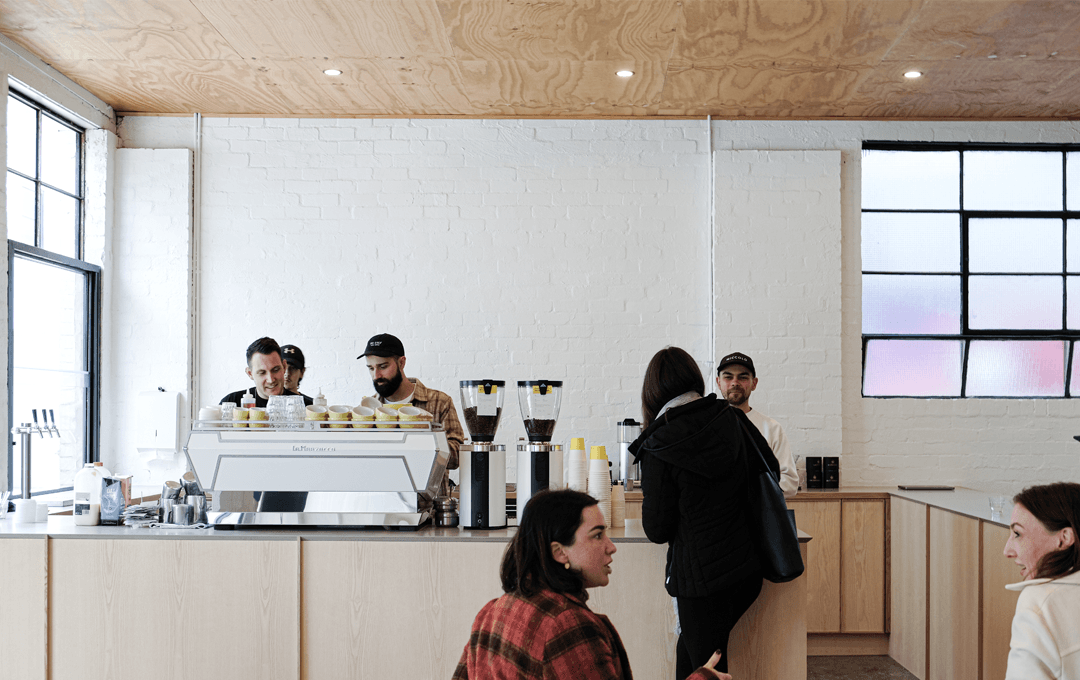 Little Rogue
CBD
This one takes the Melbourne laneway aesthetic to another level, Little Rogue situated down on Drewery Lane in the CBD is an absolute gem. The Japanese and Korean-inspired cafe is serving up quality small-batch roasted coffee from Shamble Coffee Roasters as well as special-import blends and single origins from Netherlands-based, Manhattan Coffee Roasters. The inside is quaint but cosy, with stools spread throughout and bar seating and with its bakery sibling, Bakemono Bakers, a couple of doors up, there are plenty of baked goods to sample at one of the best cafes in Melbourne.
Small Batch Coffee Roasting Co.
NORTH MELBOURNE
A longstanding titan of industry and a leader of wholesale coffee in Melbourne, Small Batch completely exploded across the city with its early crowd-pleasers like the 'Candyman' blend roast and other all-star collections. Famed for packing perfectly rounded flavour in every cup, Small Batch's industrial space in North Melbourne serves as an outlet to get the goods on-site; with roasters churning in the background and hessian sacks filled with green beans hurled around the space—hot tip, a visit to Small Batch is never complete without adding one of their knock-out pastries to the order.
Bench Coffee Co
CBD
Now a city-based institution for coffee, the architectural wonder, Bench Coffee has its flag planted firmly as one of the best cafes in Melbourne. The carefully curated space is like a dystopian designer store with an impeccable mixture of polished concrete, glass tiles, and a curved mirror that extends to the end of the store. The standing-room-only space is now one of the best cafes in Melbourne with seasonal blends, single-origin espresso and filter options from around the globe. On the bar with meticulous execution, the Bench baristas churn out cup after cup of perfectly extracted coffee.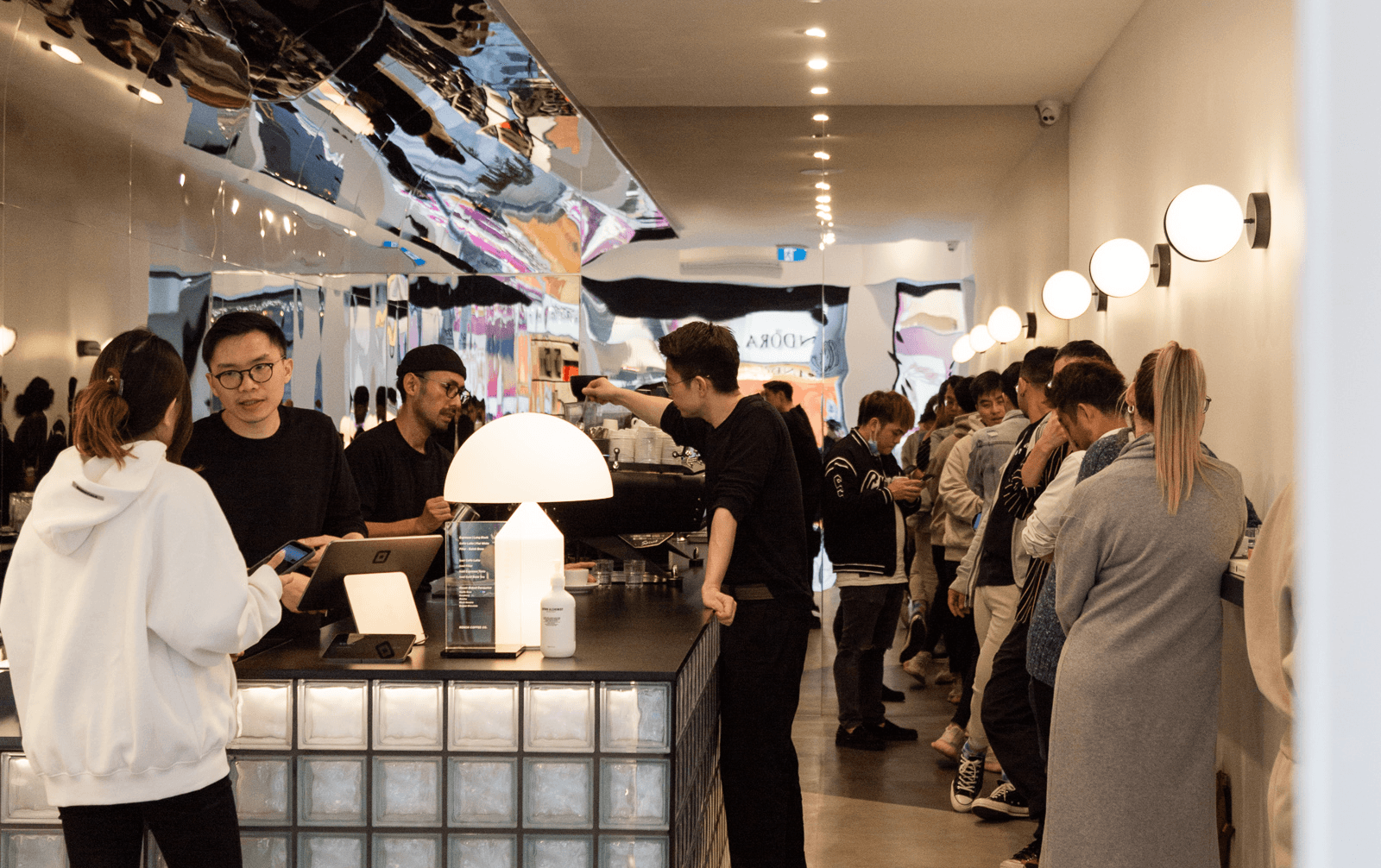 Market Lane
PRAHRAN
There are several Market Lane locations across the city but the original and conveniently positioned Prahran Market store has its hat in the ring for one of the best cafes in Melbourne. Market Lane has always maintained a high quality and refined approach to their coffee churning out espresso at a vicious pace, the indoor section of the cafe gives a fast-paced yet intimate atmosphere, as well as a dedicated brew-at-home section for all your home base needs.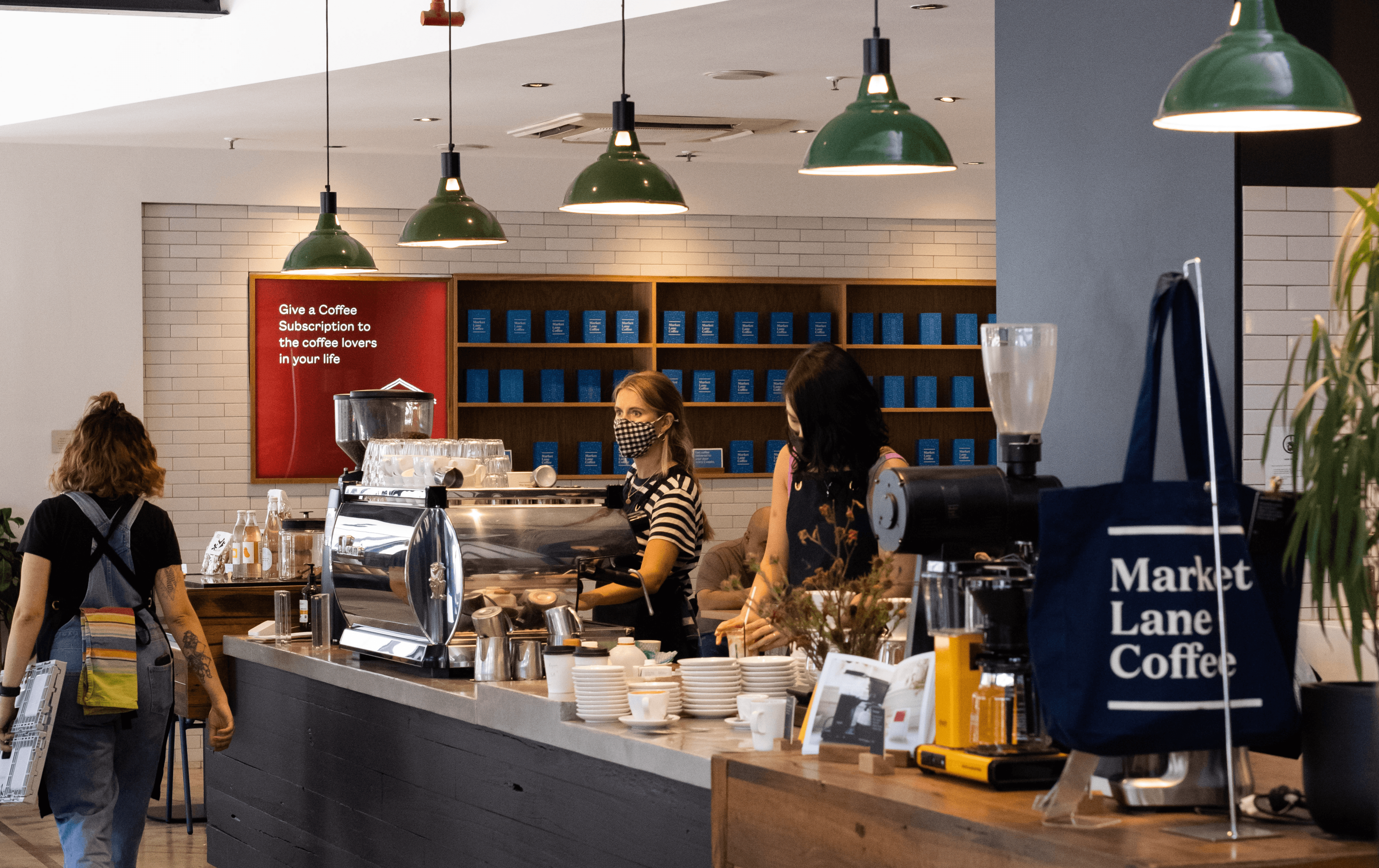 ONA Coffee
BRUNSWICK
Specialty coffee powerhouse ONA Coffee has been on the scene for a while now, but after years of operating in their hometown of Canberra and Sydney, the team have finally set up an outpost in Melbourne which is best described as a sort of coffee institution in 2023. On the menu are over 15 coffee variants, along with milk, batch brews, and pour-overs, with cups ranging from $5 to $25. The team take their job seriously and will happily offer you any coffee-related guidance you may need.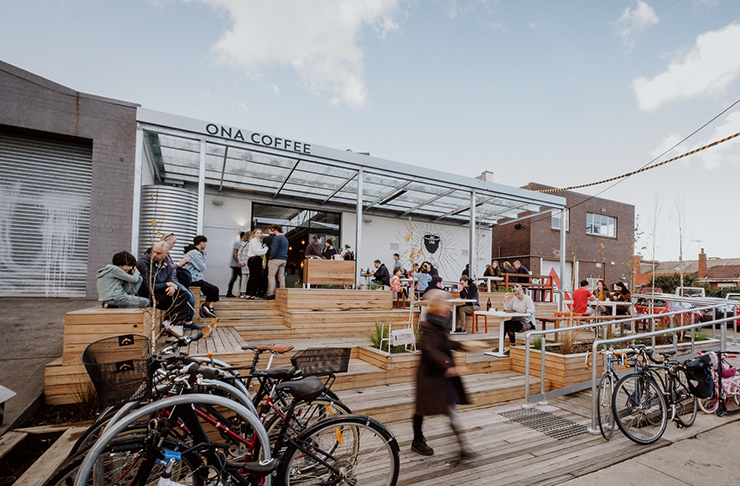 Napier Quarter
FITZROY
Dedicated to high-quality ingredients and traditional food with a Euro feel, Napier Quarter knows how to serve a great breakfast. Celebrating the community, the cafe and wine bar has a warm feel to it and serves up comforting dishes like baguettes and tarts. Whether it's a frittata, galette, salad or the now iconic anchovy and egg on sourdough toast—Napier has artisan cooking at the heart of every dish. For a traditional breakfast at one of the best cafes in Melbourne, head over to Napier Quarter.
Saint Dreux
CBD
You've probably heard of Saint Dreux by now. It's the sleek Tokyo-esque 'coffee and katsu sandwich bar' in St. Collins Lane. They do coffee and katsu sandwiches and that's pretty much it (you can also get delicate black sesame castella cakes). Run by the same team behind Bench Coffee Co, the brews here are dialled in with perfection and each visit will leave you with that perfect level of caffeinated energy, balanced but not jittery.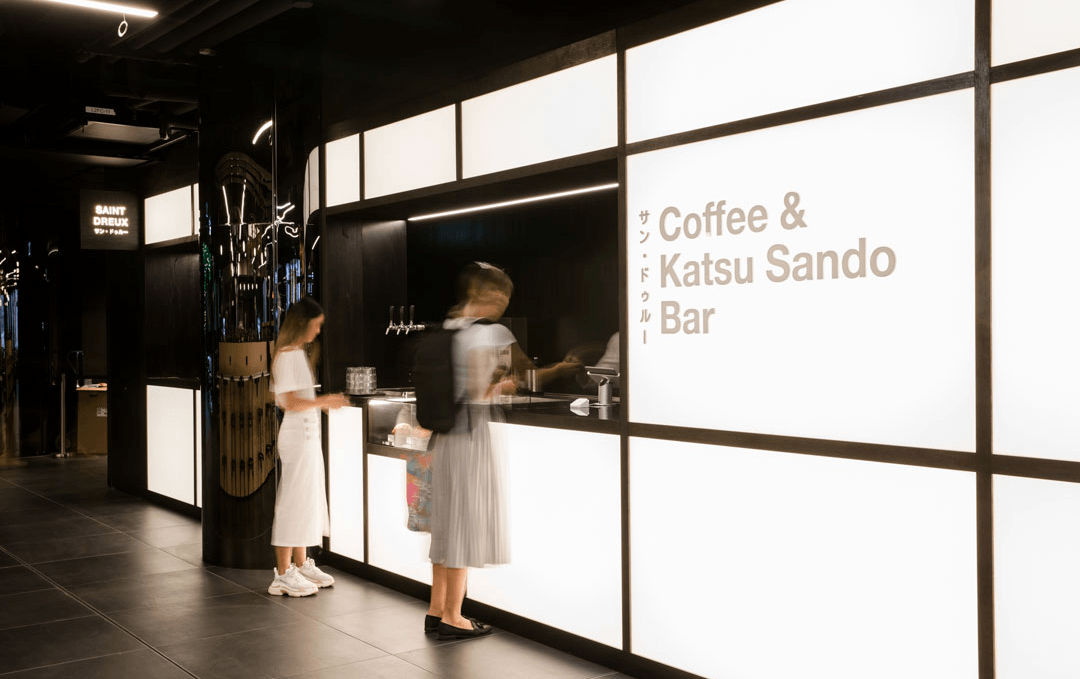 Dukes Coffee Roasters
CBD
When the former Chapel Street operation shifted gears and opened up shop in Flinders Lane, it became an instant stalwart of the CBD, a must-visit destination for the teams of city workers and tourists alike. The hole-in-the-wall cafe at the bottom of the Ross House is renowned for its very tidy aesthetic and expertly pulled espresso and filter brews, from the Dukes Signature blend to a rotating selection of organic single origins. There's a handy retail coffee section for loading up the home base as well as an incredible selection of baked goods.
Via Porta
MONT ALBERT, KEW, HAWTHORN
Via Porta is a part bakery, cafe, and deli that refuses to let you leave hungry or empty-handed. They know good food and you can bet they know breakfast. Their poached pear French toast with caramel sauce is understandably a crowd-pleaser. But if you're looking to opt for something more savoury look no further than their crispy eggs stacked with smoked ham hock, sweet potato puree, candied walnuts, mesclun salad, honey mustard vinaigrette, gouda cheese on sourdough toast.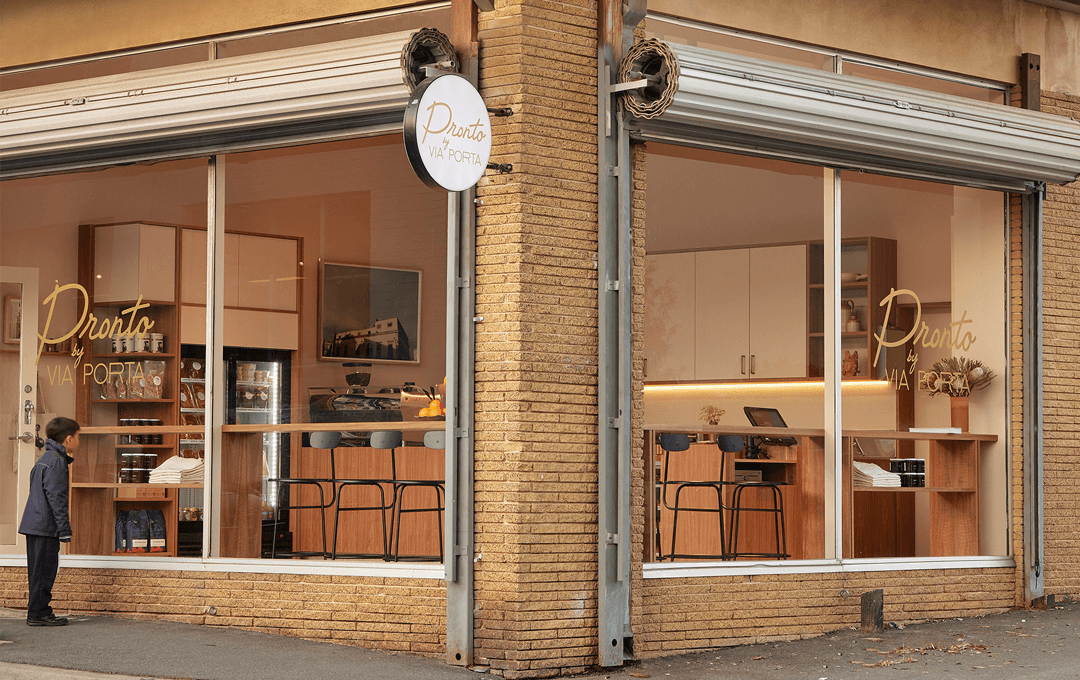 Veneziano
RICHMOND
It's tucked away but it's hard to miss, the Veneziano HQ in Richmond's Industrial Estate is a converted warehouse and certainly a sight to behold with Impossibly high ceilings, polished concrete floors, and lush plant life throughout. Knowing a thing or two about coffee, the Veneziano team has resided in the area since 2014, and in 2023, they're still continuing to serve up a range of the roastery's heavy hitters including two in-house blends, different daily single origins and bottomless filter brews. The food menu also never goes amiss from a hefty brekky burger to a staple smashed avo.
Patricia Coffee Brewers
CBD
Patricia is a speciality cafe that churns out cup after cup to its loyal base of CBD revellers. Receiving a coffee and pastry here is a true experience, either enjoyed shoulder to shoulder with fellow punters in the strictly standing area of the store or out amongst the bustle of the laneway aloft a milk crate in traditional Melbourne style. Coffee wise their beans are all roasted in-house (off location) and give daily worshippers a rotation of delicious seasonal espresso and filter blends, both have helped craft Patricia into one of the best cafes in Melbourne's CBD.
Industry Beans
VARIOUS LOCATIONS
Now a household name across Melbourne's best cafe scene, Industry Beans has spread their empire across the city with stores located at Chadstone, Fitzroy and the CBD. Their fully in-house coffee operation is top of the range and their food is just as bloody good, a strong contender for one of the best cafes in Melbourne.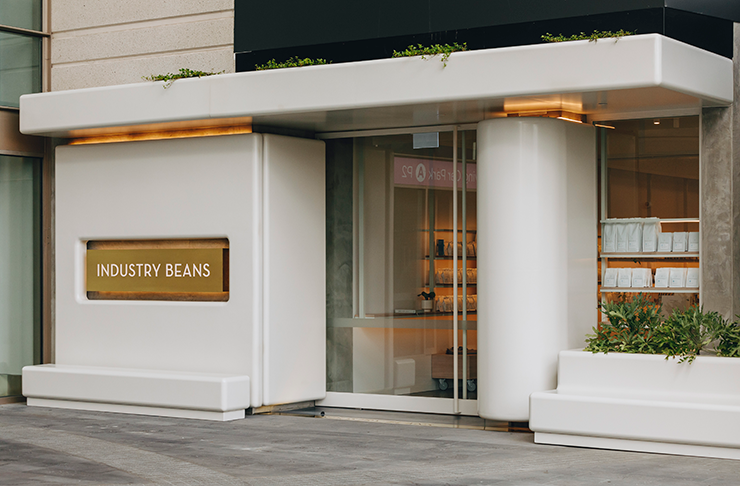 Seven Seeds
CARLTON
One of the pioneers of Melbourne's cafe scene, Seven Seeds has remained at the top because of their consistency. Their coffee is now pouring at cafes all over Melbourne but there's no beating tasting it at their OG headquarters in Carlton. Along with quality coffee, their menu always hosts a range of reliable and delicious brunch options.
Higher Ground
CBD
Without a doubt one of the best cafes in Melbourne CBD, Higher Ground is situated in a stunning heritage-listed building in Melbourne's city centre. They are dishing up elevated cafe dining all day long with a breakfast menu that's a welcome sight for grumbling stomachs. With options like peanut butter waffles with chocolate and orange yoghurt mousse, there's a reason they've got the rep as one of the best cafes Melbourne has on offer. If you're looking to up the ante on your morning beverage you can swap out your coffee for one of their many breakfast cocktails on offer.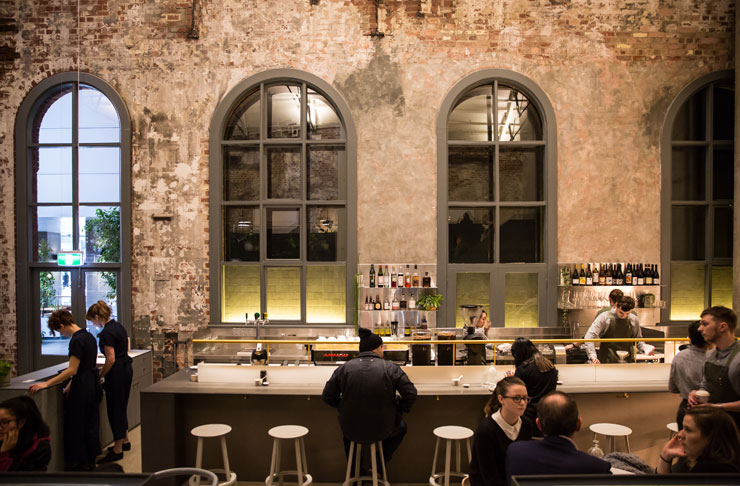 Proud Mary
COLLINGWOOD
Known for its longstanding dominance of Collingwood's coffee scene alongside their sister store Aunty Peg's on Wellington Street, Proud Mary is a staple cafe. Quality coffee is guaranteed and typically so is a queue, their menu has a rotating selection of favourites including ricotta hotcakes and their sesame prawn toast with sambal eggs.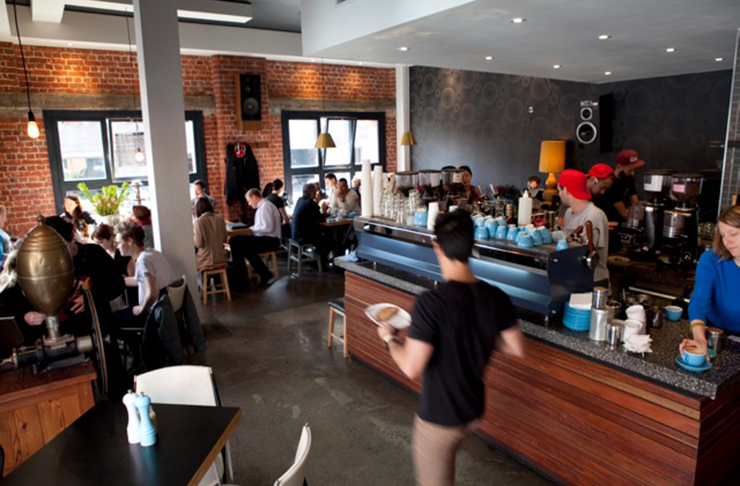 ACoffee
COLLINGWOOD
Looking more like an art gallery than a cafe, ACOFFEE is one of the most spectacular spaces to enjoy a brew in. Nestled just off Smith Street in Collingwood, the lengthy converted warehouse has a roaster on-site and offers a range of their roasts and blends alongside a select range of pastries and doughnuts.
Cibi
COLLINGWOOD
This carefully curated warehouse space is home to two phenomenons: a stacked menu of breakfast options and the ultra-refined plant and homewares store. Cibi is an aesthetic-filled pleasure, with white-washed walls, plants all around, and Japanese-fused dishes like Miso-baked eggs that go down a treat.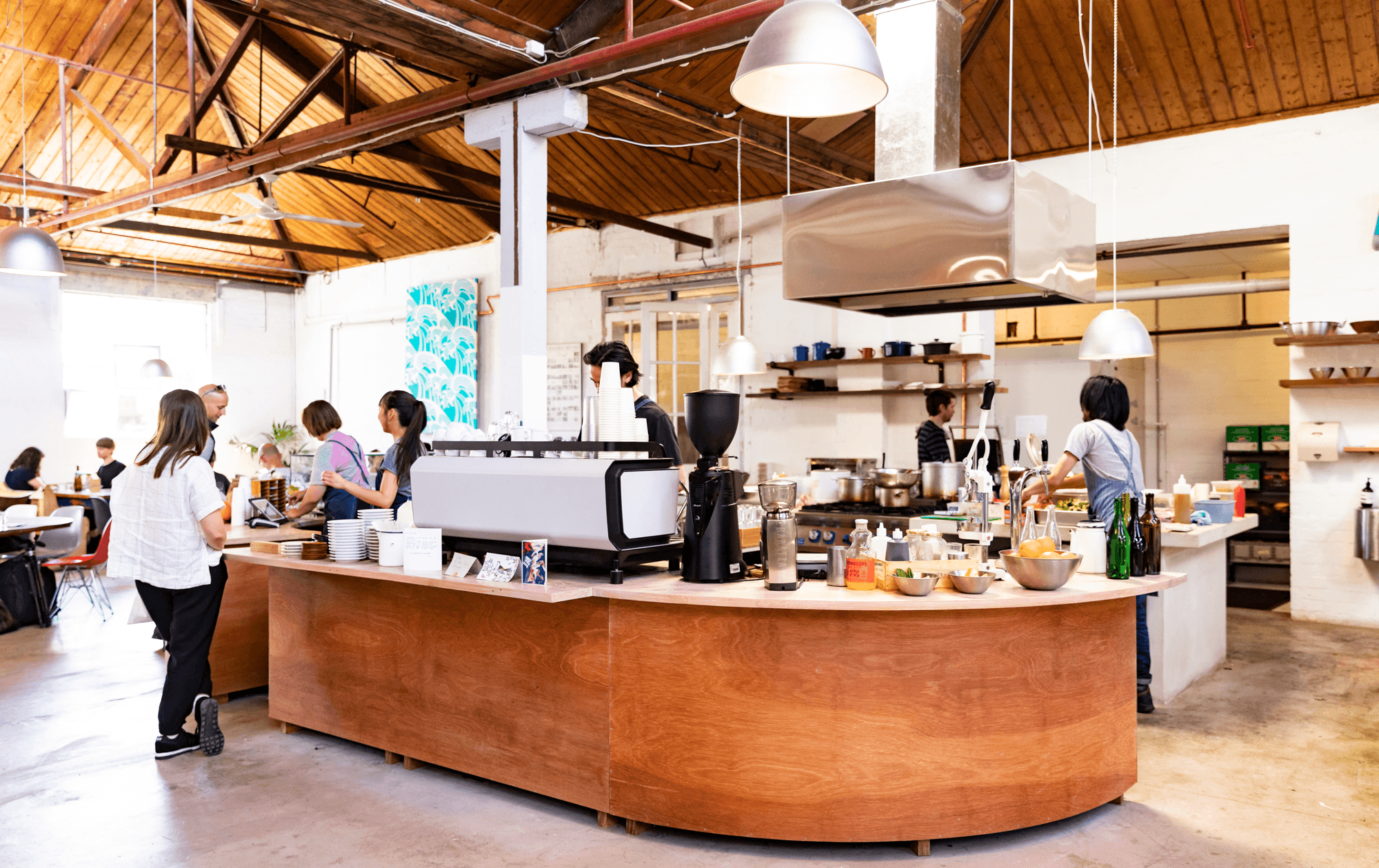 Babajan
CARLTON NORTH & CBD
Another spot where the weekend crowds tend to flock to pick up a coffee, a sanga or something sweet, Babajan offers a unique twist of Melbourne-style cafe with modern Middle-Eastern cuisine. Sitting right on the edge of Carlton North in a welcoming corner store, you'll find a range of tasty and soulful dishes as well shelves of deli-style products and preserves.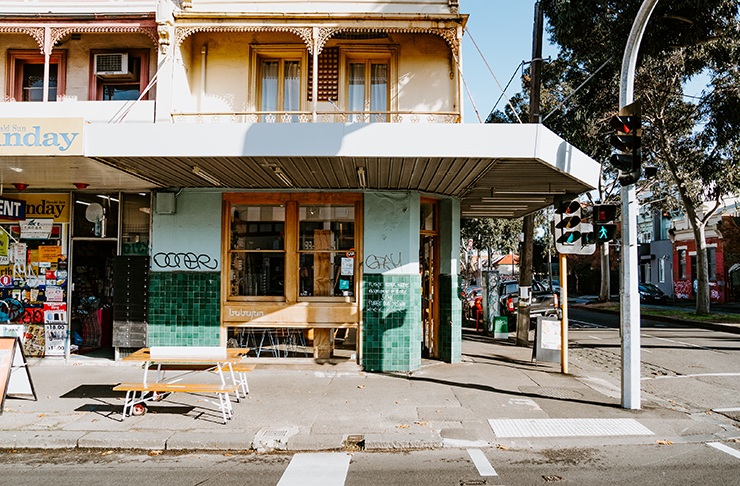 Rustica
VARIOUS LOCATIONS
This home to sourdough and baked treats on Chapel Street is so much more than your standard bakery. This impeccably designed 100-seat cafe is state of the art, Rustica's wide glass window showcases all the magic happening behind the scenes of the baking process. The open floor dining area allows you to soak up all this action whilst sampling the goods and putting back their in-house coffee, from sister store First Love.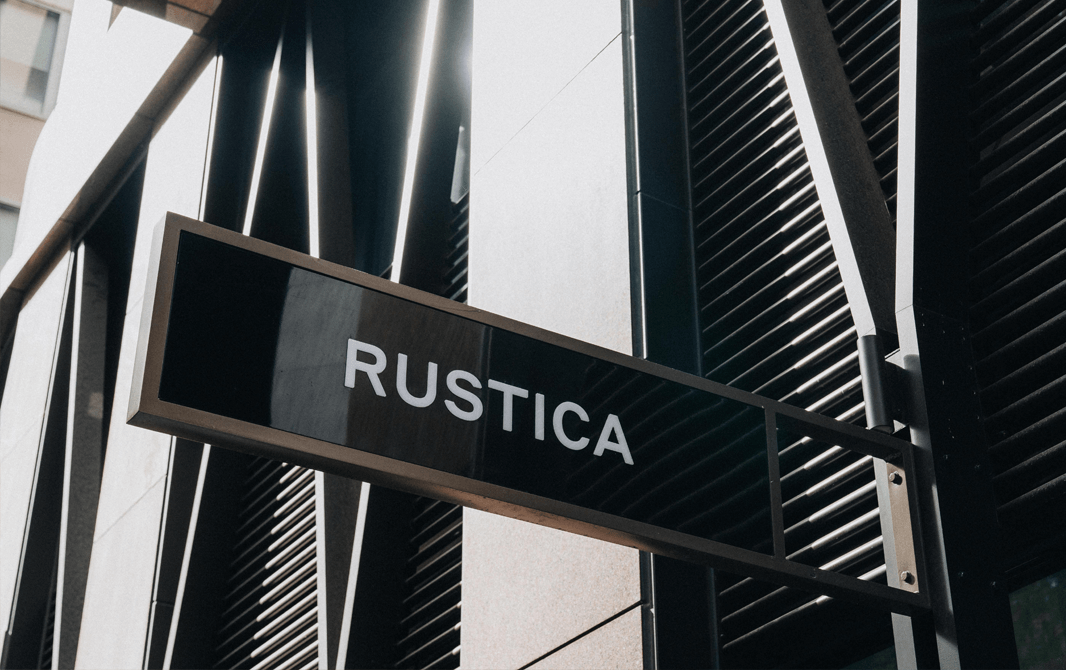 Good Times Milk Bar
BENTLEIGH
Just as the name suggests this quaint little milk bar serves up some quality goods, with a super laid-back style and a hefty menu of brunch items, it's typically filled with a slew of devoted locals. From American-style burgers to pancakes, and a good old-fashioned eggs benedict Good Times serves up all the right stuff.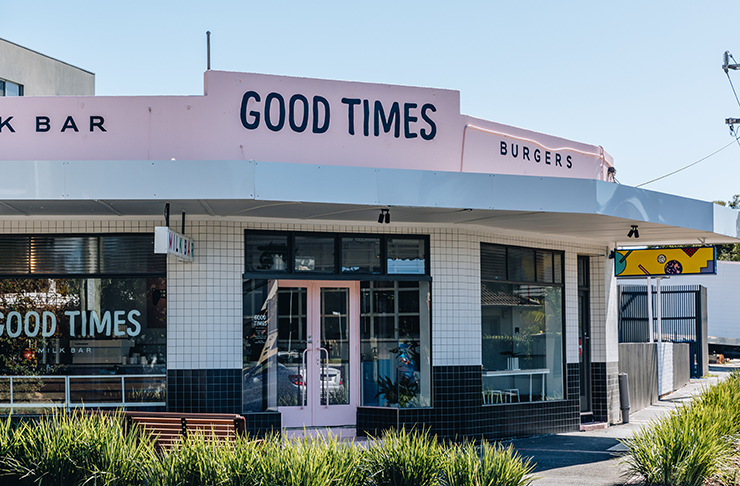 All Are Welcome
NORTHCOTE
Right at the entrance to High Street Northcote, All Are Welcome is another delicious hybrid cafe-bakery that seems to be all the rage in Melbourne at the moment. They've got seriously good coffee, organic bread, and a range of sweet pastries, sandwiches, and cakes that have propelled them to popularity within the region—and that's why this spot is considered one of the best cafes Melbourne has to offer in 2023.
Wide Open Road
BRUNSWICK
A favourite of the northern suburbs, Wide Open Road and its delightfully vibey space just off Sydney Road has long stood as one of the best cafes in Melbourne. Here you can pick up a dialled-to-a-tee espresso and filter coffee (which they roast in-house) alongside a range of brunch options from magnificently simple banana bread to a halloumi toastie with their house-made beetroot relish.
Monk Bodhi Dharma
BALACLAVA
Just off the hustle and bustle of Carlisle Street Monk Bodhi Dharma is a unique gem in Melbourne's cafe scene. With a plant-based menu and an extensive list of coffee from beans all over the globe and roasted on-site, Monk's is one of the best cafes in Melbourne for vegan options and speciality coffee.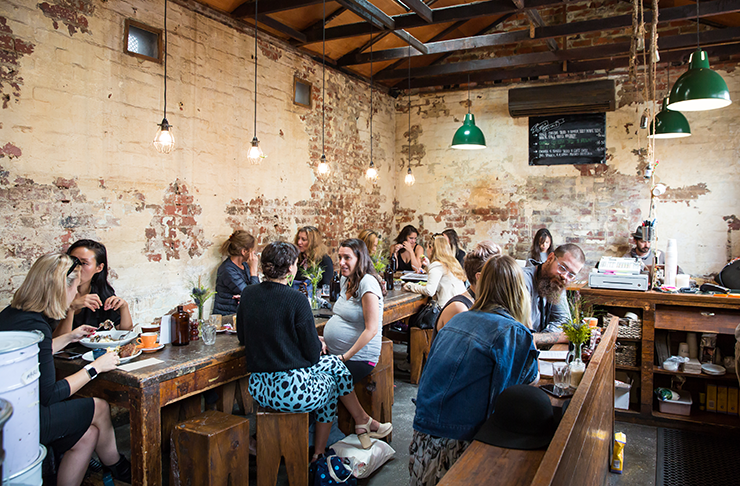 Top Paddock
RICHMOND
The queues for Top Paddock are a good indication of the stunning breakfast offerings within. Gorgeous design meets tasty and inventive food, with a focus on quality local produce. A renowned spot across the city and easily one of the best cafes Melbourne has.
Archies All Day
FITZROY
Archies have become synonymous with the Sunday brunch in Melbourne, either as the spot to kick off your day with a cocktail or to help ease the pain of the previous night's antics. Their spot-on Gertrude Street is typically heaving with hungry pilgrims looking to get amongst the action.
Convoy
MOONEE PONDS
A newcomer to the scene, Convoy has started strong as a contender for the best cafe in Melbourne. Helmed by the same team behind Terror Twilight and Tinker, here you'll find a staple range of brunch items like cinnamon scroll hotcakes, their Turkish eggs with a beef Sujuk a hot red pepper butter and lemon yoghurt served up on sourdough. Perhaps one of the biggest drawcards however is the caramelised miso brioches which come with a decadent hazelnut mascarpone.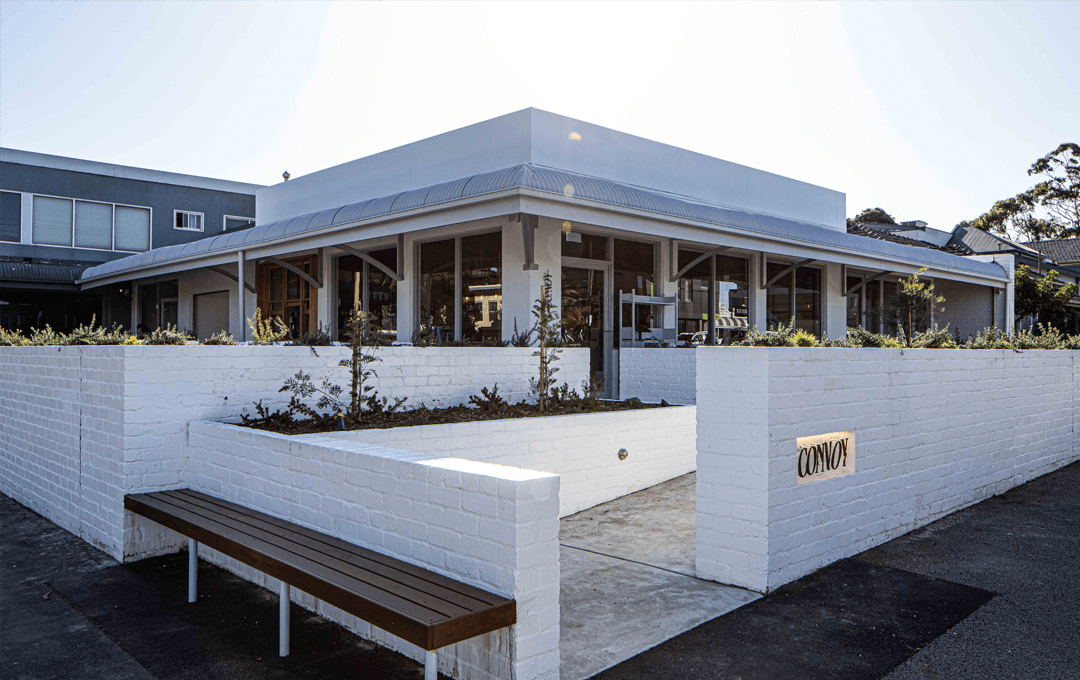 Burnside
FITZROY
Gracing the intersection of Smith and Gertrude Street, this quaint corner resting cafe is constantly swollen with a flock of caffeine enthusiasts. Burnside is the daily ritual of many and its good-vibe atmosphere and exceptionally quick pulling of espresso have cemented it as one of the best cafes Melbourne has on offer. There are a few chairs and tables inside and out the front to park up and sample the goods which include espresso and filter options alongside a tidy selection of baked goods, sangas and cookies.
Make a day of it and hit up some of Melbourne's best spots for breakfast, lunch and dinner:
Melbourne's best restaurants
Melbourne's best bars
Melbourne's best brunch
Melbourne's best breakfast
Melbourne's best Japanese
Image credit:
Michelle Jarni
Jenna Fahey White
Griffin Simm
Rowan Marsh-Croft