Melbourne is home to some of the best cafes in the world, the standard we set is replicated all over, and it's no surprise as the quality of our coffee and brunch options are second to none.
From spots for a quick coffee and a pastry to Sunday brunch to fine dining-level menus, we've got it all. To help you navigate through this caffeine-soaked world, we've rounded up the best cafes in Melbourne right now:
Terror Twilight
COLLINGWOOD
This friendly little corner resting cafe on Johnston Street has all the ingredients of a stellar cafe, their coffee is always on point, a delicious menu, and an all-star team always making you feel right at home. The light-filled space of Terror Twighlight is always brimming with hungry punters sitting down to brunch options with a cup of coffee in tow.
Auction Rooms
NORTH MELBOURNE
Head to Errol Street for one of Melbourne's most loved and lauded cafes, Auction Rooms. The coffee is as good as it gets, and the menu features a range of breakfast favourites from chorizo scrambled eggs to black rice pudding which they sling out to the busy weekend crowds.
The Kettle Black
SOUTH MELBOURNE
This southside institution has been made famous by its high-visual and fanciful dishes, and its distinct Victorian style two-level terrace house. The Kettle Black's seasonal menu is always full of flare and colour, combining the relaxed aged feel of the cafe with a spruce of modern Melbourne fare.
Everyday Coffee
COLLINGWOOD
Always swarming with a crowd of dedicated followers, Everyday is the daily ritual of many. Known for its coffee (roasted in-house) and its simple yet tasty menu of breakfast and lunch options with bagels and sandwiches, it's a prime spot for many to park up for a couple of hours or snap up something on the go.
Industry Beans
FITZROY | CHADSTONE | CBD
Now a household name in the Melbourne cafe scene, Industry Beans has spread their empire across the city with stores located at Chadstone, Fitzroy and the CBD. Their fully in-house coffee operation is top of the range and their food is just as bloody good, a strong contender for one of the best cafes in Melbourne.
Napier Quarter
FITZROY
On the quiet leafy backstreets of Fitzroy, just a stone's throw from Brunswick sits Napier Quarter. The little corner dwelling cafe has risen to fame for its classical style, the dark-stained wood and marble interior feels cosy yet refined. The coffee is always excellent and the anchovy with a boiled egg on sourdough dish is a revelation.
Seven Seeds
CARLTON
One of the pioneers of Melbourne's cafe scene, Seven Seeds have remained at the top because of their consistency. Their coffee is now pouring at cafes all over Melbourne but there's no beating tasting it at their OG headquarters in Carlton. Along with quality coffee, their menu always hosts a range of reliable and delicious brunch options.
Proud Mary
COLLINGWOOD
Known for their longstanding dominance of Collingwood's coffee scene alongside their sister store Aunty Peg's on Wellington Street, Proud Mary is a staple cafe. Quality coffee is guaranteed and typically so is a queue, their menu has a rotating selection of favourites including ricotta hotcakes and their sesame prawn toast with sambal eggs.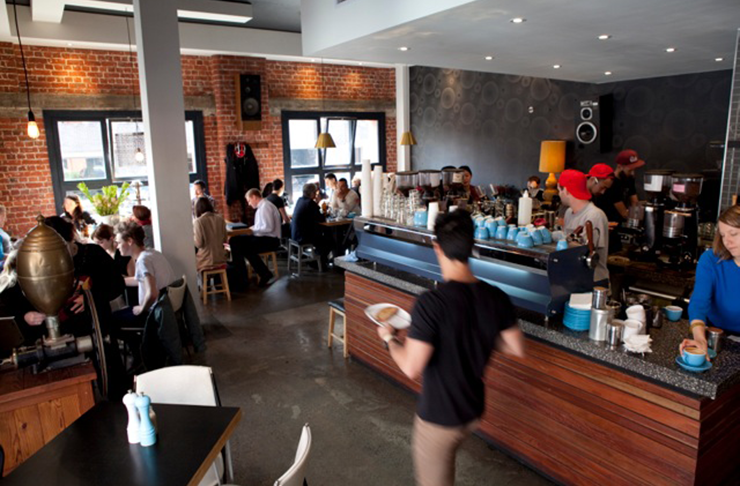 ACoffee
COLLINGWOOD
Looking more like an art gallery than a cafe ACOFFEE is one of the most spectacular spaces to enjoy a coffee in. Nestled just off Smith Street in Collingwood the lengthy converted warehouse has a roaster on-site and offers a range of their roasts and blends alongside a select range of pastries and doughnuts.
Babajan
CARLTON north
Another spot for where the weekend crowds tend to flock and tables are snapped up quickly, Babajan offers a unique twist of Melbourne-style cafe with modern Middle-Eastern cuisine. Sitting right on the edge of Carlton North in a welcoming corner store, you'll find a range of tasty and soulful dishes as well shelves of deli-style products and preserves.
Rustica
SOUTH YARRA
This home to sourdough and baked treats on Chapel Street is so much more than your standard bakery. This impeccably designed 100-seat cafe is state of the art, Rustica's wide glass window showcases all the magic happening behind the scenes of the baking process. The open floor dining area allows you to soak up all this action whilst sampling the goods and putting back their in-house coffee, from sister store First Love.
Good Times Milk Bar
BENTLEIGH
Just as the name suggests this quaint little milk bar serves up some quality goods, with a super laid-back style and a hefty menu of brunch items, it's typically filled with a slew of devoted locals. From American-style burgers to pancakes, and a good old fashioned eggs benedict Good Times serves up all the right stuff.
All Are Welcome
NORTHCOTE
Right at the entrance to High Street Northcote All Are Welcome is another delicious hybrid cafe bakery that seems to be all the rage in Melbourne at the moment. They've got seriously good coffee, organic bread, and a range of sweet pastries, sandwiches, and cakes that have propelled them to popularity within the region.
Cumulus Inc.
CBD
The Andrew McConnell outpost on Flinders Lane is typically reserved for long lunches and weekend dining however Cumulus is one of the best cafes Melbourne has on offer. The refined and elegant space is an ideal setting for a morning coffee and breakfast and is typically teeming with CBD workers and those in the know.
Monk Bodhi Dharma
BALACLAVA
Just off the hustle and bustle of Carlisle Street Monk Bodhi Dharma is a unique gem in Melbourne's cafe scene. With a plant-based menu and an extensive list of coffee from beans all over the globe and roasted on-site, Monk's is one of the best cafes in Melbourne for vegan options and speciality coffee.
Top Paddock
RICHMOND
The queues for Top Paddock are a good indication of the breakfast awesomeness within. Gorgeous design meets tasty and inventive food, with a focus on quality local produce. A renowned spot across the city and easily one of the best cafes Melbourne has.
Archies All Day
FITZROY
Archies have become synonymous with the Sunday brunch in Melbourne, either as the spot to kick off your day with a cocktail or to help ease the pain of the previous night's antics. Their spot-on Gertrude Street is typically heaving with hungry pilgrims looking to get amongst the action.
Looking for somewhere to dine? Check out Melbourne's best restaurants.
Image credit:
Michelle Jarni
Jenna Fahey White
Griffin Simm