Not content with being dubbed the coffee capital of Australia, Melbourne regularly crops up in the top ten of hit lists for coffee destinations globally, such is the pull of some of the best baristas in town.

It's not easy selecting the best coffee in town, but we've happily done our research, downing cup after cup of the good stuff. In no particular order, behold our picks for Melbourne's best coffee and the spots to drink it. Caffeinate away.
INDUSTRY BEANS
Fitzroy cafe and roastery Industry Beans is the epitome of Melbourne coffee culture—laid-back precision meets creative innovation in its world-class venue, which turns out some of the best coffee in Melbourne. Keen to find out more? Check out our interview with Industry Beans' Trevor Simmons, where he tells us about the six key factors that make up a great cup of coffee.

MONK BODHI DHARMA
From the exterior, Monk Bodhi Dharma's brick outhouse tucked behind Carlisle Street's Woolworths may appear unassuming, but inside it's a sort of mad scientist's laboratory of some of the best coffee you'll find. The boutique micro roastery creates their own espresso goodness, roasting beans in-house, using seasonal, largely single estate crops sourced from farmers globally. It's a great spot to watch the whole process.

Monk Bodhi Dharma | Rear 202 Carlisle Street in Balaclava

MARKET LANE
One of the best coffee roasters in Melbourne, full stop, Market Lane now have several outposts, including the Queen Vic and Prahran Markets and an ickle one on Carlton's Faraday Street. Sourcing beans globally from Rwanda to Brazil, Bolivia to Ethiopia, the experts on hand offer cupping classes so you can get your head around the various flavour notes and mouthfeels. You can also sign up for a fortnightly coffee club, with the guys posting out their favourite coffee of the mo with a letter that walks you through where it comes from and what flavours to expect.

Market Lane | Various Locations

DUKES COFFEE ROASTERS
Dukes Coffee Roasters on Chapel Street, Windsor, is the mothership where the lads roast the beans on site, but they now also have a styley outpost in the CBD on Flinders Lane, with an intricately tiled floor and a beautiful wooden bar loaded with twin La Marzoccas. The wafts coming from the Windsor joint will have you buzzing even before you sample one of their constantly rotating single origins.

Dukes Coffee Roasters | Various Locations

ST ALI
Originally founded by Seven Seeds' guru, Mark Dundon, and now owned by hospitality god, Salvatore Malatesta, St Ali South is a vast, pleasingly ramshackle warehouse space in South Melbourne where the guys roast their own beans on a grand scale, so you can imbibe either a heady single origin espresso in the morn, or a siphon or a cold drip champion. World Brewer's Cup Champion, Matt Perger, helped select the team for St Ali North on Carlton North's Nicholson Street, complete with hipster bike racks and all. A coffee lover's paradise.

St Ali | Various Locations

AUCTION ROOMS
Consistently topping any list of Melbourne's best coffee worth its salt is North Melbourne's Auction Rooms. Housed in a gorgeous warehouse conversion of the former WB Ellis auction house on Errol Street, Auction Rooms allows you to sup on specially-crafted blends roasted on-site, with a library-like wall of beans to take home with you. There's a special set-up for pour overs, French press and siphons and they dish out sibling outfit Small Batch Roasting Co's offerings too. Check out Counter over the road for takeaway on the run, too.

Auction Rooms | 103-107 Errol Street in North Melbourne



Brother Baba Budan. Image Credit: Emma Forster.

BROTHER BABA BUDAN
Underneath a sea of old chairs suspended from the ceiling, what Brother Baba Budan on Little Burke Street lacks in size, it more than makes up for with the dedicated baristas' expertise and a choice of espresso, cold drip or filter coffee, using local hero beans, Seven Seeds, based in Carlton, which had its birth at Brunswick's Ray's. One of the best cups of coffee you'll find in Melbourne CBD.

Brother Baba Budan | 359 Little Bourke Street in Melbourne

SEVEN SEEDS
Of course you could go right to the Seven Seeds source too, with their Berkely Street joint in Carlton. Many will throw down the gauntlet and declare their coffee the best in town, and we do love to stir, so get in amongst it and find out for yourselves. They're passionate micro roasters who do the hard yards searching out seasonal beans from the finest farms globally, and it's good to sit in this big warehouse space and see them at it.

Seven Seeds | 114 Berkeley Street in Carlton

PROUD MARY
Sitting in pride of place just back from Smith Street on Oxford Street, Collingwood's Proud Mary is the brainchild of former Liar Liar owner, Nolan Hirte. With a building selection of single origins and at least two blends on offer at any one time, choose your delivery method from a wide variety of styles, be it aeropress, syphon, espresso, French press or more. There are plenty of take-home options and Proud Mary is the only place to get your hands on spiffy German grinders, Comandante.

Proud Mary | 172 Oxford Street in Collingwood

ALLPRESS ROASTERY CAFE
Kiwi outfit, Allpress, have been supplying Melbourne cafes for a long time, formerly working out of a pokey little office but they've since moved into a swish new home with a sleek cafe overlooking the vast roastery outfit through a sheer glass wall. It's a great way to watch them at work, with a cupping room set between the cafe and roastery floor. Their house blend is the tasty Supremo, sourced form Papua New Guinea, Brazil and Colombia, with a rotating single origin option.

Allpress Roastery Cafe | 80 Rupert Street in Collingwood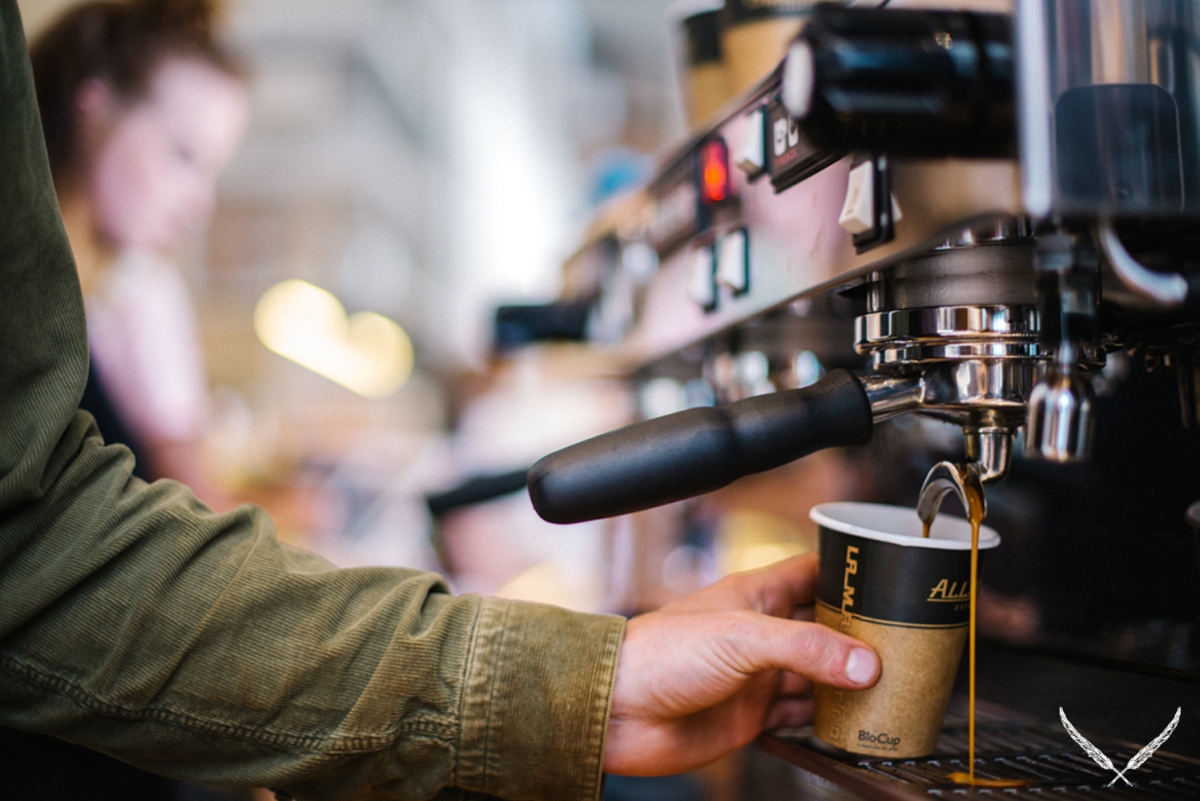 Allpress Roastery Cafe. Image Credit: Ryan Noreiks.

BRUNSWICK EAST PROJECT
As if the twin Slayers didn't already prove that the guys behind Lygon Street's Brunswick East Project were seriously serious about great coffee, they've got a speccy Clover too. The deep, minimalist space also overlooks the on-site roaster, which is overseen by Padre Coffee, who source their beans from around 30 specialist estates and supply some of Melbourne's best cafes.

Brunswick East Project | 438 Lygon Street in Brunswick East

AXIL COFFEE ROASTERS
Arguably the best thing that's ever happened to Hawthorn, at least as far as caffeine freaks are concerned, Burwood Road's Axil Coffee Roasters is one mighty warehouse space, pumping out possibly the city's finest house blend. Co-owner, David Makin, knows his stuff; he's scored five Victorian barista championships and a plethora of other awards. Partner Zoe Delaney is no slouch either, and they showcase an outstanding array of single origins, too.

Axil Coffee Roasters | 322 Burwood Road in Hawthorn

THE MALING ROOM
House in Canterbury's gorgeous red brick former Post Office on Canterbury Road, The Maling Room is a temple to good coffee out east. Owner-roaster, Andrew Lew, pumps out the the house blend downstairs on the big daddy Has Granti roaster, while the baby Renegade upstairs focuses on smaller batch single origins.

The Maling Room | 206 Canterbury Road in Canterbury

OMAR & THE MARVELLOUS COFFEE BIRD
You may not expect to find a haven of coffee maestros out in Gardenvale, but that's exactly what the magnificently titled Omar & The Marvellous Coffee Bird offers and it is, indeed, marvellous. This small but funky boutique roaster and cafe space is populated by bean gurus working on small batch heroes. Their daily clever coffee dripper offerings deliver a cleaner, lighter brew than the standard espresso, which is a fab way to get your palate around all the delicate flavours.

Omar & The Marvellous Coffee Bird | 124 Gardenvale Road in Gardenvale



AXIL Coffee Roasters. Image Credit: Emma Forster.

Want more coffee? Then check out where to get the CBD's best takeaway cup of Joe, and decode the secret caffeine code.

Main Image Credit: Randomitus