Melbourne's best coffee is a hot topic; the often heated discussion can be overheard most mornings en-route, in line, and on the return journey clutching a morning brew. Lucky for us Melbourne is one of the world's foremost destinations for coffee—producing global barista champions, award-winning roasts, and paving the way for how coffee is brewed and poured world over.
To help guide you to the best coffee in Melbourne, we've sunk countless espressos, sampled the single origins, and sipped all the house blends on offer. In no particular order, this is where to get your next cup.
Bench Coffee Co.
CBD
Now a city-based institution for coffee, the architectural wonder, Bench Coffee has its flag planted firmly in Melbourne's caffeine scene. The carefully curated space is like a dystopian designer store with an impeccable mixture of polished concrete, glass tiles, and a curved mirror that extends to the end of the store. The standing-room-only space is home to some of the best coffee in Melbourne with seasonal blend, single-origin espresso and filter options from around the globe. On the bar with meticulous execution, the Bench baristas churn out cup after cup of perfectly extracted coffee.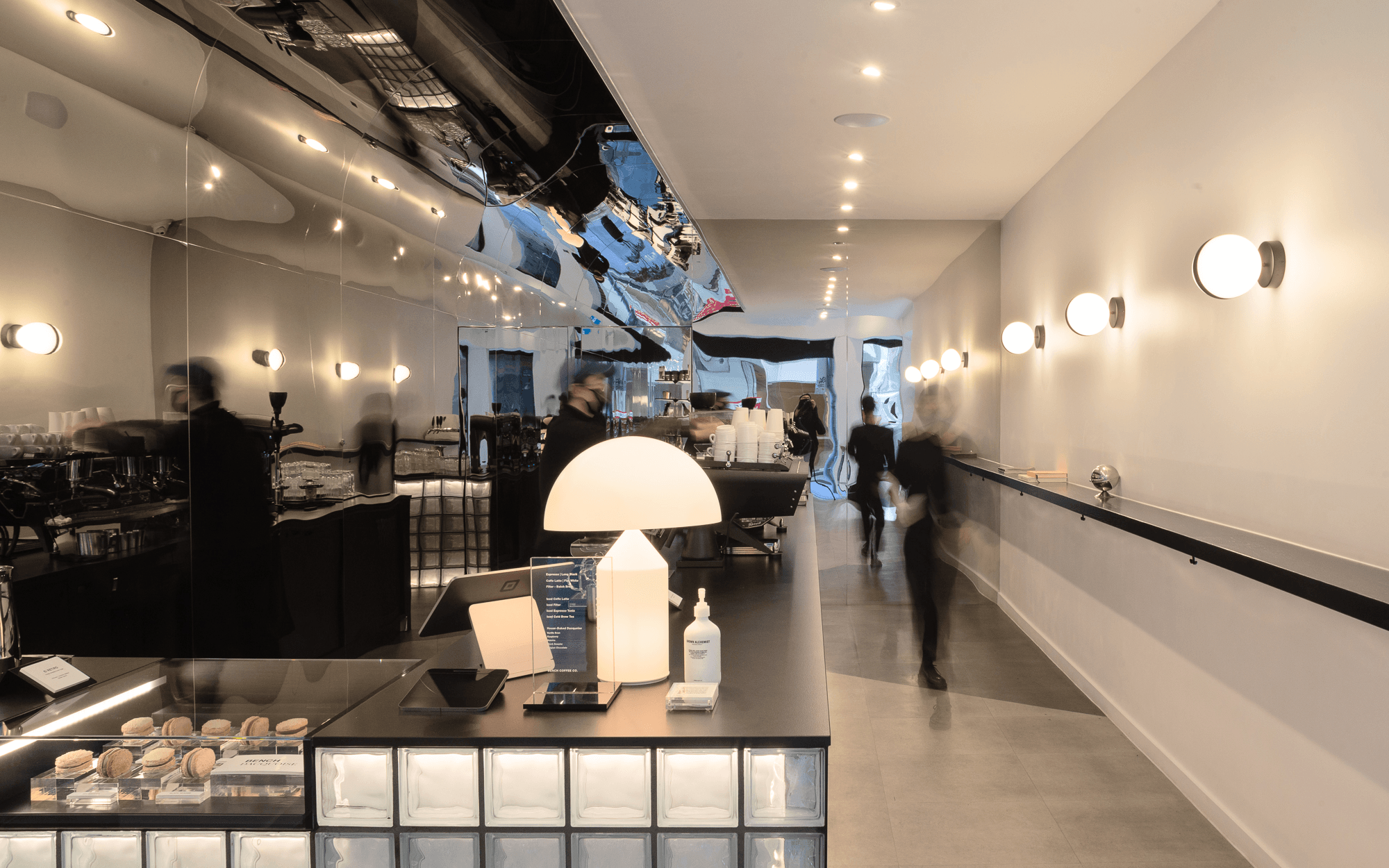 Puzzle Coffee
CBD
Formed by a collective of friends who share a common love for coffee and a desire for sustainability and building a community, Puzzle has quickly developed as some of the best coffee in Melbourne. At all venues in the CBD, you'll find a myriad of options. they've got a selection of house blends, and single origins from several continents including South America and Africa. There are also filter brews and even newer inventions like black sesame or Biscoff lattes.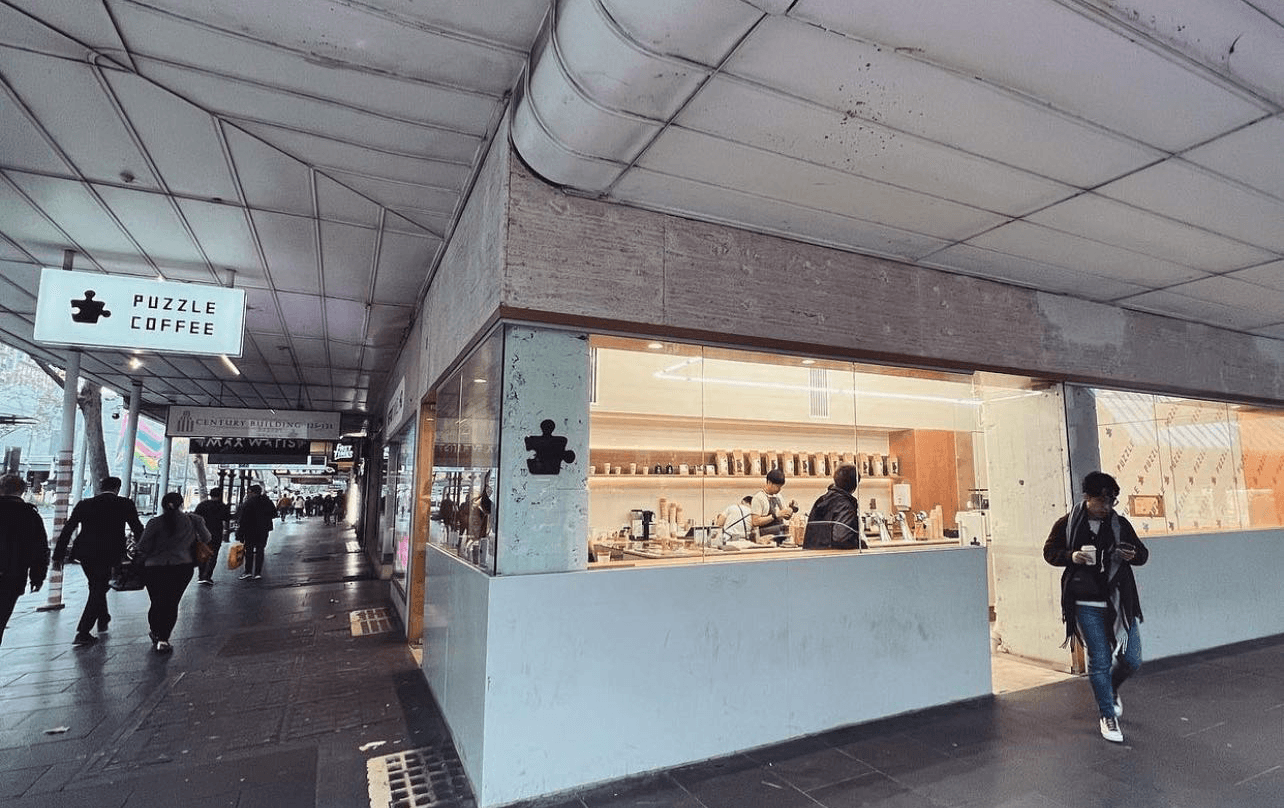 Small Batch Coffee Roasting Co.
NORTH MELBOURNE
A longstanding titan of industry and a leader of wholesale coffee in Melbourne, Small Batch completely exploded across the city with its early crowd-pleasers like the 'Candyman' blend roast and other all-star collections. Famed for packing perfectly rounded flavour in every cup, Small Batch's industrial space in North Melbourne serves as an outlet to get the goods on-site; with roasters churning in the background and hessian sacks filled with green beans hurled around the space. Word to the wise a visit to Small Batch is never complete without adding one of their knock-out pastries to the order; croissant and filter coffee in hand, you're ready to conquer the world.
Monk Bodhi Dharma
BALACLAVA
One of the true innovators in Melbourne's speciality coffee scene is Monk Bodhi Dharma, the brainchild of Marwin Shaw, Monk started its claim to Melbourne's caffeine mantle with its single store off Carlisle Street Balaclava. Focusing on ethically sourcing coffee and a sustainably friendly menu, Monk works closely with its farmers and suppliers. Monk has transformed over the years creating their own roasting network with Disciple Roasters, the self-described 'Coffee Hustlers' sling their beans to their three different caffeine outposts across Melbourne with Bayano The Rebel, a hole-in-the-wall cafe and refuge off Chapel Street in South Yarra, and Admiral Cheng-Ho, infamous for its six coffee grinder setup which sits on at the entrance to Collingwood on Johnston Street. All three locations are worthy of inclusion and stand as individual contenders for Melbourne's best coffee.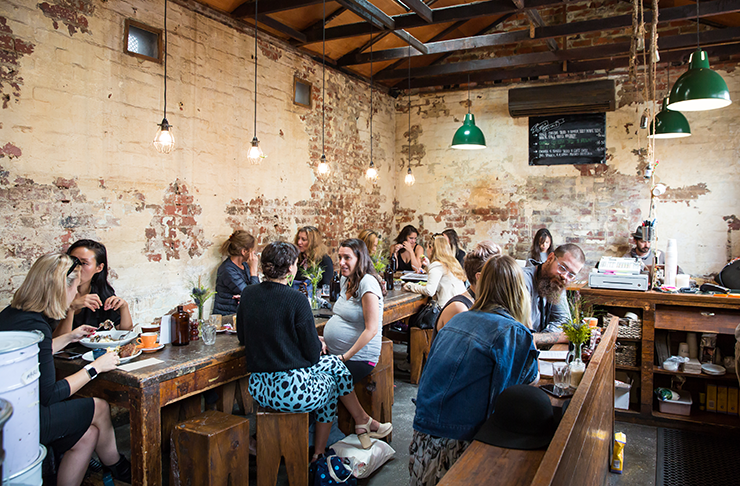 Proud Mary
COLLINGWOOD
A stalwart of Melbourne coffee culture, Collingwood's Proud Mary make a mean brew with coffee that's roasted in their factory just down the road. There's a stack of varietals to choose from, and they're worth exploring should you be including Proud Mary in your morning ritual—their rotating takeaway sanga menu is also up there as one of the best.
Wide Open Road
BRUNSWICK
A favourite of the northern suburbs, Wide Open Road and its delightfully vibey cafe just off Sydney Road has long stood as some of the best coffee in Melbourne. Now a nationwide and global wholesaler of freshly roasted beans, Wide Open Road still retains its homegrown feel. Here you can pick up a perfectly rounded espresso blend with 'Bathysphere' an accessible combination of dark chocolate, caramel and fruity notes. Filter coffee is another strong focus with several different options from across the globe, including An Ethiopian and Nicaraguan single-origin roast. If you prefer to take the deciding out of it you can even sign up for their coffee subscription.
Acoffee
COLLINGWOOD
A light-filled, white wall space that transforms this Collingwood cafe/roastery known as Acoffee into a daily art exhibit of caffeine. Although a destination for a coffee dine-in or takeaway, their real focus sits within roasting. Sourced and then roasted on location you can enjoy your choice of 'white, black, or pour-over coffee' as the aromas of the daily roasted coffee swirl the cafe. Beans are available in-store as well as online monthly subscriptions that plant freshly roasted small batch coffee right to your door.
Axil Coffee Roasters
VARIOUS LOCATIONS
It's hard to create a best coffee Melbourne list without discussing the empire that David Makin and his team at Axil Coffee Roasters have built. Axil began its somewhat humble beginnings in Hawthorn just off Glenferrie Road and since has rapidly spread all over Melbourne with locations now littered through the inner-city area as well as flagships at Chadstone shopping centre and Tullamarine airport. Top to bottom Axil mean business in the coffee world, their in-house roasting and dedication to quality brewing consistently across each of their stores have led them to become a household name in the Melbourne coffee scene. With beans sourced from all over the globe, their range of single-origin and blends will keep you coming back to try what's on the bar each day.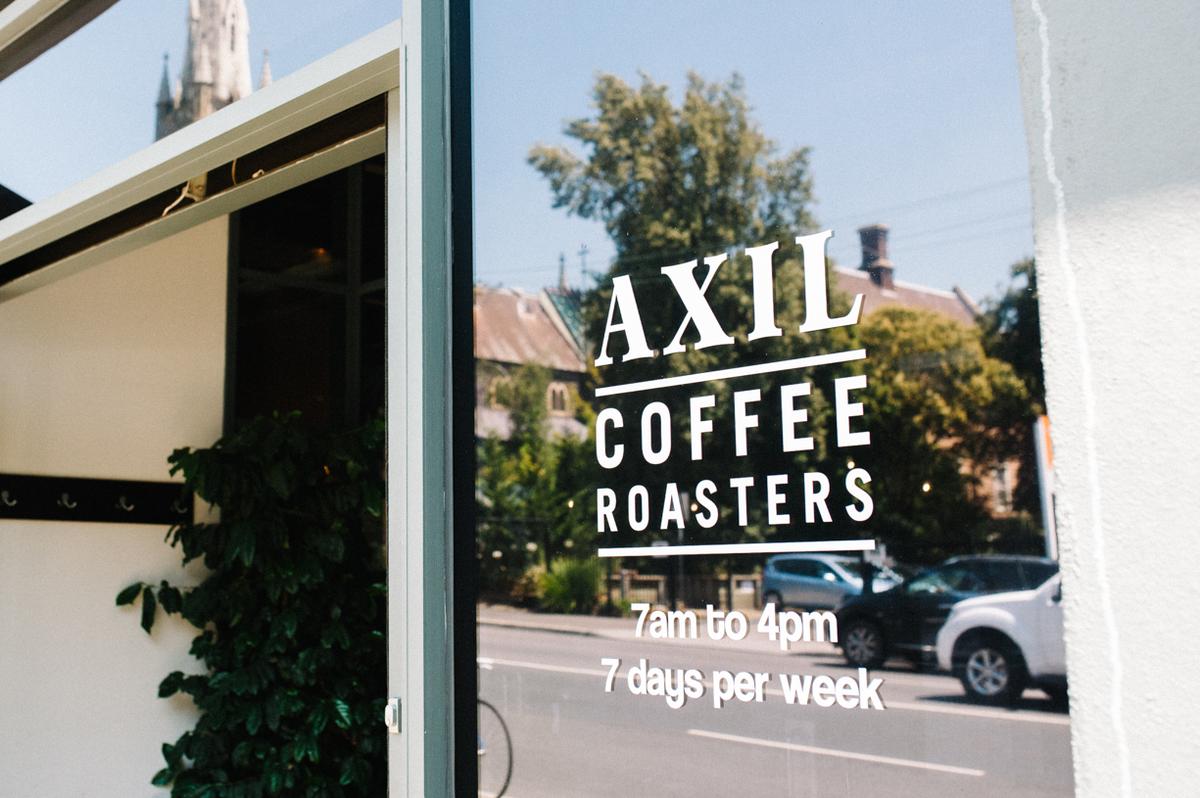 Vacation
CBD
Without a doubt a contender for the best coffee Melbourne CBD has to offer, Vacation is the go-to for a speciality brew for anyone on the east side of the city grid. Its pastel hues and natural light provide a perfect escape from the outside world, while the calibre of coffee, regardless of if you're after something milky or a filter, will keep you appeased for the day ahead.
St Ali
SOUTH MELBOURNE
The southside landmark for coffee has been a destination for a coffee Sunday brunch since it swung its doors open way back in 2005. St Ali has evolved over the years and the single destination store in South Melbourne has become an institution of coffee culture, packed with diners as baristas and white overalled waiters spin out cup after cup of expertly extracted espresso. Coffee feels fun here, the snobbery of not knowing your piccolo from your pour-over is left at the door and if you're looking for Melbourne's best coffee this one has to be on your radar. All with its own branded merch, an in-house deli, and coffee to take home, St Ali becomes more than just a quick coffee to refuel, it's a boundary-pushing exploration into the fun that coffee can be.
Industry Beans
FITZROY, CBD, CHADSTONE
Roaster, cafe and coffee authority, you can't go past Industry Beans if you're looking for the best coffee in Fitzroy. The specialty coffee provider not only supplies a lot o' Melbourne with their brew, but across the globe, too with espresso blends and single origins sourced from all the major coffee hot spots. Their recently revamped Fitzroy is a shining white beacon for good coffee with a light-filled interior of booth tables, or If you're in the city, drop past their Collins Street locale seven days a week for a takeaway.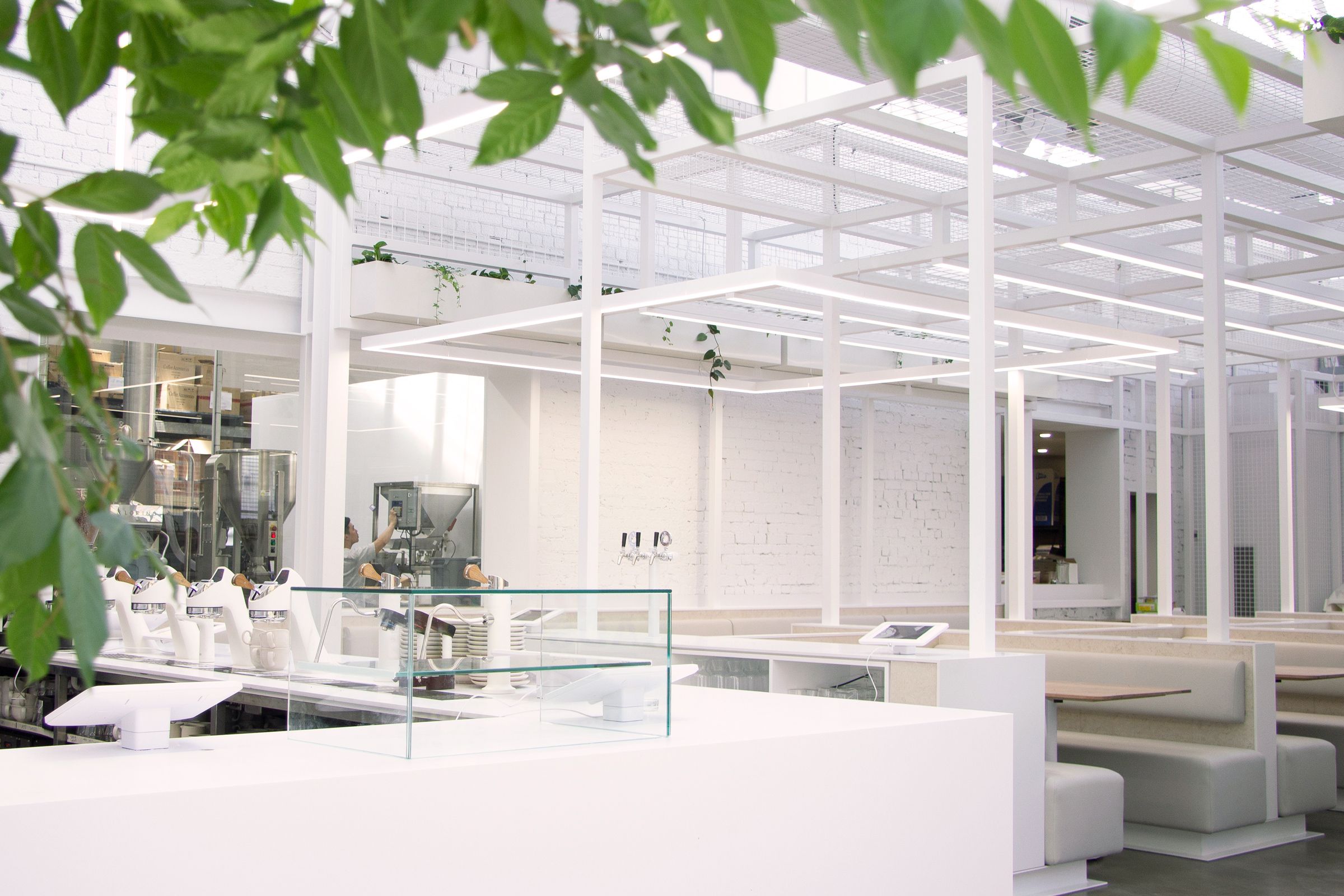 Patricia Coffee Brewers
CBD
This quaint coffee shop lives in the business end of the city, Patricia is a speciality cafe that churns out cup after cup to its loyal base of city workers as well as curious customers looking to sample some of the coffee and flakey baked goods that reside in the glass benchtop. Receiving a coffee and pastry here is a true experience, either enjoyed shoulder to shoulder with fellow revellers in the strictly standing area of the store or out amongst the bustle of the laneway aloft a milk crate in traditional Melbourne style. Coffee wise their beans are all roasted in-house (off location) and give daily worshippers a rotation of delicious seasonal espresso and filter blends, both have helped craft Patricia into some of the best coffee in Melbourne's CBD.
ONA Coffee
BRUNSWICK
Specialty coffee powerhouse ONA Coffee has been on the scene for a while now, but after years of operating in their hometown of Canberra and Sydney, the team have finally set up an outpost in Melbourne which is best described as a sort of coffee Mecca. On the menu is over 15 coffee variants, along with milk, batch brews, pourovers, with cups ranging from $5 to $25.
The team take their job seriously and will happily offer you any coffee-related guidance you may need.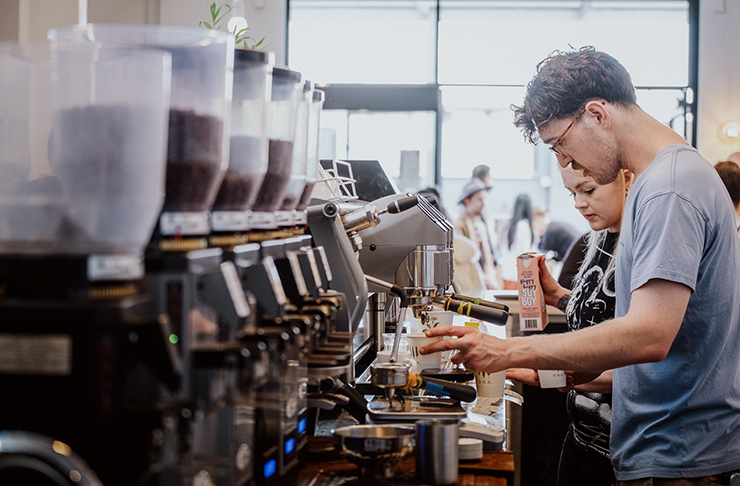 Market Lane
VARIOUS LOCATIONS
With several locations across the city including the conveniently positioned Prahran Market destination this coffee powerhouse is known as some of Melbourne's best coffee on both sides of the Yarra. Market Lane has always maintained a high quality and refined approach to their coffee. With an on-location roastery churning out kilo after kilo the indoor section of the cafe gives a fast-paced yet intimate atmosphere, as well as a dedicated brew-at-home section for all your home base needs.
Burnside
FITZROY
Gracing the intersection of Smith and Gertrude Street, this quaint corner resting cafe is constantly swollen with a flock of caffeine enthusiasts. Burnside is the daily ritual of many and its good-vibe atmosphere and exceptionally quick pulling of espresso have cemented it as one of the best coffee spots in Melbourne. There are a few chairs and tables inside and out the front to park up and sample the goods which include espresso and filter options alongside a tidy selection of baked goods, sangas and cookies.
Terror Twilight
COLLINGWOOD
This white-washed corner cafe just off Smith Street has to be one of the top spots for grabbing a coffee. A sleek but relaxed fit out lets the light beam through, a rotating range of records play overhead and the option of booth seating provides the perfect backdrop for deep conversations over a range of delicious brew options. Formerly slinging roasts from the Wide Open Coffee Brewers the team at Terror Twilight have taken up roasting their own signature blends, upholding the benchmark with dining mug filled batch brews, as well as the usual line-up of single-origin and blend options with a range of milk varieties to suit all preferences.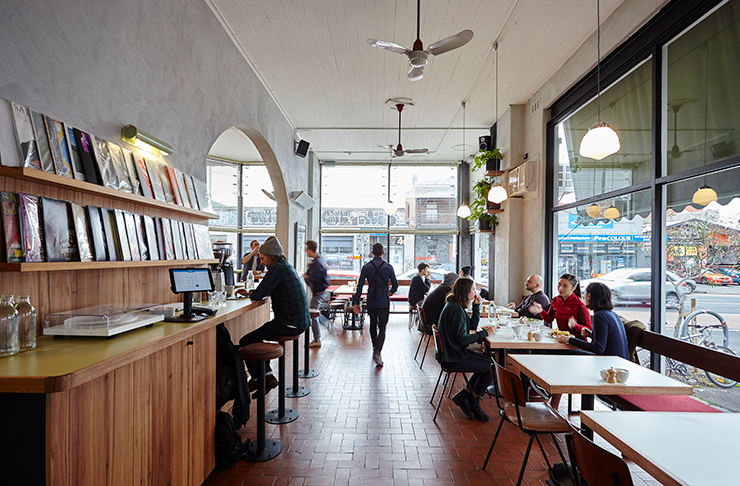 Dukes Coffee Roasters
CBD
Since departing its former location on Chapel Street for the big smoke Dukes has elevated its coffee operation to another level. The cafe situated just off Degraves harkens back to the style of a 1930's New York bar with tiled floors and heavy stained wood throughout. Another contender for the best coffee in Melbourne's CBD for 2022 this cosy little cafe pushes out shot after shot of espresso to a snaking line of customers eager to get their hands on the 'Dukes Signature Blend', a delicious and balanced coffee that lends itself to either black or milk-based options. A crowd-pleaser through and through.
Padre Coffee
BRUNSWICK EAST, COLLINGWOOD, SOUTH MELBOURNE
Going for the monopoly on the north and south of Melbourne, Padre is without a doubt deserving of a spot in Melbourne's best coffee list. Aside from making delicious coffee—check out their Lucky Boy blend—the team are big on supporting their growers and producers. To learn more, take a squizz through their Instagram.
Everyday Coffee
COLLINGWOOD
It's right there in the name, this cafe on the backside of Johnston Street is the everyday home to a sleuth of loyal morning residents who spread out across the outdoor section with dogs, bikes, and hearty communal conversation. The atmosphere might feel casual but their approach to coffee is anything but with a roaster inside filling the demands of customers at Everyday as well as their sister stores 'All Are Welcome' in Northcote, 'Midtown' in the city, and various partner retailers. Coffee is a lifestyle at Everyday and you feel it as soon as you're greeted by smiling faces perched over the coffee machine.
Seven Seeds
CARLTON
Coffee veterans, Seven Seeds, have been at it for a minute now. The team behind it are ex ST. Ali, which also features on our best coffee Melbourne round-up. The pedigree here speaks volumes, but Seven Seeds have long since made claim to their own place in Melbourne coffee culture with their unique brews and commitment to the grind. If you're in the city, check out their other outposts Brother Baba Budan and Traveller Coffee.
Veneziano
RICHMOND
It's tucked away but it's hard to miss, the Veneziano HQ in Richmond's Industrial Estate is a converted warehouse and certainly a sight to behold with Impossibly high ceilings, polished concrete floors, and lush plant life throughout. Knowing a thing or two about coffee, the Veneziano team has resided in the area since 2014, they're still continuing to serve up a range of the roastery's heavy hitters including two in-house blends, different daily single origins and bottomless filter brews.
Bit late for coffee? Have a look at something else to drink here.
Image credit: Bench Coffee Co. (supplied)