Melbourne is renowned for its rich coffee culture and top-tier breakfast spots. After all, our city would probably win the most variations on a smashed avo. While there is nothing wrong with our love for avocado, if you are looking to expand your breakfast horizons—keep scrolling. In a range of options that satisfy both sweet tooths and those wanting something healthy; we have included cafes serving anything from decadent pancakes to veggie-fuelled salads.
With a different cafe on nearly every corner, this is where to find the best breakfast in Melbourne:
Lagotto
Fitzroy North
Lagotto is a stunning Italian diner that has one of the best weekend breakfast menus in Melbourne. Their menu is dedicated to simple, good food with an Italian influence. Go for a classic croissant paired with a coffee, or try their truly unique Cacio e Pepe eggs with pancetta. A weekend brunch is ideal with a drink—so luckily their menu also includes Bellinis, Spritz, Garibaldis and other breakfast bevs.
Barry
Northcote
Barry is easily one of the best breakfast spots in Melbourne's north. It serves up dishes with a healthy twist, a concoction of colour and nutrients are showcased in each dish. Run by the team behind names like Pillar Of Salt, Touchwood, and Tall Timber you're in for a good feed with a visit to Barry. Tuck into the healthy goodies like their chilli-scramble eggs, sweet potato rosti or any of their bowls and salads. Trust us, it may be healthy, but it certainly isn't boring.
Top Paddock
RICHMOND
If you're planning on hitting up this one on the weekend, prepare for a bit of a wait. Top Paddock pumps out heaps of tasty dishes and the warm lit interior makes it a perfect spot to catch up with a friend. The cafe is famous for its blueberry and ricotta hotcake that still generates hype on the gram. Frankly, it's absolutely delicious—so we get why. If you are after something a little fresher, slurp up one of their smoothies or juices. For one of the best breakfasts in Melbourne that everyone raves about, give Top Paddock a shot.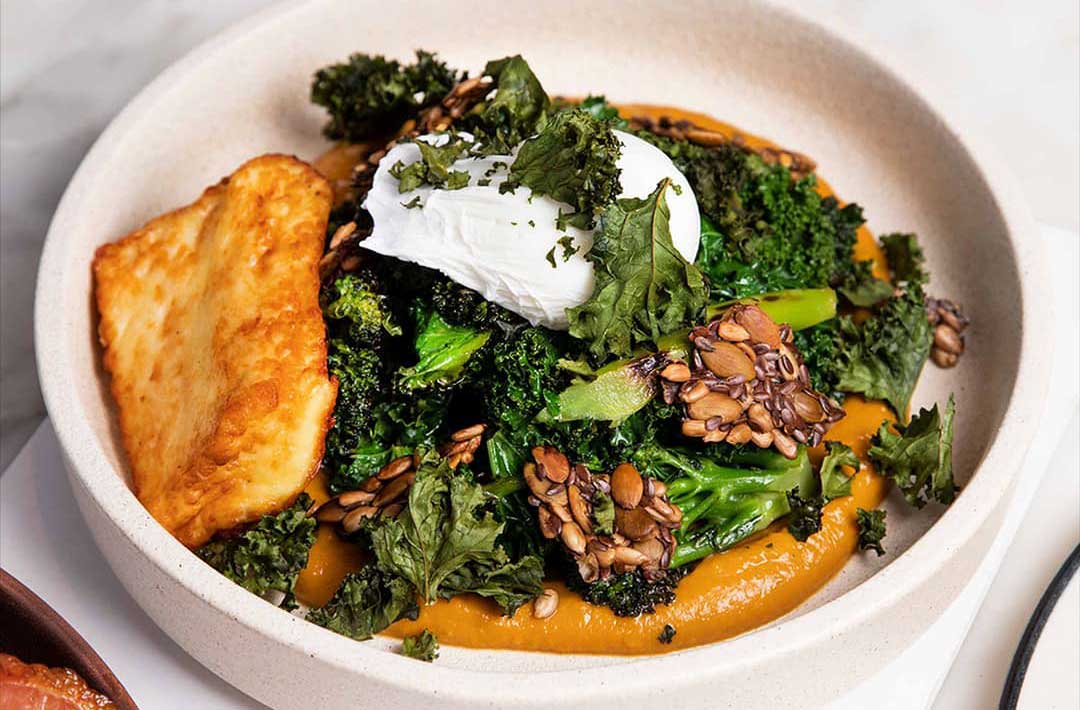 Terror Twilight
Collingwood
One of the best breakfast spots in Melbourne is Terror Twilight. Serving a hearty brekkie and brunch menu as well as some seriously top-notch coffee. Try out one of their BYO bowls with either a broth or rice; top it off with some chicken, Angus beef, salmon and enough toppings to keep you hunger-free for the rest of the day. They cater for pretty much every dietary requirement too with a ton of vegan and gluten-free options.
Lankan Tucker
BRUNSWICK WEST
Lankan Tucker is a Sri Lankan inspired cafe that is known for serving hearty portions filled with colour. Adding some variety to the brekkie scene, they are serving up exotic dishes like a coconut-topped breakfast curry and a south-east Asian fried chicken burger. Also, a big shoutout to their rich coffee blend—it's a must-try. If you're after a unique spot for your morning feed, Lankan Tucker is a contender for one of the best breakfasts in Melbourne.
Hardware Societe
CBD
Hardware Societe is one of the best spots for breakfast in Melbourne CBD and it's absolutely delicious too. The baked eggs here are pretty stellar or have dessert for breakfast and try the chocolate-ginger porridge. With a sister store in France, all the dishes have a French influence and will leave you scraping every last bit on your plate.
Clubhouse
Malvern
If you've been to Tinker, Bentwood or Penta, it's the same crew that's behind Clubhouse. The Clubhouse team constantly changes up their menu to keep you on your toes and utilise seasonal produce. Their quinoa California salad will get in your daily veggie intake, but if salads aren't your vibe—try the Blossom Hotcakes with salted caramel, vanilla mascarpone and dark chocolate.
Industry Beans
Fitzroy
Industry Beans is in a class all of its own, with an award-winning fit-out, premium coffee and some of Melbourne's best breakfast dishes. The avo smash is delicious, but it's the Porcini Nest— a porcini dusted egg atop a woven potato nest filled with mushroom and truffle, that tingles our taste buds. Their peanut butter brownies are also pretty damn good.
Napier Quarter
Fitzroy
Dedicated to high-quality ingredients and traditional food with a Euro-feel, Napier Quarter knows how to serve a great breakfast. Celebrating the community, the cafe and wine bar has a warm feel to it and serves up comforting dishes like baguettes and tarts. Whether it's a frittata, galette or salad—Napier has artisan cooking at the heart of every dish. For a traditional breakfast that is one of the best Melbourne has to offer, head over to Napier Quarter.
Monk Bodhi Dharma
Balaclava
Monk Bodhi Dharma is an inviting plant-based cafe, tucked away in a car park. While no dishes include eggs, their menu is far from boring. Try their Buddha Bowls or their famous Banana Dharma Pancakes with a dulce de leche ice cream. Whether you're a sweet tooth or looking to get in your veggies for the day, they have options to satisfy everyone. They also specialise in coffee and chai lattes, so grab one of these to elevate your meal to the next level.
Axil Coffee Roasters
HAWTHORN
A staple for many, Axil Coffee Roasters attracts the crowd for their tasty coffee and great nibbles. With 15 locations, the coffee hub is one of the best in Melbourne's breakfast scene. Featuring dishes like corn-fritters and red-velvet pancakes their menu is truly scrumptious, chances are there's an Axil near you.
Proud Mary
Collingwood
Proud Mary has a cool, rockabilly vibe, great coffee and a smashing breakfast menu. Their miso caramel cauliflower is pretty epic, as is their cinnamon scroll oats. If you're after something a little more chill, just grab a coffee and one of their sandwiches or baked goods. They're simple but go hard on great flavours.
Legacy Camberwell
CAMBERWELL
Legacy Camberwell is run by a team of local legends. The geniuses in the kitchen serve up a combo of brekkie classics as well as more contemporary items like poké bowls, and crispy chicken bao. Don't fret either, they have a hearty selection of sweet options too. For one of the best breakfasts in Melbourne's southeast, head to Legacy Camberwell.
Rustica
CBD & SOUTH YARRA
The Rustica empire is renowned for their baked, and well, rustic goods. With perfectly cooked croissants and sourdough that is crisp on the outside and soft on the inside, it's a good spot to grab a coffee and something to go. Alternatively, dine in and go for something a little fancier like the spanner crab scramble or croissant french toast. Drooling? Well, rush over to Rustica for one of the best brekkies Melbourne has to offer.
The Vertue Of The Coffee Drink
Carlton
Known to many as 'Vertue', the team roast their beans in-house as well as having some of the cosiest interiors that make you want to sit and drink coffee all day. It's the perfect spot to grab a feed and read a book or do some work while you're waiting. If you're working, the Big Boss brekkie, featuring a little bit of everything, is pretty appropriate. Otherwise, go for the tiramisu waffles or red velvet and blueberry hotcakes that are sure to start your day on the right foot.
(Editors note: Vertue Carlton is currently closed during lockdown.)
Babajan
Carlton North
Babajan is a Turkish and Middle Eastern love child that is dishing up some of Melbourne's best breakfast. You're not gonna find smashed avo here, but you will find a range of fresh salads, cakes, and pastries. Crowd favourites include their ground lamb Borek, Menemen Turkish baked egg or the Aleppo eggplant toastie which are all immaculate. For hearty dishes that will leave you with a full heart and a happy tummy, grab something sweet and savoury from Babajan.
Archie's All Day
FITZROY
As the name suggests, Archie's All Day serves up some of the best breakfast in Melbourne from 7.30am until 10pm. Located on Gertrude Street, it's the perfect fuel spot after wandering along the buzzing shopping strip. With so many options to choose from, we suggest trying the za'atar roasted cauliflower wedge, fried chicken & waffles or ricotta hotcakes. Heads up—their range of brekkie cocktails or mimosas are worth a taste and will level up your meal.
South Of Johnston
Collingwood
South Of Johnston is the bomb for all things vegetarian. Try out their mushrooms, ladled with juicy cubes of beetroot and silky feta. They even have an open fire, so you can cosy up and drink your coffee in the chilly morn'. For one of the best vegetarian breakfasts in Melbourne, this is your spot.
Cibi
COLLINGWOOD
This carefully curated warehouse space is home to two phenomenons; the stacked menu of breakfast options and the ultra-refined plant and homewares store. Cibi is an aesthetic-filled pleasure, with white-washed walls, plants all around, and Japanese-fused dishes like Miso-baked eggs that go down a treat.
Kettle Black
South Melbourne
Housed in a classically restored Victorian-era style building, Kettle Black's is the go-to destination in South Melbourne. Their menu houses traditional favourites like mushies on toast and salmon benedict but also has contemporary takes for those wanting something new. The prawn and pork Katsu Sando with furikake crisp—or the Gingerbread Waffle paired with a blackberry, mint, carrot and maple ice cream are both worth a try. With a variety of items sure to satisfy any palate, this is one you'll see on all the best breakfast in Melbourne lists.
Bentwood
Fitzroy
Bentwood in Napier Street serves up a sweet timber interior with ultra-mod influences. Their churros waffles, acai bowl, eggs benny or fried chicken burger is sure to make your stomach rumble. Head over there for fun twists on brekkie faves and great coffee.
Need to know where to scoop the best cup of joe? Check out Melbourne's best coffee here.
Image credit: supplied (Terror Twilight)