Melbourne is renowned for its rich coffee culture and top-tier breakfast spots. After all, our city would probably win the most variations on a smashed avo. While there is nothing wrong with our love for avocado, if you are looking to expand your breakfast horizons—keep scrolling. In a range of options that satisfy both sweet tooths and those wanting something healthy; we have included cafes serving anything from decadent pancakes to veggie-fuelled salads.
With a different cafe on nearly every corner, this is where to find the best breakfast in Melbourne for 2023:
Convoy
MOONEE PONDS
A relative newcomer to the cafe scene, Convoy has started strong as a contender for the best breakfast in Melbourne. Helmed by the same team behind Terror Twilight and Tinker, here you'll find a staple range of brunch items like cinnamon scroll hotcakes, their Turkish eggs with a beef Sujuk a hot red pepper butter and lemon yoghurt served up on sourdough. Perhaps one of the biggest drawcards however is the caramelised miso brioches which come with a decadent hazelnut mascarpone.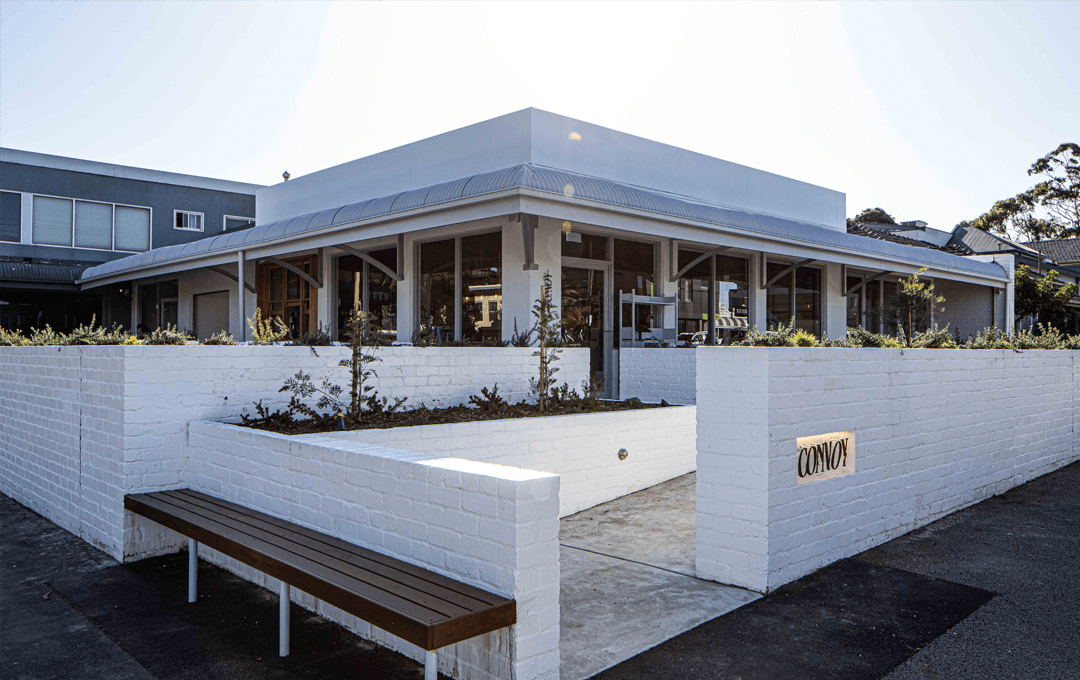 Higher Ground
CBD
Higher Ground is situated in a stunning heritage-listed building in Melbourne's city centre. They are dishing up elevated cafe dining all day long with a breakfast menu that's a welcome sight for grumbling stomachs. With options like peanut butter waffles with chocolate and orange yoghurt mousse, there's a reason they've got the rep for some of the best breakfast Melbourne has on offer. If you're looking to up the anty on your morning beverage you can swap out your coffee for one of their many breakfast cocktails on offer.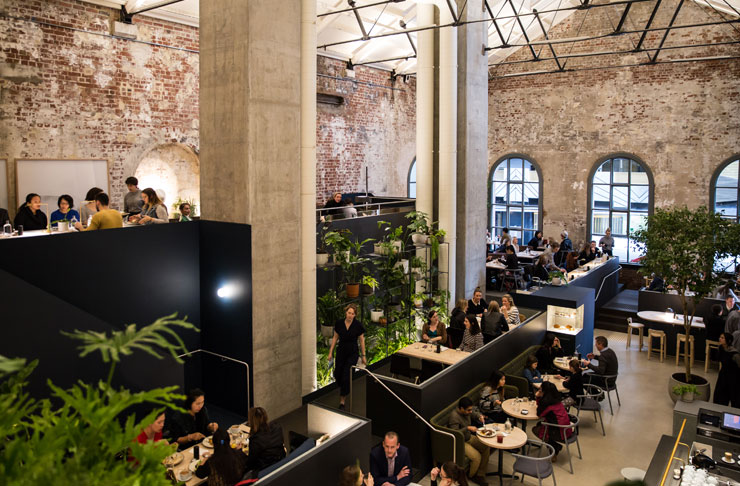 Faraday's Cage
FITZROY
Faraday's Cage is one of the North's top cafes and artisan bakeries. You can expect their menu to be packed with Melburnian brunch faves; granola with co-yo, ricotta hotcakes, herby avocado on toast, the early burger and poke bowl. But it's their handmade bread and pastries that are baked to golden perfection that has us coming back for more. Be sure to get a barista-made coffee using Proud Mary beans to wash down your flaky croissant.
Via Porta
MONT ALBERT
Via Porta is a part bakery, cafe, and deli that refuses to let you leave hungry or empty-handed. They know good food and you can bet they know breakfast. Their poached pear French toast with caramel sauce is understandably a crowd-pleaser. But if you're looking to opt for something more savoury look no further than their crispy eggs stacked with smoked ham hock, sweet potato puree, candied walnuts, mesclun salad, honey mustard vinaigrette, gouda cheese on sourdough toast.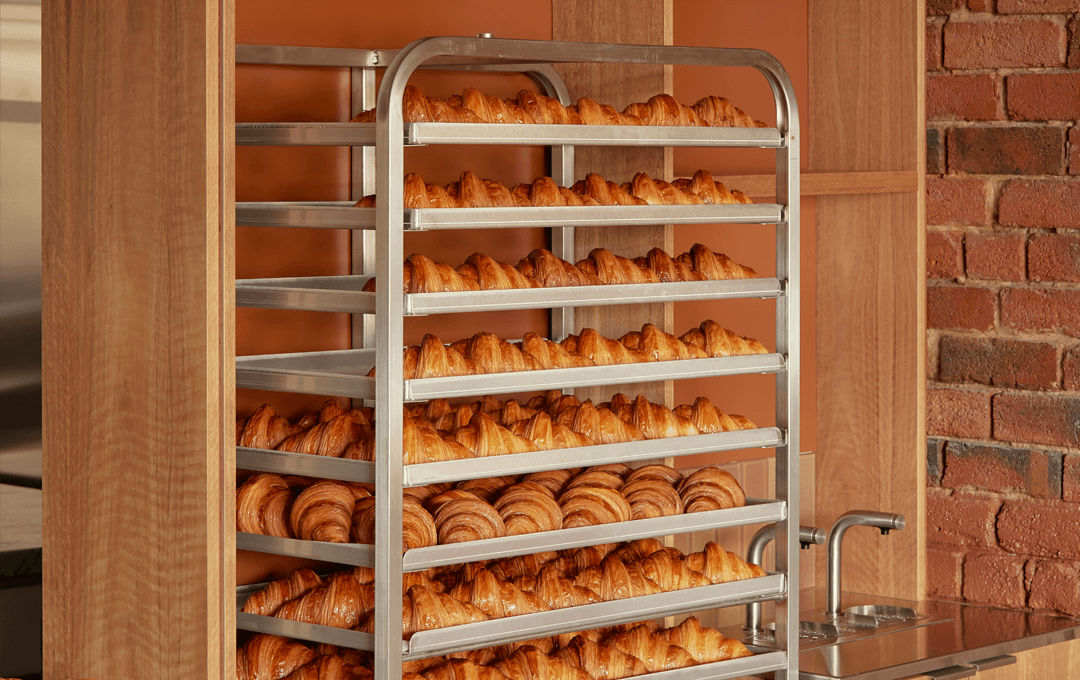 Lux Foundry
BRUNSWICK
Lux Foundry is a fave dog-friendly breakfast spot for northside locals. The cafe is located in a rustic converted warehouse and has been serving up innovative locally sourced dishes for the better part of a decade. Lux Foundry's all-day breakfast menu has got something for everyone including the vegan, vegetarian and gluten-free inclined. But their soft shell crab chilli scrambled eggs and pulled pork eggs benedict are sure to go down well if you're game.
Good Times Milk Bar
BENTLEIGH
Just as the name suggests this quaint little milk bar serves up some quality goods, with a super laid-back style and a hefty menu of brunch items, it's typically filled with a slew of devoted locals. From American-style burgers to pancakes, and a good old-fashioned eggs benedict Good Times serves up all the right stuff.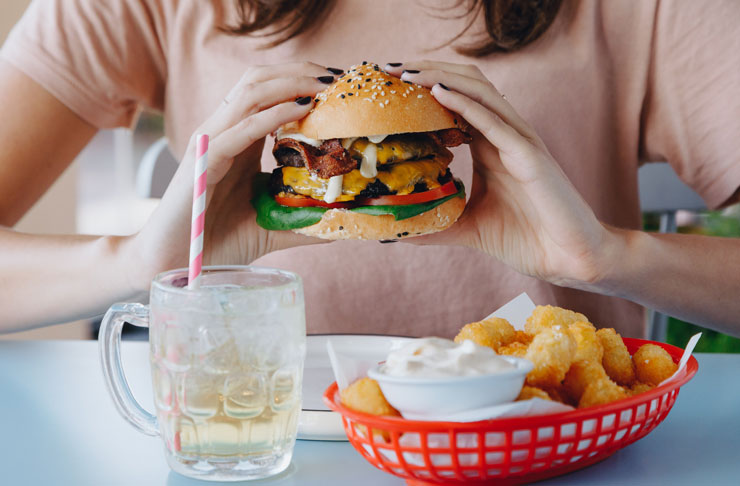 West 48
FOOTSCRAY
West 48 is located in the heart of Footscray and is not looking to reinvent the breakfast wheel. Their menu is packed with all the breakfast classics, so you know you're guaranteed a good feed. You can expect to have your pick from a smoked salmon croissant, Shakshuka, corn fritters and of course eggs benedict. Their decayed industrial interior and westside location make it the ultimate location for a Melbourne breakfast.
Lenny
ALBERT PARK
Lenny's Albert Park location makes it the perfect destination for a mid-week or weekend brunch. Their spicy prawn omelette and Okonomiyaki-inspired pancake are two of the most unique savoury options on the menu. Also lining up the decadent array of brekky options is the sugary Banoffee pie french toast which is made from croissant loaf and topped with whipped vanilla mascarpone.
Hamptons Bakery
HAMPTON
Hamptons Bakery will transport you right to upstate New York. Their interior has a beachside vibe while keeping it sophisticated with their gold, marble and glass counter. You'll come for the ambience but stay for the food. Their breakfast menu will satisfy all your cravings with offerings like cinnamon porridge, mixed mushroom bruschetta, buckwheat granola and beetroot-cured salmon Gravadlax. So take us to the Hamptons, where the coffee is hot and the artisan pastries are sweet.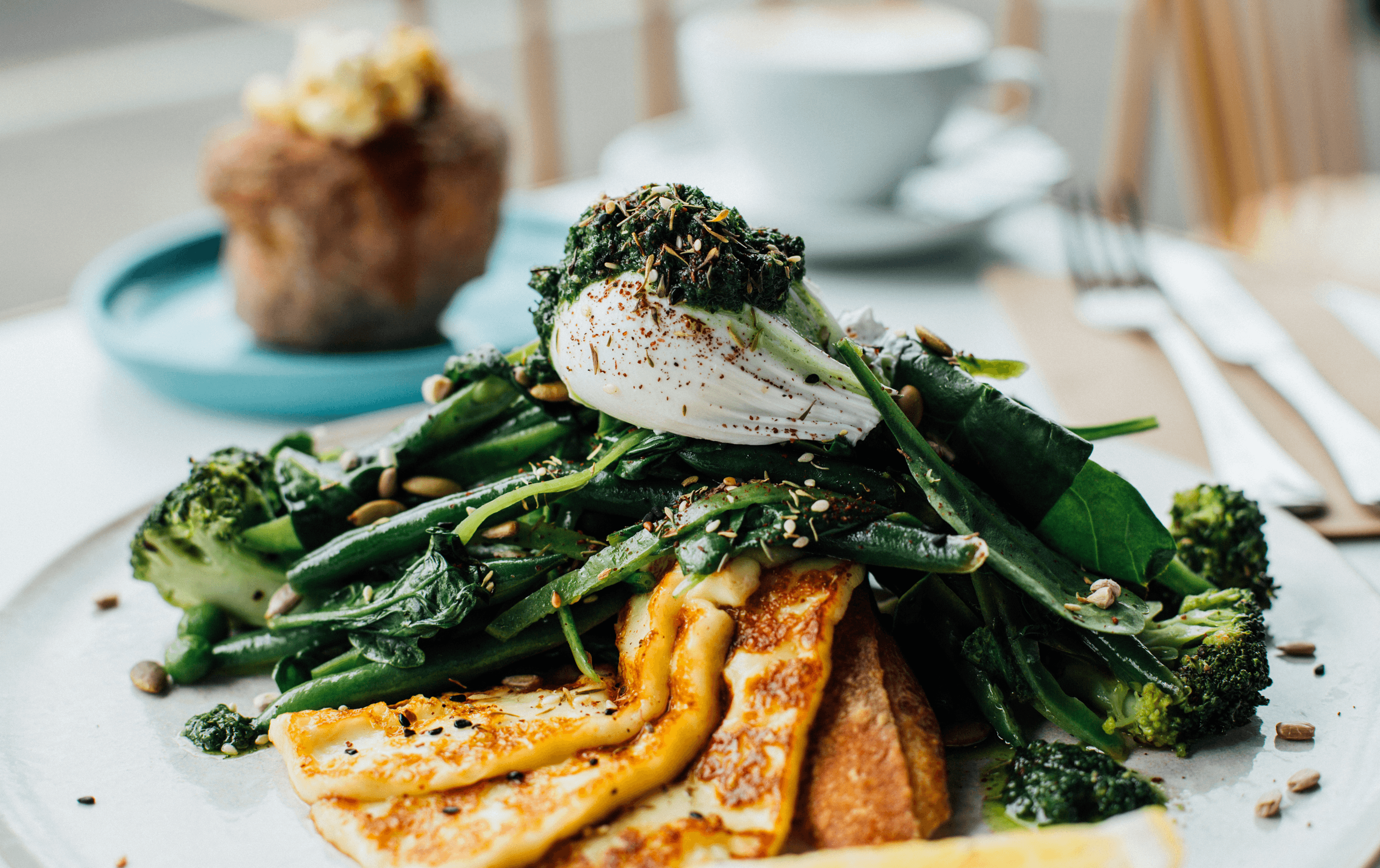 Top Paddock
RICHMOND
If you're planning on hitting up this one on the weekend, prepare for a bit of a wait. Top Paddock pumps out heaps of tasty dishes and the warm-lit interior makes it a perfect spot to catch up with a friend. The cafe is famous for its blueberry and ricotta hotcake which still generates hype on the gram. Frankly, it's absolutely delicious—so we get why. If you are after something a little fresher, slurp up one of their smoothies or juices. For one of the best breakfasts in Melbourne that everyone raves about, give Top Paddock a shot.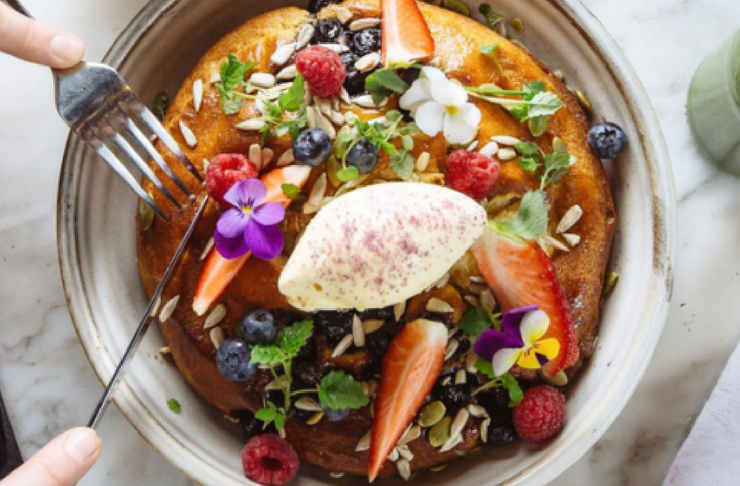 Terror Twilight
COLLINGWOOD
One of the best breakfast spots in Melbourne is Terror Twilight. Serving a hearty brekkie and brunch menu as well as some seriously top-notch coffee. Try out one of their BYO bowls with either broth or rice; top it off with some chicken, Angus beef, salmon and enough toppings to keep you hunger-free for the rest of the day. They've also got decadent options like the sweet potato pancakes with miso butterscotch, a touch healthier take on the breakfast staple. They cater for pretty much every dietary requirement too with a ton of vegan and gluten-free options.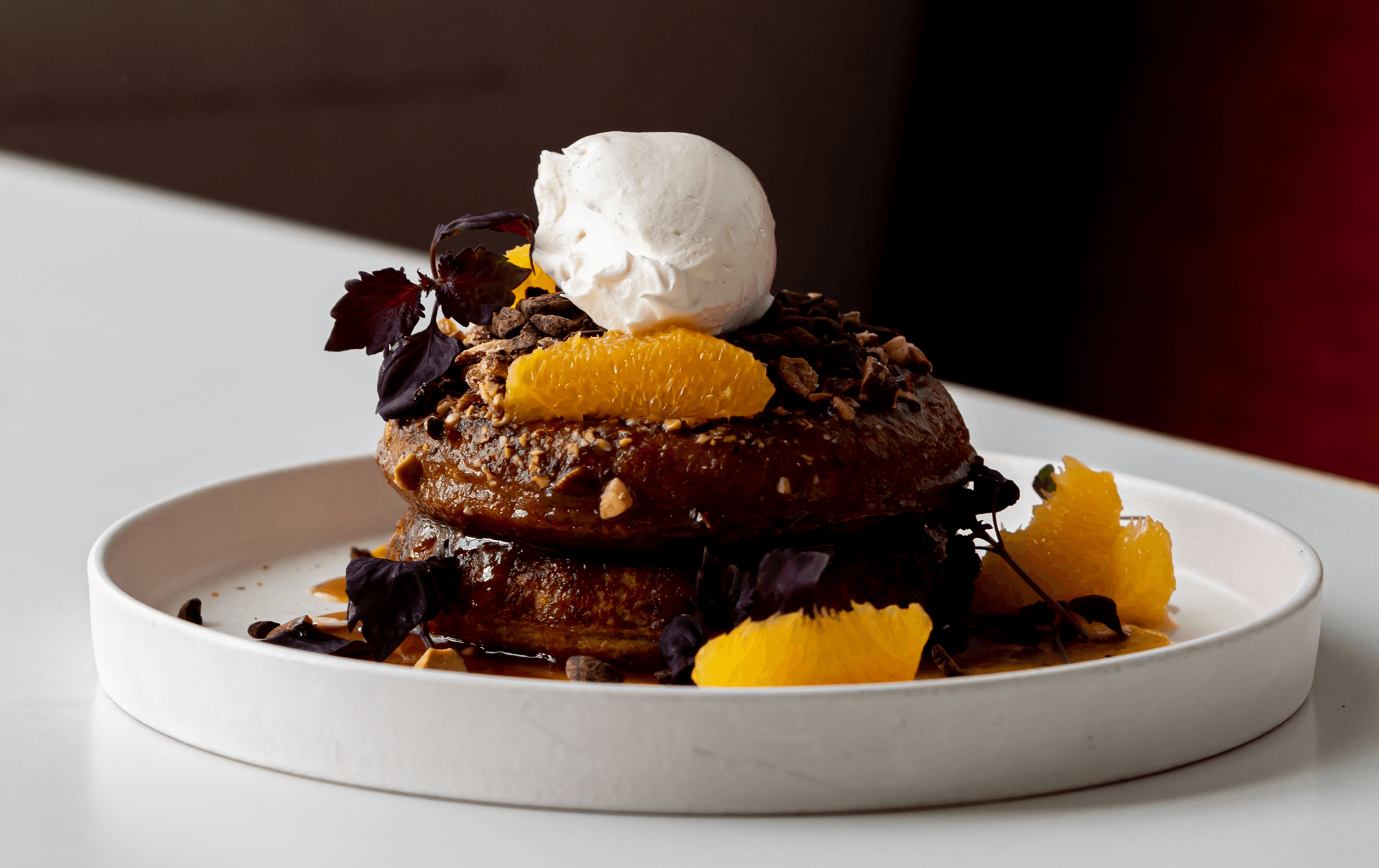 Lankan Tucker
BRUNSWICK WEST
Lankan Tucker is a Sri Lankan-inspired cafe that is known for serving hearty portions filled with colour. Adding some variety to the brekkie scene, they are serving up exotic dishes like a coconut-topped breakfast curry and a Buriyani Burrito with chicken curry and melted cheese wrapped in a house-made roti. Also, a big shoutout to their rich coffee blend—it's a must-try. If you're after a unique spot for your morning feed, Lankan Tucker is a contender for one of the best breakfasts in Melbourne.
All Are Welcome
NORTHCOTE
Right at the entrance to High Street Northcote All Are Welcome is another delicious hybrid cafe bakery that seems to be all the rage in Melbourne at the moment. They've got seriously good coffee, organic bread, and a range of sweet pastries, sandwiches, and cakes that have propelled them to popularity within the region.
Hardware Societe
CBD
Hardware Societe is one of the best spots for breakfast in Melbourne CBD and it's absolutely delicious too. The baked eggs here are pretty stellar or have dessert for breakfast and try the chocolate-ginger porridge. With a sister store in France, all the dishes have a French influence and will leave you scraping every last bit on your plate.
Clubhouse
MALVERN
If you've been to Tinker or Bentwood, it's the same crew that's behind Clubhouse. The Clubhouse team constantly changes up their menu to keep you on your toes and utilise seasonal produce. Their Beetroot grain salad will get in your daily veggie intake, but if veggies early in the morning aren't your vibe—try the peanut butter granola bowl or the club ricotta hotcakes with yuzu curd.
Industry Beans
FITZROY, CHADSTONE , CBD
Industry Beans is in a class all of its own, with an award-winning fit-out, premium coffee and some of Melbourne's best breakfast dishes. The avo smash is delicious, but it's the Porcini Nest— a porcini-dusted egg atop a woven potato nest filled with mushroom and truffle, that tingles our taste buds. Their peanut butter brownies are also pretty damn good.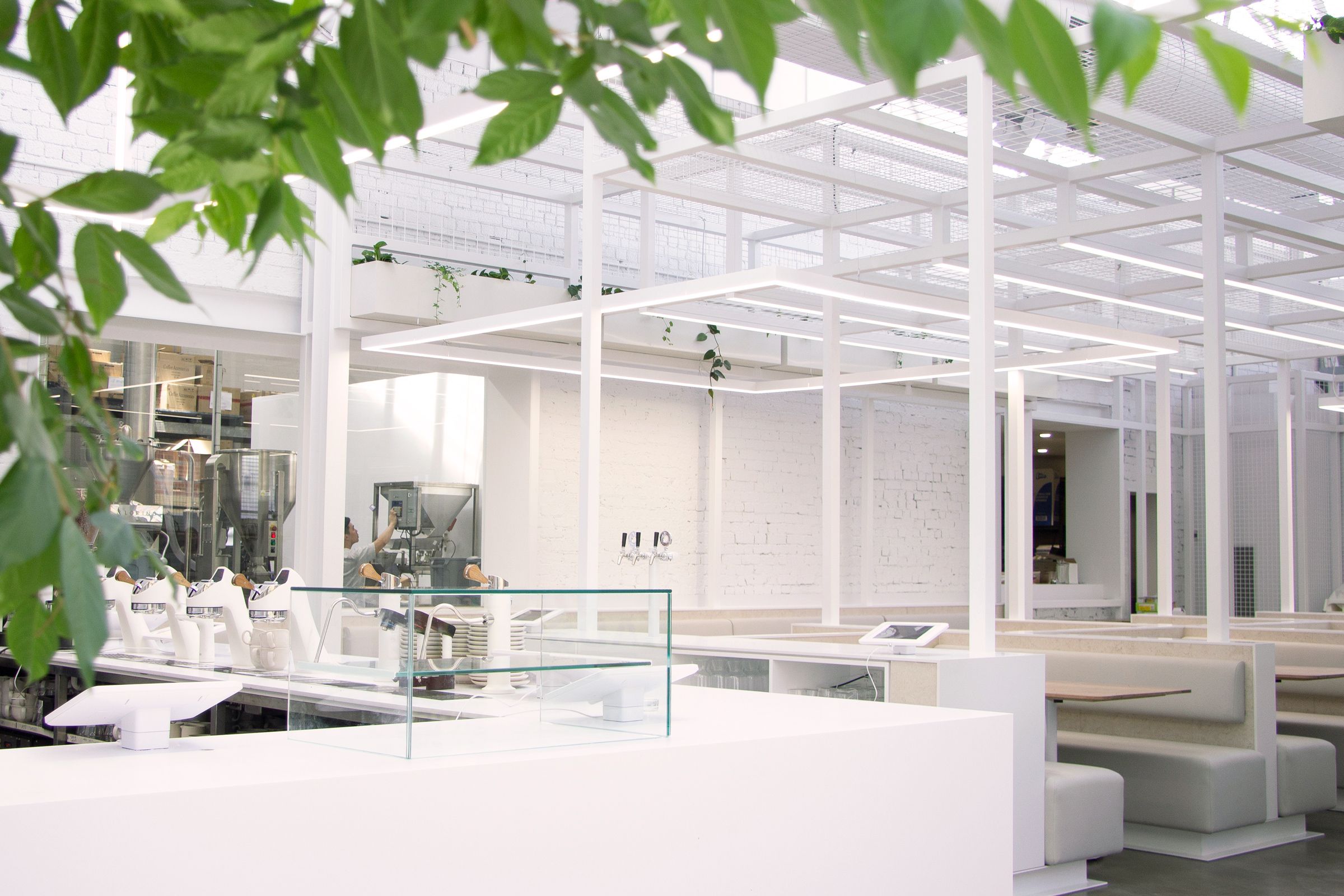 Napier Quarter
FITZROY
Dedicated to high-quality ingredients and traditional food with a Euro-feel, Napier Quarter knows how to serve a great breakfast. Celebrating the community, the cafe and wine bar has a warm feel to it and serves up comforting dishes like baguettes and tarts. Whether it's a frittata, galette, salad or the now iconic anchovy and egg on sourdough toast—Napier has artisan cooking at the heart of every dish. For a traditional breakfast that is one of the best Melbourne has to offer, head over to Napier Quarter.
Monk Bodhi Dharma
BALACLAVA
Monk Bodhi Dharma is an inviting plant-based cafe, tucked away in a car park. While no dishes include eggs, their menu is far from boring. Try their Buddha Bowls or their famous Banana Dharma Pancakes with a dulce de leche ice cream. Whether you're a sweet tooth or looking to get in your veggies for the day, they have options to satisfy everyone. They also specialise in coffee and chai lattes, so grab one of these to elevate your meal to the next level.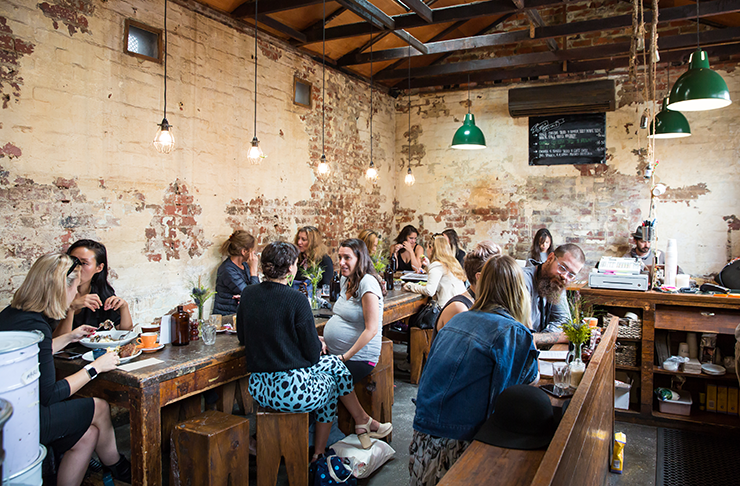 Proud Mary
COLLINGWOOD
Proud Mary has a cool, rockabilly vibe, great coffee and a smashing breakfast menu. Their tahini eggs with toasted sourdough Guindilla peppers and Zhoug absolutely slap, as does their morning granola. If you're after something a little more chill, just grab a coffee and one of their sandwiches or baked goods. They're simple but go hard on great flavours.
Legacy Camberwell
CAMBERWELL
Legacy Camberwell is run by a team of local legends. The geniuses in the kitchen serve up a combo of brekkie classics as well as more contemporary items like poké bowls, and crispy chicken bao. Don't fret either, they have a hearty selection of sweet options too. For one of the best breakfasts in Melbourne's southeast, head to Legacy Camberwell.
Rustica
CBD & SOUTH YARRA
The Rustica empire is renowned for their baked, and well, rustic goods. With perfectly cooked croissants and sourdough that is crisp on the outside and soft on the inside, it's a good spot to grab a coffee and something to go. Alternatively, dine in and go for something a little fancier like the spanner crab scramble or croissant french toast. Tempted? Well, rush over to Rustica for one of the best breakfasts Melbourne has to offer.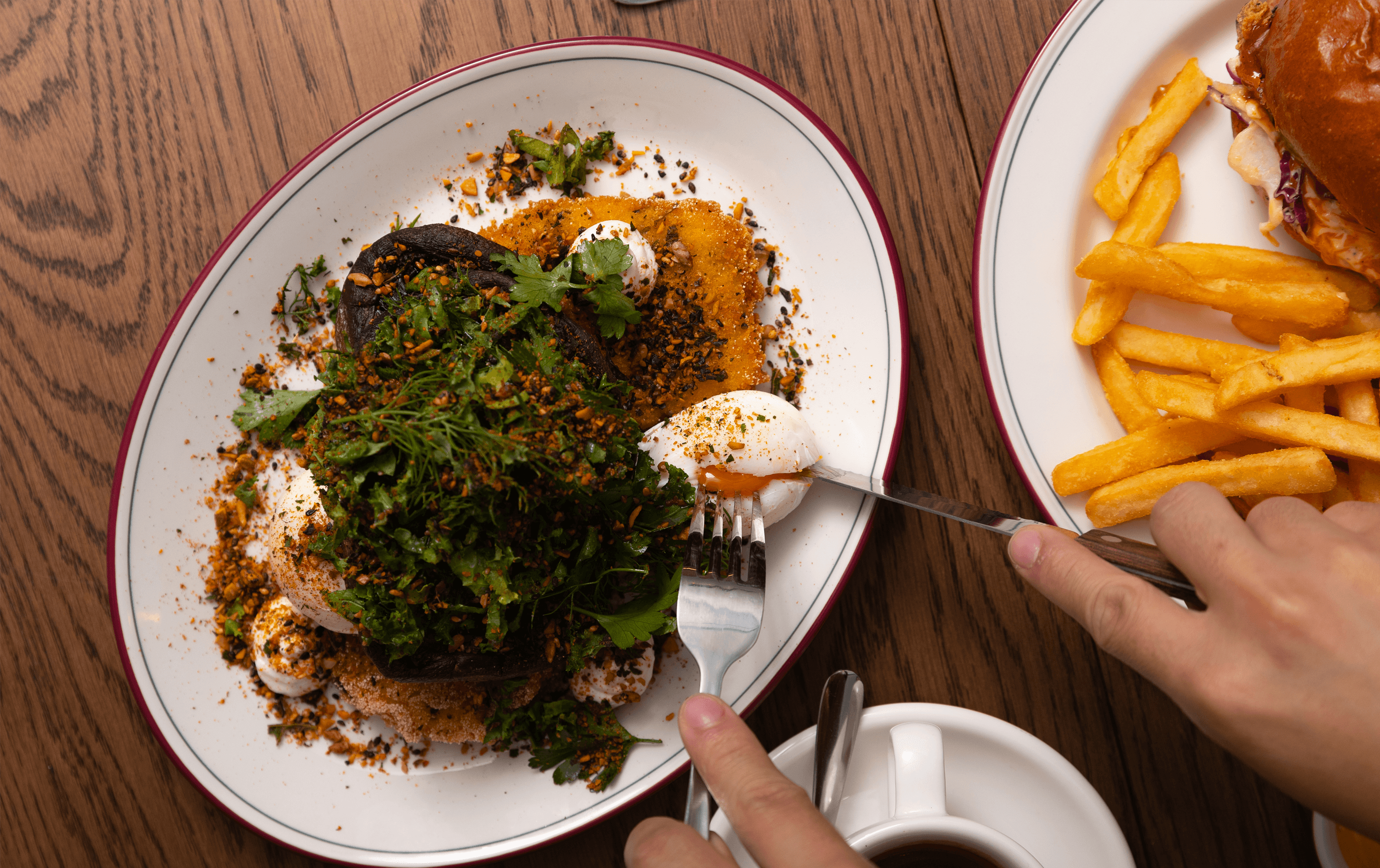 Babajan
CARLTON NORTH, CBD
Babajan is a Turkish and Middle Eastern love child that is dishing up some of Melbourne's best breakfast. Now a take-away-only operation, you're not gonna find smashed avo here, but you will find a range of fresh salads, cakes, and pastries. Crowd favourites include their ground lamb Borek, Menemen Turkish baked egg or the Aleppo eggplant toastie which are all immaculate. For hearty dishes that will leave you with a full heart and a happy tummy, grab something sweet and savoury from Babajan.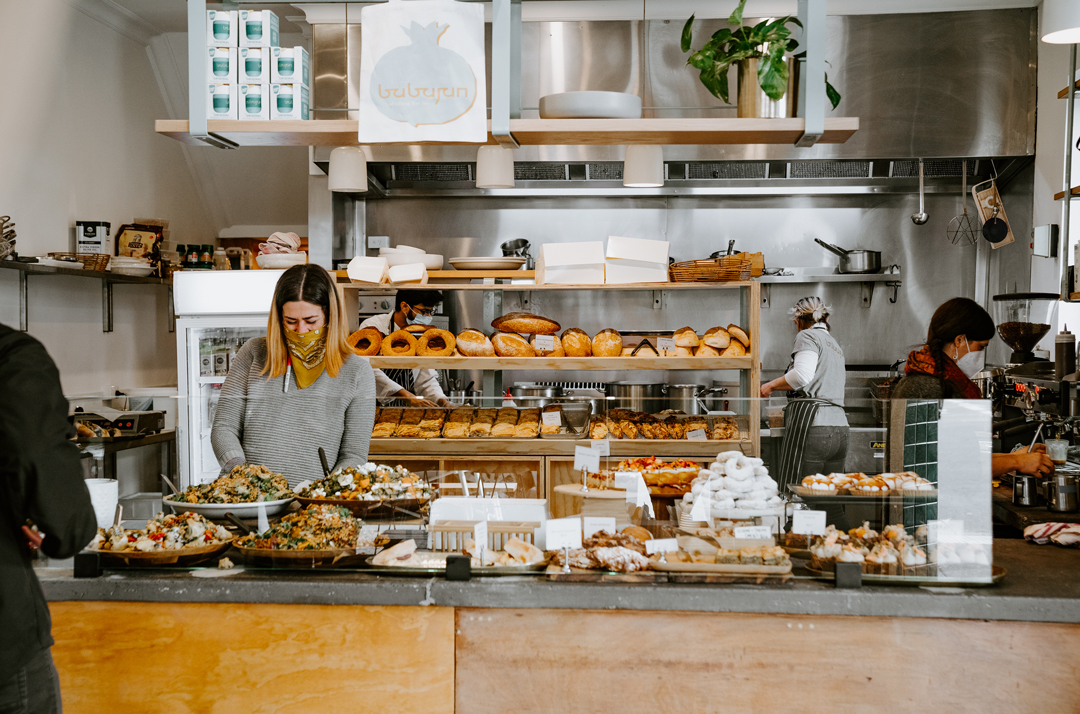 Archie's All Day
FITZROY
As the name suggests, Archie's All Day serves up some of the best breakfast in Melbourne from 7.30am until 10pm. Located on Gertrude Street, it's the perfect fuel spot after wandering along the buzzing shopping strip. With so many options to choose from, we suggest trying the fried chicken waffles or ricotta hotcakes. Heads up—their range of brekkie cocktails or mimosas is worth a taste and will level up your meal.
South Of Johnston
COLLINGWOOD
South Of Johnston is the bomb for all things vegetarian. Try out their pan fried mushrooms with pumpkin hummus and crispy capers . They even have an open fire, so you can cosy up and drink your coffee in the chilly morn'. For one of the best vegetarian breakfasts in Melbourne, this is your spot
Cibi
COLLINGWOOD
This carefully curated warehouse space is home to two phenomenons; the stacked menu of breakfast options and the ultra-refined plant and homewares store. Cibi is an aesthetic-filled pleasure, with white-washed walls, plants all around, and Japanese-fused dishes like Miso-baked eggs that go down a treat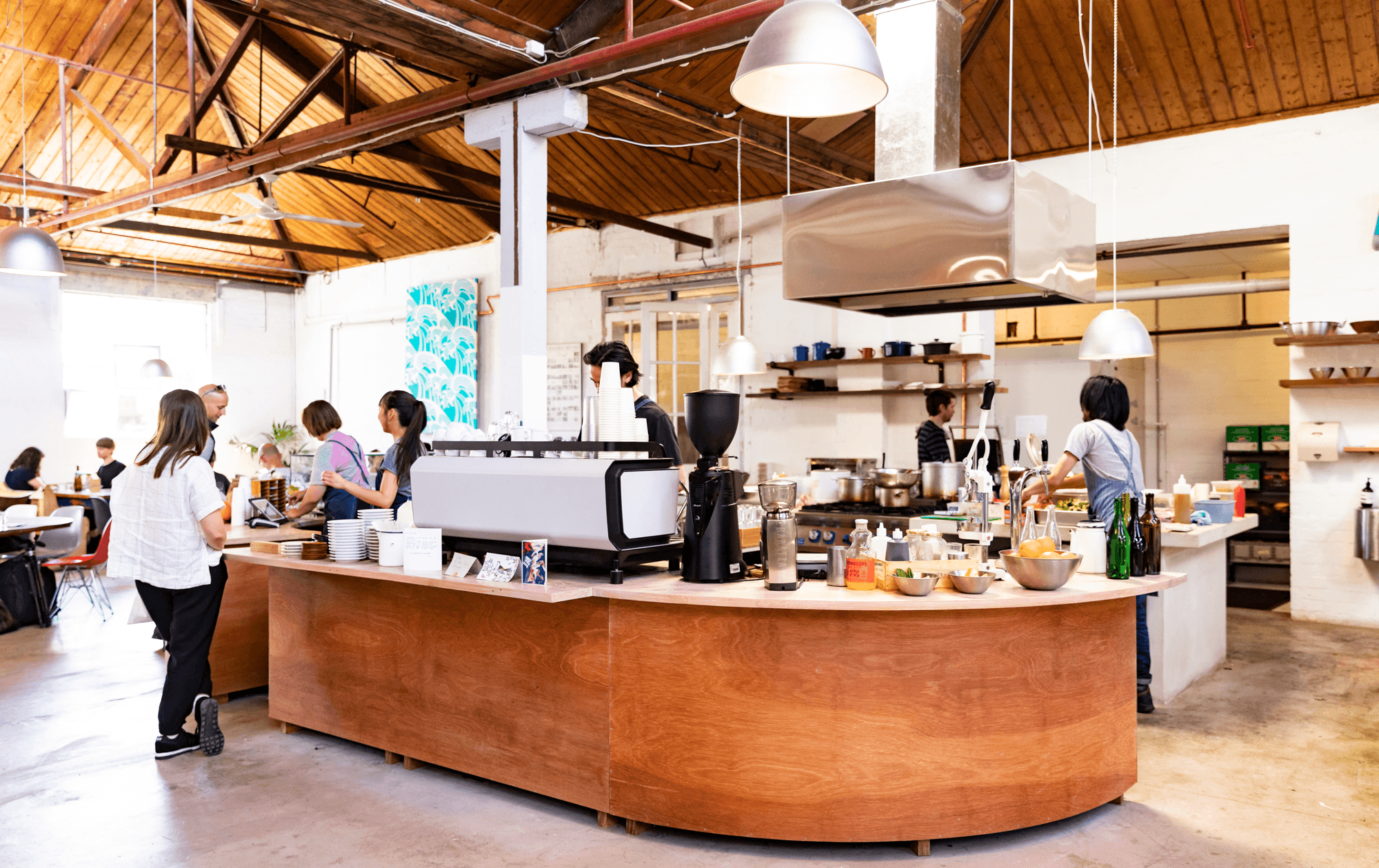 Kettle Black
SOUTH MELBOURNE
Housed in a classically restored Victorian-era style building, Kettle Black's is the go-to destination in South Melbourne. Their menu houses traditional favourites like mushies on toast and brisket benedict but also has contemporary takes for those wanting something new. The roast lamb shoulder roll with whipped chilli fetta —or the Tiramisu waffles paired with Darling blend espresso syrup, cocoa nibs and raspberries are both worth a try. With a variety of items sure to satisfy any palate, this is one you'll see on all the best breakfast in Melbourne lists.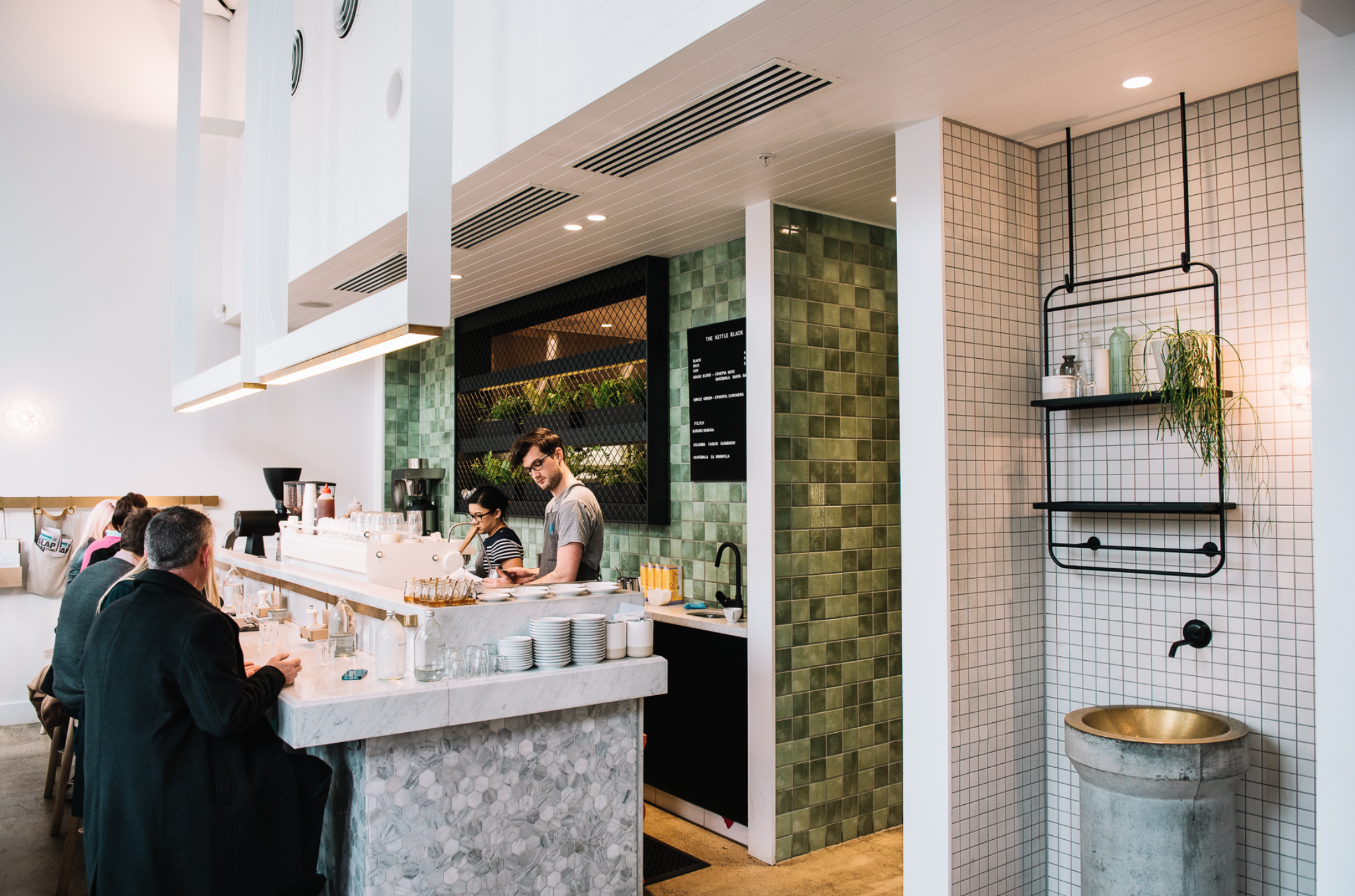 Bentwood
FITZROY
Bentwood in Napier Street serves up a sweet timber interior with ultra-mod influences. Their churros waffles, acai bowl, eggs benny or fried chicken burger is sure to make your stomach rumble. Head over there for fun twists on brekkie faves and great coffee.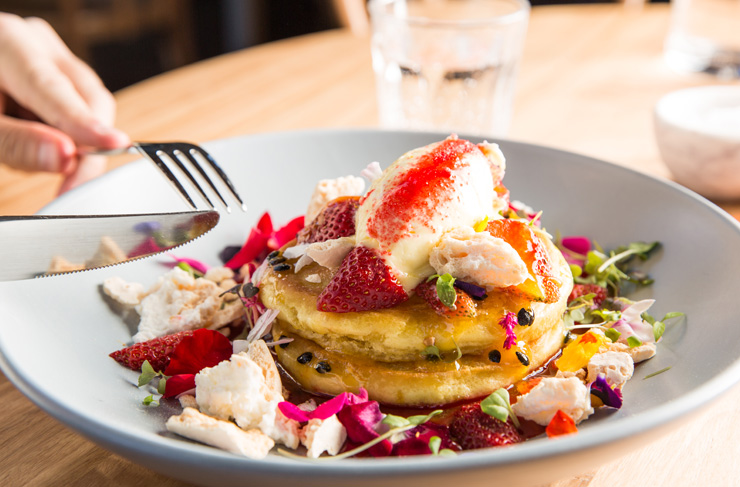 For more of Melbourne's top spots, check out these:
Melbourne's best restaurants
Melbourne's best cafes
Melbourne's best bars
Melbourne's best pizza
Image credit: supplied (Convoy)