How do you rate the best breakfast in Melbourne? That's like picking your favourite colour of the rainbow, right? Melbourne pretty much invented breakfast (we haven't checked the history books on that one), and there are about 1001 dishes around town that could lay claim the Best Breakfast mantle.
But here are a few of our favourites. A little smashed av, a little house baked beans with halloumi. Here are the best spots to get breakfast in Melbourne.
Barry
Northcote
Barry is easily one of our favourite northside brekkie haunts, with a healthy twist.
Run by the team behind names like Pillar Of Salt, Touchwood, and Tall Timber you know what you're going to be in for with a visit to Barry. Tuck into the ricotta hotcake with strawberry compote, vanilla cream, and crumble.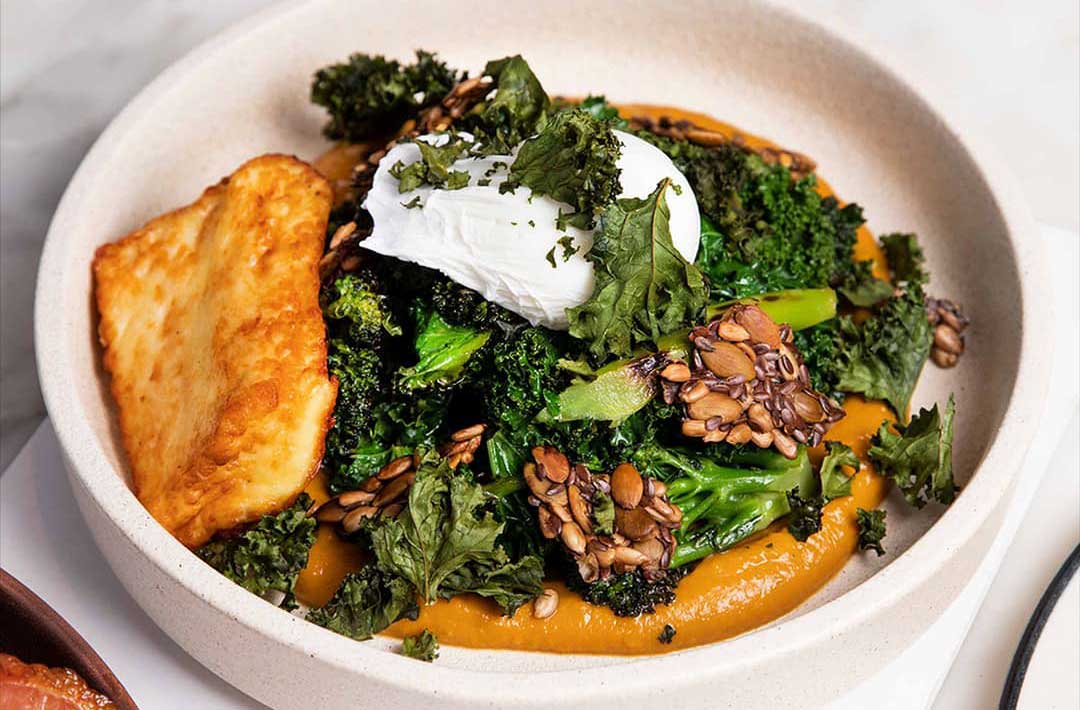 Top Paddock
Richmond
If you're planning on hitting up Top Paddock on the weekend, prepare for a bit of a wait. This spot is still super busy.
Top Paddock pumps out a heap of delicious dishes, but if savoury isn't your thing, the blueberry & ricotta hotcake with seasonal berries and macadamias is sure to satisfy.
Terror Twilight
Collingwood
One of the best openings in the past couple of years, Terror Twilight does a hearty brekkie and brunch menu. Try out one of their BYO bowls with either a broth (ie: chicken broth or veggie miso broth) or rice.
Top it off with some chicken, Angus beef, salmon and enough toppings to keep you hunger-free for the rest of the day.
Hardware Societe
CBD
Hardware Societe is one of the best spots for breakfast in Melbourne CBD, and definitely a destination for tourists. The baked eggs here are pretty stellar, served in a little pot for one.
Hardware Societe dishes up a range of Spanish and French-inspired dishes.
Clubhouse
Malvern
If you've been to Tinker, Bentwood, Penta or MOB, it's the same crew that's behind Clubhouse. Serving up a black forest pannacotta with cherry and dark choc, topped with the freshest berries and honeycomb.
Three Bags Full
Abbotsford
We'll take three bags of their delicious food and coffee.
Our top pick at Three Bags Full is the smashed avo (naturally) with Meredith's Feta, cherry tomatoes and grilled corn & quinoa salsa is one of the prettiest and darn tastiest breakfasts in Melbourne.
Industry Beans
Fitzroy
Industry Beans is in a class all of its own, with an award-winning fit-out, premium coffee and some of Melbourne's best breakfast dishes.
The avo smash is a staple, but it's stuff like cinnamon-dusted brioche with delicious tonka bean ice-cream, maple roasted peanuts and coffee caviar (uh, yes please) that tingle our taste buds.
Axil Coffee Roasters
Hawthorn
A staple for many, Axil Coffee Roasters attracts the crowd with their sweet corn and halloumi fritters.
And did we mention the peanut butter and jelly stack? Highly recommend.
Proud Mary
Collingwood
Proud Mary has a cool, rockabilly vibe, great coffee and a smashing breakfast menu. Their avo on kim chi toast with wombok + daikon kim chi, and fermented sago is pretty epic.
Rustica
Hawthorn, CBD, Highpoint, South Yarra & Fitzroy
Take all three, the Rustica empire is slowly growing. You can either grab one of their bakery goods home (freshly made sourdough or a cheeky cronut), or if you're dining in, chow down on the french toasted hot cross bun w/ cinnamon.
The Vertue Of The Coffee Drink
Carlton
Known to many as 'Vertue', the team roast their own beans in-house as well as having some of the cosiest interiors that make you want to sit and drink coffee all day. Go for their Umami mushroom, with house-baked cornbread, kale and a poached egg.
For the sweet tooth out there try their sugary 'Waffle On' Waffles with raspberry, chocolate soil, popping candy and mascarpone.
Archie's All Day
Fitzroy
It's a good thing Archie's All Day is open all-day, because there is so much to tuck into.
We highly recommend the poached eggs and daikon kimchi, enoki mushrooms and sesame dressing.
South Of Johnston
Collingwood
South Of Johnston is the bomb for all things vegetarian. Try out their mushrooms, ladled with juicy cubes of beetroot and silky fetta. They even have an open fire, so you can cosy up and drink your coffee in the chilly morn'.
Miss Jackson
St. Kilda
St Kilda is in the middle of a renaissance but there are plenty of older venues that are definitely worth a visit. Miss Jackson serves up Allpress Coffee and a great menu that will suit any mood you happen to be in.
Bentwood
Fitzroy
Similar to the above, Bentwood in Napier Street serves up a sweet timber interior with ultra-mod influences. The fluffy hotcakes with raspberry coulis should absolutely be on your order.
Need more of the best Melbourne has to offer? Check out our Best Of Guides section.