Whether you're in need of a business-friendly brunch or a lazy central Sunday hotspot, some of Melbourne's best brunch options are located in the heart of the CBD! Skip the south side/north side arguments this weekend, here are the best (neutral ground) spots for city brunchin'.
Om Nom
Featuring a recently launched brunch menu which includes a ridonkously decadent, ultra-fluffy mixed berry hotcake with passionfruit curd, maple syrup and mascarpone, Om Nom is the spot for a sweet (literally) start to the day. It doesn't hurt that there's always a selection of pastries available to go either.
Hardware Societe
One of our favourite people-watching spots, cosy up next to the butterfly wall (they're not real, calm down) with your favourite type of baked eggs at Hardware Societe. Reminiscent of a French Parisian café, you can't have a bad day when your teapot comes wrapped in a hand-knitted cozy. It's physically impossible.
Vacation
Vacation originally focussed on speciality coffee, but after initially seeing their spacious corner on Exhibition Street, the team decided to install a little kitchen.
Everything on the menu has gluten-free options, and a decent amount of their dishes are vegan. Exhibit A: one of their most popular orders, toast with avocado, lemon, seeds, sprouts, and evoo dressing. Or try their toasted muesli with yoghurt and seasonal fruit for a sweet but healthy morning crunch.
Photography: Kings & Knaves
Kings & Knaves Espresso
What's more brunch than a cafe that has a menu entirely dedicated to toast? With everything under the sun available to be put on top of fresh, crusty bread you're in for a real treat. There are a range of sweet treats on offer as well, from doughnuts to slices, Kings & Knaves is one new cafe you definitely need to hit up.
White Mojo
If you're not familiar with White Mojo, you're in for a treat. Over the top brunch options abound at White Mojo, choose from classics like the Buttermilk Strawberry Pancake that comes with maple syrup and a white chocolate crumb, or dig into the Pork Benny, which is a classic eggs benedict with the addition of pulled pork and a chorizo crumb. The team have just opened another outlet in Glen Waverley that does dinner, find out all about it here.
The Little Mule
Tucked at the end of Somerset Place, this café offers no-frills brunch in a cosy, narrow space. Think fresh, buttery banana bread or homemade baked beans on toasty sourdough topped with goat's cheese and rocket. With a skinny latte in tow, there's not much more you could want out of brunch at The Little Mule.
Rustica
Eat your way through Rustica's brekky board with smashed avo, a poached egg on sourdough, orange juice and thick, creamy bircher muesli. For more decisive brunch-ers, favourites include the chilli scrambed eggs with bacon, spring onion, and manchego cheese on sourdough. Because, bacon.
Cumulus Inc
Making a strong case for Melbourne's favourite CBD brunch spot, Cumulus Inc serves refined, restrained brunch dishes inside a spacious interior. Enjoy herby, marinated mushrooms with black barley and a 65/65 egg, or smoky shakshouka in a sleek, industrial space. If you're there for business, don't forget to order a freshly baked, lemon curd-stuffed madeleine on the company card.
The Grain Store
For Melburnians wanting to ensure there's room for lunch (or, like, healthy people I guess), head to The Grain Store. Expect fresh, seasonal dishes like the smoky chorizo beans with comté cheese fondue, poached eggs, spinach, kale salsa and sourdough. What do you mean not an acceptable 9am meal?!
Journal Café
Wiggled into Flinders Lane and adjacent to the Melbourne City Library, is one of favourite CBD brunch spots: Journal Café. Thick, aged textbooks cleverly litter the bright, communal space. Boasting a simple brunch menu like decadently thick porridge with stewed apples, or prosciutto and ricotta bruschetta, this place isn't about fireworks. It's about cosy vibes, bookish company and winter mornings. Pure bliss.
Operator 25
Stay on the line with Operator 25—they're worth the wait. We recommended the tapioca and potato fritters for the brunch-venturous, served with satay sauce, a broken egg, wilted greens and slow roasted tomatoes. Proudly boasting innovative brunch options, skip the smashed avo on your next outing.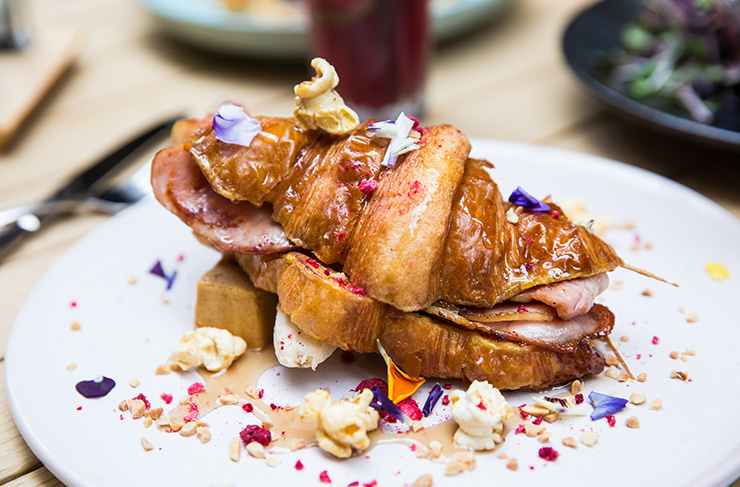 Hash Speciality Coffee
Intimate, warm and very, very likeable, Hash Speciality Coffee is best known for their dark hot chocolate served with fairy-floss—because, why not. If you are feeling like something a little more substantial (than pure sugar), options like espresso pannacotta with chocolate cookie crumbs, panela praline, orange blossom syrup and blueberries await.
The Mess Hall
Offering a brunch menu inspired by Italian cuisine, The Mess Hall serves polished, unequivocally delicious dishes like green scrambled eggs with asparagus, rocket pesto, truffle oil and sourdough. Featuring a rustic, smart interior, The Mess Hall is ideal for lovers of unpretentious brunch.
Eastside
Don't let the pastel pink décor fool you–these guys are slinging along hella masculine sangas. It's never too early for a 12-hour slow cooked lamb sandwich oozing feta and pesto. Wash it down with a smooth house blend coffee roasted by the owner, Matt.
Tulip Coffee
This pink six seater café in the famous Degraves St is so cosy you'll never want to leave. Tuck yourself in the corner and forget about life with a cup of coffee and a bowl of their delicious yoghurt and nutty muesli. Grab a lil' cake too, or feast on some eye-candy in the form of iconic CBD barista hottie, Sam (formerly of Bon).
Manchester Press
Manchester Press is your classic Melbourne laneway gem, tucked down Rankins Ln just near Elizabeth St. This place gets busy every morning for a reason—perfect toasted bagels (go the blueberry bagel with bacon, maple and banana, it's nuts) plus some cheeky salads and a decadent takeaway counter. The coffee's by Ona, or there's frosty Liberty kombucha if you're feeling virtuous. Well worth the table wait.
Brunetti
Oh Brunetti, filling up our hearts and our stomachs since 1985. Thankfully their new café on Flinders Lane seats up to a whopping 300 people, so everyone can start the day right–with a coffee and a croissant. If pastries aren't what you're craving in the mid-morning, try out their avo bruschetta—even better than a classic smash.
Natural History
Forget the name…there's nothing boring about this Natural History brunch. Their crumbly croissant filled with locally produced tomato and overflowing with Gruyere is a show stopper. Why not spend the day and stay on for lunch and dinner? They do a mean porchetta sandwich.
Brother Baba Budan
Brother Baba is still one of our favourite spaces in the whole city. This places just SCREAMS Melbourne. Drop by in the morning when the espresso machine is buzzing and there's a line out the door. If you can snag a spot on the communal table you're doing well. It's best to keep things simple here: a strong coffee and one of their epic hame and cheese croissants (keep an eye out for those cheese fingers...you'll know if you find one).
If you're on the hunt for the best Melbourne brunch options, hit up our Directory!
Image credit: Kings & Knaves Espresso