Melbourne's CBD is not usually the first suburb to roll off the tongue when you're looking for a great brunch spot, but don't discount it, some of Melbourne's OG brunch spots were born on the cobble laneways of the Hoddle Grid.
Whether you're in the city to shop up a storm, or just looking for a quick stop during the 9-5 grind, here are the best spots in Melbourne's CBD to grab brunch at.
Hardware Societe | Katherine Place
Growing out of their former spot on their namesake Hardware Lane the new Katherine Place located cafe has all the previously loved components, just in a bigger more accommodating space. Yes, they still have their signature baked eggs as well as a raft of other heavy-hitters including a lobster benedict, just magnificent.
Vacation
The wonderfully designed Vacation had originally focussed on speciality coffee, but after initially seeing their spacious corner on Exhibition Street, the team decided to install a small kitchen. Everything on the menu has gluten-free options, and a decent amount of their dishes are vegan. Exhibit A: one of their most popular orders, toast with avocado, lemon, seeds, sprouts, and EVOO dressing. Or try their bircher muesli with yoghurt and seasonal fruit for a sweet but healthy morning bite.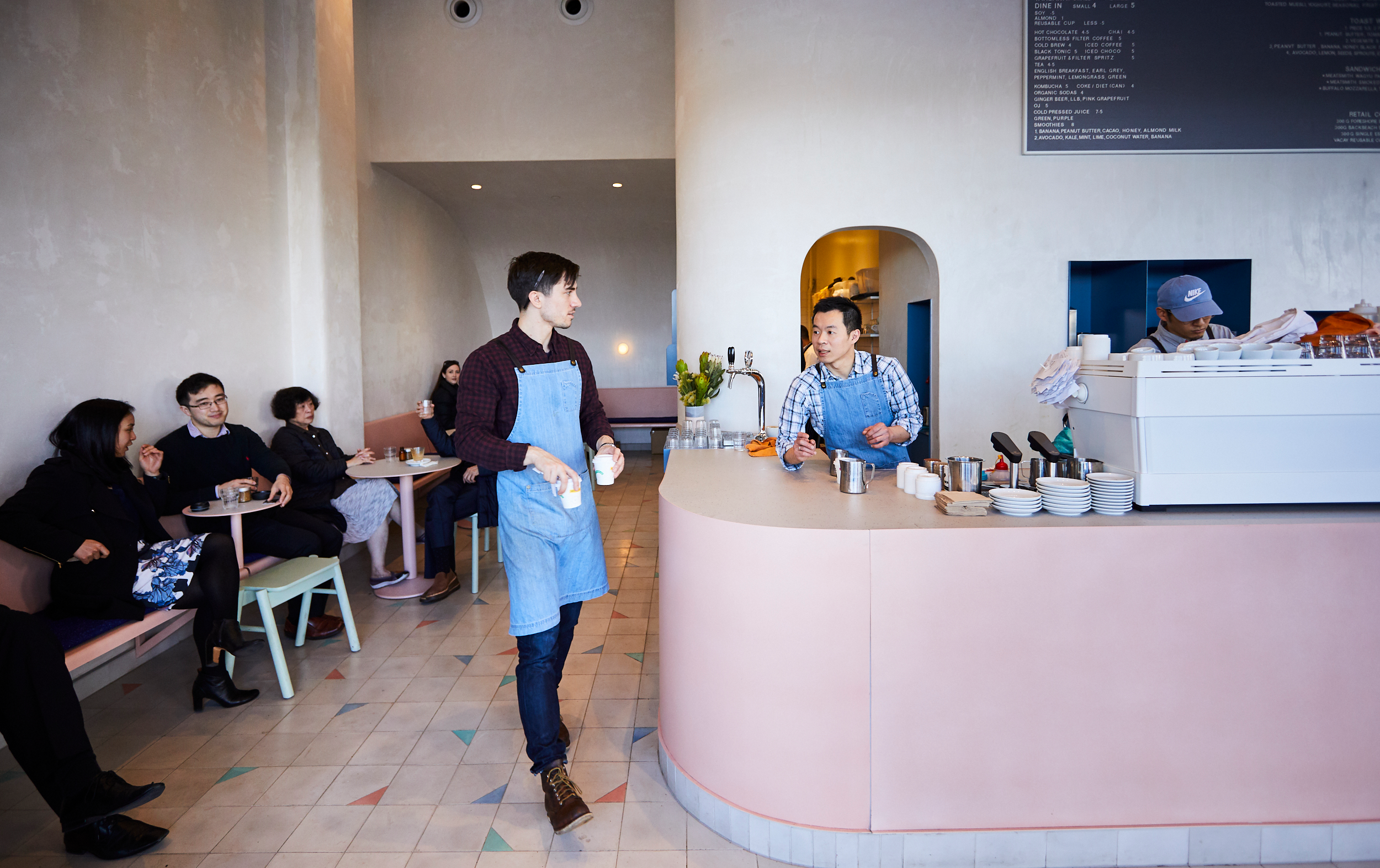 White Mojo
If you're not familiar with White Mojo, you're in for a treat. Over the top brunch options abound at White Mojo, choose from classics their signature croissant burger, soft shell crab, chipotle mayo with fried eggs and a chorizo crumb is a definite must. Or dig into their waffles topped with fairy floss topped and ice cream (cone included). The team have another outlet in Glen Waverley that does dinner, find out all about it here.
Lune
No real explanation is needed here, we're all aware of the primo pastry that pour out of the Lune CBD locale on the daily. Their sleek heavy-concrete outpost on the top end of Collins Street is the perfect start to a city-based day. Grab a coffee and a croissant and bask in the brilliance of simplicity.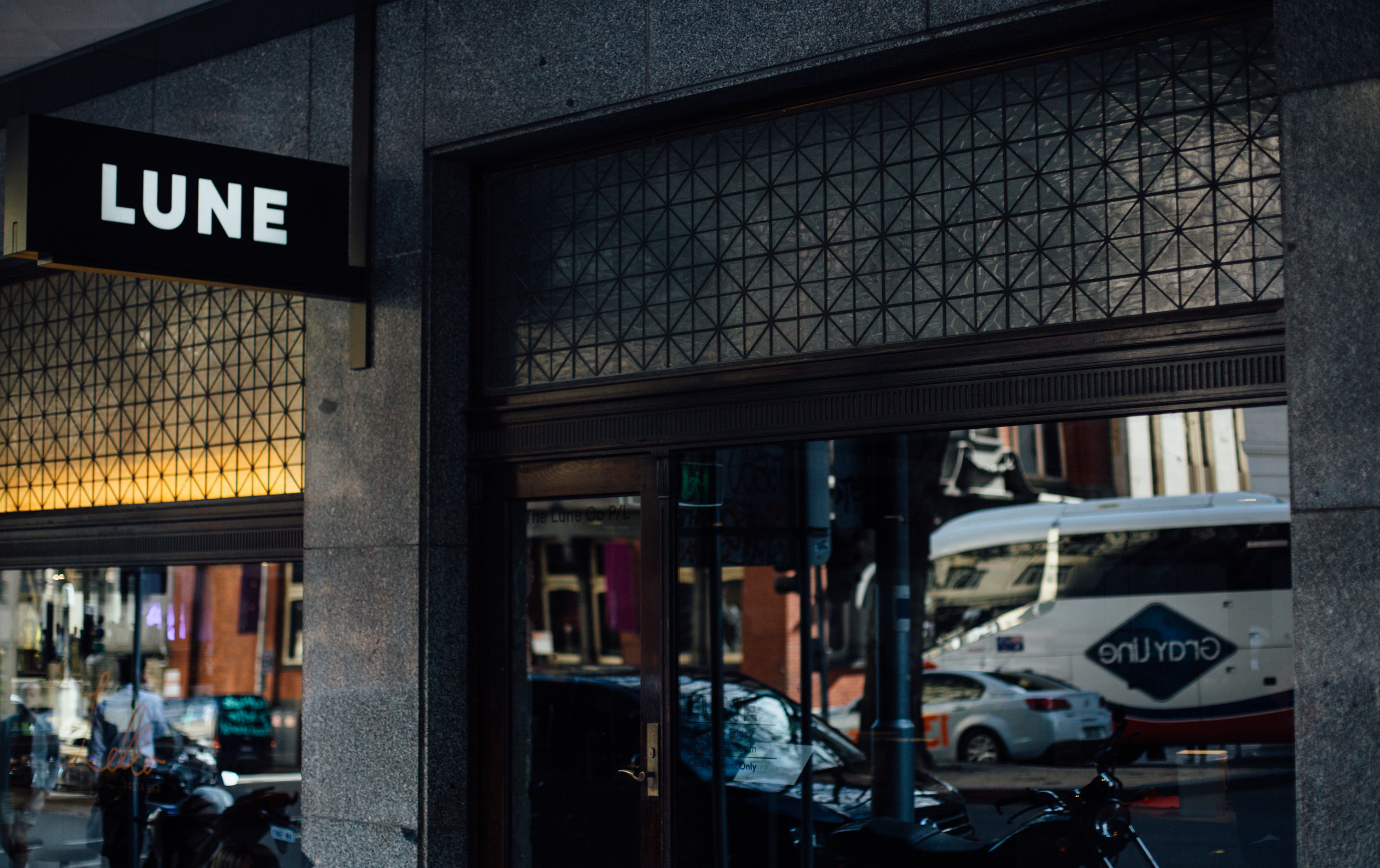 The Grain Store
For Melburnians wanting to ensure there's room for lunch, head to The Grain Store. Expect fresh, seasonal dishes like the blue swimmer crab chilli scrambled eggs in a croissant with chilli caramel and chipotle aioli. Hands down one of the most underrated, and the best cafes in Melbourne CBD.
Operator 25
Stay on the line with Operator 25—they're worth the wait. We recommended the Bubble Waffle for the brunch-venturous, a Hong-Kong style waffle served with white chocolate sauce, poached peach, berries, and matcha sauce. Proudly boasting innovative brunch options, skip the smashed avo on your next outing and try out one of Melbourne CBD's best cafes.
Tulip Coffee
This pink six-seater café on famous Degraves St is so cosy you'll never want to leave. Tuck yourself in the corner and forget about life with a cup of coffee and select a pastry or cake from the mouth-watering display cabinet.
Higher Ground
Step into the architectural wonder that is Higher Ground and prepare for a brekky that's as refined and enjoyable as the cafes surroundings. It's very hard to choose wrong here but our choice is to opt for the ricotta hotcakes, topped with maple syrup, seasonal berries and cream, it's just bloody sensational. It may have been around of a while but it still holds up as one of the best in 2021.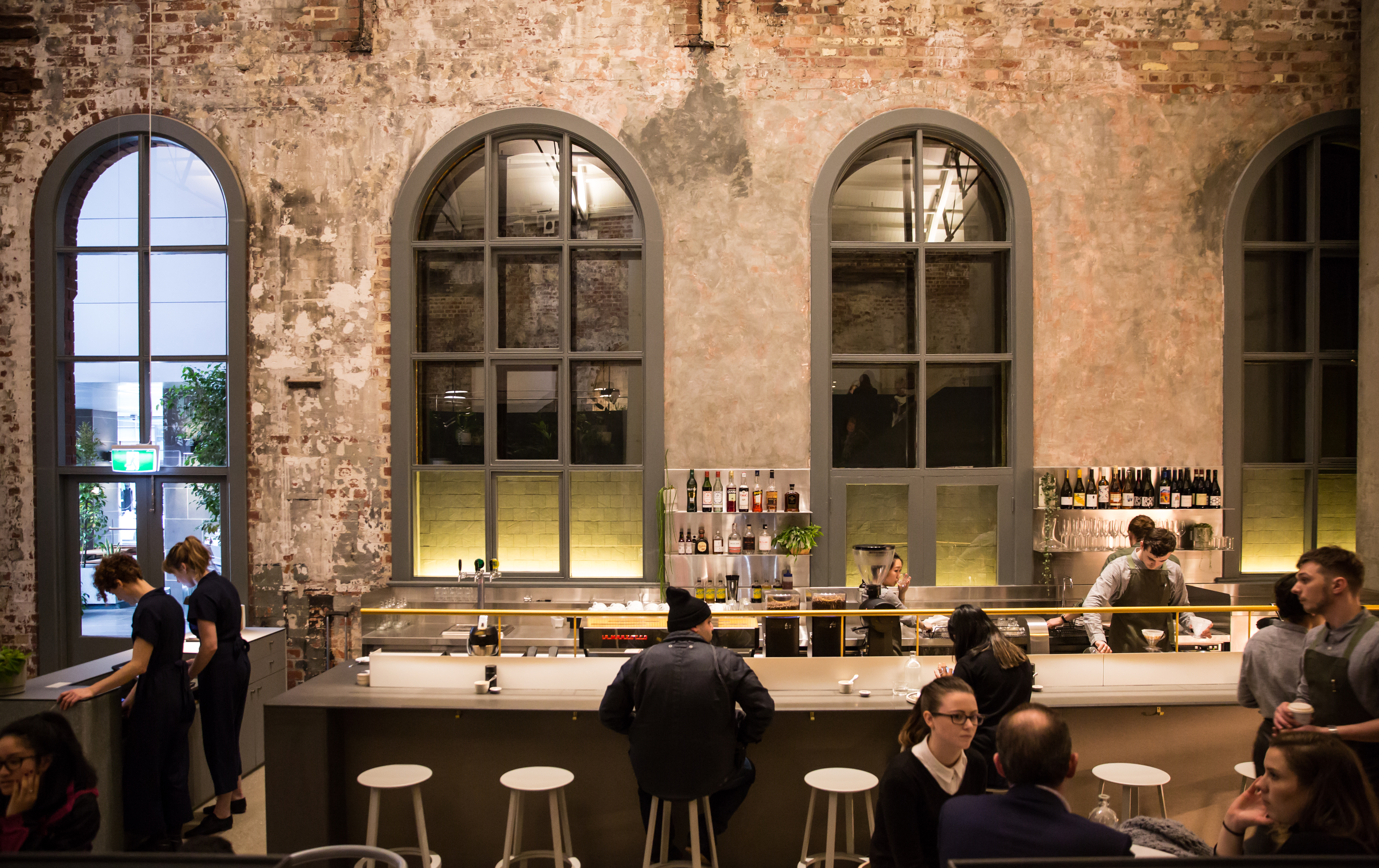 Manchester Press
Manchester Press is your classic Melbourne laneway gem, tucked down Rankins Ln just near Elizabeth St. This place gets busy every morning for a reason—perfect toasted bagels (go the mixed berry bagel with mascarpone, and pistachio on a blueberry bagel, it's nuts) plus some cheeky salads and a decadent takeaway counter. The coffee's by Ona, or there's frosty Liberty kombucha if you're feeling virtuous.
Brother Baba Budan
Brother Baba is still one of our favourite spaces in the whole city. It often makes its way onto best cafes Melbourne CBD lists, and for good reason—this place just screams Melbourne. Drop by in the morning when the espresso machine is buzzing and there's a line out the door. If you can snag a spot on the communal table you're doing well. It's best to keep things simple here: a strong coffee and one of their epic ham and cheese croissants.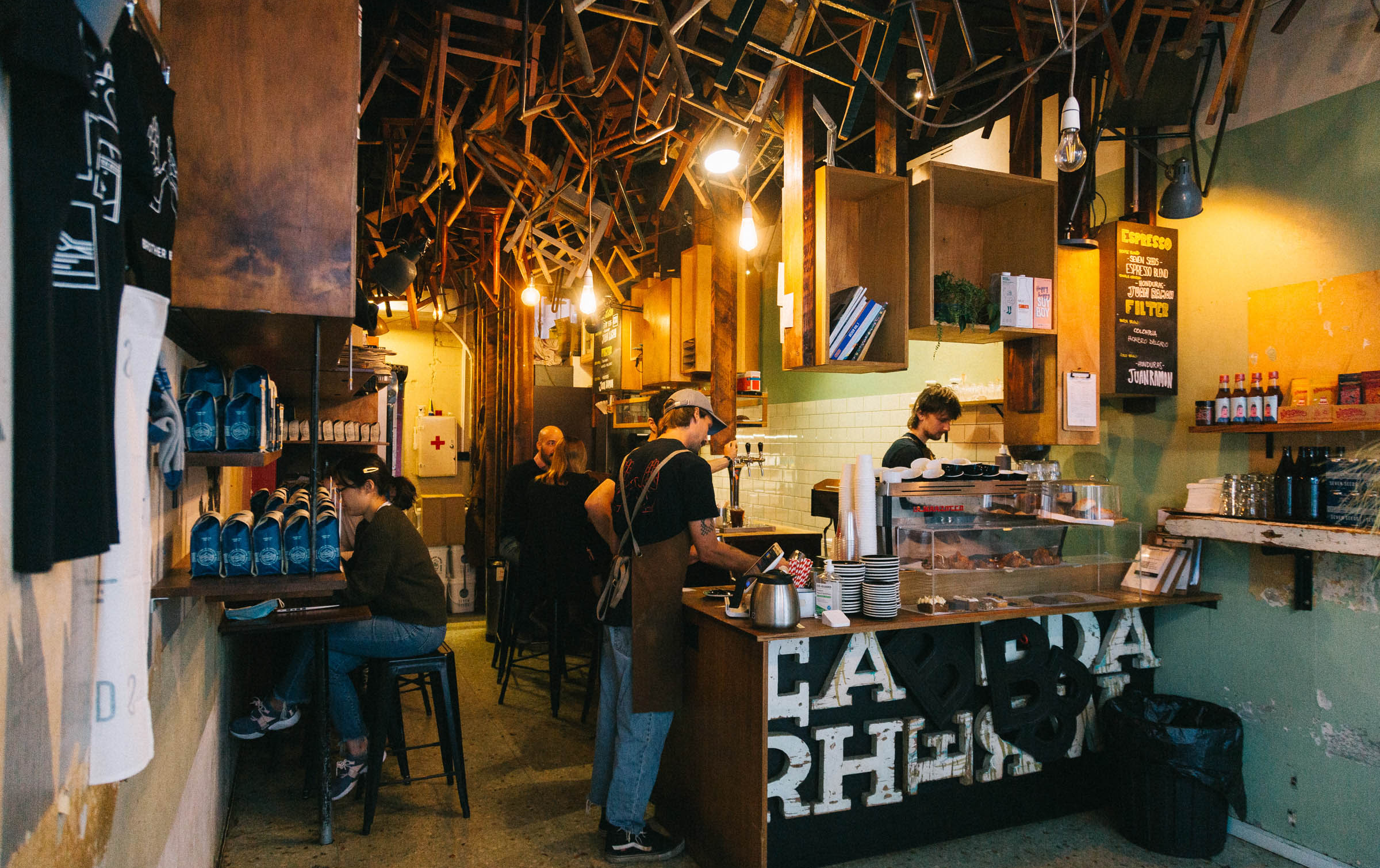 Rustica
Baking legends and cafe royalty, Rustica, have got everything that you'd ever want for a morning fix, even when considering the rigorous standard of Melburnians in 2021. Their Melbourne central cafe stocks their top-shelf lineup of bread and baked goods, with First Love coffee, along with a menu of visually stunning dine-in options. A go-to is their avocado toast, one of the prettiest things you'll ever see on a plate with Meredith feta and pickled salad.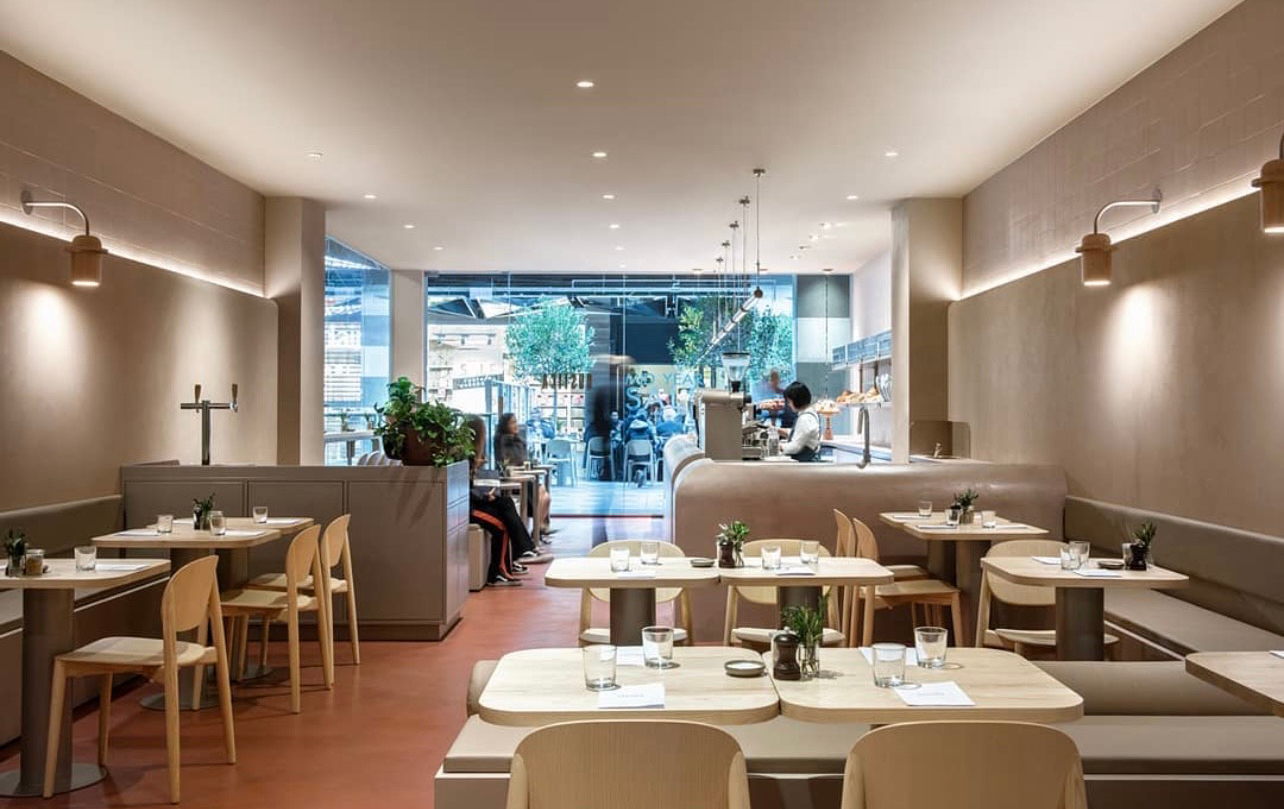 Bowery To Williamsburg
Injecting some serious New York energy into the CBD's cafe offering Bowery To Williamsburg is a solid choice for breakfast in the city. The American diner-style menu has plenty of U.S. based delicacies including their 14-hour roasted beef brisket and eggs with chilli Verde on white cheddar cornbread.
Looking for Melbourne's best coffee? Right this way.
Image credit: Michelle Jarni (Vacation)
Jenna Fahey White (Higher Ground)
Annika Kafcaloudis (Lune)
Thomas McCammon (Brother Baba Budan)