Hardware Societe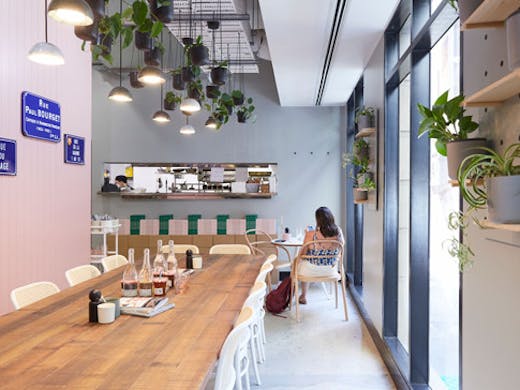 The Verdict
Having become such a bunch hub for Melbournian's far and wide, The Hardware Societe has opened a new fantastic space on Katherine Place to fulfil the unrelenting demand of one of the best bunch spots in Melbourne.
Served daily from 7:30 am, the all-day menu includes the kind of inventive seasonal fare that has established Hardware as a major brunch destination. You might find dishes such as the mille-feuille with seared tuna, tartare of scallop, yuzu aioli and 64-degree egg; lobster benedict with citrus hollandaise and bun noir just to list a few of our favourites.
And good news for those die-hard regulars: several favourites, such as the rice pudding and the chorizo baked eggs, will remain a staple.
No matter the time of day, you'll find local and imported wines by the glass or carafe, craft beer on tap, breakfast cocktails, cold-pressed juices, Padre specialty coffee and more to drink. According to co-owner Di Keser, the bigger space and business-district location was the perfect excuse to stay open for Friday night drinks and snacks, which will be available from 5 pm until late every Friday.
Friday night drinks will be accompanied by a dedicated snack menu featuring oysters, charcuterie and cheese plus jamon and manchego croquettas, lobster and prawn brioche buns, savoury choux and more.
We've said it plenty of times already, but we'll keep saying it, this place is nothing short of amazing, so if you're planning your next work meeting in the city, it's almost essential that The Hardware Societe is the place to be.
Image credit: supplied
---