Kazuki's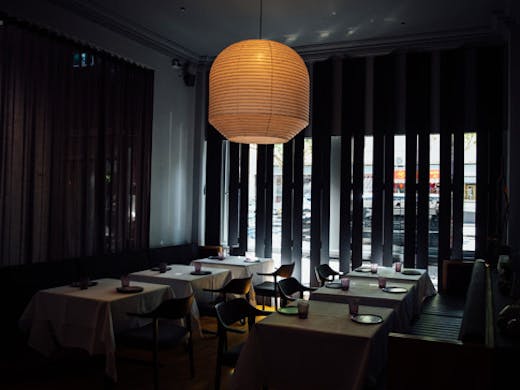 The Verdict
Carlton's mixing up its predominantly Italian fare lately, and we're definitely not complaining.
Chef Kazuki Tsuya (formerly the Chef's Hat awarded Kazuki's Daylesford, now Sakana), and his partner Saori, have recently transported Kazuki's from its former home in Daylesford to Lygon St.
Kazuki's is based in the tradition of 'Omotenashi', which refers to an intuitive, kind and distinct Japanese approach to hospitality. The restaurant offers both a set tasting menu and à la carte menu (seasonal, using only the freshest produce), so whether you're ravenous or curious is irrelevant—they're both sure to satisfy.
Think Moreton Bay bug dumplings glazed in a sake and ponzu sauce with avruga caviar, Tataki beef with parmesan, soy and sesame, Ocean trout in a buttermilk dressing, moist Rockling and pickled mussels, and savoury lamb neck with celery root. There is also a variety of small bites (you'll have to pry edamame from my cold dead hands), and a deconstructed dessert spread that marries some of the best combos alive—like dark chocolate, salt, and hazelnut, or matcha and white chocolate.
Kazuki's decor is minimal without losing any of its charm: lots of greys, dark wood, and leather accents that make it a very cosy and intimate ambience. And given that it's right on bustling Lygon St, it's kind of like stepping into a sensory deprivation tank—the delicious kind.
So there you have it: Japanese food royalty in the middle of bustling Lygon Street. Now that you don't have to drive all the way to Daylesford (which is lovely, by the way) to experience the wonders of Sakana, you have no excuse.
Image credit: Annika Kafcaloudis
---