HQ Group, the minds behind Arbory and Arbory Afloat are finally opening the doors to HER, the five-storey hospitality labyrinth set smack-bang in the middle of the CBD.
You'll find the new locale at 270 Lonsdale Street, right opposite the Emporium. Originally built in 1903 for a cigarette company, the building will play host to a lofty rooftop bar, several bars as well as a fine diner.
HER
First up on the ground floor is HER bar, a Parisian-leaning cocktail haunt featuring towering artworks and a zinc covered bar. It's not all smoke and mirrors though, HQ Group's Executive Chef Nick Bennett and Head Chef Josh Rudd have gone deep on an all-day menu taking cues from its French influences whilst modernising its dishes. Expect playful reinterpretations of classics including flank steak tartare served with anchovy mayonnaise and french fries, as well as a classic cheeseburger with raclette cheese, pickles, dijon and Julienne fries and more.
The menu has been designed to pair up with an extensive yet considered wine and cocktail list including Aperol sour on tap, a curated selection of citrus-forward gins, and a wine list that centres around vineyards all over the globe who are committed to caring for their land and climate. The first-floor diner and bar which seats up to 80 has been designed by Melbourne-based studio Jackson Clements Burrows Architects and reflects the laid back aesthetic of central European bars.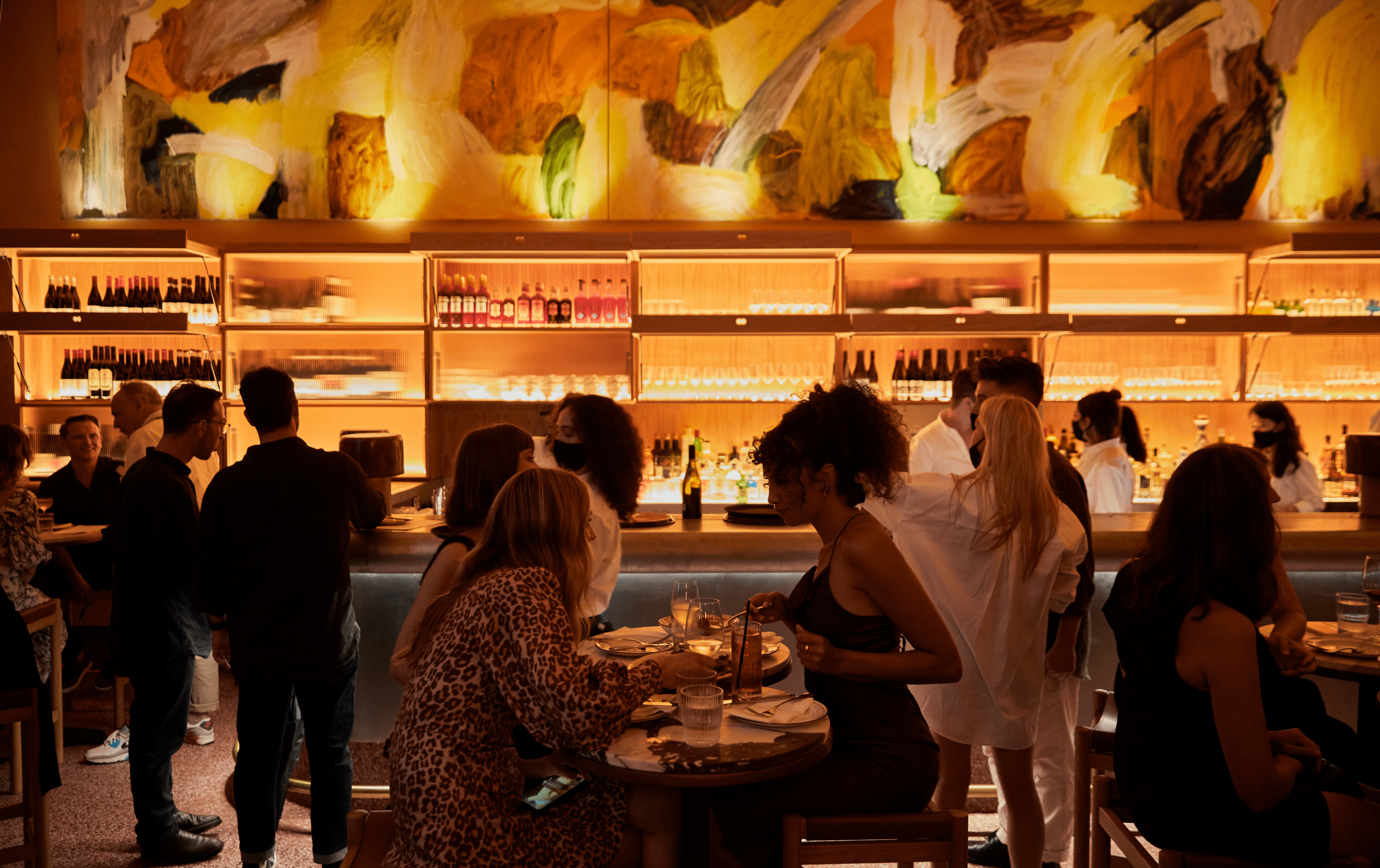 MUSIC ROOM
Head up to level one and you'll saunter into what's known as MUSIC ROOM, which does exactly what it says on the tin and so much more. This space has been modelled off the listening bars found across Tokyo and Europe, focusing on hi-fi sound and acoustics that'll have you conversing with your tablemates no matter what level the volume is. HER has called in Melbourne mainstay DJ Jnett to program an eclectic mix of rare grooves and residencies, making selections from the 3000+ records that line the shelf behind the bar. With moody lighting which has been designed purposefully to provide a full sensory experience and gives off a serious vibe. The MUSIC ROOM program is yet to be fully revealed by is sure to feature international and local artists including Melbourne's own, P'Jenne, Edd Fisher and Simon TK from Waxo Paradiso and more. Continuing with the Tokyo listening bar theme, the bar features a refined list of easy-going cocktails, a bespoke whisky made in collaboration with Starward and plenty of wine and bubbles to keep the good times going.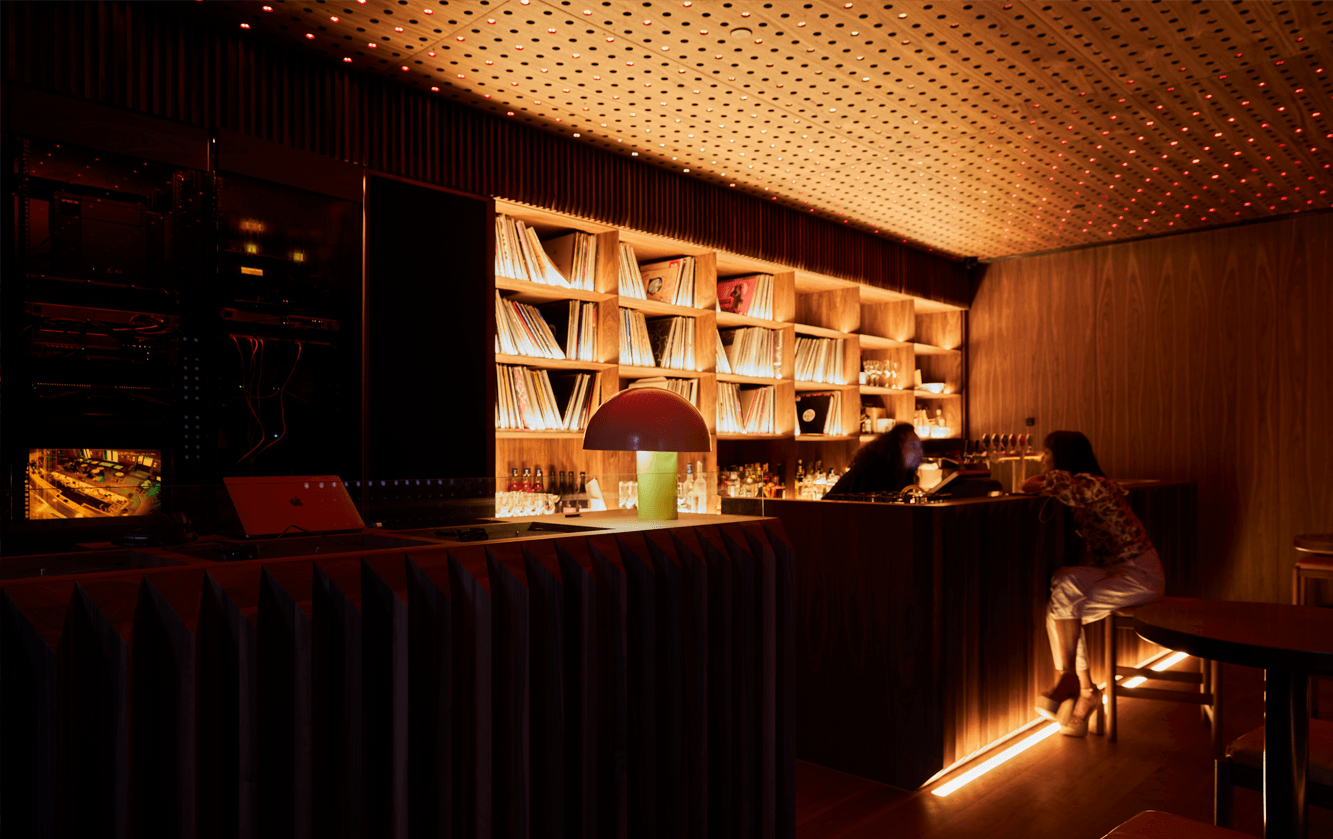 BKK
Ascend to level three and you'll discover BKK, which is best described as an elevated Thai BBQ that's headed up by Head Chef Sungeun Mo in conjunction with Bennett; together, the pair have created a fiery menu that pairs up with an intimate moody interior inspired by the night markets of Thailand. Cooked over a five-metre long charcoal grill and oven, the menu features barbecued pork skewers, Chang Mai sausage and a flame-grilled T-Bone steak with a Nam Jim Jaew (Thai dipping sauce). "The food at BKK is our take on the street food of Thailand, using the best Australian produce. Inspired by the late-night vendors of Bangkok, custom charcoal-burning grills and wok burners lace smoky notes into the dishes", says Bennet. There are also soul-warming curries from regions across Thailand, as well as vegan options like the Vegan Laab with Crispy Tofu & Eggplant. In terms of the space; exposed brick and copper sheeting lines the walls, rusty gold lighting illuminates the bar and ceiling whilst underfoot terracotta floors provide an authentic glimpse into the complete street hawker experience.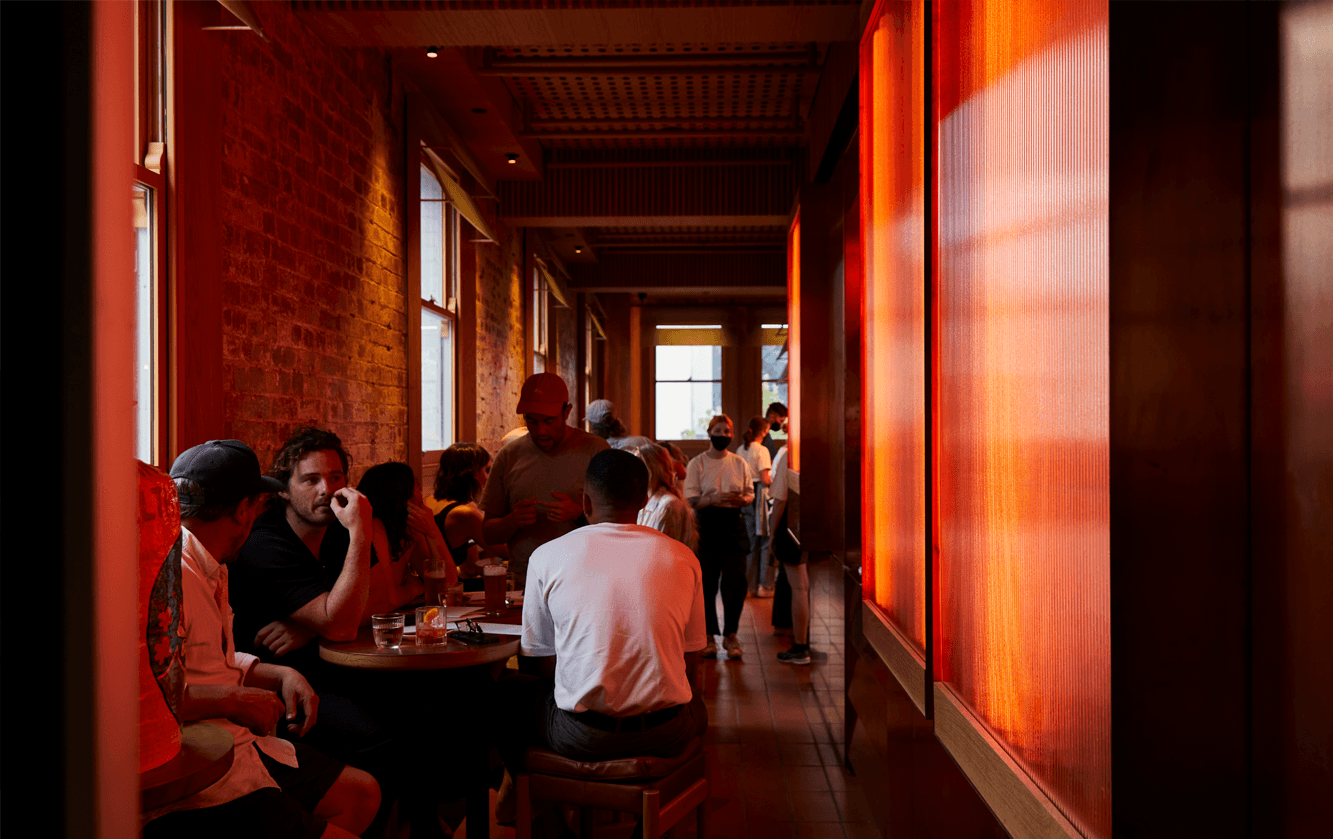 ROOFTOP
And now, for the crown jewel, HER ROOFTOP. The space has been designed by renowned Sydney interior designer Tamsin Johnson, who together with the HER team, will transport you to a Euro garden terrace complete with French mid-century furniture placed throughout, colourful mosaic-tiled artwork decorating the walls and a long-brass laden bar. With food served straight from the BKK menu and the signature, HER grapefruit Paloma from the bar is not one to miss; up there you'll be provided with a 360º vista of Melbourne CBD and with a 120-person limit there's plenty of space for your nearest and dearest.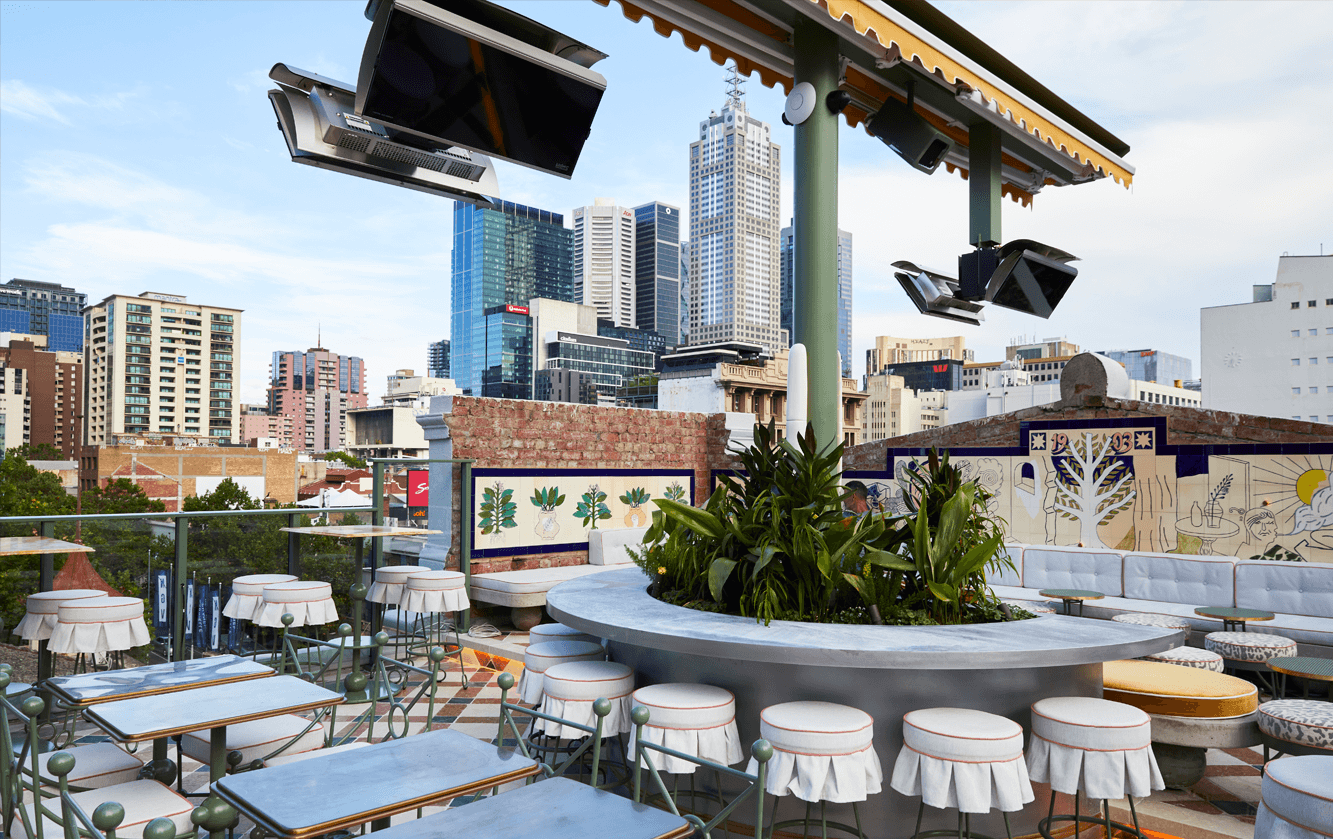 Her is officially open now, and the best part? Levels one to three will be open until 3am with the rooftop closing at 1am every night of the week.
Image credit: Parker Blain