It's been a long year, but we've put in the hard work and now it's time for us to kick back with a drink and sing from the rooftops. Just in time for summer, our favourite perching locations are back and better than ever, with levelled-up menus and more. It's important to (pardon the pun), check in, play by the rules and arguably most of all, enjoy yourself.

Here are 21 of the best rooftop bars Melbourne has to offer.
Bomba
CBD
Head to the upstairs of the Lonsdale Street building and cast your eyes on the plant-filled open-air rooftop of Bomba. Enjoy a slew of tapas plates, fine cocktails and a spanking view of the city; all from one of the best rooftop bars in Melbourne.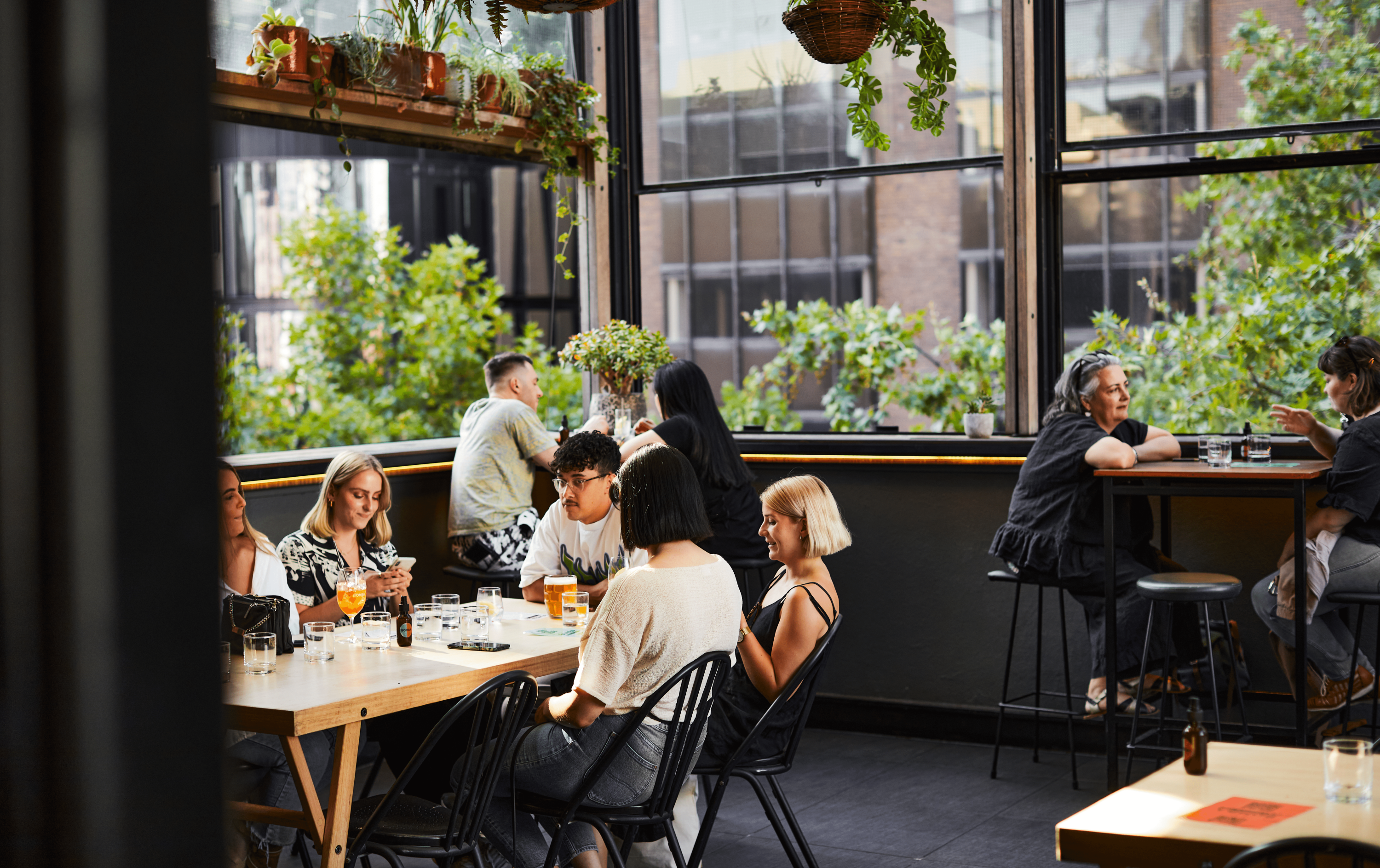 The Espy
ST KILDA
Revivatlised to the extreme, The Espy's new look is still fresh and the white building is a siren calling out for summer-time hangs. The dedicated rooftop area of the St Kilda institution is adorned with exposed steel beams and a bay window that looks out onto the foreshore.
Johnny's Green Room
CARLTON
Johnny's Green Room rooftop has arguably one of the most insanely picturesque views of the city. Combining the building's longstanding history with its modern Italian fare (inspired by King & Godfree a few levels below), there's so much to love. And we haven't even mentioned their extensive drinks list yet which cements the Carlton local as one of the best rooftop bars in Melbourne.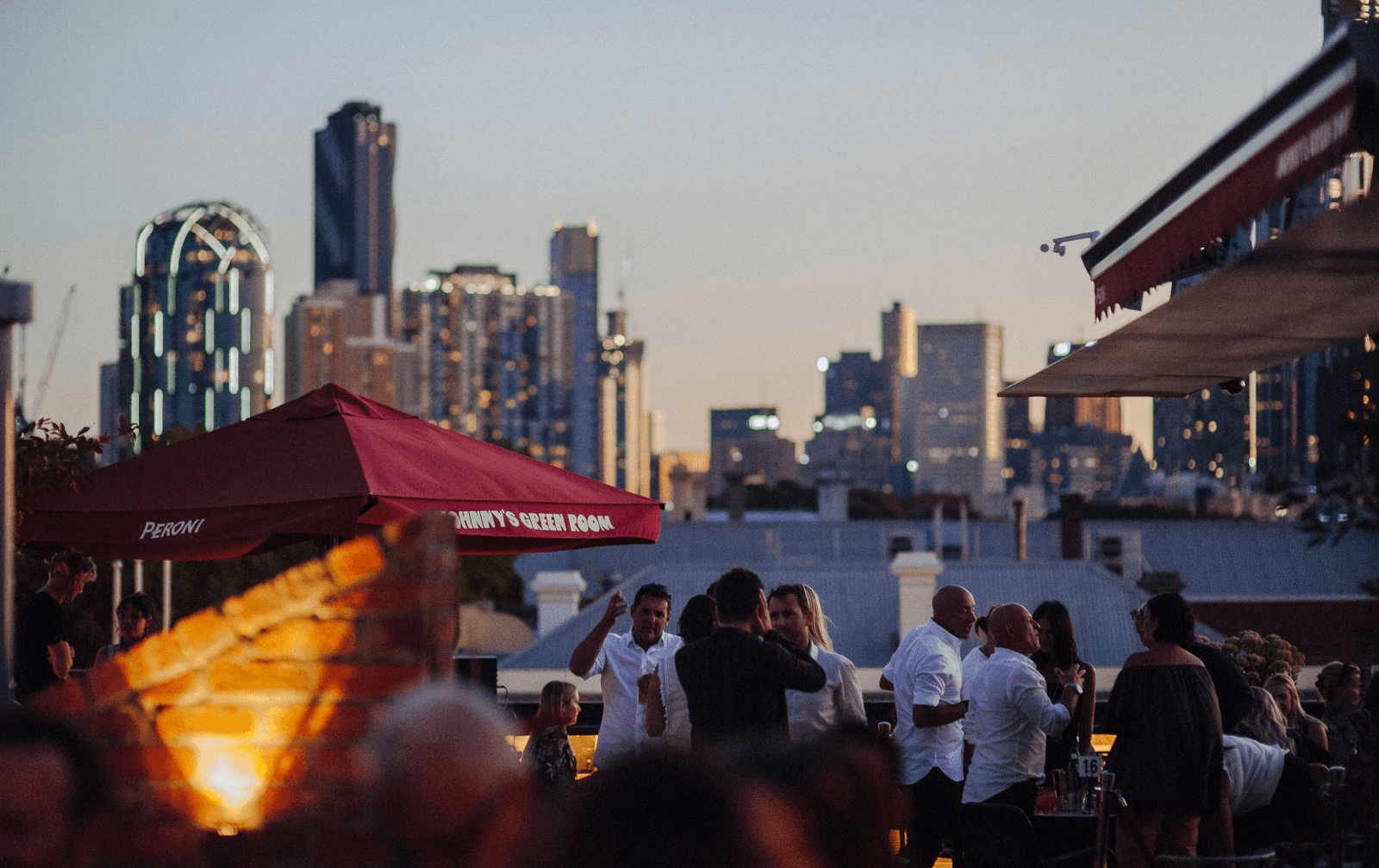 QT Melbourne
CBD
QT Melbourne's split indoor and outdoor upstairs bar is one word: sleek. It's the kind of place where you'll come for a drink but you'll stay for the panoramic views. Any time is a good time to turn up to Rooftop at QT, with their food menu that takes you all the way from morning 'til night, with an amazing drinks list to match. They've also got a secret garden rooftop wine bar on the go.
Rooftop Bar
CBD
The city's institution status, Rooftop Bar is simply fail-proof. It's easily one of the frontrunners for the best rooftop bar in Melbourne. Good burgers, craft beers, rooftop movies in summer. They've got it all.
The Wolf's Lair
CARLTON
The Wolf's Lair is well-hidden. Located behind Jimmy Watson's main restaurant, this snug, upper-level garden is filled with the usual drinks suspects, as well as unusual spirits mixed to perfection. Feeling peckish? Grab a snack plate or pizza for sharing too.
Marquis of Lorne
FITZROY
Marquis of Lorne's menu is renowned for being nothing if but refined. Now that the Fitzroy favourite is re-opening, they're ready to welcome the teams of dedicated locals to their intimate rooftop and curb-side tables.
Runner Up
COLLINGWOOD
One of the newest rooftop venues to grace Melbourne, Runner Up sits atop the cultural sensation, Collingwood Yards and Hope Street Radio. Helmed by the team that run colour, as well as members of groove collective, Mildlife, Runner Up will be a safe haven for rooftop views, good tunes, and good times.
Imperial Hotel
CBD
Directly opposite to Melbourne's Parliament House, The Imperial Hotel is prime real estate. With solid pub feeds (and then some) on offer - this rooftop's a place you can hang out at for pre-drinks and dinner too.
Goldilocks
CBD
Goldilocks has somehow managed to fly under the radar all these years, solidifying itself as a Melburnian hidden gem. Located atop the Denyers Building, serving up local craft brews, Victorian wines, along with quality cocktails and food options too, you'll find that this bar is just right.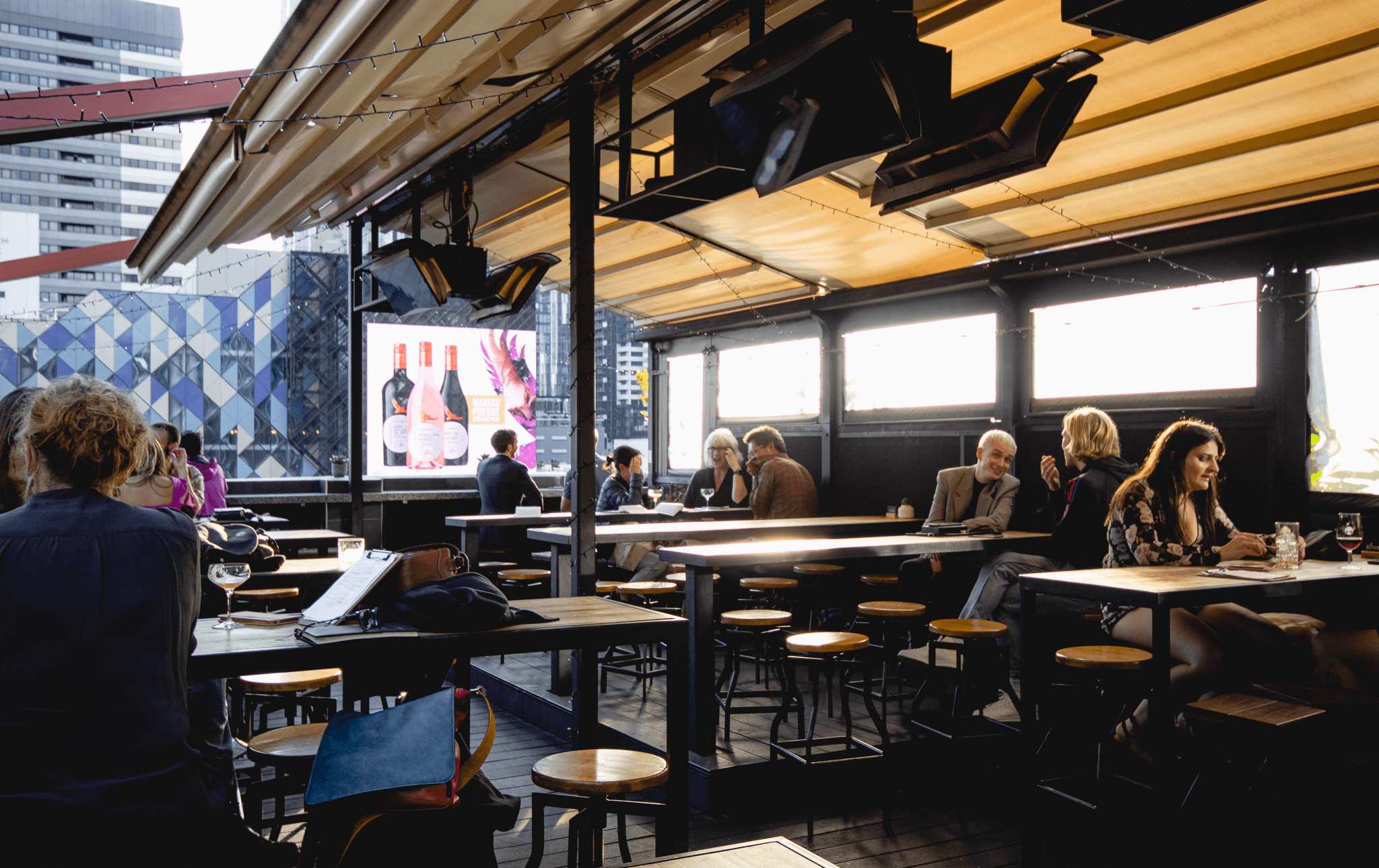 Siglo
CBD
One that rarely misses out on the best rooftop bar in Melbourne list, this one's a charmer. Situated on the city's luxurious Spring Street, Siglo's European-style rooftop cigar bar is all class. Be it late afternoon or early morning; premium cocktails await you.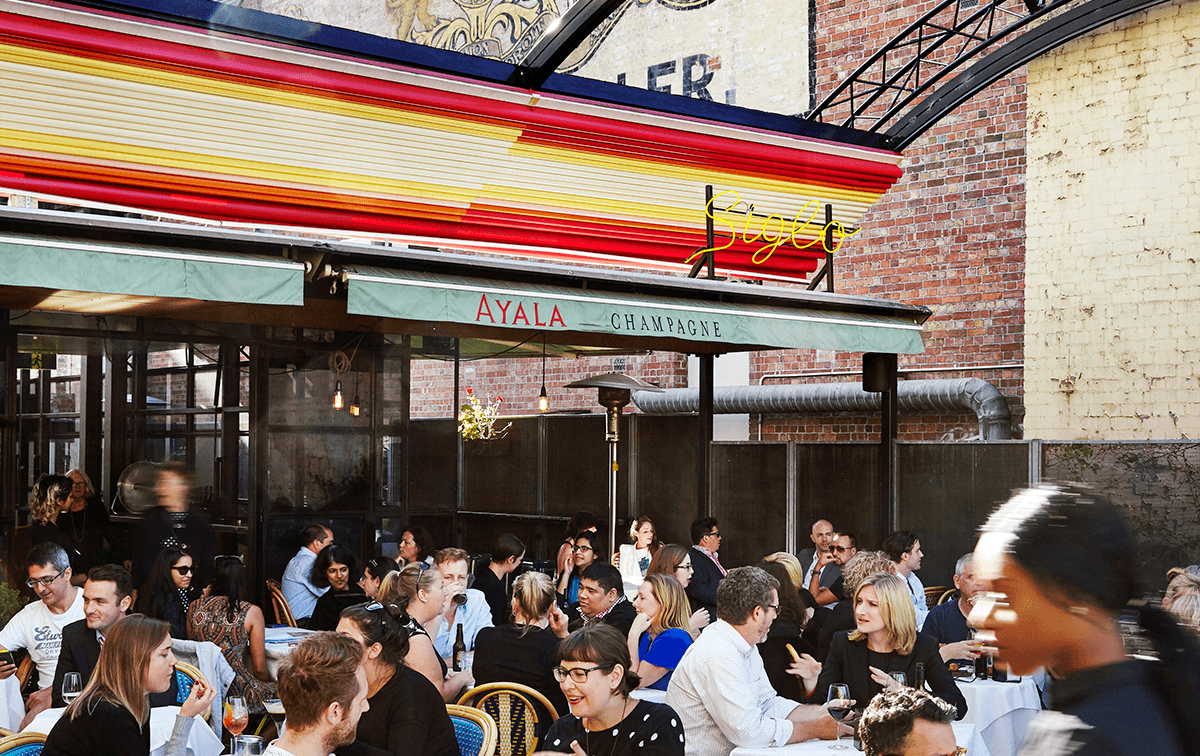 Naked in the Sky
FITZROY
If you're looking for a reason to get you over to the Northside, it's Naked in the Sky. Just above the ever-popular, Naked For Satan, this rooftop spot is as devilishly good as its name suggests, with views of the city, delicious eats, long drinks and everything in between. One of the best rooftop bars in Melbourne's northern suburbs, that's for sure.
Loop Roof
CBD
Located in Meyers Place—undoubtedly one of Melbourne's best laneways, Loop Roof is a recent Melbourne addition. And it's a bloody good one. Easily described as a garden oasis, they've got cocktails, drinks on tap, as well as a curated bites and mains menu. Hot tip? Upon leaving, make the most of Meyers Place and hit up Pizza Pizza Pizza downstairs for a slice… or two.
Transit Rooftop Bar
CBD
You can't have the best rooftop bars Melbourne list and not include this mainstay. Boasting some of the best views of the Yarra, a solid drinks menu and gigs too, Transit Rooftop Bar is definitely one of Fed Square's greatest selling points.
The Corner Hotel
RICHMOND
The Corner Hotel is one of Richmond's finest. An all-time O.G. this is quite potentially the best rooftop bar in Melbourne. While they might be renowned for their iconic band room and its jam-packed gig guide, it's a great spot to just grab a drink, kick back and stay awhile.
Heroes Karaoke & Rooftop Bar
CBD
About as much fun as one can have at a rooftop bar in Melbourne. As its name suggests, Heroes is all about that karaoke life. If you're after a little air, venture upstairs to hang out at their rooftop beer garden with Chinatown views.
Whitehart
CBD
Located at the end of Whitehart Lane and in between Little Bourke Street and Lonsdale Street, you'll find one of Melbourne's best open-air rooftop bars. Their taste is impeccable in every regard—we're talking cocktails, set-up and to top it all off, they have a regular line-up of local DJs on deck. Make your way up upstairs to get that coveted rooftop spot.
Union Electric Bar
CBD
At Union Electric you will commit no nuisance, but they do dial up the fun. At Union Electric's humble bar you can demolish pizzas and sip on cocktails and craft beers on tap, all at their rooftop gin garden.
Dom's Social Club
CBD
One of the newest rooftop-based bars in Melbourne, Dom's Social Club is a three-storey wonderland for cocktails, pizza, and yesteryear charm. The rooftop level, where summer negronis and starlit Melbourne skylines go down a treat, is a true hidden gem of the city. A huge contender for the best rooftop bar in Melbourne.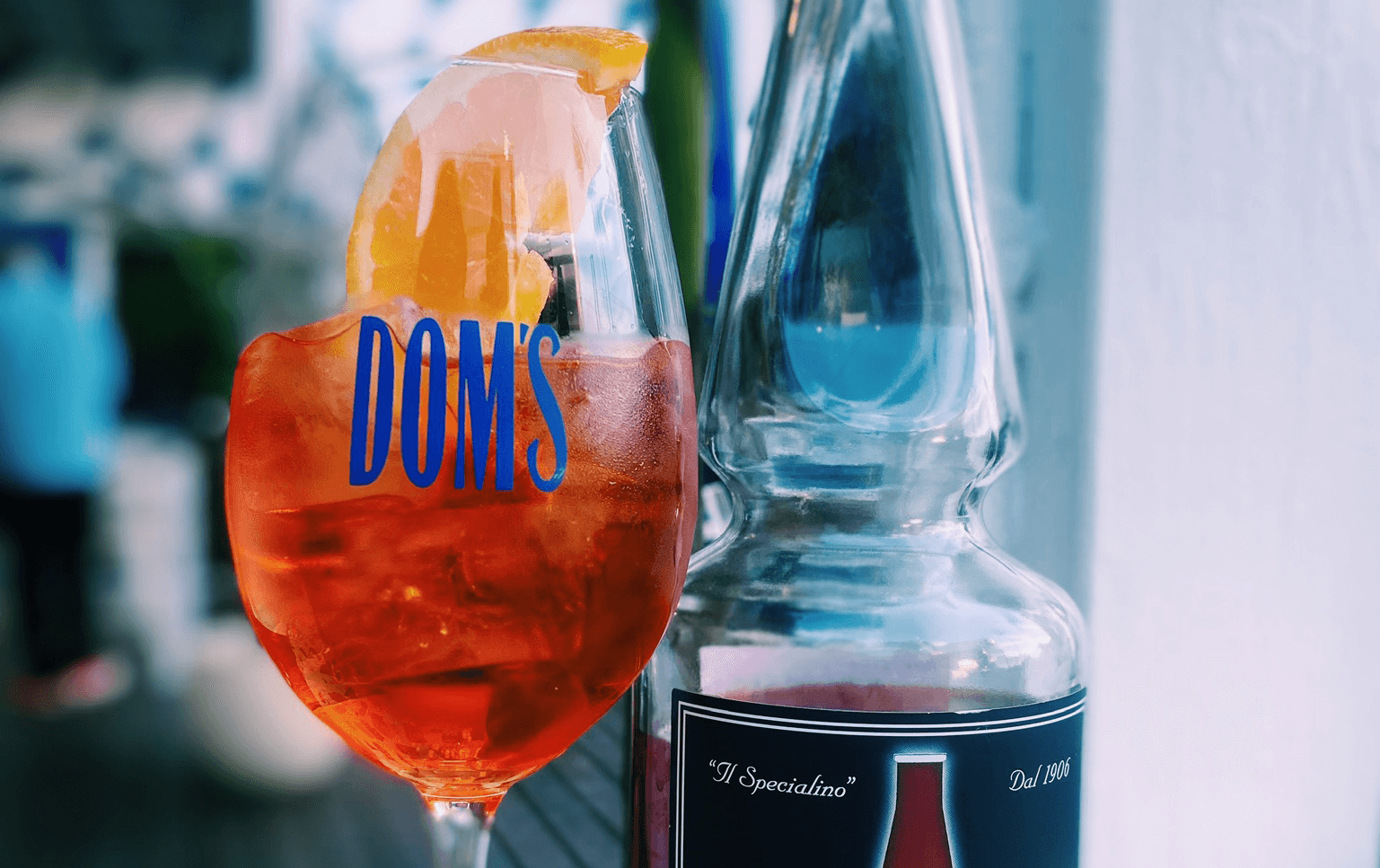 Harlow
RICHMOND
They've got one rule at Harlow and it's a simple one—good vibes only! Up until recently, Harlow's space included a beer garden and the main bar, and now they've got a brand new rooftop to complete the trifecta. Perch yourself on the rooftop in Richmond for pristine city views.
Good Heavens
CBD
Located above Fancy Hanks restaurant, Good Heavens is the place to turn up to if you're after a solid feed, a few snacks, an array of drinks, or all of the above. Their Fancy Hanks-inspired Americana menu has it all; share platters, sandwich-style burgers with fries, snacks and dessert too. An insider tip? Order the Pitmaster share platter.
Easey's
COLLINGWOOD
A venue that's got art, music, food, drinks and public transport tied together, Easey's is well and truly the epitome of Melbourne. Get up there for burgers and cocktails in a train five stories above ground. One of the most unique, and one of the very best rooftop bars Melbourne has to offer.
While you're at it, check out Melbourne's best brunches here.
Image credit: Michelle Jarni