There was a time in Melbourne when the best burgers came from your local fish and chip joint, usually with a slice of beetroot and a couple of extra dim sims. Actually, now we think about it, those are still pretty bloody good.
But burgers have evolved over the last decade or so. North, south, east and west, Melbourne has embraced the burger to its dark and fickle heart. Milk buns were big for a while, then came the Brioche juggernaut. We've had squid ink buns, doughnut buns, double stacks, triple stacks, fried chicken and waffle burgers, sushi burgers and burgers cross-bred with meat pies. And while, they've all had their moment in the sun, it's now time for the people to cast their vote on which are the very best in Meloburne
So here you go, we present the best burgers Melbourne has to offer, as voted by you.
Goldieboy
Various Locations
One of the more elusive buns around town, Goldieboy has earned its stripes as a cult figure in Melbourne's burger world. Never stationary, Goldieboy and its signature craft pop-up all over town, and you've got to be on the pulse to know where to find them. Here the key is all about simplicity—offering a single burger. The winning formula is Scott O'Keefe's combination of a thick potato bun with a burger patty crafted in partnership with leading butcher Peter Bouchier, thick-cut American style cheese, grilled onions, and a secret sauce. You can now pick up a Goldieboy burger DIY Kits here and find them setting up shop for a good time at various spots around Melb—keep an eye on their IG to find out where.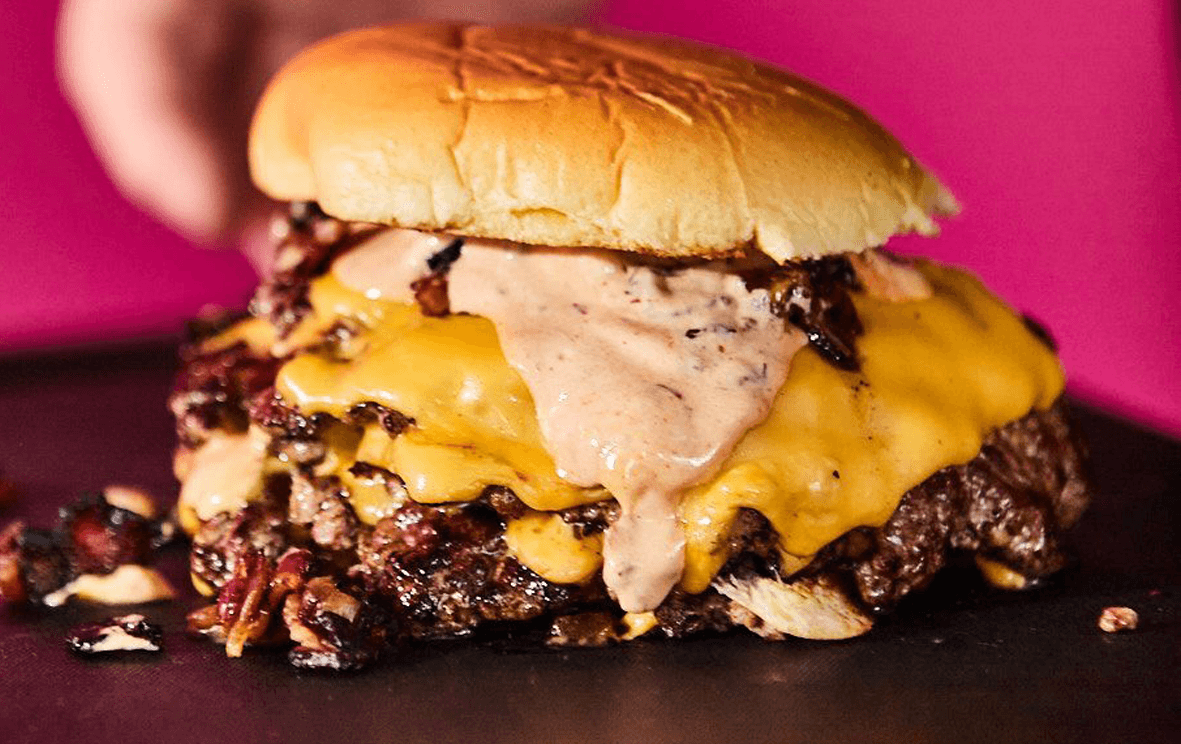 The B.EAST
BRUNSWICK EAST
These Brunswick East burger specialists live for the three fundamental human needs of; burgers, booze, and bands. The B.East is a rock n rolla' patty grilling outpost, home to a couple of the best burgers Melbourne has on offer. Try your hand at the 'Sexy Beast', a double beef, double cheese, hickory bacon, jalapénos loaded burger—or mix it with the vegan burger options like The Smiths frontman homage the 'Morrisey', fried mock chicken, sweet corn relish and special sauce.
Leonards House of Love
SOUTH YARRA
Regularly at the top of the best burgers Melbourne list, the burger-gods have you sorted with Leonard's House of Love wide range of options. The double cheeseburger is your go-to, and could easily be a contender for the best burger in Melbourne, but they've also got great vegan burger options for you to tear into as well if you're more of a plant-based persuasion.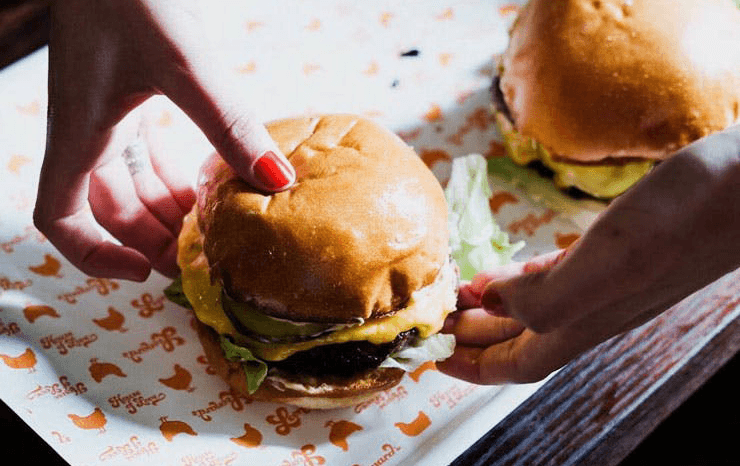 Juanita Peaches
BRUNSWICK
Burgers and so much more, Juanita Peaches is part of the Beatbox Kitchen, Taco Truck empire and its local outpost in Brunswick has a slew of diner-based goods like fried chicken, burritos and burgers. Their pride and joy is their cheeseburger, with 120 grams of grass-fed brisket, shallots, double cheese, and pickles on a house-made bun it's one best burgers Melbourne has ever seen.
Tuck Shop Take Away
CAULFIELD
With brains in the kitchen trained at the likes of The Fat Duck, and Attica, you know you're going to get something special at Tuckshop Takeaway. This venue is Attica owner Ben Shewry's favourite burger joint in Melbourne, and there's good reason for it. All ingredients are prepared daily in-house, and once they run out, you're fresh out of luck. They've now also got plant-based patties lending their signature style to some of the best vegan burgers going round. Get in quick though, Tuck Shop's burgers sometimes sell out before 7:30pm, so it's a must-try destination for any local in Caulfield North.
Meat Frankie
BRUNSWICK EAST
Meat Frankie is hands down some of the best burgers in Melbourne, also their policy on not having to shell out the hard-earned dosh for extra toppings has cemented their status in the burger world. Due to the outrageous addition of toppings, they keep their menu fairly simple with the humble hamburger and cheeseburger, leaving the stacking of toppings to the beholder.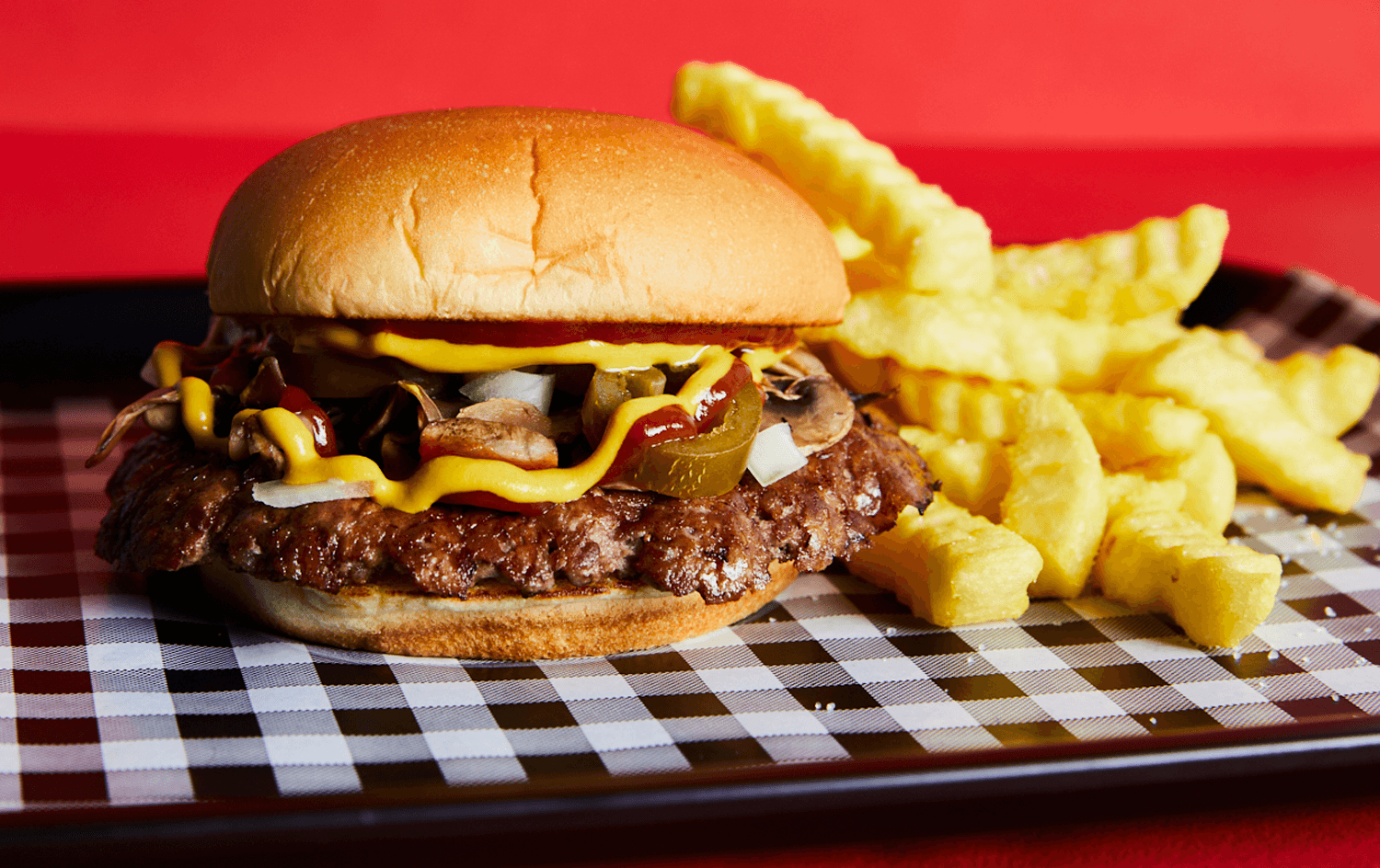 Easey's
COLLINGWOOD
Everyone knows Easey's, it's the burger joint in Collingwood with three retired Melbourne trains on the roof, pretty iconic really. Their inventive and testing nature has led to some of the best burgers Melbourne has seen, whilst their main menu features a line of burgers, sides, hot dogs, and desserts. On the meat and bun front you'll find American burgers Melbourne style, and you're going to want to order something along the lines of the Double Bacon BBQ Cheeseburger.
Royal Stacks
CBD, CHADSTONE, BRUNSWICK
Now operating over three locations in Melbourne, Royal Stacks has grown with its popular American diner-style burgers. Royal Stacks is an Australian riff on the ever-popular U.S-based Shake Shack— where the focus is on keeping it simple. The menu is varied and features staples like the single and double-stack cheeseburger—to the more inventive 'The King' which features a deep-fried mac n cheese croquette stuffed inside. Alongside burgers, they also have plenty of sides like chilli cheese fries and a mix of shakes that include flavours like Nerds and Golden Gaytime.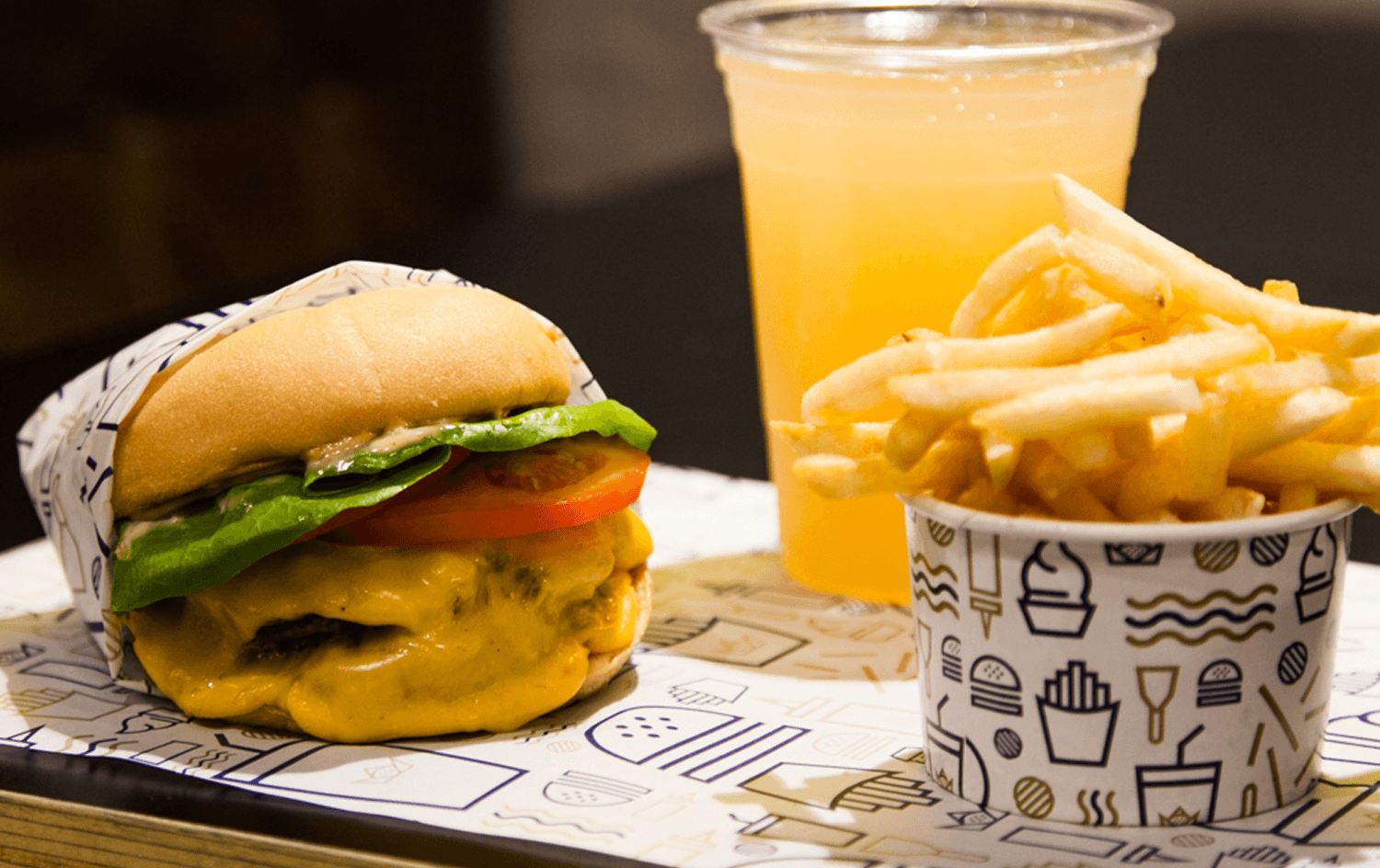 8Bit
Footscray
A Melbourne mainstay within the burger community, 8Bit has been at it for a while now and cemented itself as one of the best burger purveyors in Melbourne. The Double Dragon (which is basically double everything) has been a go-to for many, but there's a wildcard on the menu that shouldn't be overlooked, either—their hotdogs. Try either, or both.
College Dropout
Ivanhoe
College Dropout Burgers is a stacked new burger joint with a self-described 'Inspired By Ye' mantra. They're talking about Yeezy, Mr Kanye West, whose prolific output is the inspiration for the insanely creative and mouth-watering bun filled options.
The menu features burgers that have all been individually inspired and named after Kanye's songs. If you're a Yeezy fan you'll recognise some of the options such as 'Graduation' which is a classically simple mix of a smashed patty, cheese, pickles, dropout sauce, and ketchup, as well as the 'Gold Digger' with fried chicken, ranch coleslaw, jalapenos, and Northwest sauce.
Image credit: Meat Frankie