There was a time where the best burgers Melbourne had to offer came from your local fish and chip joint, usually with a slice of beetroot and a couple of extra dim sims. Actually, now we think about it, those are still pretty bloody good.
Burgers have evolved over the last decade and into 2023. Melbourne has embraced the burger to its dark and fickle heart. Milk buns were big, then came the Brioche. We've had doughnut buns, grass fed beef, double stacks, triple stacks and waffle burgers, and burgers cross-bred with meat pies—the best burgers In Melbourne, everybody:
Goldieboy
VARIOUS LOCATIONS
One of the more elusive buns around town, Goldieboy has earned its stripes as a cult figure in Melbourne's burger world. They've just finished a residence in the kitchen of Thornbury's Shotkickers, so keep an eye out on their Instagram for the next location.
The nimble team has built a hefty following of burger obsessors following several pop-ups around town, and looking at that monster in the image below, it makes sense.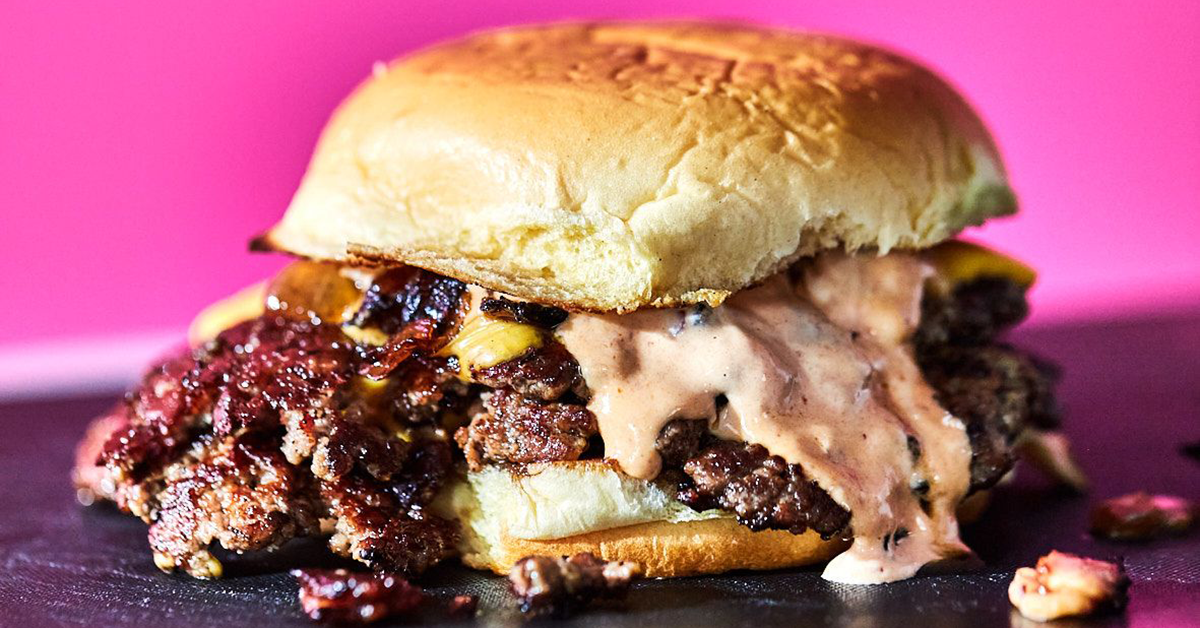 The B.EAST
BRUNSWICK EAST, CBD
These Brunswick East burger specialists live for the three fundamental human needs of; burgers, booze, and bands. The B.East is a rock n rolla' patty grilling outpost, home to a couple of the best burgers Melbourne has on offer.
Try your hand at the 'Sexy Beast', a double beef, double cheese, hickory bacon, jalapénos loaded burger—or mix it with the vegan burger options like The Smiths frontman homage the 'Morrisey', fried mock chicken, sweet corn relish and special sauce. Those who are city-side can now also get their B.East fix from their city locale on Swanston Street.
Danny's Burgers
FITZROY NORTH
An institution, worthy of discussion of best burgers Melbourne, this tidy little store in the depths of Fitzroy has been flippin' patties for decades. Open until midnight seven days a week, Danny's brings a self-described 'veteran' approach to their burgers, which means you're getting a classic ungentrified bun with the traditional fillings in a no-frills environment. A classic when they opened, and a classic into 2023 and beyond.
Leonards House Of Love
SOUTH YARRA
Regularly at the top of the best burgers Melbourne list, the burger-gods have you sorted with Leonard's House of Love wide range of options. The double cheeseburger is your go-to, and could easily be a contender for the best burger in Melbourne, but they've also got great vegan burger options for you to tear into as well if you're more of a plant-based persuasion.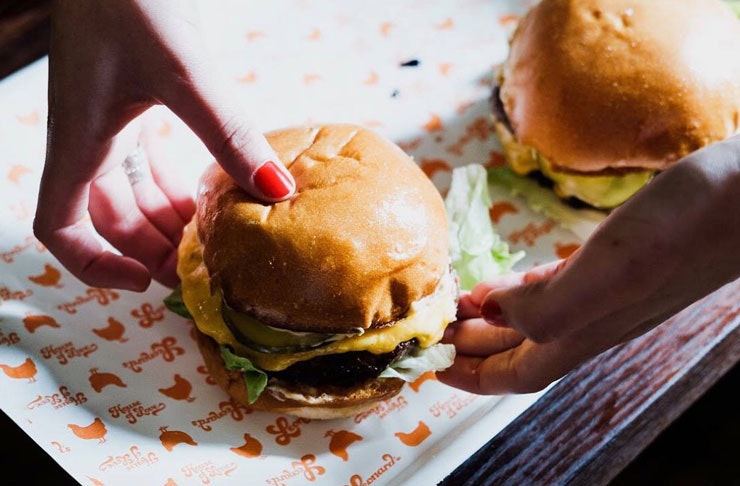 FAT (Fried And Tasty)
BRUNSWICK EAST
You know what you're going to get at F.A.T when you read the sign. Fried and tasty food, and done well. F.A.T Fried & Tasty specialises in southern fried chicken burgers and American burgers Melbourne style. At F.A.T you can get everything from buckets of chicken, waffles, salads, sides, and sensational burgers stacked with their special fried chicken.
Andrew's Hamburgers
ALBERT PARK
Andrew's Hamburgers has been dishing out some of the best burgers Melbourne offers from their Albert Park store since 1939, and in 2023, Melbourne burger lovers are still feeling the same affection.
You can't go past the classic Andrew's Burger with the lot, as many Melburnians have sampled over the years. In it you can choose from beef, chicken, or steak and you'll get lettuce, cooked onions, egg, bacon, tomato, double cheese, and tomato sauce. It's one of the oldest burger joints, and certainly one of the best burgers in Melbourne, too.
Good Good Burger
MAIDSTONE
A food so nice they named it twice. Good Good Burgers is the new look for this shopfront on Mitchell Street in Maidstone, a joint venture between owners George Tawil and Isaiah Inocencio, both native to Melbourne's west.
Pickles and sauces are made in-house, and every ingredient is considered right down to the precise amount of tomato slice for each burger's surface area.
The menu taps into a lot of the usual suspects which we've come to love from a modern burger store including grass-fed double beef patties with cheese oozing down sandwiched between a golden-topped milk bun. It's a modest operation, though the quality truly does the talking here, and that's why they're considered some of the best burgers Melbourne has to offer.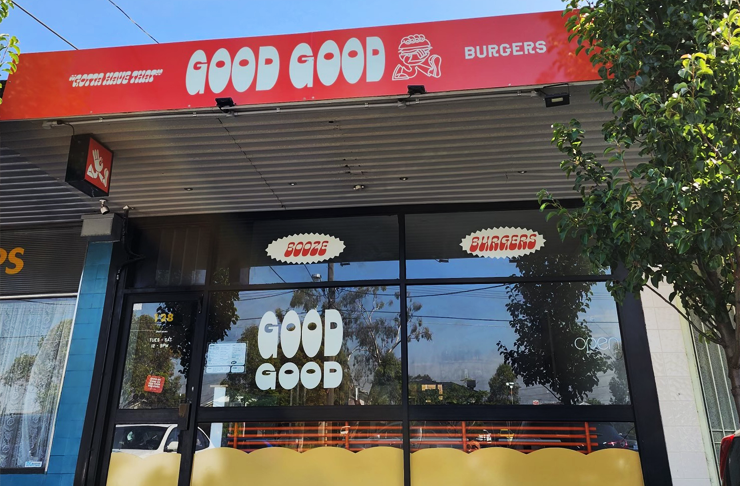 Gimlet
CBD
Feeling fancy? One of Melbourne's best restaurants also happens to serve up one of the best burgers Melbourne has to offer. The opulent fine diner's cheeseburger comes with an opulent price tag at $26, but given it's served up using prime O'Conners beef, it makes sense. This elusive burger is up for order after 10pm on Gimlet's late-night menu—nothing wrong with a second dinner if you're so inclined.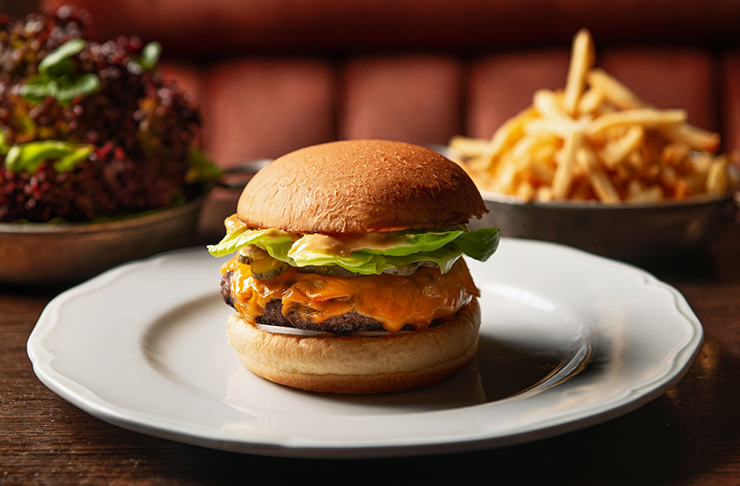 Juanita Peaches
BRUNSWICK
Burgers and so much more, Juanita Peaches is part of the Beatbox Kitchen, Taco Truck empire and its local outpost in Brunswick has a slew of diner-based goods like fried chicken burgers (one of the best in Melbourne), burritos and burgers. Their pride and joy is their cheeseburger, with 120 grams of grass-fed brisket, shallots, double cheese, and pickles on a house-made bun it's one best burgers Melbourne has ever seen. This spot tops best burgers Melbourne around town year after year, and for good reason.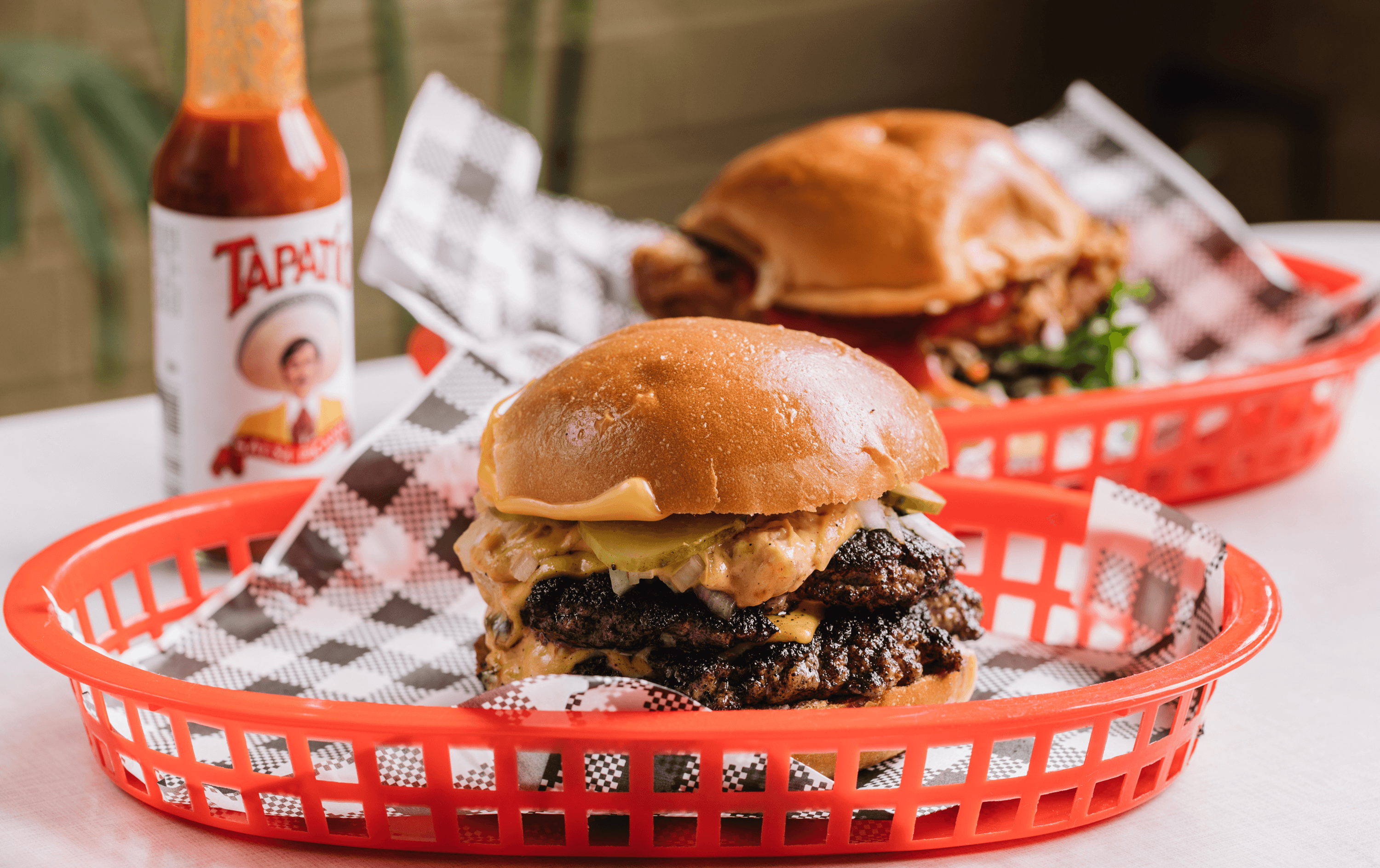 Bar Margaux
CBD
It might not come to mind when you're thinking burgs, but search ''best burgers Melbourne' and Bar Margaux will likely be right up top. Bar Margaux is a french-chic bistro nestled in a basement right on Lonsdale Street and is the home of the most simplistic yet memorable burgers.
Their mixture of late-night wine and cocktails with french comfort food couldn't more be more enticing and the 'MGX Burger' with cheese, bacon, famous sauce and fries is one of the best burgers in Melbourne, especially after a hard day in the big smoke.
Smithburg
SOUTH MELBOURNE
They've been around for less than a year, but there's a good reason they're considered some of the best burgers Melbourne's south has to offer. Owner Dehne Bingham has spent just shy of two decades in the game, from dishwasher to burger big boss, and through his time he's learned a thing or two—and that shows in the burgs. Head in for a double pasture-raised cheeseburger to end all cheeseburgers, or, try something more experimental, like the garlic bread meatball sub.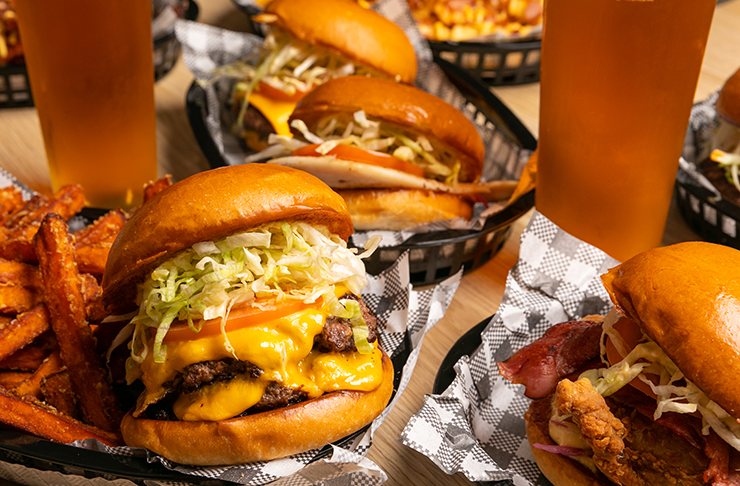 St Burgs
CAROLINE SPRINGS, MARIBYRNONG
St Burgs is covering off the suburbs with with some of the best burgers in the west side of Melbourne—quite the mouthful, and when you pay either of their locales a visit, you'll know exactly why. The beef burgers are the real heroes here, using Gippsland grass-fed beef patties across the considered offering. Go classic with the Cheese D, or take on one of the heavier numbers like the Bacon D—bacon mayo, two slices of crispy bacon and a double beef pattie, you get the idea.
300 Grams
NORTHCOTE, COBURG, RICHMOND
Joe Farah and team have been going from strength to strength with 300 Grams, so much so that we'll soon see a Richmond locale open its doors. The menu blurs the line between burgers of your childhood—like the ones you'd find at your local F&C shop—and more modern iterations of the meat and two buns. They also have killer meat-free options if you're so inclined, and they're just a few reasons why they've made the cut for Melbourne's best burger list in 2023.
It's one of the most nostalgic burgers Melbourne is offering up at the moment, and we recommend you (and your inner child) pay this spot a visit stat.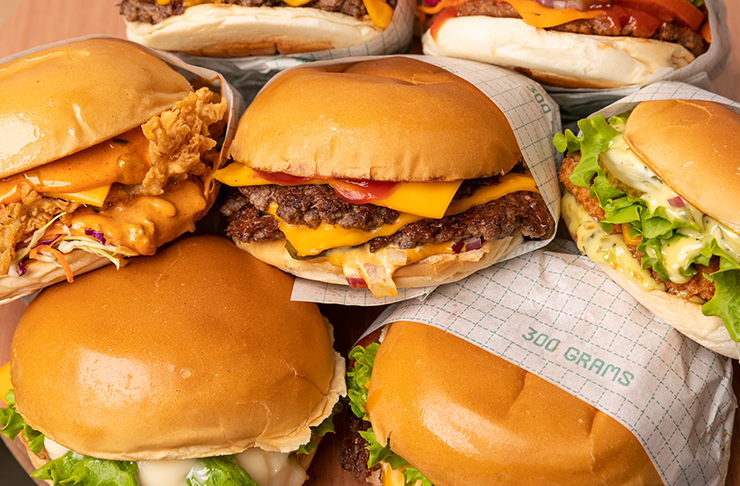 Butcher's Diner
CBD
Largely takeaway, Butcher's Diner nods to traditional American and Melbourne diners, down through the ages. Classic cheeseburgers (seasoned with salt and pepper) with big tongues of pickle hanging out the sides, Coney Island chilli dogs, steamed dimmies and more make this late night spot a favourite among many. Head in (almost) any time for one of the best burgers in Melbourne.
BeatBox Kitchen
BRUNSWICK
After starting out life as a food truck, Beatbox Kitchen also dish out their amazing burgers from their hamburger shop on Brunswick's Sydney Road. Now considered some of the best burgers Melbourne has to offer, Beatbox Kitchen does all the basics right. The Cheeseburger is top-notch, their Shroom Burger is also a great option for one of the best vegan burgers, oh and they also nail the Chicken Sanga.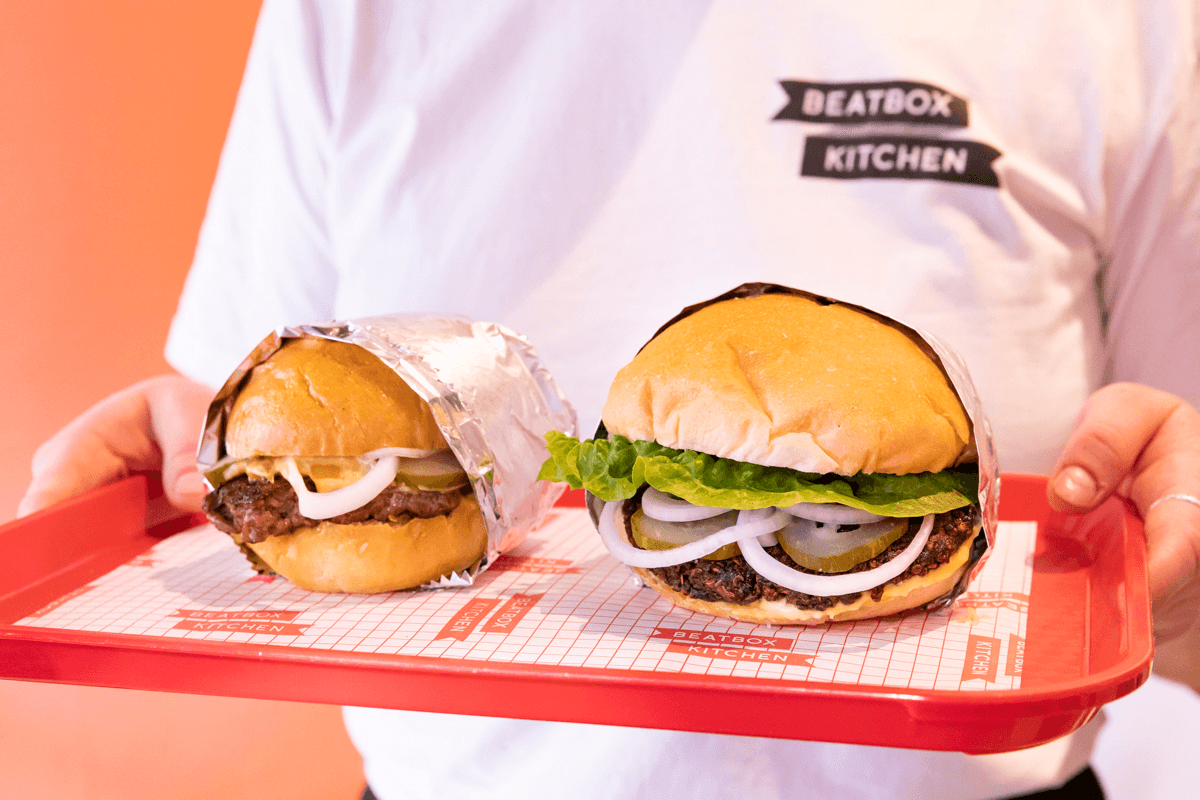 Fat Bobs
MOORABBIN
When Fat Bob's opened some time ago, it was said they're serving up one of the best burgers in Melbourne, and in 2023, that sentiment rings true. Moorabbin isn't the first location you'd think of when looking for American burgers in Melbourne, but once you happen upon Fat Bob's your opinion will change straight away. Inspired by U.S diners and set in an industrial area, Fat Bob's Bar & Grill is serving up their classic foil-wrapped burgers to hungry crowds from all around.
Try the Jack-O with a 180gm beef pattie, tomato, red onion, fontina cheese, cos lettuce, mustard, and a slathering of Fat Bob's sauce. They're also offering one of the best-pulled pork burgers Melbourne has ever tasted, which is without a doubt worth the drive alone.
Lulie's Tavern/Full Moon Fever
ABBOTSFORD
Lulie's has long been a favourite of the Johnston Street strip in Abbotsford, and the friendly team gave us another reason to visit around a year ago when they opened their rooftop, Ful Moon Fever. The burgers here are some of the best in Melbourne, but not just because their classic cheeseburger goes hard. On Wednesday, all burgers come in at a modest $12 a pop—and you can wash it down with a jug o' beer at $15.
Meat Frankie
BRUNSWICK EAST
Meat Frankie, without question, serves up some of the best burgers in Melbourne, also their policy on not having to shell out the hard-earned dosh for extra toppings has cemented their status in the burger world. Due to the outrageous addition of toppings, they keep their menu fairly simple with the humble hamburger and cheeseburger, leaving the stacking of toppings to the beholder.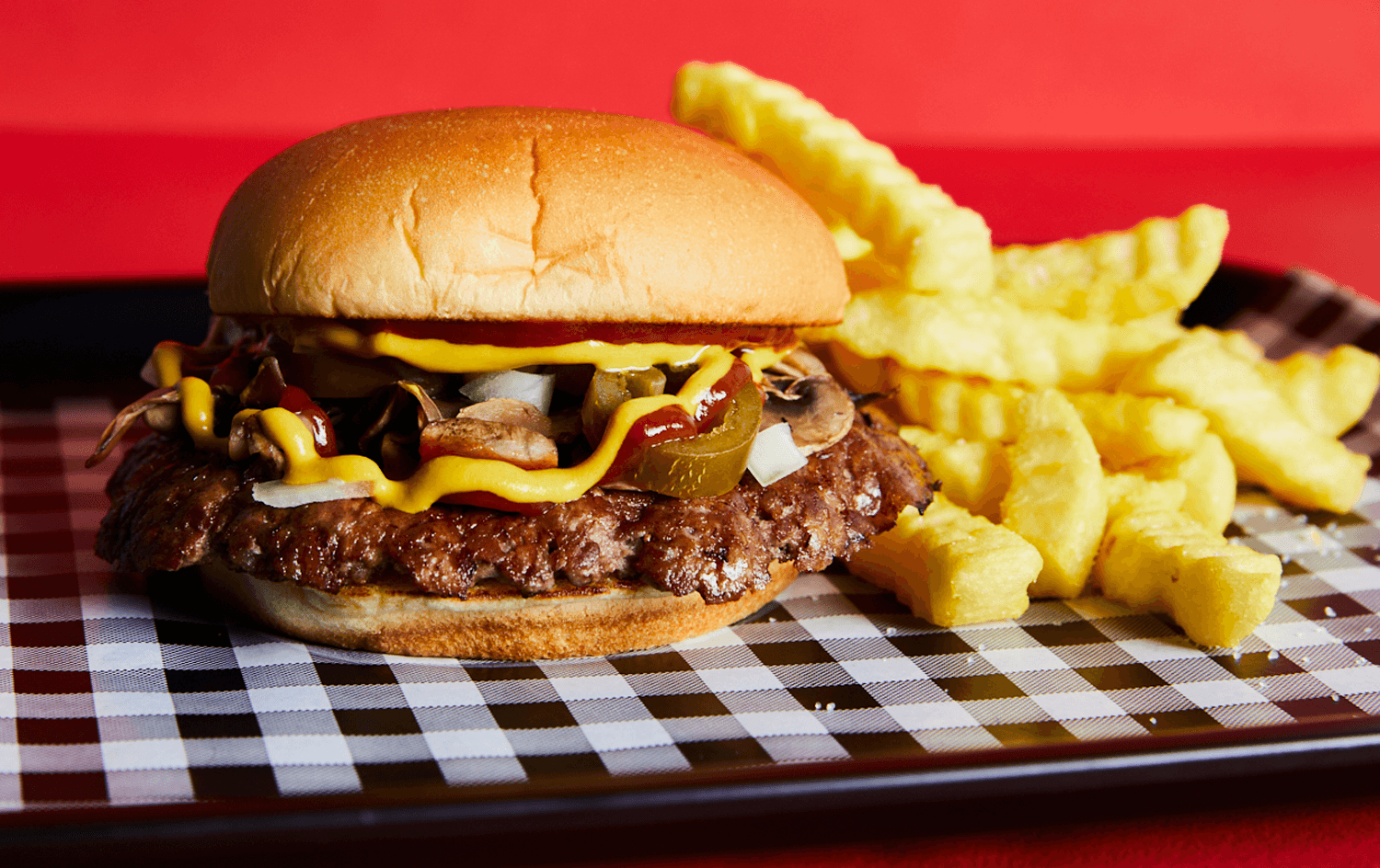 Easey's
COLLINGWOOD
Everyone knows Easey's, it's the burger joint in Collingwood with three retired Melbourne trains on the roof, pretty iconic really. Their inventive and testing nature has led to some of the best burgers Melbourne has seen, whilst their main menu features a line of burgers, sides, hot dogs, and desserts. On the meat and bun front you'll find American burgers Melbourne style, and you're going to want to order something along the lines of the Double Bacon BBQ Cheeseburger.
Krispy's
VARIOUS LOCATIONS
Another elusive burger purveyor that pops up around the city's inner 'burbs, Krispy's has earned quite the rep for their killer smash burgers as some of the best Melbourne has to offer. More often than not, you'll be able to find Krispy's somewhere in Melbourne, you just need to keep an eye on their Instagram for the next location—which is Co-Conspirators Brewing Company in Brunswick, Saturday 20 May, 12pm onwards, in case you were wondering.
Five Guys
SOUTHBANK
Not just some of the best burgers in Melbourne, but some of the best burgers in world. If you're not yet acquainted with this U.S-based burger chain, Five Guys is known for two things: burgers and fries. But these burgers are unlike anything you'll find at a typical fast-food joint.
Five Guys operate on a "no freezer" promise—their brioche buns are freshly grilled, the ground beef patties are shaped by hand and their hand-cut chips are fried on demand, skin-on and straight to your table.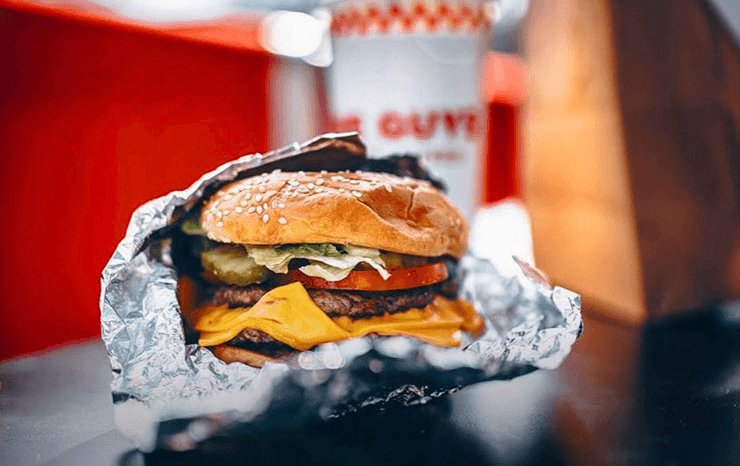 Royal Stacks
VARIOUS LOCATIONS
Now operating over nine locations in Melbourne, Royal Stacks has grown with its popular American diner-style burgers. Royal Stacks is an Australian riff on the ever-popular U.S-based Shake Shack— where the focus is on keeping it simple.
The menu is varied and features staples like the single and double-stack cheeseburger—to the more inventive 'The King' which features a deep-fried mac n cheese croquette. stuffed inside. Alongside burgers, they also have plenty of sides like chilli cheese fries and a mix of shakes that include flavours like Nerds and Golden Gaytime.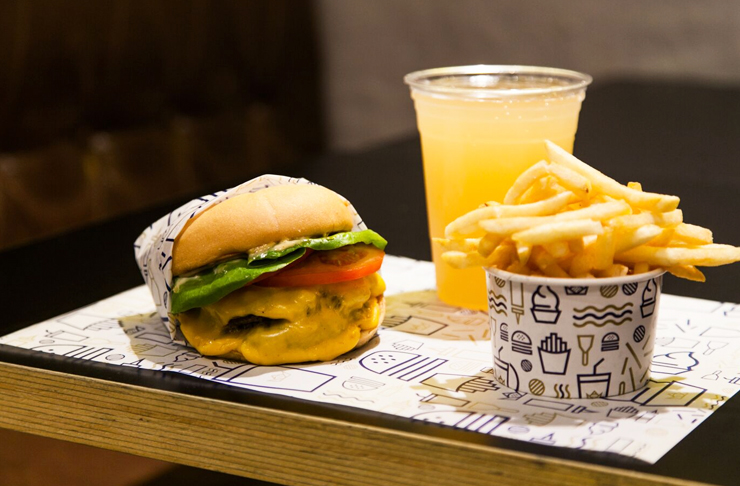 8Bit
FOOTSCRAY
A Melbourne mainstay within the burger community, 8Bit has been at it for a while now and cemented itself as one of the best burger purveyors in Melbourne. The Double Dragon (which is basically double everything) has been a go-to for many, but there's a wildcard on the menu that shouldn't be overlooked, either—their hotdogs. Try either, or both.
Rude Boy Burger
BRUNSWICK WEST
The west is best, at least in this case. Rude Boy Burger is repping Brunswick West with some of Melbourne's best burgers—now that's a mouthful. You can't go wrong with their classic beef burger, but you should opt for a double patty and a side of their fried chicken wings.
Keen for more of Melbourne's best? Check out the below:
Image credit: Meat Frankie