Fifteen years ago you could have bought two large sausage rolls, three party pies and a Nippies chocolate milk for your Friday school lunch order and still get change from five bucks. Now you can barely get a happy hour G&T for $10.
To help save you some cash, we've put together a list of the best cheap eats Melbourne has to offer.
Banh Mi At Trang Bakery
Collingwood, Prahran & Camberwell
Trang's banh mi are exceptionally tasty. What really sets Trang apart from the many other Vietnamese bakeries in Melbourne that qualify for this list is how they spoil their customers for choice. As well as the usual barbeque pork, crispy pork and roast chicken, there are several different vegan options. Tempura eggplant, vegan roast chicken, vegan duck and lemongrass tofu are available to have in your banh mi.
Pizza At Bimbo's
Fitzroy
With their iconic $4 pizzas, Bimbo's is one of the best casual restaurants Melbourne CBD and surrounds has played host to in a long while.
If you're South of the Yarra fear not, Bimbo's not-so-little sister Lucky Coq also has $4 pizzas at certain times of the day, so make sure you double-check the times here so you don't get caught paying the (still a bargain) $9.90 for full-priced.

Image credit: supplied
Tostados And Tacos At La Tortilleria
Kensington
La Tortilleria is your go-to if you need a hit of authentic Mexican cuisine, and one of the best value restaurants Melbourne can offer you right now. All of the tacos and all of the tostadas are under $10, and all of them are delicious. As the name suggests, tortillas are their jam. They are the makers and suppliers of this crunchy corn staple, and you can try them fresh from the oven in their small Kensington restaurant, topped with prawns ($8), cauliflower ($7), slow-cooked pulled lamb ($7.50) and more.
And even though everyone thinks they make the best guacamole, La Tortilleria's guac is particularly exceptional, and you can grab a tub to take home for $9.50.
Bao At Wonderbao
CBD
This tiny hole-in-the-wall lunch spot serves up little heavenly steamed fluffy little pillows otherwise known as bao. There's vegetarian options (the silken tofu gua boa is incredible) and even a sweet dessert bao, but you can't go past the traditional chicken bao with egg and shitake mushrooms ($4.20), or the roast pork belly gua boa with cucumber, pickled carrots, daikon, and hoisin ($5.40).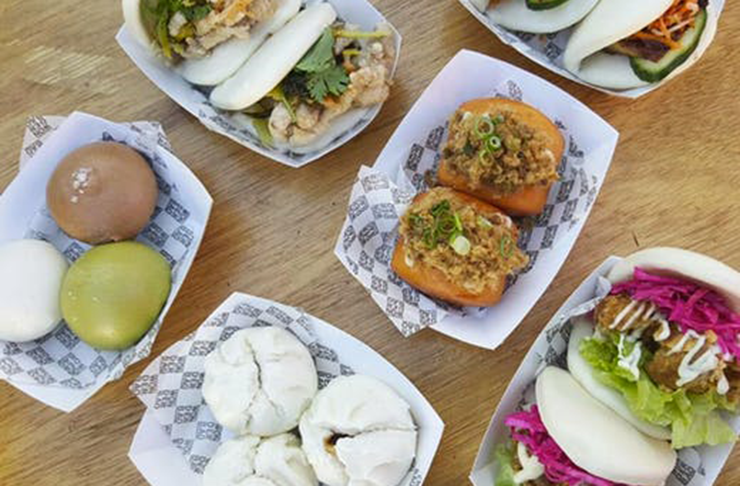 Image credit: supplied
These steamed buns come in around the same price your morning coffee, and at price points like that, it's some of the best cheap eats Melbourne CBD has seen in a while.
Parma At Forrester's Beer Hall
Collingwood
As far Every night of the week, Forrester's dishes out parmas for just $10. Yep, you read that right. We know what you're thinking but you needn't worry, this isn't a pathetic half-sized morsel that will leave you hungry. We're talking a full-sized free-range chicken or crumbed eggplant parma with Napoli sauce and melted cheese served with a green salad and chips.
As if that's not enough, they also have a penne puttanesca permanently on offer for just $10, with olives, capers, anchovies, and all the good stuff you'd expect from this classic pasta dish.
Chicken Katsu Curry At Don Don
CBD
As far as cheap eats Melbourne CBD has to offer, Don Don is up there. Authentic, and most importantly affordable Japanese, Don Don is a favourite with corporate office workers just as much as it is amongst students. With everything on the menu under $10 and generously portioned, Don Don is just about the best value for money meal you will find in the CBD.
You'll be lucky to nab an outside table, but you can always take yourself across the road to the lush lawn outside the State Library and enjoy your midday meal in the sunshine. We have to say, it's lunch specials Melbourne CBD doesn't need when you're getting this much bang for your buck.
Pasta At Good Times
Fitzroy
It didn't take long for Good Times in Fitzroy to become a local staple thanks to its $10 pasta. Using fresh ingredients, the pasta, albeit simple, is decadent and delicious. The menu of this pasta bar is ever-changing, but rest assured there will always be $10 pasta options available for those on a budget.
The wildly reasonable prices don't stop there: there's $9 wine carafes, negronis, and craft beers, making it one of the best value restaurants Melbourne and the inner north has tasted in a while.
Croissant At Agathé Pâtisserie
South Melbourne & CBD
This little place is a pastry lover's dream. There is a range of pastries available including some pretty unique flavours, but the croissants are the stars of the show, and without a doubt some of the best breakfast Melbourne CBD is serving up right now. There's matcha croissants, red raspberry croissants, croissants make with coffee extract, pandan croissants, squid ink croissants and pretty much any type of croissant you can think of.
Chicken Tawouk Wrap At A1 Bakery
Brunswick
Melbourne's original Lebanese bakery, and Brunswick's favourite destination for cheap eats. Almost everything on the menu at A1 is under $10, but our favourite is the chicken tawouk wrap: marinated chicken, hot chips, pickled vegetables, coleslaw and garlic, wrapped and toasted for just $9.50.
If you only reserve garlicky wraps for after 2 am, try the Shanklish (yoghurt-based cheese) pie for $5.50, or the A1 Special Pizza, a zaatar pizza based topped with Turkish beef sujuk, olives, spinach, and two types of cheese.
Oysters At Galah
Windsor
If you're looking for cheap eats Melbourne style, Galah is the place to be.

Oysters are an acquired taste. Whether you love them or hate them, there's no denying that one-buck shucks are fantastic value for money. Windsor's Galah provides freshly shucked oysters every Wednesday from 5pm for just $1 each, meaning the briny molluscs are no longer reserved for champagne-drinking fancy cats.
They're served with river mint and cucumber, using local Australian ingredients like everything else on the menu at Galah.

Image credit: Annika Kafcaloudis
Want more cheap things to do around Melbourne? Here's our rundown of the best things to do in Melbourne under $50.
Image credit: Bimbo's