A pillar of dining, steak is a timeless dish and although simple or rudimentary in its preparation when done well it's one of the finest things to order. Now, there's a slew of Melbourne venues throwing cuts on the grill but a select few reign supreme.
Whether it be blue or medium rare, here's where to find the best steak in Melbourne for 2023.
Steer Dining Room
SOUTH YARRA
We could tell you that Steer Dining Room serves up some of the best steak in Melbourne, though the fact this under-the-radar gem took out spot #51 in the 100 best steak restaurants worldwide, we probably don't need to.
The team here focus on Wagyu, working with Australia's top producers to bring it right to your plate. And this month, you can join in on their celebrations for their recent accolade. Steer will be teaming up with Penfolds for an evening of fine wine, Wagyu and black truffle, where guests will explore a wine-matched seven-course wagyu degustation along with several accompanying treats (think caviar and a vanilla crème brulee to finish). The bold dinner comes with a bold price tag at $490pp—book in here.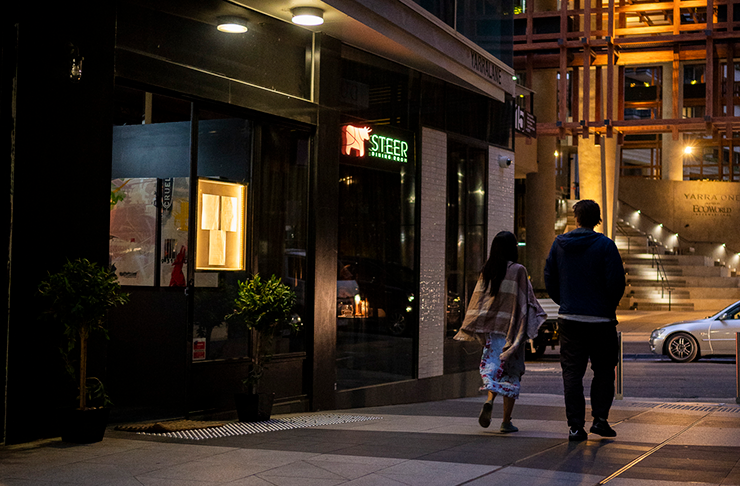 Cinder At Terminus Hotel
FITZROY NORTH
Just behind a door on St Bernards Street and a quick walk through the bluestone walls of North Fitzroy's Terminus is Cinder by Jake Furst. The clandestine private dining room offers a selection of premium cuts from grass-fed eye fillet, dry-aged wagyu flank, and more—all kissed across the flamed of the wood-fired Josper Grill. Perhaps one of the biggest drawcards of Cinder is its accompanying sauces including several butter-based options from a truffle, garlic and parsley to café de Paris, to a banging smoked Harissa.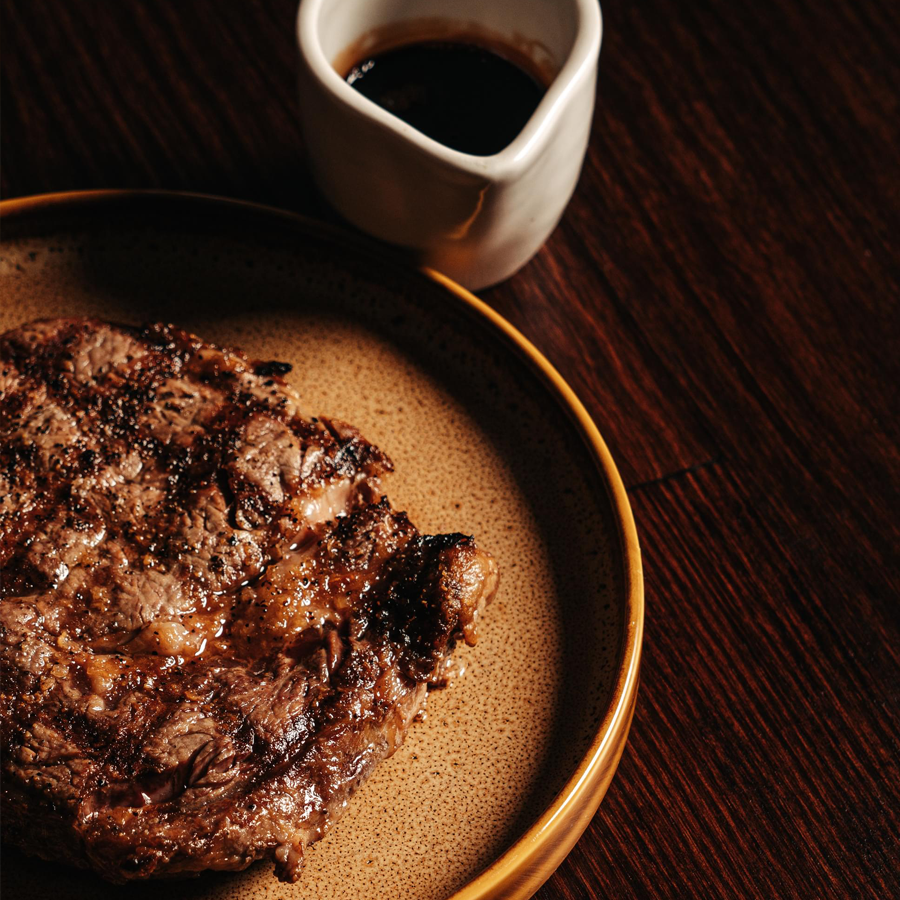 Gimlet
CBD
As you'd expect from a restaurant named in the top 100 in the world, the culinary craft here is executed at an extremely high level. Gimlet has two steak options on its a la carte menu; the first is a 250g strip steak which is served with house-made mustard and Bordelaise sauce, and the second is a decadent 900g grain-fed T-Bone which is grilled over the coals. Whichever option you opt for, it's bound to be a front-runner for the best steak in Melbourne.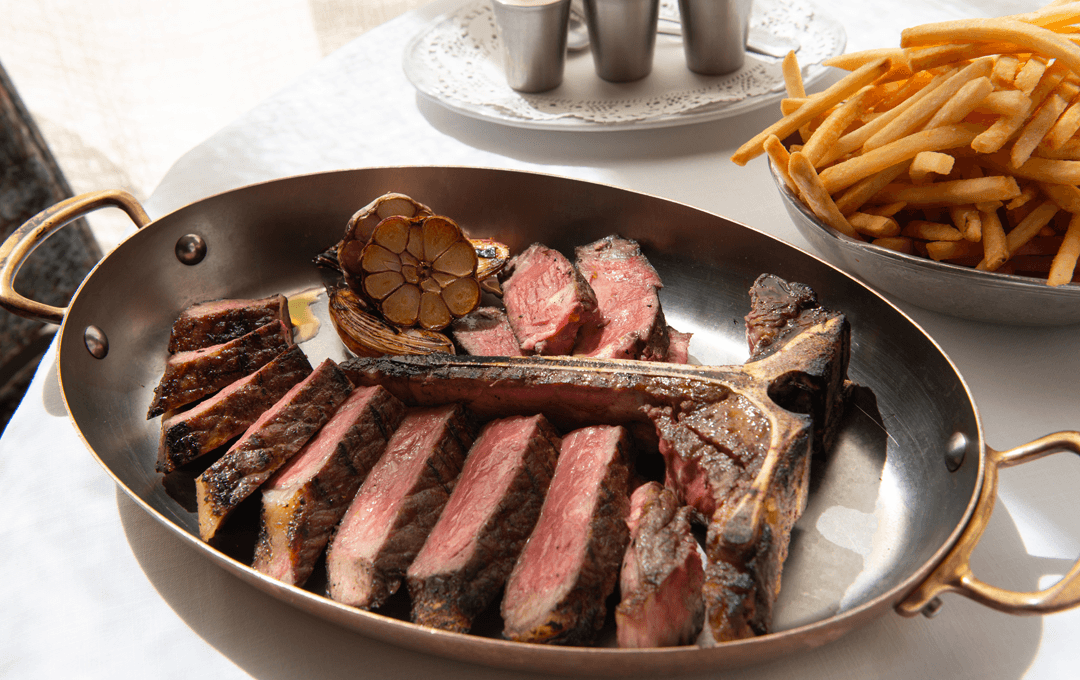 Botswana Butchery
CBD
Botswana Butchery has long been known as a stalwart for steak since its opening in New Zealand. The Butcher's Block is a sight to behold, a menu within a menu—and arguably Botswana Butchery's showpiece—that features a selection of specialty cuts from around Australia. Household names (for anyone who likes their steak) all make an appearance; expect the likes of Cape Grim's grass-fed selects sitting comfortably next to cuts from Blackmores, CopperTree Farms along with a 1.6kg Tomahawk from Ranger's Valley that truly is a spectacle in itself.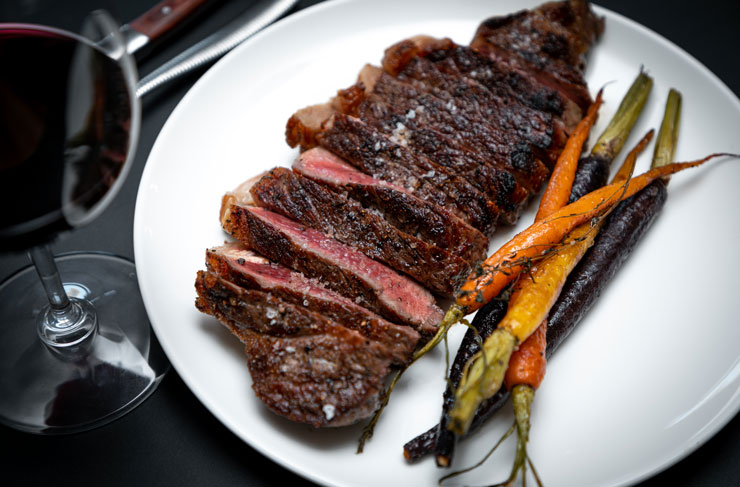 France Soir
SOUTH YARRA
These guys have been nailing Joie De Vivre longer than most, dating back to 1986 to be precise. France Soir's classic Entrecôte steak is cradled in a helping of Frites and smothered in a ridiculously lush Béarnaise sauce. It's stood the test of time as a frontrunner for the best steak in Melbourne and continues to impress.
Society
CBD
When Chris Lucas' Society swings, it doesn't miss. From the wine list, and the cutlery, to their steak offering, Society—and specifically their smoked wagyu striploin—is a lesson in grandeur. This showstopper is served up tableside with cipollini onions and pine mushrooms atop.
Designed to share, one of Melbourne's boldest dishes will set you back a bold $285.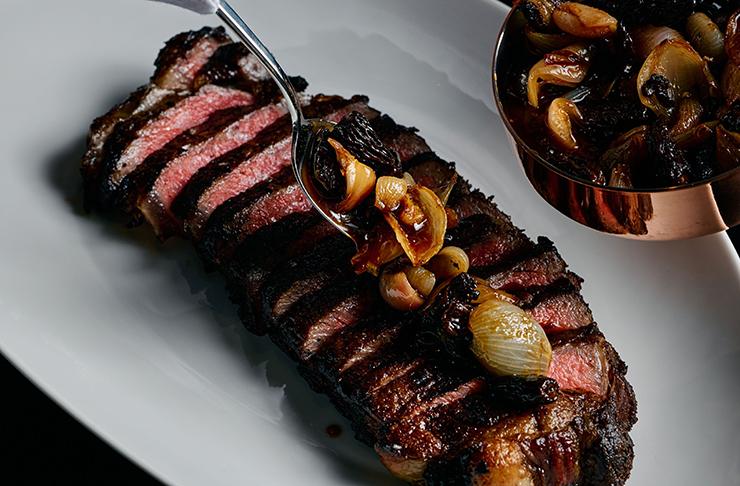 Chancery Lane
CBD
Chancery Lane, Scott Pickett's charming fine diner in the city is a celebration of Euro-inspired cuisine. The steak options are standouts amongst the limited yet varied menu, tackle either the wagyu rump or the Cape Grim rib-eye, both served with rotating accompanying condiments as well as the mandatory option of ordering the Pommes Frites with aioli.
Entrecôte
PRAHRAN
It's tough to provide a guide on the best steaks in Melbourne without including the storied and now-institutional steak frites from Entrecôte'. The French Brasserie-inspired venue may have a new(ish) home in Prahran but all of its legacy can still be found in this Angus porterhouse steak which is accompanied by the house-made herb butter sauce on a bed of perfectly crunched fries.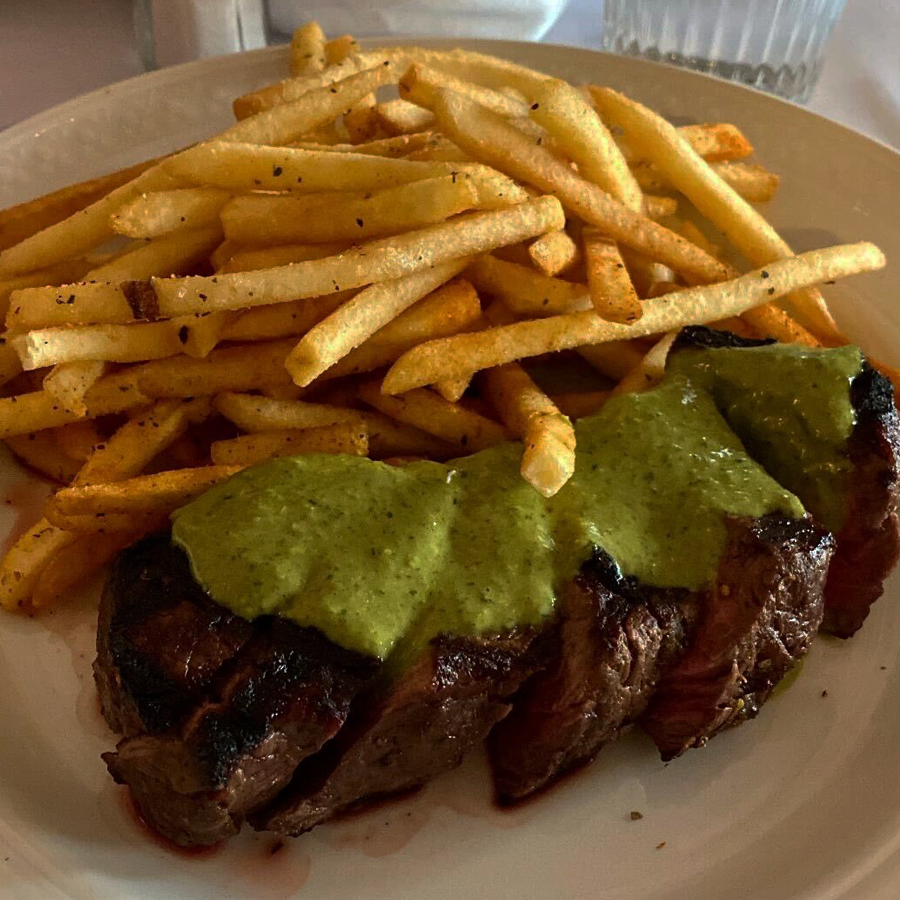 Railway Club Hotel
PORT MELBOURNE
Touted as the original steak house of Melbourne, Railway Club Hotel is one of Port Melbourne's most beloved pubs. The historic Victorian-era building on Raglan Street shields a world of chargrilled perfection with a range of different cuts from pasture-fed rib eyes from Tasmania's Cape Grim Beef, to dry-aged T-Bones and Gippsland grain-fed porterhouse. Whether you're tackling it with a simple brandy peppercorn or housemade anchovy caper butter, this is one of the best steaks in Melbourne.
The Orrong Hotel
ARMADALE
One of Melbourne's oldest pubs dating back to 1875, The Orrong Hotel has seen a bit of a glow-up of late; with more modern accompaniments like craft beers on tap, but their steaks has become a staple both on their permanent menu and every Thursday (Steak Night). Each option comes with thick-cut chips and a baby cos and herb salad and you can opt for the 300g porterhouse all the way up to a 500g Cape Grim rib eye.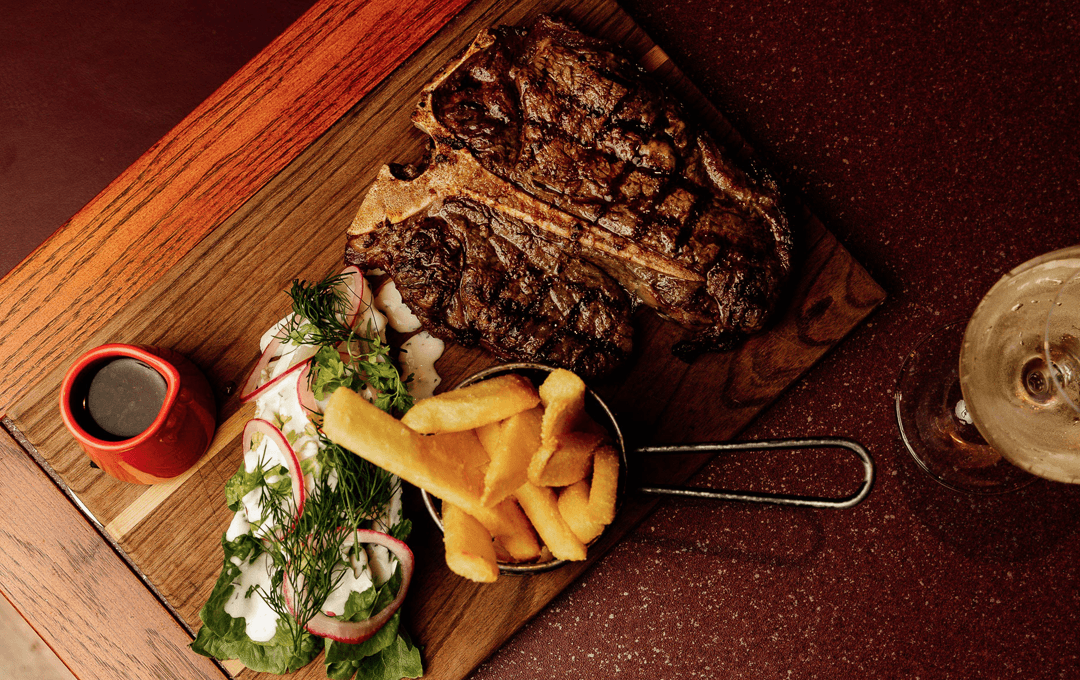 Grill Americano
CBD
Offering up strong New York-bistro vibes, Grill Americano and its incredibly sleek diner in the heart of Flinders Lane is a steak paradiso. The various cuts on the menu from the whopping 1.2kg Bistecca Alla Fiorentina T-Bone to a scotch fillet come out with seared perfection, kissed by the flames of the hand-built wood oven and Josper grill.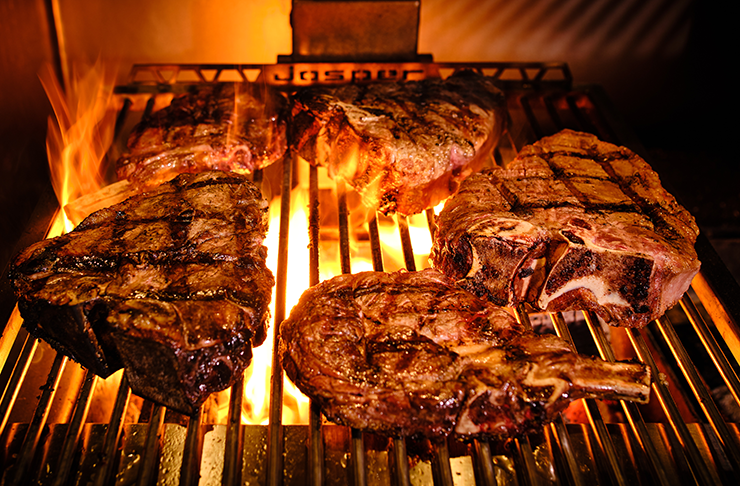 San Telmo
CBD
San Telmo is the Argentinian-style restaurant on Meyers Place in the city. Famed for their Asado-style cooking on the 2.5 metre Parrilla charcoal grill in the kitchen, the steaks here all come with that perfect smokey aroma. Easily on the best steaks in Melbourne, the 'Ojo de bife' is a dry-aged rib-eye that comes served with that fire-textured exterior and crusted with salt flakes, amp things up, even more with the house-made Chimichurri, a zesty yet balanced addition.
Meatmaiden
CBD
There's a lot to like about this American-influenced grill, its subterranean and its home to some of the best steak in Melbourne. Meatmaiden, which is tucked away in the basement of 195 Little Collins Street is an edgy space, awash in neon with dry-ageing rooms and pendant lights danging above. Here there's a curated selection of beef, from 250g eye fillets to a whopping 1kg 40-day-dry-aged rib eye.
Fitzroy Town Hall
FITZROY
A stalwart of dining in the Northside of Melbourne, the Fitzroy Town Hall has long stood as one of the top destinations for steak in the city. The traditional pub-style restaurant offers a range of cuts from a Bavette all the way up to a hefty 1.4 Cote de Beouf. Each steak is served with a side of chips, a mustard and cabbage remoulade and either a Béarnaise or pepper sauce to trickle over.
Marble Yakiniku
GLEN WAVERLY
Yakiniku is a form of Japanese barbecue that involves grilling high-quality ingredients tableside. So you can probably tell from the name, these folks specialise in barbecued steaks. Yakiniku brings out all the natural flavours and textures of wagyu, so it's the ideal way to enjoy these quality cuts. You'll get to oversee the artistry in action at your table and witness the steaks hit the sizzle, getting them served straight off the grill.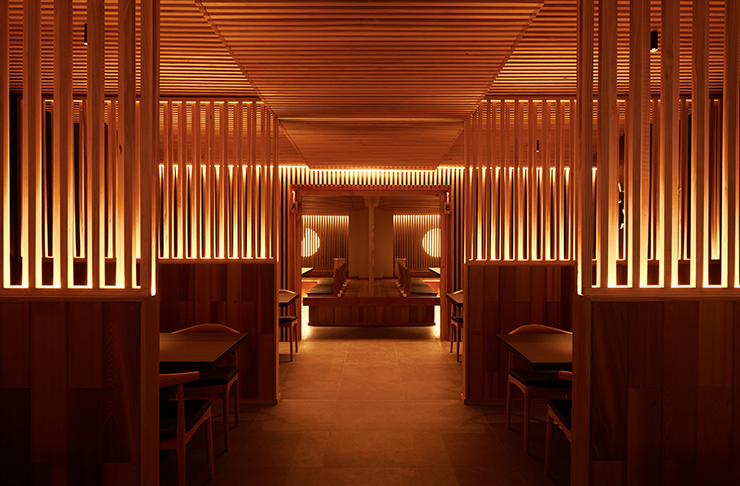 Victor Churchill
ARMADALE
The butchers to end all butchers, Victor Churchill's stunning space in Armadale is an ode to the craft. . Although primarily a retail operation, the diner at the back of the end of the shop is a chance to sample the goods on-site. Tackle the O'Connor eye fillet or opt for the Rangers Valley grain-fed 1kg Bistecca, top things off with a lashing of Cafe De Paris and you're all set to experience one of the best steaks in Melbourne.
Yakikami
SOUTH YARRA
Yakikami located on Toorak Road in South Yarra is an opulent escape to a world of premium-grade wagyu and top-shelf sake. As one of the two restaurant groups in Australia to hold the license to import Kobe Beef from the Hyogo prefecture in Japan, Yakikami's selection is of the highest quality with A5 certification and a marble grading score of 6 and higher. Here your steaks come sizzling off the charcoal, served up alongside 15+ accompanying dishes.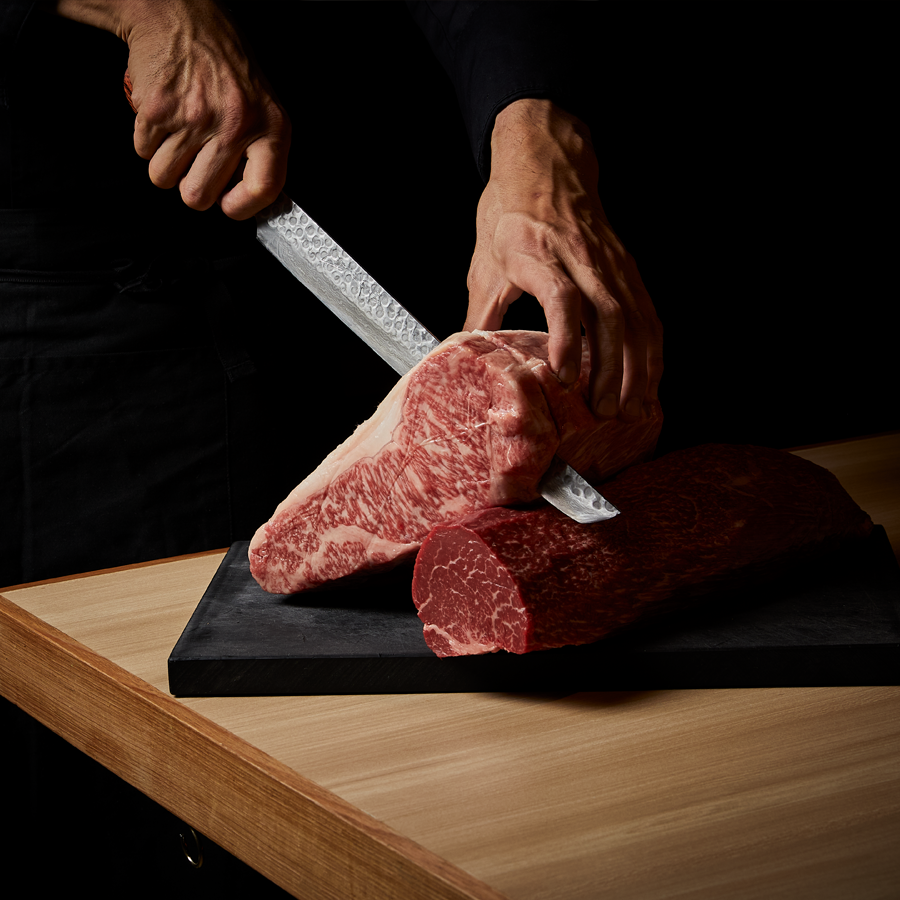 Rockpool Bar & Grill
SOUTHBANK
The famed diner on Southbank has long been associated with some of the best steaks in Melbourne. The Rockpool kitchen team here has infused a stripped-back approach to the menu where the quality of the produce shines in the dishes. With almost every cut on the menu there's plenty to choose from, opt for the dry-aged Mishima sirloin with a 9+ marble score, pair it with the in-house horseradish cream, a side of the sauteed potatoes with garlic, rosemary and wagyu fat and you're set.
Angus & Bon
PRAHRAN
Resting on a corner in Prahran's Greville Street, Angus & Bon is a chic operation. The moody-lit venue reveals little from the outside and it's not until you enter the New York-inspired eatery that you're met with the intimate charm of the space. Steak-wise, a lot is happening, but their King-Island grass-fed eye fillet with the show-stopping blue cheese butter is a strong contender for the best steak in Melbourne.
Check out more of Melbourne's best:
Melbourne's best restaurants
Melbourne's best cafes
Melbourne's best bars
Melbourne's best breakfast
Image credit: Grill Americano / Adrian Lander