To celebrate our 10th birthday here at Urban List, we're asking you to tell us your top 10 lists over on our Instagram, and we're kicking things off with everyone's favourite establishment—the good ol' pub.
Some of Melbourne's best pubs have been feeding the locals for over 150 years. We might have a way to go before we reach that milestone, but thanks to you, we know where to go for some inspo. So let's get into it, here are your top 10 best pubs in Melbourne.
The Great Northern
Carlton North
The Great Northern Hotel is the best pub in Melbourne for the ultimate day out with your best mate—that's right, this is a dog-friendly pub. If you've been spending a whole lot of time with your furry friend in 2021, don't let that end just because the city is open again. Book in for parmas on Mondays, steaks on Tuesdays, trivia on Wednesdays, burgers on Thursdays, and settle in on Sundays for a classic roast. While you're there, get your pooch a GNH leash which comes with a bottle opener for you—win, win!
The Esplanade Hotel
ST KILDA
Simply put, there is no other pub like the Espy. St Kilda's Hotel Esplanade has been an iconic establishment of the area since its inception in 1878. The revamped Espy now boasts 12 bars over its five levels with an insane range of handpicked wines, signature cocktails, craft beers, it's hard to argue its position as one of the best pubs in Melbourne.
The Napier Hotel
Fitzroy
They describe themselves as being 'like a big, warm, friendly Fitzroy hug' and you lot seem to agree because they've made it onto your list of the top 10 best pubs in Melbourne for 2021. The Napier is the pub to go to if you're after a pub feed with an Aussie twist—they do a chicken parma served with smoked kangaroo, and they also do a chargrilled kangaroo salad served with a pomegranate dressing. With over 130 years of history, this Fitzroy institution is still kicking goals with its understated charm and nostalgic-pub feel.
Mount Erica Hotel
Prahran
If you prefer your pubs on the more refined side, then you must have been one of the voters for Prahran's Mount Erica Hotel. Established back in 1853, it remains one of the best pubs in Melbourne for a cosy meal by the fire in 2021. If you're feeling fancy, head down on a weekday between 4pm and 6pm for their $20 oysters and fizz deal—nothing like a bit of bubbly to get you through the week.
The Park Hotel
ABBOTSFORD
Another oldie but a goodie, The Park Hotel in Abbotsford has been serving the goods since 1864, and they're not about to stop in 2021. With a menu of pub favourites like burgers, parmas, steaks and sausages (as well as some plant-based plates), this is one of Melbourne's best pubs combining traditional fare with a modern flair.
The Standard Hotel
Fitzroy
Dripping in esoterica and retro quirkiness, this backstreet pub is a gem worth searching for. The Standard Hotel is part traditional pub, part sprawling beer garden, which makes for the perfect combo in Melbourne. True to its Fitzroy roots, The Standard is also known for its quality rotation of live music and no-fuss menu. They're vegan and vegetarian-friendly, and there's plenty to choose from when it comes to drinks—we can see why you guys voted it into the top 10 pubs of Melbourne for 2021.
The Royston
Richmond
The Royston made it onto our 2021 guide to Melbourne's best parmas, so we're not surprised to see it in your top 10 Melbourne pubs. Tucked away on River Street in a quiet pocket of Richmond's backstreets, we'd recommend rocking up to this haunt on a Monday or a Wednesday for their famous $17 parmas, and make sure you schedule a round of pool first thing—then you can say you've literally gone 'straight to the pool room'.
The Post Office Hotel
Coburg
If you're on the northside, chances are you're familiar with The Post Office Hotel. Located on Sydney Road in the heart of Coburg, this venue is a meeting place for family and friends alike, with a killer menu and relaxed atmosphere. They're a pub, music venue and brewery all in one, so they're the best Melbourne pub to stop by for all the things we've missed in 2021.
The Builders Arms Hotel
FITZROY
Smack bang on the corner of Gertrude and Gore Street. The Builders Arms Hotel is a dyed-in-the-wool Melbourne pub. Inside the corner resting hotel, the space has been split into three sections; with the bar, a fancy bistro-style restaurant and a secluded beer garden. With Andrew McConnel at the helm, the menu is always on point, and the venue is a local favourite for good beer, relaxed vibes, and simple but inventive food.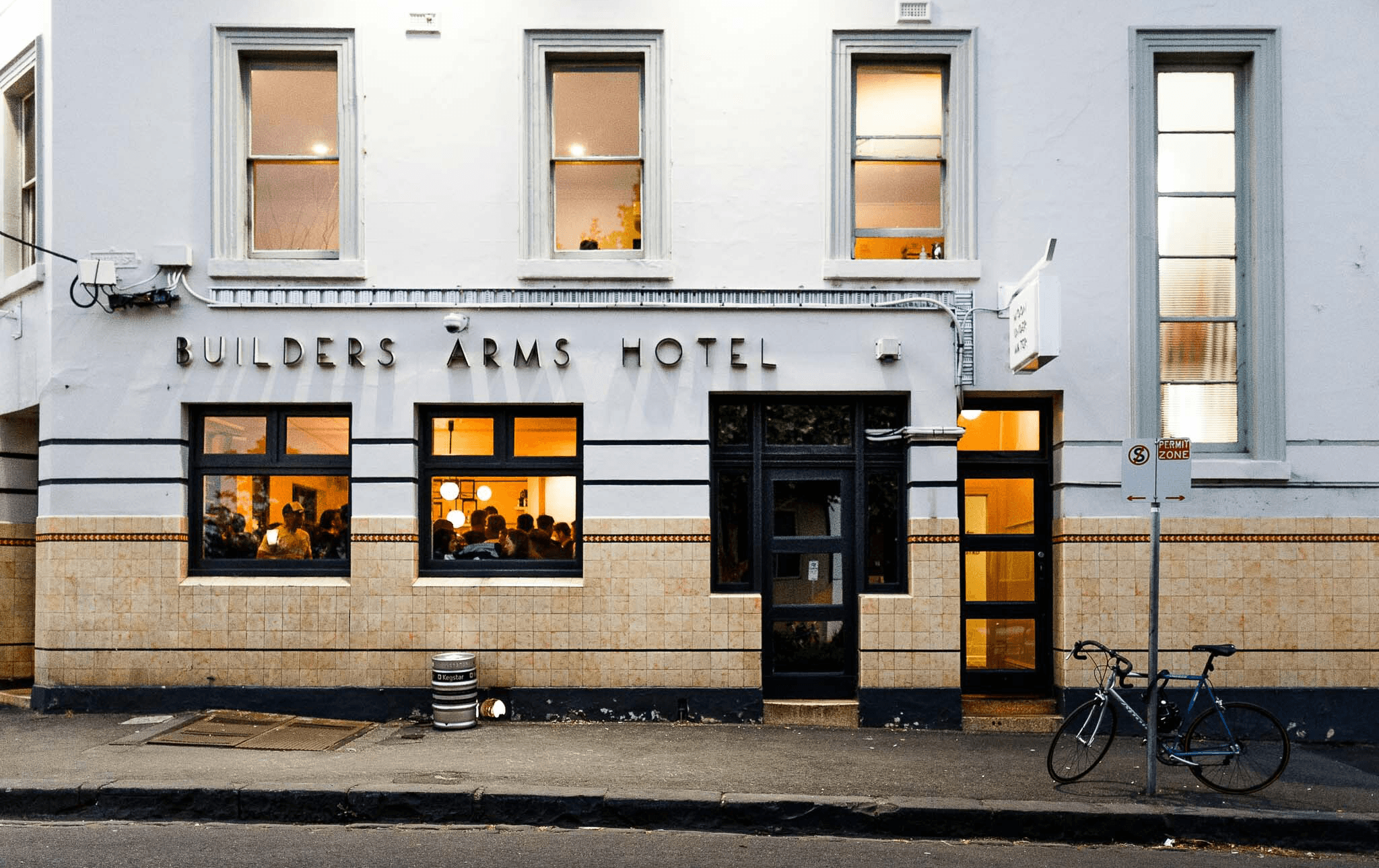 Marquis Of Lorne
FITZROY
This ain't your ordinary pub. Proudly perched on the corner of Kerr and George Street, the Marquis Of Lorne's pub classic menu and bar has a lot to offer. A special nod to dishes like the now-iconic rockling burger, a complete game-changer with a dill-infused aioli, shallots cos lettuce and a hearty serving of chips; as well as the humble chicken schnitzel—truly one of the best in town. Marquis of Lorne also has an intimately spaced rooftop bar, quintessential Melbourne right there.

Stretch the day out and start off at one of Melbourne's best bottomless brunches here.
Image credit: The Standard