There's something special happening down in the south-western precinct of Little Bourke street in the city. Originally the stomping grounds of Melbourne's early 2010's cultural renaissance with Tipo 00, Brother Baba Budan and Captains of Industry, the area has become a hotbed; an incredibly trendy region that now includes the likes of The Hardware Club, Maker and the very new Serai.
The restaurant tucked down Racing Club Lane is a joint venture from three distinct Melbourne hospitality personalities in Ross Magnaye, Shane Stafford and Ben Waters. When speaking to Ross the culmination of the new diner was very much "what happens when three mates with different cultures are thrown together and want to open a restaurant."
Serai has been open for just over a month now but the groundswell of noise has been almost deafening, and for good reason, Ross and Shane are serving up some of the most interesting food in Melbourne.
Although there's been a lot of classifying Serai as a Filipino restaurant, Ross adamantly disagrees.
"For us it's Filipino-influenced but we want to call it more Australian at the same time. We're taking a sauce from a [traditional] dish, and we're putting into something we make."
An example of this ethos from Ross and Shane is the 'Kare Kare' hashbrown, fusing an Australian-style hashbrown and covering it in a fire-roasted peanut sauce and topping it with a salted duck egg. Another hero dish is the bone marrow, which Ross comments is 'very Australian' and even uses Kangaroo which is smoked in the woodfire and then covered in a coconut vinaigrette, 'Kinilaw-style' which is similar to a ceviche.
"Everything thinks I'm like this poster boy Filipino food, but I've only scratched like 20% of what the food actually is," says Ross.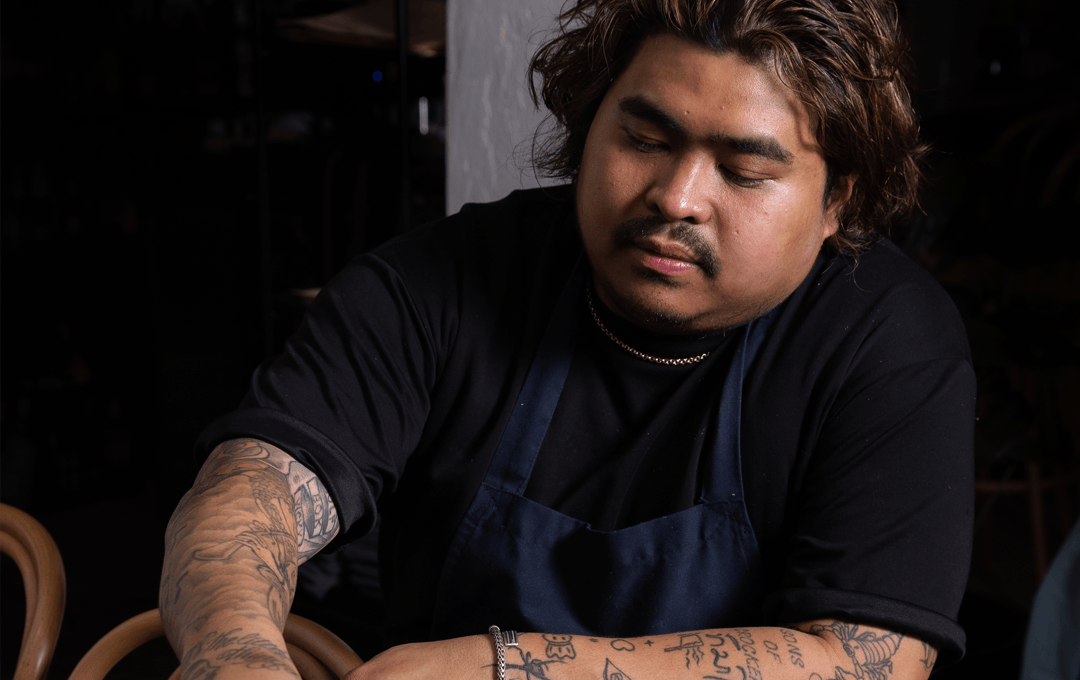 A cornerstone of the Serai kitchen is the open fire which the entire cooking is based around. Asking the chefs what it's like to cook over during service, they both came back with a resounding, "difficult". The open fire, which has now bestowed Ross with several new battle scars is a major component of the flavour at Serai, with both meats and sauces prepared through the white-hot embers. The smokiness that it imbues dishes with is almost impossible to replicate with conventional grills.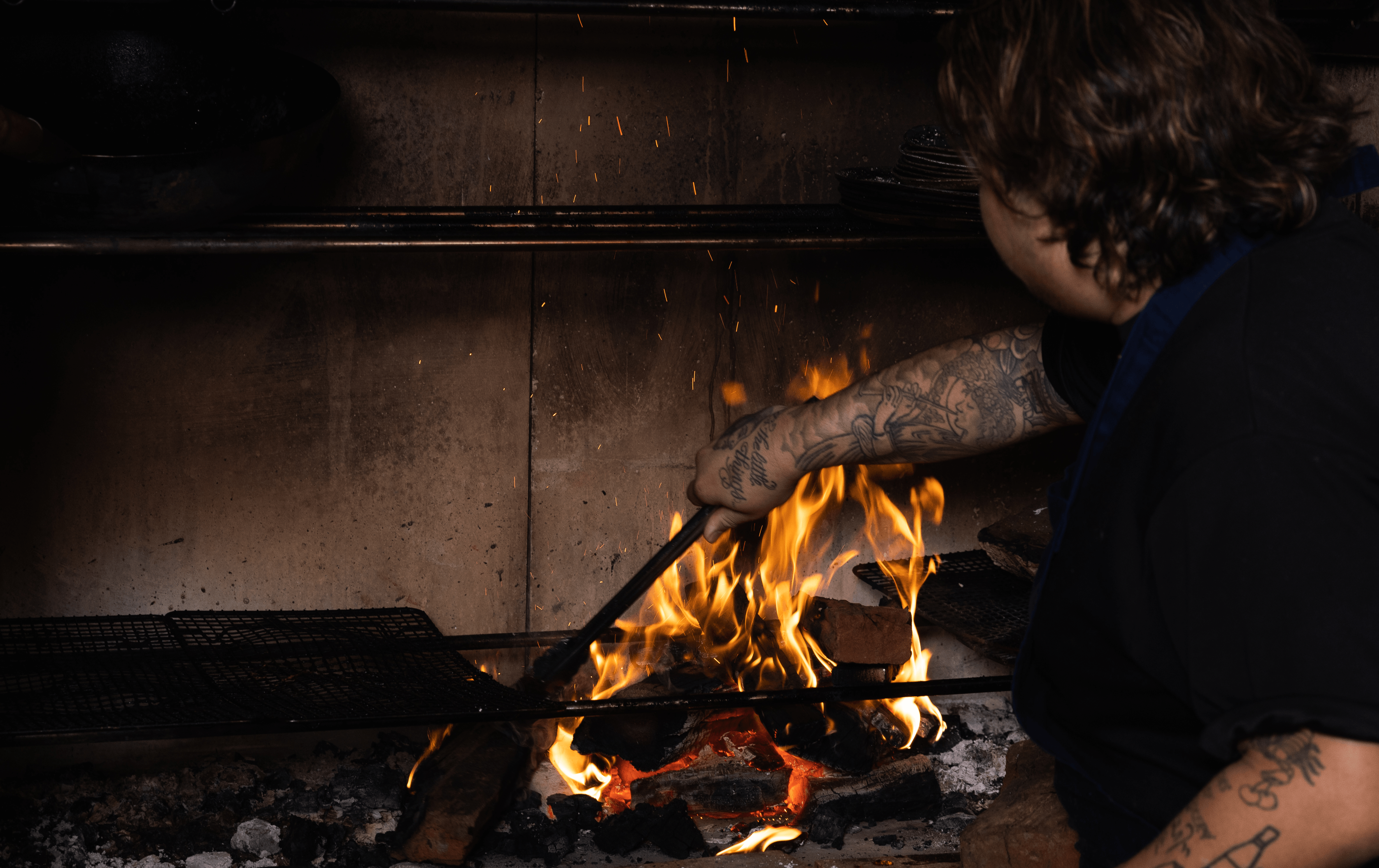 The pair both had minimal experience cooking over open-fire pre-open. "We just started doing it, we had no experience with it, we didn't even know how to light it, we've just been learning purely on the job," says Ross.
The fire is unmistakenly present when dining here, the calamari which is scorched across the flames and then tossed through a smokey/spicy Longganisa (Filipino sausage) Nduja dressing is perhaps the most perfect culmination of Serai's cooking.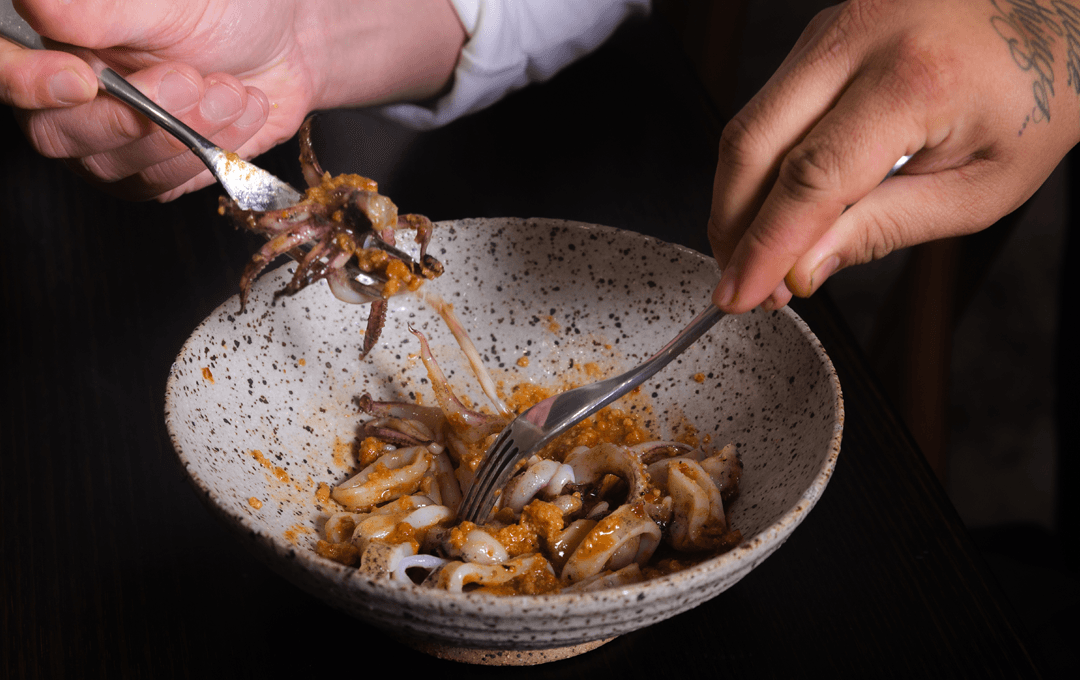 You've also got the homage to the Filipino cheese, Kesong Puti, which is a white cheese that's quickly scorched under the embers to create a crusted charr and covered with a chilli and tamarind caramel, served with Chicharron crackers. The blistered outside provides a textured crunch whilst the inside has melted to an oozy perfection and is incredibly easy to knock back.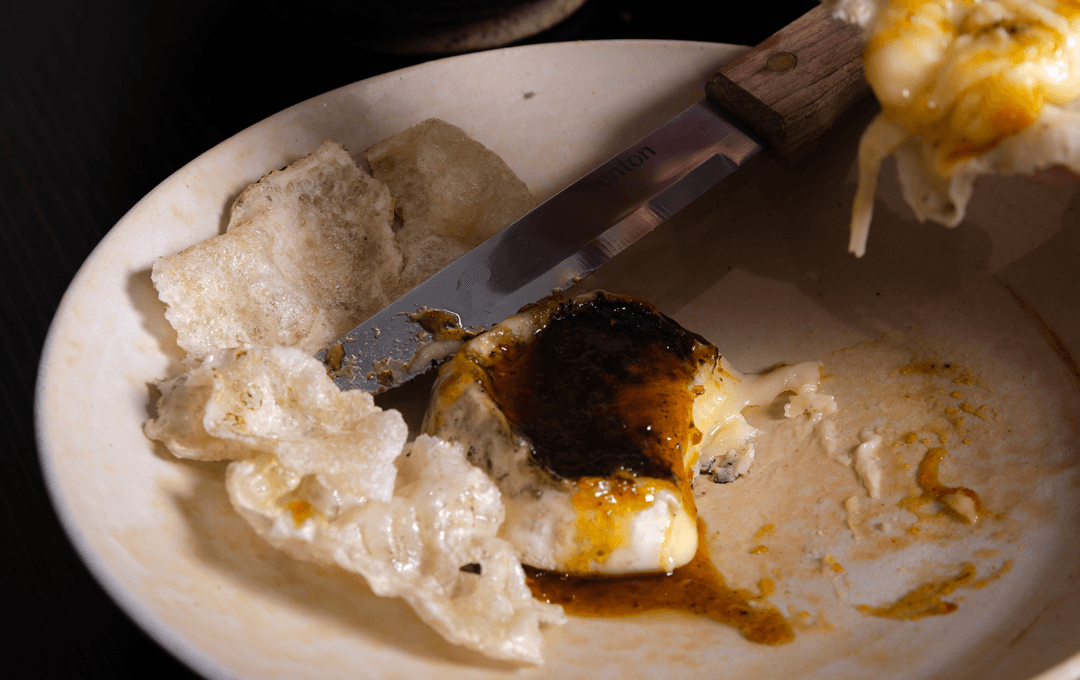 "We don't do straight traditional stuff, but if you've had it before [Filipino food] you'll understand, it is what it is, familiar—but if you've never had it before it's just delicious flavours," says Ross.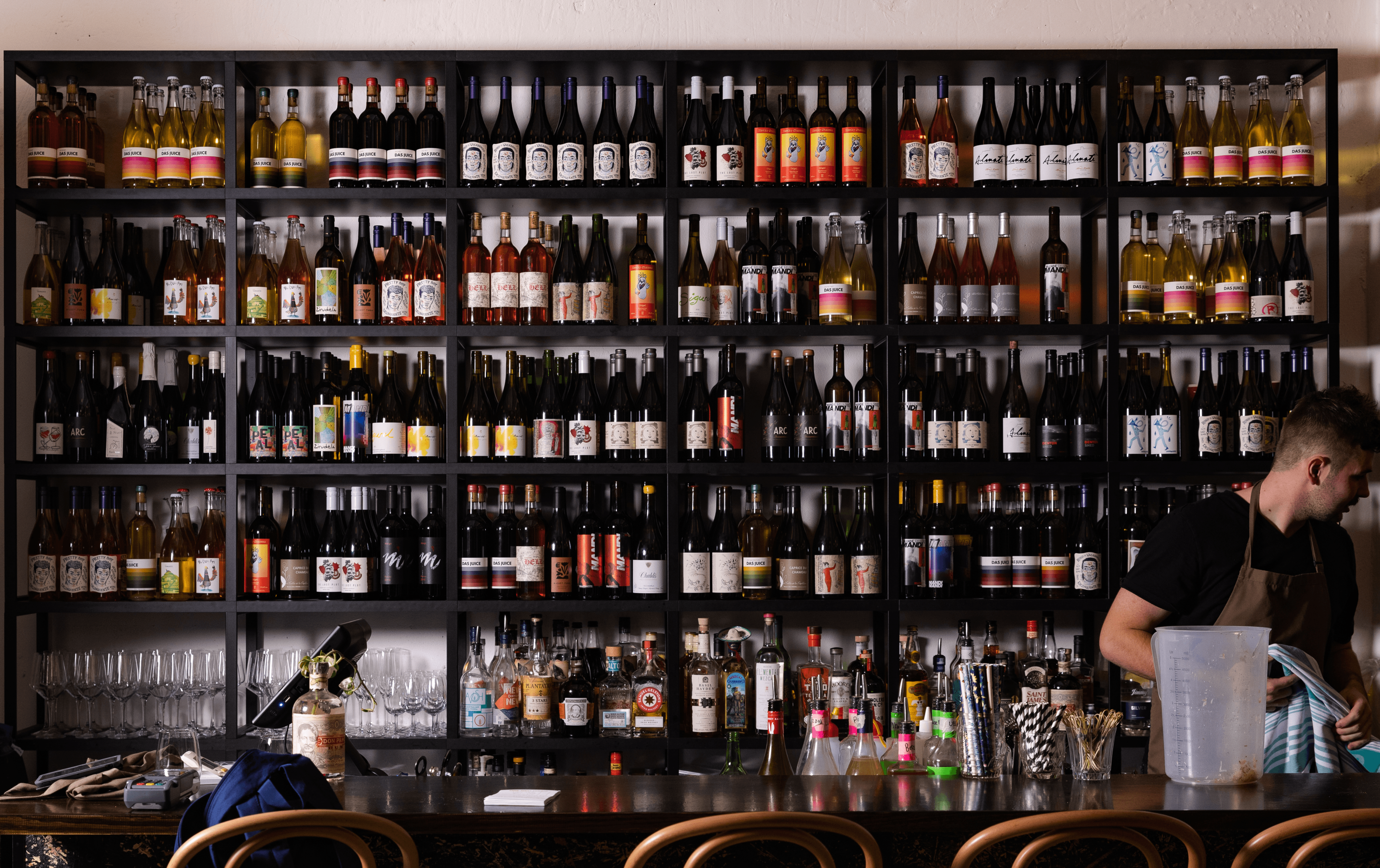 There's been careful consideration when it comes to the drinks at Serai, the wine, which is all-natural is a reflection of the tasting preference of Ross and the team."It's just like what I like to drink, it's delicious and you support the local winemakers.
" The list is mostly comprised of Australian drops with a few European and Italian bottles on the go."
There's nothing about the space of Serai that indicates the culinary journey you're about to embark on, stepping into the tidy laneway restaurant you're greeted with an intimately spaced grouping of tables, with one long couch seat that lines one end of the restaurant and the open-style kitchen on the other.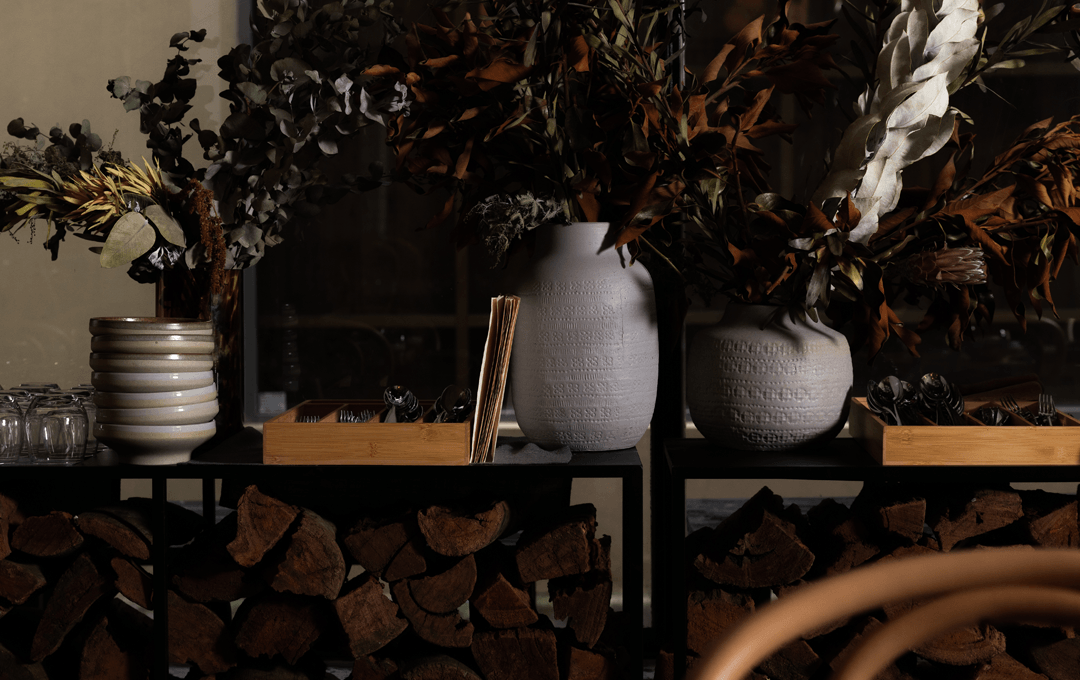 The bar looms large in the centre of the dining space, bottles spaced and standing in perfect unison whilst opposite the red gum wood that fuels the kitchen's fire is neatly stacked underneath a collection of native flowers and fauna. Book in a spot at Serai over here.
Looking for a drink? Here's where to find some of Melbourne's best bars.
Image credit: Cbass Creative