We've all got our local Melbourne Thai restaurant that we swear by and practically have on speed dial—or at least saved in our favourites on our food delivery app of choice. No matter your preference, if you're looking for the best Thai restaurant Melbourne has to offer, you're luck.
Melbourne is spoilt for choice when it comes to Thai restaurants, but we've done our darndest to round up the pick of the bunch for you. Here's where to find the best Thai Melbourne has to offer in 2023:
Nana Thai Style Hotpot & BBQ
CBD
It may look unassuming but Nana Thai is one of the most authentic Thai restaurants Melbourne has to offer. Their menu is filled with street food-style goodness, and we'd be remiss to not mention the spice factor.
These guys do spice the Thai way, which means sweat and tears, just the way it was intended. Make sure to try the Larb Moo salad, a minced pork salad with red onion, mint, chilli and pork liver. Also, another must-try is the stir-fried Thai basil with crispy pork, served with rice. An absolute banger, so make sure to put it on your 'Thai Restaurants To Try' list.
CBD
It's a simple shop—two levels of dining with checkered floors, blue walls and roughly around 40 seats, but it's the food here that provides Pa Tong with the immense clout it's earned since opening earlier this year.
Delving into more speciality coastal Thai dishes, here you'll find chive dumplings, snail and betel leave curry while more contemporary creations like the Melbourne fried chicken still fly from the pass. The spice level is not to be trifled with here—experiencing the yellow barramundi and lotus stem curry at max chilli heat is not for the faint-hearted.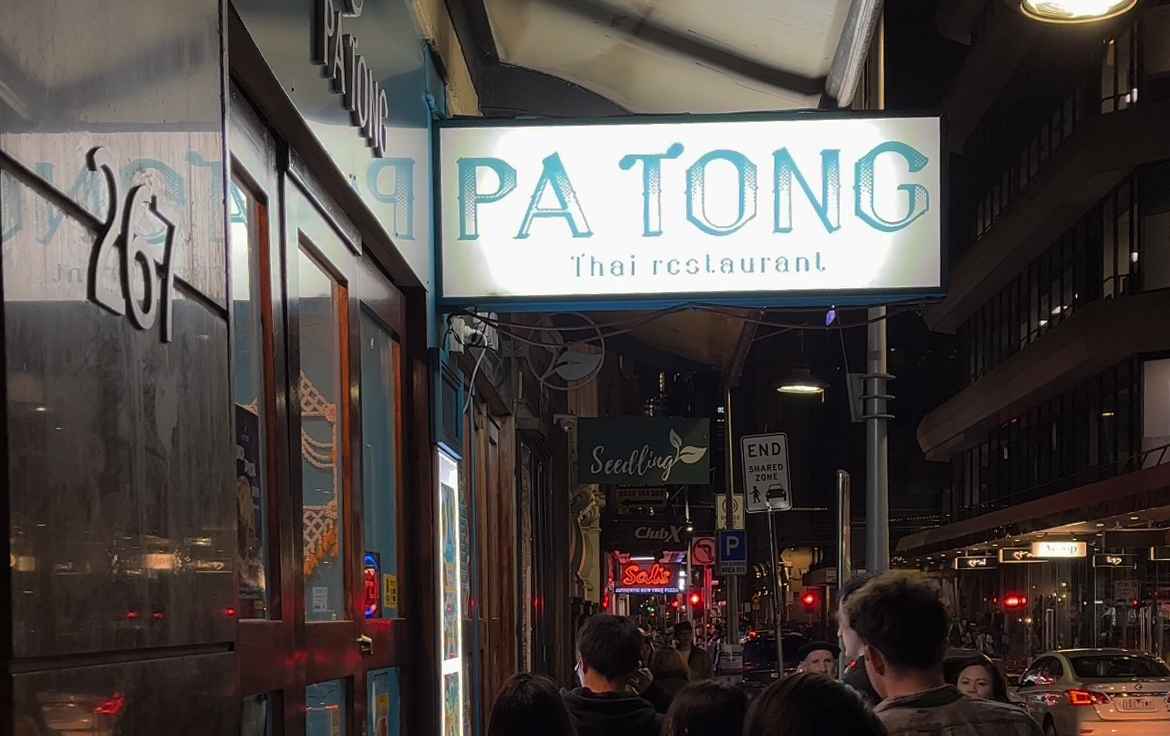 Soi 38
CBD
Soi 38 is basically an institution. They serve world-class street food, most of the menu is $15 –$18, and it's hidden away in a car park. An absolute favourite is Tum Tang, spicy cucumber salad dish that is packed full of flavour with salted crab, fermented fish sauce and a hard-boiled egg.
They also do hotpots, so go on an empty stomach. Be prepared to wait during the lunchtime rush though, as there's no doubt this is one of the best Thai Restaurants Melbourne has right now.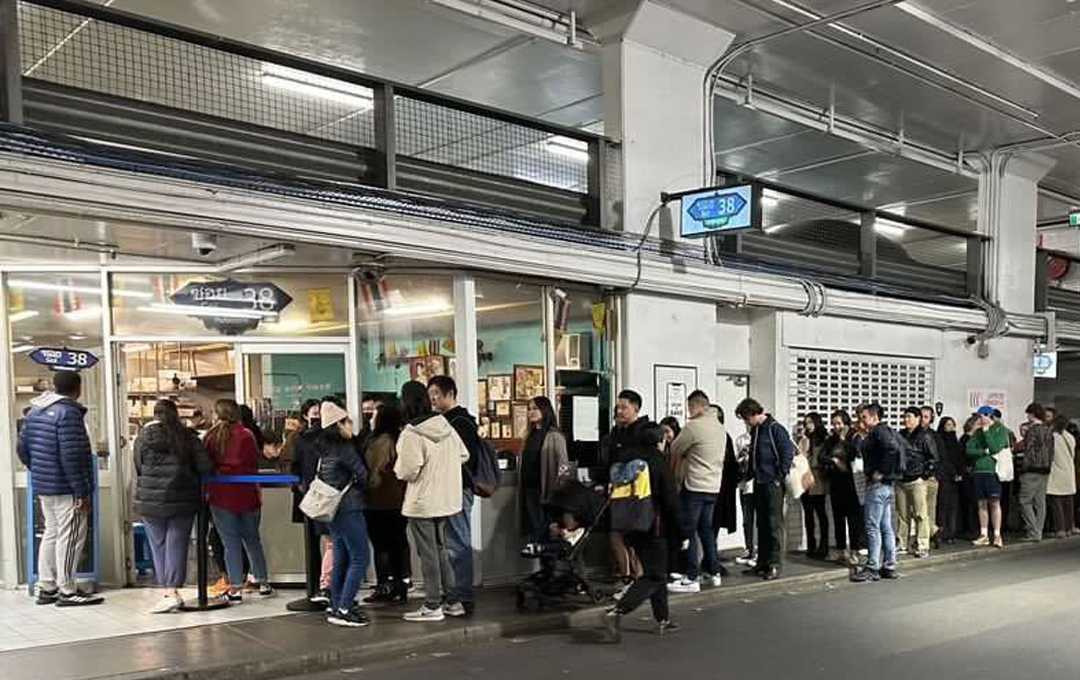 King & I Thai Restaurant
SURREY HILLS
Generous portion sizes, authentic recipes, and over 20 years old. King & I is a local legend around Surrey Hills, and there's no question as to why. They've got an esteemed rep, and their duck wraps are to die for, aka duck, cucumber and carrot strips encased in roti bread and dipped in their own special sauce.
Also make sure to try their Prawn Makarm - deep-fried prawns, covered in tamarind, shallot & cashews. A solid Thai restaurant to try out.
Thai Baan
CBD
With each flavourful dish priced under $17.90, it's not uncommon for Thai Baan to have a line forming down Bourke Street. The menu covers traditional favourites like meaty Ayutthaya (boat) noodles, pork bone soup noodles (not for the spice-sensitive folk), and refreshing papaya salad—you'll be reaching for their milky Thai iced tea and coffee to balance out the punchy flavours.
Sitting on colourful stools at steel tables, under bright flags garlanding the ceiling, you'll be transported to the streets of Thailand. Despite only opening in 2023, Thai Baan has been acclaimed as one of the most authentic Thai Restaurants Melbourne offers.
Kan Eang
CBD
While relatively new to the scene, the Kan Eang boasts a lineage rich in Thai cuisine, thanks to the familial roots of the sibling duo at its helm. May and Nat Pongvattanaporn, raised in the embrace of their parents' cherished Thai restaurants, have ingeniously crafted a dining haven that exudes down tempo atmosphere with dishes that showcase the vibrance of Thai cuisine and its regions from the sun-kissed coastal realms to the majestic mountain ranges.
The staples here are dialled in—your classic Pad Thai is topped with whole-flame grilled king prawns, and then there are the signature spicy fried chicken wings which are a house special for a reason.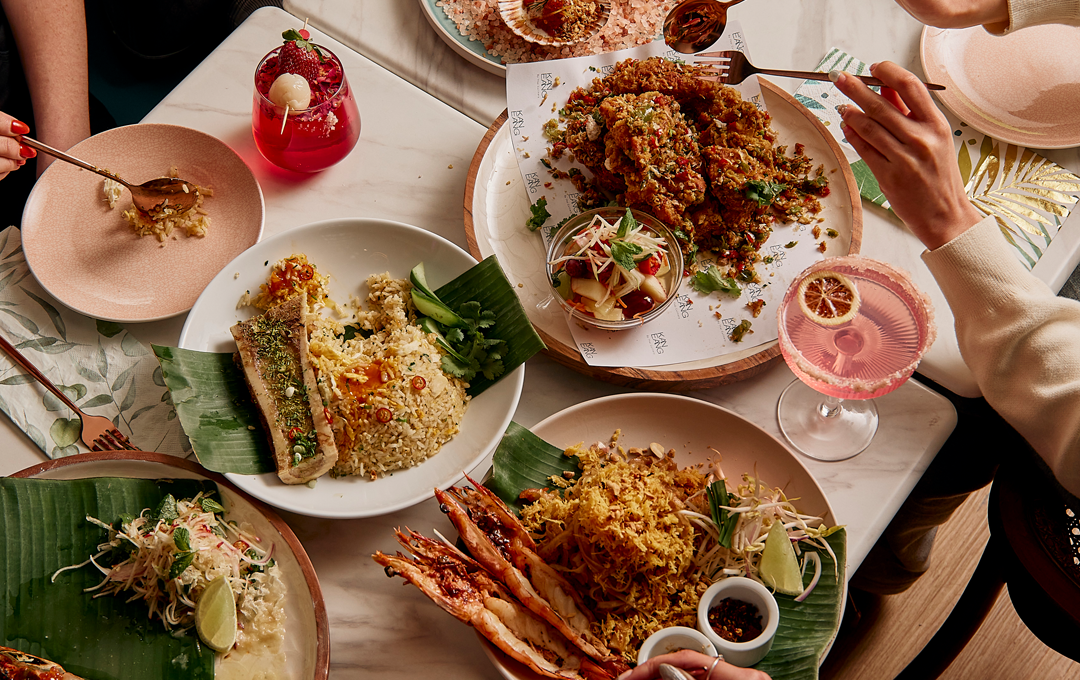 Ging Thai
CBD
Just off the Crown Riverwalk, there's a lot to like about Ging Thai. The menu is a harmonious fusion of Thai classics and innovative dishes that artfully intertwine with traditional flavours. From kingfish ceviche and gai yang salad to half-roast duck, yellow vegetable curry, pad see ew, and pork eggplant, the offerings are diverse.
Indulge in desserts like caramelized roti and lychee pannacotta. The 'Feed Me' option allows the chef to curate a delightful selection for $68 per person. The bar complements the experience with handcrafted cocktails, including Thai-inspired concoctions such as Spicy Tom and Sticky Rai, alongside Thai beers. For a more intimate affair, Ging Thai offers a private dining space on a floating mezzanine.
Issan Thai Street Food
FOOTSCRAY
Another place where the spice level is up to you, Issan Thai is one of the best Thai restaurants in Melbourne (or at least the westside). Located right near Footscray Station, this hidden gem has all the fixings that make Melbourne Thai food as authentic as you can find in Bangkok.
The Thai milk tea is the perfect blend of strong and sweet, and try out their fermented pork and crispy rice salad, plus they've got a huge array of street foods to try. Generous portion sizes are also a plus, so you know you're getting bang for your buck.
Pad Cha
PRESTON
This one will probably require a booking, it's one of the more popular Thai restaurants you'll find on the north side. Contemporary and fresh food awaits you at Pad Cha, and they've got a massive variety to keep the whole gang fed.
There are plenty of veggie options, like the fried tofu with steamed greens and peanut sauce, and most mains can have a meat option omitted. The Thai beef salad is also one to look out for, as is the Pad See Ew.
BKK
CBD
Situated on level three of HER, BKK is the in-house diner centred around their self-described style of 'elevated Thai BBQ'. Headed up by chef Sungeun Mo, it may be new but BKK has developed as one of the best Thai restaurants in Melbourne's CBD.
The city local features a fiery menu that pairs up with an intimate moody interior inspired by the night markets of Thailand. Cooked over a five-metre-long charcoal grill and oven, steaming dishes of barbecued pork skewers, Chang Mai sausage and a flame-grilled T-Bone steak with a Nam Jim Jaew (Thai dipping sauce) swing around the sleek restaurant.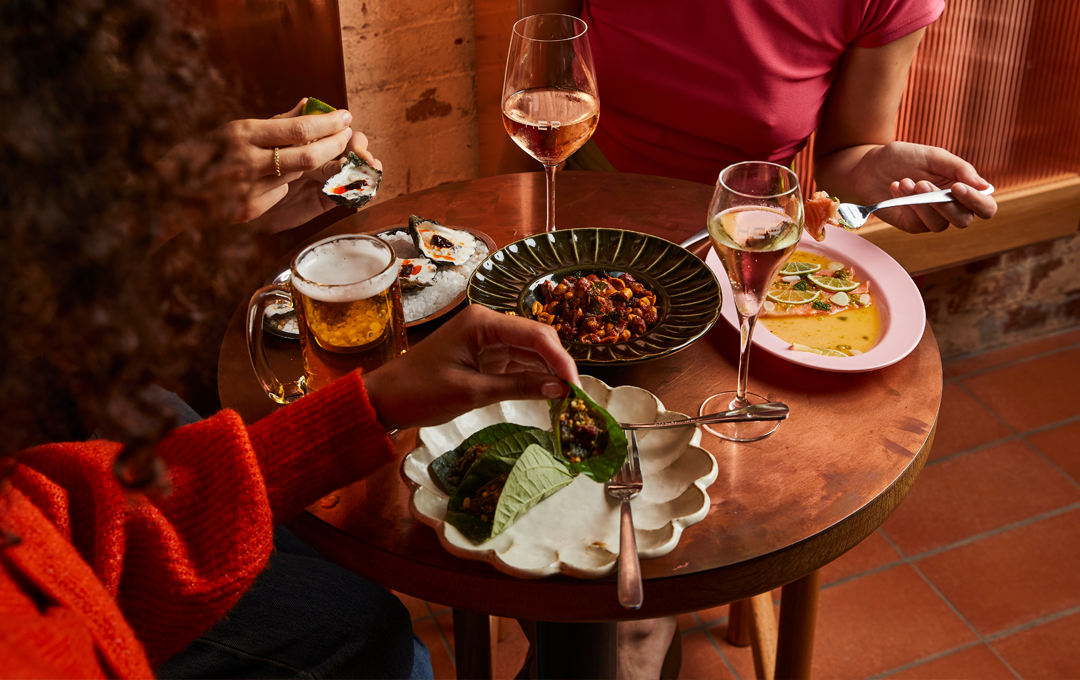 Thai Tide
CBD
If you're after a delicious meal that also gives cred to your gram, then look no further than Thai Tide. This Thai restaurant in the Melbourne CBD makes beautiful food—in terms of both taste and looks.
The pink neon lighting and indoor plants make it ideal for cocktail hour, and so does their wine menu. They've got a truly staggering list of wines, from orange to sparkling and everything in between. Definitely a sweet way to finish off the working week.
Longrain
CBD
One of the longest-running and best Thai restaurants in Melbourne, Longrain, in the CBD is home to some seriously good modern Thai food. The stunning restaurant is perfect for special occasions—or, if you're like us, make it a fancy Wednesday night feed.
Go for the banquet menu if you've got cash to spend and you're after a bit of everything, or go a la carte for a more modest (but still very sophisticated) approach. The caramelised pork belly is our pick of the bunch.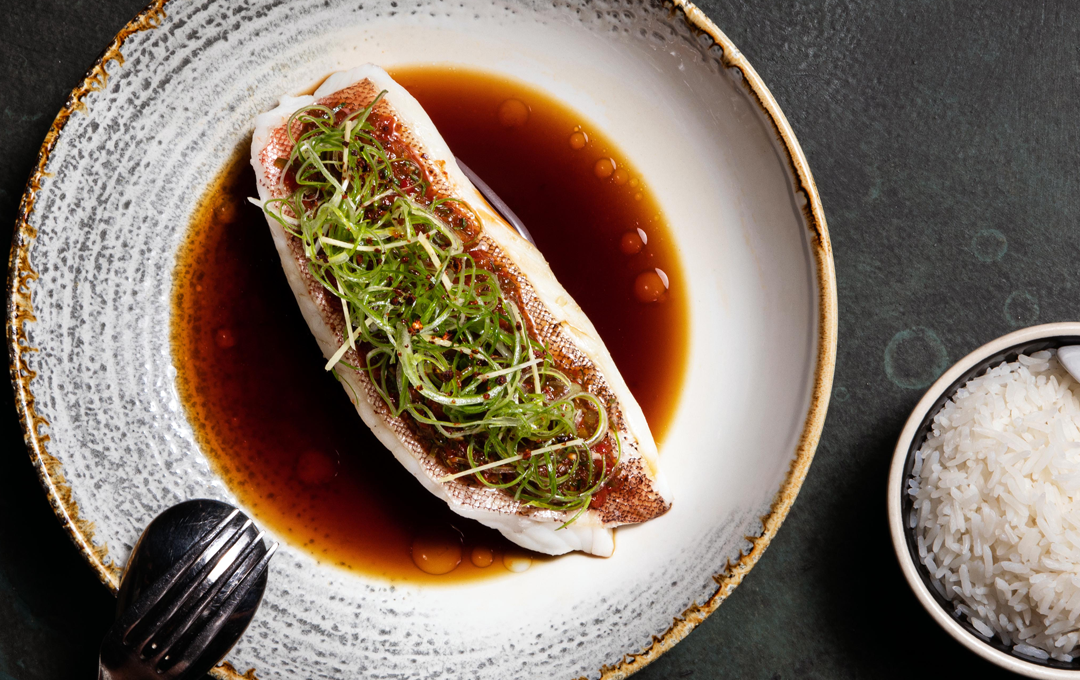 Paradise Road
GLEN WAVERLEY
If you ever find yourself searching for an authentic Thai feed in Melbourne's southeast, hit up Paradise Road. You'll find them located just off of Glen Waverley's bustling Kingsway strip.
One of their most popular dishes is their pineapple fried rice, which is served with egg, cashew nuts, vegetables and, best of all, it's plated up in a pineapple boat. And yes, it's as enjoyable to eat as it is to look at. You can choose to add prawns or chicken, or simply keep it vegetarian.
Khaosan Lane
CBD
With neon-lit interiors just as colourful as its menu, Khaosan Lane brings Moo Kata (Thai BBQ and hot pot) and bucket-sized cocktails to Melbourne. Its name parallels with Thailand's late-night tourist hub Khaoson Road, in all its vibrant and chaotic glory.
Expect fiery flavours grilled on an open flame—from their Crying Tiger with grilled beef, homemade sauce, topped with sweet and spicy flavours, to their deep-fried chicken wings with homemade tamarind chilli sauce. An ideal way to kick-off a summer's night-out with friends, share their Sao Ching Cha cocktail jug made from a blend of vodka, lime juice, strawberry, and watermelon.
Dodee Paidang
CBD & BOX HILL
Dodee Paidang first made their presence known in Sydney, but after they set up shop on Little Collins Street, there was no stopping them, and we're pretty happy about it. The focus is on street food, showcasing bold and inventive flavours from around Thailand.
There are countless noodle soups to choose from, including variations on the classic tom yum, or you can try some of the Keaw Tod (deep-fried quail eggs) you see customers scoffing down around you. Check out their range of Thai breakfasts too for a change from your usual late-night takeaway routine.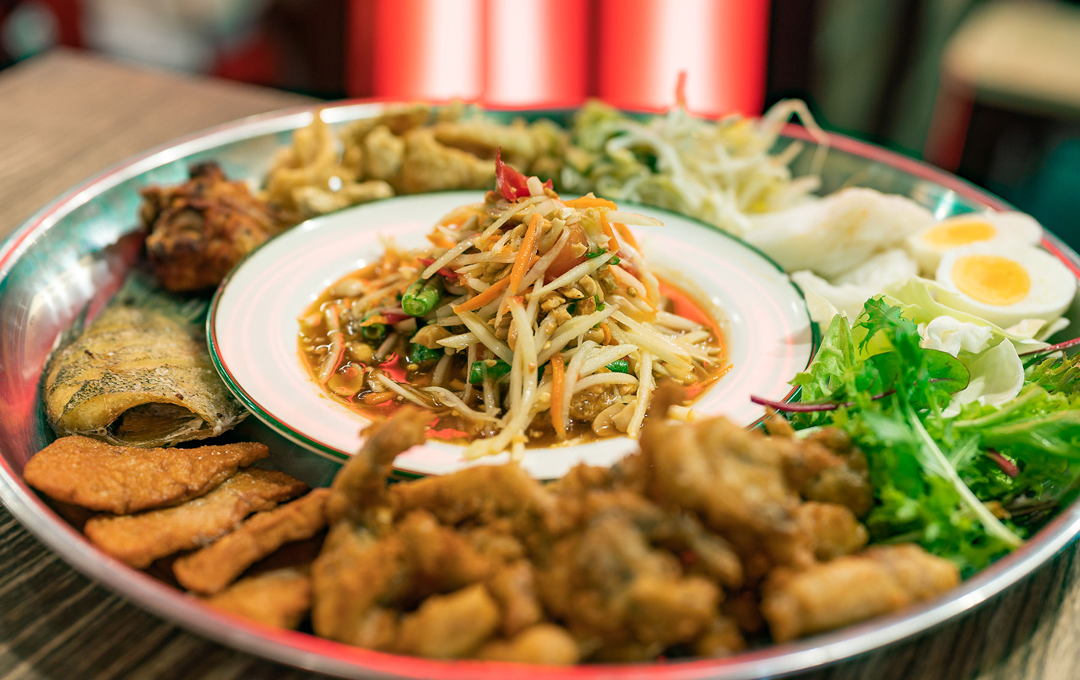 Mango Tree
MOUNT WAVERLEY
Over in the sleepy suburb of Mount Waverley you'll find Mango Tree Thai offering up simple and delicious Thai without any of that inner-city glam.
As you'd expect, the Pad Thai is a winner, but don't skip the Pad Makeua for something a little different from your usual order, and try the wok-fried eggplant with minced chicken or pork, chilli and Thai basil to round it all out. The whole fried barramundi with sweet, spicy sauce is a winner too. Can't go wrong with the best Thai Melbourne's southeast burbs can boast.
Rice Paper Scissors
FITZROY & CBD
Right in the heart of Fitzroy on Brunswick Street and also smack bang in the CBD, this melting pot of Thai and Vietnamese fusion is brimming with flavour. It boasts a fab selection of small and large serves of street food that'll curb your Thai craving in no time.
Infused with modern methods, Rice Paper Scissors is the perfect lunch or dinner destination, thanks to its share-friendly menu (and not to mention its famous crispy pork). They're also one of the best Thai restaurants Melbourne has for vegan dining with a whole plant-based menu, not just vegan options.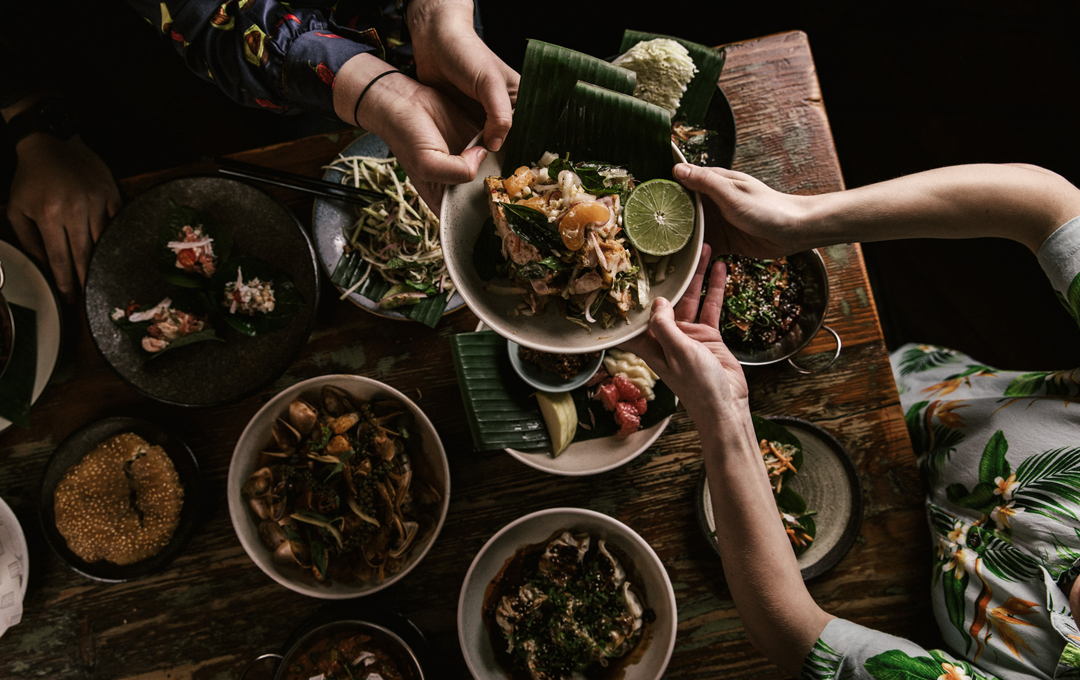 Jinda Thai Restaurant
ABBOTSFORD
Perched on Ferguson Street in Abbotsford, Jinda Thai has been famous for its incredible service, venue and cuisine since it opened its doors in 2013. Everything is fresh and flavoursome, plus the serving sizes are generous and everything's affordable—as the best Thai Melbourne options should be. Best dishes include soft-shell crab on a green papaya salad, traditional Pad See Ew, and grilled Moo Yang (pork neck).
Cookie
CBD
We're all familiar with Rooftop Bar on a Friday evening in Summer, but head down a few levels and you'll find some of the best Thai food in Melbourne at Cookie. Amongst a whole bunch of funky cocktails (try the French Flip) you can polish off some steamed garlic and chive dumplings with sweet soy, a zesty salmon, avocado & pomelo salad served with lemongrass and ginger, and drunken noodles to get you through the night.
The Toff In Town
CBD
The Thai offering at Cookie is certainly extensive, but just a few rounds up the staircase you'll find The Toff in Town, where there are even more Thai-inspired options from the Toff Kitchen menu.
Think delicious DIY betel leaf bombs, chicken and cashew stirfry and a banana leaf Barramundi. All you have to do is perch yourself in one of their cosy, carriage-style seating arrangements and you're good to go.
Pimm Thai
KENSINGTON
Located in quiet Kensington, this cosy little cafe is the west's go-to institution for some of the best Thai Melbourne has on this side of the CBD. Highlights on the menu include the duck red curry, salt and pepper soft shell crab, and their famous curry puffs which deserve a chef's kiss.
The entire menu is available online for pickup and delivery, but Pimm Thai is one of the cosiest and most romantic spots around, with cushion-filled booths against both walls—we'd recommend making the trip for this one.
Chin Chin
CBD
Folks flock from near and far to try the good on Chin Chin's menu, and who can blame them? Although It's centred around a fusion of South East Asian flavours its still (quite possibly) some of the best Thai Melbourne has in the city. Dishes worth phoning home about include the old and gold Pad Thai, the Rendang Wagyu beef curry and the corn and coriander fritters.
There's also a host of other delicious Asian dishes, so don't feel like you have to restrict yourself to just delicious Thai—or if you can't decide what you want, just go for the 'Feed Me' option and get ready to be served with a selection of favourites.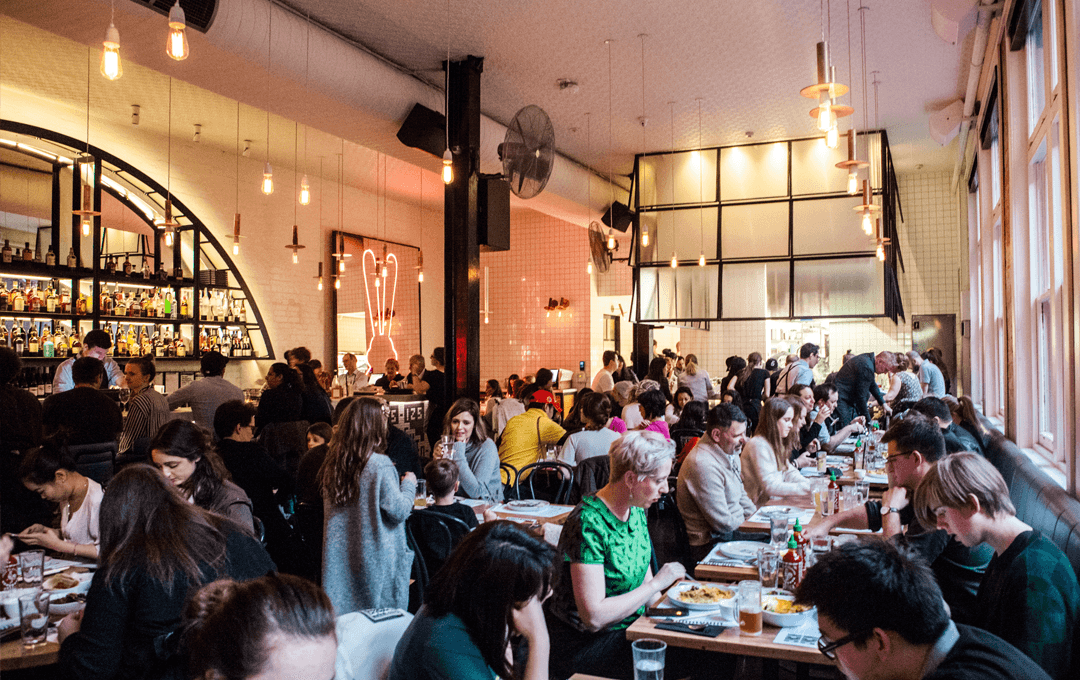 Colonel Tan's
PRAHRAN
Fun fact, when Revolver isn't Revolver, it's actually Colonel Tan's—one of Melbourne's best Thai restaurants. Open from 5 pm Tuesday through to Saturday, this dance space is home to an eclectic collection of mismatched furniture and kitsch tables, plus it rocks an extensive and affordable Thai menu. Don't leave the venue without trying the Massaman sweet potato curry, the popcorn chicken and the pork and prawn dumplings.
Son In Law
CBD
Son In Law offers some of the cutest food out. Expect the most creative, Insta-worthy culinary feats (because folks, these plates practically style themselves). Also, if you've never had Son In Law soft shell crab before—you're missing out.
The delicious deep-fried crab legs are served with a dry green curry on rice. After your meal, we recommend getting stuck into the Cartoon Bao Buns, which truly need to be seen to be believed.
Magic Mountain Saloon
CBD
Just like Cookie, you'll find a classic combo of inventive cocktails and punchy Thai flavours when you step into Magic Mountain Saloon—they do have the same owner after all.
Anything you order is going to be damn delicious, but do yourself a favour and order the Magic Mountain BBQ Chicken, served with hot tamarind sauce and fried shallots. Then some sticky beef ribs, chilli, garlic & kaffir lime leaf. And of course, you can't miss the Thai tea profiteroles—it's drool-worthy.
Tom Phat
BRUNSWICK
Okay, chances are you've heard of this one. Tom Phat has a big reputation in Melbourne for their punchy flavours and vibrant dishes—and rightly so.
You could pretty much close your eyes and hope for the best when it comes to the menu (it's all good), but our tip is the BKK fried chicken with red curry spice, Nam Jaew and roasted rice. Or go vegan and grab the Chow Mein. Wear loose pants for this one because you'll want one of everything.
Image credit: BKK (Parker Blain)