Maha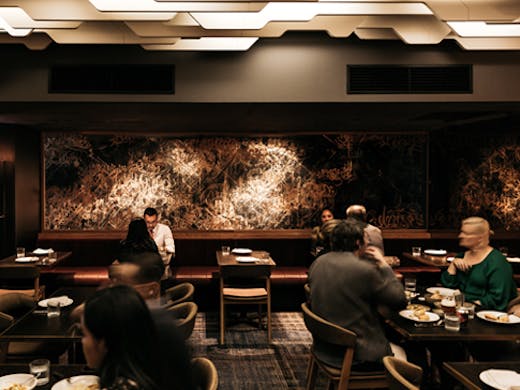 The verdict
Shane Delia's Maha is back, bigger and more delicious than ever. The city's premier Middle Eastern restaurant has undergone a tasteful, moody little renno, bringing it more in-line with modern Melbourne sensibilities (in this case, the city's new-found obsession with architectural somersaults and clashing textures).
There's more than a scoop of Manhattan in the fit-out, with slatted timber frames, pops of bronze and black, contemporary art and a massive wine wall on display. Although while the decor might have one foot in New York, the other is firmly planted in The Middle East.
This place was always Delia's love letter to his culinary roots, and you can taste the passion in every single plate. Ottoman candied pumpkin with almonds and house-made wagyu basturma. Brain-fizzing scallops & marron, served with preserved lemon and miso butter, chickpea crumb and native greens (our personal fave). For dessert? Don't pass up the Turkish Delight doughnuts with rosewater honey. Absolutely nuts.
Maha still serves a range of vegan and veggo degustations (and trust us, nothing is lost by subtracting meat from the equation). Lunch is an a la carte affair (CBD power lunchers don't have time for tasting menus), but it's a crime not to sign up for the after-dark degustations. Pick as many courses as you think your stomach can handle, then sit back and enjoy. This is still one of the best fine dining experiences anywhere in the city.
Image credit: Brook James

---