It's not tricky to live so Frenchy, so chic in Melbourne. Bistros and Boulangerie-style bakeries are scattered all across the city. It's no secret Melbourne's bustling dining scene owes a tip of the hat to some of the originators of modern cuisine— from degustation to À la carte, France has led the way. Throughout the city, there are several outlets for sampling authentic French cooking from high-end fine diners to low-frills patisseries.
Here are some of the best French restaurants in Melbourne.
Entrecôte
PRAHRAN
All you can eat French Fries. If that's not enough to lure you in, Entrecote's new primo Greville Street location should sweeten the deal. Inspired by the steakhouse, French Le Relais De L'Entrecôte, this reimagined Melbourne institution's steak Frites (steak and chips) is truly otherworldly. While the food is exquisite, the venue is filled with glass chandeliers, golden candlesticks and colours resembling the french flag. A worthy mention amongst the best French restaurants in Melbourne.
Bistro Guillaume
SOUTHBANK
Bistro Guillaume is a treasure in Crown's restaurant precinct. Featuring some of Melbourne's best French food in the CBD, try out their rich crowd favourites, from Duck Confit to their iconic Boeuf en Croute—a crispy pastry filled with the most tender meat. Their seafood is also worth a mention, which includes the freshest oysters and finest Tasmanian crayfish. For a fine dining experience, you'll long return to Bistro Guillaume, a diner truly worth its salt.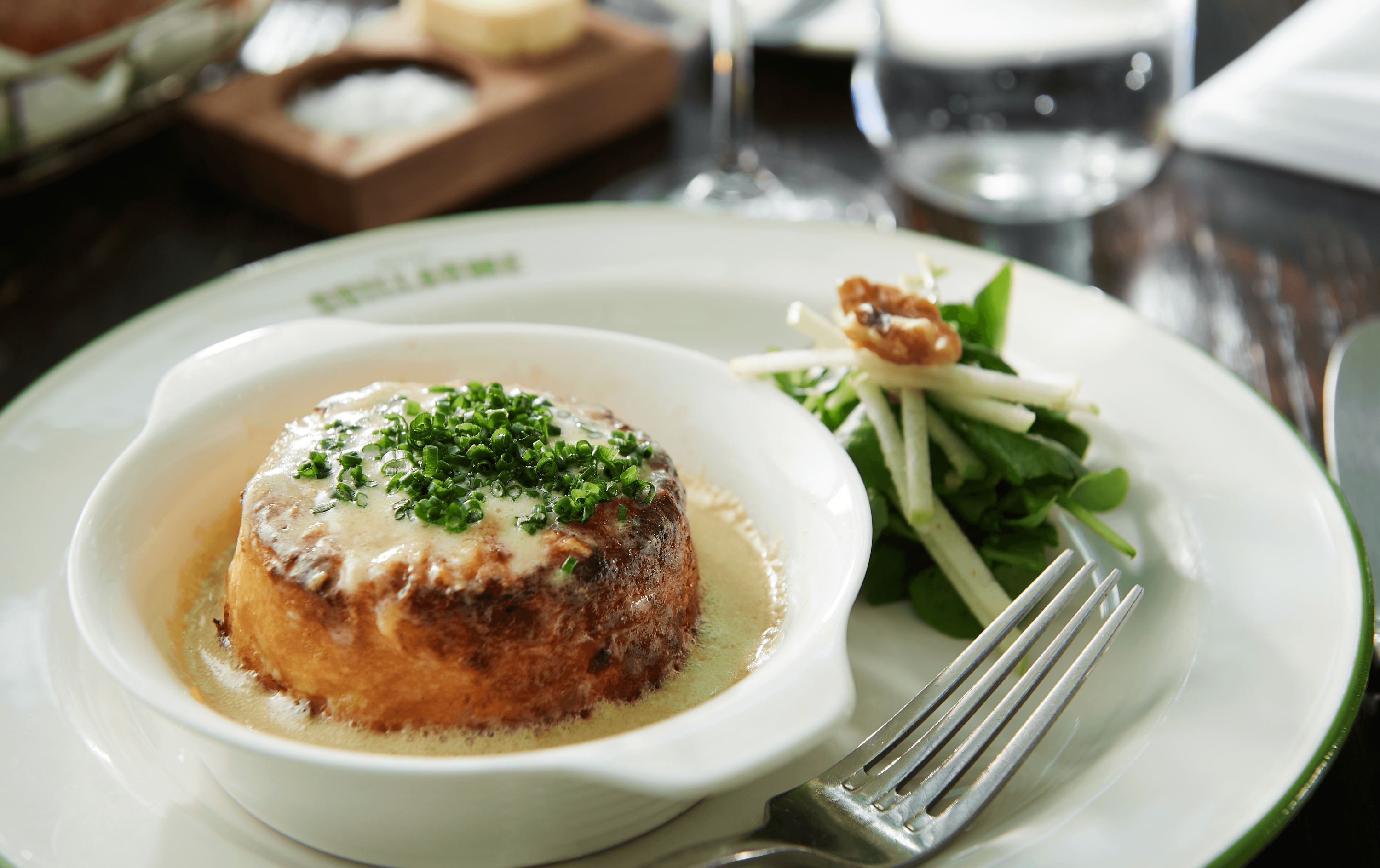 Philippe
CBD
Chef Philippe Mouchel has created one of the best French restaurants in Melbourne. The basement space features shards of natural light, white linen and walls sprouting leafy greens. The resulting bistro, Philippe, features a classically French menu of dishes like crispy-skin roast chicken anointed with truffles (they need two days prior-warning), escargot and four types of steak if you include the new-fangled tartare.
The French Brasserie
CBD
Home to some of the most traditional French cuisine in Melbourne, The French Brasserie prides itself on authentic food. The contemporary atmosphere is inviting and the team is dedicated to meeting every need. Enjoy classic dishes like Coq au Vin and decadent desserts like chocolate fondant. The goal at The French Brasserie is to provide Melburnians with food and an experience that reflects French heritage and culture. A job well done.
Bistro Thierry
Toorak
For the ambience, warmth and hospitality of a Parisian diner, Bistro Thierry is your spot. Owner Thierry Cornevin often greets regulars and newbies and along with Chef Fredric Naud, they hope to bring the latest in French cuisine to your dinner plate. Their menu has a range of delicious steaks and a rotating selection of specials which are chalked up on the blackboard. Head over their way to sample one of the best French restaurants in Melbourne's southeastern suburbs.
Noir
RICHMOND
A cute little spot to try is Noir. It's a humble bistro-style diner inspired by the South of France. Typically humming with the local crowds, the quality food and good energy have cemented Noir as one of the best French restaurants in Melbourne. If you are after a snack and glass of wine, quick dinner, or full night event, Noir covers all bases—serving hearty dishes and creating a warm atmosphere. Their menu is filled with a little bit of everything to suit all palates, from novice French diners to well-established veterans.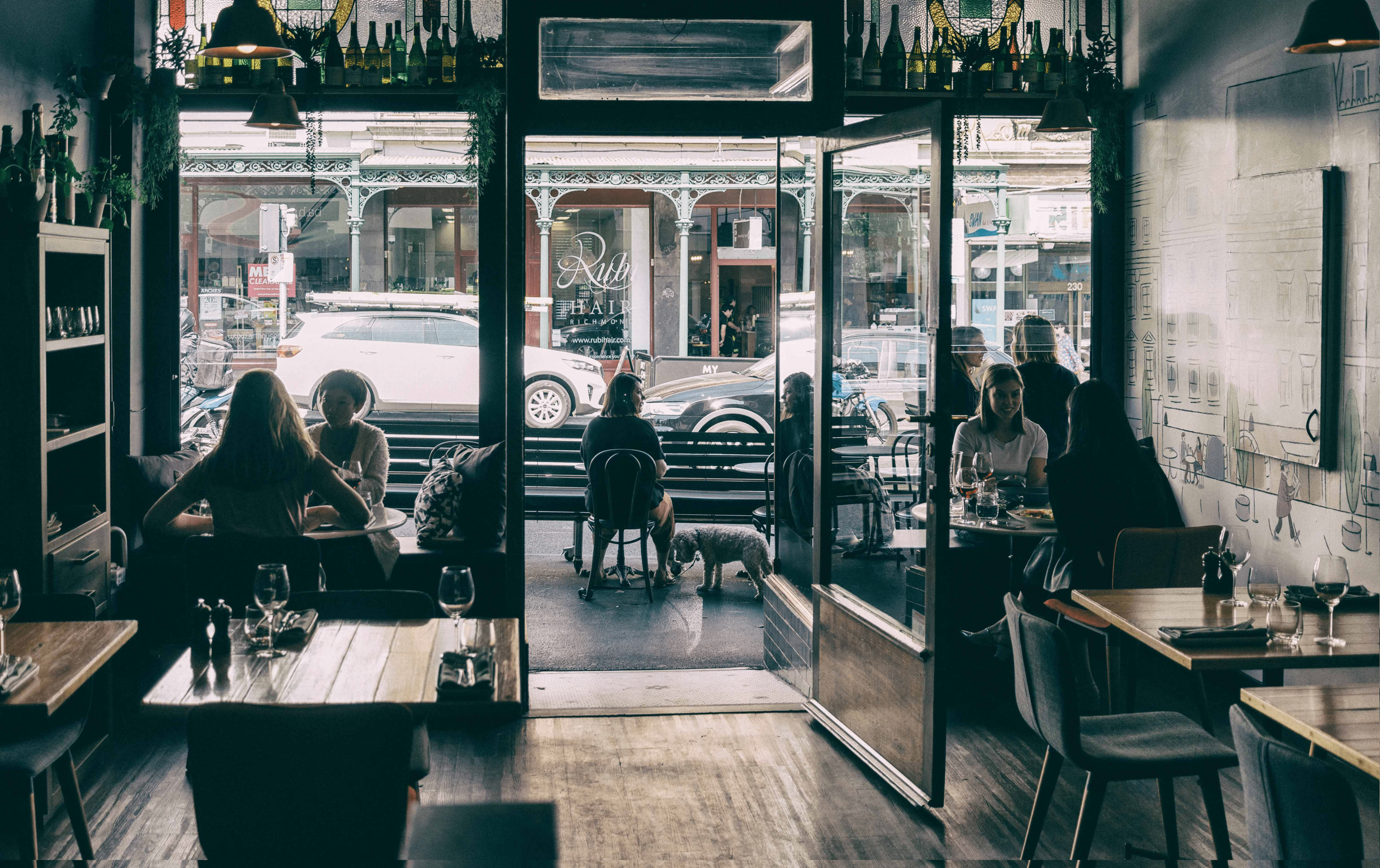 France Soir
SOUTH YARRA
A bistro that has aged just as well as the city, France Soir, is Melbourne's premier French institution. The Toorak Road gem has been serving traditional style cuisine with an authentic irreverent attitude since it opened back in1986. This non-gentrified marvel has retained its seriously cool reputation by sticking to what they do best, dishing up a range of regional entrees and plats de Résistance, except everything from frog legs to house-made terrine—snails in garlic butter and more. If it's the best french restaurant you're looking for, this just might be it.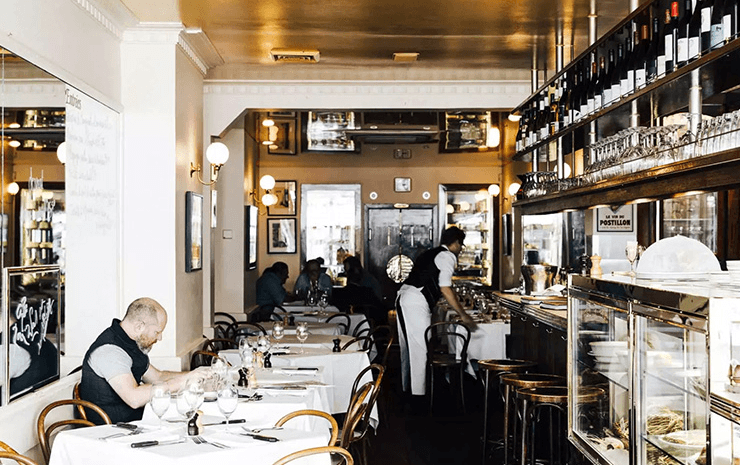 L'Hôtel Gitan
PRAHRAN
Classic, timeless, and reliable. L'Hôtel Gitan should be on your french dining hit list. Helmed by Jacques Reymond and his family, L'Hôtel Gitan is your modern-day Melbourne gastropub with some serious chic. A timeless art-deco fit-out and open kitchen create a classical bistro atmosphere, and the menu backs it up with Cassoulets, steak Frites and Gratins alongside a crafted selection of French wines.
Chancery Lane Bistro
CBD
Think boujee, bold and beautiful. Chancery Lane is Scott Pickett's euro-bistro located in Melbourne's CBD. Although not technically French, the menu is heavily inspired with authentic ingredients and a style that falls into a modern reimagination of French-inspired cuisine, honouring good cooking and traditional techniques. The monochromatic charcoal aesthetic of the venue is striking and the food is an even bigger statement.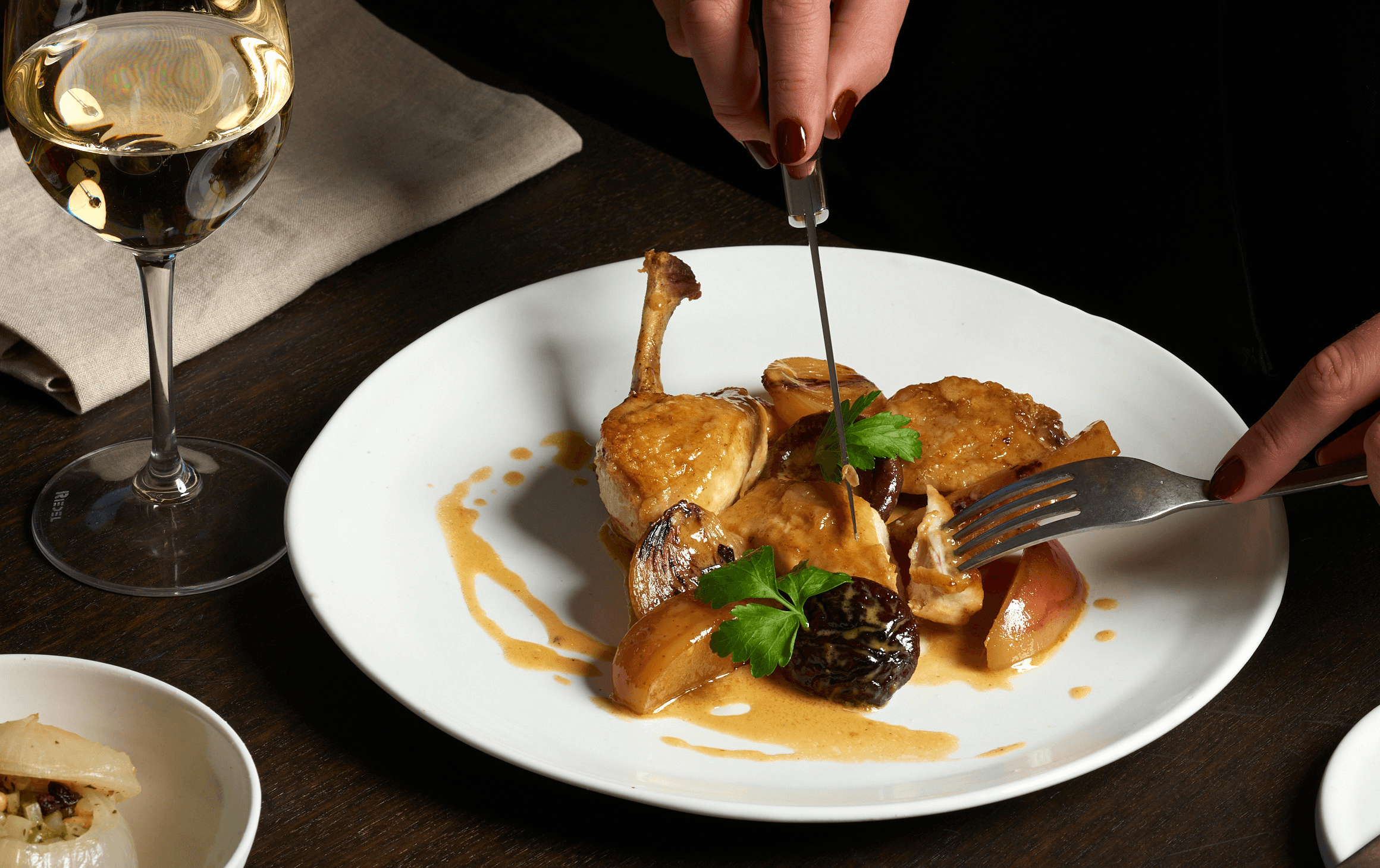 Bar Margaux
CBD
Bar, diner, subterranean French paradise, Bar Margaux has it all. The CBD based haunt has serious early 20th century vibes with checkered floors, dark stained woods and booth seating. The self-described bar and brasserie has a selection of quality French snacks and plates like king prawns with cafe dé Paris alongside top-shelf cocktails and wines. It's also open to 5am which means it can really save your night.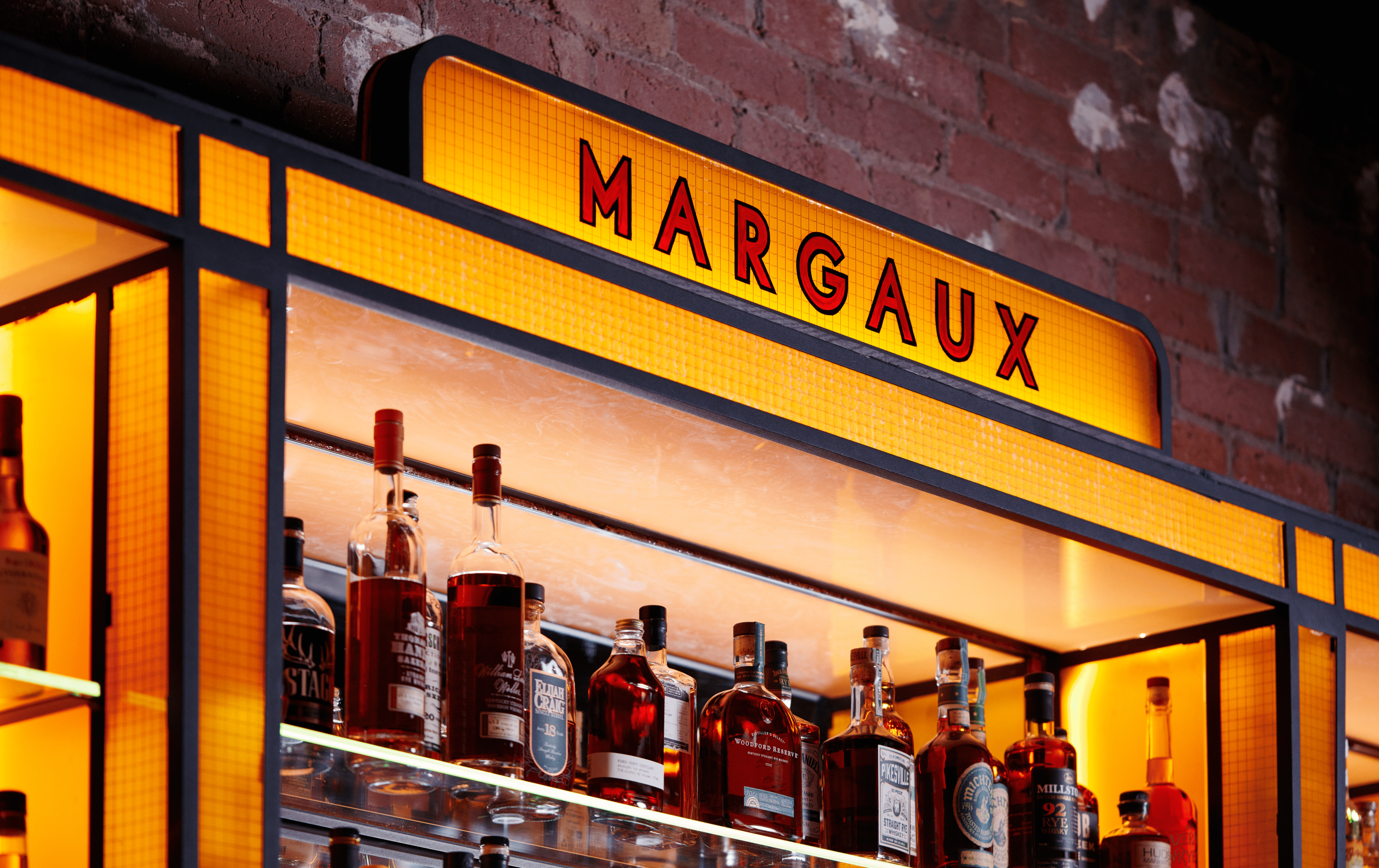 Have you seen this bakery in Bentleigh with Michelin-trained French pastry chefs?
Image credit: Gareth Sobey (Bar Margaux)