Melbourne is known for having one of the most culturally diverse culinary scenes in the world, but you already know that and so do we. What you may not know though, is where to find the cream of the crop when it comes to Indian food. There are takeaways and dine-in restaurants dotted all over, and we know you'll argue that your local is one of the best Indian restaurants in Melbourne.
After doing the rounds, we've come up with the ultimate list of the best Indian restaurants Melbourne has to offer.
Elchi
CBD
Inside the former Press Club venue, the renowned curry queen Manpreet Sekhon has established Elchi, a contemporary frontrunner as one of the best Indian restaurants in Melbourne.
Inside the illustrious CBD diner of curved leather booths and striking gold ceiling lights is a collection of Sekhon's timeless Indian cuisine including the signature 24-Carat Gold Chicken Mussalam and the Kofta Korma which showcase both her master technique and proud heritage.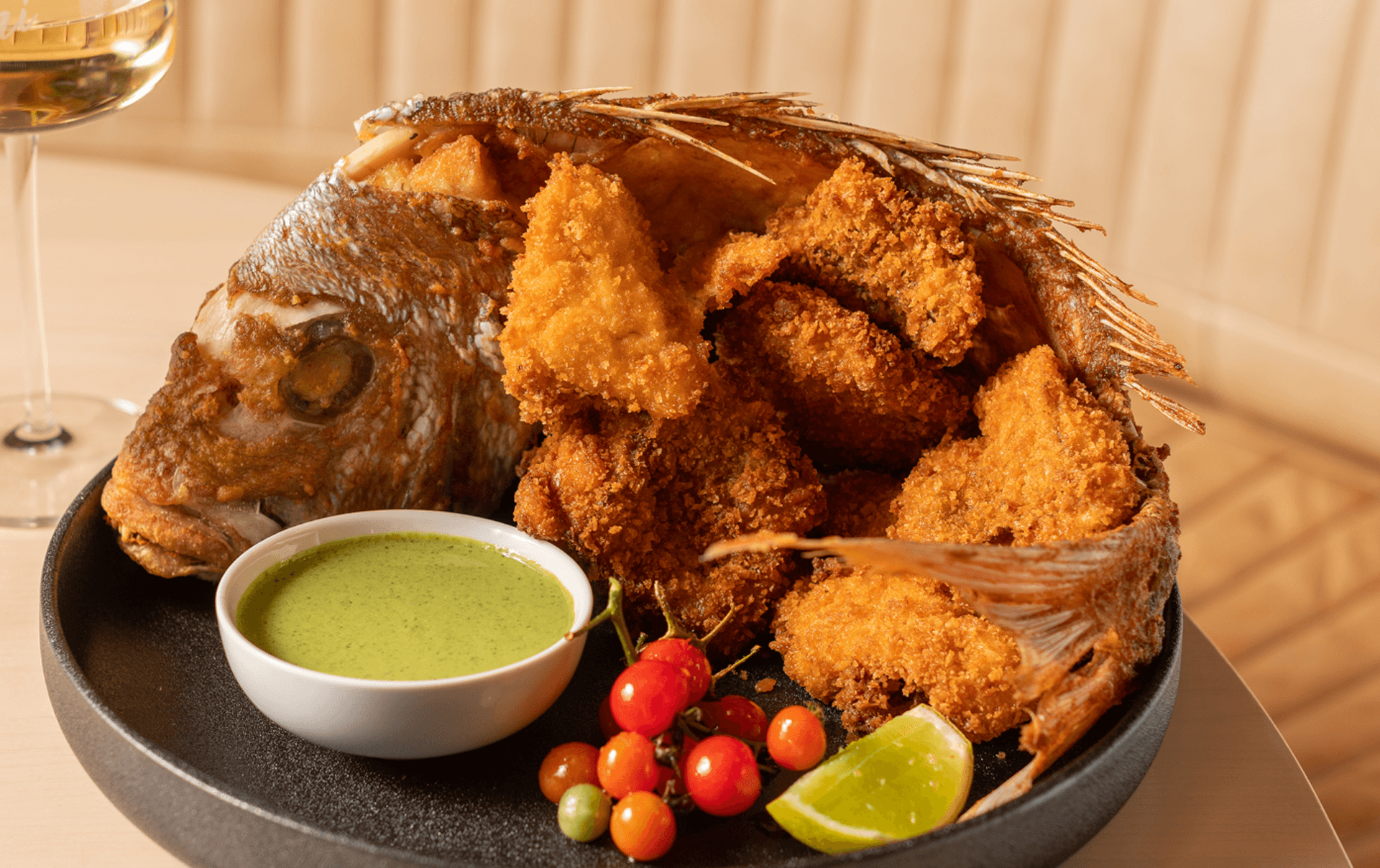 Horn Please
FITZROY NORTH
Both the food and the decor are as colourful as Holi festival at Horn Please. The flavours are just as punchy with a generous selection of street eats and curries which you can share or feast on solo.
Tucked between shopfronts on St George's Road in Fitzroy North, Horn Please has amassed quite the cult following, with standout dishes like the coconut fish curry and slow-cooked lamb curry. The outside facade reveals little of the colourful multi-sensory interior, with colourful artwork, projections and of course that unmistakable aroma—a clear contender for the best Indian restaurant in Melbourne.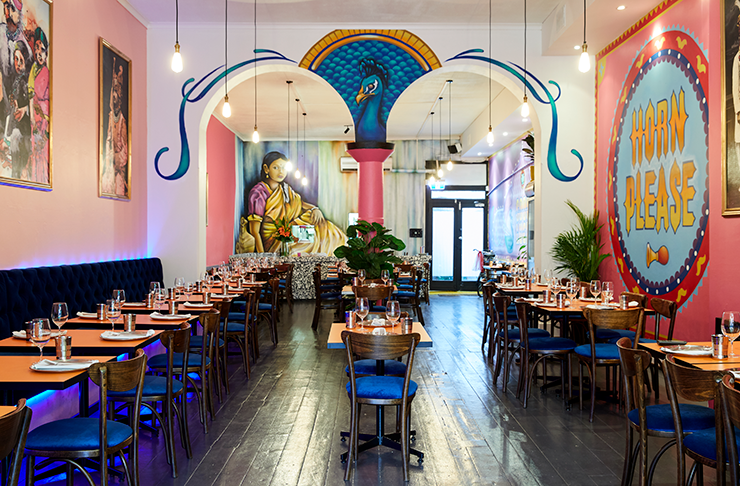 Tandoori Den
CAMBERWELL
A local institution in Melbourne's east, Tandoori Den has been serving consistently brilliant and authentic North Indian cuisine since opening 40 years ago in 1981, and in 2023 it still holds true.
The menu is packed with vegetarian options and there's a whole page dedicated to tandoor bread which is made fresh in-house.
Masti
FITZROY
Part restaurant, part cocktail bar, Masti is the latest offering from restaurateur Manpreet Sekhon coming into 2023. She's put together the ultimate sharing menu with loads of vegetarian and vegan items on there.
For those who like to play it safe, the butter chicken here is next level, while anyone venturing further down the menu will relish in the scallop coconut curry.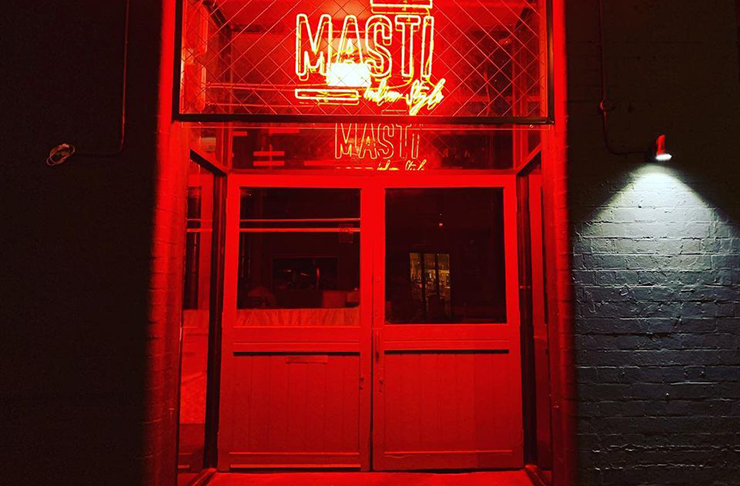 Aagaman
PORT MELBOURNE
Technically, the menu at Aagaman combines Indian and Nepalese flavours but we'll let that technicality slide. It's lentil as anything, with a team of chefs who specialise in vegan cooking, you can expect some seriously good veg.
It's some of the best vegan food in Melbourne and certainly some of the best Indian Melboune has to offer, but don't take our word for it, go and try it for yourself.
Enter Via Laundry
CARLTON
Intriguing, intimate and insatiably delicious, Enter Via Laundry is the 20-seat diner from chef Helly Raichura. Each night is a set menu with often more than a dozen dishes that showcase Raichura's expert craft in blending both regional Indian and modern flavours.
Designed as a shared experience Enter Via Laundry isn't your standard Indian-influenced diner instead it's an inspirational journey through food, people and history.
Punjabi Curry Cafe
COLLINGWOOD
Punjabi Curry Cafe is a family business serving up some damn good grub along Johnston Street. They've been in the business for fifteen years and their longevity is a testament to their food and their super friendly service.
The list of entrees alone is enough to get your mouth watering, we'd recommend the vegetable platter for starters to cover all bases — it includes samosas, pakora, onion bahji and aloo tiki. We're not drooling, you're drooling.
Bhang
BRUNSWICK
If you've got dietaries—or if you don't—then Bhang is the best Indian restaurant in Melbourne for you. The whole menu is coded with symbols for vegetarians, vegans, coeliacs and nut allergies—we know it's a struggle dining out when your diet is restricted, we hear you.
Bhang is the Indian venue that's all about catering to you, and serving the best of modern Indian cuisine, fuelled by charcoal and cocktails. That's right, they've got quite the booze list with all infusions and syrups made in-house.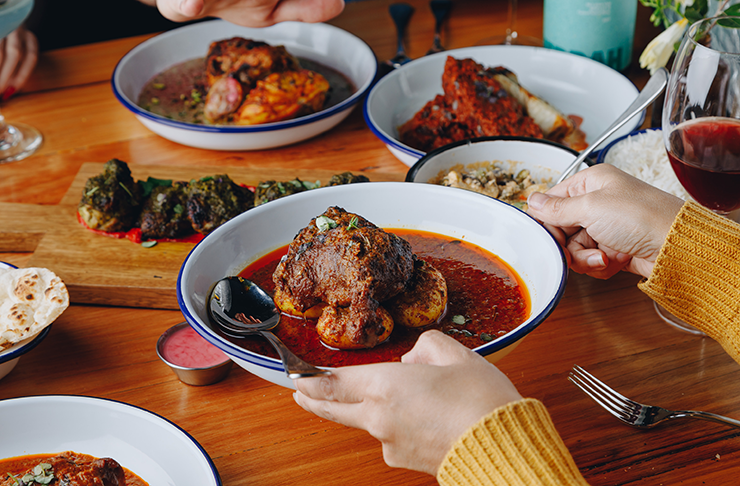 Curry Cafe
NORTHCOTE & FLEMINGTON
Well-established Northcote institution, Curry Cafe is a low-fuss Indian diner right in the heartland of Westgarth on High Street. Its easy to navigate menu has a range of dishes straight from the charcoal tandoor; like the barbecued Tikka or Tandoori chicken which is served with spice yoghurt.
The curries vary with specialities from regions all over Indian including several vegetarian options like the pumpkin masala as well as hearty slow-cooked lamb Rogan Josh or Pasanda. On Sundays between 6pm and 7pm they also do happy hour with $10 curries; be sure to order up the garlic rosemary Naan, it's an absolute revelation. They now also have a second location, Curry Cafe Canteen on Racecourse Road in Flemington.
Atta
ALBERT PARK
An Albert Park mainstay, Atta bridges the gap between 'fun' and 'fine' dining. Owners Harry and Brij bring their collective experience together here to create an Indian dining experience that nods to classic Indian dishes originally found in all corners of the country.
The menu changes from time to time, but you'd be remiss to skip out on their pahadi bhed if it's on offer.
Tonka
CBD
Modern Indian food doesn't get much better than this. Tonka takes tried-and-tested recipes from Head Chef Chanon Boriharnvanakhet and fuses them into punchy plates fit for city dining.
The kitchen includes two tandoori ovens cooking all your classic naan favourites, plus loads of small and large bites for sharing and grazing.
Calcutta Sweets & Indian Curry House
DANDENONG
Calcutta Sweets & Indian Curry House is one of Dandenong's best-kept secrets...sorry to all the locals for letting this one out.
You can pick up a curry for $10 and try traditional sweets from Calcutta for a couple of dollars. It's a no-fuss take out joint that's earned a stellar reputation for very, very good food.
Babu Ji
ST KILDA
Babu Ji has brought the intense aromas of classic Indian cuisine to St Kilda's The George building on Fitzroy Street. The old-style building feels cool and fresh with its minimal fit-out and high white-washed walls adorned in various artworks.
Experts when it comes to both classic and non-classic curries, the menu features a varied selection of regional dishes from beef Madras, mushroom Korma, to an outstanding butter chicken. They also do gluten-free naan bread, which really helps cement it as one of the best Indian restaurants in Melbourne.
And the best part, $25 all-you can-eat vegan curries with rice on Tuesday nights.
Mukka
FITZROY, ST KILDA
Fitzroy's Mukka is all about sharing. Sharing sides, sharing curries, sharing entrees—sharing the love, basically. Their tandoori mushroom skewers are tried and tested favourites, the pani puri is the ideal crispy snack and their samosas always hit the spot.
One of Melbourne's best Indian restaurants in our opinion.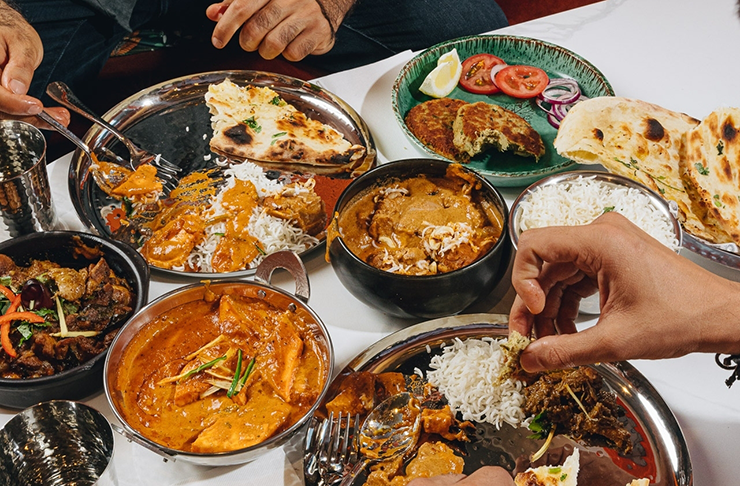 Roti Boti
HAMPTON
Anyone who's been to India knows that there are so many different regions, all with their own food and traditions. Roti Boti pays homage to India's rich diversity, with specialty cuisine from places including Punjab, Goa and Calcutta.
Head-chef and owner, Gypsy, designed the interior of this award-winning restaurant, making sure to include lots of traditional decor. There's also an elephant out the front making it unmissable as you drive past. Arguably one of the best restaurants Melbourne's southside has to offer in 2022.
Cafe Saffron
IVANHOE
Family-owned and operated for the past 15 years is just one reason why Ivanhoe's Cafe Saffron has become a local favourite.
Here, the team focus on a menu inspired by Northern Indian dishes. Their 'straight from the tandoor' menu should be your first port of call, where the machli tandoor (tandoori fish) is just one star of the show. They also have an extensive vegetarian menu for the plant-curious and vegos out there.
Keen for more of Melbourne's best? This way:
Melbourne's best restaurants
Melbourne's best cafes
Melbourne's best bars
Melbourne's best breakfast
Melbourne's best Italian
Melbourne's best Japanese
Image credit: Jake Roden, Kate Shanasy and supplied by venues