It's been a long, cold, winter, and not to mention a solid eight months or so since Melburnians were boozing around in some of Melbourne's best beer gardens. But like the sun will rise each morning, Melbourne's best beer gardens will be waiting for you as the warmer months return.
To get you reacquainted, here's where to find the best beer gardens in Melbourne for 2022:
The Standard Hotel
FITZROY
The Standard on the backside of Brunswick Street may not look much from the front, but inside you'll uncover one of the best beer gardens in Melbourne. On a sunny day, you'll find a teeming collection of locals, blow-ins and even doggos. With large communal tables and different nooks and crannies, there's always somewhere to snag a seat. The food is bloody top-notch and the beers are varied with crafts like Stone & Wood's pacific ale on tap right next to the Melbourne Bitter. The beloved pub has been around for a while now, but in 2022 it still holds up as a top spot for a pint in the sunshine
The Commons Collective
MELBOURNE
The Commons is still relatively new, but it's undoubtedly going to end up on every 'best beer gardens Melbourne' list, and for good reason. Here, you'll find a healthy grip of rotating boutique brews, plenty of seating for you, your mates and your dog and maybe the most incredible ham and cheese toastie ready to satiate even the biggest of appetites once you pass beer number five.
The Great Northern
CARLTON NORTH
Indisputably one of the best beer gardens Melbourne has ever served up to the summer boozehound in us all. The Great Northern is equal parts sports pub and dog pub, and the beer sprawling beer garden is usually filled with both of those things. They also do a killer parma.
The publican and the staff are beer-obsessed, and while a big ol' pint of Balter XPA will make you smile, there's no harm in trying something different when your round comes along.
Leonard's House Of Love
SOUTH YARRA
One of South Yarra's and Melbourne's best beer gardens, Leonard's House Of Love is the pinnacle for an after-work or weekend drink and a chin wag. The quaint repurposed home on Wilson Street serves up one hell of a pint in the sunshine, combine it with their fried chicken sanga and you've got yourself quite the time in a friendly, relaxed beer garden.
The Mount Erica Hotel
PRAHRAN
Once an overlooked run-of-the-mill haunt in Prahran, The Mount Erica is now one of the top spots in the area. Its spot on the corner of High Street and Williams Road is like a shining beacon for beers in the sun, with a plant-filled courtyard with tea lights above and bar seating.
Helmed by the same team as Northside institution, Marquis Of Lorne, the range of food and beers here is exquisite; with Moon Dog on tap as well as plenty of tins, including Heaps Normal's XPA in case you're the designated driver.
The Provincial Hotel
FITZROY
It's a couple of storeys up, but The Provincial Hotel is the ultimate Fitzroy beer garden. Since its massive refurbishment and makeover a few years back, the seats at this summer oasis have become hot property and the space itself has become known as one of Melbourne's best beer gardens.
Welcome to Thornbury
NORTHCOTE
That's not a beer garden, this is a beer garden. Welcome to Thornbury is huge in all respects of the adjective. Plenty of space, indoor and outdoor areas and just shy of 40 taps on ready to cure whatever may ail you, it also has one of the best beer halls Melbourne could offer you.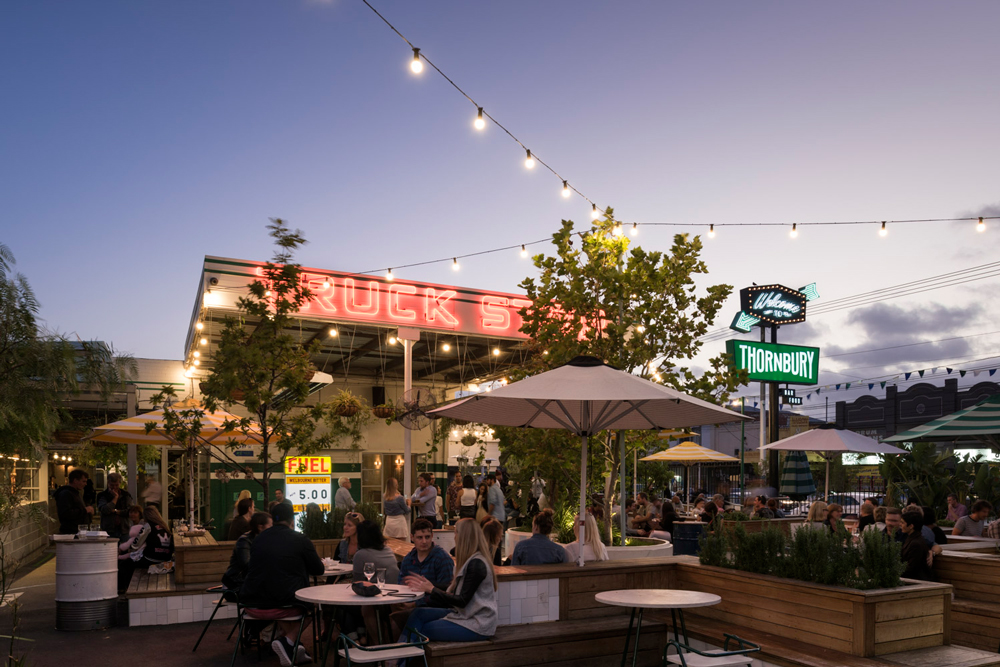 Welcome To Brunswick
BRUNSWICK
Another for the 'best beer gardens Melbourne' list that you're no doubt about to drink through all summer, Welcome to Brunswick comes from the team behind Welcome to Thornbury, but with a little extra help from 4 Pines Brewing Co. As you'd expect, this mammoth indoor/outdoor beer garden serves up a hefty range of frothies from 4 Pines Brewing Co. along with several exclusive brews made just for the Brunswick locale.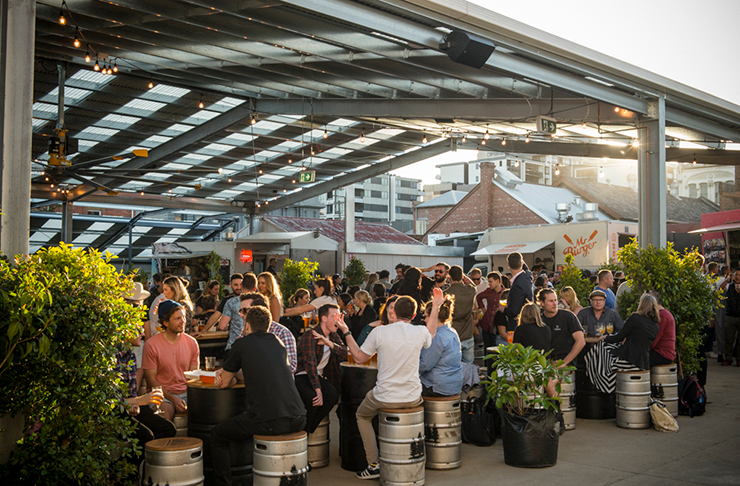 The Prince Alfred
RICHMOND
A Church Street favourite, affectionately known as 'P.A's, The Prince Alfred is a top spot for putting back a couple of schooeys. With over 15 beers on tap, you can go an entire visit without ever sampling the same beer twice. Dogs are welcome and encouraged, there's a stacked menu and they even have merch, so there's plenty of reasons P.A's ends up on the best beer gardens in Melbourne list.
Builder's Arms Hotel
FITZROY
From the stable of chef and restaurateur Andrew McConnell comes The Builder's Arms Hotel, a Fitzroy staple that houses one of the best beer gardens Melbourne has to offer out the back. The elevated pub fare is worth cracking into, too: get started with the fish pie and pair it up with one of the stellar local brews on top.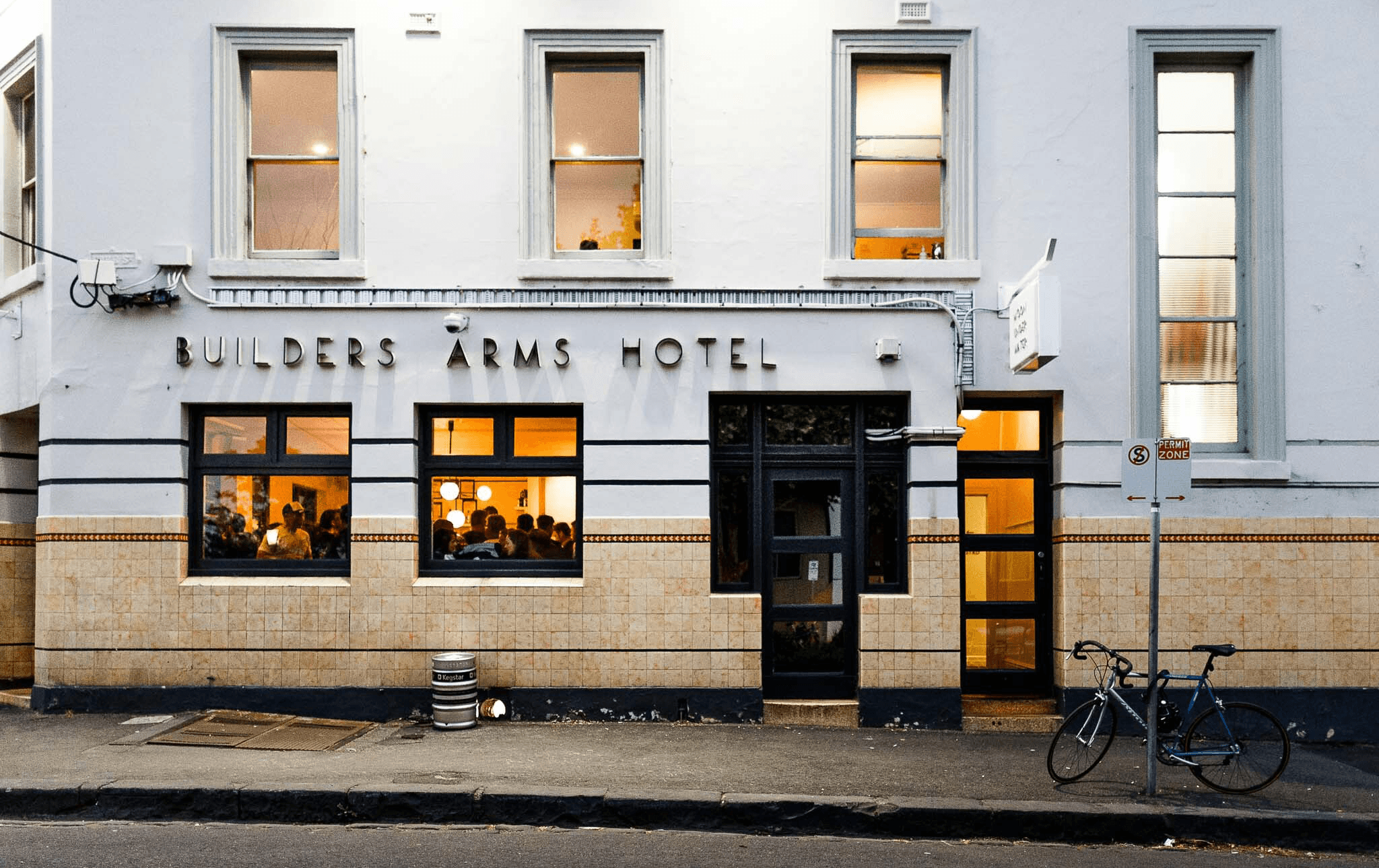 The Retreat Hotel
BRUNSWICK
You won't find a 'best beer garden Melbourne' list that doesn't include Brunswick's Retreat Hotel. This spacious beer garden is primed for whiling away the weekend afternoons with regular barbeques, a sizeable beer selection and often live music in the band room.
Windsor Castle
WINDSOR
One of the OGs, The Windsor Castle offers up one of the best beer gardens in Melbourne's south. Here, you'll find classic pub fare, all the usual suspects on tap and a relaxed environment under several large oak trees to keep you cool during those warmer months.
Mr Brownie
SOUTH MELBOURNE
Jessi Singh's multi-level curry pub, Mr Brownie, gets an honourable mention in the best beer garden category for its boozy rooftop. Incredible food, a vast beer selection and big vibes put this at the top of the list of South Melbourne pubs and beer gardens.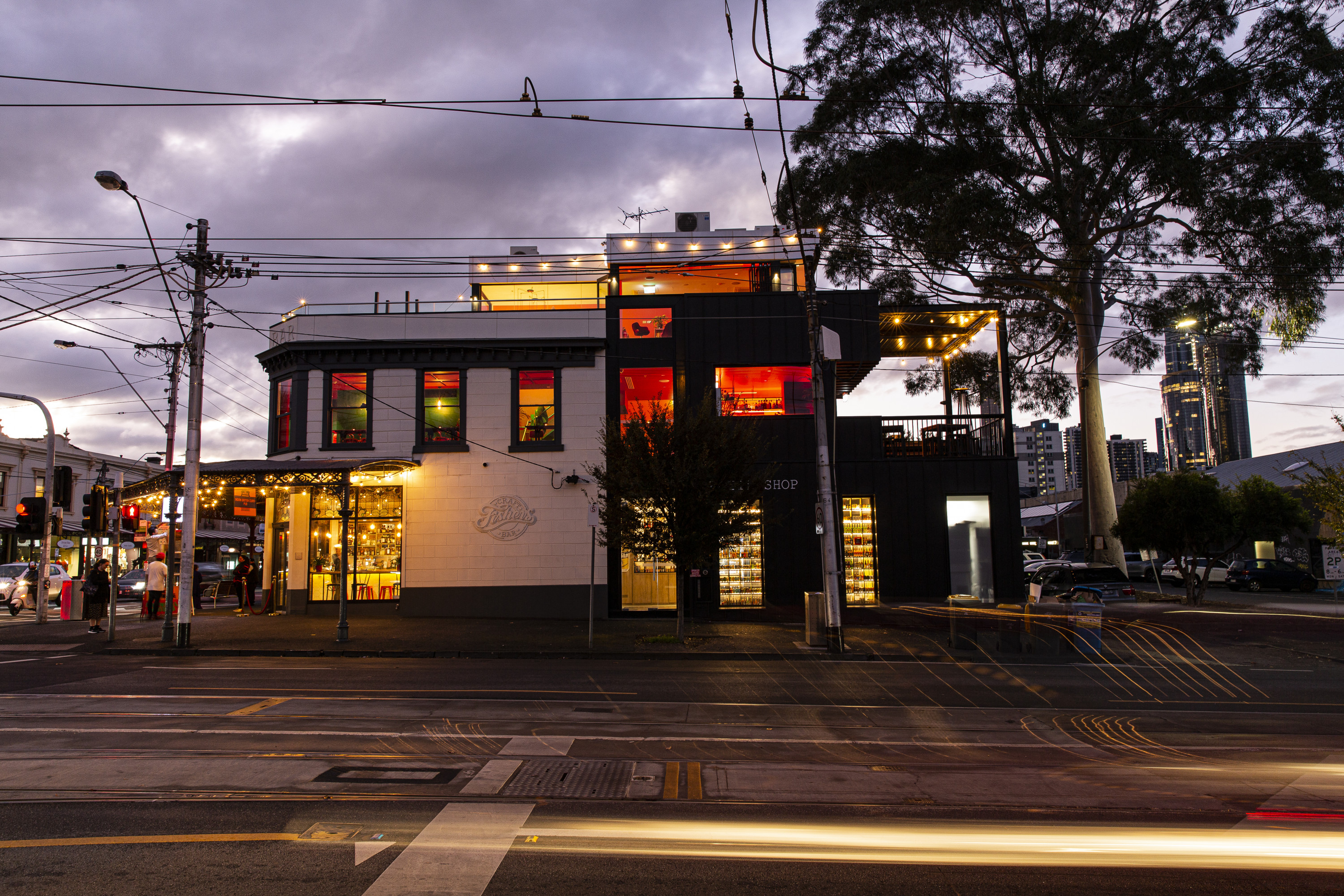 The National Hotel
RICHMOND
The National Hotel in Richmond has an eco-friendly beer garden built from recycled materials, so any feelings of regret when drinking can truly wait until the morning after. The cocktail list is also worth a look in should you feel the need to mix it up at this Richmond beer garden.
Garden State Hotel
CBD
Beer gardens but make it bourgie. Garden State Hotel is all about aesthetics across all four levels of this boozy oasis. The venue has the capacity to host 800 people at any one time, it's still one of the biggest beer gardens in Melbourne and will be absolutely heaving coming into 2022's warmer months.
Book your seat from Monday 9 November here.
Stomping Ground Morris Moor
MOORABBIN
Housed in the former grounds of the Phillip Morris cigarette factory, Stomping Ground's Morris Moor operation is a sight to behold. The 1250sqm space features a curated beer garden space and is an oasis for beer lovers in the area. If you're looking for one of the best beer gardens in Melbourne, this one could be it.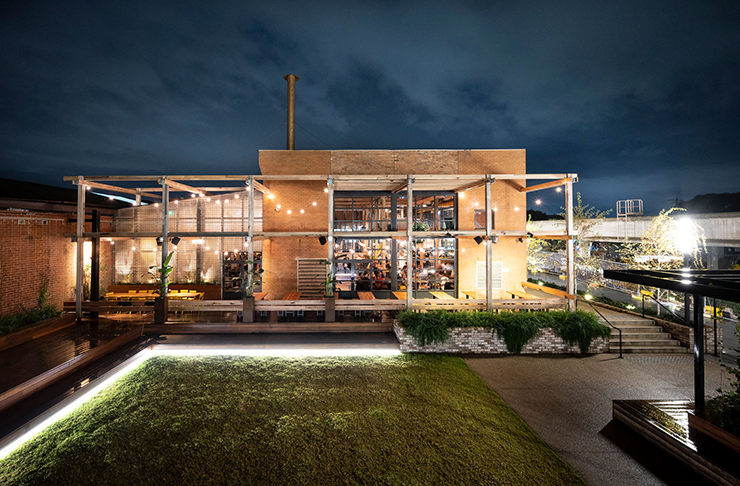 Arbory Bar & Eatery
CBD
We all know it, we all love it. No doubt one of the best beer gardens Melbourne CBD has seen in the past decade and it's still a winner in 2022, Arbory Bar & Eatery embodies alfresco drinking and dining with literally the whole bar being outside. Being smack bang next to Flinders Street station, the Arbory gets very, very busy.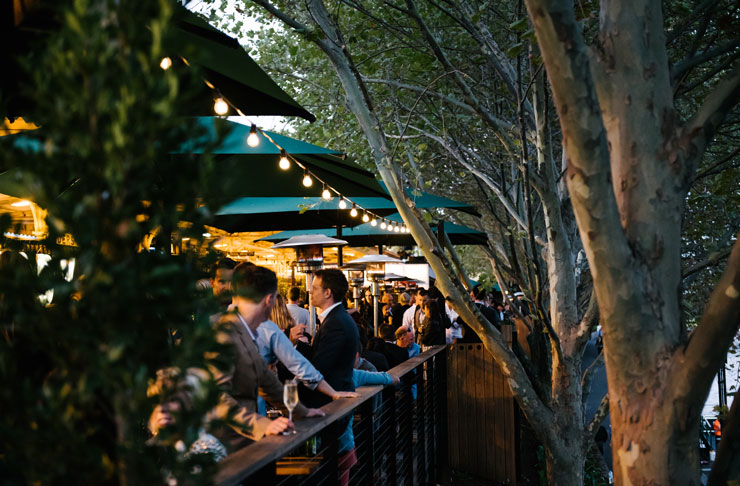 The Keys
PRESTON
A newcomer to Melbourne's best beer gardens is The Keys Leisure Centre, a sprawling bowling alley, bar and beer garden that's opened in the back half of 2022. Coming into the warmer months, weekend warriors out in the 'burbs now have another reason to sink a pint in the sun—and score a strike if they're lucky.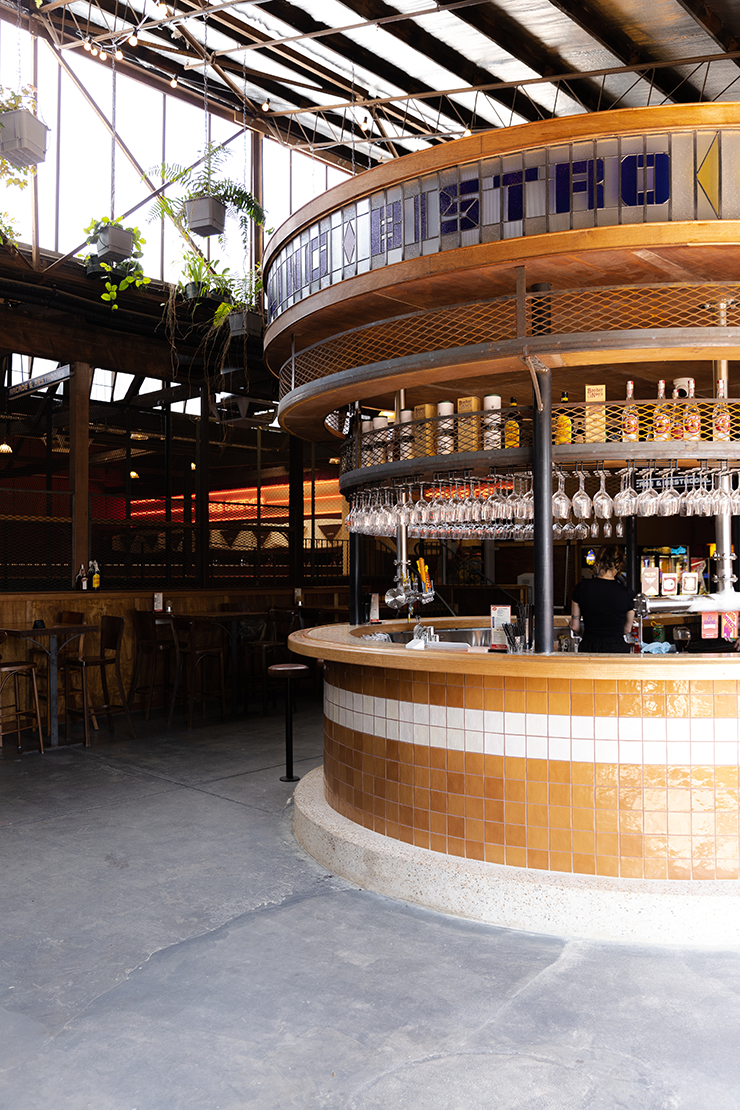 College Lawn Hotel
PRAHRAN
A classic Melbourne beer garden loved by many a weekend warriors and suits on the 9 to 5 grind alike. There's a certain familiarity to the College Lawn Hotel where you're bound to bump into half of Melbourne on a summer's day, but for some reason, it never feels crowded.
College Lawn Hotel does an epic parma, it's so epic that this Melbourne beer garden also serves it in a smaller size if you prefer.
Stomping Ground
COLLINGWOOD
Part beer garden, part beer hall, and Melbourne loves it. Stomping Ground Brewery stunning beer garden in the north of Melbourne has around 30 taps running at any given time, meaning even the most discerning beer aficionado in your group will be happy with the venue selection.
Make a day of it and check out Melbourne's best brunches
here
.

Image credit: Supplied