Is Melbourne having a cinnamon scroll redux right now? If we look at the facts, it might appear that the answer to that question is yes.
And the best part is, in Melbourne, some of our city's finest purveyors of small-batch sweet treats are whipping out more than just their spices—they're baking each and every batch with tender loving care. So, now that the cravings have officially kicked in, check out our list of where you can find Melbourne's best cinnamon scrolls.
Sebby's Scrolls
VARIOUS LOCATIONS
The scroll operation that's taken Melbourne by storm, Sebby's Scrolls is quite possibly the best thing to come out of 2020. There are vegan and non-vegan cinnamon scrolls, and just when you thought they couldn't get any better there are cheese and vegemite numbers, too.
Sebby's Scrolls has its own HQ in Caulfield South where you can pick up one of their impeccable sugary cream cheese-covered scrolls from Wednesday to Saturday—they also stock plenty of cafes around town from Terror Twilight, Seven Seeds and Applehead Deli, head over here to find their full stockists.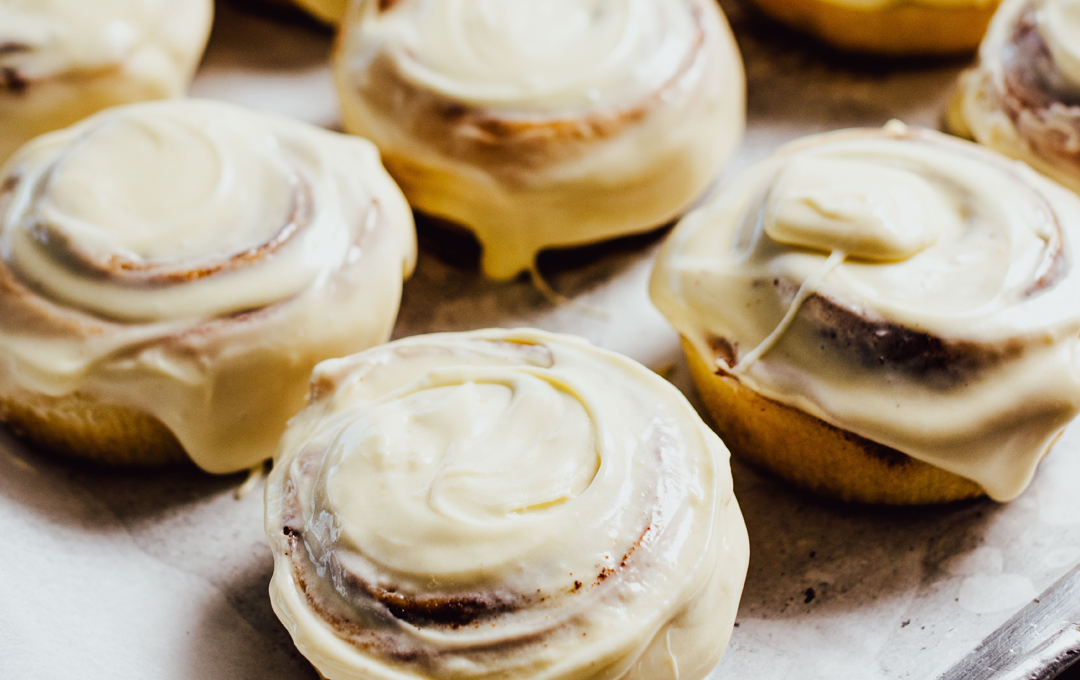 Dröm Bakery
BAYSWATER
Dröm is the ultimate artisanal bakery in the Bayswater region. Operating as a take-away-only establishment, they specialise in creating the very best freshly baked goods and bread.
Alongside their now iconic crescent-shaped croissants is their cinnamon scroll—a quiet achiever, this lesser-known item is one of the single most magnificent baked goods in all of Victoria. The uniquely-shaped scroll is baked to golden perfection with a dense croissant-like interior and dusted heavily in cinnamon and sugar with a thick dollop of cream cheese frosting on top. 10/10
Cinnamon Scent
VARIOUS LOCATIONS
This speciality outfit is a mandatory inclusion in the best cinnamon scroll Melbourne discussion, they do cinnamon scrolls and they do them very well. Now a online delivery service the team are delivered scrolls within 50km of their Glen Iris Kitchen, but you can also catch them at markets all over Melbourne.
The standard here is the original, perfectly balanced creamy and spiced with that initial immense hit of cinnamon they create quite the memorable mark. The Cinnamon Scent also has vegan options on the menu as well as apple-filled numbers, chocolate-filled varieties, and berry-infused scrolls.
Lune Croissanterie
VARIOUS LOCATIONS
Ok, so technically, this is a croissant and not a scroll, but you'll forgive us for the technicality when you try Lune's Morning Buns. The flakey croissant pastry is baked with brown sugar, cinnamon and orange zest filling before being rolled in deliciously spiced sugar. Name a better way to start your morning—we'll wait.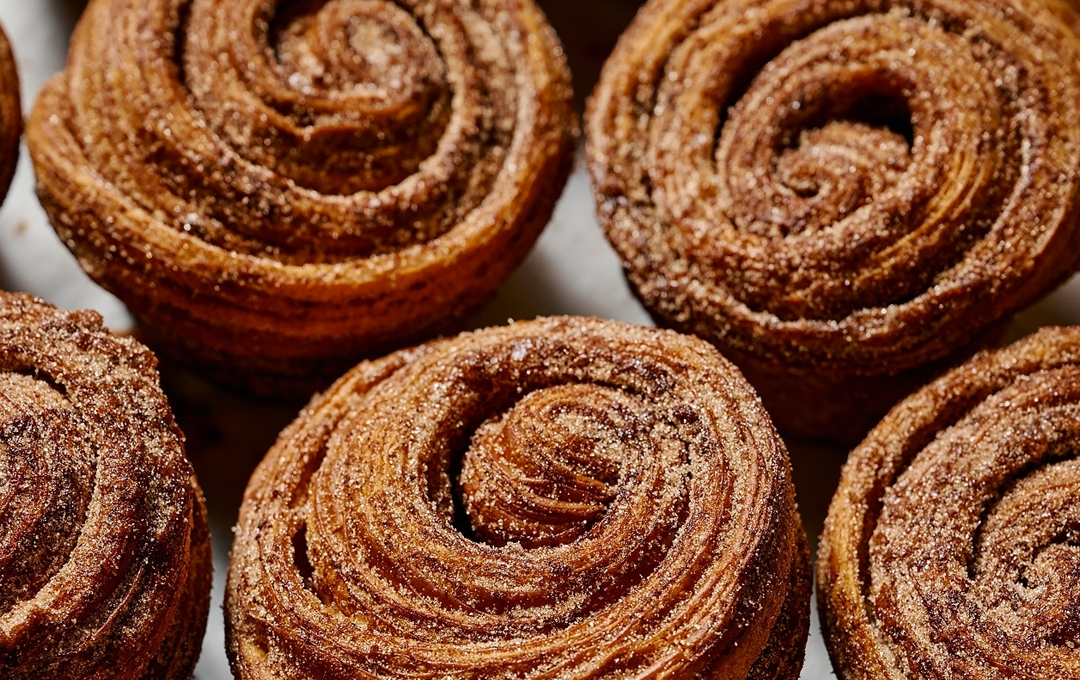 Candied Bakery
SPOTSWOOD
If we had to sum up the cinnamon scrolls at Candied Bakery, we'd have to say sticky, glossy and addictive. You'll come for a scroll but stay for a coffee—but beware tackling this sugary number can get messy so. Without a doubt, this crew can absolutely claim one of the best (and biggest) scrolls in the business.
Mörk Chocolate
NORTH MELBOURNE, CBD
Okay, so Mörk Chocolate aren't slinging cinnamon scrolls, they're serving up Swedish cinnamon and cardamom buns. The two different types of baked goods may have their subtle differences, but all you need to know is that their hybrid bun is loaded with cinnamon, butter and cardamom sugar and you'll love every bite. You can get yourself one (or ten) from the brewhouse and selected stockists.
Cinnabon
CHELTENHAM
If it's variety you're after, then look no further than the American favourite Cinnabon. These guys specialise in the humble cinnamon bun—and they do it in more ways than you can imagine.
Want a salted caramel Cinnabon? They do it. How about choc hazelnut? Yep, they've got those too. They even do a savoury cheese and basil pesto variety.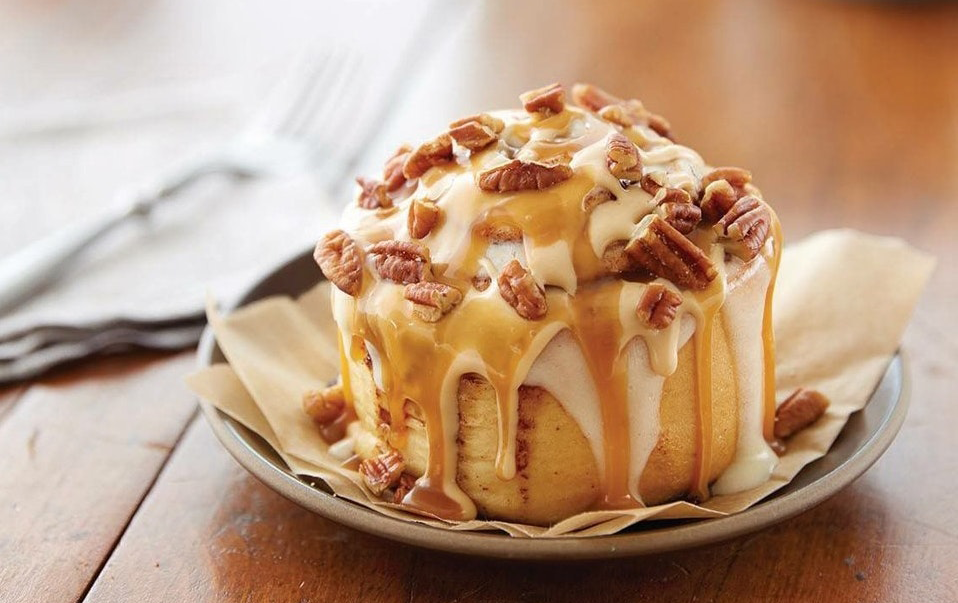 Mister Nice Guy's Bakeshop
Ascot Vale
Mister Nice Guy's Bakeshop is a 100% plant-based bakery in Ascot Vale. The bakery was started by husband and wife duo Lucas Cook and Deb Kantor in 2010.
They were both working at Lentil As Anything at the time and came up with the idea of selling vegan cupcakes from the venue. Soon after they got so popular that they had to relocate to their own store. If you're heading there in the morning be prepared to line up…but trust us, the cinnamon buns are worth the wait.
Falco Bakery
COLLINGWOOD
So probably more of an honourable mention but a worthy inclusion, the spice-adjacent cardamom bun at Falco is still a hands-down knockout.
Comprised of many of the characteristics that make the cinnamon scroll so favourable, Falco's ode to the nordic bun is a sugar-dusted and aromatic sensation, its doughy in the best way possible shaped with knots and thick streaks of cardamom throughout.

Check out more of Melbourne's best:

Best Doughnuts
Best Croissants
Best Almond Croissants
Best Cookies
Best Bakeries

Image credit: Sebby's Scrolls (supplied)