The food news has been coming in thick and fast in Melbourne, and to make sure that you're on top of all the tasty things happening we've wrapped up everything that you need to know.
Keep up to date below:
A Bakery From The 'Burbs Has Taken Out Gold For Australia's Best Pie
Country Cob Bakery is no stranger to awards season in the pie space, having taken out several gold medals for the likes of their beef pepper pie, mushroom pie, and a seafood pie across several classes. And at the Baking Association of Australia's 2023 awards, they've taken home the big one, Australia's Best Pie.
This year's win however was awarded to one of their more inventive pies, the fish amok, a bold and vibrant Cambodian fish curry number that continued to impress judges over the three-day comp. You can try the fish amok pie for yourself at Country Cob's Boronia, Springvale and Kyneton stores, or order up online here.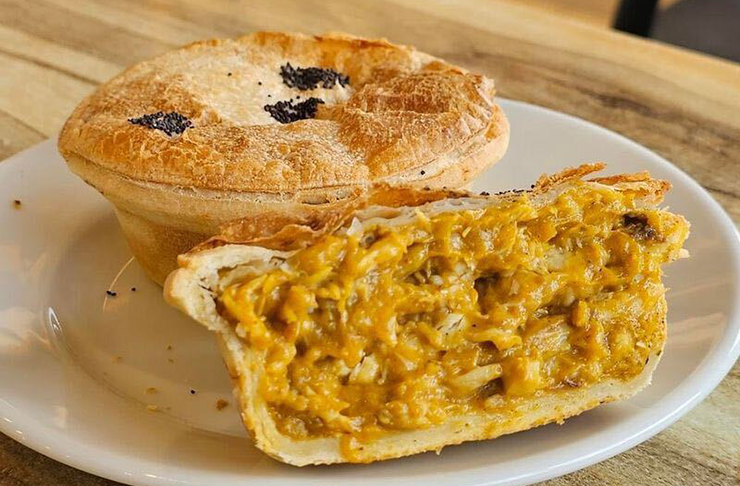 Southside Favourite, Moonhouse, Is Serving Up Unlimited Yum Cha On Weekends
Within less than a year, Commune Group's charming Chinese bistro, Moonhouse, has cemented itself as a southside staple, and there are plenty of reasons to pay this spot another visit. Having just appointed a new Executive Chef, Scott Lordm and Head Chef, Chris Cann—alumn of New Quarter, Sunda Dining, Cumulus Inc, and Cutler & Co respectively—the new menu is looking promising with the likes of beef a tartare with a Sichuan spin and a vibrant roast duck pancake topping the list.
Should you need any more convincing, Moonhouse will be putting on unlimited yum cha on weekends for a very modest $59pp. On the menu are 12 share dishes on repeat during your sitting, with highlights including but certainly not limited to chilli fried chicken wings, vegetable spring rolls, pork and wombok dumplings, chicken and ginger sui mai, Char Siu pork buns and seared scallops with XO butter. Those wanting to go all out can tack on unlimited booze at an extra $49pp which covers off several exclusive beers and plonk. And you absolutely should.
Book in here.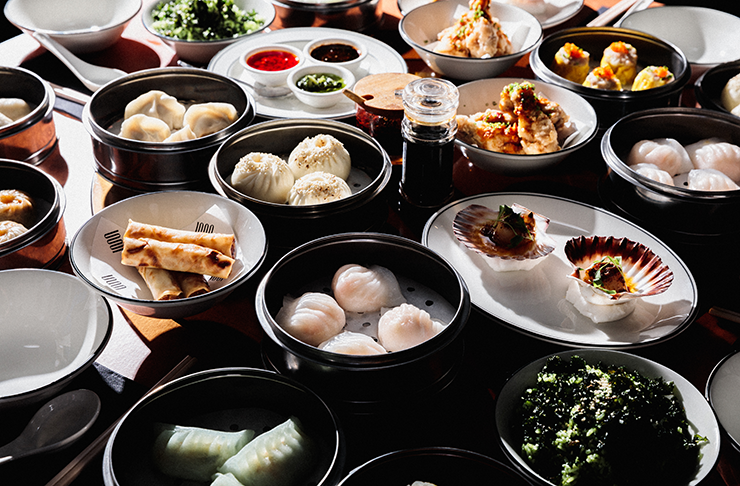 One Of Melbourne's Favourite Italian Restaurants Is Putting On A Pasta Party—With Bottomless Prosecco
CBD institution, Marameo, is bringing back the wildly popular pasta parties over the cooler months for a carb-heavy affair. As per, bottomless booze comes standard with the set menu, where guests can tuck into unlimited prosecco, wine and Peroni beer alongside the pasta-packed set-menu—it's kicking off on Saturday 17 June through to Saturday 5 August and it'll set you back $100pp.
And for this season, they're calling in Good Good Cake, one of Melbourne's most colourful cake makers, to get in on the fun. For an extra $75, you can order up on a cake that'll comfortably feed a table of four to six people after all that pasta. Head this way for all the details.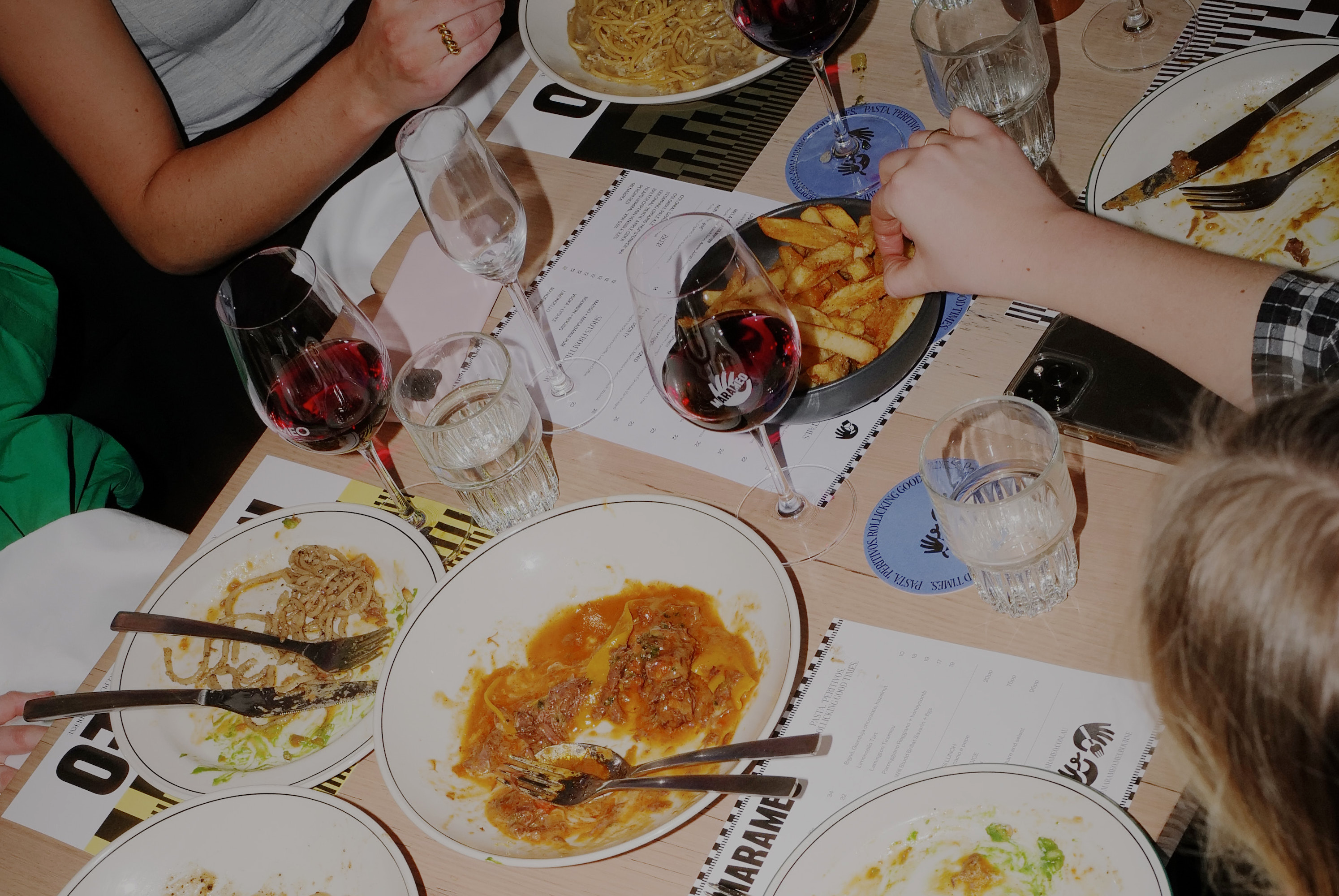 Lune's June Specials Include A Lasagne Escargot And Pumpkin Pie Cruffin
Lune Croissanterie has just dropped their first menu of winter special, and it's full of the most indulgent comfort pastries of all time. Stop in anytime before the end of June and you can tuck into lasagna escargots filled with bolognese, bechamel, mozzarella and parmesan; pumpkin pie cruffins filled with sweet pumpkin pie custard and maple serum and topped with cinnamon whipped cream; and ginger molasses twice-baked croissants filled with ginger molasses syrup and frangipane with a cream cheese icing and ginger molasses cookie topping. That's not all either, there's also a chocolate banana rum pain au chocolat, coconut kouign amann and pear and chocolate danish. You know what to do.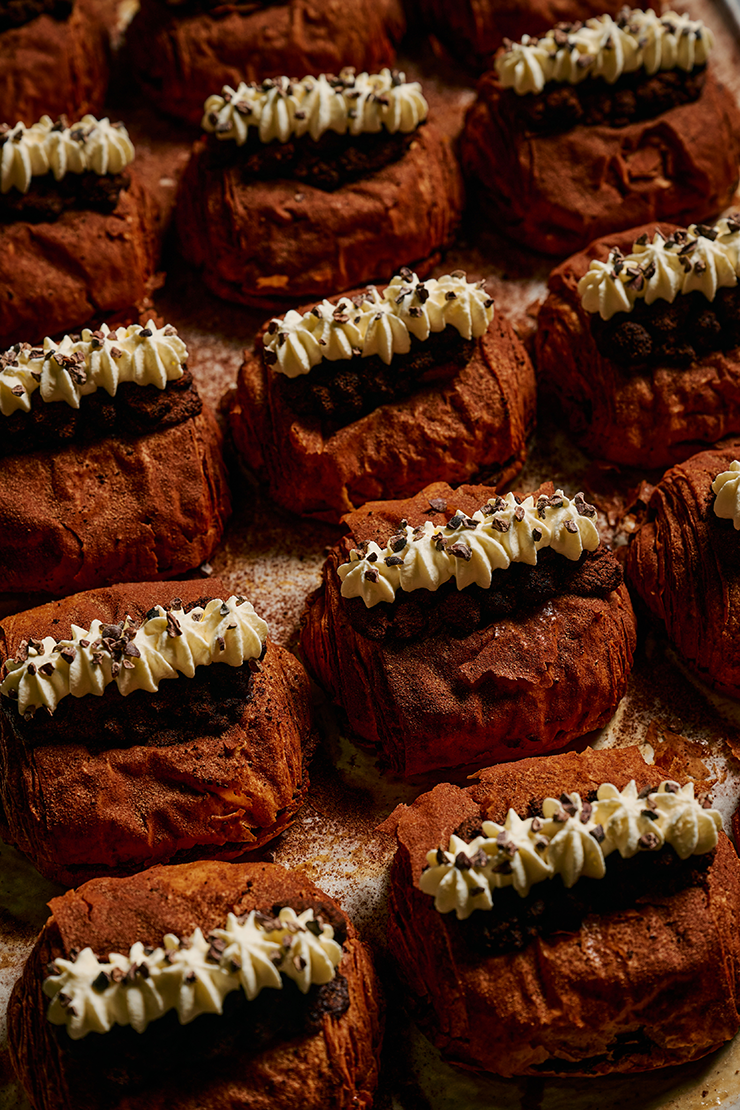 Grazeland Is Leaning Into The Season With A Winter Wonderland Takeover
Winter is coming, and Grazeland is doubling down on the theme with a winter wonderland of epic proportions. On the bill is a hefty snow machine to get you in the spirit of things along with Melbourne's biggest snowman, towering at a casual 10-meters tall. Meanwhile, the food and drink vendors will be whipping up a stack of exclusive winter-centric dishes, including the likes of Raclette from Frencheese, famous dumplings from Lucky Little Dumplings and German meatballs from Bratboy. it's taking place from Friday 23 June through to Friday 30 July at Spotswood's Grazeland.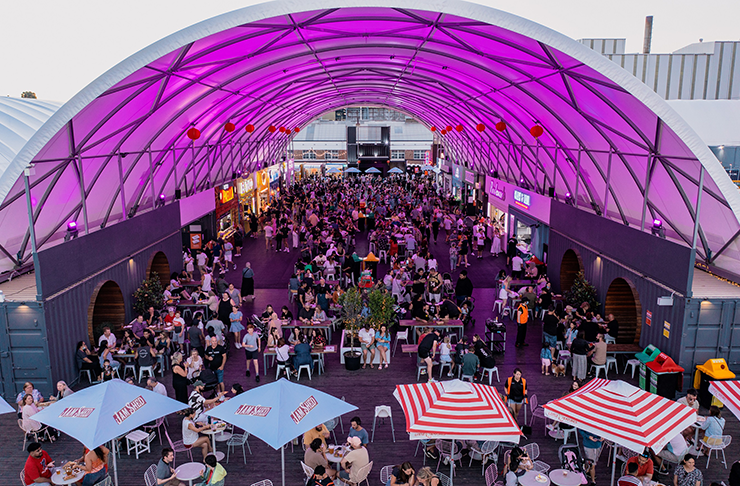 Shane Delia's Maha Is Marking Its 15th Birthday With A Celebratory Menu Full Of Throwback Favourites
Opening back in 2008, Maha has stood as one of the pivotal restaurants that helped ushered in somewhat of a culinary renaissance in Melbourne. The newfound focus on dining along with a deeper connection and notoriety with chefs is something Maha owner and chef Shane Delia leaned right into. Now 15 years on, the subterranean diner on Bond Street in the CBD stands as a pillar of the current Melbourne hospitality community. To mark this momentous milestone, Shane and the Maha team are putting on a retrospective celebration through June and July, a special menu of some of the dishes that put them on the map throughout all those years. Of course, the 12-hour roasted lamb shoulder is a staple, alongside other renowned dishes like the smoked hummus with pine mushrooms and malawach (Jewish-style flatbread) the Arak-pickled cucumber and those unforgettable Turkish-delight doughnuts. Head over here to book in.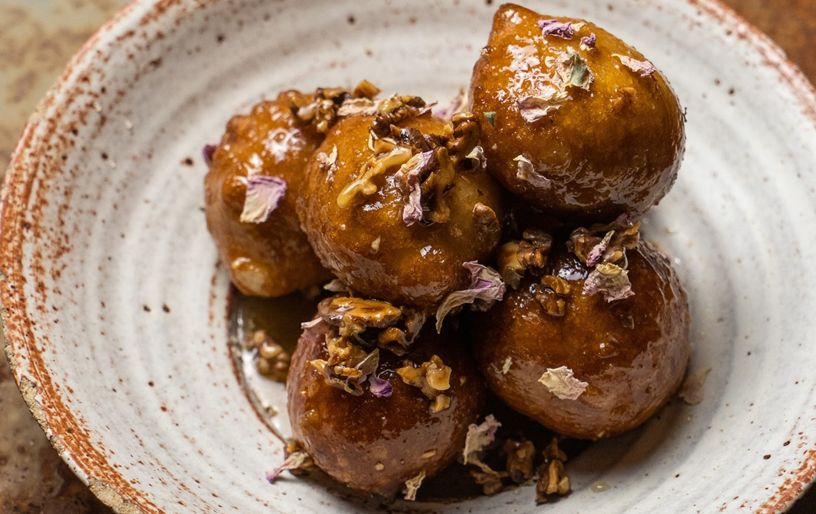 La Perla Is The Charming Neighbourhood Trattoria Tucked Away In Camberwell
La Perla, Camberwell's charming trattoria has been gaining traction in Camberwell's quiet neighbourhood since its debut back in 2021. Founded by three hospitality veterans, Stefan Moon, David Cooper and Kieran Hoop, tucked away on Camberwell Road its street-side dining and secluded homely garden that resembles the essence of Nonna's backyard, the Italian-inspired restaurant, which prides itself in woodfired pizzas, cocktails, vino, and good tunes transports you to a homely Italian sojourn. La Perla embraces an Italian mindset — simplicity, quality produce and great company— which is reflected in its carefully curated menu that pays homage to Italian pizza classics such as its Proscuitto, sugo and buffalo mozzarella pizza while experimenting with unique flavours in its dessert menu with silky vanilla panna cotta with burnt orange syrup, ultimately allowing you to experience the realm of la dolce vita.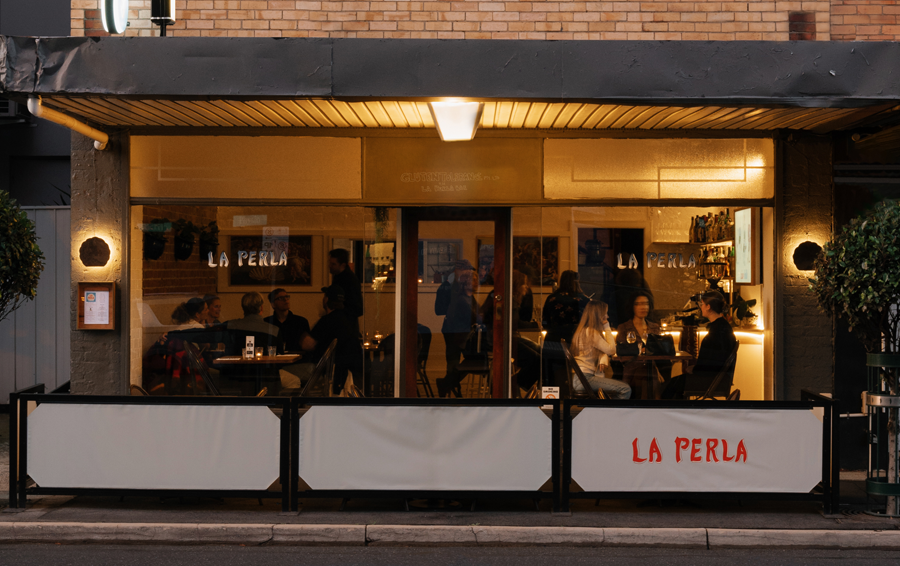 Everybody's Favourite Buoyant Bar, Arbory Afloat Is Calling Last Drinks For The Season In Just A Week's Time
It's been one helluva session at Arbory Afloat, but as the sun goes down each evening, Melbourne's favourite buoyant bar will pack down for winter—in a little over a week's time.
In its seventh season, Arbory Afloat has been reimagined into a sun-drenched Bealeric beach club for summer 22/23. It's been all ups and no downs this season: pintxos, paella and pizzas out of the kitchen, sangria and pink gin spritzes at the bar (made with their bespoke Four Pillars gin no less), and surely we all dipped our toes in that tiled infinity pool. And now, punters, you've got a little over a week to make the most of the magic, with last drinks called on Sunday 28 May.
The silver lining? Like the sun rises each morning, Arbory Afloat will return with a sexy new theme late in the year.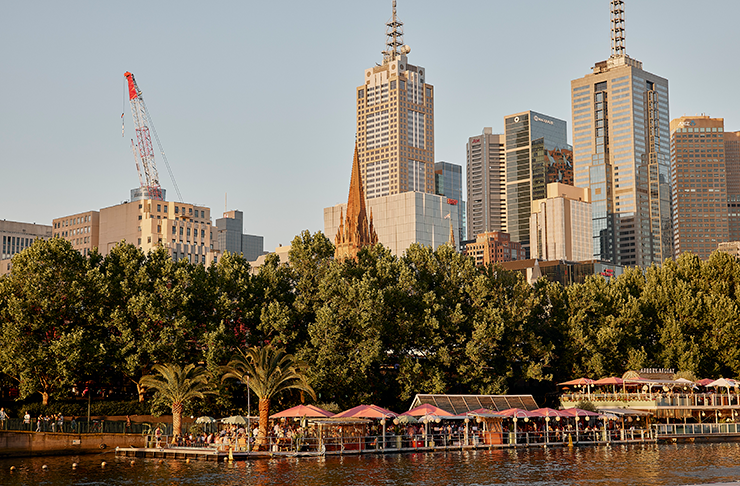 This Tiny Italian Diner Is Serving Pasta Fresh From A Giant Cheese Wheel
Cucinetta is known for a few things: their top-notch Italian fare, their famed 29-cheese gnocchi, and their cacio e pepe served fresh out of a giant parmesan cheese wheel. And the good news? After popular demand, they're bringing the latter back for a limited time.
The Italian specialty—consisting of tried and tested ingredients including cheese, pepper, and fettucine—is finished just prior to plating in that xl wheel of cheese. It's available from Monday 22 May until Sunday 22 May, and you can book your seat at the table here.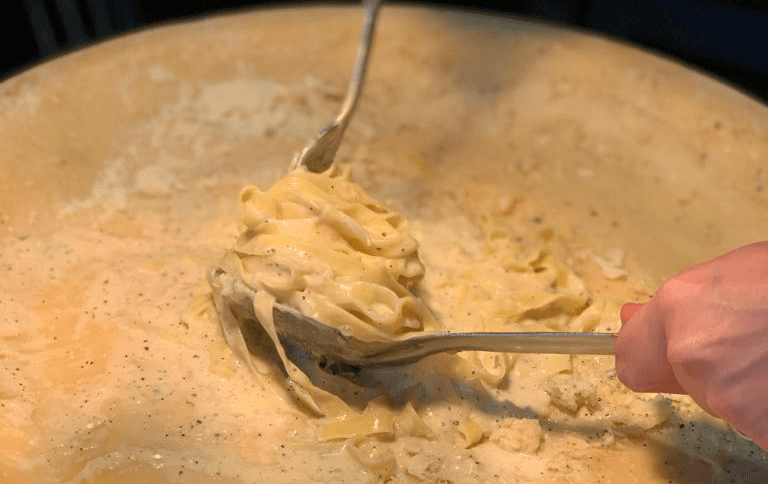 Local Ice Cream Legend Kenny Lover Has Mastered The Ice Cream Jaffle, And They're Serving Right Now
For the past two years, Kenny Lover's Mike Baker has been tinkering with the perfect recipe for the ice cream jaffle, and now, his wondrous creation is ready for the world. Housed inside toasted brioche bread is a healthy serving of Kenny Lover's vanilla ice cream and strawberry jam, before behind dusted in generously in cinnamon sugar. It's sweet, and a little salty, and a little tarty thanks to the jam, and in case you're wondering, the ice cream isn't melted inside. We don't know exactly how Mike does it, but we're absolutely about it. Grab an ice cream jaffle from Kenny Lover in Thornbury today.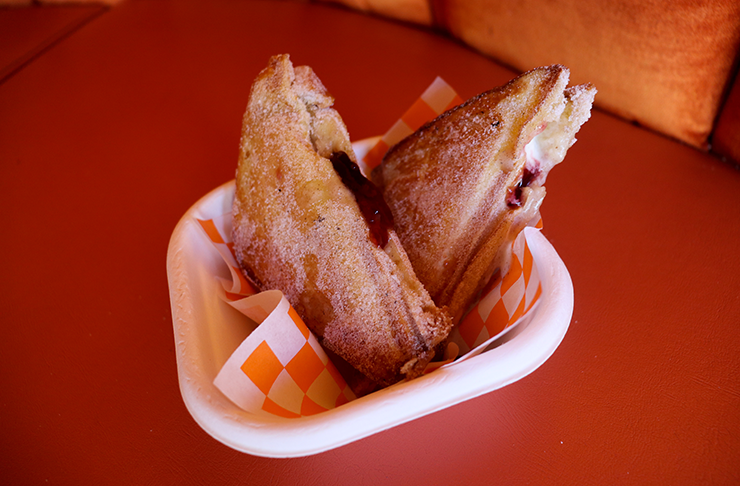 This Cookie Boutique In Brunswick Is Serving Up Biscoff Shots On Top Of Your Cookie, Straight From Their Biscoff Fountain
A lot to unpack here, but first things first, yep, Cookie Culture Co. has a free-flowing Biscoff fountain in their shop. It's fired up on the daily for those looking to add an extra punch to their cookie, cupped into a shot glass and drizzled all over your baked lump of heaven. You can take a closer look at Cookie Culture Co's cookies and their wonderous Biscoff fountain here, or head direct into the shop at 93 – 97 Lygon St. Brunswick East.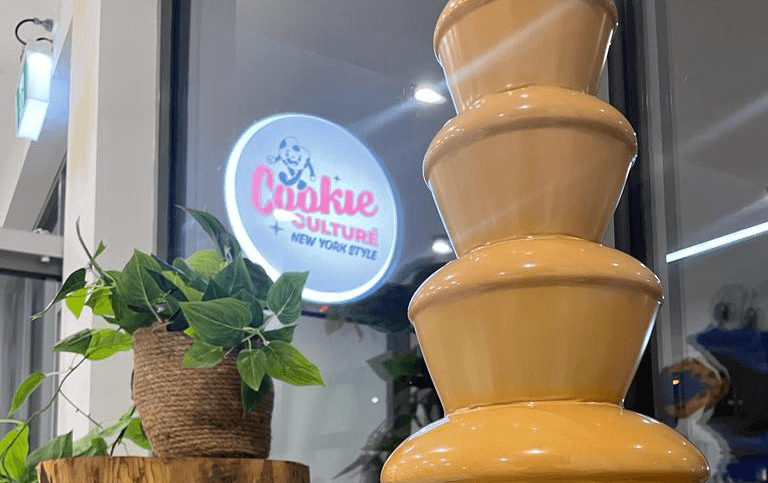 Lillian At Society Is Serving Up Several Autumn Specials—Including Unlimited Oysters At $44pp A Pop
One of Melbourne's slickest diners, Lillian Brasserie, is leaning into Autumn with several seasonal specials, including unlimited Pacific oysters at a modest $44pp. Further limited Autumnal delights are also on offer, with the hero dish being a steak sandwich end-game—a fine cut of marinated sirloin steak with smoked cheddar, Roma tomato, beetroot and sesame slaw. Those wanting to branch out, or pay a second visit to Lillian can order up on the likes of confit duck leg with bacon, lentils and crispy kale; a pumpkin, ricotta and zucchini linguine, or smoked trout salad with potato, radish and herb emulsion.
Lillian's Autumn specials are available Tuesday through Sunday, 12pm until 3pm. Book here or walk-in.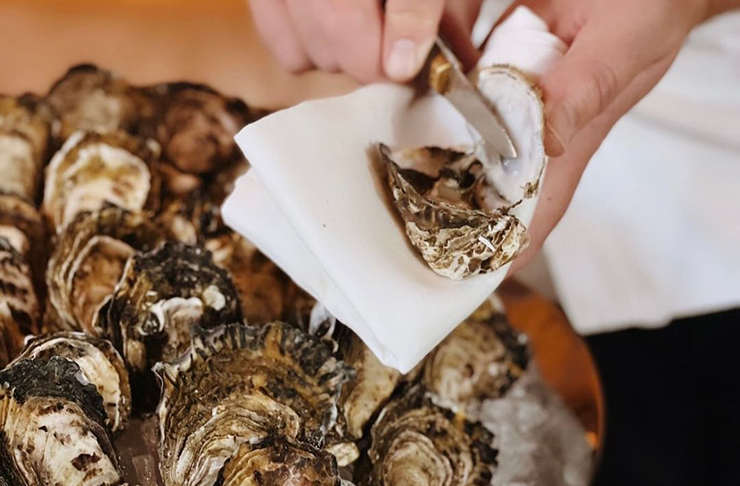 Richmond's Italian Mainstay, Baby, Is Launching A Formaggio-Forward Menu For The Month Of May
Sides, the main event, desserts: cheese can truly be enjoyed in an infinite amount of ways, and for the month of May, Richmond's Baby is going all in on the stuff with a cheese-heavy menu that covers off the entire journey of a meal. For starters, opt for the grilled fontina with honey and time, or cacio e pepe aranci; on the mains front you'll find the likes of cacio e pepi served out of a giant cheese wheel and a gorgonzola and pecorino baked gnocchi; Baby will of course be serving up a pizza, too, topped with four cheeses, And too finish it off, a baked ricotta cheesecake with bruleed orange. Bookings are recommended, though you can roll the dice on a walk-in.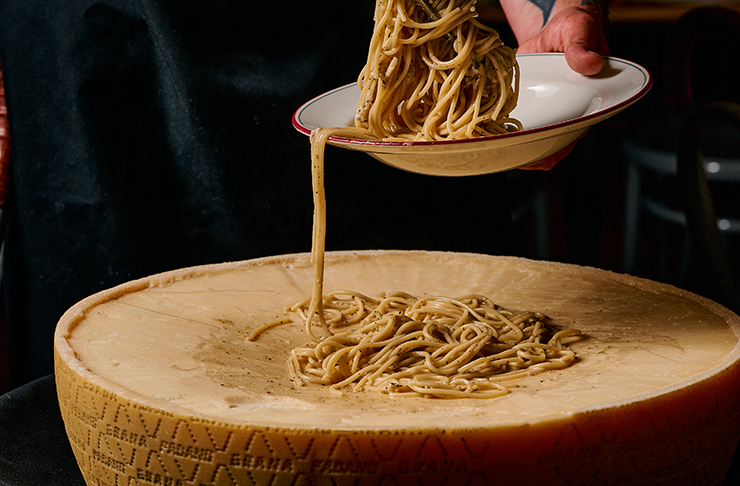 Lune's Dropping A Tiramisu Pastry And A Twice-Baked Persian Love Cake Croissant Just In Time For Mother's Day
This May, Lune's coming in swinging. First up is their homage to Mum; available throughout the entire month is the Persian love cake-inspired twice-baked croissant piped full of rosewater and pistachio frangipane, a slab of Persian love cake inside and topped with rosewater buttercream and dried rose petals. Also on the cards is the beloved Tiramisu-inspired pastry, a decadent combination of espresso-infused Savoiardi biscuits and pastry which is then slathered with a hefty dollop of mascarpone and Mork chocolate. Head over here for the full details.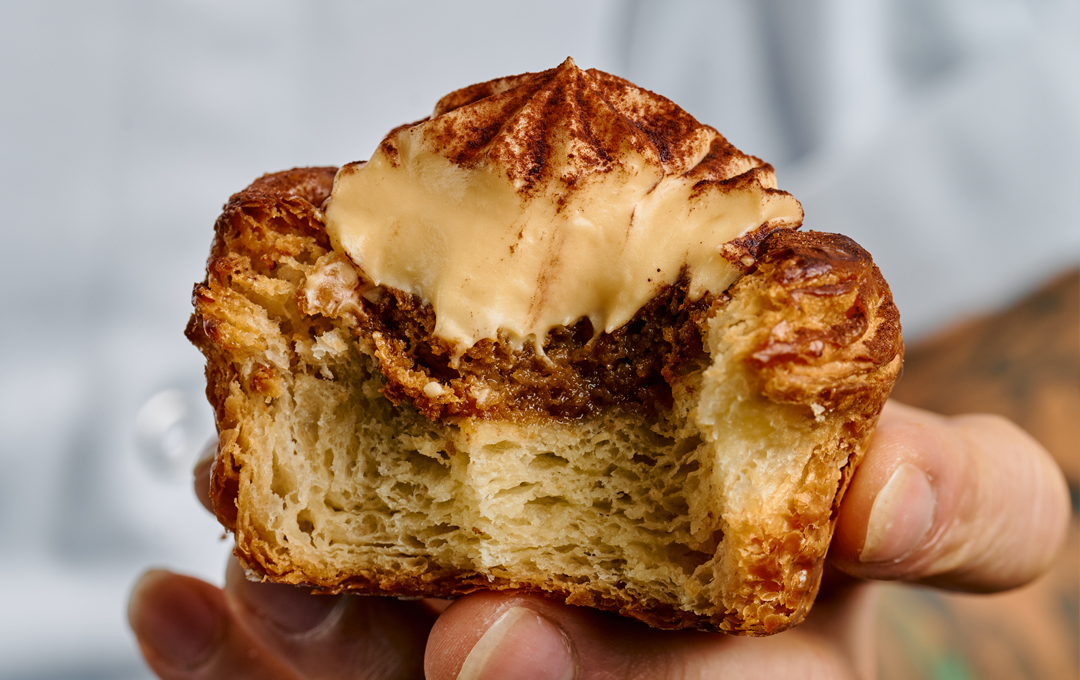 Rocco's Meatball Sub Is Finally Available On Their Evening Menu—And You Can Cop It As Part Of A $45 Three-Course Date Night Feed
Much-loved Italian trattoria this side of the river, Rocco's Bologna Discoteca, has reopened for dinner, and on Wednesdays, they're putting on a date night feed for two at just $45pp. It'll comfortably keep both parties boozed and fed, with a half a litre of vino rosso, their signature meatball sub and spaghetti ajo ojo pepperoncino, and a soft serve del giorno to sweeten the deal. And, if you can't make Wednesday night, or you can't find a date, the good news is you can fall in love with RBD's meatball sub day or night—because it's now on the evening menu.
Book in here.

Victoria by Farmer's Daughters Teams Up With Starward Whisky For Winter Saturday Sessions
Warming you up this winter, a brand new collab between Victoria by Farmer's Daughters and Starward Whisky is launching from 13 May to 29 July. With bottomless Starward Whiskey-based cocktails alongside a hearty seasonal-inspired feast, this Fed Square restaurant is keying up to keep you nice and toasty, not to mention well-fed. The menu will include sharing plates with dishes such as BBQ pork belly, roasted root vegetable pie, and cheeses from Victorian farmhouses. The cocktails on offer, all featuring Starward Whisky, will include a Dark and Stormy, smoked whisky and coke, and a lemon and cherry Old Fashioned. There will be two sittings, either at 11:30am or 2:30pm, and bookings can be made here.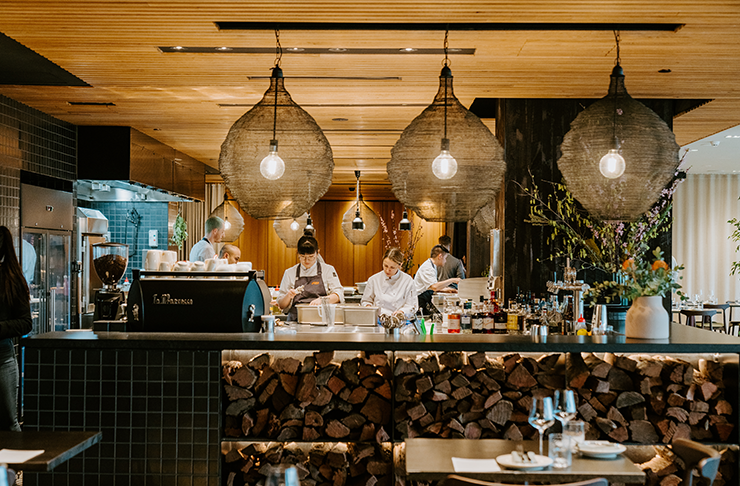 Australia's First Cheese Train Has Arrived
Geelong just levelled up, scoring Australia's very first sushi train-style cheese train. It's called Splatters, and it functions exactly like a sushi train except under those clear kloshes is cheese, glorious cheese. Each plate will set you back between $5 and $14, and in case you were wondering, yep, it's licensed, so you can pair it up with a glass of something light and bright.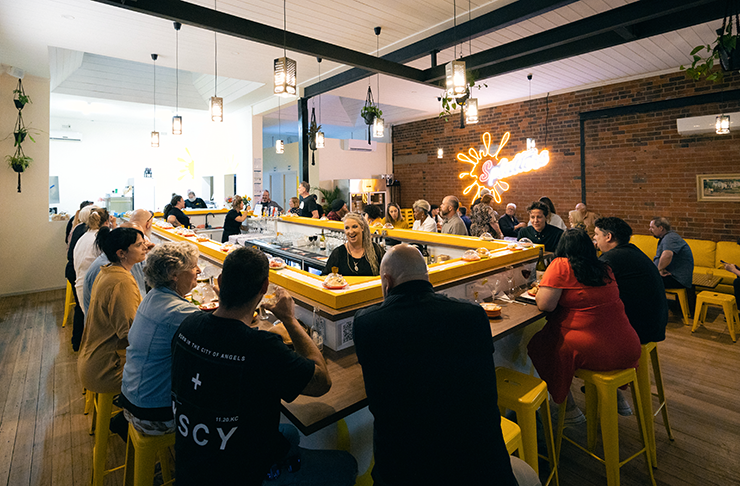 This New Coffee Subscription Service Brings Australia's Best Specialty Coffee And Craft Roasters To Your Door
Coffee drinkers across the UK and USA have gone bananas for it, and now, beanz.com is bringing the country's best craft roasters and specialty coffee right to you. The subscription model is a clever bean, which first identifies your preferences via a nifty quiz, then, it's up to you on how much and how regularly you want your coffee landing on your doorstep. There are currently 18 of the country's best roasters and 65+ individual roast profiles ripe for the picking from the likes of Allpress, Proud Mary, Seven Seeds, Padre and more. And beanz.com will even offer up expert advice and guidance on how to make the most of your selected brew. Begin, or continue, your at-home coffee journey here.
Yakimono Is Going Cray Cray For Crayfish, Celebrating The Crustation Over Two Exclusive Evenings
After three sell-out events during the Melbourne Food & Wine Festival, Yakimono is putting on another two nights of crayfish-centric feasts. Four of the five courses are hero the beloved crustation, with highlights including but certainly not limited to charcoal cray karaage, crayfish hako sushi, and the main event, a josper-roasted crayfish with spicy bisque and slaw. It's all happening on Tuesday 2 May and Tuesday 30 May for $145pp, and if you want to go all out, cocktail and sake pairings are available for $65 per person. Book in for either or both of the two dates here.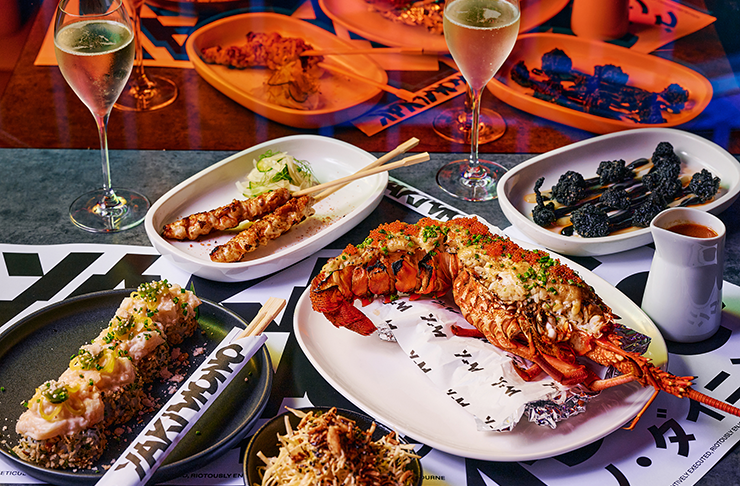 Korean BBQ Favourite, Mansae Has Opened A Sizzling New Spot In Melbourne's Eastern Suburbs
Mix up your regular dining routine with something a little spicier. Mansae, one of Melbourne's go-to destinations for authentic Koran BBQ, has recently unveiled its east-side sibling in Burwood. Between 5 pm and 6 pm, snatch up their grand-opening celebratory happy hour featuring a $10 Wagyu beef belly. Alongside the epic deal, indulge in other premium menu items, including Wagyu Striploin, Scotch Fillet and Oysterblade. But if you aren't a BBQ fan, don't fret. Order up a range of traditional dishes, including Tteokkochi (fried rice cakes) and kimchi jeon (aka, kimchi pancakes), or even try the K-Pot (Korean Hot Pot). Find out more here.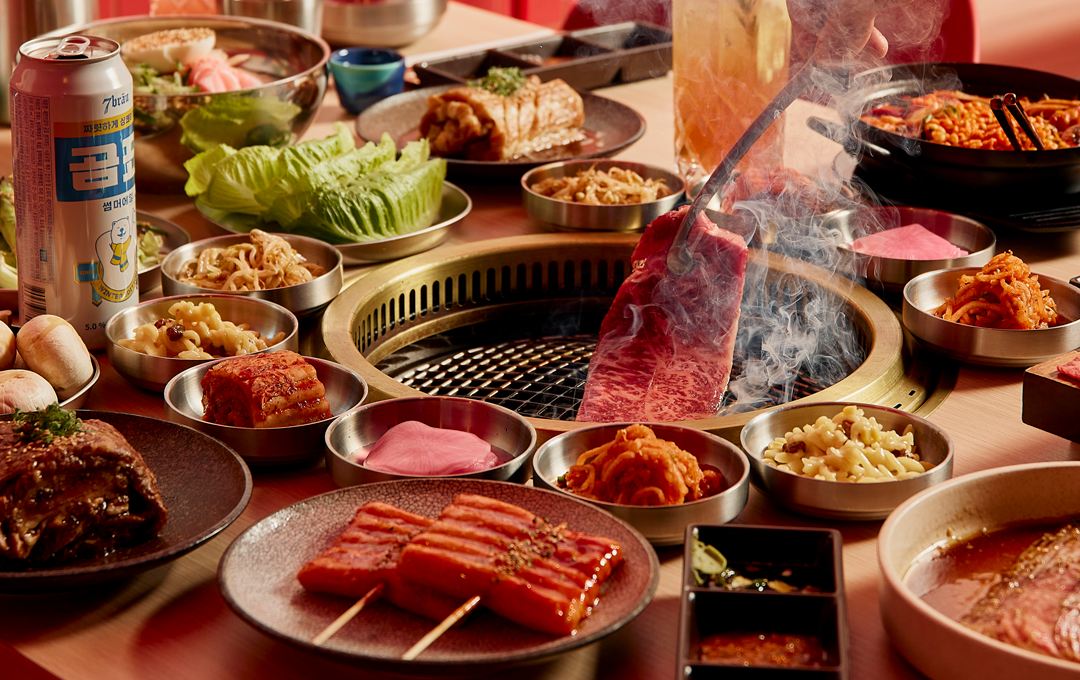 Set Sail Out Into The Bellarine Peninsula On A Boutique Mussel Farm Tour—With A Glass Of Bubbles In-Hand
Portarlington Mussels have long been known by the country's top chefs as one of the best mussel producers, and now, you can see how it's done first-hand on their boutique mussel tour. Taking off from the Portarlington pier on the immaculately restored 40-year old Huon pine vessel 'Valerie', you'll be joined by fourth-generation mussel farmers who'll take you through their craft. The team will also put on a live cooking demonstration on-board, heroeing what's just come out of the ocean. And to wrap up this unique experience? A glass of locally sourced Bellarine bubbles for your intimate journey.
Book your Portarlington mussel tour here.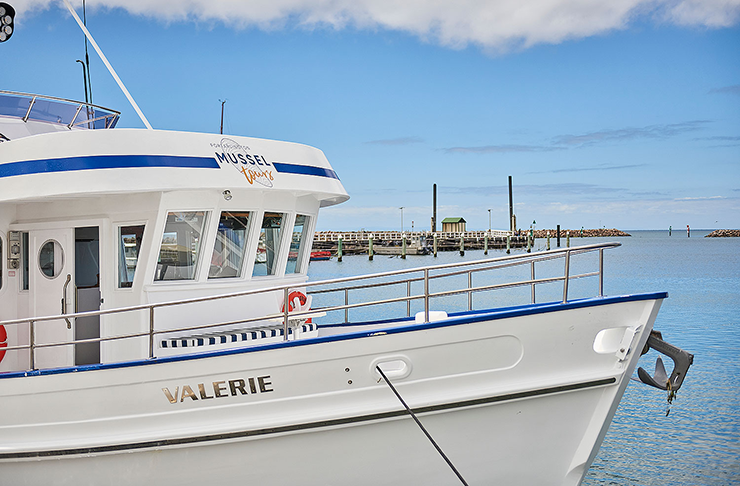 Society Is Pulling Out Some Of Their Rarest And Oldest Bottles, Serving Up Vintage Cocktails Tableside
Society holds plenty of accolades, one being that it houses the largest vintage spirits collection in Australia, and this season, beverage director Loic Avril is preparing a grip of opulent vintage cocktails. On offer is a 1970's Vintage Negroni crafted up with a selection of gins, vermouths and bitters—to your taste—from the 1970's; a vintage Manhattan consisting of 1970's Glenfiddich Scotch Whisky, 1970's Martini Rosso, and 1970's Dom Benedictine; and lastly, a Martinez that harks back nearly a century with 1930's Gordon's Dry Gin, 1930's Martini Rossi Aperitif a la Gentiane, and 1950's China China Elizir Vegetal—a bold selection with bold price tags of $95 to $145 respectively.

Tarts Anon Has Just Launched A Dedicated Tart Delivery Service Via Cookaborough
Cookaborough, the food delivery service focusing on small-batch, local makers and producers has just added cult tart icons, Tarts Anon, to their folio. And that means you can those sweet, sweet cherry and almond tarts, vanilla custard tarts, and more delivered right to your door. They'll be selecting regions of Melbourne for delivery which are announced on their Instagram regularly, and the first up is Footscray and surrounds—if that's you, order up here from now until the end of the month.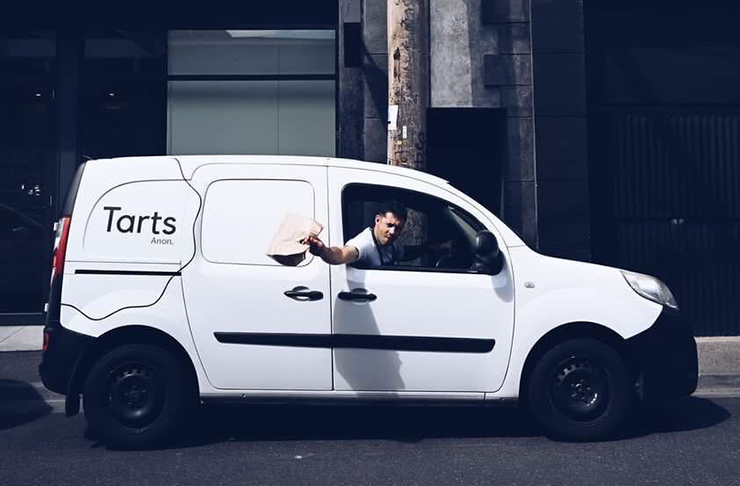 Weekday Lunches Are Back At Yakimono, And They're Putting On Wallet-Friendly Bento Boxes To Celebrate
The 9-to-5ers asked, and Yakimono listened. Weekday lunches are making a triumphant return to CBD favourite Yakimono. On the menu this round is a wallet-friendly bento box stacked with the good stuff. Highlights include, but certainly aren't limited to kingfish sashimi, edamame and wasabi dip, yuzu prawn gyoza and Tokyo grilled chicken.
The team in the kitchen is taking care of all dietaries with pesco, vego, vegan and gluten-free options all up for grabs, and at $29,50, there's really no excuse not to cancel that 12 o'clock.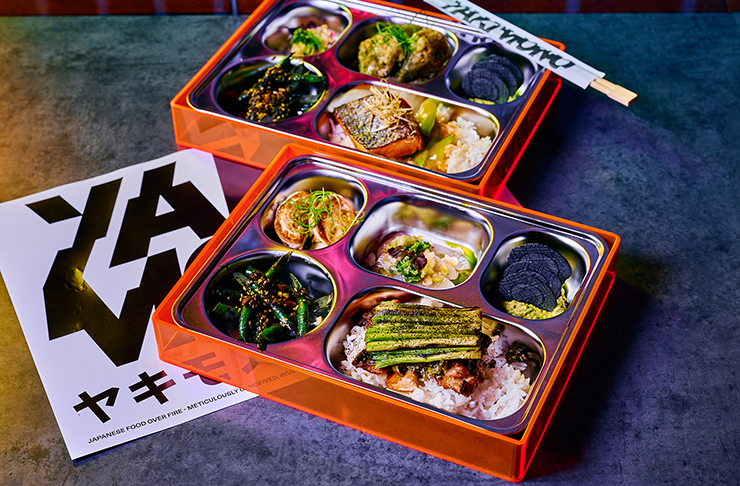 Peel Back The Curtain And Discover The NYC-Style Speakeasy Burger Bar Hidden In The CBD
Yorkshire-born Chef Sean Connolly is opening up his first venue in Melbourne, and it's being kept real lowkey. Introducing Shush Burger: it's like if a burger joint and a speakeasy had a baby. Although he's primarily known for his Australia-wide array of restaurants, such as Steak & Oyster Co. in Sydney, and Sean's Kitchen in Adelaide, Shush Burger will be more casual, with an emphasis on hearty, no-nonsense good food. You can keep things easy with a classic burger; a smashed beef patty, topped with nothing but the essentials - white onion, pickles, Dijon mustard and tomato sauce. Of course, they'll be offering slightly more elevated burgers, such as a buttermilk fried chicken, adorned with house slaw, lemon Kewpie mayo and pickled jalapeños, or a bacon lux burger, with double red Leicester cheese, applewood smoked bacon, caramelised onion and chipotle barbeque sauce. There'll even be a vegan option, made with 'love bud' plant-based beef, double cheddar, Russian dressing and onion rings, so there's sure to be something for everyone. All burgers are served between soft potato buns, and if you're looking to add more greens, you can get your burger lettuce wrapped. It'll be coming to the Courtyard in Marriott Melbourne in late March, so keep your eyes peeled for more info.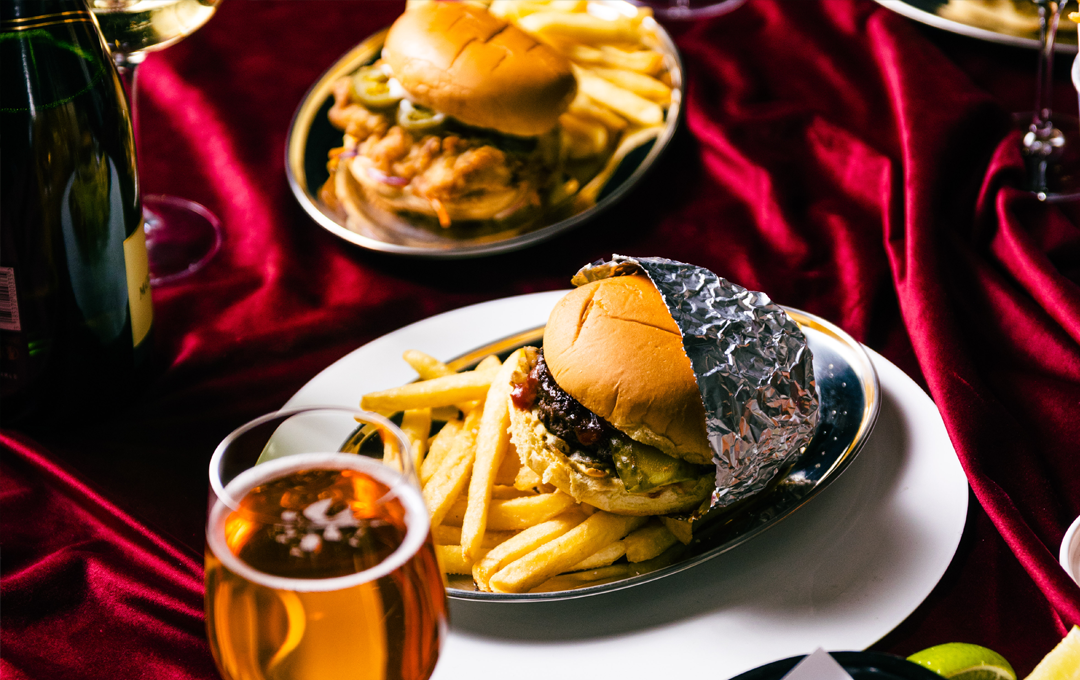 La Colmena Is The Tiny '

Pasteleria' Inside Prahran's Market Serving Up Decadent Spanish Baked Goods

One of the lesser-explored pastry styles in Melbourne, the Spanish-influenced La Colmena is an artisan-style 'Pasteleria' inside the Prahran market. Led by Spanish-born Cristina Jimenez who shifted to Melbourne back in 2009, the tidy baked good outfit has been a lifelong dream, first testing and trialling her self-taught skills before completing a full pastry education at Le Cordon Bleu. With a slew of regional specialities like the showstopping Glaseados, which hails from the southeast of Spain and features stacked layers of buttery puff pastry with patisserie cream, a thick Italian meringue and a flamed caramelised yolk top. Other highlights include the Doblegats with chocolate cream, the quaint Miguelitos and the almost escargot-esque, Ensaïmades. Find out more about La Colmena here.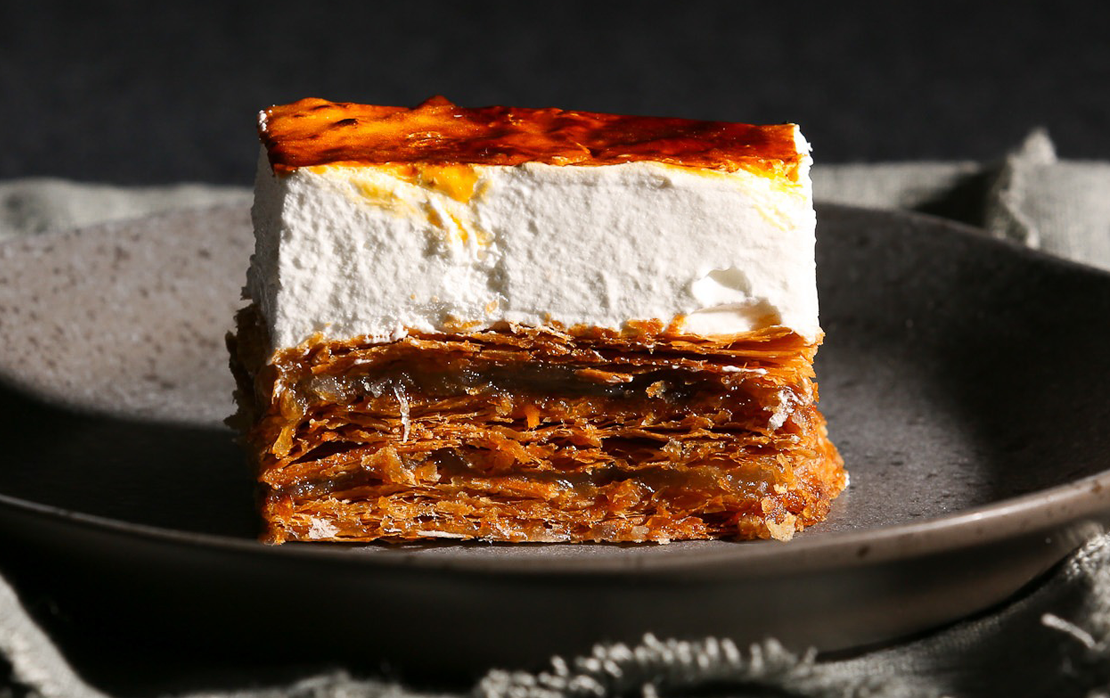 This Racy New Dessert Shop Is Serving Penis And Vulva Shaped Waffles In The CBD
Chocolate-covered penis and sprinkle-topped vulva waffles are on the menu at this dessert shop on Degraves Street in the CBD. Rude, anatomy-focused, or downright fun—whatever you want to say about it, Mykiki is sure as hell doing desserts differently.

It's called Mykiki, and they sling sweet treats in the shape of your good bits. The Kikis—AKA phallic waffles—come covered in rainbow icing, strawberry chocolate and pink sprinkles, and there's even one called the Sugar Daddy, which comes topped with white chocolate and gold. Or, you can get sweet vulva-shaped waffles (or, as the shop calls them, Kikettes), with flavours like triple choc, cookies and ice cream, and one with strawberry ice cream, strawberry chocolate, and flower sprinkles.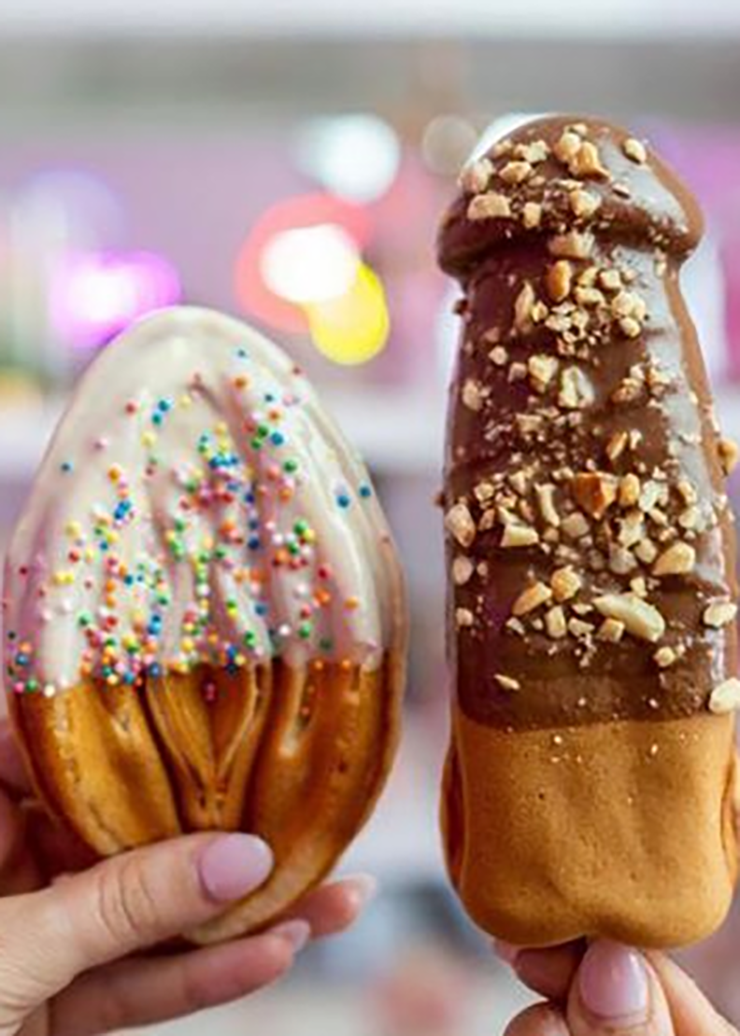 Casa Nata Has Transformed Its Magical Portuguese Tarts Into A Decadent Soft Serve
Tackling a Casa Nata Portuguese tart is a tried and tested ritual. The hand-made creamy and eggy tarts are a sensual delight and now that supreme dessert experience comes in soft serve form. Replicating the fully rounded flavours of the Portuguese tart, the homemade soft serve is made in part from the Casa Nata custard and is then sprinkled with flakes of the golden-crunch pastry and served into either a cup, cone or an OG pastry shell— giving that perfect textured contrast of cream to crunch. You can get your hands on the new creation by heading to the Windsor shop on Chapel Street. Find out more over here.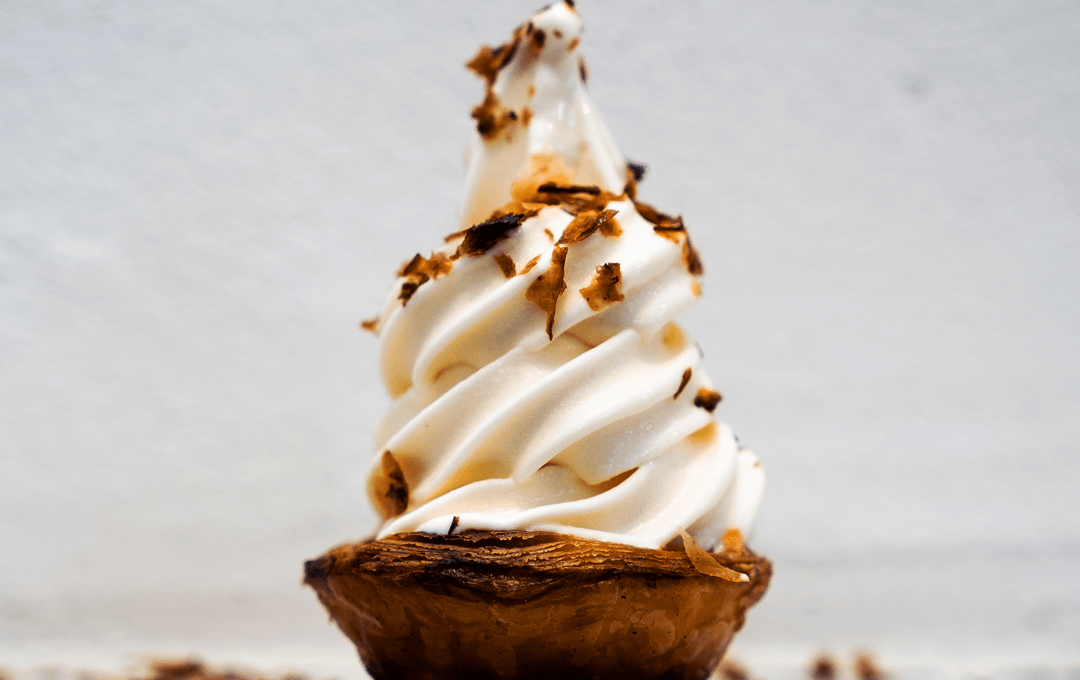 South Australia's Pirate Life Are Opening A Melbourne Brewpub In An Ex-Mechanics Garage This Year
The South Australian favourite is heading east to set up shop in South Melbourne. Housed within an ex-mechanics garage, punters will be able to wrap their hands around Pirate Life classics—like their IPAs, pales and stouts—as well as a grip of rotating limited releases. For the menu, the team'll be leaning into produce plucked fresh from the neighbouring South Melbourne Market, while looking to champion flames and fire as the cooking method. No offiicial date has been announced, though doors are expected to open mid-2023. Keep an eye on Pirate Life's socials for more.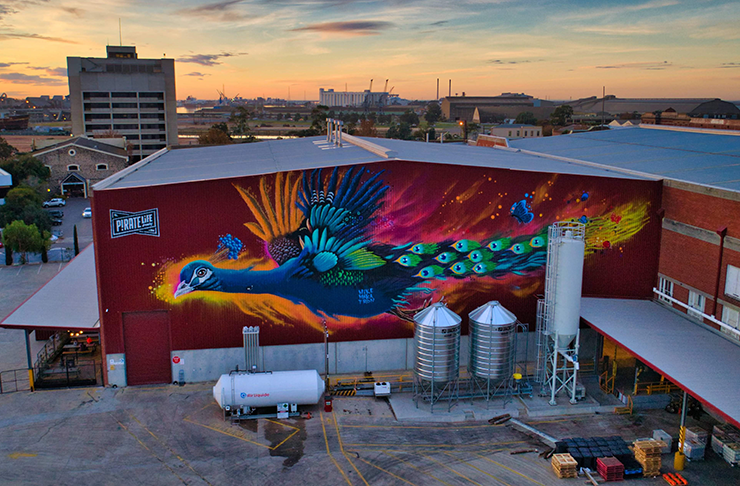 Australia's Award-Winning Pie Bakery Has Just Opened Up A Store Inside Chadstone
Since opening Country Cob Bakery back in 2016, brothers Ryan and Chan Khun have set the pie world on fire. Each year they flatten the competition at the state and nationwide pie awards taking out gold, they've also opened up several new stores now with Kyneton, Boronia and Springvale and even appeared on Masterchef for a pie-making masterclass. Today they've just opened up their fourth pie destination at Chadstone, situated right out front of Aldi inside the mammoth shopping centre. The new Country Cob store will feature a range of their award-winning pies, sausage rolls, and even their outstanding vanilla slice. Perfectly timed with the onslaught of Christmas shopping, think of it as the perfect way to refuel while present shopping. Head over here for more details.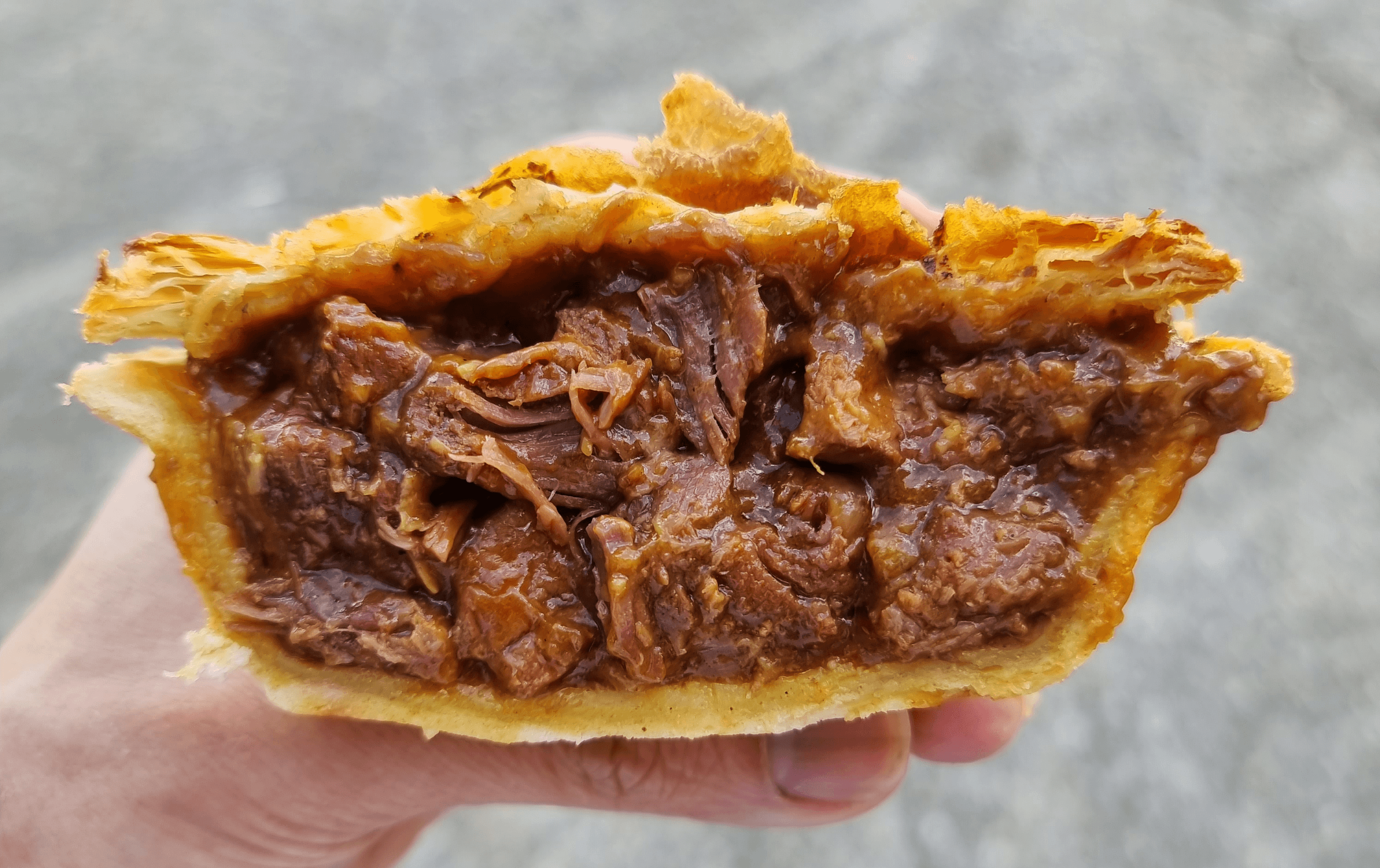 Motor Is The Euro-Inspired Bistro And Wine Bar Set Inside A 110yo Car Garage On Glenferrie Road
Set in 110yo heritage-listed car garage on Glenferrie Road, Motor is the all-new bar and bistro from the same team behind East End Wine Bar in Hawthorn East. Imbued with a breezy European feel, the collective of owners, Rich Donovan, Craig Tate and Matt Jones, and Melbourne Demons Ruckman Max Gawn designed the venue to be a neighbourhood-friendly space, a destination for good wine and Euro-inspired share plates. On the menu, you'll find contemporary numbers like anchovy toast with a cultured butter and shallots, or a goats cheese and leek souffle to the more storied dishes like the Black Angus scotch fillet which is served with a café de Paris butter. Wine is a' plenty with both local options as well as an extensive selection of imported drops like shiraz from Western Australia to Italian Sangiovese. Check out more over here.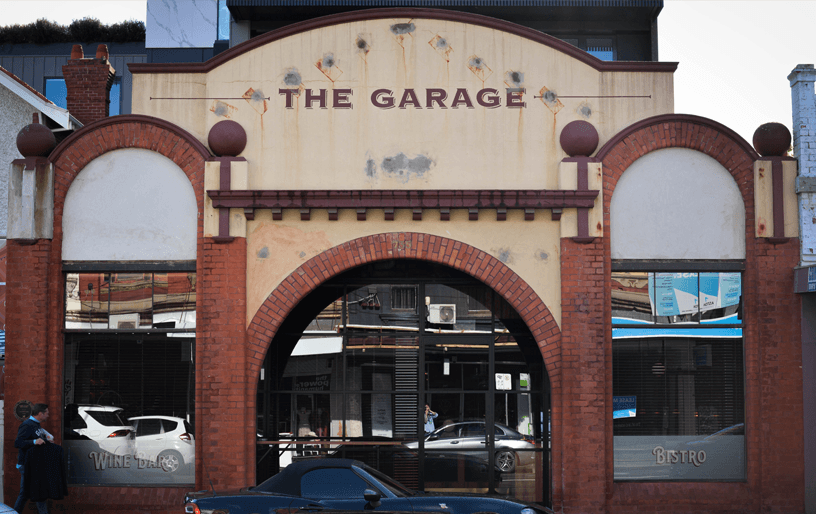 Check out more of Melbourne's best below:
Keen for more of Melbourne's best? Check out the below:

Image credit: Connie's (Parker Blain)