Everyone loves a classic choc-chip cookie, but the options don't end there. For sweet tooths think thick New York deli-style cookies, and for flavour connoisseurs think cookies infused with things like basil oil and miso-caramel. They may come in all shapes, forms, and flavours but there is one thing they all have in common—they are absolutely delicious. Thanks to the rich variety of gourmet bakeries, cafes, and Instagram cookie stars, you'll find some absolute belters around town.
We asked the question on our Instagram earlier this week, 'Where can we find the best cookies in Melbourne?' And the answers for the crumbly, crunchy, soft and chewy biscuits came in thick and fast. This is where to find 10 of the best cookies in Melbourne as voted by you:
Cobb Lane Bakery
YARRAVILLE, RICHMOND, SOUTH MELBOURNE
Some of the finest purveyors of the baked good genre, Cobb Lane Bakery has some serious talent in the bakery department; churning all shapes and sizes of pastries, cakes, tarts and cookies their craft knows no bound. Gaining a serious reputation for their staple peanut butter and chocolate and choc sea salt cookies Cobb Lane has amassed a cult following with their loyal customers flooding their Yarraville HQ and newly opened space at Richmond Traders.
The Cookie Box
HAWTHORN & WINDSOR
When we asked our Instagram where to find the best cookies in Melbourne—a clear fan favourite emerged, The Cookie Box. This is probably due to their emphasis on rich, decadent cookies, with their secret technique—letting their cookies chill in the fridge for 48 hours before they are freshly baked each day. Not to mention, they use only the finest Belgian chocolate. Despite their iconic twists on a classic choc-chip, their churros cookie is also worth getting your hands on. This one is a vanilla cookie filled with Dulce De Leche finished off with a cinnamon sugar dusting. Head over to their Hawthorn or Windsor store for some of the best cookies in Melbourne.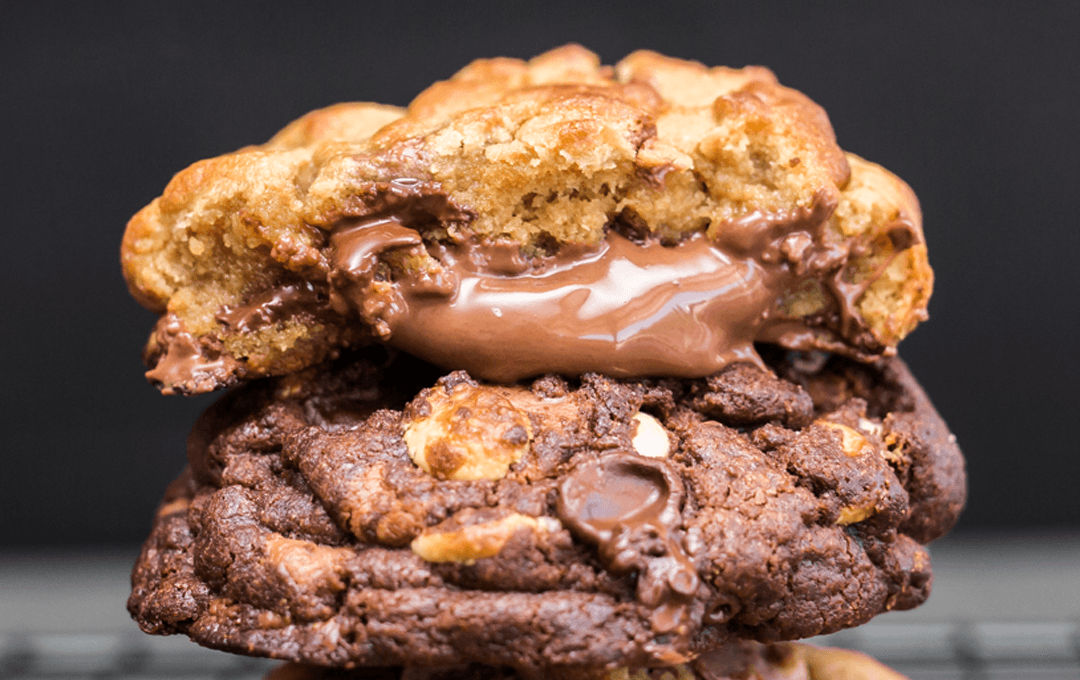 Mile End Bagels
FITZROY & BRUNSWICK
Typically frequented for their bagels which are some of the best in town, the cookies you can pick up at Mile End are some you'll never forget. Flavours and recipes differ and so do the creators with a mixture of in-house classics like the bakery standard, black and white cookie; nothing mixes better than vanilla and chocolate, as well as gems like the now-famous brown butter, miso and chocolate numbers from Mile End's own, ctrl_alt_choc.
Georgie's Grub
MALVERN / INSTAGRAM
Forget boring, because Georgie's Grub cookies are anything but basic. Her ingredients may seem out there, but trust me they work. From miso caramel to chocolate orange and basil she is a magician at making cookies. To try out one of these unique blends Georgie creates a new flavour weekly at Stan's Deli in Malvern and during lockdown has been making cookie boxes which you can order directly off her Instagram. If you are looking for the best cookies in Melbourne that are guaranteed to transform your taste buds, get your hands on a cookie from Georgie's Grub.
Drip Cakery
MELBOURNE
Drip Cakery is dedicated to providing serious sugar hits for plant-based people creating vegan NYC style cookies which are extremely chewy, delicious and avoid all animal products. Double Choc and White Chocolate and raspberry cookies are just a few of the goodies you can order. For the best vegan cookies in Melbourne's South East head over to Drip Cakery.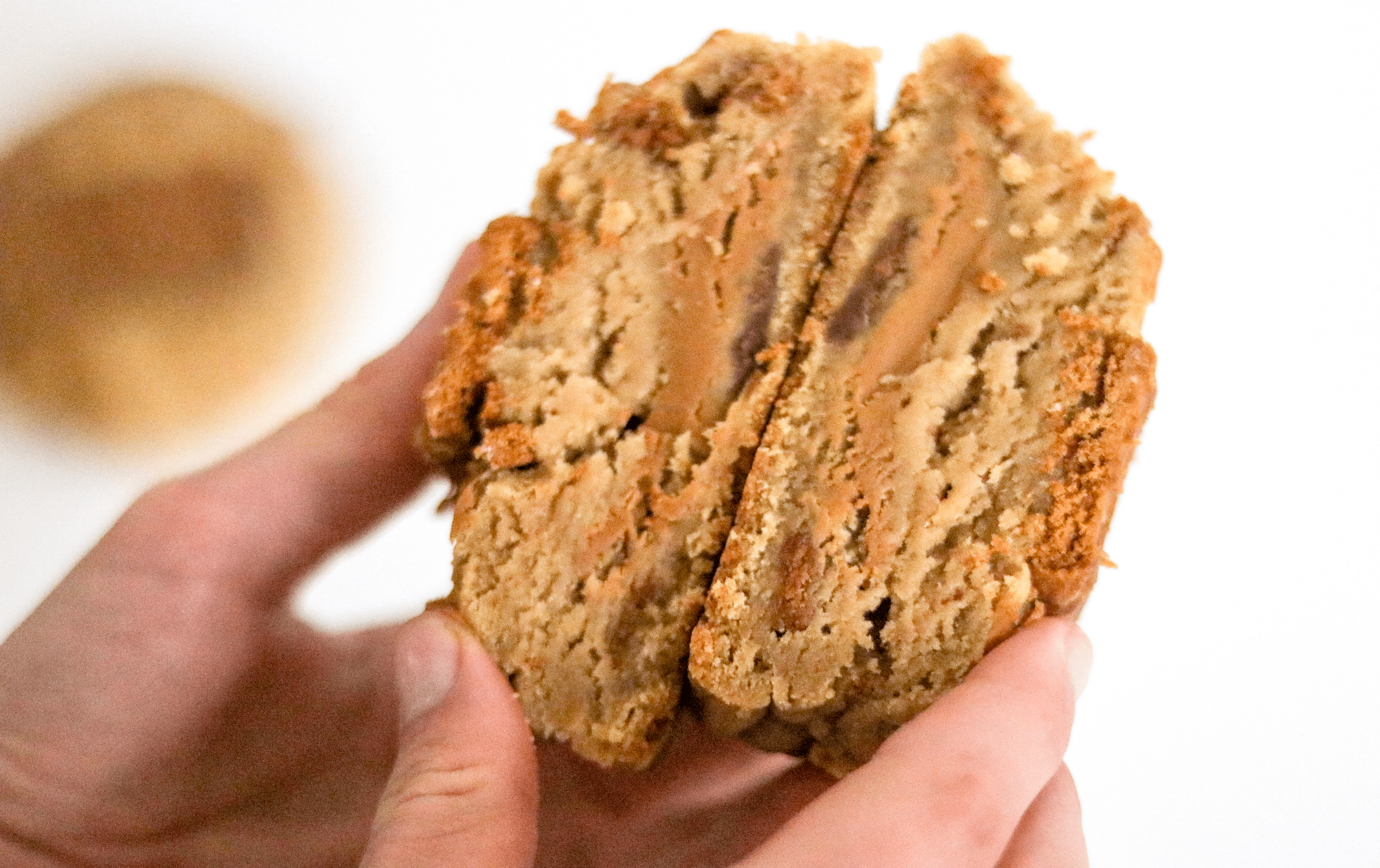 Penny for Pound
RICHMOND
Typically known for their delicious assortment of pastries, Penny for Pound isn't only good for their croissants. Their salted choc-chip cookies really are also a real showstopper. The simplicity of a classic choc-chip is the perfect balance of crispy and chewy, and the sprinkle of salt just makes all that flavour pop. They're also conveniently stocked at the various Axil Coffee Roasters stores around town, so you can always pick up one with your coffee.
Bread Club
NORTH MELBOURNE & ALBERT PARK
The first rule of Bread Club? Tell literally everyone you can about their cookies. The baked goods operation has two neighbourhood-friendly stores North Melbourne and Albert Park and keeps it simple with a range of bread, pastries and a timeless choc-chip cookie that will completely knock your socks off. Hands down some of the best cookies in Melbourne's south and northern suburbs.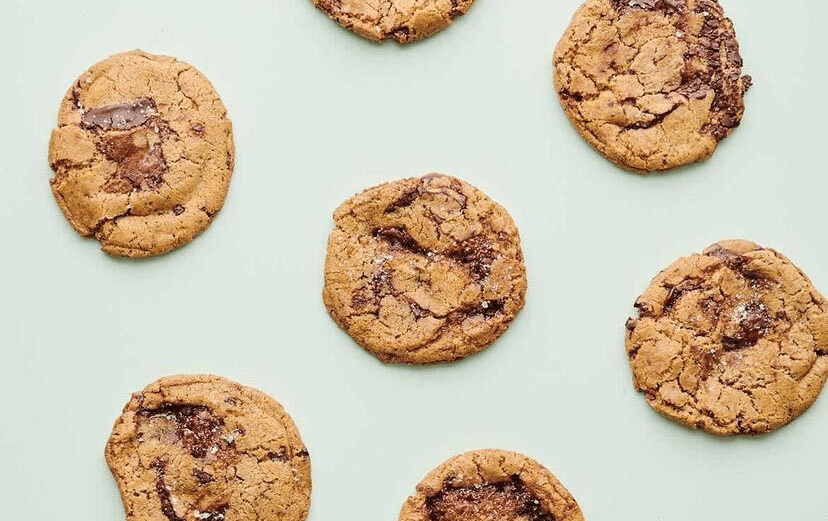 Miss Trixie
ONLINE
Where in the world would be without Miss Trixie? The ultra-vibe dessert queen of Melbourne has been spreading her colourful sweet treats all over town, and we couldn't be thankful enough. Miss Trixie's batches of loaded cookies are true life-altering; primarily her 'Somewhere Over The Rainbow' recipe which is a choc chip cookie which is then topped in every colourful lolly imaginable from your run-of-the-mill musk to sour worms, sprinkles and more. Sure it's not traditional, but it's bloody delicious.
The Dough Co
ONLINE
The Dough Co is a choc-chip filled venture that was born out of lockdown. The father-daughter led operation from Amy and Mark Silver came about when Mark's commercial catering kitchen was left unused through COVID. The slick operation delivers ready-to-bake cookie dough right to your door, all you've got to do is unwrap, slice them up, and throw them in the oven. Flavours are varied and range from your staple choc chip to choc mint, orange; they even have a plant-based golden oat cookie and gluten-free choc chip version so everyone can get stuck in.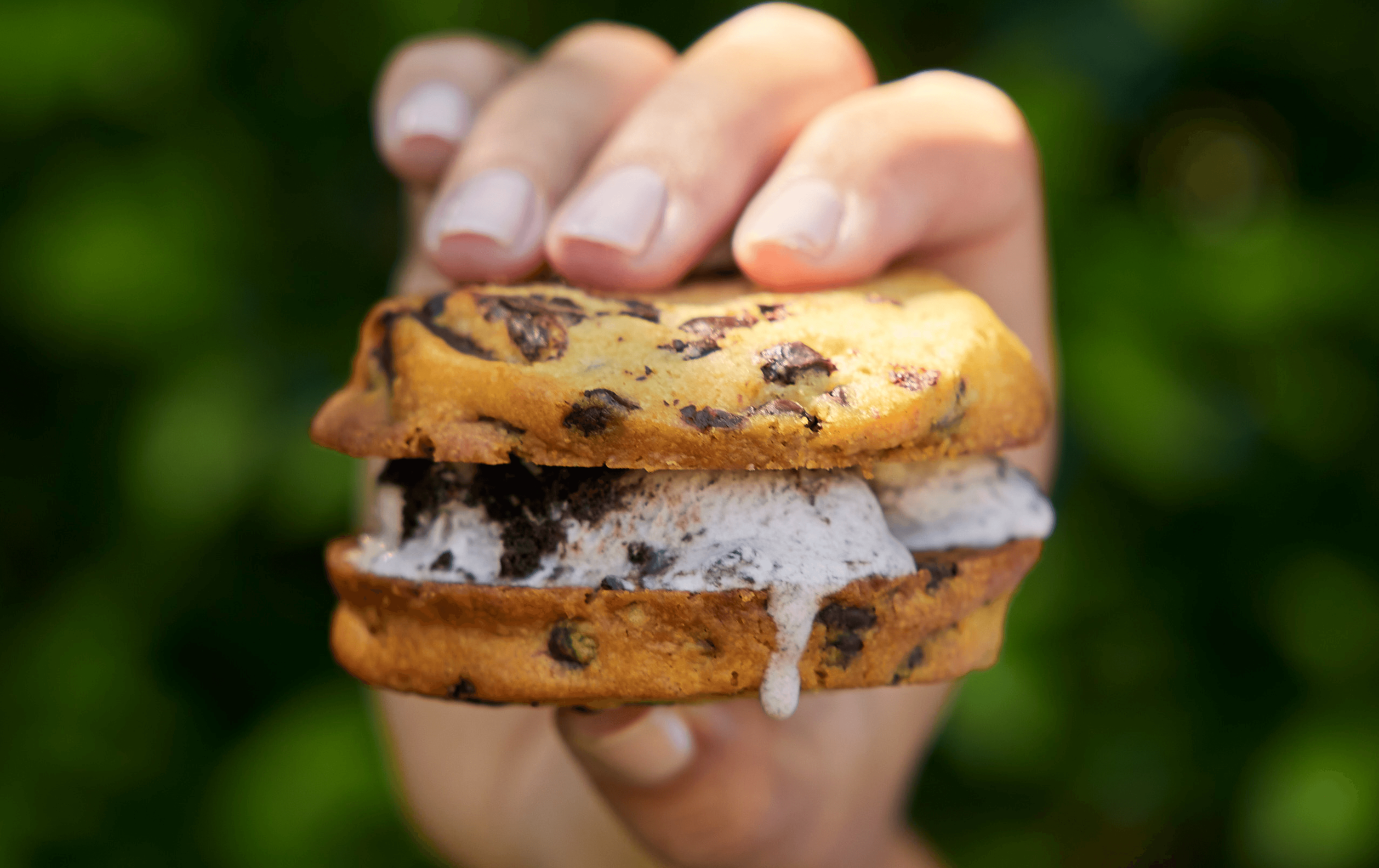 SABLE
CREMORNE
Home to vegan cookies, cakes and bagels, Sable is serving up some of the best plant-based cookies in Melbourne. Their cookies lack dairy and eggs, but they are far from lacking flavour. Contrasting with the golden and crisp outside, the centre of their cookies are soft and gooey. They have developed the ideal cookie ratio and these magnificent plant-based goodies are the perfect size to share with a friend or devour to yourself. Try their iconic 'Notella' or Quadruple Mega Choc and let's be real, no one else will be getting a bite.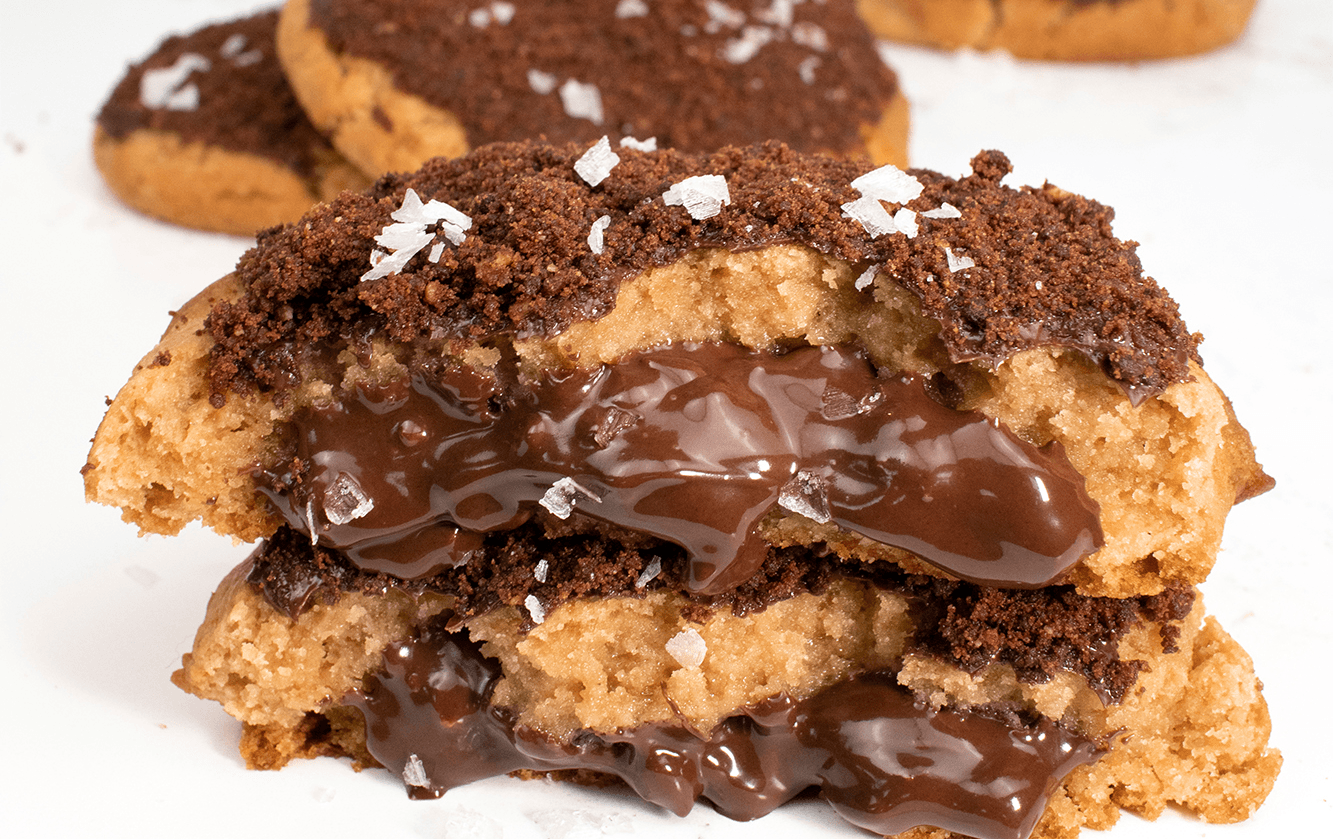 More of a vanilla slice person? Check out the best here.
Image credit:
Cookie Box | Supplied