The heat is beaming down, the beach is calling, and you've got a thirst that only the iciest drink is going to quench. But there's something else calling your name, something that is going to instantly cool that core temp down, something that is totally worth forgoing the summer bod for—ice cream.
Melbourne's got itself a great range of fine ice cream and gelato purveyors, and we just seem to be adding more and more to the list. So, as you swelter under the Melbourne sun, check out Melbourne's best ice cream and gelato:
Sundae School Ice Creamery
CAULFIELD NORTH
When you find out Sundae School Ice Creamery is from the team behind Tuck Shop Takeaway you immediately know it's going to be good. Featuring an ever-changing menu of totally handmade flavours that will challenge what you're expecting when you walk into an ice cream shop. Flavours have included the likes of 'Apple Pie', an apple compote ice cream with hints of cinnamon and house-made pie crumbs. Or the BOM Jesus, a cold-infused Brazilian coffee creation, spiked with toffee, milk choc and orange crunch. Rainbow marshmallow, raspberry and rhubarb sherbet, mango lassi, caramel cookie butter are some of the other marvellous creations.
Pidapipo
CBD, CARLTON & WINDSOR
The second the temperature spikes in Melbourne there is a line outside of Pidapipo faster than you can say… well, Pidapipo. Their Mojito flavour is a thirst-quencher in the hot hot heat, and any gelateria that allows you to add extra Nutella is okay in our books—yes they have a Nuttela tap. If you want to live out all your chocolate fantasies, grab the Nutella swirl and obviously add extra Nutella. Don't worry, there's no such thing as too much.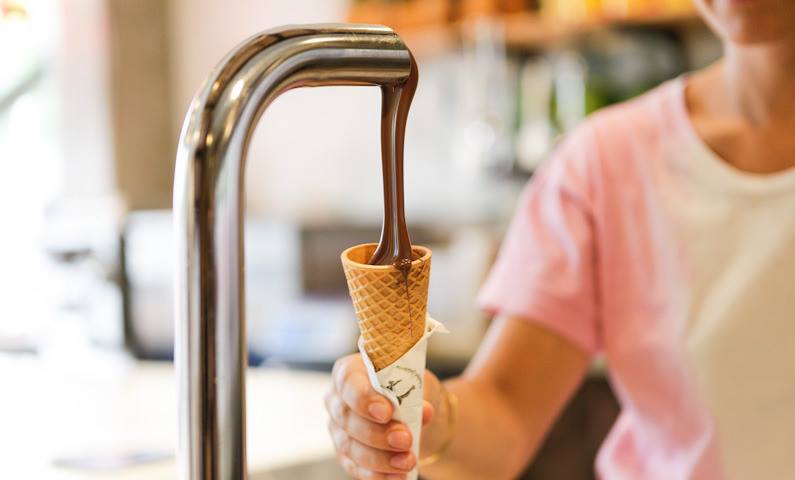 Gelato Messina
VARIOUS LOCATIONS
This joint's quite popular in the Melbourne gelato stakes, with mammoth queues that spill out onto the street, come rain, hail or, hopefully, more prevalent, shine. Us Melburnians do love to queue these days, but the reality is we won't unless it's worth it, and the fact of the matter is, Gelato Messina is pumping out some of the city's finest gelato. Grab your mates to keep you company, or a really good book, and get in line. The salted caramel and white chocolate are worth every mouthful and we love the roasted hazelnut flavour, with the nuts imported from Cortemilia, Italy.
Gelato Papa
PRESTON
Gelato Papa opened in early 2017, and Preston is all the better for it. With a range of freshly-made gelato with ingredients all made from scratch in-store, and a range of gelato cakes like the Vegan Bombe Alaska, Gaytime with a mash of caramel and chocolate ganache covered in crumbled malt, or the Raspberry Swirl with milk gelato laced with ribbons of raspberry sauce, Gelato Papa should be on your radar this summer.
Billy Van Creamy
FITZROY NORTH, BRUNSWICK
If you've stumbled across Billy van Creamy, you have made it to the right place. They always have a good mix of traditional ice cream, vegan flavours and sorbet—so to say there is something for everyone is an understatement. Their vegan Peanut Butter, Choc Chip is pretty mind-blowing and for something a little more refreshing try their Coconut sorbet. Or, live it up with your choice of ice cream sandwiched between two brownie cookies.
Casa Del Gelato
CARLTON
We love all things 80s, and long-serving local hero, Casa Del Gelato, has been bringing old-school ice cream to the cool kids since 1980. A stalwart of Lygon Street's traditional Italian strip, their award-winning scoops are well worth a visit, with their Belgian chocolate offering one of the best gelatos in Melbourne. The chilli choc version gives a good kick and messes with your senses in the very best way. They also have a bulging soy section, so lactose-intolerant folks and vegans don't have to miss out. The soy-based pistachio is a big yes.
Brunetti Classico
CARLTON
The gelato section tucked towards the back of Brunetti in Carlton is certainly worth a visit for their fresh flavours, but sometimes, you want something on the go. Closer to the entrance is their ice cream cabinet, filled with ice cream cookie sandwiches, ice creams on a stick, and even whole ice cream cakes. They do the most gorgeous heart-shaped Amarena cherry popsicles, but their Nutella Biscotto gelato (ice cream cookie sandwich) absolutely slams.
Il Melograno
NORTHCOTE
Just opposite the fabulous picture house that is the Palace Westgarth, Il Melograno, has made a fast impression on the city's insatiable ice cream lovers. Gelato king Marco Enea was enticed away from Sicily's outrageously beautiful Palermo to rule the roost here, and every mouthful speaks with Italian authenticity. Who wouldn't want a post-flick debrief over flavours including a wonderful sweet and savoury combo in chocolate and rosemary?
Miinot Gelato
PASCOE VALE SOUTH
Popping up in a stretch of Melville Road that's seen better days, Miinot Gelato is worth the detour for some of Melbourne's best gelato. Husband and wife team, Emma and Gary, are killing it with a small but perfectly formed gelato list that steadfastly avoids pre-mixed bases. They're packed with real fruit goodness, too, like their mouth-watering watermelon.
Piccolina Gelateria
VARIOUS LOCATIONS
Piccolina's founder Sandra Foti quit her job and travelled to Italy to learn the art of gelato making. She brought that knowledge back to Melbourne and now has over five stores in the suburbs, and we're forever grateful. Everything at Piccolia Gelateria is made fresh, from the gelato itself to the brownies that go into the chocolate brownie gelato. All of the classic flavours are here, with a few extras thrown in for good measure.
Gelateria Primavera
CBD
Few of Melbourne's best ice cream shops are as scenic as Gelateria Primavera, ensconced in The Spring Street Grocer, overlooking Parliament. It's the perfect spot to grab a scoop or two when it's hot in the city, with Massimo Bidin taking pride in his artisanal gelato using fresh, seasonal fruit and St David's cream. Whether it's lunchtime ice cream loving for politicos and public servants or a nighttime treat for lovers on a first date, expect to queue for gelato this good.
Fritz Gelato
VARIOUS LOCATIONS
While they have a few outposts now, the original Fritz Gelato stall at the South Melbourne Market is still the best in our opinion. Scooping plenty of awards, they stick to their handmade guns, despite the expansive business growth, sourcing organic milk, sugar and other goodies, with the sorbets vegan-friendly too. Do your duty to your country with the Anzac Biscuit flavour.
Jock's
ALBERT PARK
Boasting a fair few medals to their name, Jock's is one of the best southside spots to grab a cool gelato fashioned from top-notch ingredients. We can't go past their good ol' US of A special, the Obamarama, involving the obligatory peanut butter and jelly combo so beloved Stateside.
7 Apples
ST KILDA, CHADSTONE
It's not all about the cake when perusing Acland Street's thriving thoroughfare on a hot day. We're also major fans of 7 Apples artisanal gelato; if you can fight your way through the hordes of backpackers, they have a rotating display of 26 flavours at any one time, with around 100 in total, and they're open to suggestions for new concoctions.
Davey Mac's
BLACK ROCK
What's more summer than licking a scoop of Melbourne's best gelato by the beach? Jump in the car, preferably a convertible, and cruise on down the coast to Davey Mac's out in Black Rock. Davey Mac the man is a self-confessed gelato nut, with his artisan efforts made on-site, following Italian traditions to a tee. With a healthy mix of both sorbet-style and milk-infused flavours on offer, pick your icy poison and set out for a bit of sea and sand in your toes.
Girls & Boys
FITZROY
Brought to you by the team from Vegie Bar and Transformer Fitzroy, Girls & Boys is their dessert destination. In particular, they are dedicated to serving some of the best plant-based gelato in Melbourne. Whether you're vegan or not—you'll want a taste of one of their incredible flavours. Try their cookie dough and honeycomb or hazelnut brownie if you've got a sweet tooth. Otherwise, for something a little more refreshing go for the lychee and raspberry or coconut, lemongrass and sesame brittle. If you don't get a chance to try all of them, it's a perfect excuse to head back.
Gelateria Bico
BRUNSWICK
Father and son duo, Domenico and Davide Gaglioti spent years in Bologna studying the art of gelato. With all that knowledge and lots of time put in perfecting their craft, they opened up Gelateria Bico in Brunswick. They serve a range of classic gelato and sorbets, including vegan options too—and they're always spicing up their menu with new specials to keep you crawling back. Also, Bico has created a mind-blowing gelato dessert: Tartufi. Similar to a chocolate truffle, the Tartufi is a gelato-based dessert ball that combines two flavours of gelato with a creamy or sweet centre. For example, their classic Tartufi combines hazelnut and chocolate gelato with a chocolate-sauce centre. So do yourself a favour and try Bico's for one of the best gelatos in Melbourne's north.
Lavezzi
CARLTON, RINGWOOD
Small batch gelato hub Lavezzi has been in the business for over 150 years. So it's fair to say they know what they're doing. Their philosophy is simple too, high-quality ingredients churned daily to create their iconic and naturally made Italian gelato. With tradition at the heart of Lavezzi, everything is done in house, from their gelatos to homemade waffle cones. However, we aren't sure if you would've seen their delicious chocolate flowing tap a century ago. Their menu is pretty lavish, so if you're feeling overwhelmed with choice, try their lemon curd cheesecake, ricotta and pear, honeycomb crunch or Nocciola di Piemonte.
Meno Zero
DONCASTER EAST, CHIRNSIDE PARK, DROMANA
While they offer a range of artisan cakes and desserts, Meno Zero is best known for its decadent gelato. They aim to bring a spoonful of Italy to you, with traditional gelato flavours like strawberry and chocolate, but also exciting flavours like Caramel Cheesecake or Tim Tam. For one of the best ice-cream spots in Melbourne's east, Meno Zero is worth a taste.
Zero Gradi
BRUNSWICK EAST, CBD, MORNINGTON
Having zero in your name must be a gelato thing? Well, if it means serving up delicious ice cream, like at Zero Gradi, we don't care. Zero Gradi is the younger sibling to Melbourne's beloved Italian hubs Gradi, 400 Gradi Cicchetti and 400 Gradi. Showing off the sweeter side to Italian cuisine, Zero Gradi constantly trials new flavours. At the moment, they're scooping up sour cherry and white chocolate, Ferrero Roche and a good mix of other gourmet flavours.
Augustus Gelatery
VARIOUS LOCATIONS
If you're feeling adventurous Augustus Gelatery has flavours for you to test out. Think; Liquorice, Carrot Cake Frosting, Milo and Dulche de Leche, Yogurt and Pomegranate, Popcorn and Peanut Butter. However, if those sound a little bold for you, don't worry—they still have vanilla, chocolate, hazelnut and all your other faves. For a wide variety of options to suit everyone and some of the best gelato in Melbourne, this is a spot to try.
Luther's Scoops
BRUNSWICK
Another great gelato shop in Melbourne's north is Luther's Scoops. The hub is named after Luther Burbank, who was a plant breeder that worked alongside the land, rather than on top of it. Luther's Scoops has adopted this mantra and in their ice cream want to carry Burbank's legacy. They do this by producing seasonal flavours and supporting local farmers. This means their menu is constantly adapting to seasonal produce. For example, their current spring menu shows off a Vegan Pecan Caramel, Apricot Sour-Cream and Fig Leaf and Strawberry. To see the other fresh and gourmet flavours scoot over to Luther's scoops.
Boca Gelato
IVANHOE
Chefs Adam D'Sylva, and Monika Frkovic, who are also behind Tonka and Coda, have created a lovechild—Boca Gelato. Don't be alarmed, but yes, they have a dark chocolate tap and offer gelato choc-tops. Once trying one of these, you won't be able to go back to the cinema ones. While they offer choc-tops, milkshakes, frozen cakes and soft-serve that is all immaculate, their gelato is just as wonderful. Behind the bright terrazzo counter, you can try anything from fresh lemon gelato to Basque burnt cheesecake or pumpkin spice. It really is one of the best gelato spots in Melbourne's northeast.
Little Sky
BRIGHTON
A newer ice cream shop on the block is Little Sky. With key values for sustainability, they create small-batch gelato. They're super invested in creating minimal impact to the environment, but the maximum impact when it comes to taste. So they stay small, support local producers and give back to the community. All while simultaneously serving up cookies and cream or mango gelato. Due to their small-batch runs, they're always switching up the flavours, which is perfect if you are after something new each visit. For some of the best ice cream in Melbourne, hit up this bayside spot.
Kenny Lover
Thornbury
Kenny Lover is a 70s style eclectic ice cream spot. If you're after a little Bauhaus art-deco style and some mind-blowing ice cream head here. Their flavours are all made in house and frequently updated. The team at Kenny Lover is known for their use of native Aussie ingredients and innovative flavour combos. For example, at the moment expect pineapple and lemon myrtle sorbet or soy sauce and choc-coated Rice ice cream. Also, run over because at the moment they have a fairy bread and brown butter ice cream. Do we need to say anything else? I guess it doesn't hurt to mention that they serve hot chips too.
If you need somewhere to cool off, then look no further than our list of Melbourne's best hidden beaches.
Image credit: Pidapipo (Annika Kafcaloudis)