The heat is beaming down, the beach is calling, and you've got a thirst that only the iciest drink is going to quench. But there's something else calling your name, something that is going to instantly cool that core temp down, something that is totally worth forgoing the summer bod for—ice cream.
As summer quickly approaches we're ready to indulge in countless scoops, so without further adieu, here are the best ice cream and gelato shops in Melbourne for 2022:
Kōri
HAWTHORN
Coming in with an exciting new take on the dessert variety is Kōri— a boutique ice cream store inspired by the flavours and methods of Japan. The new shop is a joint venture between former Masterchef guest chef and dessert specialist, Bernard Chu (LuxBite) and trailblazing Melbourne chef, Joane Yeoh (Press Club, Tonka, Coda). This isn't your run-of-the-mill gelato store, Bernard and Joane have brought this less intense sugar approach and focused in on flavour. If you're overwhelmed by the flavour variety why not start with a Kōri staple and opt for the matcha pistachio.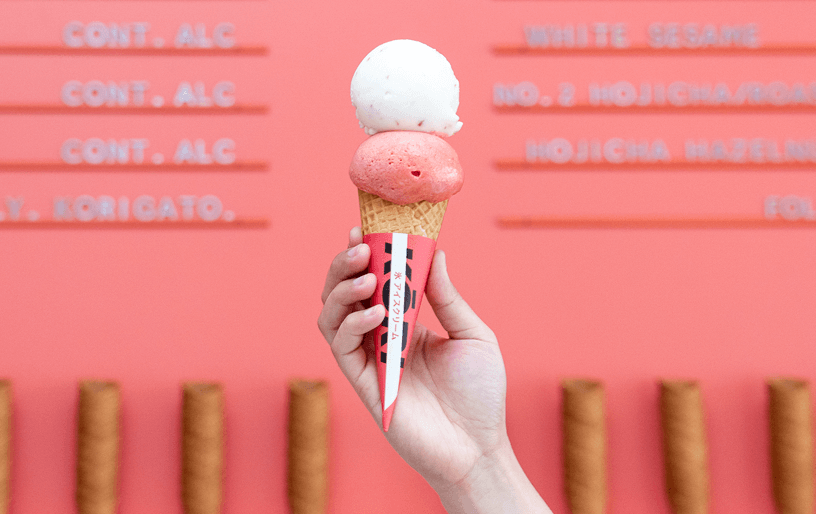 Augustus Gelatery
PASCOE VALE
Augustus is a passion project between two friends who have turned their Italian heritage into a gelato empire. Here you'll certainly feel the nostalgia for childhood visits to ice creameries as you stare wide-eyed at the glass cabinet containing thirty-two flavours to choose from. You can dig into a cup of boysenberry cheesecake, peanut fudge brownie or carrot cake frosting. Every element of the dessert is carefully considered by the Augustino team when creating their authentic artisan gelato in single batches.
Barbarella Gelato & Wine Bar
CBD
Named after the classic 60's sci-fi film, Barbarella is only serving up the essentials; gelato by the scoop and wine by the glass. The gelateria takes up residence in the historic Block Arcade and fits in seamlessly into the Victorian-era thoroughfare with its curved black ironwork, marble countertops and dark oak tables. You can depend on them for the classic flavours like pistachio and chocolate or try something more experimental depending on the seasonal fruit selection. Whatever your reason for being in the city, Barbarella will surely be worth a quick detour.
Pidapipo
CBD, CARLTON & WINDSOR
The second the temperature spikes in Melbourne there is a line outside of Pidapipo faster than you can say… well, Pidapipo. Their Mojito flavour is a thirst-quencher in the hot hot heat, and any gelateria that allows you to add extra Nutella is okay in our books—yes they have a Nuttela tap. If you want to live out all your chocolate fantasies, grab the Nutella swirl and obviously add extra Nutella. Don't worry, there's no such thing as too much.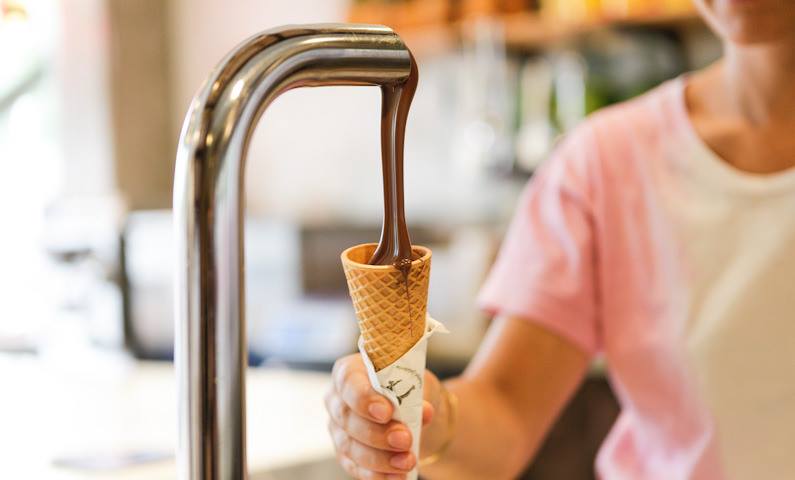 Kenny Lover
THORNBURY
Kenny Lover is a 70s-style eclectic ice cream spot. If you're after a little Bauhaus art-deco style and some mind-blowing ice cream head here. Their flavours are all made in-house and frequently updated. The team at Kenny Lover is known for their use of native Aussie ingredients and innovative flavour combos. For example, at the moment expect pineapple and lemon myrtle sorbet or soy sauce and choc-coated Rice ice cream. Also, run over because at the moment they have a fairy bread and brown butter ice cream. Do we need to say anything else? I guess it doesn't hurt to mention that they serve hot chips too.
Kariton Sorbetes
FOOTSCRAY & CBD
This Artisanal Filipino inspired ice-cream store likes to believe they've created the gelato you never thought you needed until you taste it. Kariton Sorbetes handcrafted gelato pulls from Asian flavours and skillfully combines it with quality ingredients. They have over twenty-five flavours in their repertoire that have aptly been named "K's Classics", however, the window selection only features twelve at a time so you're encouraged to switch it up every visit. Their 'Biskwit' creation is a crowd fave featuring a simple milk gelato base mixed with cookie butter and spiced biscuit crumb. You can get your scoops to devour immediately or take home tubs to indulge in later.
Gelato Messina
VARIOUS LOCATIONS
This joint's quite popular in the Melbourne gelato stakes, with mammoth queues that spill out onto the street, come rain, hail or, hopefully, more prevalent, shine. Us Melburnians do love to queue these days, but the reality is we won't unless it's worth it, and the fact of the matter is, Gelato Messina is pumping out some of the city's finest gelato. Grab your mates to keep you company, or a really good book, and get in line. The salted caramel and white chocolate are worth every mouthful and we love the roasted hazelnut flavour, with the nuts imported from Cortemilia, Italy.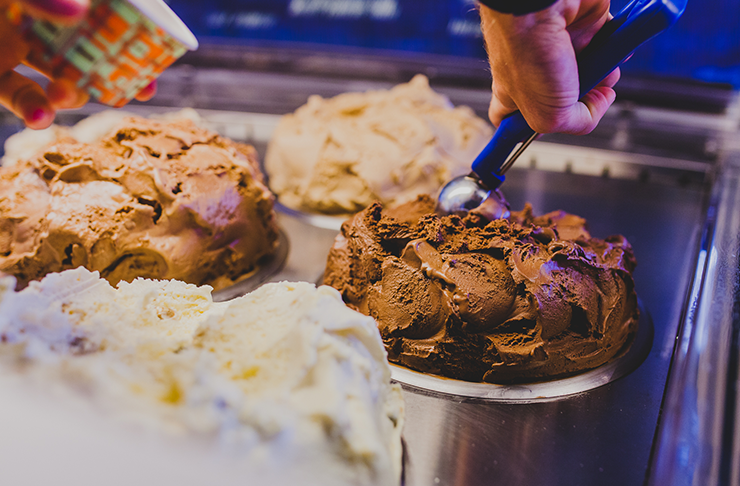 Luther's Scoops
BRUNSWICK
Another great gelato shop in Melbourne's north is Luther's Scoops. The hub is named after Luther Burbank, who was a plant breeder that worked alongside the land, rather than on top of it. Luther's Scoops has adopted this mantra and in their ice cream want to carry Burbank's legacy. They do this by producing seasonal flavours and supporting local farmers. This means their menu is constantly adapting to seasonal produce. For example, their current spring menu shows off a Vegan Pecan Caramel, Apricot Sour-Cream and Fig Leaf and Strawberry. To see the other fresh and gourmet flavours scoot over to Luther's scoops.
Billy Van Creamy
FITZROY NORTH, BRUNSWICK
If you've stumbled across Billy van Creamy, you have made it to the right place. They always have a good mix of traditional ice cream, vegan flavours and sorbet—so to say there is something for everyone is an understatement. Their vegan Peanut Butter, Choc Chip is pretty mind-blowing and for something a little more refreshing try their Coconut sorbet. Or, live it up with your choice of ice cream sandwiched between two brownie cookies.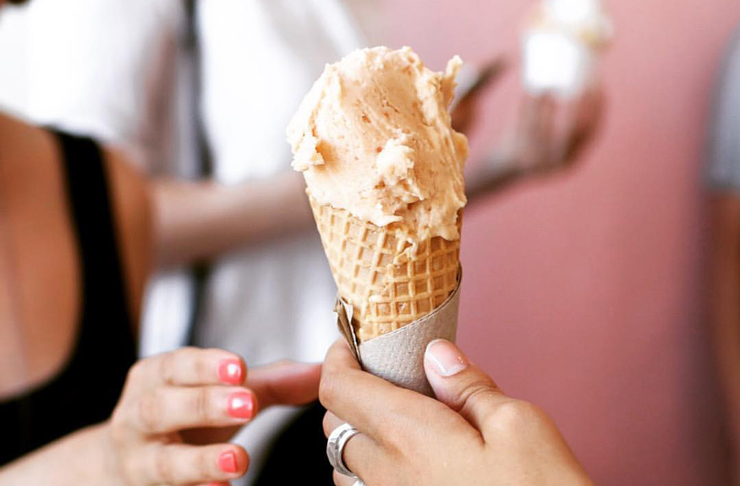 Zero Gradi
BRUNSWICK EAST, CBD, MORNINGTON
Having zero in your name must be a gelato thing? Well, if it means serving up delicious ice cream, like at Zero Gradi, we don't care. Zero Gradi is the younger sibling to Melbourne's beloved Italian hubs Gradi, 400 Gradi Cicchetti and 400 Gradi. Showing off the sweeter side to Italian cuisine, Zero Gradi constantly trials new flavours. At the moment, they're scooping up sour cherry and white chocolate, Ferrero Roche and a good mix of other gourmet flavours.
Gelateria Bico
BRUNSWICK
Father and son duo, Domenico and Davide Gaglioti spent years in Bologna studying the art of gelato. With all that knowledge and lots of time put in perfecting their craft, they opened up Gelateria Bico in Brunswick. They serve a range of classic gelato and sorbets, including vegan options too—and they're always spicing up their menu with new specials to keep you crawling back. Also, Bico has created a mind-blowing gelato dessert: Tartufi. Similar to a chocolate truffle, the Tartufi is a gelato-based dessert ball that combines two flavours of gelato with a creamy or sweet centre. For example, their classic Tartufi combines hazelnut and chocolate gelato with a chocolate-sauce centre. So do yourself a favour and try Bico's for one of the best gelatos in Melbourne's north.
Piccolina Gelateria
VARIOUS LOCATIONS
Piccolina's founder Sandra Foti quit her job and travelled to Italy to learn the art of gelato making. She brought that knowledge back to Melbourne and now has over five stores in the suburbs, and we're forever grateful. Everything at Piccolia Gelateria is made fresh, from the gelato itself to the brownies that go into the chocolate brownie gelato. All of the classic flavours are here, with a few extras thrown in for good measure.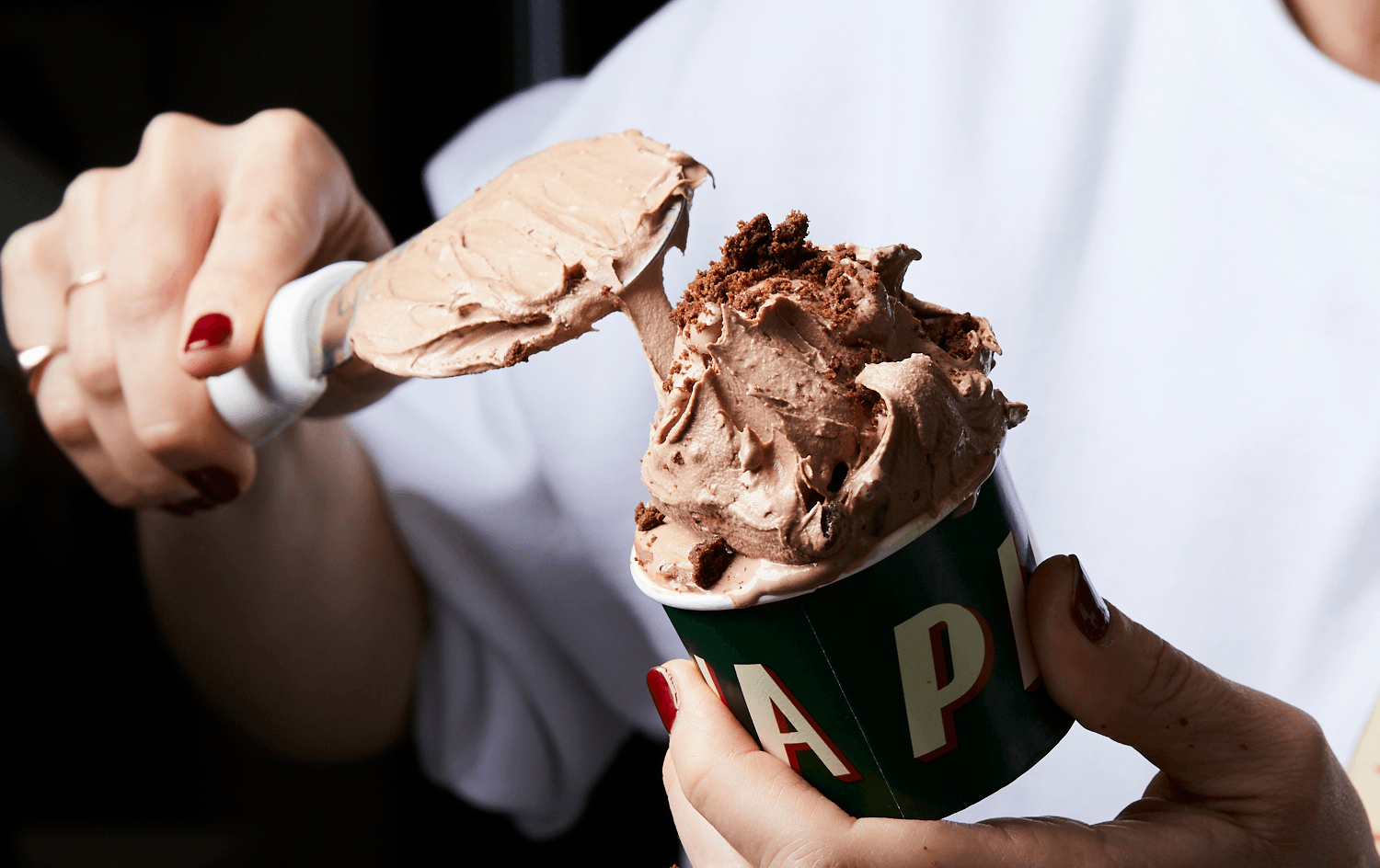 Girls & Boys
FITZROY
Brought to you by the team from Vegie Bar and Transformer Fitzroy, Girls & Boys is their dessert destination. In particular, they are dedicated to serving some of the best plant-based gelato in Melbourne. Whether you're vegan or not—you'll want a taste of one of their incredible flavours. Try their cookie dough and honeycomb or hazelnut brownie if you've got a sweet tooth. Otherwise, for something a little more refreshing go for the lychee and raspberry or coconut, lemongrass and sesame brittle. If you don't get a chance to try all of them, it's a perfect excuse to head back.
Boca Gelato
IVANHOE
Chefs Adam D'Sylva, and Monika Frkovic, who are also behind Tonka and Coda, have created a lovechild—Boca Gelato. Don't be alarmed, but yes, they have a dark chocolate tap and offer gelato choc-tops. Once trying one of these, you won't be able to go back to the cinema ones. While they offer choc-tops, milkshakes, frozen cakes and soft-serve that is all immaculate, their gelato is just as wonderful. Behind the bright terrazzo counter, you can try anything from fresh lemon gelato to Basque burnt cheesecake or pumpkin spice. It really is one of the best gelato spots in Melbourne's northeast.
If you need somewhere to cool off, then look no further than our list of Melbourne's best hidden beaches.
Image credit: Messina