One of the dearest food groups to Melburnians, pizza is in a treasured category of its own. Fortunately for the city, we've got plenty of pizzerias scattered on both sides of the river, from Napoli-style wood-fired oven classics to thick-cut deep-dish slices, the best pizza Melbourne has to offer can be found right across the city.
Here's where to find the best pizza in Melbourne for 2023:
48h Pizza e Gnocchi Bar
SOUTH YARRA, ELSTERNWICK
Editors Note:
For the second year running, local Melbourne outfit 48H Pizze e Gnocchi has taken out the gold for Australia. The Elsternwick and South Yarra trattoria has taken fourth place at the 50 Top Pizza Awards for the Asia Pacific region and first place for Australia.
The OGs behind 48h are Fabio & Michele, who in 2015 opened their South Yarra restaurant and graced Melbournians with the delicious Italian food they were #blessed to have grown up with. Then two years and two million potatoes later, they extended their Italian gates of heaven to Elsternwick. There is a LOT to love about this place, not only were they the first Gnocchi Bar in Australia (so you know they're as legit as they come), these guys have a solid appreciation for quality ingredients.
They source their organic produce from the Mornington Peninsula and other farming locations, as well as importing fully certified organic Italian products like sauces, flours and olive oils. So you know their dishes are going to taste just like Nonna's. Their dough is rested for a full 48 hours, too. Divine.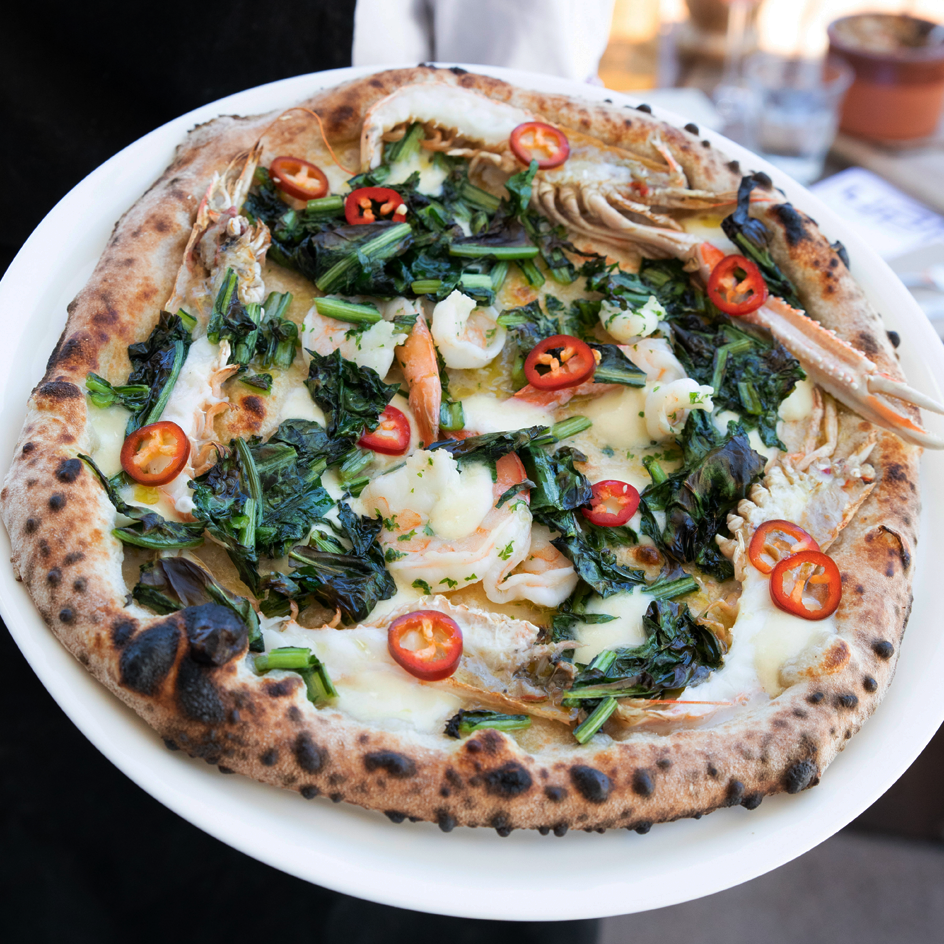 Capitano
CARLTON
Not just a pizza joint, and if you'd prefer pasta, you should check out their vodka pasta. It's next level. Back to the pizza pies, though, this relaxed Italian diner known as and bar known as Capitano has quickly cemented itself as one of Carlton's Culinary elite.
You can't go wrong with any of the pizzas here, but you'd be doing yourself a disservice if you didn't order the super deep dish Grandma Pie. Hands down some of the best pizza Melbourne has to offer.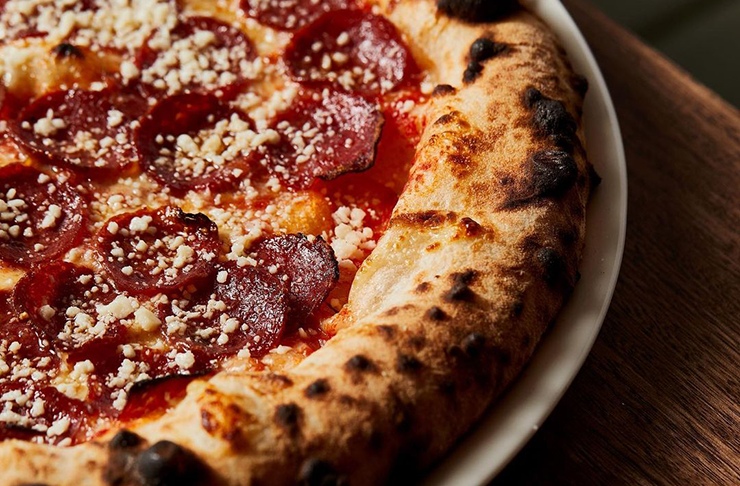 Primo
NORTHCOTE
A favourite for any dietary-restricted soul looking for a pie, Primo offers not only top-notch pizza, but they also offer one of the best gluten-free (Coeliac Accredited) and vegan pizza options in Melbourne. Situated on the High Street in Westgarth, the corner resting store with signature neon-lit sign is always teeming with locals.
The menu offers both hand-made pizza and pasta, all with a gluten-free option. The vegan choices are solid, the 'Louie' is a tasty mix Roast pumpkin pizza topped with garlic, broccoletti, vegan feta, vegan Fior di latte, almond flakes and roquette.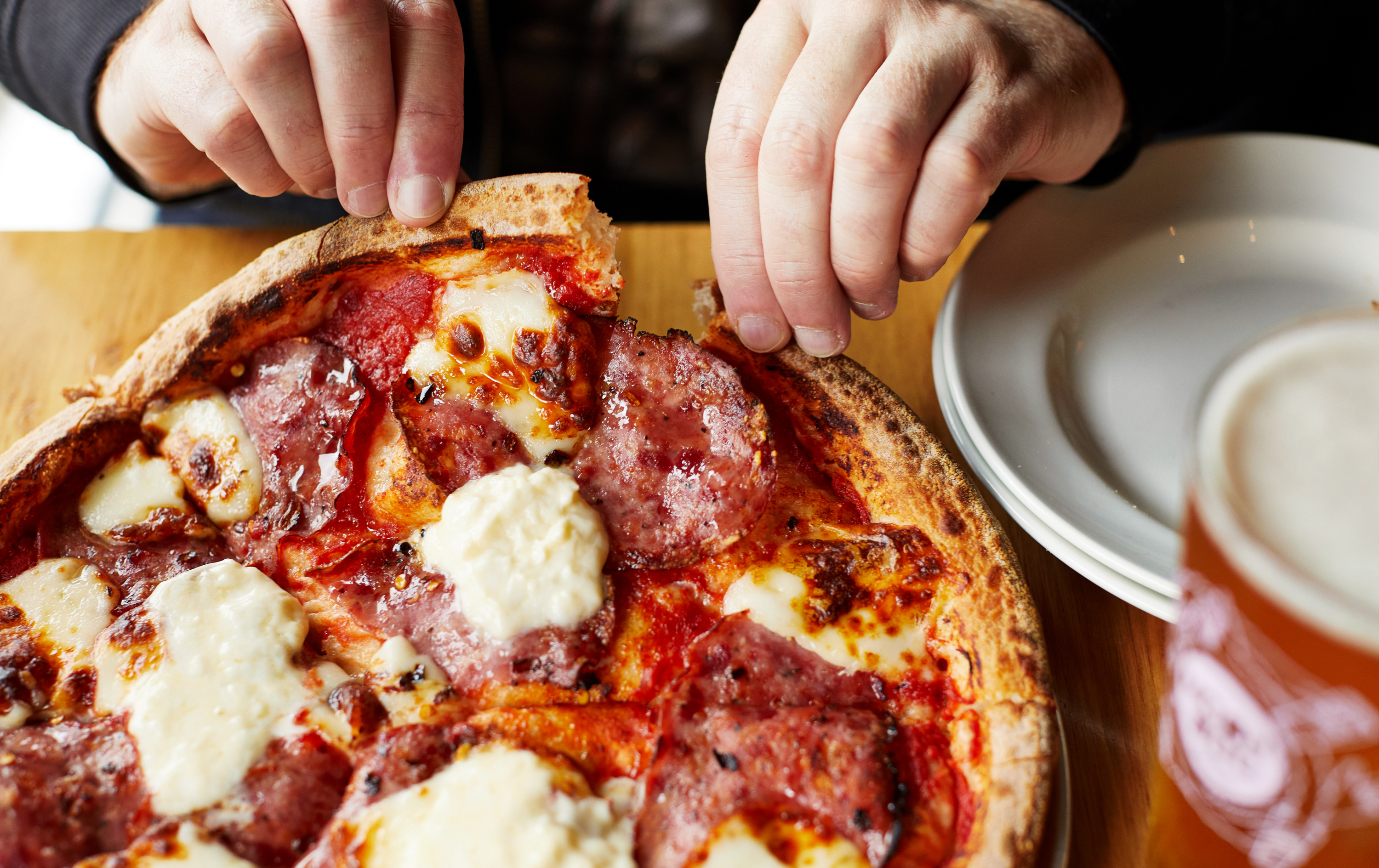 The Code
COLLINGWOOD
Inside this quiet art-deco building in Collingwood, you'll find a sleeping giant of Melbourne's pizza scene, The Code. Helmed by Alessio Albano, former head chef of DOC Carlton and an Italian native from the Puglia region, his knowledge of the craft is unparalleled.
With freshly-sourced market produce, handpicked by Alessio, each pizza option is an example of simplistic perfection, from the quiet 'Regina Margherita' to the bold Capitan Salento with yellow tomatoes, tiger prawns, and rocket.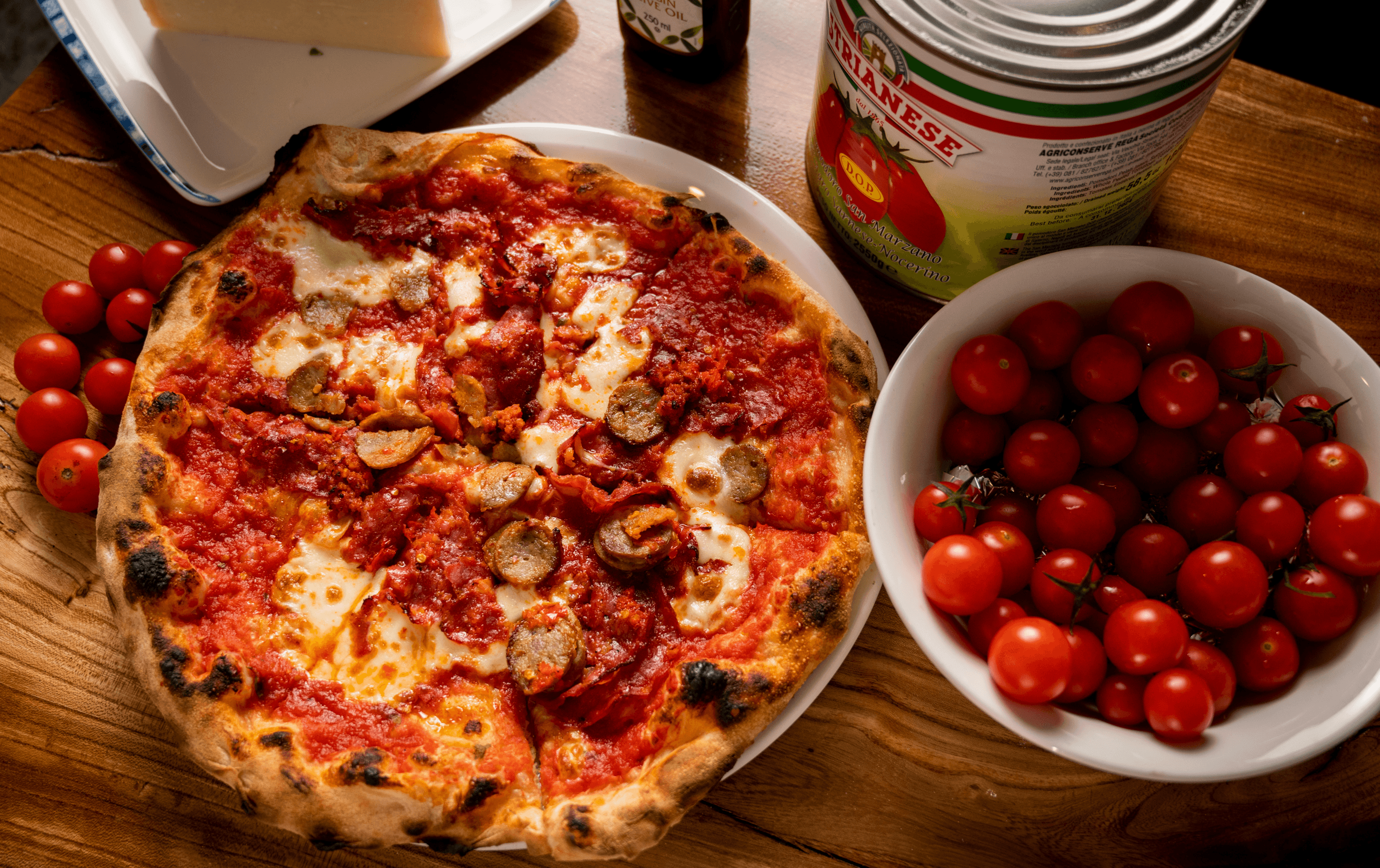 Sunnyside Sliced
MENTONE
Taking a slice straight out of Queens, the New York Borough-style Pizza diner is a game-changing addition to the main drag of Mentone. The sheer brick shopfront of Sunnyside is illuminated by the neon light that rests above. The pizza here pays homage to true NYC-style with 18-inch pies which you can take in full or by the slice.
This newcomer to the pizza game is serving up familiar combinations from the pepperoni classic to the more contemporary white-based Sicilian, with whipped ricotta, caramelised onion, pecorino romano, lemon zest and parsley. There's also the Grandma deep-dish pizza and Moms Lasagne which is hand-made daily by owner, Ali Cengiz's Mum.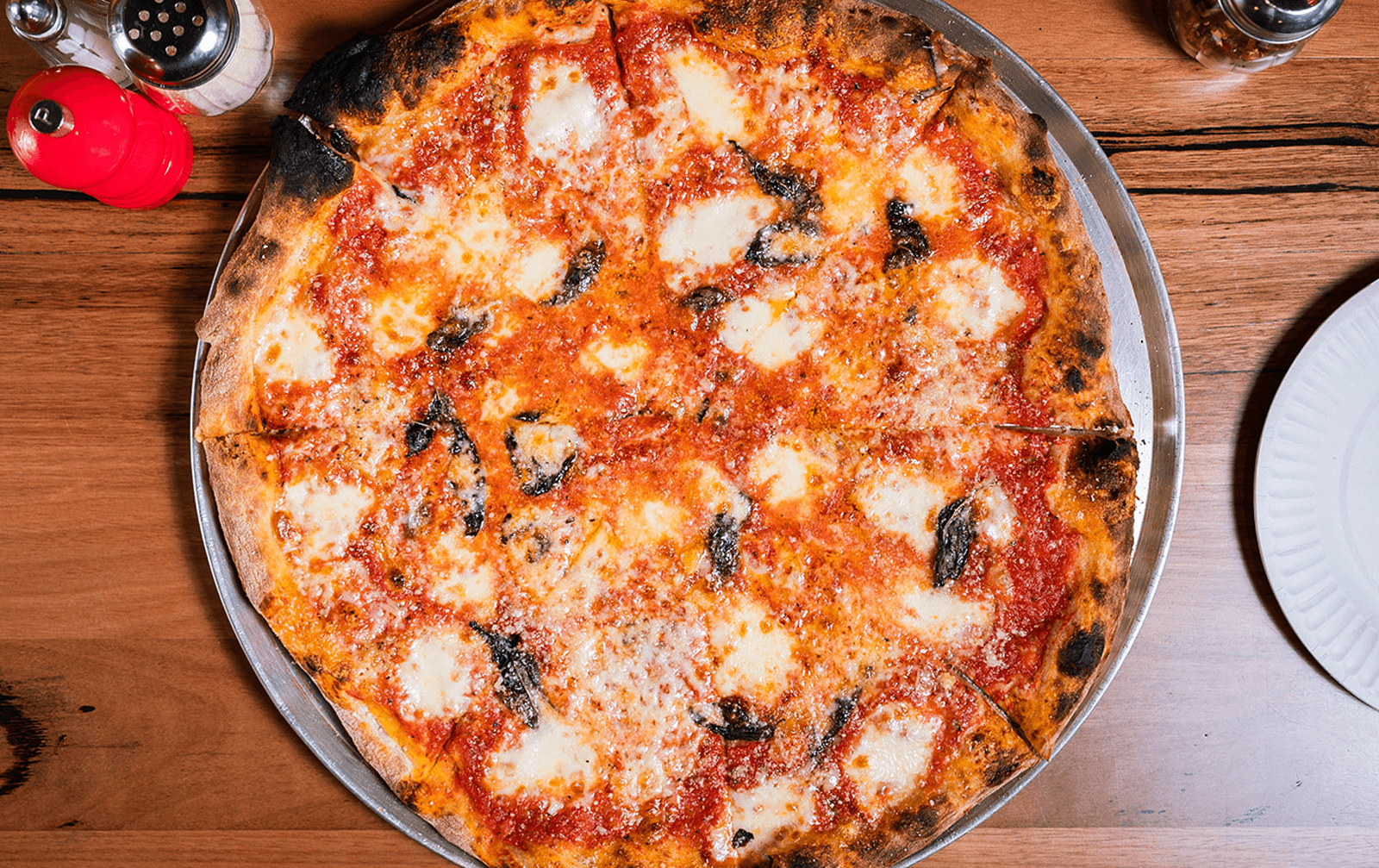 D.O.C
CARLTON, MORNINGTON
If you're looking for a slice of heaven, you can get it at DOC—it truly is some of the best pizza Melbourne has. This institution has never failed us, even though it can be a tough ask to get a table.
Our pick would have to be the Pizza ai Porcini with wild mushrooms, mozzarella in bianco with grated D.O.P. pecorino and truffle oil for that extra hint of decadence. If you're looking for a slightly meatier option, their Pizza Speck with smoked prosciutto or the Pizza Tiger Prawns are also gold. Opt for a serve of buffalo mozzarella on the side, too.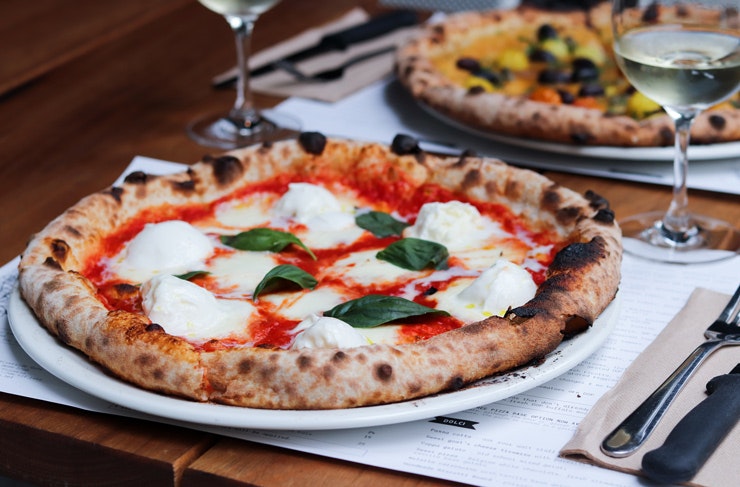 Piazza 96
RESERVOIR
Resting in a strip of sleepy suburban shops, Piazza 96 in Reservoir is a sleeping giant. Just a short drive from the highly populated Northside suburbs, Piazza 96 is a hidden gem for a slice. The corner brick shop serves up traditional-style wood-fired pizzas that are aesthetically stunning with perfectly singed crusts and an assortment of toppings. Celebrating one of Italy's finest creations, the mortadella pizza, is a revelation with crushed pistachio, ricotta and a drizzle of honey.
Slice Shop
FOOTSCRAY
Steve Kimonides and Raphael Guthrie, the dream team behind Burn City Smokers, are bringing a little slice of New York to Melbourne. Slice Shop is the new New York-style pizzeria by the dynamic duo in the heart of Footscray. Available by the slice or as an 18-inch pie, there will be about eight different pizzas on offer each day, half of which are promised to be vegetarian.
Although there is will occasionally be an American barbeque influence in the pizzas, expect the classic New York-style slices that are wide enough to fold in half lengthways to eat.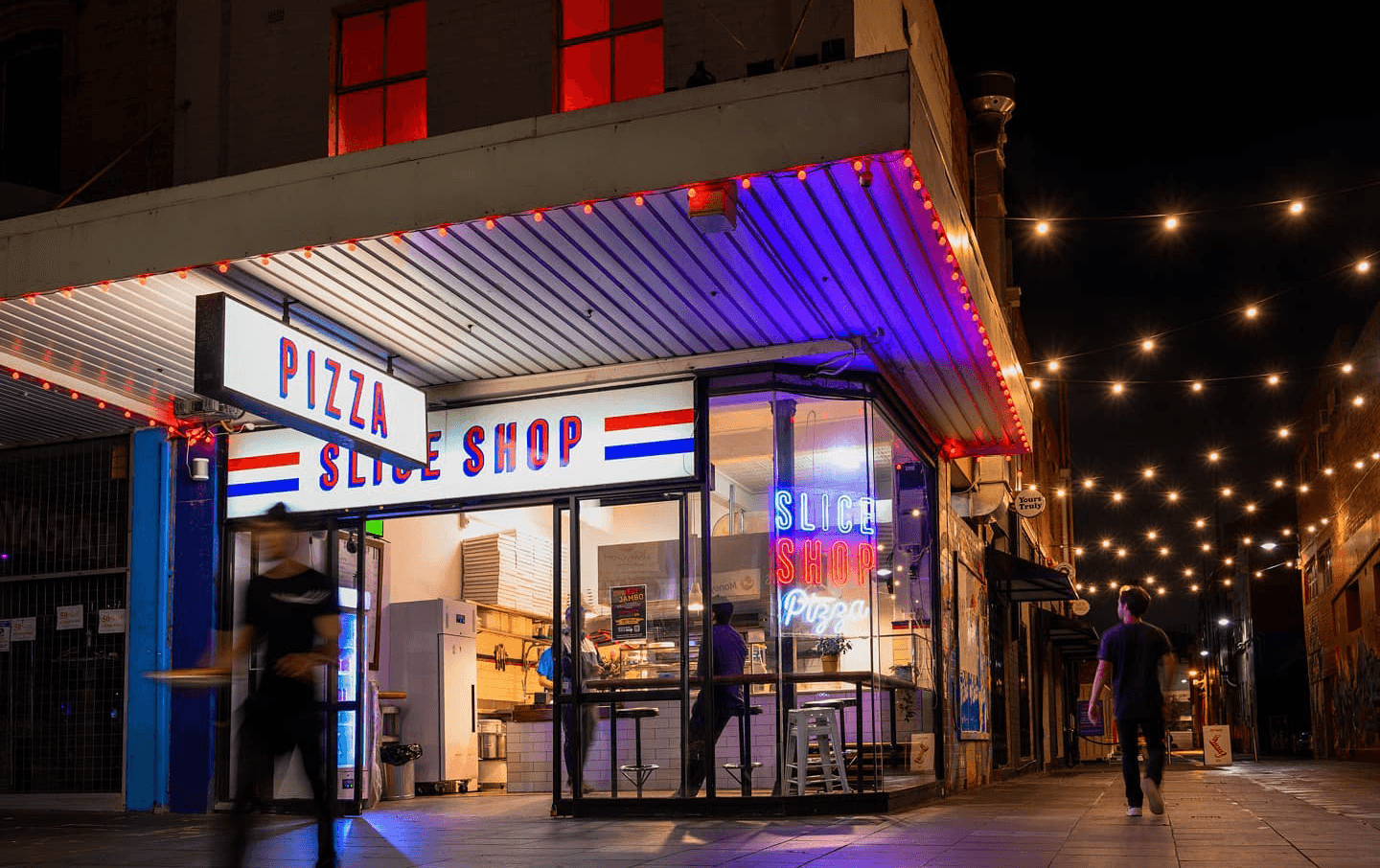 Pizza Shop
CLIFTON HILL
Spensley's humble pizza outpost, Pizza Shop, next door packs quite a punch, so much so that if you don't get in early enough, their pies are sold out. It's a walk-in only and takeaway situation, where locals relish in the likes of a smoked pancetta and burnt chili honey number, as well as a few spins on favourites we've come to know and love from Pizza Shop. They also serve up a mean cannoli if you're after something sweet.
400 Gradi
VARIOUS LOCATIONS
Known by many as some of the best pizza in Melbourne 400 Gradi should be at the top of your hit list. The Frutti di Mare is a must for seafood lovers, covered with San Marzano tomato, Fior de latte, Queensland prawns, mussels, clams, scallops and rocket. Head to the original 400 Gradi restaurant in Brunswick East, or check out their new opening in Mornington.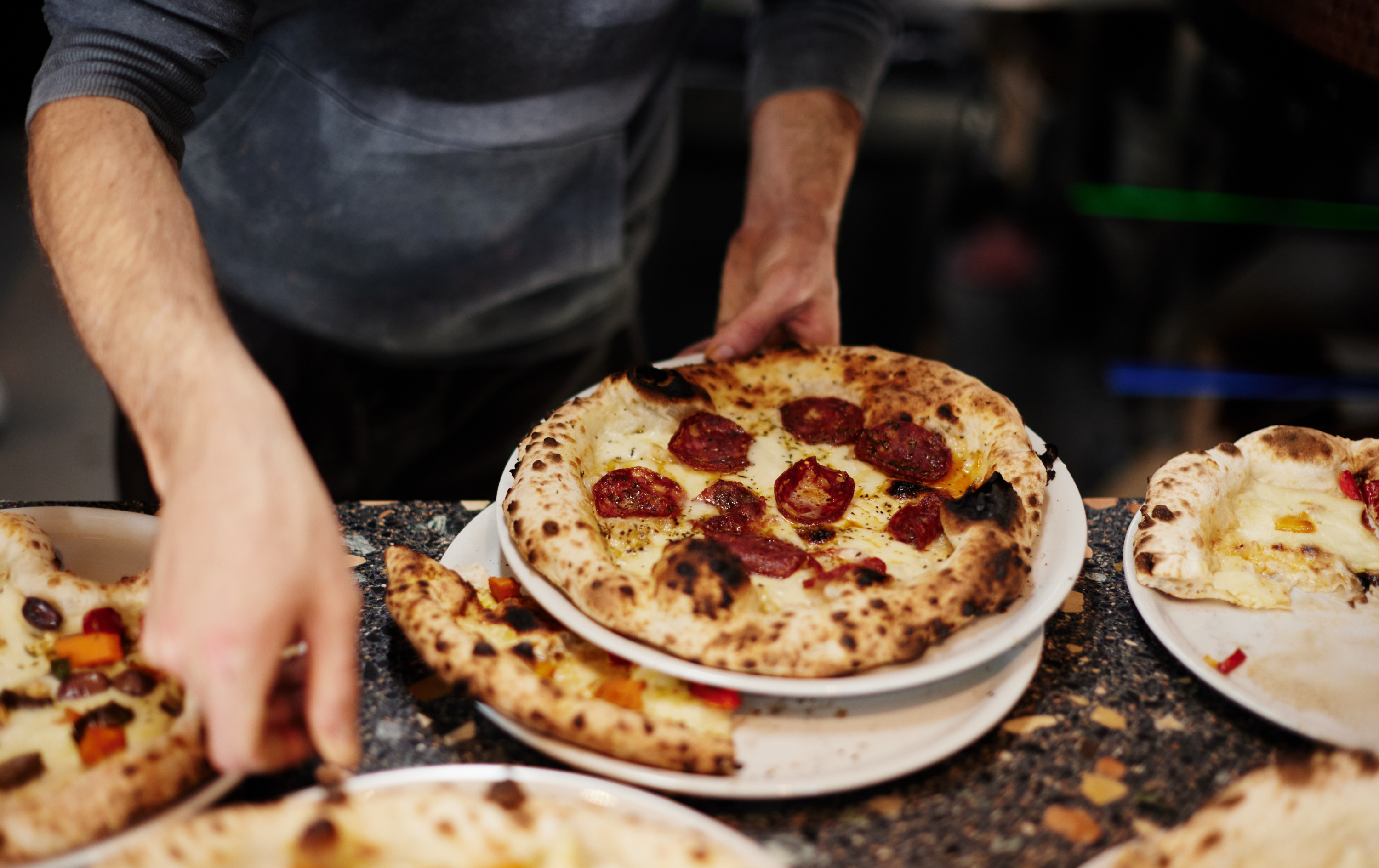 Dom's Social
CBD
Hidden up an inconspicuous staircase off Swanston Street, Dom's Social is three levels of good times and stellar pizza. The dining room is vibey enough for a date, while the pool room is perfect for you and a few mates; you can choose your own adventure when it comes to the bill at the end of the night with a pizza and a drink coming in at under $50 with the right selections.
Those willing to go all out will relish in a killer selection of Lambrusco by the bottle that'll balance out that porchini and truffle pie, or maybe you're more inclined toward a mortadella and honey number.
Shop 225
PASCOE VALE SOUTH
Three words: vegan Nutella pizza. Yep, the guys at Shop 225 in Pascoe Vale South have cracked the vegan code and developed a drool-worthy vegan Nutella pizza. Of course, they've got a kickass savoury range as well, if that's more your speed.
Our personal pick? Meat lovers will enjoy the Barone (Pomodoro, Fior di latte, salami, olives and chilli) or the Il Dottore (Fior di latte, home-made Calabrian sausage and Italian porcini mushrooms).
Over half the menu has a friendly V next to it though, and owner Lorenzo REALLY knows his way around a pizza oven. Some of the best pizza northern suburbs of Melbourne.
Connie's Pizza
CBD
Straight out of the swinging light, rock n roll halls of Heartbreaker, in-house pizza bar, Connie's, has made it big time, securing a trattoria-style diner for its mega slices and Italia-styled dining just up the stairs from the bar. The all-new restaurant and rooftop Terrazza is headed up by hospitality veteran duo, Michael and Zara Madrusan (Bar Margaux, The Everleigh, Heartbreaker).
Their Nonna or Pugliese-style pizzas come in the unconventional rectangle shape, cut into six hefty slices, and topped with everything from prosciutto, marinated pineapple and jalapeno to portobello mushrooms with caramelised onions and truffle sauce. Is it different? Yes, but it's still up there as one of the best pizzas in Melbourne.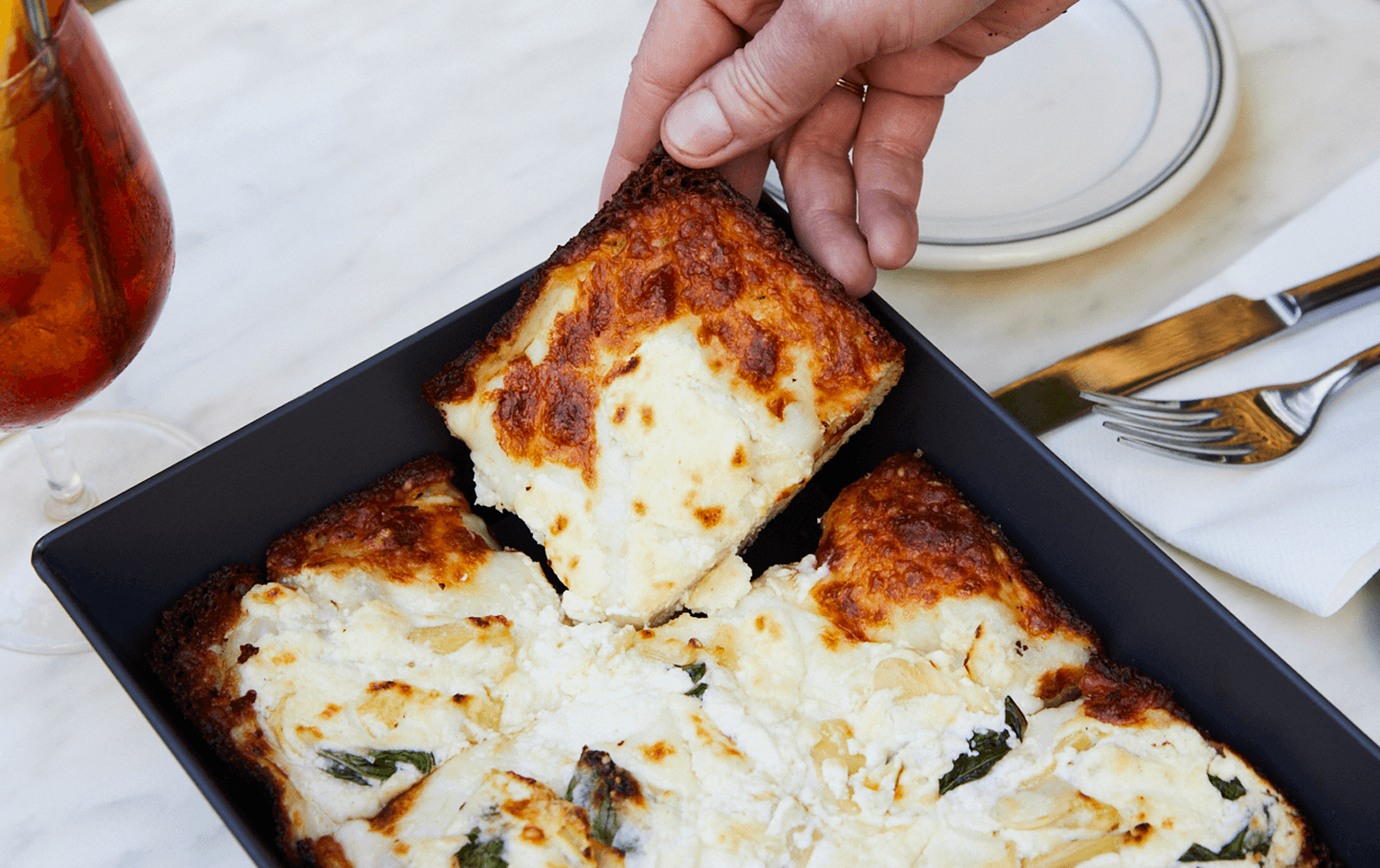 Baby Pizza
RICHMOND
One of the original Lucas restaurants, Baby Pizza on Church street has been a stalwart of Italian dining in Melbourne and has been cemented to institutional status with its reliably incredible Pizza. On the menu Baby's Salumi Pizza is the classiest version of meat lovers you're likely to come across, featuring Fior di latte, pancetta, double smoked leg ham, spiced sausage, borgo hot salami, and San Marzano tomatoes.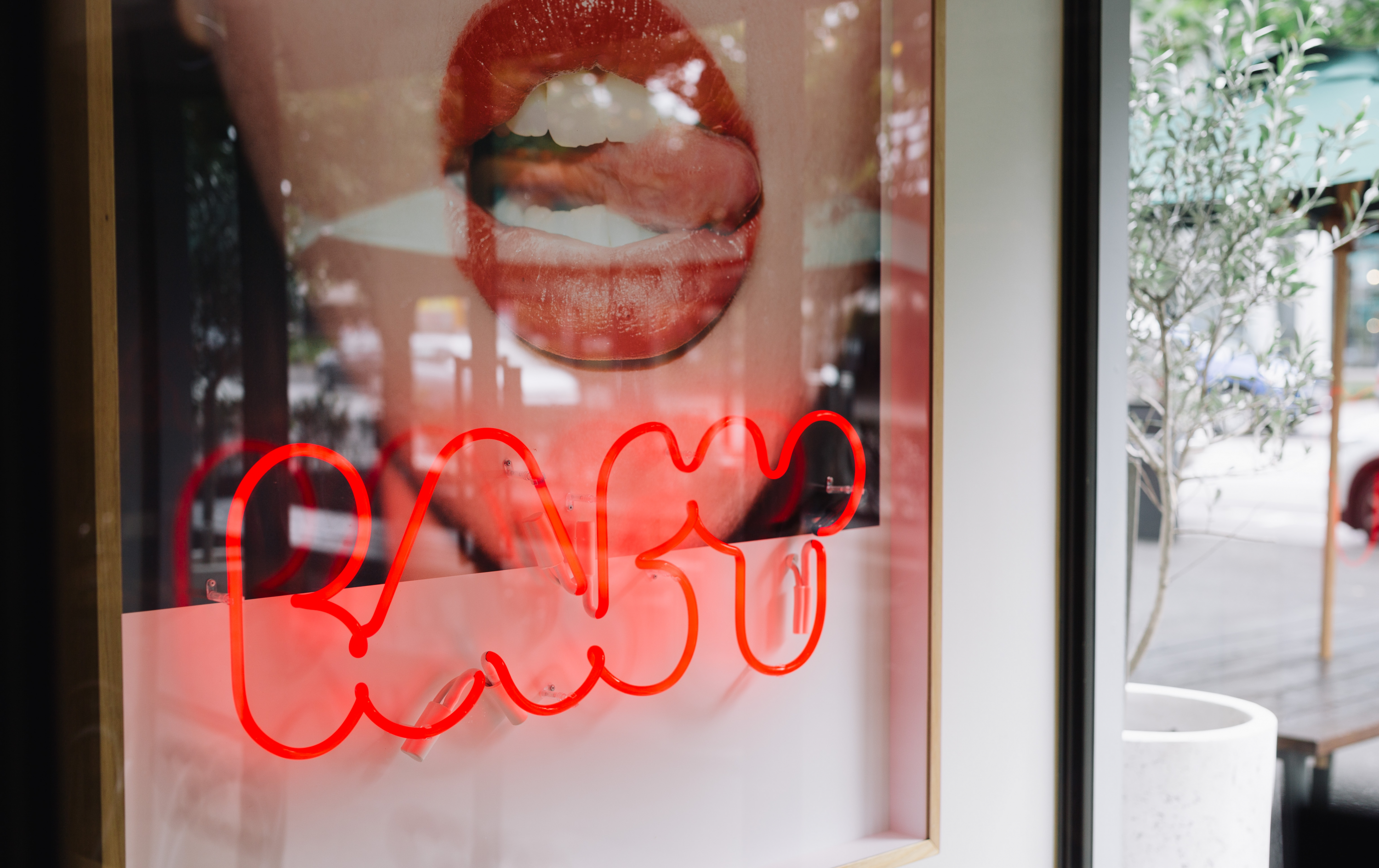 Bontempo Pizzeria
FITZROY
Bontempo does wood-fired pizza, and they do them damn well. A bonafide staple of Fitzroy's Brunswick Street, here you can find elevated old faithfuls like the Vegetariana and Capricciosa, as well as several playful numbers you won't find elsewhere. Some of Melbourne's best pizza can be found here, though what many don't realise is you can find a top-notch bowl of pasta here too.
Rita's
ABBOTSFORD
A worthy mention in the best pizzas in Melbourne discussion, Rita's has become one of Melbourne's top spots for a slice. Surrounded by several high-traffic nightspots the now-iconic white brick storefront of Rita's leads into a bustling and vibrant diner, filled to the brim of punters tackling solid pizza, alongside a good beer or wine.
With a solid selection of 13-inch pizzas, they've definitely o choose from you can expect traditional numbers like Napolitana with olives, anchovies, and capers, on a Napoli base with Fior Di Latte alongside more inventive choices like the famed 'Surf & Turf' a sodium-rich mixture of prawns, pancetta, with gruyere and chilli on a garlic base.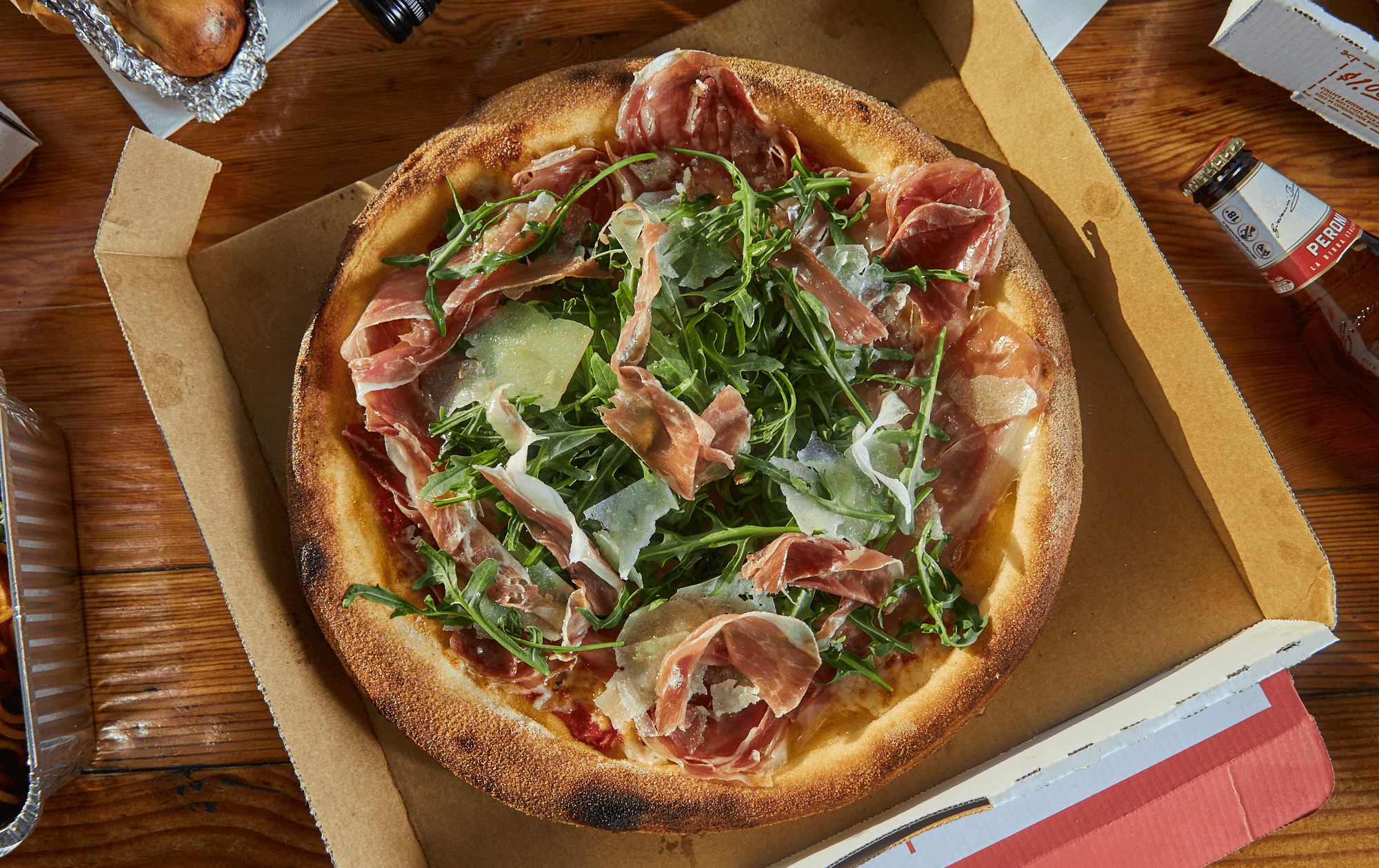 Thin Slizzy
COLLINGWOOD
Pizza but make it metal. Collingwood 's very Collingwood late-night pizza joint comes courtesy of Scott Penberthy, a veteran of the Melbourne pizza scene who's spent the last five years slinging slices at northside institute Rita's.It's a casual affair at Thin Slizzy that's primed for the area's demographic. The pizza house is tucked just by live music venue The Tote, it's open until late and it serves beer—perfect for that post-gig feed and wind-down beverage.
There are 12 pizzas on the menu, each reinforcing the locale's theme. Highlights include, but certainly aren't limited to the meat-laden Meatallica, and a pumpkin number called the Smashing Pumpkin and a potato pizza titled The Ace of Spuds. Very good.
Deep End
FITZROY
This Fitzroy-based pizza destination is dedicated to several styles of pie with origins tied to the US of A. Deep End is a departure from your conventional pizzeria, instead, serving up thick Detroit square pies, Chicago deep-dish, and NYC-style slices.
The pièce de résistance is without a doubt the 10-inch Chicago-style pies, a stuffed, deep-dish pizza with just three options: a cheese, a pepperoni, and a sausage and mushroom—it's a don't-mess-with-the-classics situation here, and you'll know exactly why when you take that first bite.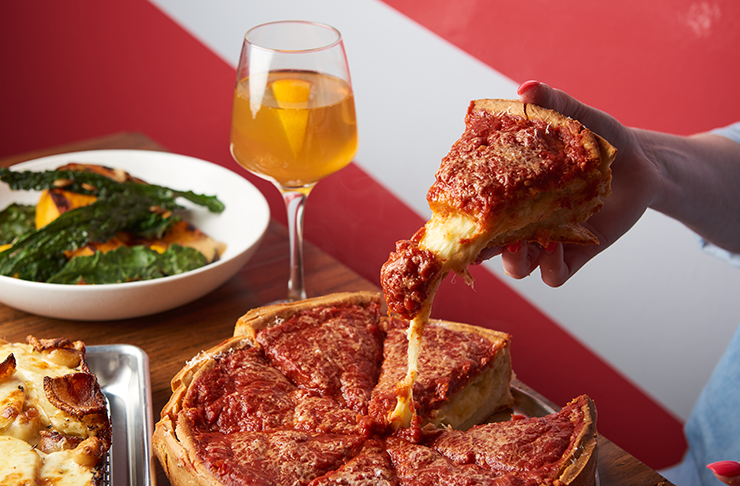 Leonardo's Pizza Palace
CARLTON
Leonardo's Pizza Palace is smack dab in the middle of all that Carlton glory, which can only mean three things: amazing food, great drinks and good vibes. The 70s-inspired diner features a menu of absolutely knockout pizza and Italian cuisine.
Here the slight charring of the pizza crusts adds to the unbelievable taste, the amalgamation of the two creates that perfect dough-ey crust with incredible flavour. An absolute go-to is the Pepperoni pizza, covered in delicious pieces of slow-burning medium spiced meat and stringy house-blend cheese.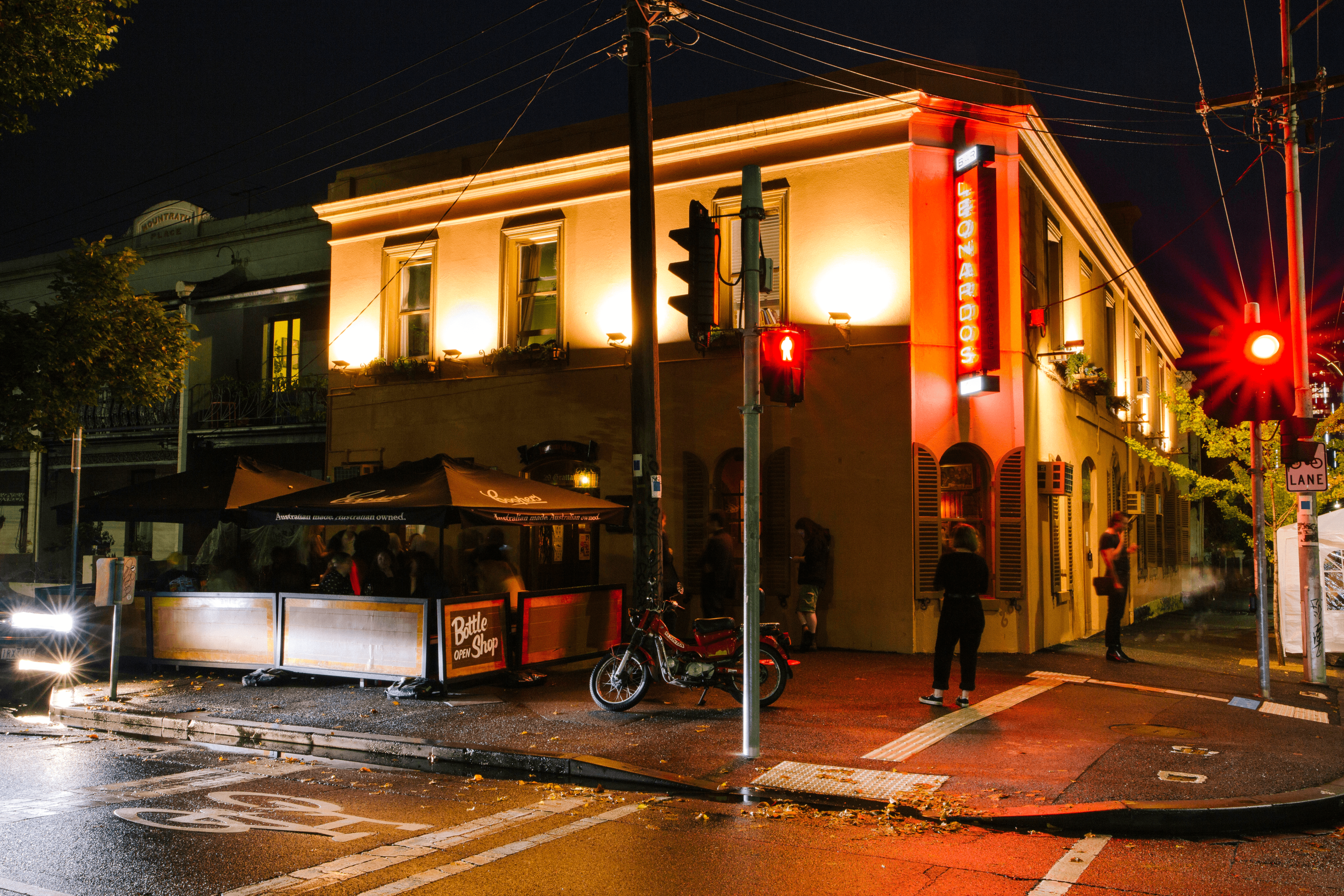 Sal's Pizza
VARIOUS LOCATIONS
Looking for a New York Slice? It doesn't get much more traditional than this one.
Sal's Pizza has been dishing up NY-style slices since 1975 when the store first opened in Queens. Luckily for us, Sal's son decided to move to Australia and serve up some of the best pizza in Melbourne right across town. Quite literally, the NYC cheese is from Wisconsin, the Pepperoni comes from upstate New York and the tomatoes are from California.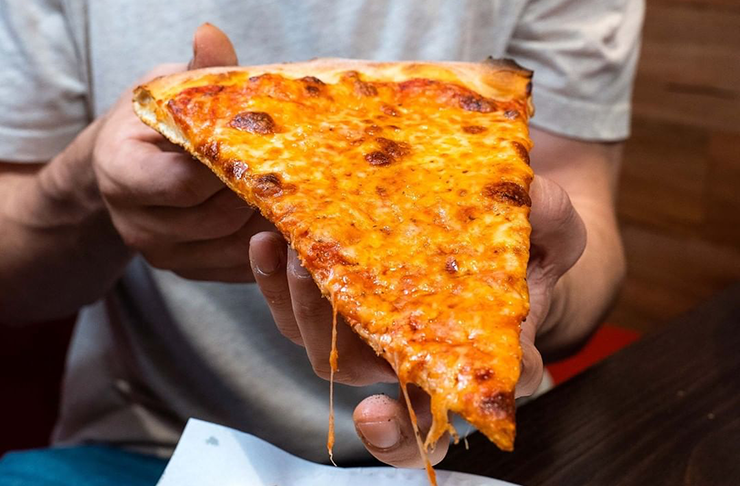 +39 Pizzeria
CBD
+39 has been excelling in crafting some of the best pizza in Melbourne for quite some time now. Situated down on Little Bourke Street just off Elizabeth street, they pay homage to Pizzaiolos of Naples with a selection of traditional-style pizzas cooked in a vibrant and eclectic Trattoria—which is typically absolutely brimming with city-dwellers and tourists. Our choice here is the 'Diavola', it's salty, it's spicy, it's just perfect.
A25
SOUTH YARRA, DOCKLANDS, CBD
Now somewhat a pizza empire, A25 has won over the city with its authentic Italian offering and 'Pizza Is Sexy' motto, which they typically have plastered in Neon lighting at each restaurant. With an artisan approach and a focus on quality, it's hard to choose wrong here, A25 has a very extensive range of pizzas with a lot of emphasis on traditional flavours as well as offering a great vegetarian/vegan and even gluten-free options which have been accredited by the Coeliac accreditation.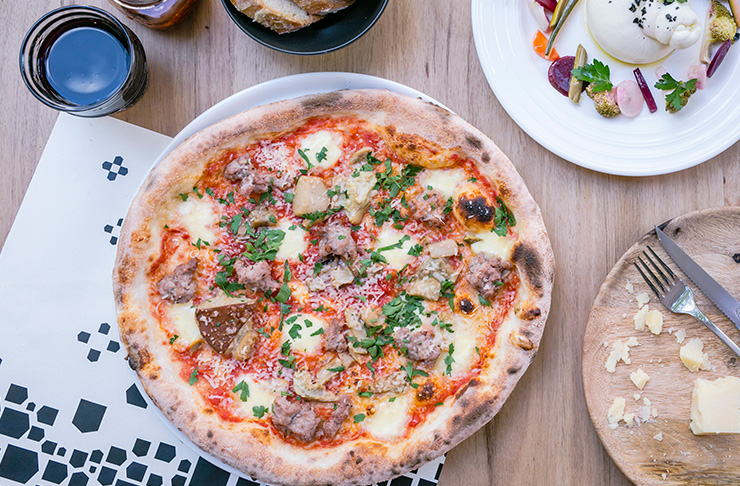 Keen for more of Melbourne's best? Check out the below:
Image credit: supplied by venues