Trying to whittle down a list of Melbourne's best pizza joints is no small feat—it's a dirty job but someone's got to do it. Old-school pizza seems to be having a renaissance in Melbourne, and we are absolutely here for it. A nice crispy base, generous toppings, and cheese for days, it's got a pizza our heart.
So, let's go all in, here's a list of where to get the best pizza Melbourne has to offer.
Capitano
Carlton
Not just a pizza joint, and if you'd prefer pasta, you should check out their vodka pasta. It's next level. Back to the pizza pies, though, this relaxed Italian diner known as and bar known as Capitano has quickly cemented itself as one of Carlton's Culinary elite—you can't go wrong with any of the pizzas here, but you'd be doing yourself a disservice if you didn't order the super deep dish Grandma Pie. Hands down some of the best pizza Melbourne has to offer.
DOC
Carlton
If you're looking for a slice of heaven, you can get it at DOC—it truly is some of the best pizza northern suburbs Melbourne has. This institution has never failed us, even though it can be a tough ask to get a table. Our pick would have to be the Pizza ai Porcini with wild mushrooms, mozzarella in bianco with grated D.O.P. pecorino and truffle oil for that extra hint of decadence. If you're looking for a slightly meatier option, their Pizza Speck with smoked prosciutto or the Pizza Tiger Prawns are also gold.
400 Gradi
Southbank, Essendon, Ringwood & Brunswick East
Johnny Di Francesco, you freaking legend. This is no doubt some of the best Neapoli pizza Melbourne has. The Frutti di Mare is a must for seafood lovers, covered with San Marzano tomato, fior de latte, Queensland prawns, mussels, clams, scallops and rocket. Head to the original 400 Gradi restaurant in Brunswick East, or their newer openings.
Tempo
Northcote
Cancel your plans to Italy. This place is the next best thing, at least if you're looking for the best pizza northern suburbs Melbourne has to offer. The Tempo Pizzeria team have over 30 years' pizza-making experience and even travelled to Italy to be officially certified at "Associazione Verace Pizza Napoletana". We don't know exactly what that means, but it sounds pretty damn Italian, so just go with it. The pizza range is full of all-stars, but for something a little different, try the Pistachio Pizza: a pistachio and pesto base topped with prosciutto, semi-dried tomatoes and rocket.

Image credit: Taliana | Jenna Fahey-White
Baby
Richmond
When the people behind Chin Chin, Kong, and Hawker Hall opened up a pizza joint, there was nothing else to do but throw our money at them. Baby's Salumi Pizza is the classiest version of a meat lovers you're likely to come across, featuring fior di latte, pancetta, double smoked leg ham, spiced sausage, borgo hot salami, and San Marzano tomatoes.
Little Michael's Pizzeria
Camberwell
Little Michael's Pizzeria is one of only seven pizza joints in Melbourne with an AVPN accreditation from Naples. That's like the Italian stamp of pizza approval, and it's bloody hard to get. The dough is hand-prepped and leavened for over six hours (layman's terms, it's going to be fluffy AF). The toppings are sourced from Italy's Campania region and the pizzas are cooked for just 60-90 seconds in a blistering hot wood-fired oven. It's a pretty special experience for those after classic Ital-cuisine, and easily some of the best pizza in Melbourne's eastern 'burbs.
Don't leave without trying a serve of the handmade Nutella doughnuts, dusted with icing sugar.
SPQR
CBD
Enjoy some of the best pizza Melbourne CBD has at this very welcome addition to the CBD's pizza scene. SPQR opened in early 2017, a new venture from David Mackintosh, one of the dudes behind MoVida, Pei Modern, Rosa's Canteen and Lee Ho Fook. The jewel in the restaurant's crown is Mackintosh's custom-built pizza oven, which can turn raw dough and hope into a crusty, oozy pizza in under 60 seconds flat. It's best to keep things simple here. Go the Cotto: smoked leg ham, basil, Fior Di Latte and mixed mushrooms.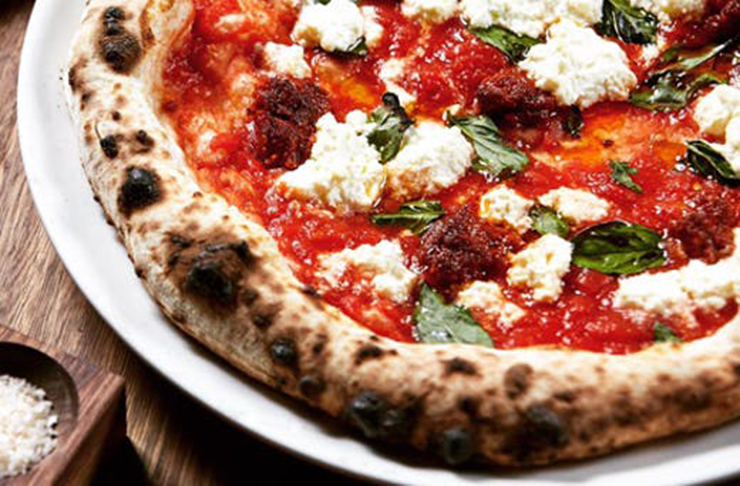 Image credit: supplied
Shop 225
Pascoe Vale South
Three words: vegan Nutella pizza. Yep, the guys at Shop 225 in Pascoe Vale South have cracked the vegan code and developed a drool-worthy vegan Nutella pizza.
Of course they've got a kickass savoury range as well, if that's more your speed. Our personal pick? Meat lovers will enjoy the Barone (Pomodoro, fior di latte, salami, olives and chilli) or the Il Dottore (fior di latte, home-made Calabrian sausage and Italian porcini mushrooms). Over half the menu has a friendly V next to it though, and owner Lorenzo REALLY knows his way around a pizza oven. Some of the best pizza northern suburbs Melbourne. Hands down.
Connie's Pizza
CBD
Just when you thought Heartbreaker couldn't get any better, they went and opened Connie's: a proper New York-style pizza bar, serving giant slices to order. Think minimal toppings and lots of cheese—the kind of pizza you can hold with one hand while sipping a Negroni in the other. You can't go wrong with a gooey Margherita, but we recommend the 'Grandma Slice': a square-cut, deep-pan pie where the cheese goes on BEFORE the tomato sauce. Shake on chilli and oregano to taste, and don't forget to mop up the grease with a napkin.​
Takeaway Pizza
Preston
Takeaway Pizza by name, takeaway pizza by nature. Their motto is "no fuss...just pizza, beer and good times", which sums the place up pretty well. The specialty here is giant, New York-style pizza slices, backed up with tropical cocktails and a whole lot of swagger. Our fave is actually a vego spin-off: Baked Eggplant with Za'atar, pomegranate and lemon yoghurt.​ Regardless of your taste, some of the best American pizza in Melbourne can be found here.
A25 Pizza
South Yarra, Docklands & CBD
We couldn't agree more with the pink neon sign in A25 that exclaims 'Pizza is Sexy'—because heck, it's true. Their salmon number sends us gaga, with broccolini cream, provolone picante, and crispy sage. On top of that, they do some damn fine sweet pizzas, because the pizza party doesn't have to stop at dessert.
+39
CBD & Toorak
In case you were wondering, +39 is the international dialling code for Italy, and now you have a direct line to what the Italians do best. For a healthy dose of melanzane (that's Italian for eggplant) go the Parmigiana, topped with Italian tomato salsa, fior di latte, grilled eggplant, parmesan, fresh basil, and hand-torn burrata. We also love that their set menus are labelled 'feed me like at Auntie's place' for two courses, and 'feed me like at Nonna's house' for four courses. Some of the best Pizza Melbourne will serve you.
Lazerpig
Collingwood
Sourdough wood-fired pizza and great music is the go at Lazerpig, so settle in for some good times. The Warwick Capricciosa is a nifty twist on a traditional type, swapping out ham for pork belly and adding the usual suspects of artichokes, olives fior de latte on a tomato base. Their tagline here is 'eat pizza, dance for ages'. We can get down with that.

Image credit: supplied
Bontempo
Fitzroy
The latest pizza project from the team behind South Yarra staple, Fratellino, Bontempo has settled in nicely at the top end of Brunswick St. The menu is pretty similar to Frats: thin-crust Neapolitan-style pizza, with dough that's been rested for 48-hours in a temperature-controlled room. Our pick? Go The Bont: Bontempo's signature tomato sugo, mozzarella, smokey pulled pork and a herby mix of basil, garlic and sage.​
If you're in the mood to branch out from pizza, here's a list of the best dishes you can find in Melbourne. Get stuck in.
Leonardo's Pizza Palace
Carlton
Sibling slice vendor to Leo's By The Slice, Leonardo's Pizza Palace offer a more refined, sit down experience. The menu here is a helluva lot of fun, as is the atmosphere; it's all damn delicious so order what you damn well please, just make sure you get yourself some of the best pepperoni pizza Melbourne has on its plate right now.
Cantina Centrale
Mont Albert
A bit off the beaten Lygon Street path, out in the sleepy eastern suburbs, Cantina Centrale is a local gem and one of the best kept secrets in Melbourne. The authentic Italian restaurant has all the charms of a local family restaurant with flavours to rival the best of Carlton's pizzerias. The pizza oven takes pride of place in the restaurant, with their Italian chefs and front of house staff serving all kinds of fresh ingredients and Italian wines. Definitely worth the trip.
Piccolino
Mount Waverley
Nestled between local shops you'll find this incredible, architect-designed Italian restaurant. With a high vaulted ceiling and an epic pizza oven chimney reaching up through the roof, Piccolino is like a church for worshipping pizza. With a drinks menu as big as the food menu, this suburban eatery is a must for cocktail and pizza lovers alike.
Red Sparrow Pizza
Collingwood and Prahran
Whoever said pizzas can't be vegan clearly haven't visited Red Sparrow Pizza. These guys are making glorious 'cheesy' pizzas available to everyone, with a gentle nod to sustainable cooking. But don't think you have to go without, their vegan sausages taste like the real thing. Take a look at their daily specials for some extra experimental toppings.
Posty
Richmond
This old post office is now one of Richmond's cosiest bars, serving up a great range of pizzas to polish off in style. Posty has a pizza for every preference, we'd recommend the four-cheese pizza for all the dairy queens out there. Chill in the courtyard or perch on a bar stool and sink your teeth into some of Melbourne's best pizzas.
Image credit: Annika Kafcaloudis