Dessert is one of life's greatest gifts, either accompanied by a meal or a standalone event, it's just a dish that everyone enjoys. Melbourne is home to some incredibly delicious desserts, so instead of defrosting the frozen cheesecake, or picking up something from the servo, check out some of Melbourne's best desserts for 2021.
The Best Christmas Desserts In Melbourne:
Piccolina's Gelato Christmas Pudding
VARIOUS LOCATIONS
Delicious as Christmas pudding is, it can be quite devious at the table. One sure-fire way to get everyone around the festive dessert is to lock in one of Piccolina's very-Italian version.
The 'Budino di Natale' (Christmas pudding) is made up with Piccolina's signature 'Better than Nutella and Torrone gelato and is then filled with 70% dark chocolate, a decadent caramel cream, crisp hazelnut layer, chocolate sponge, and topped with a caramel sauce topping. Along with it being one of the most delicious festive desserts available it also comes in a bespoke Bendigo Stoneware bowl and canvas bag for transporting it from lunch to lunch. Order yours up here.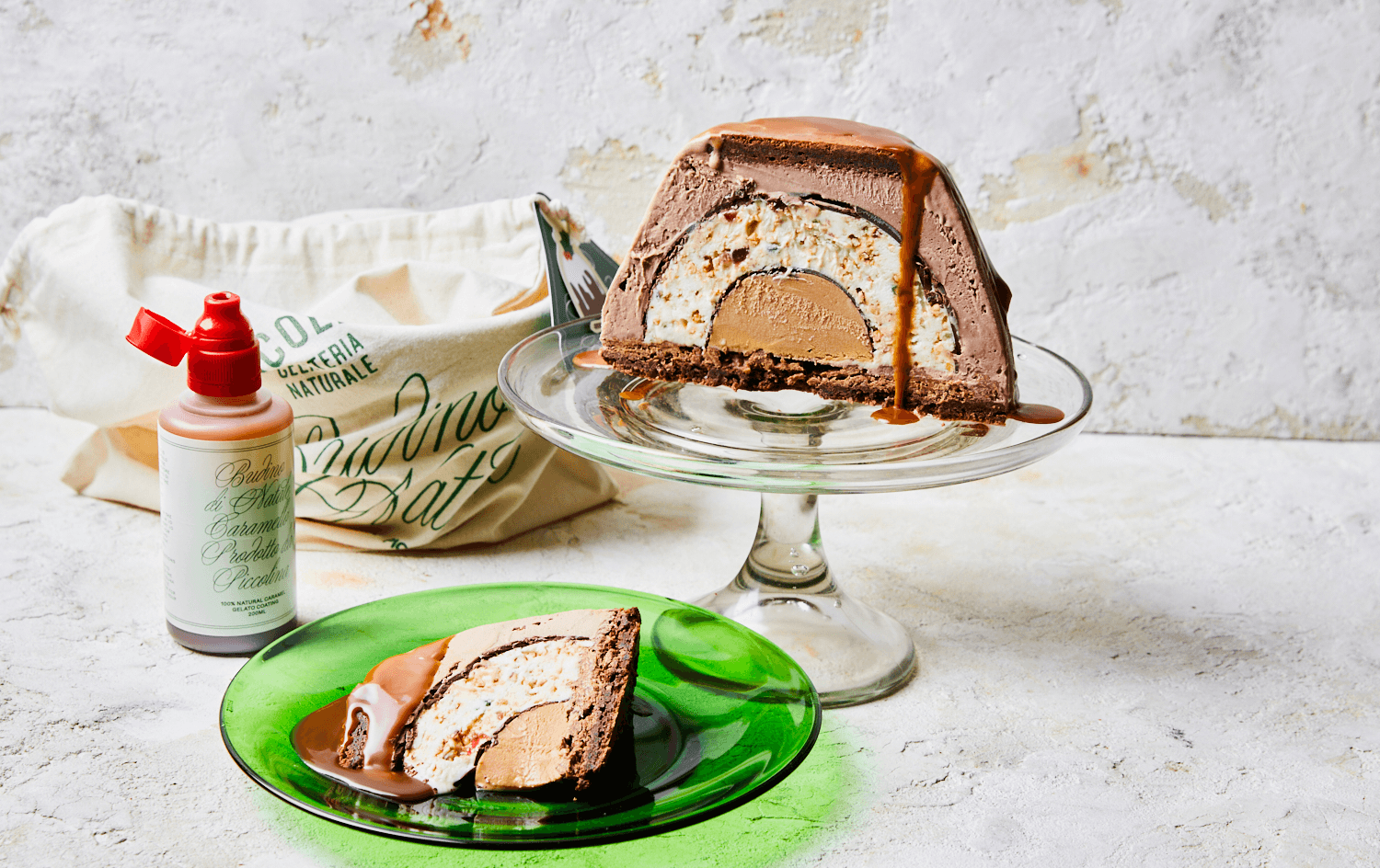 Lune's Festive December Specials
FITZROY
We often marvelled at the monthly specials that Lune dish out but it's hard to compete with the Christmas-centric December menu; the month is stacked with a range of festive flavours and holiday-themed desserts. Right off the bat, they've crafted the perfect Pannetonne cruffin; a clever mix of the Italian-baked good with dried fruit, biscuit crackle, pearl sugar and filled with an Amaretto custard. There's also the twice-baked Pavlova croissant filled with whipped cream, passionfruit pulp and meringue and topped with raspberries, kiwi fruit, and shards of meringue; it's only available at the Fitzroy store or pre-ordered online. This year you can also order up a range of different baked goods with the Lune festive box, find out more over here.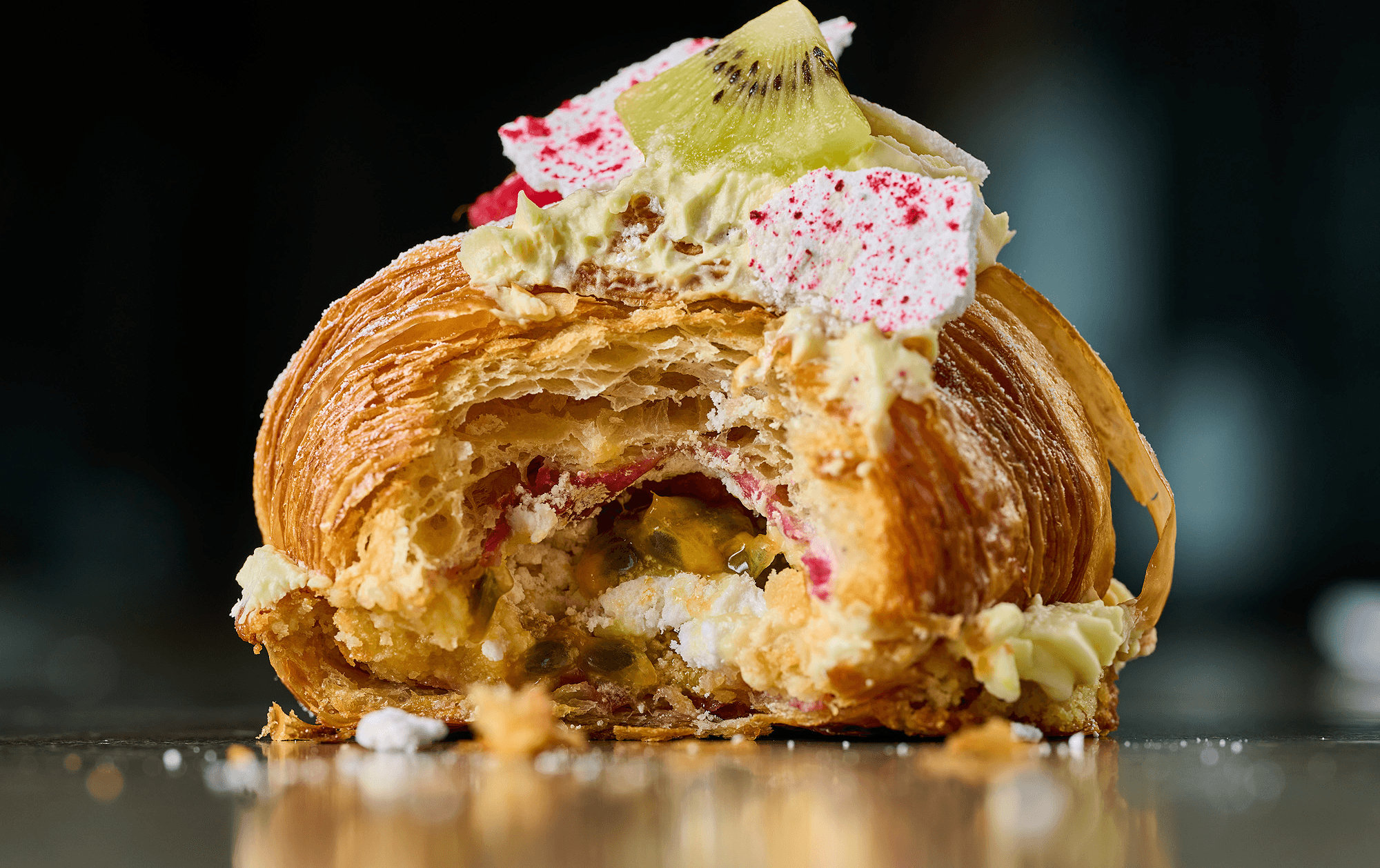 Pidapido's Christmas Log
CARLTON & WINDSOR
Imagine a Viennetta, now times it about 100 and you still might not be close to Pidapipo's festive Tronchetto di Natale (Christmas Log). The holiday-themed dessert is straight from the mind of Pidapipo chef and co-founder, Lisa Valmorbida and features a rich combination of dark chocolate ganache and milk chocolate glaze that encases a chocolate almond sponge. Cutting into the centre through the sponge you'll uncover a zesty-sweet cherry sorbet centre complemented by raspberry cream gelato. The hefty dessert serves up to ten people and takes all that stress out, finishing Chrissy lunch with a serious bang and a cherry on top.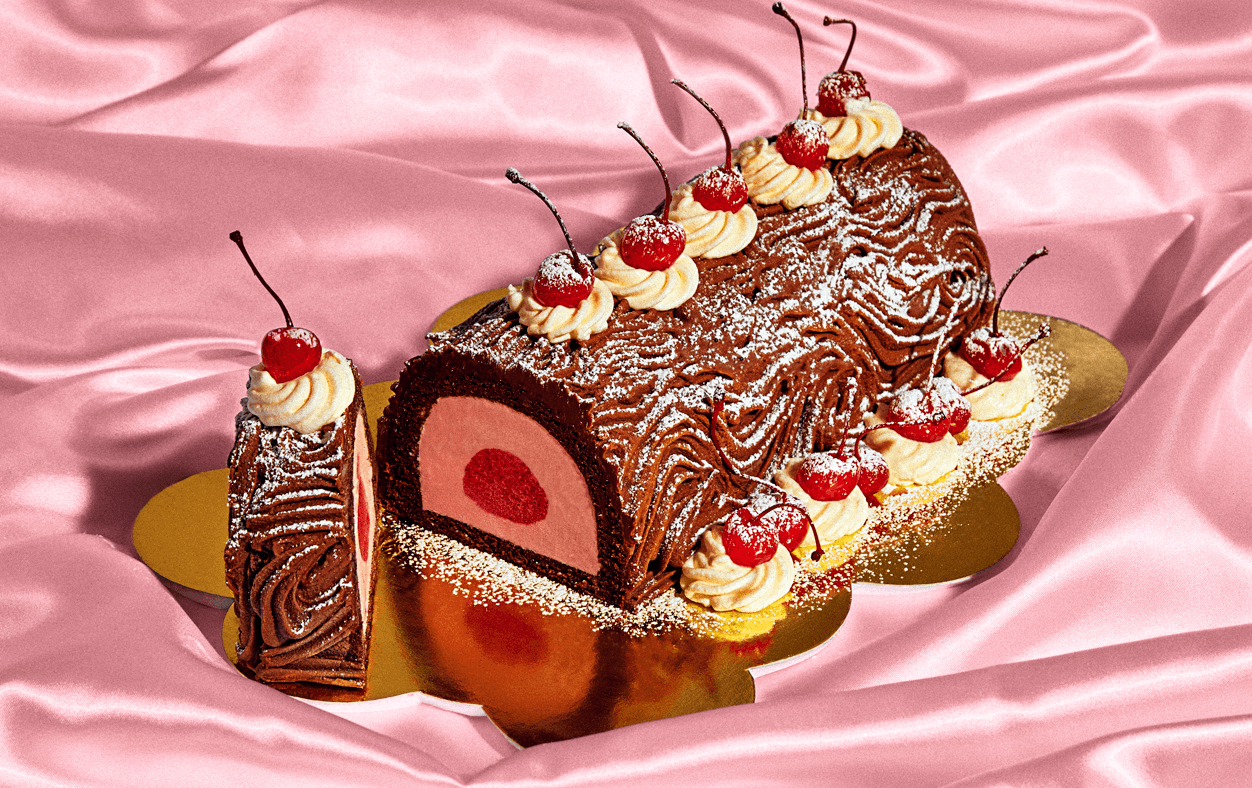 The Best Desserts In Melbourne:
​Matilda's Waffle S'More
SOUTH YARRA
Matilda in South Yarra may have unleashed the perfect winter dessert. The Scott Pickett led spot has unveiled its Waffle S'More, a clever reimagination of the classic American camping snack. You can expect to dive into a wood-fired waffle and lemon myrtle marshmallow with a rich chocolate ganache. It's a moment of true smokey indulgence and bliss.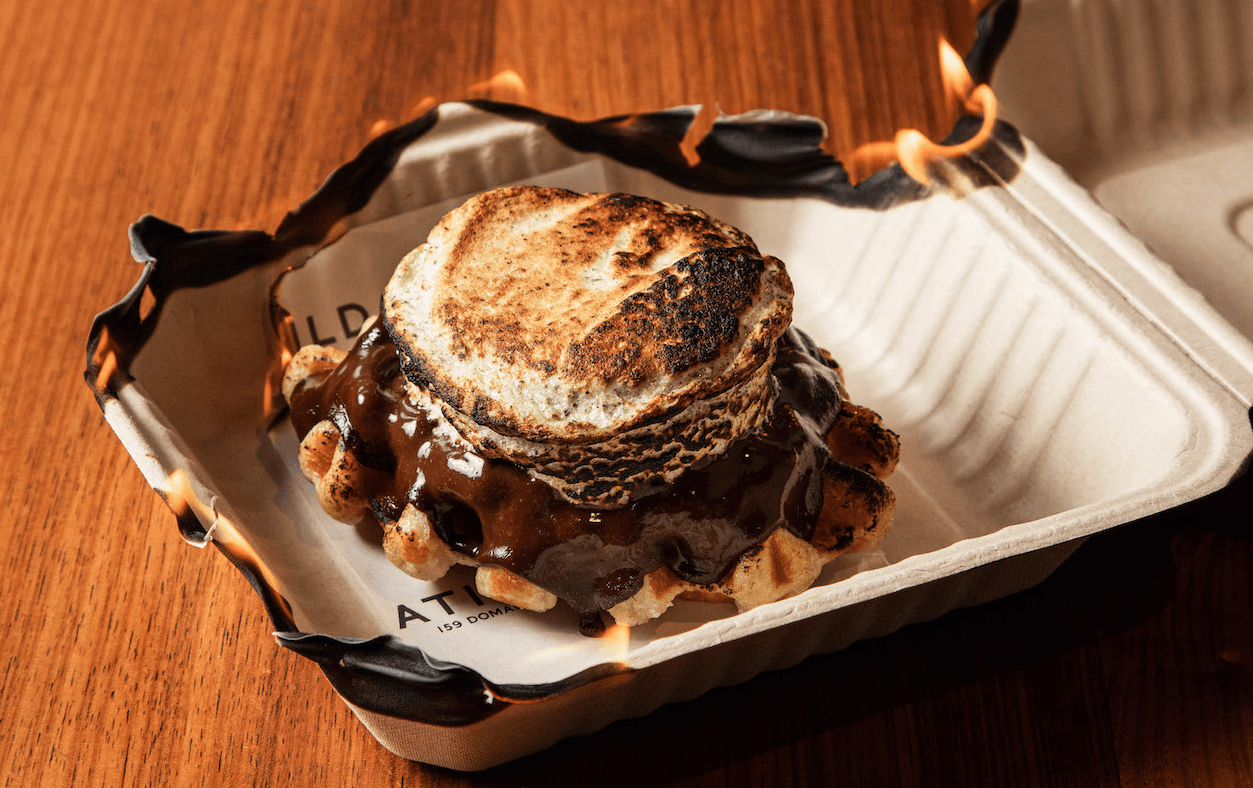 Messina's Lockdown Snack Pack
FITZROY, RICHMOND, WINDSOR
Gelato Messina has been prolific in its release of unique desserts through the years. They've recently dropped a 'Lockdown Snack Pack' a two-tier dessert designed to be eaten together. The bake at home sticky brioche is an escargot-shaped pastry filled with caramel custard, and choc chips that have been covered in gooey malt caramel. It's perfectly paired with the tub of vanilla custard gelato, with cheesecake mousse and that's finally doused with a rich cheesecake crumble. Game, Messina.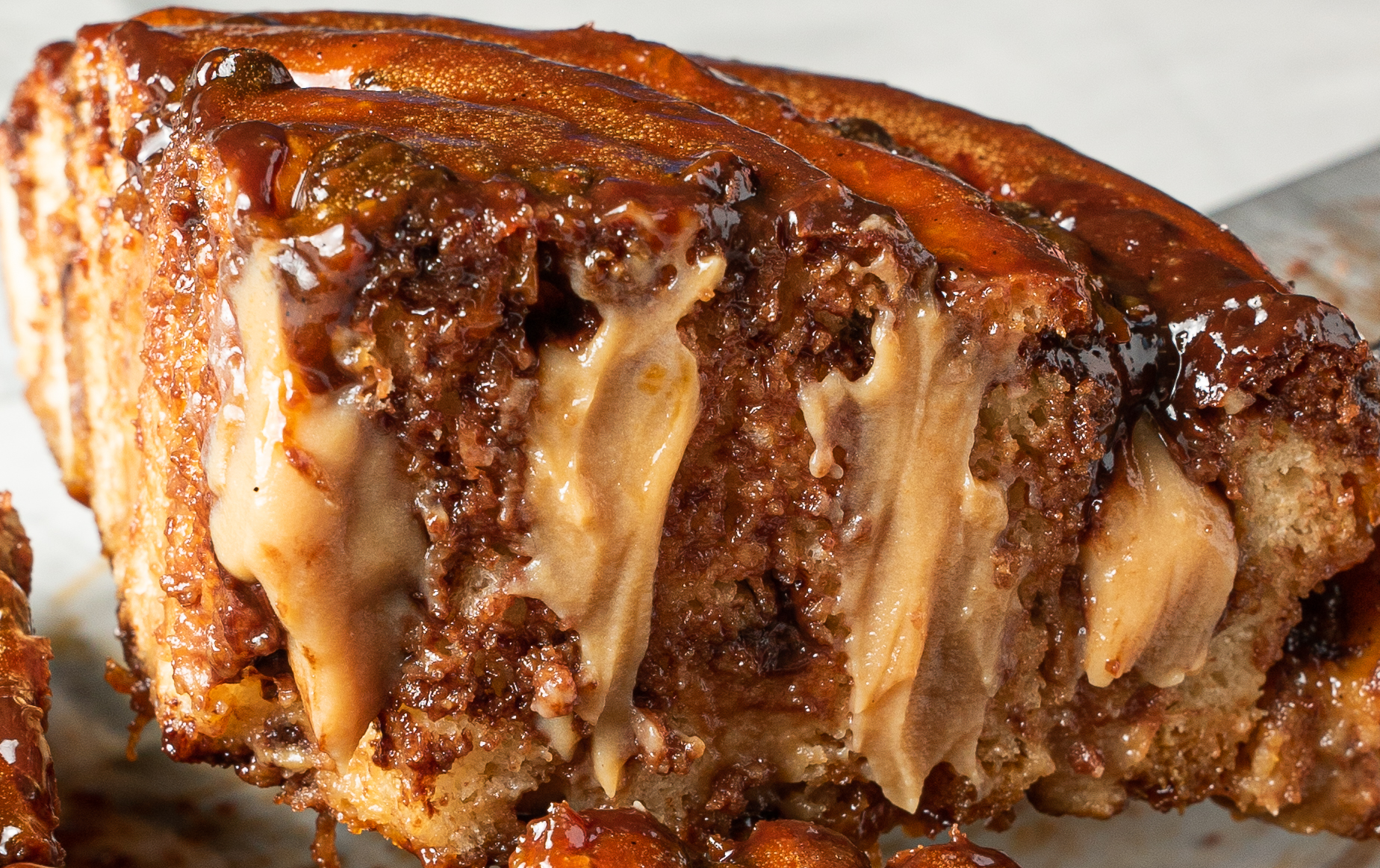 Supernormal's Parfait
CBD
Supernormal's peanut butter parfait has almost become as iconic as the restaurant itself. The expertly crafted dessert from the Andrew McConnell's spot with salted caramel and soft chocolate and peanut butter has become so popular it's been a mainstay on the menu since opening back in 2014.
Everything From Lune
FITZROY, CBD
It's hard to argue with the lines of Lune, the pastry aficionados have become one of the best dessert places Melbourne has in the inner-city. With their selection of butter-rich baked goods including their famed croissants, lemon curd cruffins, or the twice-baked Pain au chocolate it's often a dizzying decision. Next time the dessert craving hits, you know where to head.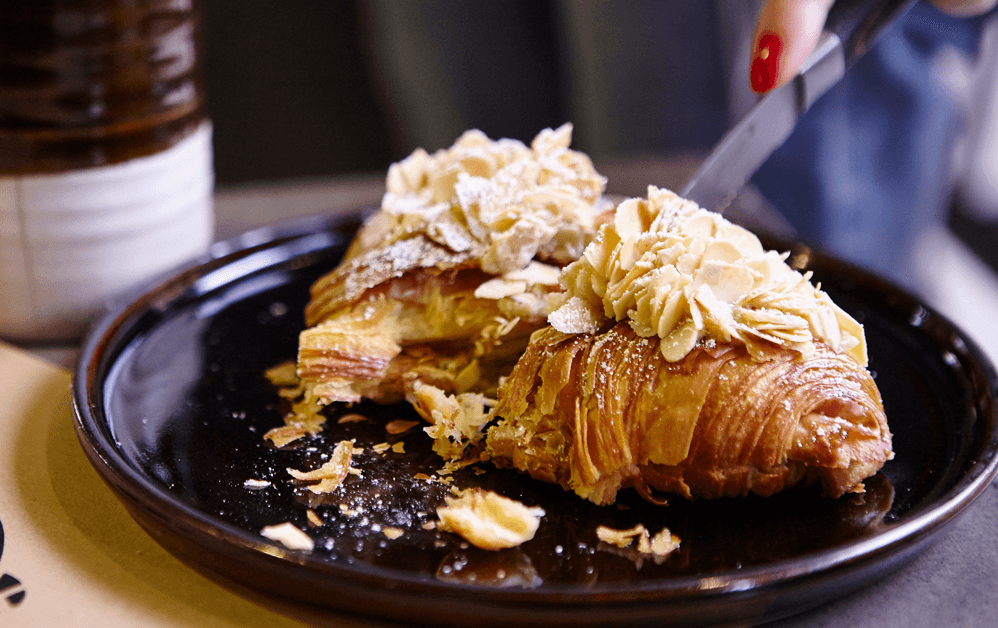 Tipo 00's Tipomisu
CBD
Tipomisu, the cleverly dubbed Tipo 00 take on the classic Italian dessert, Tiramisu, has reached culinary heights equal to that of the restaurant's hand-made pasta dishes. The dish is visually stunning with its low spherical base with pipings of mascarpone and is a pleasure to eat with a rich a soft-textured bite with every spoon.
Piccolina's Ferrero Rocher Gelato-Cake
COLLINGWOOD
Know what a Ferrero Rocher chocolate looks like? Good, now times it by about 50 and then imagine that it's filled with hazelnut, milk chocolate, and Piccolina's 'Better Than Nutella' gelato and covered with hazelnut praline, dark chocolate and roasted hazelnut and then you know what we're talking about. The Ferrerolina Rocher is one of the most magnificent looking cakes and a front-runner for Melbourne's best dessert.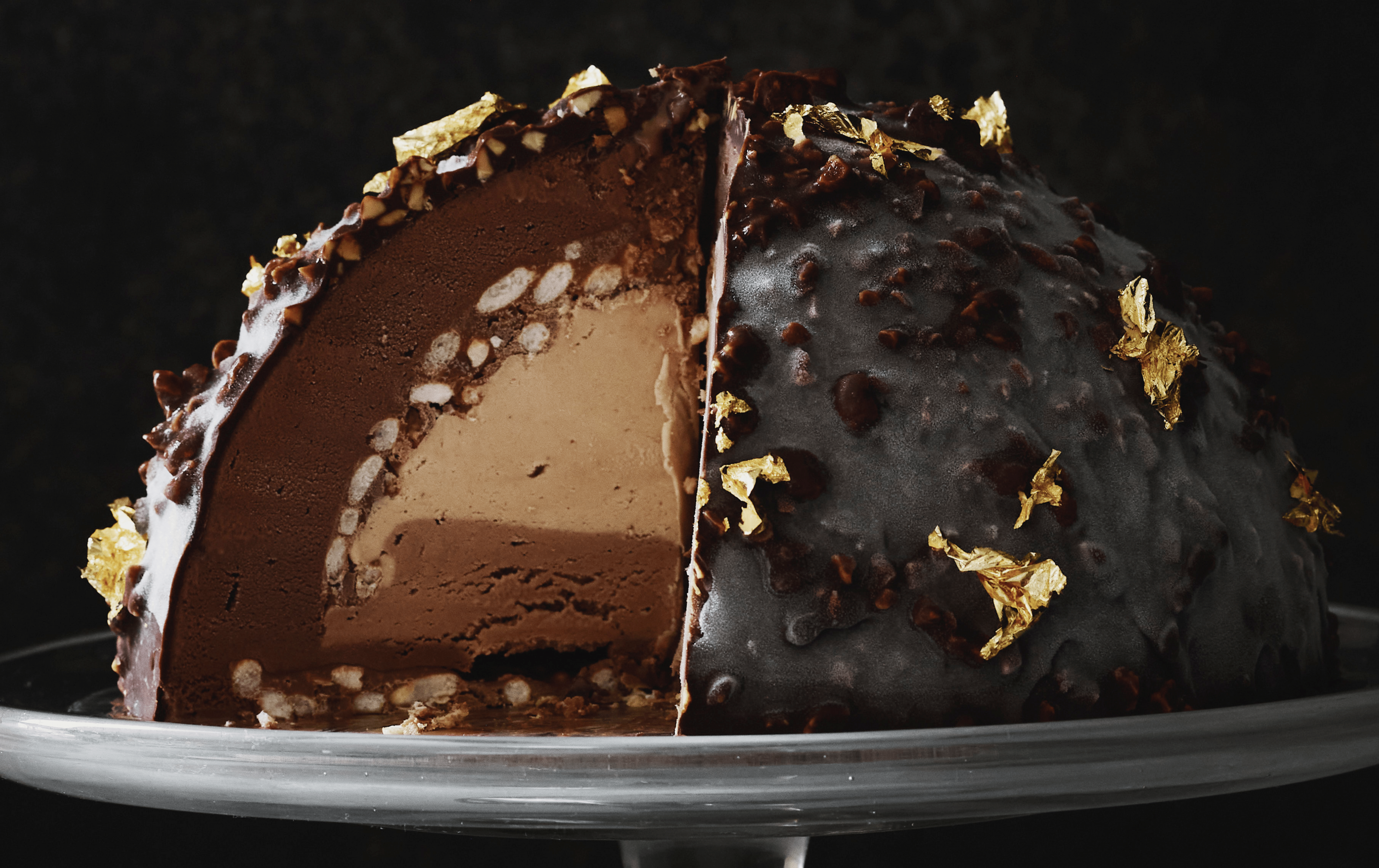 The Nuts About Tella Nutella Burger
BUNDOORA
Yeah, burgers are cool but do you know what's better? Two pancakes as each side of the bun with a hefty lashing of Nutella and strawberries, and that's exactly what you'll find at the aptly named Nuts About Tella. Whilst still technically a burger it's like nothing we've seen before, taking the spreadable condiment to new heights.
The Cookie Dough Co's 3kg Cake
NORTHCOTE
Northcote's The Cookie Dough Co will always hold a special place in our hearts, firstly because cookie dough is one of the greatest ingredients out there, and secondly, for their lotus and white chocolate cookie cake, a whopping three-kilo cake jam-packed with Cadbury white chocolate chips, lotus biscoff biscuits and OG cookie dough, shut the front door.
Casa Nata's Portugese Tarts
THORNBURY, WINDSOR
If you prefer your dessert in the bite-size category then Casa Nata's handcrafted Portuguese tarts are the go for you. The now Melbourne institution for the baked custard treat have stores in Thornbury and Winsdor where you can see your sugary dessert come to life before putting it to the sword. Small yes, but big on flavour and easily one of the best desserts Melbourne's got on offer.
Sicilian Cannolis From Cannoli Bar
AVONDALE HEIGHTS
Perfect alongside a coffee, incredible as an ender to dinner, the Cannoli is a long-standing hero of the dessert world. Cannoli Bar's very own Cannoli Alla Siciliana is a perfect representation of the Italian creation, with crusted pastry, ricotta filling and pistachio dusting it's a perfectly balanced level of sweetness and crunch. Doesn't matter what time you choose to eat it, it'll always be one of the best desserts in Melbourne's north-eastern suburbs.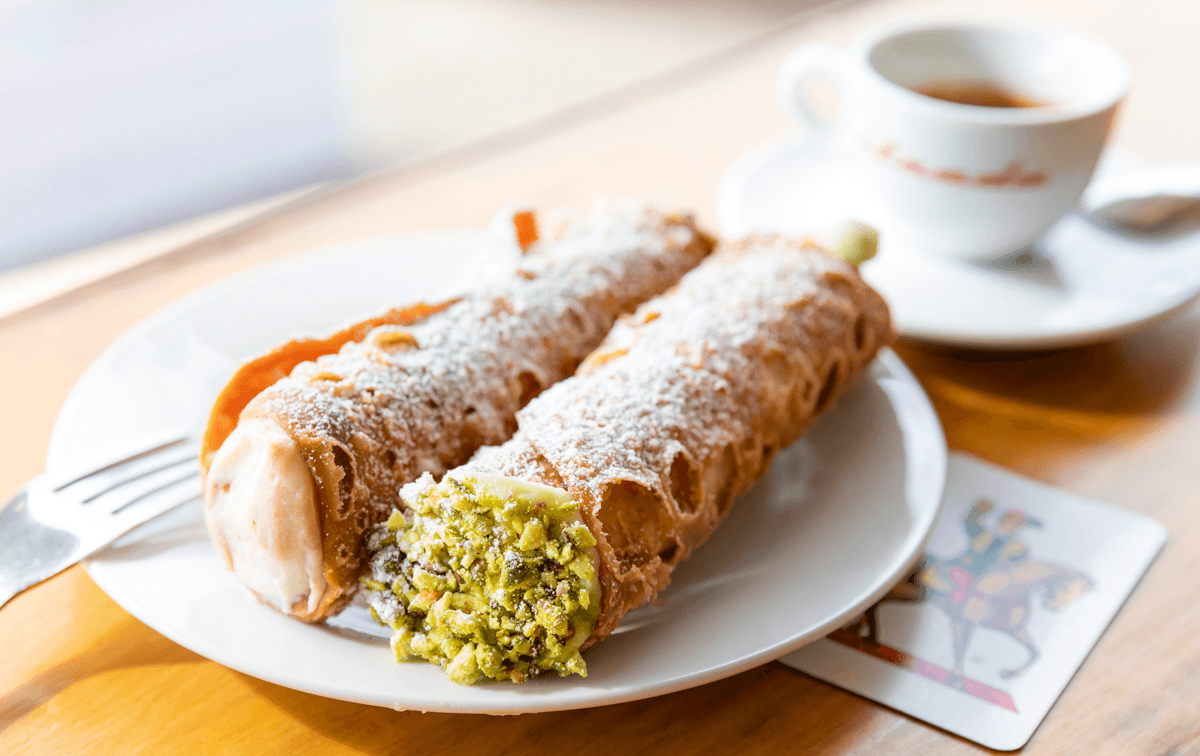 You know what's good with dessert? Coffee, check out Melbourne's best here.
Image credit:
Mel Desa | Cannoli Bar
Anika Kalcaloudis | Lune
Supplied