Cooling off with a refreshing beverage in one of Melbourne's best bars is always high on the agenda when summer rocks around, but the difficulty always lies in choosing the right venue. While we love a good Melbourne rooftop bar or beer garden, we're looking to sip a drink overlooking the water, putting our feet up and watching the sun go down. Whether it's St Kilda Beach, the Yarra river or somewhere in between, cool your jets this summer by parking yourself in a prime waterside location. Get your sip on at our pick of the best waterfront bars in Melbourne.
RIVERLAND | MELBOURNE CBD
Fed Square is easily one of Melbourne's busiest spots in the CBD, and Riverland provides a much-needed hideaway from the bustling crowds. Located in the Federation Wharf vaults, this popular Melbourne bar and café is a neat place to grab a coffee before work starts, or a beer when the day is done. From your comfortable seat by the Yarra you can watch rowers glide by, check out the beautiful gardens on the other side of the river, or gaze up at the nearby arts precinct.
THE ESPLANADE HOTEL | ST KILDA
If there's one waterfront bar that has stood the test of time in Melbourne, it's The Espy. They've been going strong for over 100 years and still know how to put on a killer gig. Getting a seat out the front is where you want to be to soak up the sea breeze, so grab a pint of whatever's on tap and set yourself up for a glorious afternoon. For the peckish, there are food deals nearly every night of the week with traditional pub fare like burgers, parmas and Mexican on offer.
FATTO BAR & CANTINA | MELBOURNE CBD
If noshing on stylish Italian cuisine in the middle of Melbourne's art precinct sounds good to you, Fatto Bar & Cantina is where you need to relocate yourself to come sundown. Fatto is often heralded for its epic views of Melbourne's skyline, but we think its set up by the water is of equal importance. This summer, they'll be hosting Club Aperol at Fatto, where you can sip on Aperol cocktails, play table tennis and listen to DJs, all while enjoying some delicious appetisers created by renowned Fatto chef, James Kummrow.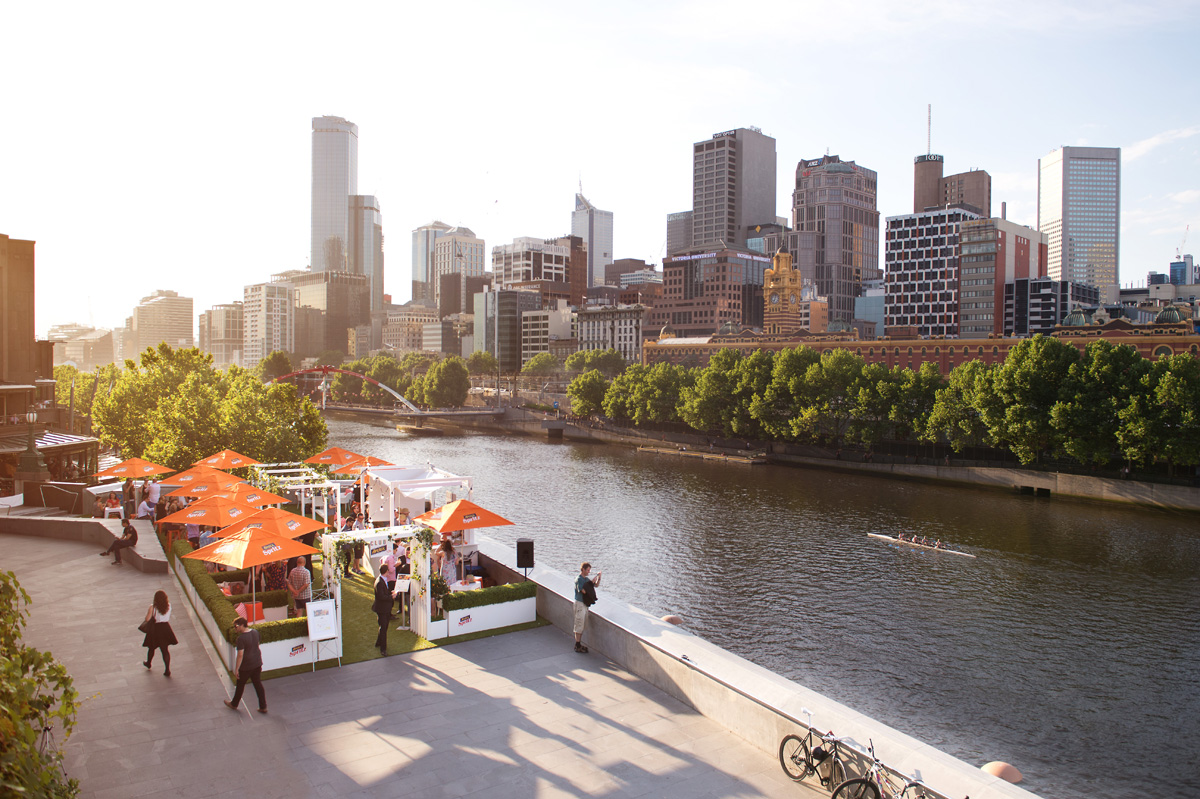 Club Aperol at Fatto
PONYFISH ISLAND | MELBOURNE CBD
Never mind sitting on the foreshore of a beach or bankside of a river. If you want water views, you're probably not going to beat being literally surrounded by the Yarra on Ponyfish Island. Situated under the Pedestrian Bridge in Southbank, there really is nothing you can compare Ponyfish Island to in Melbourne. Whether you're after beers outside during summer or mulled wine inside during winter, Ponyfish Island is hands down one of Melbourne's best waterfront bars.
MR LAWRENCE | PORT MELBOURNE
Fancy a beachside stroll in Port Melbourne? That's sure to be thirsty work; you'd better drop into Mr Lawrence at The London and reward yourself for your efforts! Enjoy some Middle Eastern influenced fare (those Turkish pizzas are deeeelicious) and a lovely glass of wine, one of our favourite combos at Mr Lawrence. As always when it comes to seaside dining, sitting outside is best. Just picture it…beautiful summer day…relaxing directly opposite the beach…enjoying some great food…yep, sounds like the perfect summer session to us! The views of Port Melbourne beach from the upstairs private function room are pretty spectacular too, making Mr Lawrence one of Melbourne's best function venues.
CAPTAIN BAXTER | ST KILDA
For a prime position overlooking Port Philip Bay, look no further than Captain Baxter. These guys are most well known for their extensive cocktail list; we would recommend grabbing one of their Large Cargo cocktail jugs and sharing it amongst friends while watching the minimal waves calmly ripple by. Combine that with some do-it-yourself pork buns off their menu and you've just won summer.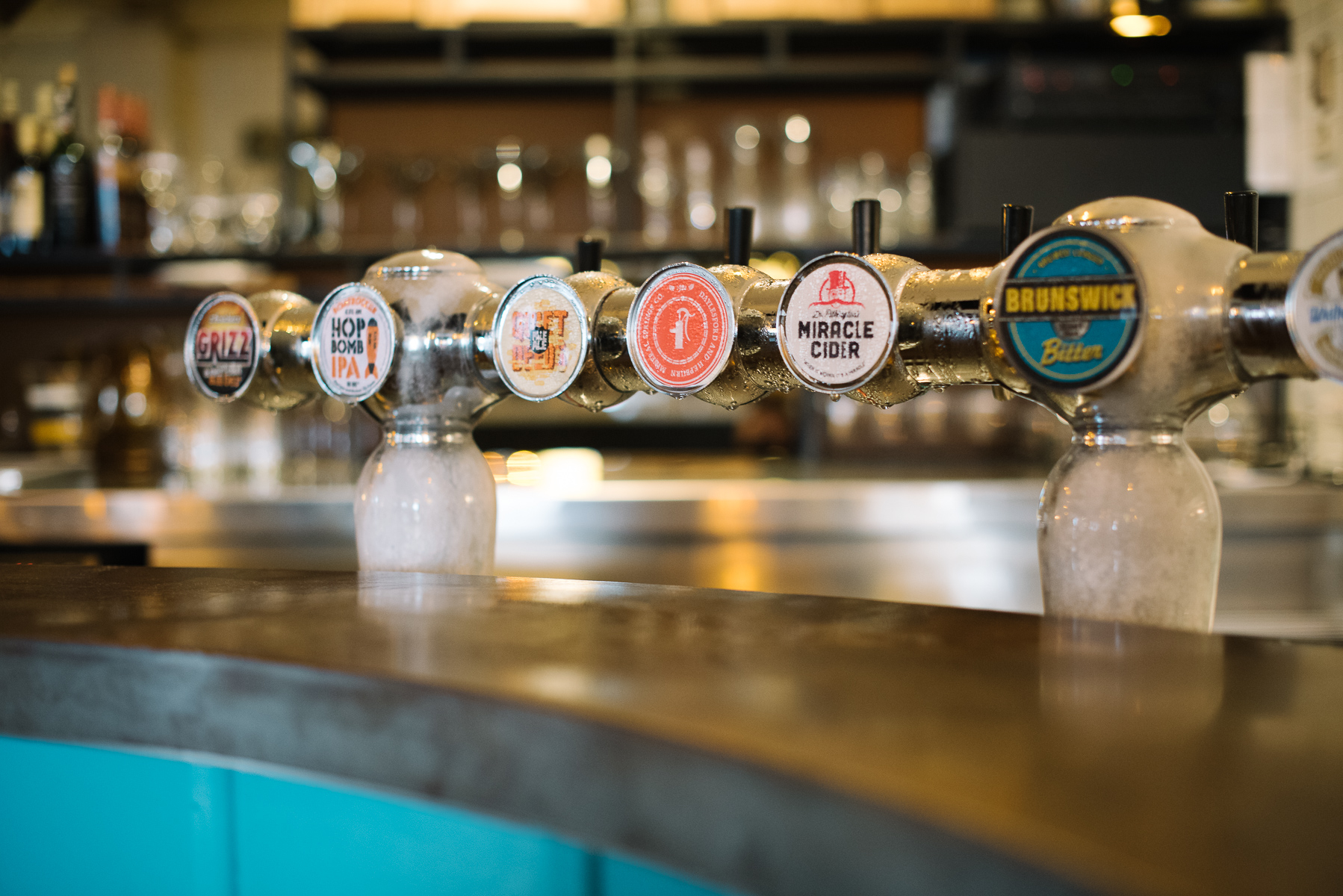 Mr Lawrence
RIVA | ELWOOD
Long considered one of the best waterfront bars in Melbourne, Riva has a prime position on St Kilda's foreshore, making it a top spot for a beverage or two this summer. Over the water, you get views from Portarlington to Melbourne CBD, with the city lights coming to life at night. They have a regular House DJ for partygoers on Friday and Saturday nights, but take it down a notch with live acoustic sessions on Sunday afternoons.
THE GENERAL ASSEMBLY | SOUTH WHARF
A excellent port of call if you're looking for a killer waterfront bar to sip a cold beer, The General Assembly stock all of the Matilda Bay Brewing Co beers on tap, from Beez Neez to Fat Yak and every other brew in between. While visiting South Wharf we recommend grabbing something to eat, as they have a great snack menu and larger dishes for sharing. The beer taps here are of particular interest, so if you want to try a couple, grab a sampling paddle of five beers for $16.
THE WHARF HOTEL | DOCKLANDS
The Wharf Hotel is a popular destination for after work drinks in Mebourne, due to its location – a short walking distance from the CBD. For some riverside snacking, the menu adds an Australian touch to traditional pub meals, with a focus on using local and seasonal produce. As for drinks, they have a tasty wine selection as well as both local and imported bottles of beer and cider. There are daily food specials at The Wharf Hotel, as well as $30 corona buckets and $20 Pimms jugs on Sundays. You beauty.
THE MEAT AND WINE CO | SOUTHBANK
With three levels dishing up some of the best steak in Melbourne, The Meat and Wine Co is another of the best waterfront bars in Melbourne, positioned perfectly to get a glimpse at the Yarra river and Melbourne CBD. Their open kitchen dishes out succulent skewers, ribs and steaks, and for something smaller they offer a tapas menu during happy hour. Obviously, wine should be your poison of choice here, and don't be afraid to ask the staff for a suggestion, as the list of Australian and international wines is extensive to say the least.
Image Credit: The Bridal Detective