Welcome to Culture Curve—your go-to guide to what's on the rise and slide in culture right now.
We're six months into 2021 and the value shift inspired by life in the pandemic is really starting to take shape. Self-care is breaking up with its "always improve" mantra, and settling into a radical new form of holistic and active self-acceptance; hustle culture has been replaced with the YOLO economy and "the clock out cure"; and all the hate surrounding the internet's new fave word "cheugy", while confusing at first, makes complete sense in life post-2020.
Here's what's on the rise and on the slide in culture right now.
Sustainable Sex
Finfluencers
Self Care Is Activism
Hustle Culture
Pop Psychology
Cheugy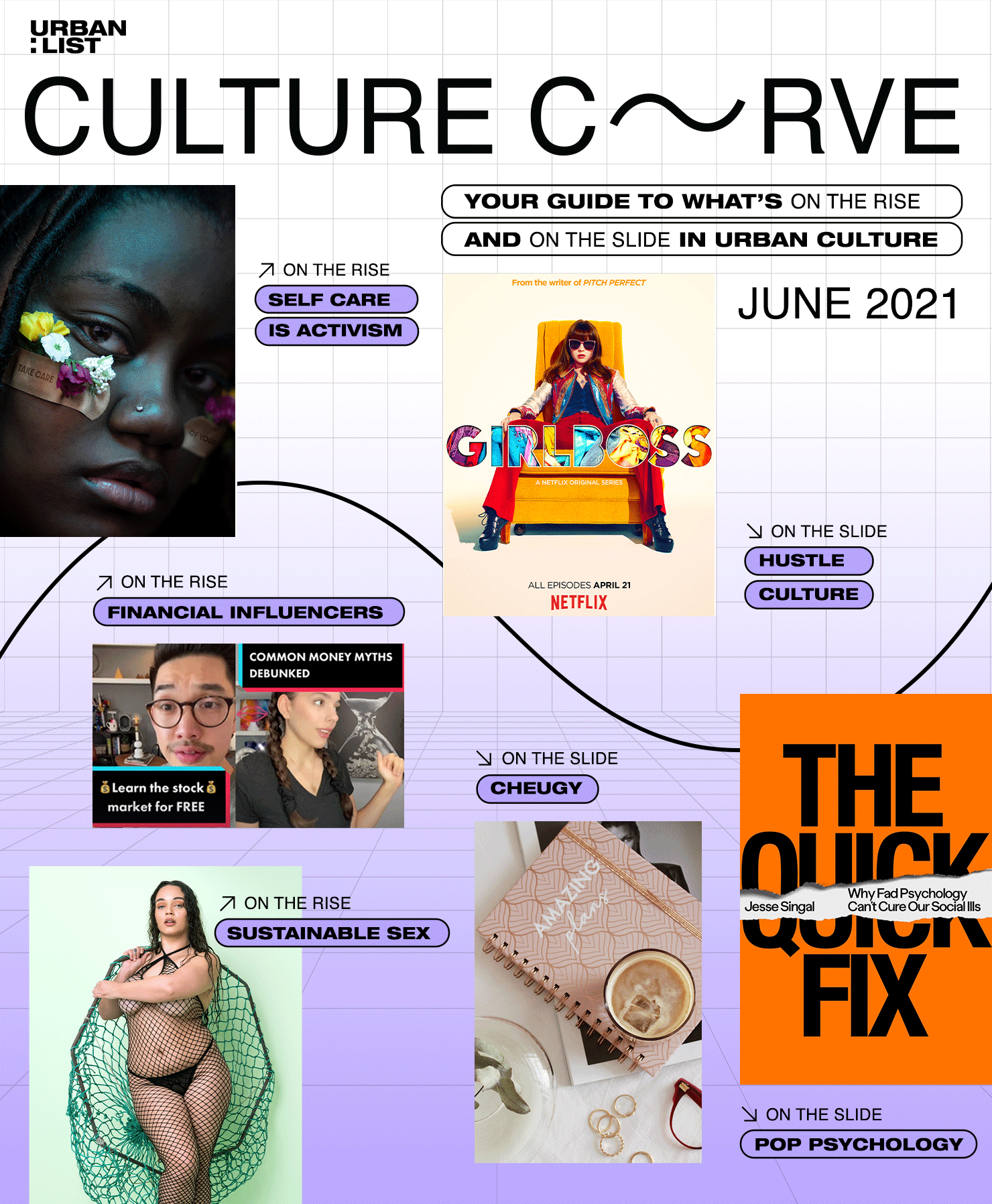 ON THE RISE
In A New Age Of Sexual Wellness, Orgasms Go Green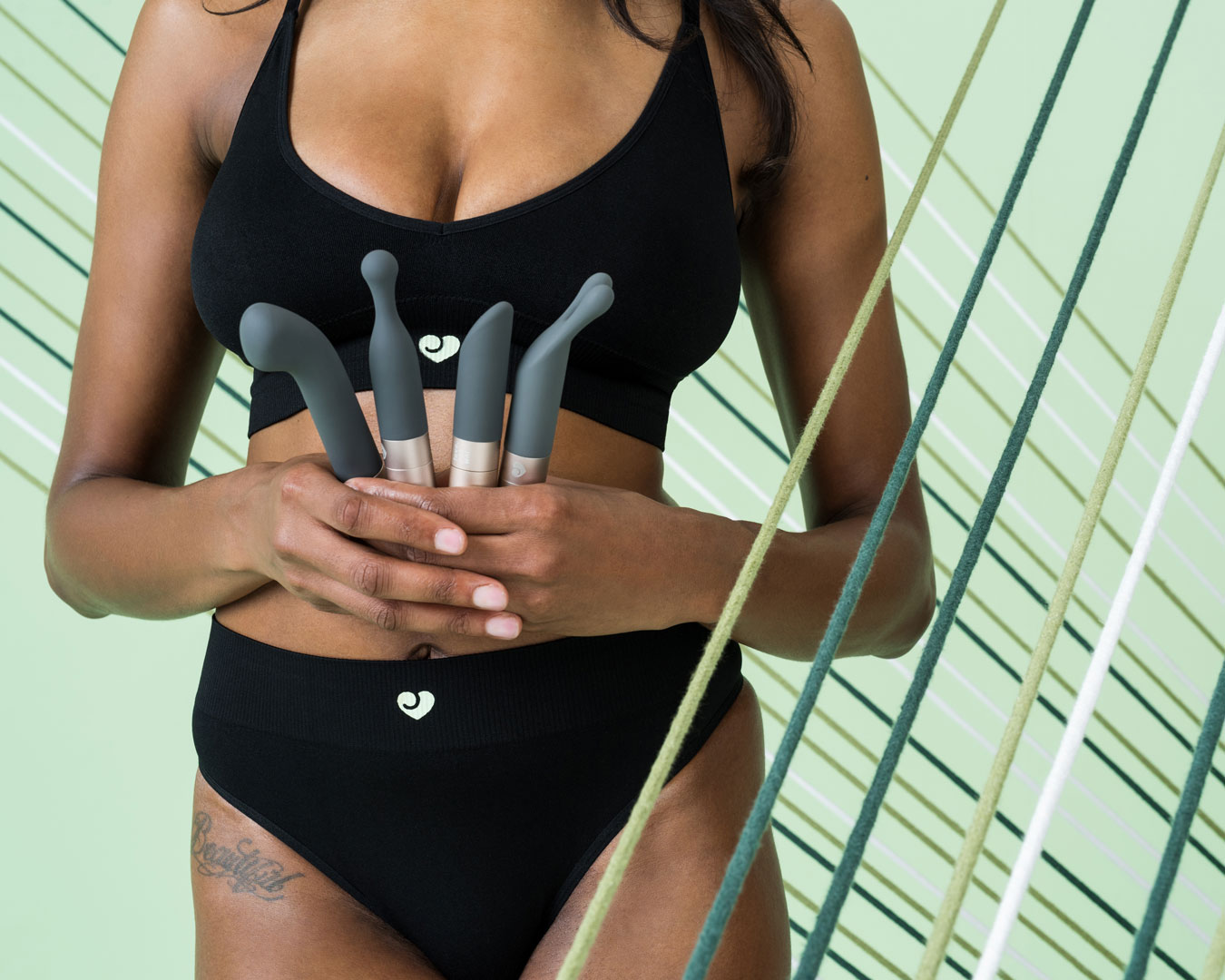 We've taken a deep dive into the sexual wellness industry before. With taboos declining and sex toy purchases rising, a new era of sexual wellness is making waves in the bedroom. With demands for sustainable living at an all-time high as consumers swap out disposable face masks, plastic coffee cups, sanitary products, and plastic bags for eco-friendly alternatives, this momentum has pervaded the booming sex toy industry too, estimated to balloon to almost $110 billion by 2027.
Right now, the global sex toy market is going through a mass renaissance, and not just from a production perspective. The marketing of sex toys has been undergoing a shift, taking a sharp turn from pleasure to overall health, and now whirring its way down the route of sustainability. Products with eco-cred are an amplified trend right now, and it's something a number of sexual wellness brands have tapped into already in order to allow consumers to shop more ethically.
Some big players in this space look like Lovehoney, which has just dropped its first-ever eco-conscious vibrators and sustainably-made lingerie. Having collaborated with Love Not War, the eco vibrators are made from recycled aluminium and silicone which all come with a discreet storage bag made from bamboo. On the same note, NORMAL is the Australian sexual wellness brand backing a sustainable approach for consumers to purchasing sex toys online, from compostable mailers to a trade-in recycling program plus, every purchase contributes to Minus18, a charity supporting the inclusion of LGBTQIA+ youth.
Elsewhere in the world, Womanizer has just dropped an eco-friendly sex toy called the PREMIUM Eco Pleasure Air, made from sustainable and renewable materials—making it the first of its kind as the brand takes its first foray into biolene (a bio-based material). The Gaia Eco biodegradable vibrator has also made some serious noise as the first biodegradable and recyclable vibrator, made from starch-based bioplastic and it's only a matter of time until more sexual wellness brands transition too.
Forget Self Indulgence—Self Care Is Now A Form Of Resistance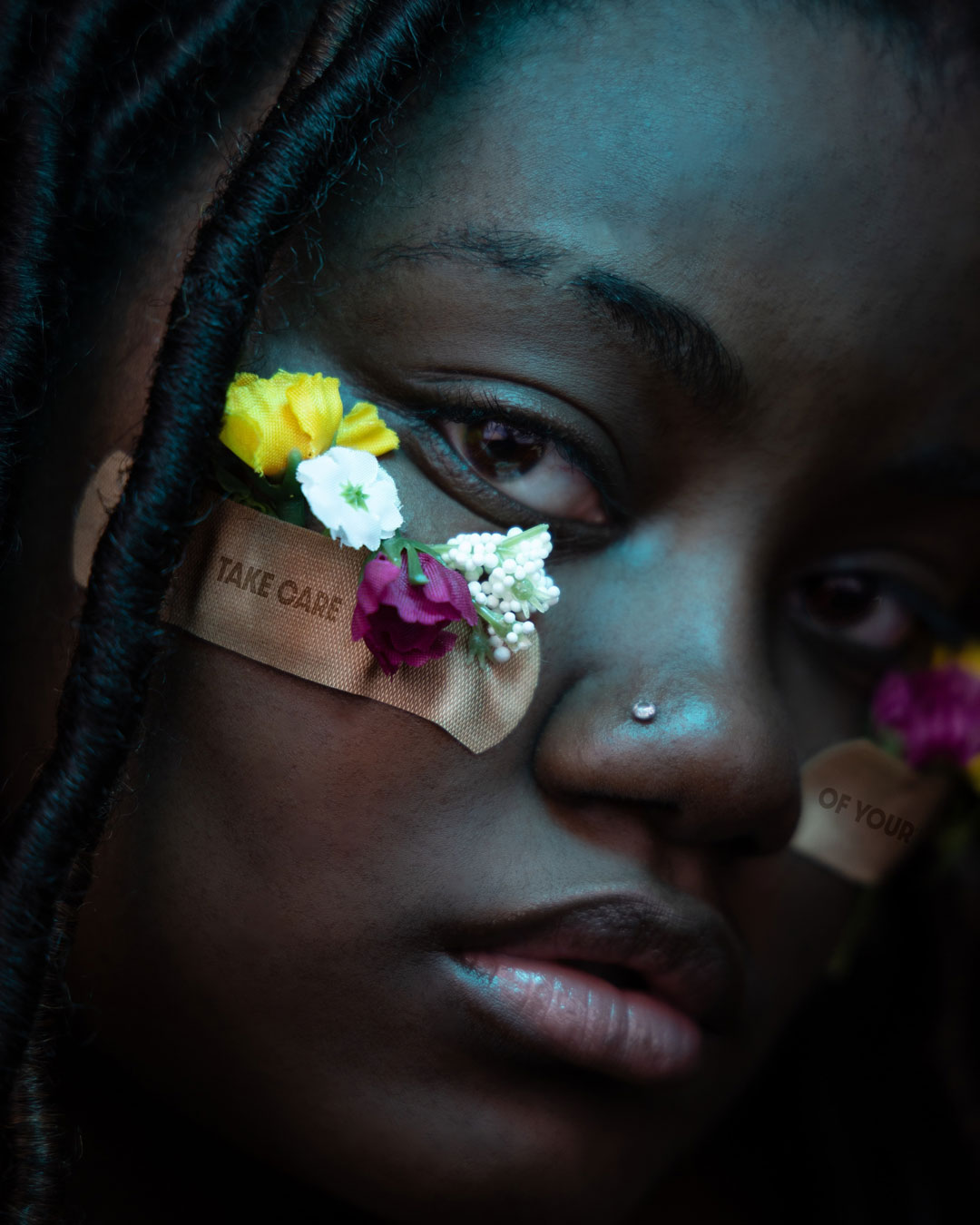 The brand of commodified self-care that was born out of the era of dubious Goop recommendations, sex dust, yoni eggs, and 18K gold dumbells has really started to lose its sheen in a world in the midst of a pandemic. Faced with a real life-threatening health crisis, as well as impending climate disaster, spiraling conspiracy theories, and the proliferation of fake news—crystal cures, juice cleanses, and the pricier sub-genres of wellness celebrated by the likes of Gwyneth Paltrow have come under fire (read more on what's wrong with the wellness industry here).
That's not to say self-care as a concept is losing its relevance in popular culture—quite the opposite. In fact, lockdowns across the globe encouraged us into a new age of self-care, spending time on ourselves and with ourselves as a way to cope with the ongoing crisis and as an act of self-preservation. In that time, the hashtag #selfcare has amassed 10.6 billion video views on TikTok, the industry is now worth an enormous US $450 billion, and Australians are now seeing self-care as a priority in the post-2020 world (87% of respondents in this MediBank survey want to "carve out more time in their daily lives for looking after themselves.").
But the new self-care that's emerging in our time is a resistant and radical self-care. Far from spending hundreds of dollars on overpriced juice cleanse subscriptions in a consistent (and costly) effort to improve ourselves—self-care has evolved into a form of active and autonomous self-acceptance. Breakout search terms in the realm of self-care include "Reiki healing", "mindful eating", and "digital detox", while ideas like "skinimalism" (beauty routines with minimal products to embrace the skin you're in) and "holistic rest" (inspired by the Saundra Dalton TED Talk) are gathering speed. In 2021, self-care is necessarily changing shape, divorcing its profit-driven call to forever enhance and improve. Self-care has become a form of capitalist culture resistance.
Welcome To The Big Boom Of Finfluencers
In a global economy that can be rocked by the chaos of GameStop and the words of a single man can cause joke digital currencies like Dogecoin to plummet and soar in the same week—the only thing that's worth more than the economy itself is an overarching knowledge of the economy.
People are trading very real stock insights on Reddit, #MoneyTok and #Finance have 7.5 billion and 2.5 billion hashtag views respectively on TikTok, tips and tricks on how to crack into crypto are circulating every social media platform and "how to invest in cryptocurrency", "how to invest in blockchain" and "best cryptocurrency to invest" have been huge breakout terms in Google search since March 2020.
Financial knowledge is everything and it's something that has been trending on the upward since COVID-19 first hit and people were pushed out of the workforce as mass job cuts occurred across the world. However, this pursuit of financial security for the likes of Gen Z and Millennials has been driven by a number of factors. Along with lingering higher education debt, a higher cost of living, and very slim chances to get their foot in the door when purchasing property, these two generations have accumulated ongoing barriers to financial freedom.
This search for financial literacy has flourished in an alternative realm, not offered by the likes of high school education, accessible financial advisors, big banks, or mentors. Instead, Gen Z and Millennials have found an intersection between social media and finance education—one that is equal parts entertaining, accessible, and easy to understand. Much like the explosion of beauty influencers on YouTube, finance influencers or finfluencers have been going viral on the world's fastest-growing social media platform—TikTok.
It's meant that finfluencers like @theblockchainboy, @thevaluer, @tashinvests, @investwithqueenie, @dukelovestaxes, and @humphreyyang have been able to make short videos about stock prices and market caps, expense tracking, money hacks, automated investing, and superannuation, with these videos getting millions of views. We've also seen fintech jump on the finfluencer bandwagon—Plum App, an AI money-saving app, saw a 180 percent increase in users joining the app at the end of 2020, with the average user joining the app under the age of 30. Plum has also collaborated with a number of financial influencers on TikTok to produce short videos explaining meme stocks, ethical investing, and budgeting.
Also in the mix are digital banks or investment platforms like Pearler, Klarna, Up Bank, and Moneybox on the same trajectory as they not only partner with emerging finfluencers on TikTok but create targeted ads and organic content too.
ON THE SLIDE
Unpacking "Cheugy" AKA The New Basic
It's the latest "viral word" that has sent the internet into a craze so what's behind the word known as cheugy? While there are rumours the word, pronounced "chew-gee" is a Gen Z-ification, the word has been around since 2013 but has seen a recent revival on the likes of TikTok by a user known as Hallie Cain who made a video explaining exactly what "cheugy" means.
While many descriptions online will have you believe that cheugy is a word that merely refers to a person who is "out of date or trying too hard", the word has been used to denote, and by the same token—denounce a certain time period that more or less has carried on past its used by date, one very reminiscent of the Millennial girl boss aesthetic from the mid-2010s. Culturally, this looks like posters that read "live, laugh love", Boomerangs, announcement culture, Instagram captions that read "rise and grind", using coffee or Harry Potter culture to define your personality traits, hustle culture, and even toxic multi-level marketing culture.
So—how and why has this trope taken such a hit in recent weeks, and what does it mean for mainstream culture? While "cheugy" isn't limited to describing out of date feminist aesthetic from the mid-2010s (think #bossculture, #girlboss, #hustle), it is being used to delineate the toxic traits of the Millennial girl boss aesthetic (largely targeted towards privileged cis white women in their 20s or 30s), and then any micro-genres of this. Within our current new world order, which is built off the blocks of climate strikes, the #MeToo movement, social justice rallies, the Black Lives Matter movement, and a global pandemic—there's no longer space for culture, marketing, or media that does not serve ideas around equality, diversity, inclusivity and overall compassion, let alone signs that read "live, laugh, love".
After Hustle Culture Comes The Clock Out Cure And The YOLO Economy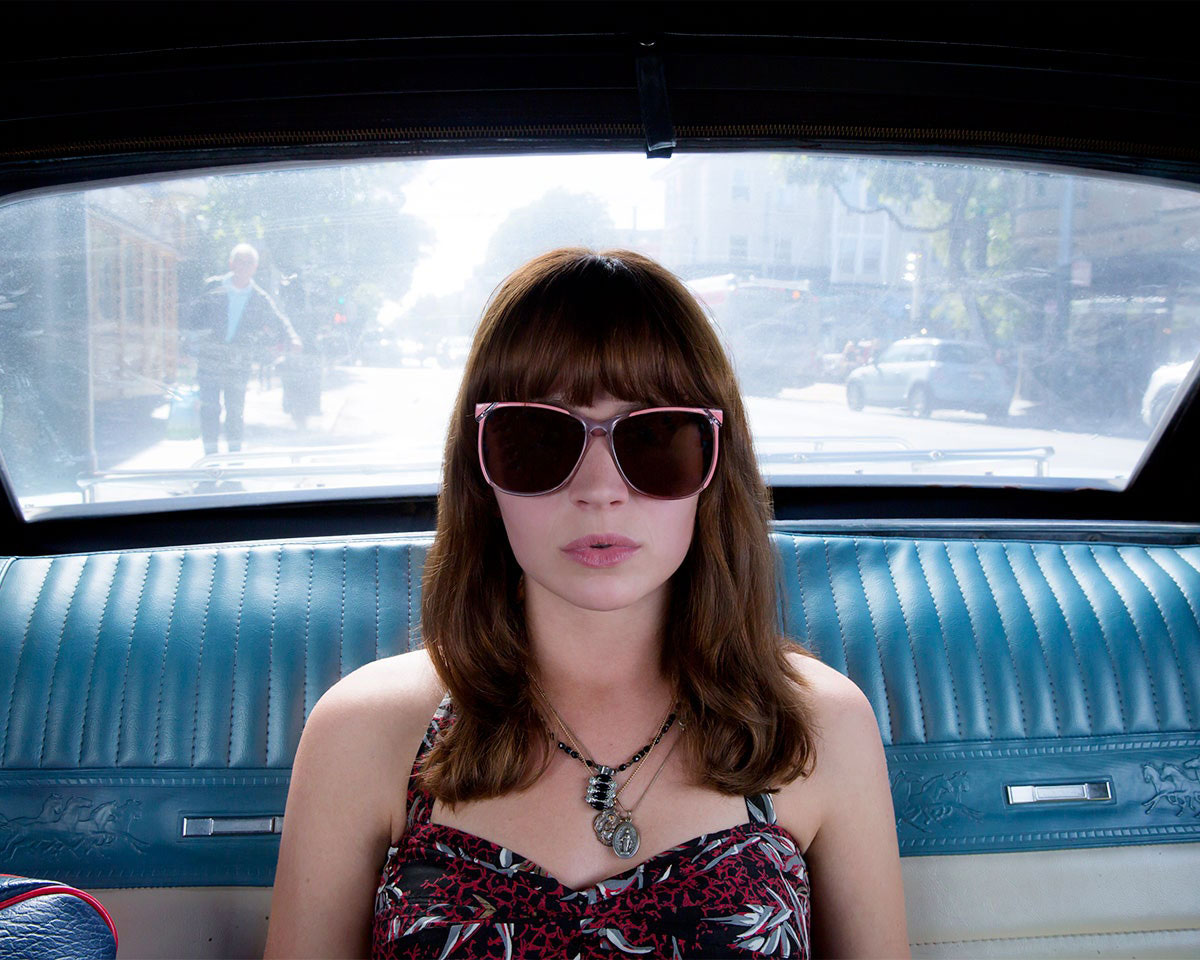 If cheugy backlash has signalled the official end of the girl boss—then the coffee-sipping hustle culture that birthed her and banished work-life balance has also run its due course. Job losses were an enormous part of the 2020 narrative—around March 2020, unemployment hit a historic high of 13.8% in Australia with 1.8 million people working reduced hours or not working at all. Since then, most industries have bounced back to some degree, with employment recovering almost 93% of the early pandemic losses and job vacancies on the up. But post-2020, a totally new zeitgeist has emerged when it comes to work.
The New York Times called it "The YOLO Economy"—describing a fairly specific fleet of type-A Millennials who stayed employed during the pandemic, enduring WFH life and awkward Zoom calls, and who are now "flush with stay-at-home savings" and ready to quit their stable jobs in search of a "post-pandemic adventure". While the ability to YOLO (or yeet?) your main gig only accounts for a privileged cohort, the sentiment feels universal: priorities flipped thanks to the pandemic and burnout started to look like an altogether unnecessary burden to bear.
Elsewhere, the phenomenon has been called "the clock out cure"—a signal that hustle culture and its byproduct, burnout, is a sickness we need to be rid of. In 2020, burnout became that catchall phrase to describe the anxiety, stress, and mental turmoil brought on by a non-stop campaign of hyper-productivity. Now, the idea that maybe we are or have been too invested in our jobs is taking hold, and burnout is being seen as an escapable problem. Alongside the rise and rise of radical and resistant self-care, this feels like a fitting next step, swapping mantras like #riseandgrind and #grit, which beg for internal validation via external means, with a broader perspective on what actually and truthfully brings us joy. To put it simply—overworked is overrated, and a post-pandemic world with shifting values is eager to see what lies beyond the 9 to 5.
The End Of The Quick Fix: Is Pop Psychology Still Relevant In 2021?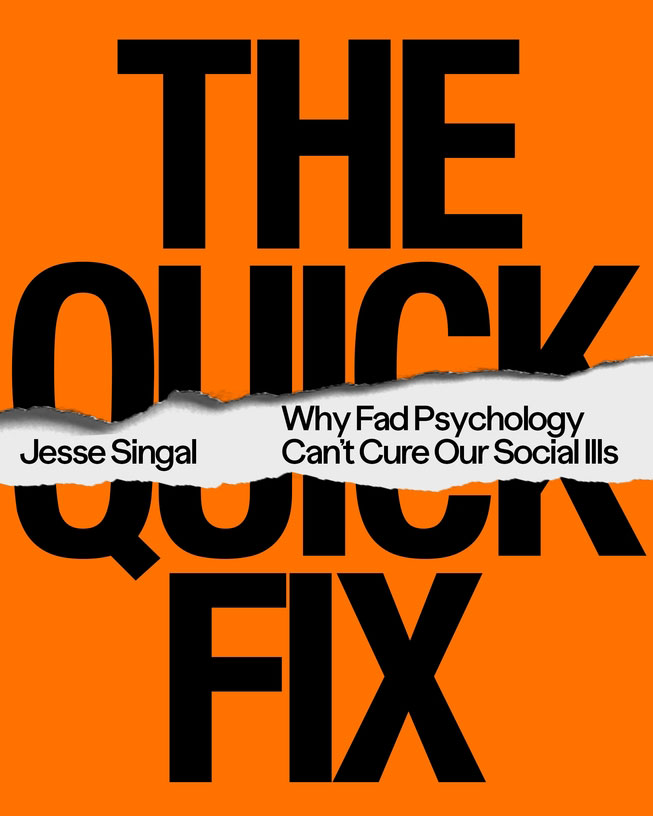 In April this year, a book titled The Quick Fix: Why Fad Psychology Can't Cure Our Social Ills by investigative journalist Jesse Singal was released into the world. In it, Singal debunks and untangles a lot of the myths proliferated by pop psychology over the years—the sort of uber-popular matras that have felt outrageously simple and easy to apply and were ultimately adopted by millions.
Like "power posing", a body language concept for women in the business world, popularised by this TED Talk by Harvard psychologist Amy Cuddy. Or, the concept of "grit" being the key to all of life's success, coined by psychologist Angela Duckworth. And then, the very flawed Implicit Association Test or IAT, a computerised test designed to reveal hidden biases that became wildly popular following the death of George Floyd. Its creators have since admitted it is a "problematic" system to identify people likely to engage in discriminatory behaviour.
Immortalised in self-help books, podcasts, TED Talks, magazines, and more—pop psychology is, well, alarmingly popular. From Dale Carnegie's How to Win Friends and Influence People to Mark Manson's The Subtle Art of Not Giving a F*ck, and all of the concepts mentioned above, these ideas have had, and in some cases, continue to have, enormous influence over society. And while they might be soothing and occasionally insightful, Singal's book has sparked conversation on whether they're relevant and effective, or whether they are actually doing us harm and preventing us from resolving real issues.
Singal isn't only rehashing the old snake oil argument around pop psychology and the idea that many of its concepts lack the science to back them up—he goes a step further to say they aren't doing anything to solve the social justice issues of our times—like systemic racism and women's rights. As the noise around these issues grows—from #MeToo to Black Lives Matter—so has the understanding of and education around the complexity of those issues, and the urgency we feel around the need to properly and thoroughly address them. In short, the quick fix doesn't cut it in 2021.
Keen for more? Check out the previous edition of Culture Curve, where we talk crypto art, mindful drinking, thrift flipping, and more.
Design credit: Kate Mason
Image credits: Lovehoney, Tasha Jolley, Netflix, Farrar Staus & Giroux