The annual holiday celebrating all things Dad is fast approaching with September 3 just around the corner. Mix things up this Father's Day and dine at a new restaurant with a special menu dedicated to him, or perhaps pick him up a little treat to brighten his day. Either way, there are plenty of opportunities to show all of our father figures how much we appreciate them.
Here's where and how to celebrate Father's Day in Melbourne for 2023:
Food & Drink:


Bar Carolina
SOUTH YARRA
Bar Carolina is hosting a Three-Negroni Lunch for all the dads out there, and the name sort of speaks for itself. The meal, which includes specials on the day such as a 300g grass-fed scotch fillet with potato and truffle puree, sauteed cavolo nero and salsa verde, will be accompanied by the Rosso, Verde and Bianco iterations of the cocktail. Click here to book.
Poodle Bar & Bistro
FITZROY
There's a special set menu coming up at Poodle Bar & Bistro, and it's sure to satisfy any father figure around. Offerings will include a beef Tartare with tarragon and salted egg yolk, roasted pork loin with Gremolata, and a dark chocolate mousse with Starward whiskey caramel and candied kumquats. Book online here.
Cinder
FITZROY NORTH
Cinder has sorted out three different experiences for you to spoil Dad this Father's Day, and you'll be hard-pressed to choose which one. You can opt for a dry-aged steak with their take-home steak and wine pack, or enjoy a Father's Day Sunday lunch with a complimentary whiskey cocktail. Finally, they're offering a Father's Day steak masterclass led by AHA Chef of the Year and culinary director, Jake Furst. Click to book here.
Pidapipó
CARLTON, WINDSOR, CBD, FITZROY
After a two-year hiatus, Pidapipó is bringing back an old favourite to celebrate Father's Day; the Papàmisù. The Papàmisù features layers of Mascarpone gelato, Savoiardi biscuits soaked in espresso and sweet sherry syrup, with Gianduja ganache and chocolate shavings. You can find them in-store from Friday 25 August to Sunday 17 September.
Tokyo Tina
WINDSOR
Tokyo Tina is going against the grain this year—no set menu, but if you dine in, you go into the draw to win a weekend getaway valued up to $600 with Riparide. All the best a la carte options will be there, so click here to book.
Neighbourhood Wine
FITZROY NORTH
Nothing screams Sunday more than a Sunday Roast, which is exactly what Neighbourhood Wine is serving up this Father's Day. There are three courses, and of course, a stellar wine list to back it up. Book here.
Piccolina
HATHORN, CHADSTONE, CBD, ST KILDA, COLLINGWOOD, RICHMOND
Piccolina is introducing a sweet treat for Dad in the form of the Gelato Bomboloni - a smooth cinnamon doughnut gelato inspired by the Italian dessert. There will also be a gift pack available, which comes with Raspberry Jam and Better than Nutella Bomboloni. Find more information here.
Old Palm Liquor
BRUNSWICK EAST
Old Palm Liquior has a hearty Lamb Braai available from 12 - 4pm this Father's Day. For $49 per person, this smokey menu includes steamed black mussels with Cape Malay spices and frites, slow-cooked and charcoal-grilled lamb shoulder, flatbread with labneh and preserved lemon chakalaka. Click here to book.
Omnia
SOUTH YARRA
A seasonal menu is in place at Omnia, with something to satisfy every dad in the room. Offerings include lamb shoulder or roasted duck, and all served with seasonal wines, hand selected by the Sommelier. There'll even be an exclusive children's menu on the day, so everyone's taken care of. Book here.
Mister Bianco
KEW
Mister Bianco has your Father's Day lunch covered, Sicilian style. They're serving up 12 of their favourite dishes from the past 12 years, including Cacio e Pepe gnocchi, braised beef cheeks with Spatzle and pickled radicchio, and cauliflower fritters with Romesco sauce. Click here to book.
Lagoon Dining
CARLTON
The Father's Day menu for Lagoon Dining is jam-packed with all of their fan favs. Dishes will include salted cucumbers with shiitake mushroom, crispy whitebait with a salted duck egg yolk mayo, and fried chicken served with white pepper togarashi tonkatsu sauce and curry leaf. Click here to book.
Tokar Estate
COLDSTREAM
Tokar Estate are throwing a Father's Day lunch celebration, with an elated version of their a la carte menu. There will be specials that will be available to order in addition to the menu, including a hearty steak for all those meat-loving Dads. Click here to book.
T'Gallant Vineyard
MAIN RIDGE
Down on the Mornington Peninsula, T'Gallant Vineyard is treating all Dads to a complimentary glass of wine this Father's Day, alongside their regular menu and a set menu for larger groups. Dessert is particularly enticing, with warm Italian doughnuts served with strawberry jam and Nutella dipping sauce. Book here.
Hotel Sorrento
SORRENTO
Hotel Sorrento has a hearty set menu to make any father figure happy, which includes zucchini chips, grilled Saganaki, and a roast lamb with all the trimmings. Of course, dessert is on the table too, and pavlova is too good to pass up. Click here to book.
Stokehouse
ST KILDA
Executive Chef Jason Staudt and the rest of the team have crafted a menu this Father's Day, with the best of Stokehouse's offerings. You can also elevate your lunch with upgrades to a shared crayfish main served with smoked anchovy butter, click here to do so.
Stokehouse Pasta & Bar
ST KILDA
Designed for sharing, the Stokehouse Pasta & Bar set menu has all the favs, including antipasti, pasta, and tiramisu. Plus, all the bottles of wine on the menu ar $79, so you can get boozy. Book here.
La Luna Bistro
CARLTON NORTH
La Luna Bistro loves dads so much that they've designed a three-course menu for him - we love to see it. Entrees include their famous prosciutto, the fish of the day, Gnocchi, and arancini. There's also a special menu for the kids for only $35 a head. Make your bookings here.
Chin Chin
CBD
Chin Chin is adding to their already famous a la carte menu for Father's Day, so he'll be spoilt for choice. Additions will include a rhubarb and lemongrass negroni, grilled Thai chicken and pork sausages with Nahm Prik Noom, and a dry red curry with pork belly, apple eggplant and a fried egg. Book here.
Society
CBD
This one is a doozy—Society is inviting you to their Green Room for an intimate lunch with Dad, and it's dedicated to cult Australian wines. The wines are paired to a curated menu, which will include offerings of scallops with green peas and wasabi, and beef tenderloin with confit potatoes You can even choose to end the experience with whisky and cigars on the deck. Click here to book.
Black Star Pastry
CBD
Fit for a king, Black Star Pastry has dropped the deets for their annual Father's Day pie, a smoked beef brisket and cheese concoction. The smoked beef brisket is combined with a splash of red wine as well as Raclette, Provolone and Mozzarella, and finally topped with flaky filo pastry. Pre-order from Sunday 20 August here.
​Pipis Kiosk
ALBERT PARK
A four-course meal awaits your dad at Pipis Kiosk, with a menu that includes lamb belly skewers, scallop crudo with Meyer lemon and 14-day duck confit with a tangy Tonkatsu sauce. Click here to book.
400 Gradi
MULTIPLE LOCATIONS
On top of the award-winning pizza dished up by the folks at 400 Gradi, they're doing a special steak for Dad this Father's Day. A whopping 650g Cape Grim rib eye will be added to the menu in all locations except Mildura. Book online here.
Post Office Club Hotel
ST KILDA
The crew at the Post Office Club Hotel are shouting Dad a free bev on Father's Day, with his choice of either a Brick Lane Brewers drink or Ginger Resistance hard ginger beer. On top of that, they're adding a special grilled Gippsland hereford ribeye to the menu, alongside a Bourguignon Garni and 1kg bone marrow bon bons. Make sure to book here.
Rumour Has It
HAWTHORN EAST
If you're looking for a Father's Day feast, then look no further than Rumour Has It. Breakfast options for Dad include a grilled 'Gameskeeper' black pudding, crispy hash brown, spinach, poached eggs, and salsa verde, but if you're keen for a lunch, they're serving up steamed mussels, tomato, garlic and basil on a crunchy baguette. You can book here.
Ladybird Cakes
MULTIPLE LOCATIONS
Ladybird Cakes want you to celebrate all your father figures with a box of sweet treats, namely cupcakes. Flavours include whisky caramel, dark chocolate raspberry and oreo vanilla choc chip. Find them here.
Things to Shop:


Tommy's Booze
Tommy's Booze is helping you celebrate Father's Day with a Taster Boxes—three of their best spirits ranging from 200ml to 700ml, depending on which box you choose. Click here and here to check them out.
The Gospel Whiskey-Infused Hot Sauce And Pickle Set
Whiskey wonders The Gospel are teaming up with BBQ restaurant Fancy Hanks to celebrate your father figure, with a giftset that's sure to knock his socks off. The kit includes a bottle of Fancy Hank's x The Gospel habanero & carrot whiskey hot sauce, a jar of Acide x The Gospel rye whiskey bread & butter pickles, and a choice of either a bottle of Solera rye or straight rye whiskey. Find it exclusively here.
Things To Do


Skydive Over St Kilda Beach
For the Dads who zest all the juice out of life, this is one way to show your appreciation. The 15,000ft free fall takes place right over St Kilda beach and allows you to take in the bayside suburb for up to 60 seconds before landing safely back on earth. Take the plunge over here.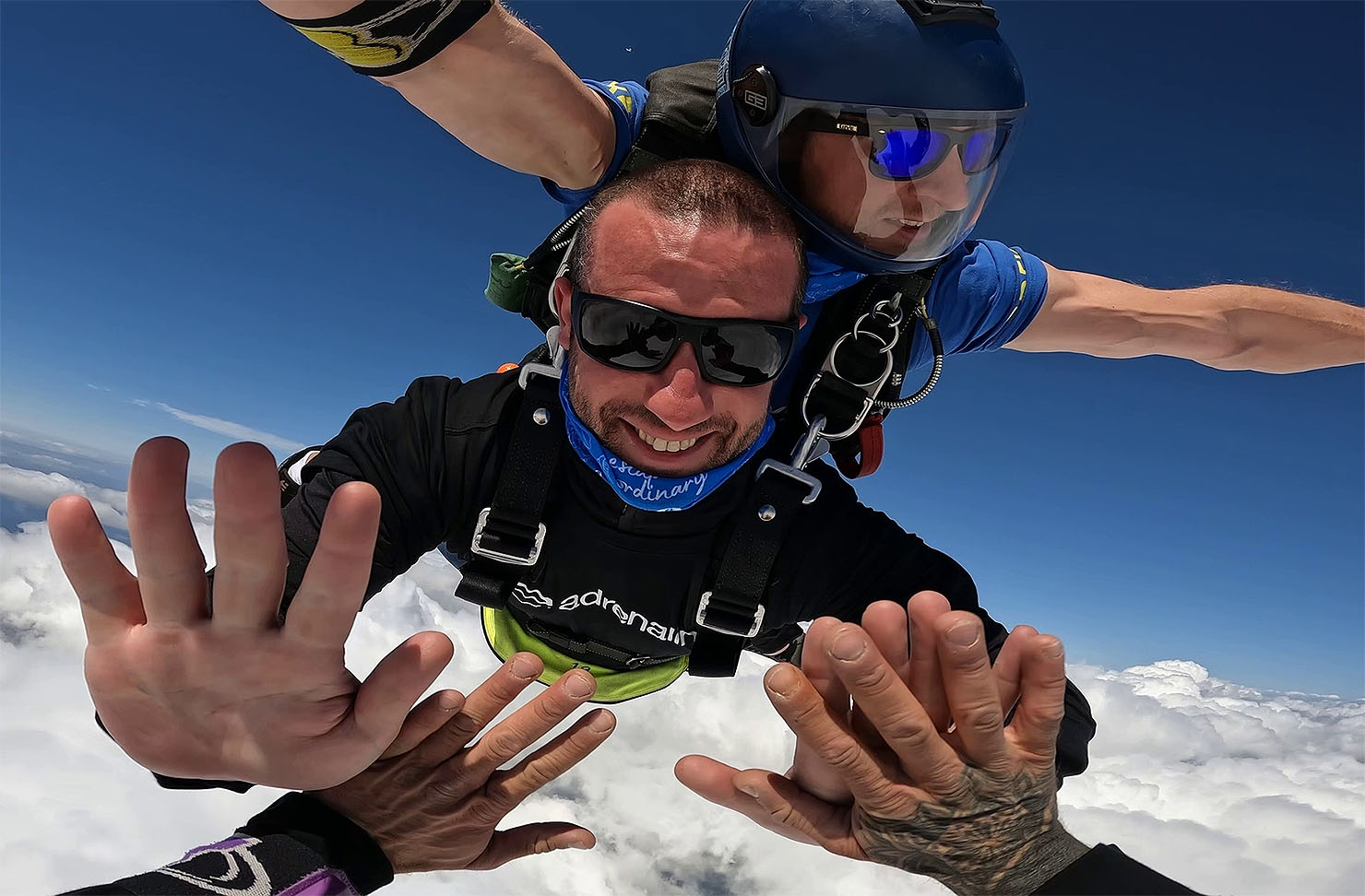 Hot Air Balloon And Breakfast In The Yarra Valley
Take to the sky high above one of Victoria's most pristine stretches with this cruisey hot air balloon ride in the Yarra Valley. After you've circumnavigated the wine region you'll be met with a champagne breakfast at the neighbouring Healesville Country Club, cheers all around. Book it here.
Check out everything happening in Melbourne over here.
Image credit: Grill Americano (supplied)
Editor's note: Urban List editors independently select and write about stuff we love and think you'll like too. Urban List has affiliate partnerships, so we get revenue from your purchase.