He most likely accidentally calls you by your sibling's name at least once a week, he probably adds far too many full stops to his texts…… and he definitely adds an unnecessary "s" to the word Safeways, but the big fella has also done a lot for you over the years.
This year, treat him to something special from one of Melbourne's primo culinary institutions while he's locked up at home. Go on, do it for dad.
FairFeed
If you want to get Dad an awesome meal that also helps out some fellow Melburnians, FairFeed is exactly where you need to go.
Their Father's Day 'low and slow' feast features a smoked BBQ brisket, mac 'n' cheese, a southern bean salad, potato salad, along with their housemade smokey BBQ sauce.
Extras included for Dad include 4 x Moon Dog beers, and you'll also get the chance to be the first to try FairFeed's Fairly Hot Sauce 'Everyday Chilli'.
Pick up and delivery available. Order via the FairFeed website.
Ishizuka
If you're doubling down with a sibling, or just feeling generous, hit the old bloke right in the feels with a bento box from what arguably the most refined Japanese found in Melbourne, Ishizuka. This one comes in at $150, and it includes their premium wagyu steak, truffle and foie gras pie along with all the usual suspects you'd find in a bento.
Pick up and delivery available from their CBD locale. Call 03 8594 0895, email reservation@ishizuka.com.au or order here.
Tipico
Celebrate Festa del Papa with Tipico's Father's Day Italian feast. Each pack includes a selection of cured meats, eggplant parmigiana, cavoletti, braised ossobuco, and tiramisu with reheating and preparation instructions. Lock it in at a modest $95 for two or $170 for the whole family. For the dad who likes a drink with dinner, chuck in a Negroni for $20 or a Truffle-infused Belvedere Martini for $25.
Pick up and delivery available. Order up by 9pm on Friday 4 September via info@tipico.melbourne or 9089 0768.
Firebird
From the team behind Hanoi Hannah and Tokyo Tina, comes Firebird. The fire-focussed restaurant has put together a six-course duck and whisky-centric meal with a little help from Starward Whisky. Place your orders for the big weekend by Friday 4 September via Providoor.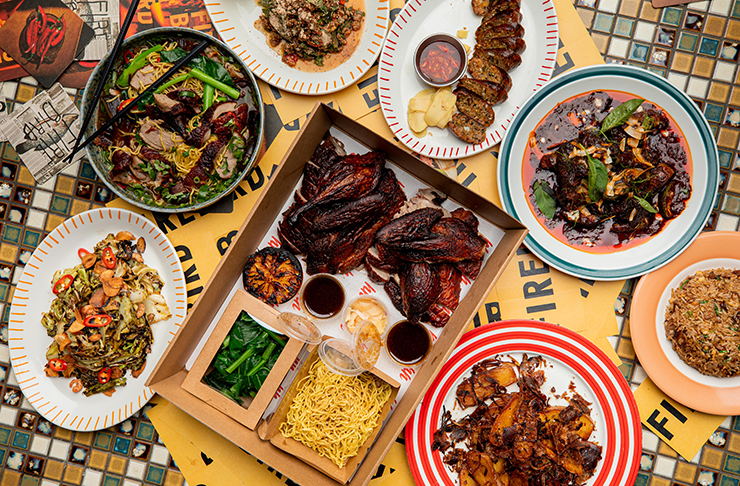 Daughter in Law
Hospo don Jessi Singh's Indian(ish) restaurant, Daughter in Law, is serving up a cracker of a Father's Day spread this year. Here, you'll find serval starters like some very special cauliflower, then into the lamb rib cummin dukka, followed by a couple of curries—yes, that includes butter chicken—some naan, rice and raita. At $100 for two, the big guy will also score a one-litre growler of Stone & Wood Pacific Ale to wash it down.
Order for delivery by 5pm on Saturday 5 September via goodtimes@daughterinlaw.com.au
L'Hôtel Gitan
Have you got more of a delicate dad? L'Hôtel Gitan is celebrating Day of the Dad with a refined meal available for preorder. It includes smoked salmon blini, creme fraiche and chervil, roast beef fillet along with an apple and rhubarb crumble and almond streusel with vanilla anglaise. Lock it in at $50 just for him, or a family serve at $170.
Available for delivery and pick up via info@lhotelgitan.com.au or 03 9999 0990.
Maker & Monger
Sometimes, it's okay to get a little cheesy when celebrating someone. Maker & Monger is sorting the first half of the day out with a breaky and brunch pack.
This one's taking its inspiration from Spanish Cuisine, and stacked with the good stuff like a Jamon, manchego and quince toastie, mac 'n' cheese with buttered leek, roasted capsicum and chorizo, Bonilla a la Vista Spanish chips, four cans of Stomping Ground ale, and some Basque cheesecake. Sort out the old man at $90 via the Maker & Monger website.
Orders must be placed by Thursday 3 September. Pick up is available, as is delivery for a small fee.
King & Godfree
For those whose father's have a discerning palate, try and satiate that dad-sized appetite with the King of Antipasti box: three types of salumi, grissini, water crackers Sicilian green olives, fruit paste, two kinds of cheese and mixed nuts. There's also a pre-batched negroni from Bar Liberty in there—not bad.
Order ahead at $95 including local delivery in the Carlton area.
Chin Chin
It's called the Who's Your Daddy pack, but all you really need to know is that it's from Chin Chin. Included are several favourites along with a few specials for the big guy. Inside, he'll find roasted chicken wings, turmeric & garlic roasted prawns shiso salad, smoked brisket, sides of roasted eggplant, roasted pumpkin, cucumbers and Chin Chin's famous hot apple pie for dessert. There's complimentary Shiki growler to swig it down.
Order here for pick up in the CBD at $75 per person (minimum of two), Richmon or Windsor.
Hawker Hall
Once upon a time, you'd be waiting hours just to get a seat, but now you (or your old man) can have it delivered to your table. This Father's Day, Hawker Hall are doing duck and dumplings for dad—it's a riotous banquet with plenty exactly what it says on the label, plus Singapore noodles, coconut jelly and a Shiki growler on the beverage front.
For $55 per person (minimum of two), you can pick it up from their Windsor locale.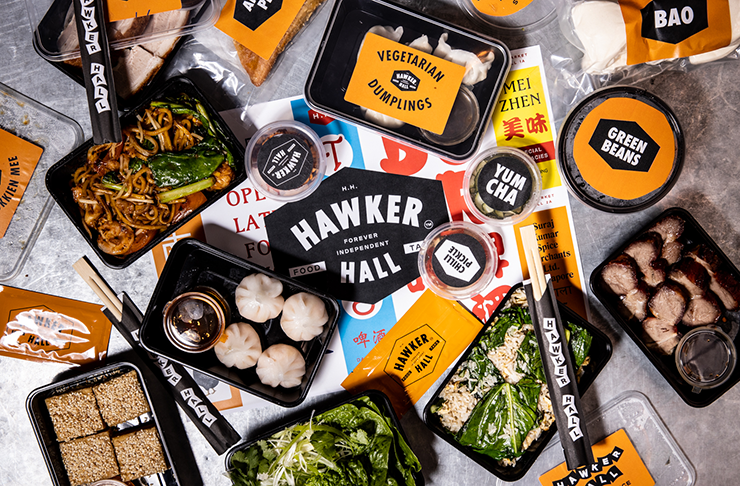 That's Amore Cheese
Add a personalized touch with a bespoke card and plenty of cheese in That's Amore's Papà Hamper. At $80, he'll be treated to That's Amore cacio pepper cheese, That's Amore smoked caciotta cheese, Urban Pantry Lavosh, Kyneton Truffle Infused olive oil, and plenty more goodies.
Preorder for delivery here.
Oriental Teahouse
Make the old man work for it, or, keep him entertained in lockdown this Father's Day with a DIY dumpling kit from Oriental Teahouse. All up, the kit makes 80 dumplings, and he'll score a few Moon Dog beers for him to sip away at as he creates his culinary masterpieces.
Order at $70 plus delivery here.
Carolina Group (Marameo, Bar Carolina, Il Bacaro,Tetto di Carolina)
Hospitality powerhouse, Carolina Group, has got their restaurants together to prepare The Godfather-inspired menu. It goes without saying this is the perfect choice for any film-buff fathers, and it includes plenty of antipasti, a sausage and tomato sauce handmade spaghetti, a veal marsala with roast potatoes, a pack of DIY cannoli along with booze to match.
$180 will feed two. Find out more and order here by Wednesday 2 September. Delivery is $10 within 15km of Bar Carolina.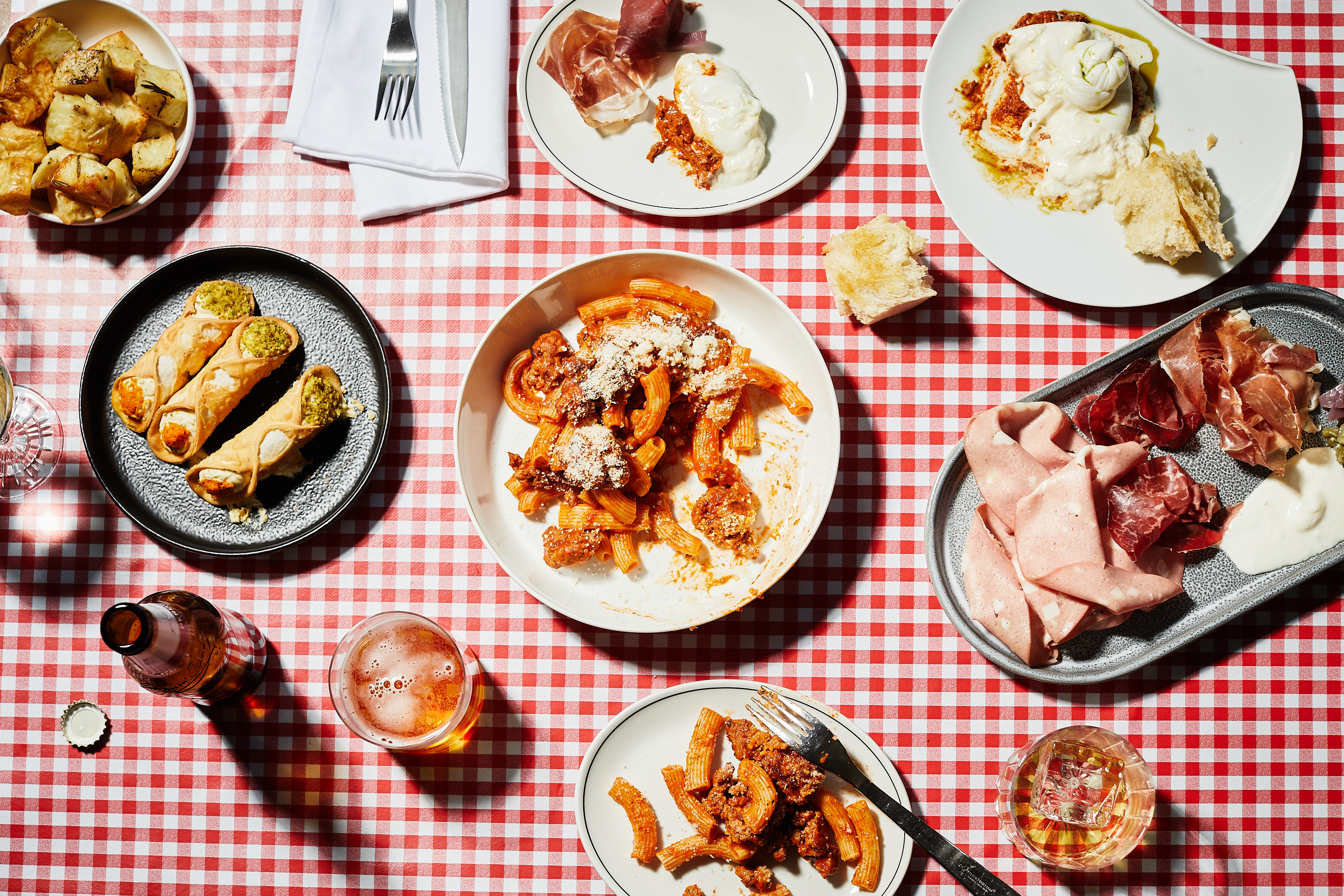 Fancy Hanks x Co-Lab
Take a masterclass in making fried chicken with comfort-food masters, Fancy Hanks. In the class, you and the old fella will learn how to make cornbread scones with jalapeno and peach cream cheese and 2kg of buffalo wings with cayenne and watermelon hot sauce. Not bad.
It's happening via Co-Lab Pantry. They'll deliver all the ingredients to your door, so order up to avoid disappointment, and disappointing your dad. It'll set you back $85 per head.
Mister Bianco
Mister Bianco is an absolute stalwart of Italian cuisine, and is worthy of any father's appetite and approval. There are several options depending on how many mouths need feeding, but you can expect the classics done right regardless of your selection—expect the likes of meatballs, calamari, lasagne, beef cheek and tiramisu.
Check out pick up and delivery options here.
Sunda EXP
The Windsor's Sunda EXP, and head chef Khanh Nguyen, has put together a not-so-traditonal, but-very-delicious Vietnamese feast, together for Father's Day. The hero is the coconut-marinated rack of lamb, but the real fun comes into play with a tasty exercise in family bonding It's a build your own banh mi situation, that'll have the gang stuffing in the likes of house-made duck liver pate mayo.
Preorder for next day pick up or delivery starting at $88 for four. Find out the details here.
Grosvenor
Indulge dad with a meal from Grosvenor Hotel, and a hatted chef. Chef Simon Moss is doing a signature beef wellington just the way dad likes it, there are plenty of sides like cured meats, Sicilian olives and wood-fired house-baked rosemary and sea salt focaccia.
Preorder via 95311542 or online by Friday 4th August 6pm. This decadent feast will set you back $150 for two.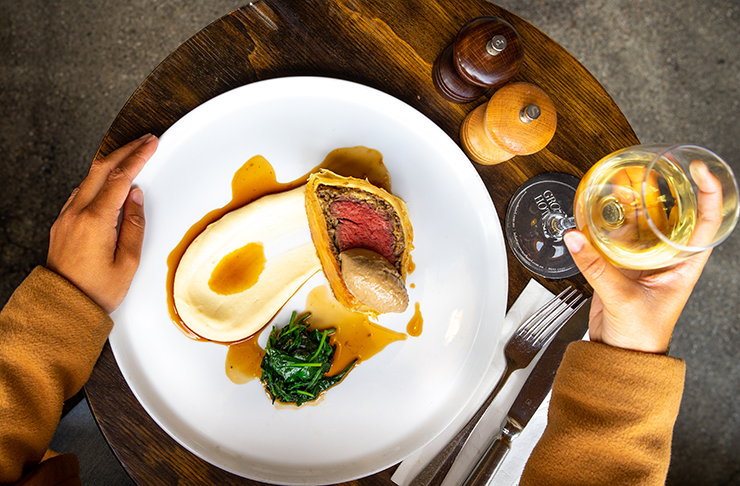 Send dad some booze with Melbourne's best booze delivery.
Image credits: supplied