If you've got Instagram and live within the city's inner burbs, you've likely scrolled past the magic of Miss Trixie and Bloom Boy. Creative prodigies in their own rights, and both doubling down on their niches—which are cakes and flowers respectively—via a flair that's quintessentially Melbourne. And now, the two who first met via Instagram are putting on a Mother's Day pop up that's far, far cooler than that corner-store florist you stop past on the way to Mum's at around this time each year (do better).
The duo has put together two bundles that'll propel you straight into favourite child status. The first, titled Baby Mama, comes in at a modest $90. This includes a small flower posy designed in Bloom Boy's audacious style along with four of Miss Trixie's iconic Callebaut chocolate chip cookies—and yep, like most of her work, they're stacked with sweets and treats.
The second bundle, Big Mama, scores Mum a medium posy and eight cookies for $125. Excessive? Maybe. Bold? Yes. But you'd be lying to yourself if you thought mother dearest didn't deserve all the above.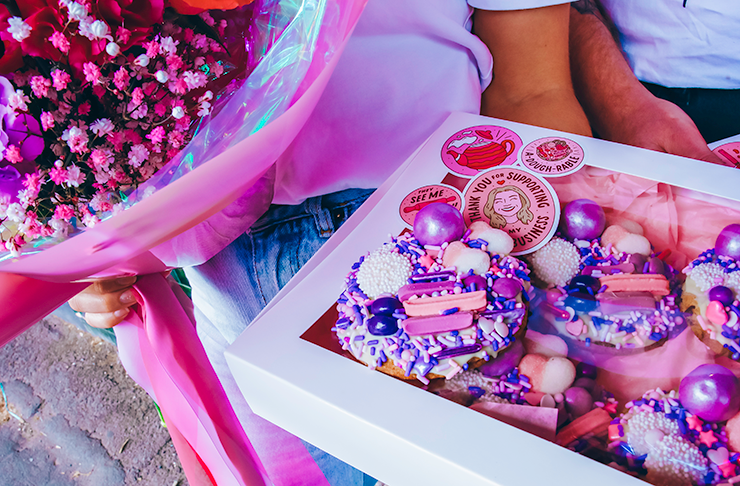 Preorders are open until 5pm on Wednesday 5 May for pick up on Saturday 8 May between 9am and 3pm, and Sunday 9 May between 9am and 1pm at their pop-up in Hawthorn. Limited numbers will also be available for those who missed the memo and forgot to organise Mum a gift.
Find the Miss Trixie x Bloom Boy pop-up at Poppies For Grace, 297 Auburn Road, Hawthorn.
Looking to take her out for dinner this weekend? Check out the best Mother's Day feasts here.
Image credit: Mrs White Photos