In the few months of the year that it's not cold or wet, us Melburnians jump at the chance to wrap our hands around a bev in the sunshine, and Melbourne mainstay watering hole Father's Office is tapping right into that with a container bar and cocktail caravan set up smack-bang in the middle of the CBD's much loved QV Square.
Last year's iteration leant heavily on the Christmas aesthetic, though this year, they're subbing out the baubles and candy canes for a Euro-summer right here in Melbourne.
First up is the QV Club bar that's made up of two parts: the Stella Artois-backed container bar which will be serving up the beloved European pilsner alongside other crowd-favourites, and the Absolut Vodka cocktail caravan doing some seriously summer-ready—you guessed it—cocktails. To sweeten the deal, they'll also be launching the collaborative QV Club x Absolut Vodka Watermelon Smash on opening night.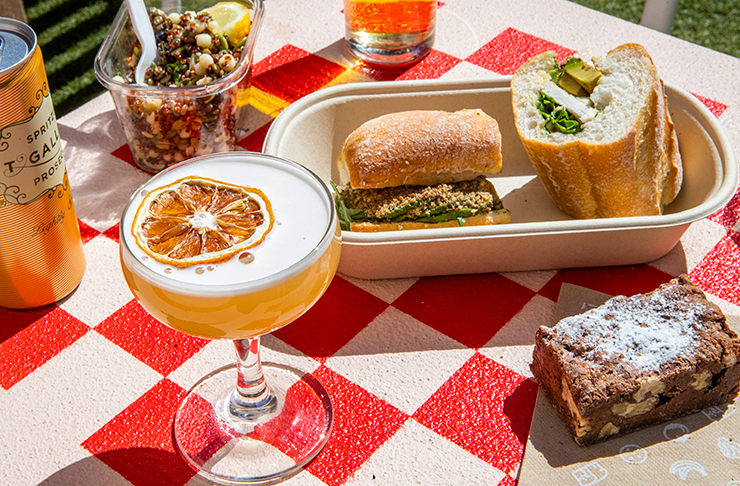 There's plenty on offer between the two, like frozen margs and Aperol Spritz for days, but the real heroes here are the 750ml bottles of GH Mumm going at a very, very modest $69.
There's far more to this several month-long summer soiree than just booze, though. Fridays and Saturdays will see the square vibe out with DJs from 5pm along with live music programming to be announced in the coming weeks. And harking back to that theme, there'll be plenty of day beds and lounges for you to enjoy your evening how you please—but with an Aperol Spritz in hand, of course.
The QV Club opens Friday 19 November and will continue throughout summer Wednesdays through Sundays. Click here for more information and Christmas opening hours.
Check out everything else happening in Melbourne here.
Image credit: supplied