5 & Dime Bagel | Collins Place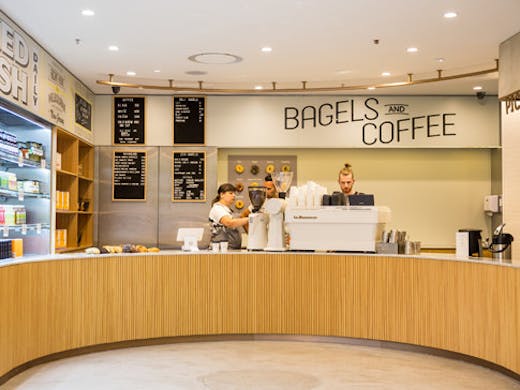 The Verdict
Unless you hate delicious things, you've probably already heard about 5 & Dime Bagel (it's a Melbourne institution at this point).
But what you probably don't know is that since January 2019, they've quietly opened a second location in the CBD.
That's right. New Jersey native Zev Forman is at it again with his bagel-slinging ways and he's bringing all that doughy goodness to Collins Place.
All your classic favourites are still available, but Zev's plan for this particular location is to provide the Collins Place lunchtime crowd with some much-needed quality coffee. Repping locally roasted Industry Beans, 5&Dime's CBD location has some serious good brews and even better pastries.
So if you've never had a babka (shame on you), you need to drop whatever you're doing and head over there right now. You'll find the new and shiny 5&D on the lower level of Collins Place, right next to Kino cinema. Just follow the delicious smell of bagels and coffee wafting your way.
Image credit: Annika Kafcaloudis
---