Industry Beans | Little Collins St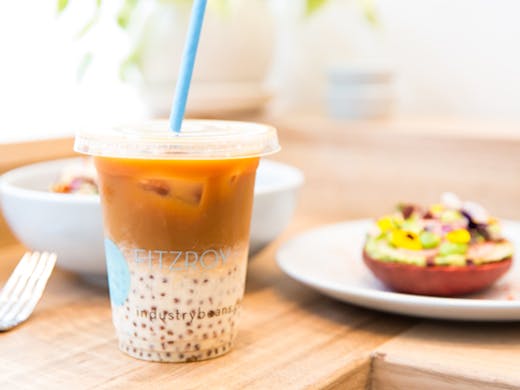 The Verdict
Industry Beans has been pumping liquid gold into the veins of Fitzroy hipsters since 2013, when brothers Trevor and Steve Simmons set up shop on Rose St. The warehouse cafe and roastery quickly became a staple on Melbourne's hyper-caffeinated food scene, and you can get their award-winning beans in dozens of venues all over town.
Well Industry Beans has done something new: they've launched a mod AF satellite cafe in the CBD.
Now, when we say 'mod AF', we're referring to the space-age La Marzocco Modbar, which you'll notice as soon as you walk through the door. Instead of a stand-alone espresso machine, the Modbar is hooked up the mains—three sleek iPod-ish heads with blonde timber and pull handles that protrude from the counter. It's a cross between Melbourne cafe chic, London pub taps and The Jetsons.
The summer menu is short and sweet. Ruby-red beet bagels with a schmear of av', pickled daikon and edamame beans. Wattleseed granola bowls topped with compressed watermelon, orange mango gel and roasted pineapple foam. Even a cheeky coffee cashew cheesecake with a finger-licking blackberry coulis.
Of course, the coffee is why you're really here right? It's hard to think of a cafe up this end of town that can match Industry for sheer variety. Three espresso blends, including a housemade citrus and red cherry brain-fizzer. Filter and batch brew on rotation (at the moment they're serving Heirloom Ethiopian).
Personally? We've got our eye on the two signature iced coffees. The Fitzroy Iced (Fitzroy St cold brew with Wattleseed and organic Panela, served with a choice of three milks) and the Bubble Cup (Melbourne's first bubble cup cold drip). Think single origin cold drip layered on con-soy and coffee-soaked tapioca balls that pop in your mouth. Refreshing, weird and oh so delicious.
Image credit: Jenna Fahey-White
---