A25 | CBD
CONTACT
Ph: 03 9602 3007
Visit Website
399 Lonsdale Street
Melbourne, 3000 VIC
Show on map
open
---
Opening Hours
| | |
| --- | --- |
| SUN | closed |
| MON | 7:30am - 10:00pm |
| TUE | 7:30am - 10:00pm |
| WED | 7:30am - 10:00pm |
| THU | 7:30am - 10:00pm |
| FRI | 7:30am - 10:00pm |
| SAT | 8:00am - 10:00pm |
---
The Details
Cuisine
Serving
Coffee
Breakfast
Lunch
Dinner
Dessert
---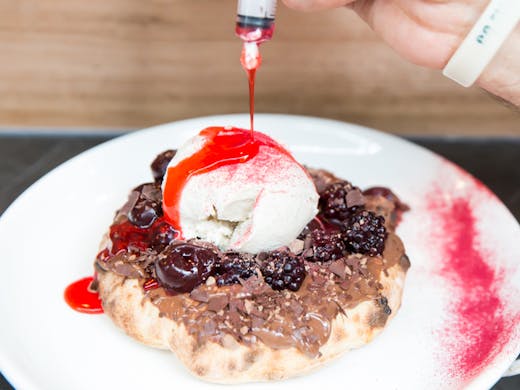 The Verdict
Praise be to the pizza gods! A25, famously South Yarra's most delicious pizza restaurant, has finally opened its CBD location serving morning coffees, lunch and dinner, and boy, is it blowing our foodie minds. With an all too convenient location situated on the corner of Lonsdale Street, right next to Hardware Lane, this epic day-to-night venue is all about serving fresh, innovative food that doesn't scrimp on quality or flavour. From chilli prawn and truffle creations to rocky road dessert pizzas, as well as home-made gnocchi and wagyu lasagne, you'll find so many drool-worthy menu options that you could happily visit A25 for breakfast, lunch and dinner.
The A25 Melbourne CBD location has the same playful approach to top-notch food and drink as you'll find at their other venues, in South Yarra and Docklands. With a focus on delicious pizza that brings together fresh ingredients in new (and, let's be honest, pretty surprising—there's a carbonara-inspired pizza, as well as a goat's cheese, leek and grape pizza for you cheese lovers!) flavour combos, the expert chefs are total pizza perfectionists who will ensure that everything about your pizza, from crust to cheese, temperature to topping, is on point.
As well as pizza, you'll find hearty pasta dishes, mouth-watering desserts and traditional antipasti on offer, making the A25 Melbourne CBD location a fantastic choice for a mid-week lunch or after-work drinks. The vibe is relaxed and upbeat—perfect for starting your weekend, even if it is only Thursday—and the spacious venue means that there's room for everyone, including that friend who says they can't make it then turns up half way through dinner.
Better yet, founder Remo Nicolini is all about tasty food that doesn't leave you feeling bloated or sluggish. Determined to kick pizza's bad name as a greasy, unhealthy dish, he's taking things back to basics, reinventing our favourite slices as a healthy everyday option that won't leave your bank balance in dire straits. On weekdays, ALL pizzas are a mere $15 at lunchtime, with the added bonus of $15 pizzas on Monday evenings and $15 pasta dishes on Tuesday evenings. Clean-eating pizza that doesn't clean out our wallets?! Hell yes!
Whether it's a pre-work caffeine fix, a lunchtime focaccia (for a bargain $7.50, we'd like to add), or a night of pizza roulette with your slice-loving mates, A25's new CBD venue has you covered. Say 'hello' to your new favourite city hotspot.
> Book a table by calling 03 9602 3007
Image credit: Jenna Fahey-White for The Urban List
---