Alter Dining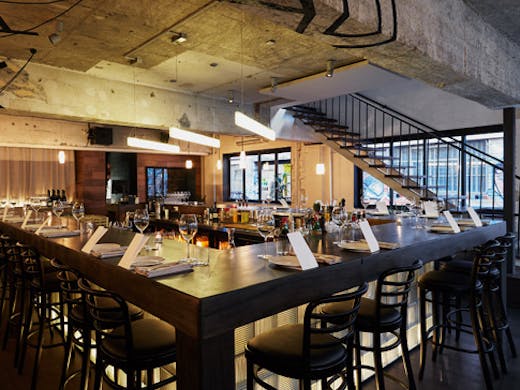 The Verdict
Melbourne's restaurant scene doesn't hang about, does it? About seven months ago, Commune Group (Neptune, Tokyo Tina, Hanoi Hannah) opened BKK in Windsor. And seven months later it's transformed into something entirely new: Alter Dining.
Gone are the neon Thai late-night nibbles. This time 'round it's all about modern Australian fine dining, decked out in punchy floor-to-ceiling monochrome. Commune Group Director Simon Blacher says he wants this place to channel some of that effortless Ramblr-esque cool—a real destination eatery in a suburb built around casual bar-bites. As inspiration goes, Ramblr is a bloody good place to start, but there's no doubt Alter has its own swagger going on.
The menu is deliberately spartan. You can either sign up for a la carte or Head Chef Sean Judd's (Chin Chin, Longrain) special tasting menu—$65 a head. Don't expect flowery OTT gastronomic fireworks at Alter Dining. In keeping with the less-is-more trend of 2018, this place is going to focus on A-Grade produce, seasonal menus and impeccable execution. Simplify, simplify, simplify is the motto here.
Start the night with some delicate steamed crab with coconut and Chinese celery, then follow with a grilled Northern Thai sausage (real good spice kick on this one), served alongside eggplant puree and a smoked fish sauce. Most of the dishes only have three or four ingredients. Flavours range from South East Asia to the subcontinent and even further abroad (pineapple tart tatin anyone?). 'Fusion' doesn't really feel right—it's probably easiest to call it 'Modern Australian' and just get on with things.
Unlike a lot of Commune's other projects, Alter Dining doesn't trade on volume. It's more concerned with your experience. A bit of mood lighting, some excellent local wines, and exquisite dishes without the wankery. The fit-out is pretty stunning too—brutalist concrete ceilings, split-level dining, dark timber floors and a huge wrap-around central bar (our favourite seat in the house). One of the more beautiful restaurants to emerge in 2018.
Ramblr better watch its back...
Image credit: Griffin Simm
---