Beggs & Acon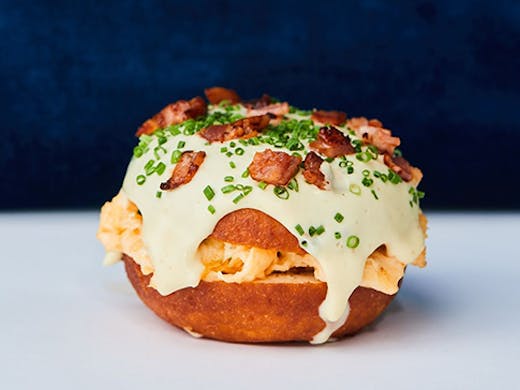 The Verdict
The self-proclaimed "morning-artisans", Beggs & Acon in Prahan is the latest limited-run culinary venture to come out of COVID. As you've probably worked out, their focus is bacon & eggs, of which they do four—and only four—iterations of the classic breakfast meal.
You can take yours several ways, in a wrap, in an empanada that comes with a rich hollandaise dipping sauce or in a classic roll that's been named "The Best Bacon & Egg Roll In The World". It's an audacious claim, though they're probably not far off the truth—hint, order with the hollandaise.
While their bacon and egg roll should be taken very seriously, it's the bacon and egg doughnut you need to watch out for. It just takes a quick glance at the thing to know it's the real deal, but those who need more convincing should take into account the doughnut bun comes from Bistro Morgan.
In what seems to be a trend of the pandemic, Beggs & Acon is only open on weekends between 8am and 12pm or until sold out. For what serves as the perfect hangover cure is only improved on thanks to the housemade hashbrowns and morning brew courtesy of Niccolo Coffee.
Get in sooner rather than later, the weekend warriors of the southside have already developed quite an appetite for this one.
Image credit: Beggs & Acon
---