Bentwood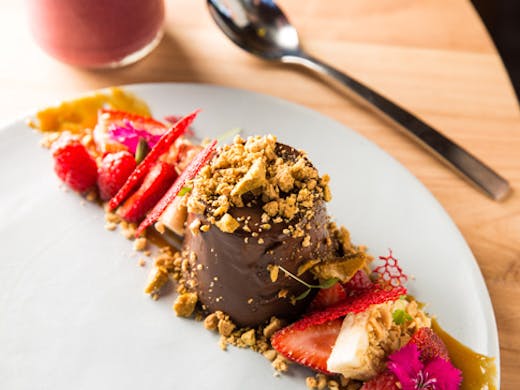 The Verdict
Julien Moussi has done it again. The guy that brought us Penta, Legacy, Collective Espresso, Boss Pizzeria, Age of Sale and about a billion other venues (we lost count) has launched his latest industrial brunch bar in Fitzroy. And hoo-boy is it pretty...
The place is called Bentwood, which is appropriate. Blonde timber plays a big role in the fit-out. For people tired of the whole 'industrial chic' thing, the aesthetic in here might point the way to something new in Melbourne. A heritage frame fused with ultra-mod finishes.
One whole wall in Bentwood is peeled and cracked brick, scrubbed down through the strata. The rest is...gorgeous. Burnt umber panels, white ash and pine, geometric mood lighting running across the ceiling, a big ol' tuckshop-style window into the kitchen. We're no feng shui experts, but the whole thing has a wonderful flow.
Let's get down to food. The menu is like an NBA All-Stars team. You can throw a dart and hit something delicious. Golden Gaytime panna cotta wobbling on a slick of caramel? Done. Fluffy hotcakes with raspberry coulis, passionfruit and vanilla mascarpone? Too easy. How about chilli scramble with feta and fragrant Vietnamese mint, or the wicked eggs benny with jalapeno hollandaise?
See what we mean—mucho flavour. The sort of breakfast you'd gladly cross the Yarra for.
The coffee comes from Inglewood roasters, the group's new in-house roastery (currently based in Coburg). The Sidana Ethiopian blend is velvety smooth, and you can pick your poison: the usual range of cold drip, filter and espresso.
Honestly? This place is cool even by Fitzroy standards. Feels like a proper evolution—a little glimpse into what the next decade of Melbourne cafe culture might look like.
Bentwood, welcome to the brunch rotation.
Image credit: Annika Kafcaloudis
---