Biggie Smalls | Collingwood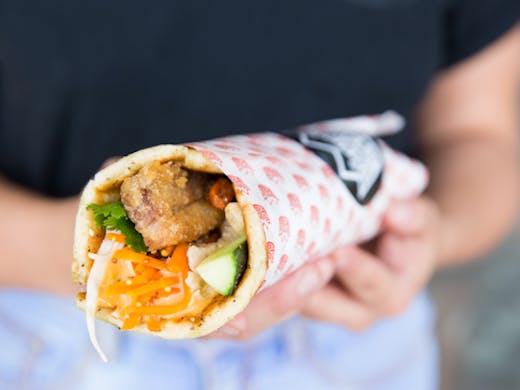 THE VERDICT
As far as wraps go on Smith St, Jimmy Grants had the market on lock for quite some time. Until Shane Delia's Biggie Smalls arrived to challenge for the kebab crown.
While a dirty street kebab will always have a special place in our hearts (and our 3am stomachs), the peeps at Biggie Smalls are offering up something even better. Proper kebabs, made from A-Grade ingredients, chef'd up several notches by the guy responsible for Maha in the CBD.
Just a hop, skip and a jump from Huxtaburger, you'll find succulent roast lamb smothered in a roast onion gravy mayo, rosemary, garlic yoghurt and mustard pickled carrots. Not tickling your fancy? How about a coconut-fried beef brisket kebab, packed full of rending curry mayo, and a fresh cucumber and carrot slaw? Still not getting you over the line? Take a trip down to the dirty south with a fried chicken, pickled onion, garlic and lemon aioli combo sure to blow you away.
Finish it off with a peanut-butter icecream sandwich, complete with an oozing salted caramel centre. Told you: this place ain't your typical Smith St kebab shop.
Sure, after a long sesh you may not fully be able to appreciate the glory that is Biggie Smalls' late-night offerings, but with a selection this good, we're betting you'll be back the next day for a do-over. See you in the queue.
Image credit: Jenna Fahey-White
---