Bobby's Coffee & Bagels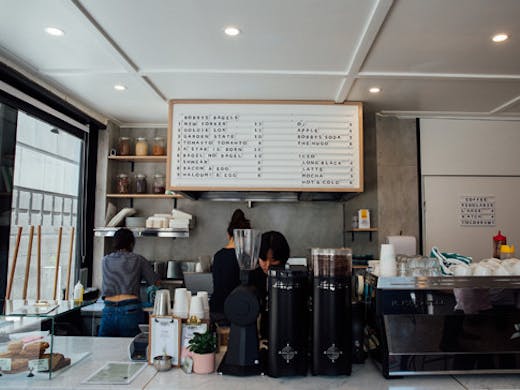 The Verdict
Sydney native Mariella Traina (The Counter, Meet Gerard) and co-owner Jonathan Mandel just carved out a little piece of Melbourne and filled with some much-needed New York energy in the form of Bobby's Coffee and Bagels.
Even the name seems like its straight out of the East Village and we love it. Nestled right in the heart of the CBD, Bobby's Coffee is your one-stop shop for you guessed it: coffee and bagels. Served on dinner trays, everything about this place screams New York.
With an aesthetic interior, polished concrete flooring, neon lighting and comfy stools, this place is perfect for that mid-week catch-up or a quick bite to eat before you head back into the office for that meeting you totally forgot about. Aside from the coffee, the delicious house-made soda is a standout and goes perfectly with a bagel at lunch if your coffee cravings are at a minimum after your two in the morning. With a house blend of Coffee Supreme as well as rotating guest filters and single origins, Bobby's has curated a caffeine consortium for the coffee-keen Melbournians out there.
Although if we could point you in the right direction when we start talking about bagels, we don't know where to start. The 'New Yorker' is everything you could want and more loaded (and we mean loaded) with pastrami, gruyere, pickles, dijon aioli and greens or a more conservative approach in their 'Tomayto Tomahto' served with fresh tomato and cream cheese.
Whatever you decide to choose, it will be nothing but doughy goodness and who can complain about that?
Image credit: Annika Kafcaloudis
---