Brixton Pound | Seddon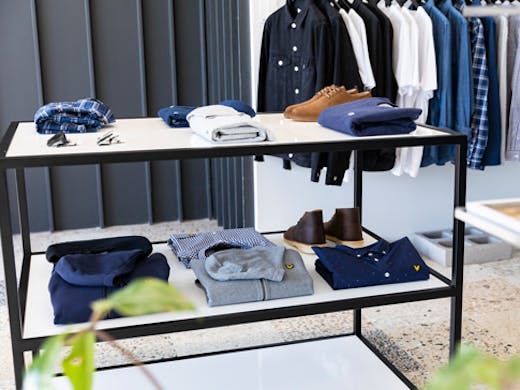 The Verdict
If we were showing a Sydneysider the good places in Melbourne, we'd take them here. Brixton Pound in Seddon.
It's not exactly where you'd expect to find an effortlessly cool apparel store—the building was once a framer joint, then squatters moved in, now it sells Oakland A's flat caps and Converse sneakers.
Chris Fleming started the Brixton Pound brand back in 2010 with the Williamstown store. Seddon came online in 2017. The guys gutted the old space, polished up the terrazzo floors, moved in some up-cycled concrete construction blocks, and painted everything white. With big north-facing windows, and tonnes of sunlight, it's a pretty space.
Brixton Pound doesn't try to stock everything. It's not meant to be exhaustive. Chris picks pieces from new collections that he thinks will work for a Melbourne crowd. In 2017 they also introduced a women's collection, which has been pretty popular. You can grab the latest camo hoodie from Elesse, a denim shirt from Assembly Label, Champion sweaters and Local Supply sunnies. Anything cool, street and straight outta Compton.
There's another reason we'd take a Sydneysider to Brixton Pound, and that's the hidden speakeasy behind the left-hand wall. It's called Lay Low—a cocktail bar from Chris and two mates, Colin Wood and Miles Williamsz. Check out our full write-up for more info.
Seriously, if you think Fitzroy and Collingwood have the monopoly on 'cool', head out to Seddon. It's places like Brixton Pound that are driving up house prices and generating a lot of confused east sider Google-mapping. Ten years ago, a lot of people would've never even heard of Seddon. Now it's firmly on the city's style map.
You can shop the Brixton Pound range online, but we highly recommend coming in and chatting to the team in person. They also stock a few stationary supplies, including Field Notes memo books, and the latest issue of Smith Journal.
Image credit: Mel Desa
---