Bussy McBusface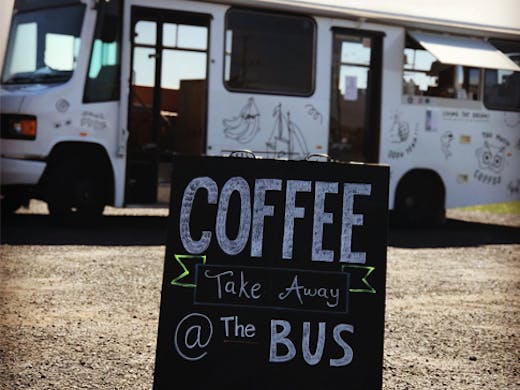 The Verdict
What world are we even living in?
The British Antarctic Survey runs an online naming poll, which became a joke, which became a meme, which has now become the Mornington Peninsula's new mobile coffee bus. That's pretty much the chain of events that led us from Boaty McBoatface to Bussy McBusface.
All jokes aside, this thing actually looks pretty cool. It's now being run and taken to the next level by former I.T guy and coffee obsessive JP Willigenburg (still in cahoots with Commonfolk Coffee in Mornington). They've converted an old Mercedes bus and are doing the cafe equivalent of those old-school radio roadtrips, driving around, playing music and slinging lattes from their in-built espresso machine, Aurelia (good name).
Like Commonfolk (and unlike most mobile coffee carts) they're using their own signature roast, and we can confirm that it's delicious. There's also iced lattes on the menu for when Mornington turns on the flamethrower.
Now—how to track the thing down. Bussy McBusface currently resides at That Spirited Lot Distillers in Seaford on weekday mornings, serving coffee and some basic (but yum) breakfast food goodies. But you can also hire it out for private events, festivals, markets and weddings etc. Check the Bussy McBusface social channels for the latest locations.
Well done, humanity. We've officially peaked.
Image credit: Bussy McBusface
---