Clubhouse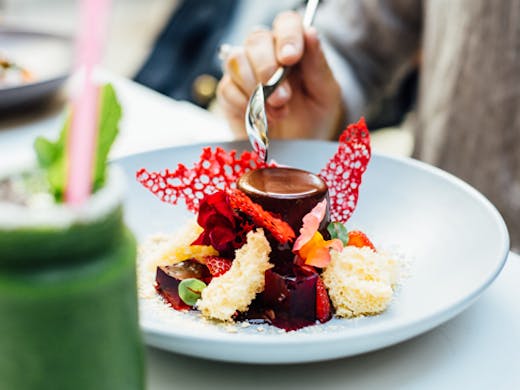 The Verdict
The Tinker guys have done it again. Fresh off the back of Bentwood, which opened late 2017, they've launched Clubhouse in Malvern—a green n' white golf-themed cafe that's well above par (or should that be below par...we're trying to say it's very good).
If you've been to Tinker, Bentwood, Penta or MOB (the guys' other venues) you'll know what to expect from co-owners Julien Moussi, Kristy-Lea Moussi, Adam Vocale, Stuart Deva, Ben Argentino and Nicky Campbell. Bloody good coffee (from Inglewood), nothing derivative in the décor, and a panna cotta. There's always a panna cotta.
This panna is a black forest variety, spiked with cherry and dark chocolate, topped with fresh berries and honeycomb. And that's not even our favourite thing on the menu.
Smashed av' fans get a no-nonsense blend of black sesame seeds, chilli, a generous pile of goats' cheese and scattered pomegranate seeds. The roast winter veggies are also a winner: purple carrots, spiced cauliflower, radishes, broccolini and a poached googie, dusted with dukkha.
The golf nods are subtle. A cheeky 'Play through to the loos' sign on the wall. The Augusta green colour scheme (which looks positively spiffy from the street). Bentwood led the charge with burnt umber last year, and you heard it here first: green is the colour of 2018.
Moussi & Co have got this down to a fine art by now. They know what people want from a suburban cafe—good atmosphere, good coffee, friendly service—and they deliver in spades. This place is definitely a fairway to heaven.
Image credit: Annika Kafcaloudis
---