Crown Promenade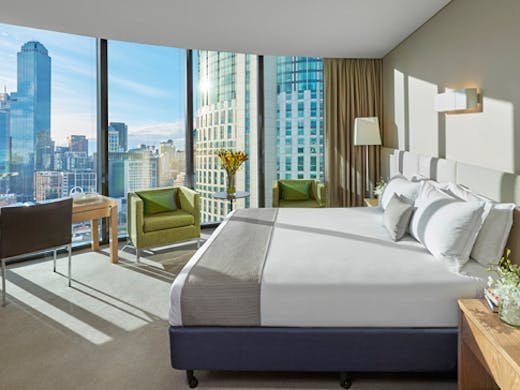 The Verdict
When most people think Crown, they think Crown Towers. But don't dismiss Crown Promenade for a cheeky weekend getaway or city staycation. It ticks A LOT of romantic boxes.
For one thing, the location is excellent—set slightly back Crown's riverwalk, on the corner of Queensbridge and Whiteman streets. You're not smack bang among the crowds, which is nice, and you've still Southbank's best restaurants within 200m of your doorstep (it's hard to go past Gradi, Spice Temple, Long Chim or Rockpool).
When we stayed at Promenade though, we couldn't resist room service (there's just something about summoning food to you while wearing a robe...) The in-room menu is pretty comprehensive, and the prices are very reasonable for what you get. We ordered the Wagyu burger with skin-on fries, and it was bloody good.
The rooms have a wonderful view too, right over the Crown complex and on across the river. There's a gentle curve to the corner suites, which breaks up the space nicely. The beds are basically King-sized clouds, and there's a spare pillow in the cupboard if you're after something firm.
No bathtub in the King Rooms, but the shower could fit a small rugby team (we didn't put that to the test). The frankly enourmous flatscreen and other furnishings were all bang on-point too.
With hotels like this though, it's the little things. The digital 'Do Not Disturb' signs (so you don't have to leave the room), the well-stocked minibar, and of course the early morning coffee cart in the lobby downstairs. A real life-saver that one.
Image credit: Crown
---