Dexter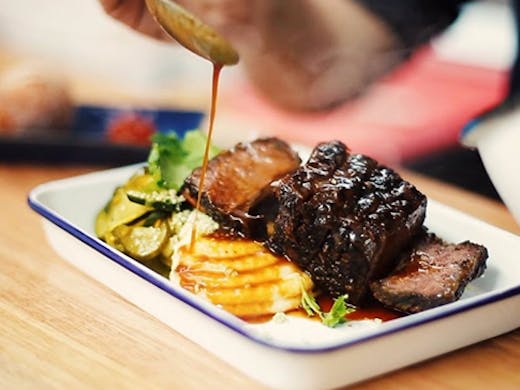 The Verdict
In 2015, Chef Tom Peasnell, his mate Adam Goldbatt and brother Sam launched Dexter: a 'no-rules' approach to an American BBQ that champions meat and buns. In that order.
But Dexter isn't your typical BBQ joint. The talented trio of young foodies (who cut their teeth in Melbourne hot-spots like Chin Chin and Three Bags Full) pay homage to southern-style slow-smoked meats...while simultaneously chucking the rule book out the window.
You want highlights? How about bone marrow mash, salted caramel short ribs, cured and smoked beef brisket and hot meat doughnuts. Yep, you read that right. Just when you thought doughnuts couldn't get any better, these guys put MEAT in them.
Here's how it works. The fluffy batter is stuffed with burnt brisket before it's deep-fried and sprinkled with sugar and paprika. Flavour contradictions? Perhaps. But oh boy do they work. That spicy brisket jam sauce works a treat too.
As well as bar snacks and bigger meals, the menu covers quick lunches, takeaway, kids options and set-course dining. Dexter is a classic people-pleaser.
All of the food is backed by a smart little drinks list—think local wines, swizzled cocktails and craft beer on tap. We recommend the Sloe Gin Sour, made with sloe gin, Cointreau, lemon and aquafaba (the water you cook chickpeas in). Makes your tongue tingle, that one.
The Dexter crew haven't stopped at one venue, either. In 2018 they launched Takeaway Pizza, also in Preston. If you want to see what a 'meat doughnut' approach to pizza and cocktails looks like, give that place a big ol' try.
So, what are you waiting for? Go get your butts to Dexter and wrap your mouths around some juicy, meaty goodness.
---