Takeaway Pizza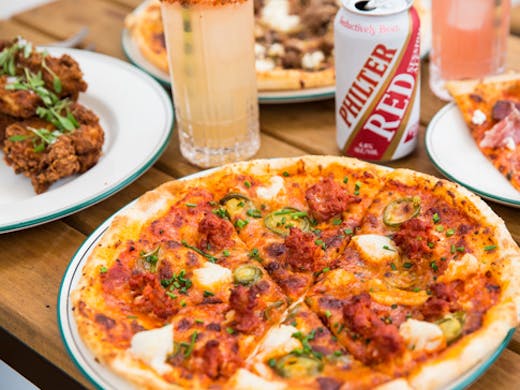 The Verdict
Takeaway Pizza's motto is "no fuss...just pizza, beer and good times." What else would you expect from a place whose logo is a slice of pepperoni holding a martini.
No doubt about it—the days of 'Depreston' are long gone. This suburb is getting seriously trendy. Takeaway Pizza is the latest in a string of slick foodie hotspots...but it's the only one doing late night cocktails and giant New York-style pizza slices. Seriously guys, this place kind of rocks. We wouldn't expect anything else from the crew behind Dexter.
Lets' start with the pizzas. Slices run all night and will cost you $6, which is a steal when you take a look at the size (and quality toppings).
We're a sucker for the Pepperoni with mozzarella, goats cheese and basil, but you can go as exotic as you want. Baked Eggplant with Za'atar, pomegranate, lemon yoghurt? No probs. House-cured Pastrami with meaty bone marrow and shredded spring onions? Step right this way. The bases are cooked thin, fermented for three days, with proper puffed-up crusts. You can also grab gluten-free or vegan mozzarella, if your stomach needs a break.
There's a rotating selection of craft beers on tap, plus a few familiar tinnies like Philter Red Ale, Mornington Brown and Brunswick Bitter. If you want to kick things up a notch, we recommend the tiki-style cocktail list. Try the Old Cuban (rum, cirtrus, mint and bubbles) or the Little Italy (rye whiskey, sweet vermouth, Cynar, orange bitters and cherry).
It's after dark that the real fun begins. The boys have installed a disco ball, which (when combined with funky wallpaper), makes you feel like you're in a scene from The Rum Diaries. Settle in, pull up a slice, and have the time of your life. This is Takeaway Pizza.
Image credit: Jenna Fahey-White
---