DOC Pizza | Southbank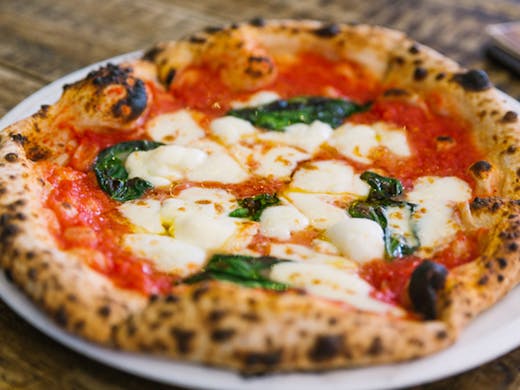 The Verdict
Melbourne's freshest pizza and mozzarella bar just got a brand new fit out in the heart of the city and we're loving it. The original DOC is embedded in the rich Italian character of Carlton and now Southbank is graced with its cheesy presence.
Their food, of course, is full of the dynamic and robust flavours of Italy and can be seen from their selection of cheeses all the way to their beautiful desert menu. And don't even get us started on the pizzas. The slight charring of the bases as an earthy flavour that beautifully coincides with the texture of the base that is without a doubt the food form of heaven on earth.
Gluten-free and vegan pizzas also star on the menu too, so you know that there is something on the menu for everyone and no one is left out of the delicious pizza action.
Now, the decor is as fresh as the pizza and pasta served daily. The sanded cement walls and polished concrete benches provide the interior space with a modern approach, yet hints of their heritage can be seen throughout the interior furniture and lighting.
The semi-open kitchen still provided guests with an insight into the hustle and bustle dynamic of an authentic Italian kitchen. Pizza bases being tossed into the air and cured meats being sliced on the block right in front of your eyes add to the whole DOC experience, which is a common theme throughout all their establishments.
The wine list prioritises and Italian influence while still maintaining an immaculate representation of local winemakers. DOC's house prosecco made by three-generation-old winery Cester Camillo in Treviso, Italy is, of course, a lovely starter. Of course, it's not a proper Italian establishment without aperitivo hour from 4 to 6 pm, seven days a week so be sure to get your work done early and trundle down for an Aperol or two.
Image credit: Urban List Auckland
---