Empire Steak | South Yarra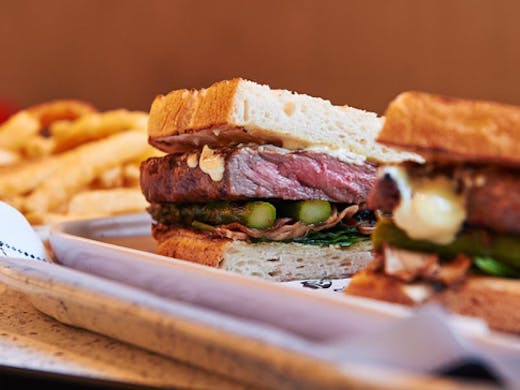 The Verdict
If you haven't tried a steak sanga from Empire Steak in the CBD, you haven't live in any meaningful way. These things are officially ridiculous. Juicy 125g lean porterhouse steak, cooked medium, sandwiched between lightly toasted white bread, and paired with onion jam and butter lettuce. That's your classic model, but the guys at Empire have expanded the range since setting up shop in Little Collins St.
And in good news for steak sandwich fans everywhere, they've just opened a second location, on Chapel St in South Yarra.
Empire's second store will hold true to the steak-based ideals of the original. But there are a few new faces on the menu. Get ready to meet the The Smoko (Porterhouse, cheese, bacon, mayonnaise and smoky BBQ sauce), The Scorcher (Porterhouse, jalapeños, pickles, aioli and Sriracha) and The Lot (Porterhouse, a fried egg, cheese, bacon, caramelised onion, fresh tomato, lettuce, shaved beetroot and housemate BBQ sauce).
Steak purists can skip the bread and grab a virgin Porterhouse with shoestring fries and a side salad. And if a vegetarian somehow finds themselves inside Empire, they can take refuge in either the hand-crumbed baked mushroom, or the Anti Steak (a juicy mushroom sanga, with onion jam, fresh tomato and lettuce). Pro tip: whatever you order, a a lug of Empire's special house sauce: it's one part Hollandaise, one part Bernaise, one part cheese, and one part legal addictive stimulant. Lifts any sandwich into the stratosphere.
It feels like steak sandwiches—once as dinky-di-Australian as a lamington koala parma—have taken a backseat to burgers in recent years. Empire has decided to fight back, one sanga at a time. The steaks have never been higher.
Image credit: Griffin Simm
---
You May Also Like