Garçon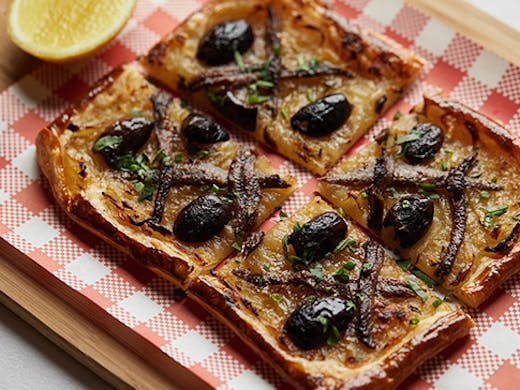 The Verdict
Alfred Place is one of the city's forgotten laneways, which might have been the problem...
Entrecote CBD used to live down here, but for whatever reason, city punters didn't flock to the famous steakhouse (unlike South Yarra, which has a Kathmandu-wearing queue at all hours). So when the time came to sell, Joseph Alesci snapped up the venue and created this place: Garçon Paris Steakhouse.
In terms of changeover, it's not a titanic shift. Garçon is still French. It's still doing steak and bottomless pommes frites. And it's still delicious. But where Entrecote was homley and cute, Garçon has a touch of swagger.
The theme here is '80s Paris Bistro'. A throwback to the black and white days when specs were thick, shoulders were padded, and perfectly coiffed people sat around smoking cigarillos and sipping aperitifs with punk rockers and penniless writers. Alesci and front-of-house manager Stef Fisher have done the impossible: they've taken the starch out of French dining.
Now, the menu. You've gotta start with the Escargot de Bourgogne—tender snails, winkled from the shell and slathered in enough garlic to slay a legion of vampires. The boulettes are great too—crumbed and fried beef croquettes, kicked up with some Dijon mustard.
After that...do we even need to say it? Just order the steak and pommes frites. You can umm and ahh all you like, but we all know how this is gonna go. We're talking 250g Angus Porterhouse with a bit of moo in it, sliced thick and topped with Cafe de Paris butter. Could have asked for a bit more tang on the butter, but with bottomless fries, strong mustard and a glass of Heathcote's Tellurian Shiraz...who's complaining?
Look, we didn't muck about when it came to dessert either. There's a citrus-heavy lemon tart on there, and profiteroles with creme pâtissière, but we headed straight for the Crème Brûlée—if you're gonna be French, don't half arse it. The Brûlée must have been good, because we polished it off in about 30 seconds flat, before practically rolling onto Collins St.
If this was Paris in the 80s, someone fetch us a time machine. We'll be back at Garçon soon, hungry for more.
Image credit: Garcon
---